17: Soldier for the Reich
"Shattered by the War, in despair as a result of deprivation and hunger, greatly disillusioned by the seeming futility of all the sacrifices in blood and goods, our people ... were lured by many phantoms ... "

-- Hermann Hesse
Convinced of Austria's imminent decline at the hands of Slavs and Jews, Hitler migrated to Bavaria in May, 1913 with his friend Rudolf Hausler. They rented rooms from tailor Josef Popp and his wife at 34 Schleissheimerstrasse in Munich's Schwabing district. Hitler loved his newly adopted home.
" ... A German city! What a difference from Vienna! I grew sick to my stomach when I even thought back on that Babylon of races ... The dialect (in Munich) ... reminded me of my ... childhood ... There were a thousand and more things which were or became inwardly dear and precious to me ... If today I am more attached to this city than to any other spot of earth in this world, it is partly due to the fact that it is and remains inseparably bound up with the development (of) my own life." [1]
Hitler occasionally worked as a casual laborer with Hausler, but he still aspired to earn his living as an artist. Dr. Josef Schell, a soap and perfume manufacturer, bought several of his paintings, and referred him to tax assessor Ernst Hepp, another good customer. Hepp not only purchased drawings and watercolors, but also gave Hitler opera tickets, invited him to dinner, and up to his country retreat in Wolfrathausen. Munich University literature professor and "Cosmic" Karl Wolfskehl stated that Hitler also met homosexual mythologist Alfred Schuler, who used the swastika symbol for his "Aryan Mother Cult."
Hitler failed to register for the Austrian draft in 1909. Government authorities finally caught up with him in Munich. On January 19, 1914 police pounded on his door with a summons. Hitler wrote a melodramatic letter full of excuses to Linz's draft board. He did not appear for his physical in 1909 because that year
"was an endlessly bitter time for me. I was an inexperienced young man with no money and too proud to accept any assistance from anyone ... I had no friend other than Sorrow and Want, no companion other than unappeasable hunger; I have never known the beautiful word Youth; today I have the remembrance in the form of chilbains on my fingers, hands, and feet. .. I earn my living as an independent artist, only, however, because I am entirely without resources (my father was a state official) and in order to permit me to pursue my further education. I can spend only part of my time earning a living, since I am studying to be an architectural artist ... My monthly income is very uncertain and at the moment certainly very poor, because the art market in Munich is hibernating, and 3,000 artists live, or want to live, here ..." [2]
Austrian army officials granted an extension and allowed him to report to Salzburg rather than Linz. The doctor who examined Hitler in Salzburg declared him "too weak" for military service.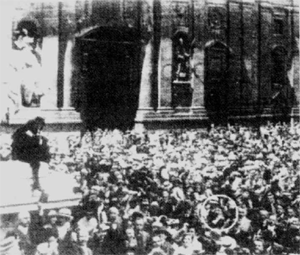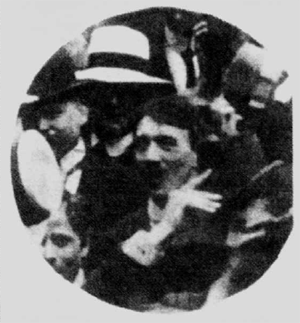 Hitler in the crowd celebrating Germany's declaration of war against Russia on Munich's Odeonplatz, August 2, 1914. Photograph and blow up by Heinrich Hoffman.
After the First World War broke out on August 1, 1914, Hitler immediately tried to enlist in the German Army. An amazing crowd photo taken by future friend Heinrich Hoffman on August 2nd showed an exultant Hitler smiling on Odeonsplatz near Feldernhalle, close to where the 1923 Beer Hall Putsch would take place. In Mein Kampf Hitler wrote about that momentous day.
"Overpowered by rapturous enthusiasm, I fell upon my knees and thanked heaven from an overflowing heart for granting me the good fortune of being allowed to live in these times." [3]
The German Army initially rejected him due to his Austrian citizenship and frail constitution. He then stationed himself in front of Wittelsbach Palace. When King Ludwig and General von Leonrod strode out one day, Hitler rushed up to them and begged to fight for the Vaterland. Leonrod agreed to authorize his enlistment.
After ten weeks of basic training Hitler and his fellow recruits traveled by rail to France. During this trip he saw the Rhine River for the first time. They arrived just in time for the bloody battle of Ypres. Hitler served as a dispatch runner, conveying orders from rear command posts to forward units.
During World War I the German Army sent dispatch riders in pairs, in case one were killed or wounded. Their leather packs containing orders were marked XXX (urgent,) XX (implement soon,) or X (carry out at your earliest convenience.) There were two classes of dispatch runners: those who just ran from point A to point B, leaving matters to fate; and men who read maps, rook cover every 100 feet, and kept a sharp lookout. Hitler fell into the latter category. This methodical approach worked for him. Over a four year period his decorations included a regimental citation for gallantry, an Iron Cross 2nd Class, an Iron Cross 1st Class, a Service Decoration 3rd Class, and wounded badges. Hitler's company commander, Lieutenant Hugo Gutmann (b. 1880), awarded him the Iron Cross 1st Class. Fellow dispatch runner Hans Mend claimed that Hitler got his Iron Cross 2nd Class at Ypres in 1914 for dragging the seriously wounded Colonel Engelhardt to safety with the help of Private Bachman (later killed in action.) A Gestapo operative apparently rewrote the Iron Cross 1st Class citation, stating that Hitler singlehandedly captured twelve French soldiers, including an officer. Actually, according to Eugen Tannhauser, Hitler delivered a message under heavy bombardment and received compliments from Lt. Gutmann. He then badgered Gutmann until the latter finally agreed to put him in for the medal. Although Hitler spoke slightingly of Gutmann on several occasions, they had a cordial reunion in 1936. Three years later he granted his former commanding officer an exit visa from Germany and approved the continuation of his army pension payments. According to Werner Maser, Guttman first took his wife and two children to Belgium, then to the United States, where he changed his name to Henry G. Grant.
Hans Mend and others in the List Regiment considered Hitler an argumentative Bohemian who liked to draw, read, and discuss politics. Pan- German magazine articles by Philippe Stauff and Schopenhauer's World As Will & Idea were never far from his side. Hitler referred to himself as a "class-conscious proletarian," which meant "communist" to his mates. Fellow riders called Hitler ''Adi the Red" and "Crazy Adolf."
Runners generally delivered about three dispatches per week and spent the rest of their time hanging out in "the riders' dugout" with little to do. Private Ignaz Westenkircher testified to Hitler's incredible skill at spearing rats with a bayonet. He loathed rats because packs of them ate wounded soldiers alive. His service buddies remembered that he adamantly disapproved of fraternizing with British soldiers in no-man's land during a brief Christmas truce in 1914.
Hans Mend's account portrays Hitler as two-faced. He acted like "a self-important busybody" around officers, but grumbled behind their backs, bashing them as "robber knights ... who sleep on horse-hair, whereas we eat horsemeat ... [4]" At the same time Mend and others distrusted Hitler, suspecting that he sometimes carried tales to their superiors. Lance Corporal Hitler's army friends included Ernst Schmidt, Franz Wimmer, Karl Lippert (a lapsed Jew whom he subsequently employed at the Brown House,) Max Mund, Balthasar Brandmayer, Jacob Weiss, Josef Inkofer, Ignaz Westenkircher, and First Sergeant Max Amann (later a Nazi Party official.) Mend believed Hitler had a homosexual relationship with Ernst Schmidt.
"We noticed that (Hitler) never looked at a woman. We suspected him of homosexuality right away, because he was abnormal in any case ... In 1915 we were billeted in the Febre Brewery at Fournes. We slept in the hay. Hitler was bedded down with 'Schmidl,' his male whore. We heard rustling in the hay. Then someone switched on his flashlight and growled: 'take a look at those two Nancy boys." [5]
Although Mend wrote a best-selling book in 1934 which whitewashed his war-time experiences with Hitler, Nazi Party financial records show that bookkeeper Fritz Lauboeck mailed him bribes of 100 marks on June 28, 1923 and 300 marks on July 5, 1923. Hans got low on funds in 1936 and apparently made another blackmail threat -- an unwise decision, since Hitler then dominated Germany as absolute dictator. The Gestapo immediately framed Mend on child molestation charges and shipped him to a hard labor camp for two and a half years. Police jailed him again in September, 1940 for defaming the Fuhrer. He died under suspicious circumstances in Zwickau Penitentiary on February 14, 1942.
Though temperamental and somewhat lazy, Hitler fought courageously for Germany. Historians have noted that his low rank as a lance corporal seemed inconsistent with a distinguished record for valor. Hermann Rauschning alleged that Hitler was once nearly court-martialed for pederastic practices with an officer named Lammers. List Regiment commanders evidently did not promote him because of his Austrian nationality, eccentricity, and homosexuality. Though he ruled Germany as a despot between 1933 and 1945, Hitler's oddness disqualified him from being a squad leader during World War I.
Front line experience indelibly imprinted Hitler's character. He perceived all relationships in terms of war. The stark ruthlessness of combat became his way of life. The First World War's carnage appalled Churchill, DeGaulle, Truman, Eisenhower, and countless other veterans. Hitler came away from his ordeal with the conviction that nature was cruel and life cheap. Referring to his army days, he asserted:
"In a few days a youth becomes a man. If I weren't myself hardened by this experience, I would have been incapable of undertaking the Cyclopean task which the building of an empire means for a single man." [6]
The Germans killed 5,000 civilians in Belgium, including English nurse Edith Cavell. Hitler applauded violations of Belgian neutrality, the bombing of Liege by Zeppelin, and reprisals against non-combatants. On his march to the front through Belgium in 1914, he observed effects of German atrocities at first hand and approved. Invoking the argument of collective responsibility -- which had been outlawed by the Hague Convention -- Generals von Kluck, Bulow, and von Hausen ordered hundreds of civilians executed and thousands of homes burned in Wansage, Battice, Namur, Andenne, Tamines, Seilles, Visa, Liege, Dinant, Givet, Aerschot, and Louvain. Between August 20th & 21st, 1914, the Germans shot 211 people in Andenne and 50 in Seilles. They rounded up 384 men, women, and children in the town square ofTamines and machine-gunned them.
Hitler saw that war suspended bourgeois moral restraints and provided cover for mass murder. In his view, this was the only way to "settle accounts." Half-measures wouldn't do. His SS Einsatzgruppen subsequently followed this example in Poland and Russia. However, those units would not consist of randomly selected regular army troops, but police battalions with special training in liquidating civilians.
Hitler joined the Reichswehr to fight a "6 week war" for Germany's everlasting glory. 3,745 men in his regiment died in battle between October, 1914 and November, 1918. In the First Battle of Ypres 722 soldiers in his division were killed (out of 3,600) and another 1,200 wounded. He described the action in a letter to former landlord Josef Popp.
"The French keep firing into the ruins ... The air and the earth have been trembling under the screams and the roar of grenades and the bursting of shells ... " [7]
He agreed with Ernst Haeckl that strife was the father of all things. 
"(When) I saw men falling around me in the thousands ... I learned that life is a struggle and has no other object but the preservation of the species." [8]
Liberalism had to go by the board. 
"Victory (comes) to the strong and the weak must go to the wall. (Nature) teaches us that what may seem cruel to us is nevertheless often essential if a high way of life is to be attained. Nature knows nothing of the notion of humanitarianism, which signifies that the weak must at all costs be preserved, even at the expense of the strong." [9]
Hitler saw Haeckl's Social Darwinism proven on the battlefield. He wanted militarized Aryandom to "become the ruling element over. .. shopkeepers ... speculators, and busybodies." In a letter to his art patron Ernst Hepp, Hitler wrote that a victorious Germany should be "cleansed of aliens ... That would be worth more than all of the gain of new territory." [10]
In October, 1916 near Le Barque Hitler was wounded in the left leg and evacuated to Berlin. He recuperated at Beelitz Hospital for five months. What he saw of the home front disturbed him greatly. Draft-dodgers, shirkers, and black marketers abounded. The "Jewish yellow press" published "insipid, pacifistic tommyrot" to weaken morale and lay the groundwork for setting up a collaborationist government with Entente powers after Germany's defeat.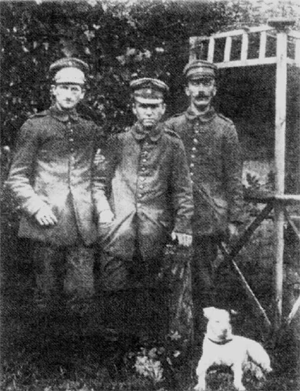 Lance Corporal Adolf Hitler as a German army soldier during World War I with Ernst Schmidt (Left), Max Amann (center), and Hitler's dog Fuchsl.
Hitler returned to the front in March, 1917 and participated in the battles of Flanders, Arras, Chemin des Dames, Nyons, Soissons, and Rheims. He visited his sister Angela and her family in Spital, Austria while on leave from September, 13, 1917 to October 17, 1917, and again a year later (September 10th to 27th, 1918.) According to Hans Mend, Hitler attempted to join the Communist Parry while still in uniform. When on furlough in late August, 1918, he approached Nuremberg communist officials seeking a senior position before even becoming a dues-paying member. The Reds rebuffed him. Mend referred to Hitler's bold sense of entitlement as "the burglar tactic... which entailed sticking his foot in the door and refusing to yield until he was on the inside." [11] Hitler would use the same modus operandi with Anton Drexler's German Workers Parry in 1920.
On October 13, 1918 the British fired a barrage of hissing gas shells into the List Regiment's position outside Wenoid. Hitler quickly buckled on his mask, but some lethal chlorine gas entered, causing temporary blindness and searing pain. Medics carried him from the field to a van full of other casualties, then transported him by train to Pasewalk Military Hospital in Pomerania. There, on November 10, 1918, a weeping hospital chaplain announced that Germany had agreed to surrender. Hitler nearly passed out from shock and disillusionment.
"Everything went black before my eyes; I tottered and groped my way back to the dormitory, threw myself on my bunk and dug my burning head into my blanket and pillow. Since the day I had stood at my mother's grave I had not wept, ... But now I could not help it." [12]
Hitler could not see or talk for days. Dr. Edmund Robert Forster (1878- 1933) diagnosed his condition as hysterical blindness and mutism arising from shell shock, and supposedly treated him with hypnosis. Hitler's sight and powers of speech gradually returned. Some conjecture that dissociation arising from post-traumatic stress syndrome combined with mesmerism further aggravated his Judeophobic delusions. Steven Sage and others suspect that in Mein Kampf Hitler exaggerated the severity of his symptoms in an effort to liken his ordeal to St. Paul's conversion at Damascus and Guido von List's mystical trance of 1902.
Forster fled to Paris after Hitler's rise to power in January, 1933, but returned to Germany a few months later. Following a visit from the Gestapo he ended up dead, with cause of death given as "suicide." Although his case flies were destroyed, Forster confided some details about Hitler's psychiatric treatment to Ernst Weiss, who wrote a fictional account, The Eyewitness, in 1939.
Dr. Walter Langer found it significant that Hitler mentioned his mother in connection with Germany's defeat. He believed Hitler associated Germania with his abused mother and her enemies with his abusive father. Reliving this trauma triggered a hysterical reaction. At this time Adolf Hitler heard voices which ordered him to save Germany.
The Veteran's Return
Dietrich Eckart and Anton Drexler realized that they lacked the energy and charisma necessary to attract multitudes of young workers and soldiers to the volkisch cause. A German redeemer must be made of sterner stuff. One night, while soused at the Brenessel Wine Cellar, Eckart expounded on the qualities needed by the coming Fuhrer:
"We need a fellow at the head who can stand the sound of a machine gun. The rabble need to get scared shitless. We can't use an officer, because the people don't respect them any more. The best would be a worker who knows how to talk ... He doesn't need much brains; politics is the most stupid business in the world, and every market woman in Munich knows more than the people in Weimar. I'd rather have a vain monkey who can give the Reds a juicy answer, and doesn't run away when people start swinging table legs, than a dozen learned professors. He must be a bachelor, then we'll get the women." [13]
Due the effects of poison gas Eckart's future protege was unable to read anything smaller than newspaper headlines. After leaving Pasewalk Military Hospital on November 19, 19 I 8, Hitler went to Turkenstrasse Barracks in Munich's Schwabing district. He and his buddy Ernst Schmidt, also on light duty because of war wounds, disapproved of the "laggards and cowards" in their new unit. Discipline and morale had broken down completely. Hitler, who had become progressively more Judeophobic since the age of eighteen, nursed a delusional conviction that "Jewish anarchists" had created this woeful situation. Hans Mend bumped into him and Schmidt on Lochstrasse in late December. In the course of conversation Hitler asserted: "Thank God the kings have been knocked off their perches. Now we proles have a say." 14 But he also denounced communists, leading Mend to remark: "Adi the Red has changed color!" [15] Wishing to get away from Turkenstrasse Hitler and "Schmidl" volunteered for guard duty at Traunstein p.o.w. camp on December 18th. When that compound closed down six weeks later, they returned to the 2nd Infantry Regiment in Munich and sorted gas masks for 3 marks a day. Anton Joachimsthaler claimed to have found a photograph of Hitler, marching with red armband in the funeral parade of murdered Jewish Socialist Kurt Eisner in late February, 1919.
The army officially discharged Hitler on April 12, 1919, but secretly kept him on its payroll as a spy until 3/31/20. The Spartacist Revolt broke out in April, 1919. Hitler exhorted military comrades not to support Jewish Bolsheviks such as Eugene Levine, Ernst Toller, and Max Levien. When Red agents tried to enlist the support of soldiers at Turkenstrasse Barracks on April 26, 1919, Hitler shouted: "we're not revolutionary guards for a pack of vagrant Jews!" When Spartacists tried to arrest him on April 27th, he turned them away with a loaded rifle. Hitler later received death threats for appearing as a witness in the courts-martial of communist soldiers. Konrad Heiden claimed that his testimony resulted in the deaths of several men.
Officers soon recognized the Bohemian corporal's potential as a soapbox orator. In June Captain Karl Mayr ordered Hitler to report to the University of Munich for a two week indoctrination course given by history professor Karl Alexander von Mueller and his brother-in-law Gottfried Feder. Noticing Hitler address a rapt circle of classmates in the back of the room one day, Mueller judged him an excellent mob-master. When the course ended on July 5th Mayr summoned Hitler and told him to prepare some lectures for the German prisoners of war returning from the Western Front. Between July 21st and August 25th the excitable lance corporal gave a series of speeches in Lechfeld Barracks to the men of the 41st Rifle Regiment.
Captain Karl Mayr associated with the clique that published the South German Review. This group included his boyhood chum Dr. Karl Alexander von Mueller, Paul Nikolas Cossman, Gottfried Feder, and Fritz Gerlich. Mayr used Suddeutsche Monatshette articles as texts for his army indoctrination courses. According to Hermann Esser, who worked for him, Mayr originally intended to employ Hitler, Rohm, and Eckart to further his own political ambitions. He eventually fell out of favor, becoming a Social Democrat in 1930, and dying in a concentration camp during World War II.
One of those who sat in on Hitler's performances was Divisional Headquarters' press secretary, Hermann Esser. He introduced himself and urged Hitler to "go public" with his demagogic talents. Hitler also impressed Major Hierl, his regimental commander. Hierl ordered him to attend a meeting of Anton Drexler's new German Workers Party in the backroom of the Sterneckerbrau beer hall on September 12, 1919, where Dietrich Eckart was scheduled to speak.
Eckart cancelled out due to illness and sent Gottfried Feder in his place. Hitler walked over to the Sterneckerbrau and signed in as "Lance Corporal, Munich 2nd Infantry Regiment." He listened to Feder's windy ramblings about interest slavery for nearly two hours. Bored to death, he jumped up as soon as the question-and-answer period started, and headed for the exit. A Professor Baumann rose and began arguing for Bavarian separatism. Hitler whirled around and launched into a spontaneous Pan-German tirade. Those wanting to divide Germany into small impotent duchies played right into the hands of her enemies! Hitler ranted for fifteen minutes. According to Hermann Esser, Baumann "slunk out of the room like a wet poodle."
Anton Drexler rushed over when Hitler finished, and handed him a copy of his forty-page booklet, My Political Awakening. Hitler read it that night. He agreed with Drexler's premises that a patriotic anti-communist parry could be built with a constituency of workers, Army enlisted men, and small businessmen. Although the Skat club atmosphere of the German Workers Party repelled him, Hitler saw that it provided an opportunity to break into politics. A young enlisted man from Austria with controversial views would have no chance of making headway in the other parties. People like Anton Drexler and Karl Harrer could never match his gifts for oratory and political intrigue. They needed an energetic and imaginative young fanatic with histrionic talents. Furthermore, Hitler knew that their German Workers Party conformed to army specifications. The Reichswehr General-Staff had been writing checks from a secret fund to this miniscule organization because they believed it could draw the working classes away from the Communist Party.
On October 14, 1919 Hitler requested Captain Mayr's permission to join the German Workers Party. It was against regulations for army personnel to engage in political activity. Nevertheless, Mayr consented and Hitler became the 55th member of the D.A.P. He immediately imposed his own agenda. Revealing both arrogance and a gambler's mentality, Hitler demanded that the entire sum in the party treasury be spent to purchase a newspaper ad announcing his first public political speech at the Hofbrauhaus. After much hemming and hawing Drexler and Harrer ponied up the money. On October 16, 1919 seventy people filed into the Hofbrauhaus at 7 P.M. to hear him speak. He dazzled them with a forceful tirade against the "November criminals." Party members passed the hat while Hitler raved, so that the next meeting could be financed. On November 13th he electrified a gathering at the Eberlbrau beer hall with a speech on the Brest-Litovsk and Versailles treaties. After that performance the volkisch playwright Dietrich Eckart, whom he had briefly met in late September or early October, complimented him on his eloquence. During the next few weeks the two men collaborated on the German Workers Party's 26-point program.
Hitler was on a roll. He harangued an audience of one hundred and seventy on December 10th. A meeting at the Zum Deutschen Reich Tavern netted 400 paying customers a few days later. Gratified by the reports he heard about a growing anti-communist party that catered to workers and common soldiers, General Erich Ludendorff ordered 121 army men to join The German Workers Party. Hitler soon addressed crowds of between 1,200 and 3,500 people. His political career had taken off.
_______________
Endnotes
1 Adolf Hitler, Mein Kampf, 1925, trans. Ralph Manheim, Houghton Mifflin, Boston, MA, 1943, pp. 126-127.
2 Eugene Davidson, The Making of Adolf Hitler: The Birth & Rise of Nazism, MacMillan, New York, 1977, pp. 43-44.
3 Stefan Lorant, Sieg Heil! Bonanza Books, New York, 1974, p. 55, op. cit. Adolf Hitler, Mein Kampf.
4 Lothar Machtan, The Hidden Hitler, trans. John Brownjohn, Basic Books, New York, 2001, p. 69, op. cit. The Mend Protocol.
5 Ibid., p. 68.
6 H. R. Trevor-Roper, ed. Hitler's Secret Conversations 1941-1944, Farrar, Strauss & Young, New York, 1953, p. 156.
7 Werner Maser, ed. Hitler's Letters and Notes, Bantam Books, New York, 1976, p. 61.
8 Joachim C. Fest, Hitler, trans. Richard & Clara Winston, Harcourt, Brace, Jovanovich, 1974, p. 133.
9 Ibid., p. 159.
10 John Lukacs, The Hitler of History, Alfred A. Knopf, New York, 1997, p. 63, op. cit. Erhard Jaeckel & Axel Kuhn, editors, Hitler's Letters.
11 Machtan, p. 71.
12 Hitler, Mein Kampf, p. 204.
13 Barbara Lane Miller and Leila J. Rupp, Nazi Ideology Before 1933, University of Texas, Austin, TX, 1978, p. 9.
14 Machtan, p. 70.
15 Ibid.