19: Historic Collaboration
"Follow Hitler! He will dance, but it is I who have called the tune."

-- Dietrich Eckart
The Socialization of Adolf
According to Hermann Esser, Captain Karl Mayr introduced Adolf Hitler to Dietrich Eckart sometime in late September or early October of 1919. However, the pair did not work closely together until after Hitler's November 13,1919 speech at the Eberlbrauhus beer hall.
During this early period as a political agitator Hitler sought to keep all options open. He asked Eckart's artist friend Max Zaeper to appraise his paintings so he could have art dealers sell them at fair market value. Georg Grassinger claimed that Hitler applied for a newspaper reporter's job at Rudolf von Sebottendorf's Munchener Beobachter in the Autumn of 1919, but was turned down.
In 1920 and 1921 Hitler visited Eckart regularly at his apartment on Franz Josef Strasse, Auf Gut Deutsch's office, various cafes, and his cousin Simon Eckart's lavish home in Giesing. Simon was an executive with Hansa Bank, who owned rental properties and controlling interest in a small brewery. He also collected art. Hitler recalled him being dissatisfied with an unsatisfactorily restored Murillo. The two cousins were very dissimilar.
"A whole world separated them. Dietrich was a writer full of idealism, Simon a man deeply immersed in ... realities." [1]
Noticing Hitler's gauche manners and disheveled appearance, Eckart schooled him in the social graces, and bought him some suits, hats, and a gabardine trench coat. Like a theatrical director he dressed his young star for the stage, then presented him to wealthy rightwing sympathizers Count Ernst zu Reventlow (Fanni's brother), Helena Bechstein, and Hugo Bruckmann with the words: "meet the man who will one day liberate Germany! ... This is the man of the future. One day the whole world will be talking about him." [2]
In upper class drawing rooms Hitler distinguished himself by a voracious appetite for cakes, low Austrian bows, and moody silences interrupted by vitriolic monologues. Eckart attempted to make him more "salonfahig" (socially acceptable,) but sometimes found the gentrification of Adolf a trial. The nattily dressed writer disapproved when his young Lohengrin paraded around in ridiculous outfits. At a fashionable party one evening Eckart winced as Hitler entered clasping a dog-whip, clad in trench coat and "gangster hat," with revolver handle sticking out of his tuxedo's cummerbund. At soirees Hitler, who typically hadn't eaten anything since breakfast, gobbled hors d'oeuvres four at a time, and stuffed his mouth so full of pastry that he could barely speak. With other guests seeking light cocktail chatter, he blurted out unpleasant diatribes against Jews. Eckart could never predict how Hitler would act in social settings. He either sulked in a corner, or ranted like an evangelist. On other occasions, he turned on saccharine Viennese charm -- usually for the wrong people. "Uncle Dietrich" complained that his understudy ignored constructive criticism, and resented any suggestion that he was less than infallible.
To Hanfstaengl, Ludecke, and others, Eckart poked fun at Hitler's "Austrian slavishness." Society columnist Bella Fromm observed this characteristic at a 1921 soiree.
"He bowed and clicked and all but knelt in his zeal to please the oversized... Princess Luise von Sachsen-Meiningen, her brother, hereditary Prince Georg, and their sister, Grand Duchess of Sachsen-Weimar. Beaming in his servile attitude, he dashed personally to bring refreshments from the buffet." [3]
Carola von Hoffman, widow of a school teacher, baked cakes for Hitler and washed his clothes. She fondly addressed him as "Wolfschen." He called her "Muttichen." Eckart moaned as he watched Hitler snub wealthy Junker contributors, while waiting on that "old biddy."
Eckart introduced the Nazi enfant terrible to people he would never have gained access to on his own. In October, 1923 Eckart's friend Helena Bechstein and her piano manufacturer husband Edwin Bechstein, accompanied Hitler to Bayreuth in October, 1923 to meet Mr. and Mrs. Siegfried Wagner. Bisexual Siegfried dismissed Hitler, who was dressed in checked shirt, leather shorts, and lederhosen, as "a fraud and upstart." His attractive English wife Winifred registered a very different impression. At first sight she regarded the young Bohemian as Germany's Messiah.
Eckart's referral of Hitler to theatrical producer and designer Clemens von Franckenstein did not bear fruit. Franckenstein's "queer eye" divined something amiss, under the general category of "bad vibes." Hitler appeared at his plush home in Lenbach Villa with whip in hand, wearing riding breeches and slouch hat. Friedrich Reck-Malleczewen provided an account of their meeting.
"When he had gone, we sat silently confused and not at all amused. There was a feeling of dismay, as when on a train you suddenly find that you are sharing a compartment with a psychotic ... Finally, Clemens stood up, opened one of the huge windows and let the spring air into the room It was not that an unsanitary body had been (there,) but something else: the unclean essence of a monstrosity." [4]
Eckart himself felt more at home in local bars than the townhouses of the rich. He brought Hitler and his comrades down to the Brenessel Wine Cellar, Bratwurst-Gloeckle Restaurant, Cafe Neumeier, and Cafe Heck for food, drink, and talk. He'd buy his abstemious young friend a beer, then loosen him up with humorous conversation. The usually stern Hitler slapped his knee when Eckart made him laugh. Hitler's closest companions in 1921 were Eckart, Rudolf Hess, Hermann Esser, Ulrich Graf, Max Amann, Alfred Rosenberg, and Christian Weber.
In October, 1922 Eckart's photographer friend Heinrich Hoffman joined the circle. That relationship started inauspiciously. An American news service offered Hoffman one hundred dollars for a photo of Hitler. At that time the going rate for an ordinary politician's picture was five dollars. Hoffman approached Eckart and requested his assistance in arranging a photo shoot. Though a drinking buddy and customer of Hoffman's Eckart refused, stating that Hitler had just turned down a 20,000 dollar offer from another wire service. The incredulous Hoffman resolved to sneak up on Hitler, snap a shot, then make a fast getaway. Adolf Muller, who printed the Volkisch Beobachter happened to have his shop directly across the street from Hoffman's studio on Schellingstrasse. A few days later he saw the N.S.D.A.P.'s green Selve car roll to a stop. Hitler jumped out and strode into Muller's office. Hoffman stationed himself near the printer's door. While nervously waiting, he saw a cart horse lean into the Selve's open back window and take a bite of its seaweed seat cushion stuffing, then spit it out. A moment later Hitler walked out. Hoffman pressed the shutter. Two burly bodyguards immediately dashed over, grabbed his camera, pulled out the plate, and threw it on the cobblestones. Hitler grinned at him.
A few months later, at Hermann Esser's wedding, Hitler apologized for that incident. He agreed to be photographed, and soon became a close friend. Hoffman eventually introduced him to Eva Braun, an employee in his studio. Over the years he earned a fortune as Hitler's personal photographer.
Political Activism
In mid-November, 1919 Dietrich Eckart, Adolf Hitler, Anton Drexler, and Gottfried Feder gathered in a beer hall to confer on the German Workers Parry's platform. From this time until August, 1922 (when he fled Munich to avoid arrest,) Eckart would be Hitler's closest adviser.
Eckart probably wrote Article 4 of the German Workers Parry's 26 Point Platform, stipulating that German citizenship must be based on race, and Article 23 which banned Jews from journalism. Ralph Engelman also suspected him of being the author of points 5 through 8:
"#5) Non-Germans may only live in Germany as guests;

#6) The right to determine matters of law belongs only to German citizens;

#7 The state must provide all German citizens with employment opportunities;

#8) Germany must ban all further immigration and deport all immigrants who arrived after August 1, 1914." [5]
Hitler and Eckart adopted some socialistic planks from Gottfried Feder and Anton Drexler which were later dropped, such as a 10,000 mark limit on war profits, and the mortgaging of noble estates to pay down Germany's war debt.
In January, 1920 Eckart supported Hitler in his successful bid to supplant Sports writer Karl Harrer as party information chief His political origins as a propagandist reveal Hitler's true nature. He and Eckart shared the conviction that they must have a daily newspaper to counteract the "Jewish press."
Both men spoke before 2,000 at Zum Deutschen Reich Hall on February 5, 1920. Many thought that Eckart wrote Hitler's speeches. Although he did incorporate some of the playwright's ideas and catch-phrases into his speeches, Hitler never used him as a "ghost-writer."
During that turbulent period politicians from Germany's multitude of parties debated the questions of democracy vs. absolutism, militant foreign policy vs. accommodation, humanitarianism vs. racism, multi-cultural ism vs. nationalism, populism vs. elitism, and socialism vs. capitalism. On most of these issues Eckart and Hitler came down on the same side. Their program would combine absolutism, militancy, racism, nationalism, and populism. Eckart leaned toward socialism because of his obsession with usury. Hitler's detestation of Marxism made capitalism seem more palatable, though he recognized the value of socialist rhetoric for winning over workers. He ultimately decided that the best course would be duplicity-that is, to pose as a socialist before working class audiences, and a capitalist when addressing businessmen.
Hitler and Eckart's first joint political endeavor was a comic attempt to coordinate with the Kapp Putsch's incompetent instigators in March, 1920. General Walther von Luttwitz's Freikorps troops marched on Berlin and installed a minor official named Wolfgang Kapp as Chancellor. Eckart knew Kapp, who not only subscribed to Auf Gut Deutsch, but donated 1,000 marks to help it thrive. Some time during January, 1920 Kapp visited Eckart in Munich to seek his advice for the planned coup. In late February, Eckart traveled to Berlin for another meeting with his friend, counseling him to adopt stern measures against the Jews, who would surely rouse credulous proles to oppose a nationalist revolution. After the Putsch Kapp enforced only small sanctions, such as the impoundment of matzo flour -- which Eckart derided as not merely ineffective, but ludicrous.
Threats from Britain and France to bring criminal charges against the former Kaiser and 900 senior military officers provoked outrage toward the hated Weimar Republic, which most Germans viewed as the creature of Entente powers. In January, 1920 the leaders of Berlin's officer corps proposed to toss out President Friedrich Ebert's regime and install Kapp as chancellor. With the collusion of General Walther von Luttwitz, General Erich Ludendorff, and Colonel Max Bauer, Kapp occupied government offices on March 12 and proclaimed himself chancellor. Ebert absconded to Dresden. But things went down hill from there. No prominent men would accept cabinet appointments from Kapp. Berlin's civil servants staged a sick-out. The German Reichsbank refused to approve Kapp's signature on government checks, thus freezing the nation's assets. On March 17th Kapp tendered his resignation and fled to Sweden.
The new "chancellor" proposed to abolish the Weimar Republic and arrest all Jews suspected of stabbing Germany in the back during World War I. On Captain Mayr's recommendation Augsburg businessman Dr. Gottfried Grandel agreed to pay for Hitler and Eckart's expenses for a trip to Berlin. On March 17, 1920 the two emissaries took off in a three-seat sport plane piloted by air ace Robert Ritter von Greim, on a mission to enlist Kapp's aid in overthrowing Bavaria's Provisional Government. Red-faced Eckart, with double chin quivering under a tight leather cap, watched Hitler vomit over the side with goggles askew. Once on the ground Eckart posed as a paper merchant. The woozy Hitler clapped on a fake beard and pretended to be his assistant.
Upon reaching Kapp's headquarters in Hotel Adlon they encountered Hungarian Jewish conman Ignaz Thimotheus Trebitsch-Lincoln -- an amazing character who combined spying with the careers of an Anglican minister, British M.P., published author, and Chinese religious leader. He informed them that "Chancellor" Kapp had skipped town to avoid arrest. Eckart turned to Hitler and snapped: "Come, Adolf, we have no further business here." [6] Hitler subsequently remarked:
"When I saw and spoke to the press chief of Kapp's government I knew this could be no national revolution ... for he was a Jew." [7]
Six months later Trebitsch-Lincoln sold his account of the Kapp Putsch to the French Foreign office for 50,000 Czech crowns.
Refusing von Greim's offer of a return flight, Eckart and Hitler took the next train back to Munich. They learned from the Kapp Putsch's collapse that a rightist insurrection stood little chance of victory. This reinforced their strategy of courting blue collar workers and small business proprietors.
The Kapp Putsch gave Hitler an object lesson on how not to stage a coup against the Weimar Republic. A spur-of-the-moment military action without sufficient political organization would never succeed. The German Workers Party needed a coordinated action with military and civilian cooperation. Of course, Anton Drexler, Karl Harrer, and other timid Skat club members feared such risky designs.
Eckart did not concentrate exclusively on Hitler in 1920. He still operated as a volkisch consultant-at-large, mobilizing opposition against the" Jewish-Bolshevik Peril." As cheerleader for counter-revolution, he exhorted Germany's youth to rise up against both communism and the "foreign" Weimar Republic.
"This is no time for young Germans to spend studying philosophy and sitting behind a desk full of books ... (It's) a question of into the storm troops who must rescue Germany." [8]
Though an excellent barroom raconteur, Eckart was not a particularly effective public orator. Nevertheless, he delivered plenty of speeches between May, 1919 and February, 1923, as shown by the following partial list of speaking engagements:
May 30, 1919 On the Jewish Peril at Four Seasons Hotel before Rudolf von Sebottendorf's German Order,

August 14, 1919 before Anton Drexler's German Workers Party at the Hofbrauhau, on Productivity vs. Parasitism (with examples from Eckart's melodrama, Familienvater,)

August 22, 1919 before Julius Streicher's Schutz & Trutz Bund on Peer Gynt's "Mittendurch" (Ability to Penetrate Illusion,)

February 2, 1920, On German Communism at Das Gasthaus, May 19, 1920, On the Jewish Character at Hofbrauhaus,

September 9, 1920, The Reich Smash-Up and the French, Kindl- Keller,

January 15?, 1921, on National Socialist Journalism before the Alldeutsche Verband,

February 3, 1921, Fighting International Jewish Finance, Hofbrauhaus,

March 11, 1921, The Jewish Problem at Hofbrauhaus- Festaal,

July 21, 1922, German Needs and German Politics, Burgerbrau-Keller,

November 30, 1922, Attack against Dr. Georg Heim, Hofbrauhaus,

January 18, 1923, Eckart introduces Henry Hamilton Beamish,

January 28, 1923, What's Happened and What Do You Want to Do? Hofbrauhaus-Festaal,

February 26, 1923, German Students and German Workers: Bearers of the Future, Lowenhrau-Keller,

April 20, 1923, Hitler, Bismarck, and Lenin, Circus Krone,

October 30, 1923, Criticism of Commissioner Gustav von Kahr.
In concert with Gregor Strasser and Father Bernhard Stempfle, Eckart tried to unite Georg Heim's Catholic Center Party with the Bayerische Volkspartei of Gustav von Kahr and Georg Grassinger's German Socialist Party. Through Rosenberg's White Russian connections, he met Henry Ford's European tractor sales manager, Warren C. "Fuzzy" Anderson, who funneled Ford Motor Co. donations into the party treasury. Eckart also made a futile attempt to form a multi-national league against "International Jewry" with Henry Hamilton Beamish, a British mineworker who founded an anti-Semitic organization known as The Britons. On January 18, 1923 Hitler and Eckart entertained Beamish as their guest of honor at the Circus Krone. They discussed the necessity of forming a worldwide gentile union to fight International Jewry. Ulrich Fleischhauer, founder of the anti-Semitic Welt-Dienst (World Service), asserted that Eckart first broached this idea to him over drinks at the Brenessel Wine Cellar, where he said:
"If our idea comes to power, the Jew will try again to starve us out ... then try to ruin us through wars and revolutions. Adolf must therefore have an international movement that can help him from the outside ... " [9]
In "Men!," his first Auf Gut Deutsch article, Eckart solemnly swore not to serve any individual or party. His testimonials on behalf of Anton Drexler's German Workers Party violated that oath. However, Eckart never mentioned Hitler in print before January 31, 1921. On February 3rd the two men appeared together publicly before a crowd of 5,600 at Circus Krone. Eckart soon abandoned his posture of journalistic independence that day by wholeheartedly endorsing Hitler. Overcome by emotion, he sincerely believed that the eloquent 31 year old ex-corporal could save Germany.
Anton Drexler and others worried that perverted schoolteacher Julius Streicher of Nuremberg would be a liability to the National Socialist movement. Hitler believed him to be afflicted with "nympholepsy" or sex addiction, a condition likely to generate scandals. Eckart had counseled whip-brandishing Streicher, who headed the German Socialist Party as well as the Offensive & Defensive Association (Schutz und Trutz Bund.) He admitted being surprised that such a brazen bounder liked him. Because Streicher controlled a sizable group of disgruntled workers and war veterans in Nuremberg, Eckart advised Hitler to cultivate him as an ally. The party needed energetic district leaders to grow. Utilize the unsavory Streicher to attract discontented blue collar workers as you'd use worms to catch fish. Who cared if he molested young girls every now and then? Eckart declared Streicher's miniscule German Socialist Party "redundant" and accurately predicted its absorption into the N.S.D.A.P. Hitler remembered:
"More than once Dietrich Eckart told me that Streicher was a schoolteacher and lunatic to boot. He always added that one could not hope for the triumph of National Socialism without men like Streicher ... " [10]
Years later Hitler recollected Eckart's belief that the fickle middle class could always be wooed back if their interests were betrayed, but not hardheaded workingmen. Thus, he must cater more to the bloc-voting proletarian dragon. Opportunistic bourgeois "whores" would rapidly flock into the party if numerically superior workers catapulted Hitler into office.
Eckart supported Hitler in his bid to push Drexler aside and recruit a group of street fighters into its "Sports-Section." He later helped persuade scar-faced Captain Ernst Rohm to transfer his Reichsflagge paramilitary organization into the N.S.D.A.P. By 1923 Rohm commanded Hitler's Sturm Abteiling, a more lethal version of the "Sports Section," which numbered fifteen thousand roughnecks by 1923.
At 2 A. M. on December 17, 1920 Hitler burst into Anton Drexler's apartment and pleaded with him to raise enough money to buy the Munchener Beobachter from Rudolf von Sebottendorf. A nervous Drexler rang Eckart's doorbell at 8 A.M. After grumbling about being rousted out of the sack so early, Eckart agreed to speak with some of his military and industrial patrons. General von Epp once hinted that the army might subsidize Auf Gut Deutsch's transformation from a weekly to a daily. The time had come for him to make good on that offer.
"Baron" von Sebottendorf's trustees wanted 470,000 marks from a prospective buyer -- 120,000 in cash, plus the buyer's assumption of his unpaid bank loan for 350,000 marks. General Ritter von Epp ponied up 60,000 marks from the army slush fund. Private contributors Dietrich Eckart, Julius Lehmann, Gottfried Grandel, Simon Eckart, Emil Gansser, and Friedrich Krohn came up with the 410,000 balance. According to Rosenberg, Eckart pledged the duplex he co-owned with Rose as collateral-- without her permission. At 2 P.M. on December 18,h Hitler, Drexler, and Eckart sat down with Sebottendorf's lawyer, his sister Dora Kunze, and Kathe Bierbaumer, the Baron's sultry mistress. They hammered out a deal. By 4 P.M. the National Socialist German Workers Party owned Der Volkischer Beobachter (People's Observer.) It would be the Nazis' chief propaganda organ from December, 1920 until April, 1945. Hitler wrote an effusive thank-you note after the settlement:
"Dear Herr Eckart:

After the finally successful transfer of the (Munchener) Beobachter to the Party, I want to, dear Eckart, express my warmest thanks for the great help you provided at the last minute. Without your assistance the matter would probably not have come off, and I believe that we would have lost the opportunity to have our own newspaper for many months to come. I am so devoted to the Movement, body and soul, you could scarcely believe how happy I am, as a consequence of reaching this much-desired goal, and cannot refrain from expressing my deep-felt thanks for this present good fortune.

In True Admiration,

Yours,

A. Hitler" [11]
Eckart's active participation in Nazi affairs upset his home life. Rose did not approve of Dietrich's reckless wheelings and dealings with household finances during the Volkischer Beobachter negotiations. Objecting to his disreputable friends, nonconformist life style, and imprudent spending, Rose kicked him out of the house. According to Alfred Rosenberg Eckart's co-signing of the Beobachter loan led to their separation. Albert Reich wrote that it was just the crowning blow. As a proper lady and "particular housekeeper," [12] she took exception to his lethargy and slovenliness. Eckart cared little for respectability, frequently inviting shady characters into their home without consulting her. The court issued a divorce decree on March 7th. Eckart moved to an apartment near the second floor flat on Thierschstrasse that Hitler rented from a Jewish couple, Herr and Frau Erlanger.
After the Nazis' acquisition of the Volkisch Beobachter, Eckart neglected Auf Gut Deutsch. Alfred Rosenberg now produced it almost singlehandedly, but circulation dropped because of his tendency to write abstract gobbledygook in a turgid style. The little tabloid died on May 17, 1921.
Eckart did not become editor-in-chief of Der Volkischer Beobachter (The People's Observer) until August. He wanted to rename it. "What's the meaning of that word 'observer?' .. .I could understand something like chainsmasher!"  [13] He continued his unorthodox editorial practices. Ostentatiously clinging to Bohemianism, Eckart held most editorial conferences at the Stinging Nettle. Wine Cellar. On August 11, 1921 his poem Feurjo!, which eventually became the Nazi anthem Sturm lied, appeared on the paper's front page. Another poem, in honor of Hitler's birthday, displaced all other news in an April, 1923 edition. He published several provocative articles for the new paper which triggered lawsuits and government bans. During one period of closure in September, 1921 he risked jail by putting out a tabloid similar to Auf Gut Deutsch under the title Bayern Heraus (The Bavarian Out With It).
Though determined to keep their home base in Munich, Hitler and Eckart knew that they could not ignore Berlin. In June, 1921 they again journeyed to the capital. Through Dr. Emil Gansser's influence Hitler obtained a speaking engagement at the prestigious National Club, and United Fatherland Society,
Eckart's friend Karl Guido von Bombard, a mechanic and inventor, had introduced him to chemist Dr. Emil Gansser in Berlin, around 1910, Gansser, the son of a Protestant minister, worked for Siemens & Halske A.G. and held patents for numerous chemical products and devices. This "mad scientist's" home workshop resembled Dr. Frankenstein's cellar, with flickering Bunsen burners, gauges, smoking test tubes, bubbling retorts, and gurgling beakers. Co-workers called him "Pretzel" because he lived on pretzels for days while working on new discoveries. "Pretzel" had his share of laboratory explosions-not surprising since one pet project was an egg-sized bomb capable of blowing up a three story building. A rightwing paranoiac in politics, Gansser feared that the coordinated efforts of Jews, Freemasons, and Jesuits would soon devastate Germany. Lest these antagonists open his mail, he wrote Eckart letters in code, punctuated liberally with exclamation points and red ink. In February and May of 1922 Gansser invited Hitler and Eckart to Berlin, so they could mingle with such National Club stalwarts as Dr. R. Burhenne of Siemens, Count von Behr, Count Yorck von Wartenburg, Count Ernst Graf zu Reventlow, and media tycoon Alfred Hugenberg.
Hitler claimed that he would eliminate communism, strikes, and the hostility of workers toward management. Most National Club members were unimpressed, dismissing Hitler as a "bullshit artist" with bad haircut and Charlie Chaplin mustache who talked too much. He rattled off unrealistic promises about "controlling" unions, which contradicted what he told workers in beer halls. Since many S.A. men belonged to trade unions, few took seriously Hitler's pledge to deploy them as strike-breakers. Against Eckart's advice, he blurted out radical student nonsense about "unproductive loan capital." Siemens and Thyssen Steel Works would never have prospered were it not for loans from Jewish bankers such as the Warburgs, Kahns, and Rothschilds. To suggest abolishing interest in front of industrialists and financiers marked one as a certified crackpot. At one point former Tiergarten hobo Eckart provoked catcalls by reprimanding Dr. Eduoard Stadler for having business relationships with Jews. National Club executives considered "Pretzel" Gansser a cranky genius bereft of common sense. Those lab explosions must have addled his brain. Discerning businessmen viewed Hitler and Eckart as a couple of naive amateurs who shared "Pretzel's" bizarre notions. They were like children -- "passionate after dreams and unconcerned about realities." [14] For their part, Hitler and Eckart griped that some National Club bigwigs were "dumber than proles."
During off hours, Eckart acted as a tour guide. He took Hitler to a performance of Peer Gynt at the Staatliches Schauschelhaus and brought him to the Old Bavarian pub for drinks. There they met Willi Kannenberg, a corpulent jokester who so amused Hitler that he later hired him as the Munich Brown House's cook and court jester.
Berlin had gotten even worse since Hitler's hospital stay during the war. Thirteen year old prostitutes stood on street corners dressed in "Raggedy Ann" outfits. Nightclubs staged nude revues. Brothels catered to every perversion. A strong Communist Party subsidized by the Soviet Union sowed discord wherever it could. Novelist Stefan Zweig described the capital's decadence in Die Welt auf Gestern:
"Bars, amusement parks, and pubs shot up like mushrooms ... The Germans brought to perversion all their vehemence and love of system. Made-up boys with artificial waistlines promenaded along the Kurfustendamm -- and not professionals alone: every high school student wanted to make some money, and in the darkened bars one could see high public officials courting drunken sailors without shame. Even the Rome of Suetonius had not known orgies like the Berlin transvestite balls, where hundred of men in drag, and women in men's clothes danced under the benevolent eyes of ... police. Amid the general collapse of values a kind of insanity took hold of precisely those middle class circles which had hitherto been unshakable in their order. Young ladies proudly boasted that they were (loose); to be suspected of virginity at sixteen would have been considered a disgrace in every ... Berlin school." [15]
After returning to Munich, Hitler referred to the capital as "Germany's Babylon," and held "Jewish purveyors of vice" responsible for its deplorable state.
Since February, 1920, Hitler reigned supreme as head of the National Socialist German Workers Party. Under his direction, it grew from a handful of patriotic workers to 3,000 dues-paying members of all classes. When Drexler suggested that the party form a coalition with other volkisch parties, Hitler obstinately refused. He wanted to annex the competition under his rule, not dissolve into it. Both Drexler and Eckart were embarrassed by Hitler's sullenness during an April, 1921 conference with Dr. Otto Dickel of the Artisans' League. Dickel, "a second outstanding speaker with (the) popular touch," [16] mocked the N.S.D.A.P's twenty-six point program, and suggested improvements. Hitler angrily bellowed that no outsiders had any authority to second-guess his carefully crafted platform, then stalked out of the room. Eckart and Drexel glanced at each other, silently acknowledging their leader's
"prima donna-like (histrionics) ... hypersensitivity to personal criticism, ... inability to engage in rational argument ... rapid resort to extraordinary outbursts of uncontrolled temper, (and) extreme aversion to any institutional anchoring ... " [17]
Hitler's impassioned speeches transported Eckart, but his conduct away from the podium dismayed him.
While Hitler tarried in Berlin with Eckart, Drexler secretly resumed conversations with Otto Dickel, as well as Alfred Brunnner of the German Socialist Party. The Nazis hardly existed outside of Munich, whereas Brunner's party had chapters all over Bavaria and in several northern cities. Drexler wanted to resurrect Germany within the Weimar Republic's parliamentary system. Eckart learned of Drexler's activities from Esser on July 11, 1921 and notified Hitler, who flew into a rage and resigned from the party. This spoiled brat behavior confirmed Eckart's suspicions about his emotional unsteadiness. In depressive moods he chided himself for coddling such a neurotic. But Eckart was accustomed to "artsy" types. Therefore, he counseled Hitler on how to handle the situation. When Drexler approached "unbiased" Eckart to arbitrate this intra-party squabble, he readily consented in order to guarantee a favorable outcome for his young friend.
Having the respect of both factions, Eckart convened a meeting on Friday, July 29th. Hitler delivered a brief speech before 544 members. He wanted full authority. Why should a party which rejected democracy govern itself along democratic lines? All talk of mergers with other parties must cease forthwith. Munich would remain the base of National Socialism. Only he had the power to alter the sacrosanct twenty-six point program. Any "heretics" who didn't like it should quit immediately. Hitler's charisma again won them over. They voted to make him undisputed leader by a margin of 543 to 1. Librarian Rudolf Posch cast the only dissenting vote. Drexler got an empty title: "honorary party chairman for life." Georg Franz-Willing commented: "without Eckart's mediation Hitler would never have become dictator of the party; at least not at that time and under those circumstances."18 According to Margarete Plewnia the mediation crisis represented the "high point of (Eckart's) influence on Hitler." [19]
Eckart once swore he would "draw my revolver" [20] to defend his young friend. Fallout from Hitler's power grab soon mobilized him. The Munchener Post published an anonymous letter (written by Ernst Ehrensperger), contending that Hitler's drive for absolute sovereignty created dissension within the party. True, but unfortunately, the author ruined his credibility by falsely charging that Hitler misused party funds on women, "to whom he has often referred to himself as 'King of Munich." Eckart refuted this untruth in an August 4, 1921 Beobachter article.
"No person anywhere can serve a cause more selflessly, more self-sacrificingly, more devotedly, and more sincerely, than Hitler devotes himself to ours." [21]
Eckart referred to Hitler in an August 21, 1921 Volkisch Beobachter article as Der Kommenden Grossen (The Coming Great One.) This title ascribed to him the mystical powers of an Araharl (Teutonic Chieftain.) Shortly after this Rudolf Hess began addressing Hitler as Der Fuhrer (The Leader.)
"The Great One" again showed his intolerance of competitors when he ordered Hermann Esser and others to beat up Deutscher Bund Party head Otto Ballerstedt while the latter tried to give a speech on September 14, 1921. Like Otto Dickel of the German Artisans' League, Ballerstedt was a spell-binding orator who inflamed Hitler's jealousy. His chief sin in Nazi eyes was to espouse a Danubian Federation, requiring Bavaria's secession from Germany and merger into Austria. The police arrested Hitler and his toughs for this incident, which left Ballerstedt partially disabled for life. In August, 1921, due to health and legal problems of his own, Eckart retreated to the alpine village of Obersalzburg for a long vacation.
After his return to Munich in the fall, he and Hitler concocted a sympathetic mini-biography, in the form of a letter published by the Volkischer Beobachter on November 29th. Fiction again won out over fact. The news release exaggerated Hitler's poverty in Vienna and his war wounds. It described his father as a "postal clerk" instead of a customs official, and circulated the falsehood that Hitler had only 80 crowns (rather than 800) when he emigrated to Munich in 1913. Feeling that the occupation of "landscape painter" would sound too effeminate to blue collar constituents, Eckart revised Hitler's former trade to "builder." He wanted to characterize his high-strung Austrian crony as "down to earth."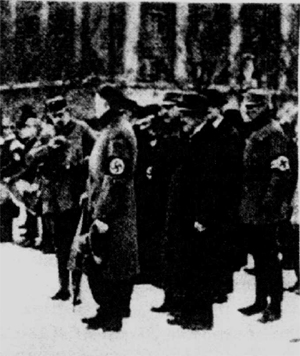 This grainy photograph taken during January 28, 1923 NSDAP rally in Munich shows Eckart standing behind Hitler.
Hitler achieved greater success on his May, 1922 trip to Berlin. His polished speech before the National Club on May 29th made no mention of "interest slavery" or "unproductive capital." In attendance this time were not only "stiffs" like Dr. Eduoard Stadler, but hard-core nationalists such as General Erich Ludendorff, Max von Scheubner-Richter, coffee merchant Richard Frank, Marine Admiral Ludwig von Schroeder, and Dr. Hans Lammers, a banker who would later serve as a Nazi cabinet minister. They lapped up his message and gave him a standing ovation. Just before Hitler departed for Munich Dr. Emil Gansser handed him a suitcase full of American dollars and Swiss francs.
Max von Scheubner-Richter introduced Hitler to General Erich Ludendorff in Berlin. The general promised to put him in touch with other patriotic veterans' groups. A few weeks later Ludendorff accompanied Hitler to the Landshut drug store of ex-officer Gregor Strasser. Upon arriving General Ludendorff commanded Strasser to merge his anti-communist soldiers' organization into the Nazi Party. The former lieutenant clicked heels, saluted, and obeyed orders. While these fast-moving events unfolded Eckart rusticated in Obersalzburg with Annerl, his sixteen year old girlfriend.
_______________
Endnotes
1 Hugh Trevor-Roper, editor, Hitler's Secret Conversation 1941-1944, trans. Norman Cameron and R. H. Stevens, Farrar, Straus & Young, New York, 1953, p. 240, night of 2/5/1942.
2 Lothar Machtan, The Hidden Hitler, trans. John Brownhohn, Basic Books, New York, 2001, p. 152, op. cit. Alfred Zoller, Hitler Privat Erlenisbericht seiner Gehiem Sekretarin, Dusseldorf, 1949, p. 117.
3 Walter C. Langer M.D., The Mind of Adolf Hitler, Basic Books, New York, 1972, p. 90, op. cit. Bella Fromm, Blood and Banquets, Harper & Row, New York, 1942, pp. 96-97.
4 Friedrich P. Reck-Malleczewen, Diary of a Man in Despair, trans. Paul Rubens, MacMillan, New York, 1970, p. 24.
5 Alfred Rosenberg, Das Parteiprogramm: Wesen, Grundsatze und Ziele der NSDAP, Munich, 1922.
6 Otto Dietrich, Hitler, trans. Richard and Clara Winston, Henry Regenery Co., Chicago, 1955, p. 164.
7 Eberhard Jackel & Axel Kuhn, Hitler: Samtliche Aufzeichnungen, 1905-1924, Sungan, Deutsche Verlags Anstalt, 1980, p. 117.
8 Ernst Nolte, The Three Faces of Fascism, trans. Leila Venewitz, Holt, Rinehan & Winston, New York, 1966, p. 328.
9 William Gillespie, "Dietrich Eckart: An Introduction for the English-Speaking Student," vnnforum.com, 1975, p. 13, op. cit. April 7, 1938 letter from Ulrich Fleischhauer to Herr Hunke, Haptarchiv folder #1311.
10 Hitler's Secret Conversations, p. 126, night of 12/29/1941.
11 Gillespie, p. 15, op. cit. Georg Franz-Willig, Die Hitler Bewegung, Vol. I, Sursprung, Hamburg: R. V. Deckers Verlag, 1962, p. 181.
12 Margarete Plewnia, Auf dem Weg zu Hitler: Der Volkische Publizist Dietrich Eckart, Schunemann Universitatasveriag, Bremen, 1971, p. 73.
13 Hitler's Secret Conversations, p. 282, Hitler's conversation of 2/5/1942.
14 Agnes Repplier, In Our Convent Days, Houghton-Mifflin Co., Boston, 1905, p. 30.
15 Peter Gay, Weimar Culture, Harper & Row, New York, 1968, 129-130, op. cit. Stefan Zweig, Die Welt von Gestern, p. 287.
16 Ian Kershaw, Hitler 1889-1936, Hubris, W. W. Norton, New York, 1998, p. 162.
17 Ibid.
18 Plewnia, p. 79.
19 Ibid., p. 153.
20 Machtan, p. 121, op. cit. 8/1/1922 Munchener Post.
21 Charles Bracelen Flood, Hitler: The Path to Power, Houghton Mifflin, Boston, MA, 1989, p. 206, op. cit. Volkisch Beobachter, 8/4/1921.