21: German Anti-Semitism
"We know that there are domains in which the Jews are more able than we ... , and that we have greater ability in others; we hope that with good will on both sides, peaceful cooperation will be possible, but we are convinced that relations cannot continue much longer in their present form."

-- Ferdinand Avenarius, 1912
"I am a Jew. Hath not a Jew eyes? Hath not a Jew hands, organs, dimensions, senses, affections, passions; fed with the same food, hurt with the same weapons, subject to the same disease, healed by the same means, warm'd and cooled by the same winter and summer, as a Christian is? If you prick us, do we not bleed? If you tickle us, do we not laugh? If you poison us, do we not die? And if you wrong us, do we not revenge? If we are like you in the rest, we will resemble you in that."

-- William Shakespeare, The Merchant of Venice, Shylock's speech, Act 3, Scene 1, 58-68.
Hitler's June, 1941 invasion of the Soviet Union demonstrated an amateurish misunderstanding of logistics. This same naivete led him to fall for The Protocols of Zion's implausible thesis that a tiny minority could dominate the world by means of diabolical cunning and coordinated efforts. Having never worked real jobs, Eckart and Hitler couldn't understand that Jewish bankers, industrialists, and retailers had neither the time nor power to concoct a grand conspiracy against gentile civilization. Because of superior intelligence and industry many Jews succeeded in business. They also adopted self defense measures when attacked by anti-Semitic organizations such as Theodor Fritsch's Hammerbund. At no time did "International Jewry" plot the destruction of Germany.
The prior chapter outlined Dietrich Eckart's bizarre anti-Semitic worldview. This section will attempt to describe actual historical conditions, thus serving as a "reality check" to the hogwash propagated by Hitler, Eckart, and other Ariosophists.
Anti-Semitism, or collective Judeophobia, has been a recurrent phenomenon since the pre-Christian era. In Hitler's Willing Executioners Daniel Jonah Goldhagen declared anti-Semitism "a more or less permanent feature of western culture." [1] He added that it ran in cycles, manifesting more or less severely at different times.
As aliens with a different cultural heritage, Jews evoked resentment, and became convenient scapegoats when things went wrong due to wars, plagues, famines, economic fluctuations, or breakdowns of traditional values. Many Germans demonized "the Jew" into a negative stereotype, and considered him responsible for their temporal misery. Since anti-Semitism increased in bad times and abated during periods of prosperity, it tended to follow the same curve as political revolutions.
Adolf Hitler posed as a populist to attract lower middle-class followers. He began his political career in the aftermath of World War I, a period wracked by hyperinflation, unemployment, and insurrection. His fortunes declined when Gustav Streseman's government restored order from 1924 to 1929. The Depression brought him back into the spotlight by 1930. Hitler's anti-Semitic message always gained credibility with the masses during hard times. He realized that social upheavals prompted leftist and conservative Germans -- from opposite ends of the political spectrum -- to band together against Jews. Commoners and reactionaries shared the phobia that "Jewish wire-pullers" fomented disorders in order to snatch power from gentiles.
Since medieval times German-speaking provinces in the Holy Roman Empire prohibited Jews from owning land. As late as 1905, 95% of them still lived in cities, with 20% residing in either Berlin or Frankfurt. Before 1848 Jews were forbidden to practice law, obtain civil service jobs, engage in masonry, carpentry, or other building trades. This funneled them into medicine, banking, retail and wholesale businesses, jewelry-making, lens-grinding, and a few other industries, particularly clothing, food, glass, and furniture manufacture. Christianity's taboo against usury enabled astute Jews to predominate in the money-lending business. Jewish financiers helped set up the credit and stock exchange systems which underlie our present world economy. Many centuries ago Germans coined the word "Judentum" to denote "commerce," in the same way English invented the term "jewelry" for gems set in precious metals. Thus, Teutonic consciousness associated Jewry with the complexities of high finance, and suspected that capitalism's cyclical booms and recessions were "swindles" perpetrated by crafty Hebrews. Theodor Fritsch's Handbook on the Jewish Question blamed Jews for such long-range impersonal trends as depression, inflation, secularism, and urbanization.
Daniel Goldhagen cited the spirited battle against Jewish emancipation in Bavaria as proof of widespread anti-Semitism. On December 14, 1849 Bavaria's Lower House enacted a statute granting equality to Jews. The resultant uproar showed that this legislation had little popular support. Only three districts out of 6,800 backed it. Over 1,700 towns submitted petitions signed by thousands protesting the repeal of Jewish civil disabilities. A sizable consensus of Bavarian men feared that the bill would encourage Eastern Jews to immigrate and seize economic control within a generation.
Since the Renaissance, princes all over Germany employed "court Jews" such as Mayer Amschel Rothschild, Moses Mendelsohn, Gerson Bleichroder, and others. The Jewish minorities in Germany, Austria, and Russia regularly sought protection from kings against mob violence. Their appeals were often accompanied by contributions to the royal treasury. The strategy of cultivating sovereigns often broke down. For example, Russian Emperor Alexander III (1845-1894) sanctioned pogroms after a bomb-throwing anarchist killed his father, Alexander II, in 1881. Reactionary monarchies denied Jews a future, thus transforming many of them into radicals. Anti- Semites have always characterized Jewish business achievements and political extremism as two prongs of the same plot: a synchronization of the "Red" and "Gold" Internationals. In fact, Jewish radicalism and entrepreneurial drive have been primarily self-defensive, not offensive.
Emperor Josef II of Austria wanted to improve the lot of his Jewish subjects. In 1782 he issued Das Toleranzpatent (Edict of Toleration) which granted Jews civil rights. The Edict discouraged separatism and promoted assimilation by abolishing discriminatory "Jew taxes." It also proscribed the Yiddish dialect, decreed that all birth, marriage, and death records were to be written in German, and required Jews to adopt surnames. The Toleranzpatent forced Jewish boys to attend secular grammar schools, and young men to serve in the army.
Neither Jews nor their gentile neighbors were ready for such sweeping reforms. Jews knew that "assimilation" often entailed conversion. While the Edict encouraged mainstreaming of Jews in Vienna, Bohemia, and Moravia, their Orthodox brethren in Galicia resisted secularization by remaining in ghettoes.
More than one hundred years after The Edict of Toleration, Franz Kafka and his friends in Prague found that "public education took them out of the ghetto -- and straight into oblivion." [2] German Jews were still concentrated in urban areas and restricted to occupations such as banking, mercantile trade, medicine, and manufacturing. By the mid-19th Century they entered journalism, theater, music, law, politics, and science. However, most corporations -- with the exception of chemical, electrical, and other high-tech firms -- would not hire them. Only baptized Jews in Austria and Germany could become army officers, government officials, realtors, or teachers. As a result, nearly half of Vienna's middle class Jews converted to Christianity between 1860 and 1900. Professor Saul Friedlaender affirmed that ones who remained Jewish wanted to assimilate, not vanish.
"Although the majority of Jews were more than eager to travel a long way down the road to cultural and social assimilation, most of them rejected total collective disappearance." [3]
Religious anti-Semitism prevailed in the Middle Ages. Most Christians regarded Jews as obdurate heretics who defied God's will by refusing to recognize Jesus as the Messiah. However, except for sporadic inquisitions, the Church did not actively persecute Jews, believing that they would convert -- or face damnation -- in "the end times."
19th Century German anti-Semite Jakob Friedrich Fries espoused a more "rational" approach to the Jewish Question by jettisoning all theological baggage. He held that Jews were a "criminal tribe," -- an "asocial nation," not unlike gypsies, with no stake in the monarchical-Christian order. Bible scholar Paul Lagarde (born Paul Bottischer), Julius Langbehn, Christian Lassen, and Theodor Fritsch were all influenced by Fries. Their anti-Semitic litanies typically contained hyperbole mixed with truth. Jews such as the Rothschilds and Warburgs did have extraordinary business acumen. The Ullsteins and Mosses undoubtedly exerted powerful influence in publishing. No one could deny that Karl Marx, Ferdinand Lassalle, and Rosa Luxemburg preached socialism. But from such premises it did not follow that an International Jewish conspiracy for world domination was afoot.
Eliminationist anti-Semitism did not start with Hitler. According to a study conducted by Klemens Felden 28 of 51 anti-Semitic writers between 1861 and 1895 favored the physical extermination of Jews. Anti-Semites proposed increasingly drastic measures between 1880 and 1945. Demands for immigration bans in the 1890's gave way to calls for expulsion in the early 1920's, and finally a program of wholesale slaughter between 1939 and 1945. After World War I German anti-Semites turned to their perennial bogeyman -- the Jew -- for an explanation of Germany's defeat, the rise of Bolshevism, collapse of monarchies, hyperinflation, and all other traumas and insecurities of 20th Century existence.
German nationalism and anti-Semitism had been intertwined since the 18th Century. Ardent nationalists employed the exclusionary term "Volk" to mean "united, racially pure German people." They understood "Der Jude" to mean "the antithesis of Volk."
German philologist Karl Wilhelm Friedrich Schlegel (1772-1829) campaigned for Jewish rights and married Frau Dorothea Veit, daughter of banker Moses Mendelssohn, and sister of composer Felix Mendelssohn. Though not an anti-Semite, he romanticized the "Aryan race" as a result of his Sanskrit studies. According to Schlegel's hypothesis, the common linguistic roots of Sanskrit and German indicated a racial connection between the two peoples. He speculated that Brahmin aristocrats had spread their superior civilization from India to Europe in ancient times. The great German archaeologist Heinrich Schliemann (1822-1890) reinforced credence in Schlegel's "Aryan cult" by producing artifacts which linked ancient Indian culture with Greek and western European civilization.
Christian Lassen (1800-1876,) a Bonn University professor who studied under Schlegel, put an anti-Semitic spin on Aryanism. He created a dualistic world which portrayed Aryans as idealistic heroes, while condemning Jews as unprincipled "devil-men." In "Indische Altertumskunde" he wrote:
"History proves that Semites do not possess the harmony of psychical forces which distinguishes the Aryans. The Semite is selfish and exclusive. He (has) a sharp intellect which enables him to make use of opportunities created by others ... " [4]
Anti-Semitism has been called "the socialism of fools" since it substitutes a cabal of manipulators for complex historical processes. The likes of Lagarde, Eckart, and Hitler would have us believe that Jews from all lands conspire against the gentile world on a massive scale. This implausible theory implies that Jews can herd cats, and that "goys" are slack-jawed cretins. Even anti- Semitic historian Houston Stewart Chamberlain doubted that his Jewish adversaries possessed magical power.
"I think we're inclined to underestimate our own powers and overestimate the importance of Jewish influence. Hand in hand with this goes the perfectly ridiculous and revolting tendency to make Jews the general scapegoat for all the vices of our time." [5]
Friedrich Nietzsche referred to anti-Semitism as "a mutiny of the mediocre." He denounced his anti-Semitic brother-in-law Bernhard Foerster as one who "led the Jews to the slaughterhouse as scapegoats for every possible public and private misfortune." [6] In a letter to his sister Elisabeth, Nietzsche declared himself ready "to assert and defend the racial superiority of Jews to anti-Semites." [7]
A case can certainly be made for the superiority of Jews. Though only .076% of Germany's population in 1925, Jews owned several newspapers, 80% of the department stores, 40% of wholesale textile businesses, 60% of the retail clothing stores, and 30 out of 52 private banks. 16% of the nation's attorneys were Jewish and 11% of its doctors. Proportionately, ten times more Jews attended universities than their Catholic and Protestant counterparts. These achievements generated envy.
The overwhelming majority of Jews were steadfastly loyal to Germany, which they revered as a land of opportunity compared to France, Russia, Poland, and Rumania. Some, like Munich journalist Paul Nikolaus Cossman and pundit Karl Kraus, were right-wing nationalists. As editor of the South German Monthly Journal Cossman became friends with Dietrich Eckart's erstwhile colleague Fritz Gerlich, and Hitler's information officer Lt. Karl Mayr.
12,000 German Jewish soldiers lost their lives in World War I. Many others were decorated for bravery. Jews played a significant role in Germany's "economic miracle" of 1865 to 1914. Yet their achievements caused alarm in "volkisch" circles. Obstinate Germans resented being pushed into unfamiliar territory by these "foreign agents of modernism."
Ironically, most Jews conceived of themselves as fervently pro-German. In 1912 Jewish journalist Mortiz Goldstein wrote an insightful article for Kunstwart magazine pointing out that Germans
"... had neither expected nor desired that liberated Jewry would adopt the German cause as its own and acquire astounding prominence in its cultural life ... " [8]
The Jews did not recognize their own vulnerability. Liberal illusions about "moral progress" and "the Brotherhood of Man" prevented them from understanding that they
" ... lived in a cultural ghetto, isolated from the mainstream of German life .... They considered Max Reinhardt and Max Liebermann great German artists; Germans considered them Jewish artists ... " [9]
This disconnect between reality and Jewish optimism would have fatal consequences from 1933 to 1945.
Ernst Nolte distinguished between liberal and conservative anti-Semitism. Liberals condemned the exclusive "chosen people" character of Jews which fostered "anti-historical rigidity, intolerance, and national separateness."IO Conservative anti-Semites deplored "Jewish agitations" and the propensity of left-wing Jews to engage in subversion.
Jews did not get flattering reviews from their defenders. Progressive thinker Wilhelm von Dohms argued that Jews' objectionable traits arose primarily because of their pariah status in German society. Hence, they could be improved by better treatment. Daniel Goldhagen pointed out that liberals such as von Dohms
" ... were anti-Semites in sheep's clothing ... We will defend you, so long as you stop being yourselves was their message ... Jews must cease being Jews ... (and) become 'moral human beings.'" [11]
Radical Jew-haters such as Hitler, Eckart, and Himmler actually represented a third category of anti-Semitism. They adopted notions from both right-wing and socialist anti-Semites, then threw in pseudo-eugenics and occultism for good measure. Hitler's biological anti-Semitism contended that Jews were racially flawed sociopaths who must be eradicated to preserve the health of humanity. He also adopted "Gnostic" elements from List, Lanz, and Eckart which held that God had created the spiritual world and Aryan race, whereas Satan (or another wicked demiurge) fashioned the material plane and "Primal Semites."
Anti-Semitism as Projected Judeophobia
Anti-Semitism is a political phenomenon, Judeophobia a psychological experience. The root word "phobia" implies a direct relationship between dread and hatred. Dietrich Eckart, Adolf Hitler and Josef Goebbels all felt marginalized by modern civilization. Their general anxiety evolved into a fear and loathing of the Jews who had created this alienating mode of life. Oriental Johnnys-come-lately adapted better to the new high-pressure society they created than Germans, thus making outsiders of the natives.
Mme. Marlis Steinert and other contemporaries observed that everything Hitler hated in himself he attributed to "the Jew." Dramatist Eckart also projected his own inward concupiscence onto Jews. Psychologists call this defense mechanism the externalization of one's "shadow," or "counter image." Dr. Walter C. Langer defined projection as a
"technique by which the ego of an individual defends itself against unpleasant impulses, tendencies, or characteristics by denying their existence in himself, while he attributes them to others ... By this process the Jew became a symbol of everything Hitler (hated) in himself." [12]
Psychiatrist Bruno Bettelheim theorized that projection of inner conflicts onto Jews afforded Judeophobes relief from angst. Hitler and Eckart perceived their shadows as objective reality. For them Jews became "personified-yet-demonized sons of darkness on which to vent righteous rage." [13] The act of blaming International Jewry for all wrongs not only simplified problems, but "absolved" Aryan Volk from responsibility.
In his book Desire and Fulfillment Theosophist Hugh Shearman identified projections with unverified "opinions" and "emotional values." People with very strong feelings are inclined to project.
"They love and hate with vehemence, and if anything goes wrong in their lives they hold somebody else to blame for it." [14]
Such individuals wrongly perceive inward turmoil as an "outer problem," and lash out against the perceived enemy.
"It has been said that beauty is in the eye of the beholder. So is selfishness or cunning or jealously. We apprehend the world emotionally through our own ... natures and qualities. Some psychics have described how the emotional nature of a person can be seen ... as a colored and enclosing aura ... " [15]
Shearman recommends counseling, meditation, prayer, and other spiritual exercises to those afflicted with prejudices. He asserts that
"The withdrawal ... of personal projections is the essence of yoga ... It is by dissipating (them) ... that we come at last to see things as they really are." [16]
As Eckart's favorite philosopher Arthur Schopenhauer held, the removal of illusion is just as important as the acquisition of knowledge. The two endeavors go hand in hand.
Jesus, Augustine, Thomas Aquinas, and other Christian teachers also recognized the need to tame the "monster within" through prayerful resignation. In the Lord's Prayer Jesus said: "Thy Kingdom come, Thy will be done, on earth as it is in heaven," which implies passivity, and the necessity of setting our fleshly nature aside. Society of Friends founder George Fox recommended "inward retirement" as a means of expelling 'The Stranger." Anthroposophist Rudolf Steiner prescribed a natural diet, education, Eurhythmia dance, and other measures to defuse the Ahrimanic and Luciferic nature of one's lower aura, lest it grow into an angry red incubus prone to project its own depravity onto others.
Under the "Redemptive Anti-Semitism" of Richard Wagner and Dietrich Eckart, Germans could only achieve spiritual regeneration by breaking the manacles of "Jewish materialism." In the minds of their disciples World War I and the Great Inflation created apocalyptic conditions which demanded an anti-Jewish crusade.
Because of his intellectual bent, Eckart read the writings of "high-brow" anti-Semites, such as Paul Lagarde and Julius Langbehn. Lagarde taught oriental studies at the University of Gottingen. In 1878 he published German Writings, a compendium of solemn, pedantic twaddle, which unrealistically recommended a return to medievalism. Lagarde wanted to turn back the clock by re-establishing huge community estates and reviving the guild system to train German workers as craftsmen. He attributed every shortcoming of contemporary society to Jews, and reacted violently against the Enlightenment ideas of individual freedom, utilitarianism, democracy, empiricism, and laissez faire economy. Lagarde identified all these innovations with Jews, even though British philosophers were their chief proponents. John Locke argued for the individual's moral autonomy as a "rational choice agent." Skeptical David Hume endorsed Francis Bacon's scientific method, while skewering metaphysical flights as nonsense. Jeremy Bentham celebrated representative government as the best means for securing the most benefit for the greatest number. In Wealth of Nations Adam Smith inveighed against state interference with the economy. His law of supply and demand demonstrated that self-interested individuals acting independently produced and distributed goods in a more efficient manner than government-controlled economies. These English and Scottish "levelers" opposed feudal authoritarianism much more vigorously than Jews.
Paul Lagarde celebrated German reunification under Bismarck because it enabled greater expression of the German Volk-Spirit. He perceived Jews as "an enemy within," a foreign group with non-German agenda, and competing nationalistic religion. Jews deemed themselves God's elect, a claim that clashed with Pan-German assumptions of superiority. In Rembrandt As Educator (1890) Lagarde's student Julius Langbehn claimed that soul-less Jews undermined Germany's destiny, her sacred mission to lead a regenerated Europe. Utilizing these sources, Dietrich Eckart constructed an ideology to support his visceral detestation of "The Jew."
Two Apostate Jews
Heinrich Heine, Sigmund Freud, Franz Kafka, and many other German Jews felt profound ambivalence about being Jewish. Neurotic prodigy Otto Weininger perhaps represents the most egregious example of Jewish self-loathing. During his "Hunger Years" in Berlin Dietrich Eckart eagerly read Sex and Character, and felt special compatibility with its author.
"When I have Weininger's book in my hand, hold I not his mind? His thoughts seem like my own, and mine like his ... " [17]
Ralph Engleman has identified Weininger as "the greatest single influence on Eckart's thought." [18]
Born of Jewish parents in Austria, Weininger studied at the University of Vienna from 1898 to 1902. As a result of passionate devotion to Wagnerian opera, he came to hate his own Jewish roots. He admired "Siegfried's embodiment of everything that stands for the opposing of things Jewish." [19] Plagued by mental illness, Weininger converted to Christianity in 1902, while elaborating his doctoral thesis into Sex and Character. A year later he committed suicide in the house where Beethoven died. The mourners at his funeral included novelist Stefan Zweig, fourteen year old Ludwig Wittgenstein, Jewish anti-Semite Arthur Trebitsch, and Karl Kraus, a baptized Jewish journalist with strong German nationalist sympathies.
Weininger's Sex and Character depicts human existence as a struggle between the Masculine Principle, representing idealism, transcendence, and "the divine spark of genius," and the Feminine Principle, which he associated with deviousness, materialism, and Judaism. In Sex and Character he wrote:
"Women and Jews are pimps, it is their goal to make man guilty. Our era is not only the most Jewish, it is also the most feminine (without) a single great artist (or) ... great philosopher. .. " [20]
He denigrated modern "Jewish" art for not being "rooted in a homeland," [21] and pronounced the English "nation of shopkeepers" as "closest to Jewry." [22]
In Weininger's view all men needed a measure of the Feminine Spirit to survive on earth, but an excess of it polluted the German soul. Eckart felt the same way about the Jewish Spirit. Weininger, like his fan Eckart, believed Jewishness to be a state of mind similar to the Feminine Principle.
"The archetypal Jew, like the absolute woman, is devoid of personality and soul. Both are attached to the material world and wanting in higher loyalties." [23]
Yet Weininger, unlike Eckart,
"would give no comfort to crude racial anti-Semites, who were often struggling with the 'Jewishness' within themselves." [24]
Eckart picked up anti-feminism not only from Weininger, but Schopenhauer's Essay on Women, Ibsen's Hedda Gabler, Adolf Joseph Lanz's TheoZoology, and personal experience. In response to Weininger's misogyny and anti-Semitism, Eckart suppressed the tender side of his nature while cultivating an aggressive, macho persona. Hitler himself recalled Eckart's reverence for Weininger.
"Dietrich Eckart once told me that in all his life he had known just one good Jew ... Otto Weininger, who killed himself on the day ... he realized that the Jew lives on the decay of peoples." [25]
Eckart thought that Weininger had been "torn apart by conflicts between his bright vision of the future and dark reality of his Jewishness." [26]
In "Bolshevism from Moses to Lenin" Eckart mentions another anti- Semitic Jewish thinker, Arthur Trebitsch (1880-1927.)
"You know what a certain Trebitsch has said -- Germans, Bolsheviks, and Jews will easily overcome Rome. As a Jew he must know ... (He's) a Jewish writer writing against Jews, or at least thinks he does. His every other word is 'we Aryans' ... " [27]
Arthur Trebitsch was tall, blonde, blue-eyed, and handsome. He looked more Aryan than Adolf Hitler. Though born into a wealthy Jewish family, Trebitsch resigned from Vienna's central synagogue in 1909, at the age of twenty-nine. He admitted that his grandfather had been "a member of the slave race of racelessness," [28] but adamantly insisted: "I am not a Jew ... never was one, and ... will never be one." [29] Those who dared to call him a Jew were challenged to duels or sued for slander.
Trebitsch loved Richard Wagner's operas. In the early 1900's he joined Houston Stewart Chamberlain's Bayreuth Circle, and began writing books with racist themes. When these received bad reviews, he accused Vienna's "Jewish-dominated" literary and academic establishments of blackballing him. Trebitsch could not tolerate criticism any better than Dietrich Eckart. He sued newspaper critic Ferdinand Gregori for dismissing one of his novellas as "trash," and his older half-brother Siegfried for describing another work as the product of a "paranoid megalomaniac." To combat the "demonic" forces which opposed him Trebitsch founded his own vanity press, Antaeus Publishing Co., named for the Greek giant who grew stronger each time an opponent knocked him down. Trebitsch's Deutscher Geist oder Judentum contended that Aryans possessed "primary intellect" of a philosophic nature, whereas Jews specialized in "secondary intelligence" which concentrated on 'haggling," con games, and "hoarding." He diagnosed Europe with "Morbus Judaica," a wasting spiritual disease which had spread among host peoples since Jewry's emancipation. Communism, Germany's military defeat, profane modern culture, and Sigmund Freud's "erotomania" were all symptoms of this "horrible infection." [30] In 1918 and 1919 Trebitsch lectured all over Austria and Germany to warn unsuspecting Aryans about the Morbus Judaiea epidemic. Meanwhile, his behavior became so bizarre that embarrassed family members tried to have him involuntarily committed to an asylum. He complained that Jews were debilitating him with "electric rays." In a pamphlet entitled "My So-Called Paranoia" "Antaeus" Trebitsch raved: "you will not catch me with your tricks, you Jews! You cunning mob! ... I'm a match for you!" [31]
Trebitsch, who had been a friend of Otto Weininger, wrote the imprisoned Hitler letters in 1924 warning him not to trust "smart-alecky Zionist snakes in the party's cadre" [32] such as Gregor Strasser, Robert Ley, and Alfred Rosenberg. Alluding to Trebitsch, Hitler once told Hans Frank:
"I am an innocent lamb compared to the revelations by Jews about Jews ... these disclosures of (their) most secret ... qualities, instincts, and character traits. It isn't I who say this, it is the Jews themselves who say it about themselves ... " [33]
Trebitsch's writings particularly impressed Hitler, who remarked in 1935 that "he has unmasked the Jews as no one else did." [34] In 1925 Hitler toyed with the idea of appointing him Nazi Party ideologist instead of Alfred Rosenberg.
Walter Rathenau: Germany's Last Court Jew
"Rathenenau completely identified himself with his Fatherland... For this reason he rejected Zionism. Germany, not a Jewish Palestine, was his homeland."

-- Eugene Davidson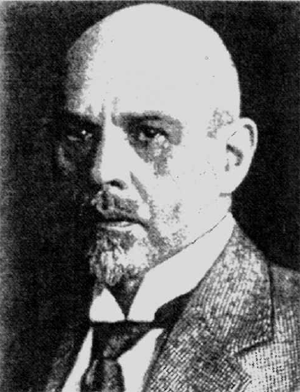 Walter Rathenau, who might have been Germany's Disraeli
The German war effort foundered by the spring of 1918. British tanks and divisions of American "devil dogs" supported by heavy artillery forced retreats. Casualties, economic woes, and shortages eroded civilian support for the war. On August 14, 1918 generals Hindenburg and Ludendorff declared the army's position "hopeless" and implored the Reich's politicians to sue for peace. Hindenburg formally petitioned the Kaiser on September 29, 1918 to accept an armistice "within forty-eight hours." No Talleyrand emerged to represent German interest at this juncture. Nationalist politicians viewed peace negotiations as a no-win situation and did not want to wreck their careers by getting involved. Therefore, Jewish Social Democrats such as Kurt Eisner, Hugo Preuss, Otto Landsberg, Hugo Haase, and Walter Rathenau -- with help from gentile liberals Matthias Erzberger and Friedrich Ebert -- had to broker a peace agreement for them. The punitive terms imposed by shortsighted French and British negotiators, who ignored Woodrow Wilson's pleas for leniency, made the Versailles Treaty a bad deal. German conservatives immediately repudiated the treaty, and scorned Jewish middlemen as "November Criminals."
Dietrich Eckart and Adolf Hitler vilified Walter Rathenau (1867-1922) as a "traitor" and "ersatz-patriot." Eckart went so far as to assert that "the representatives of world Jewry, Rathenau and Trotsky, had agreed upon a Bolshevist invasion of Germany."35 But nothing could have been further from the truth.
Walter Rathenau's father Emil established Allgemeine-Elektrizitats- Gellellschaft in 1883. This company, known as "the German General Electric" manufactured generators, wiring, electrical components, light bulbs, household appliances, and other types of equipment -- including streetcars. His mother Matilde Nachman Rathenau came from a Frankfurt banking family. The Nachmans patronized the arts and entertained such notables as Franz Liszt, Ferdinand Lassalle, novelist Bettina von Arnim, and painter Max Liebermann. An intellectual prodigy, Walter combined the talents of both parents. His versatility astonished professors and fellow students alike at the University of Berlin. In 1889 he wrote a prize-winning doctoral dissertation on "The Absorption of Light by Metals," and "Blanche Tocard," a well-crafted play that teachers considered worthy of Ibsen or Hauptmann. According to Emil Ludwig, Rathenau was one of the few people who could "paint portraits, design a house, build turbines and factories, write poetry, draw up treaties, and play the Waldstein Sonata." [36] The French poet Andre Gide met Rathenau in Luxembourg during the spring of 1921. They discussed religion, art, and literature. Gide found it hard to believe that a man of such culture could be a politician.
Rathenau accepted Christian revelation as a university student, but refused to convert in deference to Jewish relatives and friends. Remaining a Jew in 1890 barred him from becoming an army officer or elected official. His Jewish identity produced feelings of ambivalence. He felt little rapport with Jews in Galicia, France, or Russia, and once asserted: "I have no blood other than German, no other tribe and no other people." [37] Theodore Herzl's Zionist movement struck him as a retrograde "Pan" crusade. Its rougher adherents were xenophobic, agrarian, militaristic, contemptuous of liberal ideals, and bent on acquiring "Lebensraum" in Palestine to fulfill their Manifest Destiny.
Although Rathenau wanted to fit in, he recognized that he and his fellow Jews were different. In an 1897 magazine article he wrote:
"Whoever wishes to see (Jewish life) in Germany should wander through the Tiergartenstrasse at 12 o'clock on a Berlin Sunday morning, or else look into the foyer of a theater in the evening. Strange sight! There, in the midst of German life, is an isolated race of men. Loud and self-conscious in their dress, hot-blooded and restless in ... manner... An Asiatic horde on the sandy plains of Prussia ... Forming among themselves a close cooperation, rigorously shut off from the rest of the world. Thus they live half-willingly in their invisible ghetto, not a living limb of the people, but an alien organism in its body." [38]
The last clause approaches the anti-Semitic rhetoric of Julius Langbehn. Like Heinrich Heine, Franz Kafka, and Otto Weininger, Rathenau had ambivalent feelings about his Jewish identity.
Hitler referred to Emperor Wilhelm II as a "crowned cipher" ... "a strutting puppet" ... "a conceited babbler who poses for monuments ... (and) political baby ... (who) dared fire Bismarck." [39] Rathenau loved Kaiser Wilhelm, calling him a "true prince." He was formally presented to the Kaiser and his retainers in 1901. King and subject agreed that Germans and Jews complemented each other. As Germany's last "court Jew," he developed a cordial relationship with Wilhelm between 1910 and 1918. Nevertheless, in Rathenau's mind the expression "true prince" had a slight edge. He genuinely revered his sovereign, and thought him a brave and noble leader, yet too many kings seemed like pampered coxcombs who never had to work a real job. Were these well-groomed "show dogs" really capable of governing the modern world?
Rathenau believed that certain stereotypes reflected folk wisdom. He spoke of Prussian officers as Mut-Menschen (audacious, optimistic cavaliers, who dreamed of glory,) and educated Jews as Furcht-Menschen (cautious, pessimistic counselors, anchored in reality.) In spite of his devotion to Germany and its monarch he favored a more conciliatory foreign policy, realizing that his esteemed Teutonic knights could not conquer Europe. The Triple Entente of France, Britain, and Russia effectively checkmated the Triple Alliance, which left Germany with two second-rate powers, Italy and Austria-Hungary. Adolf Hitler also recognized this problem, blaming Kaiser Wilhelm and his advisors for being deluded about Austrian weakness.
From 1902 to 1917 Rathenau helped his father manage A.E.G., Germany's largest producer of electrical apparatus. He immediately improved the firm's already impressive reputation for cutting edge technology. These industrial advances were accompanied by a progressive benefit program for employees that included retirement pensions, profit-sharing dividends, stock-purchase options, and other enhancements, also sanctioned by his opponent Dietrich Eckart who wanted "not socialization, but profit-sharing." [40] Rathenau wished to inaugurate a "Benevolent Plutocracy" (Euplutismus,) close to the Japanese model of today, run by ethical and capable executives, whose compensation depended strictly on performance. No rogue CEO could ever vote himself undeserved raises at the expense of workers, customers, and stockholders. A.E.G. employees began calling Walter "Jesus in a frock coat."
In a 1909 newspaper article Rathenau wrote that "three hundred men, all acquainted with each other, control the economic destiny of the continent." [41] Anti-Semites took this statement as further evidence of an international Jewish conspiracy. However, Rathenau knew that less than 20% of that number were Jews. The remaining 80+% consisted of gentile magnates such as Thyssen, Stinnes, von Borsig, Krupp, and Hugenberg.
In 1917 War Minister Erich von Falkenhayn appointed Rathenau Minister of Raw Materials. He worked indefatigably ·in that post, devising a war-time economic policy later copied by other nations, which included rationing, research and development, and utilization of female labor. With government grants German scientists invented margarine, synthetic fabrics, Buna rubber, and test-tube nitrogen. Without these discoveries, the Reich's war effort would have collapsed in 1917. Yet Rathenau couldn't win. Social Democrats denounced him as a "war prolonger." Dietrich Eckart and other radical nationalists pilloried him as an appeaser for parleying with the French and British after November 11, 1918.
Catholic Center Party leader Josef Wirth became Chancellor of Germany in 1921. He wanted Rathenau in his cabinet and offered him the Foreign Ministry. Mathilde Rathenau begged her son to turn down the appointment. He would not only take a substantial pay cut by resigning from A.E.G. and the boards of other corporations, but put himself in peril. The political atmosphere had grown increasingly dangerous, especially for a Jew. Walter told her he had to accept because Germany needed him in its hour of need. Besides, no one else wanted the job.
Rathenau immediately applied his prodigious intelligence to Germany's problems. The excessive war reparations demanded by the French made no sense, however Wirth's government, realizing Germany's impotence in 1921, sensibly pursued a policy of cooperation with the Entente victors. Rathenau realized that good-faith efforts at compliance would not only show Germany as a law-abiding nation, but also clearly illustrate the absurdity of French claims to moderate Americans. He then proposed that, instead of monetary reparations, 500,000 skilled German workers rebuild France at the Reich's expense. Such a make-work project would allow Germany to control costs, as well as provide much-needed jobs. Desiring to punish Germany, France vetoed this creative solution. In 1922 Rathenau traveled to England and obtained Lloyd George's approval to cut Germany's war reparations for that year in half The European powers met at Genoa in spring of 1922. Getting nowhere with the uncompromising French, Rathenau out-maneuvered them by signing the Treaty of Rapallo with Soviet Russia, another outcast nation. This agreement cancelled war indemnities from Germany to Russia, restored diplomatic relations, established military cooperation, and reinstated trade. The Soviets desperately needed modern technology and soon became a lucrative market for German goods. Under the secret provisions of this treaty German army officers would not only train Red Army troops in Russia, but their own soldiers and pilots as well.
Nevertheless, hecklers like Dietrich Eckart characterized him as an "Elder of Zion" who conspired with other "International Jews" to dominate the world. In a May 17, 1922 Volkischer Beobachter story Eckart falsely alleged that Rathenau had met with Trotsky at Rapallo in order to plan a Bolshevik takeover of Germany. Such claptrap influenced members of terrorist organizations like the Kampferbund and Ehrhardt Brigade. On June 24, 1922 a speeding car driven by twenty-one year old Ernst Techow overtook Rathenau's vehicle as it rounded a curve on Berlin's Konigsallee. Former naval officer Erwin Kern fired several shots, while his accomplice Hermann Fischer hurled a grenade through the back window. The severely wounded Rathenau died within minutes. Police quickly found the assassins, who refused to surrender. They shot Kern to death. Fischer committed suicide. German authorities captured nine other conspirators. Of these, two were acquitted, the others served sentences of between two months and four years. All participants in the plot were associated with the "murder club" of naval Commander Hermann Ehrhardt, who escaped justice.
Rathenau's assassination caused a great outpouring of grief in Germany. As his body lay in state at the Reichschancellery, thousands of mourners filed past. Those most moved were Catholic Center Parry members, middle-of-the-road Social Democrats, union workers, and reasonable conservatives -- the same moderates who later became marginalized during the Third Reich.
The stresses of high office led Rathenau to ponder death often in his last months. He concluded that it was an illusion.
"We experience (death) only because we have our eyes on the limb, not on the whole living structure. The leaves die, but the tree lives, the tree dies but the forest lives, the forest dies but the earth that nourishes and consumes its children is green. If the planet dies then a thousand similar ones bloom under the rays of new suns. In the whole visible world we know no death. Nothing essential on earth dies. Only appearances change." [42]
The day after Walter Rathenau's funeral, his mother wrote a letter to the mother of Ernst Techow, who had driven the assassins' car.
"In unspeakable pain I stretch out my hand to you, most unhappy of women. Tell your son that in the name of the murdered one, I forgive him, as may God forgive him, if he makes a full confession before an earthly court and repents before God. Had he known my son, the noblest person on earth, he would have aimed the murder weapon at himself rather than at him. May these words give your soul peace." [43]
After serving four years in prison Techow joined the French Foreign Legion. According to historian Erich Eyck he later aided Jewish victims of Nazi persecution.
_______________
Endnotes
1 Daniel Jonah Goldhagen, Hitler's Willing Executioners, Knopf, New York, 1996, p. 39.
2 Ernst Pawel, The Nightmare of Reason: A Life of Franz Kafka, Farrar, Straus, Giroux, New York, NY, 1984, p. 22.
3 Saul Friedlaender, Nazi Germany and the Jews, Harper Collins, New York, 1997, p. 84.
4 Gotthard Deutsch, Antisemitism, Jewish Encyclopedia.com, p. 2 of 17, op, cit. Christian Lassen, "IndischeAlterrumskunde," Bonn, 1844, p. 414.
5 Houston Stewart Chamberlain, Foundations of the Nineteenth Century, trans. John Lees, John Lane, London, 1912, p. 252.
6 Rudiger Safranski, Nietzsche, A Philosophical Biography, trans. Shelley Frisch, W. W. Norton & Co., New York, 2002, p. 338.
7 Ibid.
8 Ralph M. Engelman, Dietrich Eckart and the Genesis of Nazism, UMI Dissertation Services, Ann Arbor, MI, (Doctoral Thesis, Washington University, St. Louis, MO, 1971), p. 34, op. cit. Moritz Goldstein, "Deutsch-Jeudisher Parnass," Kunswart, XXV, 1912, pp. 281-294.
9 Ibid.
10 Ernst Nolte, Three Faces of Fascism, trans. Leila Vennewitz, Holt, Rinehart & Winston, New York, 1966, p. 332.
11 Goldhagen, p. 58.
12 Walter C. Langer M.D., The Mind of Adolf Hitler, Basic Books, New York, 1972, p. 183.
13 Hannah Newman, The Rainbow Swastika, Philogos.org, p. 20.
14 Hugh Shearman, Desire and Fulfillment, Theosophical Publishing House, Adyar, India, 1956, p. 45.
15 Ibid., p. 46.
16 Ibid.
17 Engelman, p. 65, op. cit. D. Eckart's Berlin Notebook, p. 23.
18 Ibid., p. 62.
19 Otto Weininger, Sex & Character, Leipzig, 1905, p. 600.
20 Brigitte Hamann, Hitler's Vienna: A Dictator's Apprenticeship, trans. Thomas Thornton, Oxford University Press, New York, 1999, p. 228, op. cit., Otto Weininger, Geschlecht und Charakter, 3rd ed., Vienna, 1905, p. 451.
21 Ibid., Weininger, p. 454.
22 Engelman, p. 64.
23 Ibid.
24 Ibid.
25 Hugh Trevor-Roper, Introduction, Hitler's Table Talk 1941-1944, Widenfeld & Nicholson, London, 1953, p. 14.
26 Margarere Plewnia, Auf dem Weg zu Hitler: Der Volkische Publizist Dietrich Eckart, Schunemann Universitatsverlag, Bremen, 1970, p. 44.
27 Hamann, p. 231, op. cit. Henry Picker, editor, Hitler's Table Talk, p. 79, night of 12/1/1941.
28 Ibid., p. 231.
29 Ibid.
39 Ibid., p. 232.
31 Ibid.
32 Ibid., op. cit. Friedrich Heer, Adolf Hitler's Belief, Munich, 1968, p. 167.
33 Ibid., p. 230, op. cit. Hans Frank, Facing the Gallows, Munich, 1953, p. 313.
34 Ibid., op. cit. Friedrich Heer, Adolf Hitler's Belief.
35 Engelman, p. 219, cf. D. Eckart, Volkischer Beobachter, 5/17/1922.
36 Eugene Davidson, The Making of Adolf Hitler: The Birth and Rise of Nazism, MacMillan, 1977, p. 162.
37 Ibid., p. 163.
38 Harry Graf Kessler, Walter Rathenau: His Life and Work, Berlin-Grunewald, Hermann Klemm, 1928, op. cit. Walter Rathenau, "Die Zukunft, 3/6/1897.
30 Hamann, p. 287.
40 Barbara Lane Miller & Leila J. Rupp, Nazi Ideology before 1933, University of Texas, Austin, 1978, p. 10, op. cit. Dietrich Eckart, Auf Gut Deutsch, "Guidelines of the German Workers' Party."
41 Kessler, op. cit. Walter Rathenau, Neue Freie Press article, December, 1909.
42 Davidson, p. 180.
43 Ibid., p. 181.