22: The Last Act
"(Hitler and Eckart) developed a close personal as well as political relationship. It was the most important friendship in the lives of both men ... (Hitler) would often lament that Eckart had not lived to see the Third Reich, where he presumably would no longer have felt "In Der Fremde" ("In the Foreign Land").

-- Ralph M. Engelman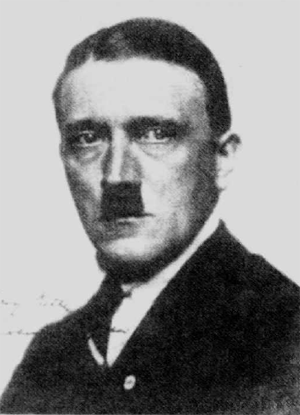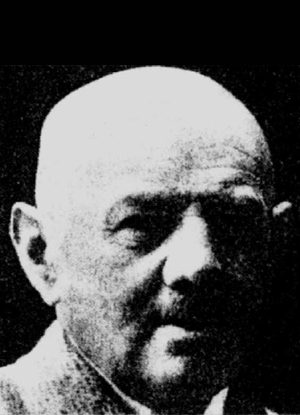 Adolf Hitler and Dietrich Eckart. (Both photographs taken by Heinrich Hoffman in 1923)
From summer of 1921 until his death in December, 1923 Eckart's health deteriorated. His drinking, drug addiction, irregular hours, "exclusively male company," slovenliness, and morning hangovers had become unbearable to Rose. While off "the sauce" and morphine at Schwarzek Sanitarium Dietrich had been such a charming gentleman. But his stubborn willfulness re-emerged a few months after their wedding when he returned to his "sweet poisons." She could not coax him to do anything against his will. He refused to do household chores or attend church. Her family and friends meant nothing to him. Realizing that widowhood beat marriage to a drunken bachelor, Rose evicted him and filed for divorce shortly before March, 1921. Free of her influence Eckart sunk to his former level of dissipation. His body, almost six years older, could no longer take such abuse. He now suffered from a heart condition, chronic bronchitis due to smoking, cirrhosis of the liver, anxiety, depression, and morphine dependency.
Albert Reich affirmed that the hectic goings-on since 1920 had completely enervated Eckart. To restore his health he traveled to Pension Garibaldi on the Sternberger See in August of 1921. While relaxing at this pleasant resort Eckart met a pert sixteen year old chambermaid named Anna Obster (born 1905), who had recently graduated from a Catholic convent school. He immediately offered her a position as his housekeeper and "caretaker." Flattered by the attentions of this famous man, she accepted. Kurt Ludecke and Ernst Hanfstaengl believed that "Little Annerl" was Eckart's mistress. Hitler spoke of their relationship as platonic. On October 2, 1922 Eckart made up his will, which designated Annerl as his literary executrix and heiress, but stipulated that ex-wife Rose would receive half of his publishing royalties. 64 year old Anna Obster Rosner still acted at custodian of Dietrich Eckart's private papers when Ralph Engelman met her in 1969.
On "German Day," October 14-15, 1922 Eckart traveled by train from Munich to Coburg with Hitler, Max Amann, Julius Streicher, Alfred Rosenberg, Hermann Esser, Ernst Rohm, Kurt Ludecke, and 800 storm troopers. Eckart, who helped raise the group's train fare, initially enjoyed this "party on wheels," which reminded him of an Onoldia Corps lark. After a scuffle with communists at the railroad station on Saturday around noon, Hitler made an inflammatory speech. His S.A. battalions then marched through the streets of Coburg behind a band playing martial music. Kurt Ludecke remembered Eckart yelling furiously at hecklers, then ducking as the mob responded by throwing stones. Hitler tried to deliver another speech. When unsympathetic communists shouted him down, he pointed his whip at them. S.A. men ran out of formation and beat the unruly Reds with rubber truncheons. Hitler then resumed his rant. He told communist opponents that they were being suckered by the Jewish-Bolshevik conspiracy, . and urged them to join his National Socialist Workers Party.
Eckart found this demonstration exhilarating, but exhausting. He took pulls from a flask of schnapps to keep up his strength. Young men like Hitler, Esser, and Hess bounced right back after such escapades, but heavy-breathing Eckart's run-down constitution required a day of bed rest. Julius Streicher, the head of Nuremberg's German Socialist Party, so enjoyed this rumble in Coburg that he merged his organization with the Nazis.
Due to illness and fatigue Eckart wrote no articles for the Volkisher Beobachter between August and December, 1922. His relationship with Hitler cooled off during this period. The ailing writer drifted out of the loop. From the inner circle's standpoint he had become a sluggish and repetitious bore. For his part Eckart feared that Hitler had morphed from idealist to megalomaniac.
On November 4, 1922 a huge melee erupted between the Reds and Brownshirts at the Hofbrauhaus beer hall. Combatants wielded table legs, billy clubs, and blackjacks, spilling good beer all over the place. Flying bottles, mugs, and other missile rudely interrupted Eckart's "cocktail hour" for over twenty minutes. He clamped on a hat and kept brawlers at bay with his cane. Such exploits suited youthful soldiers, not a 54 year old poet with a heart condition. To get away from such mayhem in Munich "Uncle Deidi" and Little Annerl traveled to Miesbach a few weeks .later for a restful visit with newspaper editor Klaus Eck.
In December, 1922 Germany failed to make reparation deliveries of lumber and coal to France. On January 11, 1923 the French responded by sending troops to occupy Mainz and other towns along the Ruhr River. To protest this action Hitler held the first National Socialist rally in Munich from January 26 to January 29, 1923. S.A. units bearing flags and standards marched all over Munich to the strains of military music. The party rented several beer halls, so Hitler could give rousing anti-French speeches and bask in the adulation of his disciples.
Eckart disdained all this phony ritual and criticized Hitler for having a messiah complex. His speeches were sinfully verbose and likely to end in slugfests. Why did a party gathering have to last three days? Were those ridiculous "flag-consecrations" at Marsfeld athletic field really necessary? The Archbishop of Munich wouldn't subject pious old women to so much ceremony! Eckart's enthusiasm for the movement waned. The escalating violence of the Nazis made him uneasy. Hitler's anti-Semitic rhetoric had turned homicidal. Eckart confided to Ernst Hanfstaengl that one couldn't base the party platform on bigotry alone. A photograph taken on January 28, 1923 confirmed his alienation from younger party members.
"Eckart appears out of place in photos Wearing a bulky overcoat and looking older than his years, he (seems) awkward beside the rows of ... uniformed S.A. and their banners." [1]
Albert Krebs claimed that most of Hitler's street fighters didn't even like his song, Sturmlied.
"The young Nazis hardly knew what to think of it since Eckart tried to satisfy their enthusiasm ... by giving them, in excessively melodramatic language, only 'Judah' an enemy. Even the simple storm trooper felt there had be more to it than this." [2]
Eckart now doubted "the Fuhrer's" vision of Germany's future. That fall Eckart met playboy businessman Kurt Ludecke, whom he liked, but did not trust. The son of a chemical factory executive, Ludecke had traveled extensively and could speak fluent English, French, Italian, and Spanish. Hitler sent him on bizarre missions. Ludecke met with Mussolini in Italy and Henry Ford in Detroit. Because Hitler lauded the U.S.'s Jim Crow laws, its genocide against the Indians, and distrust of Jewish bankers, he also ordered him to visit another American dignitary: Ku Klux Klan Imperial Wizard Hiram Evans in Alabama. According to Eckart "Ambassador Kurt" promoted himself "unscrupulously ... stank of perfume from six paces ... and looked like the worst kind of dandy." [3] Nevertheless, he considered him a boon companion at Berchtesgaden's Turk's Head Inn. In return Ludecke hailed Nazism's elder statesman as an incomparable tavern raconteur and "great German writer." The flattered playwright sent his new fan a signed edition of Lorenzaccio which Ludecke praised as " .... perhaps the greatest German tragedy after Goethe's Faust."
Eckart also liked Ernst "Putzi" Hanfstaengl, a Harvard-educated art dealer from an old Munich family. Hanfstaengl found Eckart highly entertaining. He declared that the grizzled writer "had always been one of my favorites, a big bear of a man with sparkling eyes and a genuine sense of humor." [4] Hanfstaengl and Ludecke later disliked each other, but both had good times with Eckart in 1923. Intelligent young men like them were a refreshing change from the ignoramuses now flooding into Hitler's party. Eckart succeeded in impressing his new friends as "well-to-do," though his funds had actually run low. He privately wrote importuning letters to party treasurer Max Amann for money. Between 1920 and 1922 Eckart's prosperity seemed greater than it was because of his role as a conduit for covert army funds and contributions from wealthy nationalists.
After the "Coburg Riot" Eckart advised Hitler to concentrate more on winning elections than street fights. They had formed a political party in order to get votes, not crack opponents' heads. The German Workers Party's original purpose had been to convert communists to volkish socialism, not fracture their skulls. On Max Josef Platz in Munich one day after lunch he told Hanfstaengl:
"I am fed up with this toy soldier stuff of Hitler's. Heaven knows the Jews are behaving badly enough in Berlin and the Bolsheviks are an even worse lot, but you cannot build a political party on the basis of prejudice alone. I am a writer and poet and ... too old to go along with him any more." [5]
Since launching "In Plain German" in December, 1918, Eckart had become a serial libeler. He called Rudolf Steiner a lecher, former associate Fritz Gerlich a "Jew serf," Foreign Minister Walther Rathenau a traitor, and the staff of benefactor Hans Buchner's newspaper "the Zeitung schmucks." In 1921 Eckart denounced his former patron Karl von Bothmer as a turncoat, "double nature, ... schizophrenic, and case for a mental institution" [6] for going too easy on Jews and supporting a merger of Bavaria with Austria. Accusations that he had betrayed Bothmer infuriated him. In the next issue of Auf Gut Deutsch, he wrote:
"I reject the charge ... I send it back with scorn, I scream and roar it back!" [7]
Eckart couldn't even get along with Germany's youth. According to Hitler, several "flabby adolescents" challenged the testy bard to a duel over some trivial slight. With the aid of a few hulking S.A. bouncers Hitler put a stop to this folly. (Cf. Hitler's Secret Conversations, Jan. 19, 1942.)
Bavarian authorities shut the Volkischer Beobachter down three times during Eckart's tenure as editor. In the August 11, 1921 edition he exhorted readers to "tear in pieces that lascivious bible of Satan ism-the Old Testament!"8 Catholic Center Parry leader Matthias Erzberger earned his everlasting hatred for signing the Versailles Treaty. When an assassin killed Erzberger on August 26, 1921, Eckart published a terse obituary in the Volkischer Beobachter: "He was a bum."9 Previous articles implicated Erzberger in all sorts of wrongdoing: sympathizing with Mau Maus who revolted against German colonists in West Africa, creating ammunition shortages by criticizing the Krupp armament works during the war, and operating as a "broker between Jerusalem and Rome."
Dr. Fritz Baron, President of the Central Union of German Jews, brought a lawsuit against Eckart for referring to him as "a disloyal Jew." During one of his drinking sessions at the Stinging Nettle Wine Cellar Eckart wrote a provocative article which promised to pay any Jew 1,000 marks who could prove that he had three sons serving as combat soldiers during the war. As a matter of fact, 80,000 Jewish men served in Germany's armed forces during World War I. Of that number, 12,000 were killed in action, over 30,000 wounded, and 35,000 decorated for bravery.
Dozens of Jewish families responded to Eckart's challenge. Rabbi Freund of Hanover persisted. He sued Eckart, and won his case by providing documentation that three of his sons fought for Germany on the front lines. The court awarded him 1,000 marks.
Eckart sparked the Viehjuden ("cattle Jews") controversy in January, 1922 by accusing Social Democrat politician Erhard Auer of accepting kickbacks from the Bavarian Cattle Dealers Association. In his article he denounced Auer as a "Judentzer" and bribe-taker, who "flashed large bills of money at the Rathaus Keller in Munich," [10] after meeting with wealthy Jewish meat barons. Following a war of words with Eckart in the Munich Post, Auer filed suit for defamation. There may have been some substance to Eckart's allegations, as the Bavarian Landtag censured Auer after the court dismissed his libel suit in March, 1922.
Eckart seemed to have a synchronous affinity with German humorist Ludwig Thoma. Both were plain-speaking Bavarian satirists with Pan German and anti-Semitic views. Thoma worked for Simplicissmus Magazine when Eckart published Der Kleine Martin Bauz in 1901. Both men collaborated with Klaus Eck on the Meisbacher Anzeiger between 1919 and 1921. In November, 1923 Eckart was incarcerated in the same Landsberg Prison cell that Thoma occupied in 1906. A mutual acquaintance described the pair as "obstinate thick skulls" who acknowledged each others' talents, but did not get along well.
Eckart's poison pen eventually got him into real trouble during the spring of 1922. Since Ludwig Thoma's death in August, 1921 Klaus Eck regularly solicited him for contributions to the Meisbacher Anzeiger On June 17, 1922, in anticipation of a visit to Munich by Chancellor Friedrich Ebert, Eckart submitted some satiric verses along with comic book drawings by Otto von Kursell, a Baltic German friend of Rosenberg and Scheubner-Richter. Their cartoon "Comrade Ebert on the Other Side (a parody of Thoma's A Municher in Heaven)" characterized the Chancellor as a puppet of France, Britain, and World Jewry. When a howling mob greeted Ebert with jeers and brickbats on June 22nd, police officials decided to punish the comedian who precipitated this commotion.
Eckart loved Berchtesgaden, an Alpine village with no industries besides dairy-farming, toy manufacture, clock-making, salt mining, and tourism. He shuttled back and forth between Munich and Berchtesgaden several times between the summer of 1922 and fall of 1923. When he returned to Munich in May, 1923, Eckart discovered that the police had not forgotten about him. On April 12, 1923 the Republican Supreme Court in Leipzig ordered the arrests of himself and Hermann Esser for libel and incitement to violence against public officials. Life lost its savor when a man of his stature had to keep looking over his shoulder at the Stinging Nettle Wine Cellar to make sure no gendarmes or process-servers were lurking about. According to Hermann Esser, Eckart put on a good front with jokes and sarcastic remarks. Despite such bluster, he wanted to avoid the "Dunkelkammer" ("slammer") for the sake of his health. The fugitive playwright laid low with the family of Hitler's secretary Fritz Lauboeck for a while, but found himself "incapable of hiding." [11] Hitler confirmed that Eckart couldn't resist the temptation "to telephone left and right." [12] National Guard troops barricaded all roads leading out of Munich, so he could not escape. Hitler sent S.A. patrols to watch Eckart's apartment building, and warn him of impending arrest. Captain Ernst Rohm planned the escape, ordering Anton Drexler to:
"take him to the English Garden. There you'll find a Reichswehr vehicle ... I'm putting at his disposal." [13]
Drexler, dressed in an army uniform, showed up with his wife, and handed the reluctant Eckart another uniform provided by Rohm. Christian Weber drove everyone out of town in a surplus army truck, which Eckart recently helped buy. From the suburbs they arranged transportation to Berchtesgaden.
Hitler got his first look at the breathtaking Alpine vistas of southern Bavaria while speeding along country roads in April, 1923 with Emil Maurice and Hermann Esser. They surprised their friend after 10 P.M.
"Eckart came to meet us in his night shirt, displaying heels bristling with hair like barbed wire. He was very much moved." [14]
Hitler asked him what time he should get up next morning in order to view the gorgeous scenery. Eckart told him 7:30 A.M. On January 15, 1942, Hitler recalled: "He was right -- what a lovely view over the valley! A countryside of indescribable beauty." (Cf. Hitler's Secret Conversations, p. 218.)
Hitler stayed at Pension Moritz with Eckart, registering under the last name "Wolf" Eckart promised to take him to Turk's Head Inn for some real Hungarian goulash. When they arrived, patrons jokingly greeted Eckart as "Dr. Hoffman." Hitler instantly realized they knew his true identity and shot a quizzical look at him. In a booming voice Eckart exclaimed: "there are no traitors in Obersalzburg!" [15] On that visit Hitler plodded up a trail near Hoher Goll Mountain with Eckart. A storm blew in and they hurried into a public cabin for shelter. A roaring wind made the little shack tremble, reminding Hitler of an artillery barrage. He closed his eyes, expecting to be airborne within seconds. Eckart chuckled and predicted that this flash storm would shoot past as suddenly as it swept in.
Hitler laughed at the sight of Eckart sitting nervously in the pillion seat of a motorcycle while Herr Buchner, owner of Pension Mortiz drove rapidly up a narrow, winding mountain road. He met fellow guest Baroness Lily von Abegg in the boarding house and went on hiking excursions with her. She was a wide reader and world traveler whom Eckart considered one of the smartest women he'd ever known. Hitler described her as being "either petulant or run down ... with "blonde as flax hair, blue eyes, long canine teeth, ... spiteful tongue ... who could climb like a goat ... Her husband drowned himself in the Konigsee, as can well be understood!" [16] Apparently while strolling with her one day he stumbled upon Haus Wachenfeld, a rustic cabin where he would build his Berghof chalet in 1936.
Eckart's final services to Hitler were to introduce him to the Obersalzburg region and sooth his wounded pride after the failed armaments seizure of May, 1923. Under the pretext of protecting Munich against a communist revolution, Hitler had tried to stage an insurrection of his own. Storm troopers commanded by Ernst Rohm broke into a police armory and made off with several truckloads of firearms and ammunition. Commissioners von Kahr and von Lossow threatened to attack Nazi headquarters with a battalion of National Guard troops if the weapons were not immediately surrendered. Hitler backed down. His frustration and despondency over this incident led him to seek out his "fatherly friend" in Berchtesgaden. That summer he made the trip to Obersalzburg three or four times, accompanied on different occasions by Heinrich Hoffman, Hermann Goering, Julius Schreck, Ernst Hanfstaengl, Christian Weber, Emil Maurice, and Hermann Esser.
Kurt Ludecke visited Berchtesgaden in May, 1923 and had plenty of laughs with Eckart at the Turk's Head Inn. He noticed that the old bard hated to lose at chess, and became jealous when younger men gazed at his nubile little Annerl. Eckart seemed wary of Hitler, whose popularity as a speaker had gone to his head. According to Drexler, Harrer, and others he had turned into a megalomaniac ever since that arse-kissing Hess started calling him "Fuhrer."
Munich authorities arrested Ludecke as a result of Hitler's recent arms-stealing incident. Offender-on-the-lam Eckart questioned him about legal technicalities, and advised him not to antagonize the police further by trying to sue them for false arrest. He cautioned Ludecke not to broach the subject of legal maneuvering in "The Great One's" presence, because Hitler's tantrums elevated his blood pressure. When in a sensitive mood, the self-indulgent poet did not like his nerves jolted by the "Fuhrer's" sudden outbursts. With the intermittent clarity of vision of which he was still capable, Eckart sometimes wondered whether the little German Workers Party had tied itself to a dangerous psychopath.
Hitler's tough guy act particularly appalled him. An ex-racecar driver named Buchner owned Pension Moritz. He had a pretty, full-bosomed blonde wife named Elisabeth "with flashing gold tooth," who had caught Hitler's eye. On June 1, 1923 Eckart saw "Herr Wolf" (Hitler's alias) repeatedly crack his rhinoceros-hide whip in front of "that silly cow" while caviling against Berlin's "Jewish materialism." Ernst Hanfstaengl witnessed a similar performance in which Hitler exclaimed:
"When I came to Berlin a few weeks ago and looked at the traffic in the Kurfuerstendamm, the luxury, perversion, iniquity, wanton display, and Jewish materialism disgusted me so thoroughly that I was almost beside myself. I nearly imagined myself to be Jesus Christ when he came to his Father's temple and found it taken by money changers. I can well imagine how he felt when he seized a whip and scourged ... out. .. the brood of vipers and adders." [17]
This exhibition gave Eckart heartburn. He was too old to be playing a role in a farce of this sort. To Putzi Hanfstaengl he complained that Hitler's monologues resembled "the ravings of a megalomaniac ... somewhere between a messiah complex and Neroism ... " [18]
"The way Adolf is carrying on now goes beyond me ... The man is plain crazy ... (He) is developing an incurable case of folie de grandeur. Last week he was striding up and down in the courtyard here with that damned whip of his and yelling 'I must enter Berlin like Christ and drive out the moneylenders!' and more nonsense ... I tell you if he lets this messiah complex run away with him, he'll ruin us all." [19]
Eckart later muttered: "when a man gets to the point of identifying himself with Jesus Christ, ... he's ripe for an asylum." [20] Hanfstaengl commented: "He had first taken Hitler under his wing in the party ... although now he was ... beginning to regret it." [21]
Eckart's manic-depressive personality made relationships with other precarious. His rocky friendship with the equally temperamental Hitler certainly had its ups and downs. How seriously should we take his complaints to Hanfstaengl and Ludecke? He was, after all, a chronic complainer with ambivalent feelings about everyone. To preserve his self-esteem this Juvenalian satirist compulsively bad-mouthed those who irritated him, whether the offenders were friends or foes. Even casual acquaintances noticed Eckart's tendency to compliment someone today, then malign him tomorrow. He railed against anyone who displeased him at the moment, but could rapidly patch things up when in a brighter mood.
Eckart was now an invalid at age fifty-five. By the fall of 1923 he lapsed into the existence of a lame, wheezing, lachrymose drunk. His routine varied little. "Little Annerl" cooked him breakfast. While he read or revised a manuscript, she did housework. Eckart did not like her to leave him alone. At noon the unlikely couple set off for Platterhof Tavern to eat lunch. Annerl left him there to read the paper, write, talk with friends, play chess or cards. His teenaged "Mutti" would return around seven for dinner, haul half-soused "Uncle Diedi" home, then help him change clothes and climb into bed.
The infirm Eckart fretted about finances. He sent repeated entreaties for money to party finance manager Max Amann. To Frau Oberhuber, his secretary at Hoheneichen Verlag, Eckart wrote requesting his "writing desk ... red-bound Plutarch ... shaving articles ... eggs," [22] and other items. The bard wrote another letter relating how he had brought his orthopedic mattress, coffee grinder, clothing, and a few books to Berchtesgaden, but had forgotten many other things in his haste to escape Munich. Amann finally came through with 30 million marks on August 25, 1923, but due to hyperinflation it only had the spending power of 6 dollars. He whimpered about the possibility of having to pawn his gold dentures. Who cared? Nazis were storm troopers, not social workers. Hitler had no patience or sympathy for the disabled. Eckart's relatives might have waited on him when he bleated about his woes, but they had no intention of doing so.
Eckart and Dr. Emil Gansser had long been an odd couple. On January 17, 1942 Hitler reminisced about Gansser's habitual tardiness and Eckart's obsessive punctuality when traveling.
"When it was a question of setting off on a journey, Eckart was the most precise man on earth, Gansser the most imprecise. Eckart would arrive at the station an hour and a half before the train's departure. Gansser was never there. Eckart used to say to me: 'Have you heard any news of Gansser? I'm afraid he's late again. You -- don't go away, or I'll be left alone!' The train would be leaving the platform when we would see Gansser, overflowing with ... luggage ... (take) a flying leap into the last carriage. Eckart would apostrophize him: 'you, you're a man born after his time. That explains everything!'" (Cf. Hitler's Secret Conversations, p. 223.)
In the summer of 1923 Eckart had given Dr. Emil Gansser a rough copy of his "interview manuscript," which eventually developed into "Bolshevism from Moses to Lenin." He became apoplectic when Gansser not only failed to return it on time, but insisted on showing it to Hitler. Eckart berated Gannser in a letter to Max Amann.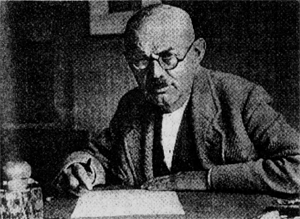 Dietrich Eckart at his writing desk, c. 1922. Photo by Heinrich Hoffman.
"The devil fetch him! I could care less! I want my manuscript back immediately! Hitler mustn't under any circumstances receive it in such a state. I do not allow myself to be held up by fools. It appears as though I've been sabotaged ... It's an outrage! You cannot imagine how angry I am! If Hitler doesn't receive a completed and polished manuscript he cannot judge its true value .. that is, if he reads it at all ... " [23]
Despite his long stay in Obersalzburg Eckart wanted to remain editor-in-chief of the Volkischer Beobachter. Because he had written virtually nothing since the previous summer Hitler removed him from that post on March 10, 1923 and appointed Alfred Rosenberg in his place. Eckart bitterly resented this slight. To make matters worse Rosenberg had just written a number of tedious, ungrammatical articles in "pidgin German" attacking the Catholic Church. Didn't he know Munich was a Catholic city? This wasn't the first time that ingrate had disrespected him. In May, 1919 Rosenberg disparaged his Leading Citizens' Society as "corny" and "old hat." He seemed to gloat when it flopped three months later.
Putzi Hanfstaengl (who himself coveted Rosenberg's editorial job) discovered Eckart "literally in tears" one day in June, 1923.
"'Hanfstaengl,' he groaned, 'if only I had known what I was doing when I introduced Rosenberg into the party and then allowed him to take over the editorship here, with that rabid anti-Semitism of his. He does not know Germany and I have a strong suspicion that he does not know Russia either. And then that name of his on the first page. He will make a laughingstock of us all if this goes on!" [24]
In October, 1923 Eckart arranged to rent an apartment in the Pfnuer family's "Sunbeam Cottage" a quaint bed-and-breakfast" near Berchtesgaden. He told Karl Guido Bomhard that politics nauseated him. In the seclusion of "Sonnblick Hausl," he could begin a long-planned book about Christianity.
Eckart's influence on Adolf Hitler waned steadily from August, 1922 to November, 1923. Although he recommended his erstwhile mentor's evacuation from Munich, Hitler now pilloried him as a "malingerer," "fatalist", "pedant," "old pessimist," and "dipsomaniac." This tough-talking Falstaff now cowered in the arms of his pastoral "Lolita." Thirty-five years of non-stop boozing had taken its toll. All the empty posturing and saber-rattling in pubs had spoiled him for meaningful action. His idea of politics was to lounge around bars and swap Jewish jokes with other lushes. He could only thrive in an atmosphere of futility! Hitler told Ernst Hanfstaengl: "Schopenhauer has done Eckart no good. He has made him a doubting Thomas who yearns for Nirvana." [25]
Against his better judgment Eckart sealed his doom by yielding to this type of pressure. The Bavarian state rescinded its arrest warrant against him on October 23, 1923. A few days later he dragged his aching bones back to Munich, bringing Annerl with him. On October 30'h sickly Eckart shared the rostrum with Hitler, Esser, Streicher, and Drexler at a Circus Krone rally. While he thirsted for a cold beer, Hitler ranted endlessly to the crowd-at one point comparing himself to Roman champion of the plebeians Marius, and Commissioner Gustav von Kahr to autocratic Sulla. What buncombe! Eckart himself had suggested the Marius-Sulla analogy, but it sounded false coming from Hitler, who had become a despot in his own right. If Hitler were so damned bright why had he recently written a moralistic "open letter" in the Volkish Beobachter which criticized brewers and innkeepers, thus prompting beer halls to cancel 7,000 marks worth of advertising revenue? Scheubner-Richter and Rosenberg had cooked up an asinine scheme to kidnap former Crown Prince Rupprecht. His suggestion that Hitler reject such nonsense, and begin using the weapon of democracy against the democrats still fell on deaf ears. He argued in vain that victory at the polls would be preferable to Bolshevik terror tactics. Hitler and Scheubner-Richter would have none of it. They knew how to bring off a Mussolini-style coup, and vowed to take Munich by storm. Eckart resented the way Hitler ignored him. As Ralph Engelman commented:
"The man who three years earlier had brought Hitler to Berlin during the Kapp Putsch, mentor in anti-Semitic theory and promoter of the Fuehrerprinzip, had not been included in Hitler's greatest venture." [26]
Having been banished from Hitler's inner circle, Eckart did not learn about the Beer Hall Putsch until the day it happened. As Hitler fired a bullet into the Burgerbraukeller's ceiling with his pistol on November 8th and demanded that commissioners Kahr, Lossow, and Seisser hand over power to him, Eckart drank and played cards with photographer Heinrich Hoffman in the Fledermaus Hohle ("Bat Cave") of the Schelling Salon Bar. He didn't hear of Hitler's rebellion until Hoffman telephoned him after midnight. When he heard of Commissioner Gustav von Kahr's release, he commented: "we've been betrayed." [27] The next day Eckart apprehensively trudged over to party headquarters. Hitler, Ludendorff, and Scheubner-Richter treated him like a second-class citizen. Hitler strode out of a conference room and growled: "good day!" Ludendorff followed, giving Eckart "an indifferent tip of the hat." [28] Left out of the proceedings, he stood on the sidewalk near Isartor train station while S.A. units sang his song: "Germany, awake! Break your chains in two!" Hitler's green Selve automobile stopped in front of Eckart. He shot an angry glance at his friend and gestured for him to get into the following car. That would be the last communication between them.
At Residencestrasse Hitler, Scheubner-Richter, and General Ludendorff got out and walked briskly to the head of the column toward Odeonplatz, in the direction of Feldherrnhalle (City Hall.) Some unidentified Nazi sympathizer fired a shot that killed a police sergeant. Police then opened fire, killing Scheubner-Richter and thirteen others. Many more were wounded, including Ulrich Graf, who leapt upon Hitler to protect him. Eckart saw Hitler get up from the pavement with a dislocated arm and slowly stagger away with tousled hair, soiled trench coat, and grimacing face. S.A. doctor Walther Schultze loaded Hitler into his Fiat and drove him to Hanfstaengl's cottage in Uffing. Max Amann and Hermann Esser gave Eckart a ride to Heinrich Hoffman's photography studio. Esser soon fled to Czechoslovakia, Amann to Austria. The frowning poet just limped back to his room. On November 15, 1923 at the corner of Turkenstrasse and Schellingstrasse police arrested Eckart as a Nazi provocateur, and threw him into a noisome jail cell at Stadelheim Prison. After undergoing a lengthy police interrogation, he expected to be released. The bailiff shocked Eckart by informing him that he would be confined indefinitely. In a letter to his old nemesis Commissioner Gustav von Kahr he wrote: "I nearly went to pieces." [29]
When not writing letters, reading pulp magazines, or staring into dead space, he baited the prison chaplain for sport. When the parson encouraged him to think of the hereafter and repent, Ariosophist Eckart rejoined: 'I've given the afterlife much more serious consideration than you have ... Jean be of more help to you, than you to me." (Cf. Hitler's Secret Conversations, August 11, 1942, p. 583.) On December 17th police authorities transferred him to Landsberg Prison, fifty miles away. He languished in the large "celebrity cell" with opaque windows, that had housed playwright Ludwig Thoma in 1906, Kurt Eisner during the war, and would soon accommodate Hitler. Some of his letters to "darling little Annerl" at this time upbraided her for cheating on him; others professed undying love. Dogged by withdrawal pains, depression, and angina, he penned a melancholy letter to her in early December:
"Now it is 5:30 in the evening, the meal (potato soup) over, the light burns miserably, nothing decent to read, no conversation far and wide -- and the night is so long. I agonize so, Annerl. These lonely days are doing this to me, and it becomes worse and worse. My God, when one has so much time to think!" [30]
Though hardly an exponent of human rights, Hitler later attacked the Bavarian Provisional Government for violating Eckart's civil liberties.
"In 'national' Bavaria they placed the mortally ill Dietrich Eckart in so-called protective custody, despite the available medical testimony, without even a trace of ... wrongdoing on his part ... " [31]
Karl von Bothmer had introduced Eckart to Commissioner Gustav von Kahr in January, 1919. Although he scolded Kahr as a "sell-out" in a scathing October 30th speech at Circus Krone, Eckart now begged him for freedom. He cited his heart condition and promised to cease all political activities. In a letter to "Your Excellency" dated November 22, 1923 he compared his Lorenzaccio to Shakespeare's Hamlet and described himself as a high-strung artist plagued by ill health, who would never survive the deleterious atmosphere of Landsberg Prison.
"I had co spend the rest of the day and the whole next night in an ice-cold cell of the police (station.) No stool, no table, only an uncomfortable dirty plank bed. Despite my constant shivering I couldn't decide whether or not to use this so-called bed, until early morning. I sat half-dead from weakness on its outer edge. Some hours later, about nine o'clock I was brought by auto, at dire cost, to Stadelheim. My condition, I feel, is ever-worsening. The careful attention which by all means I need, cannot be had here even with the best of efforts. Then there is the eternal solitude which, in my present condition, I'm simply not equal to, not to mention the 'robust' food. At home lies an unfinished manuscript of mine ("Bolshevism from Moses to Lenin.") The question of whether or not I'll ever be able to complete it tortures me constantly." [32]
In the middle of the night on December 20, 1923 guards conducted a jailbreak drill with live machine gun fire in the prison courtyard. Thinking he was about to be shot along with other inmates, panic-stricken Eckart suffered a heart attack. Not wanting to make a martyr of him, Kahr finally approved his release on December 21st. Friends picked up the prostrate dramatist and drove him to Munich. Alfred Rosenberg visited him there.
"He lay in bed, we shook hands. His handshake was weak. Despite his attempts to laugh and make humorous remarks about his condition, Eckart had the appearance of an old man ... " [33]
A day later he and Annerl were driven to the Pfnuers' "Sunbeam Cottage" In Berchtesgaden, where he died of heart failure on December 26th, while holding an open book in his hands. Before giving up the ghost he wrote a pro-Hitler poem:
"O stupid Germans! You insult everyone
Who faithfully labors for you,
With blasphemies
You repaid Hitler's goodness,
When the Pharisees
Forced him down from behind
By throwing yourselves
Into the arms of your Hebrew rulers;
Lashes around the ears,
Across the mouth!
Born for the slave's yoke
You think only about filling your guts!
Thank God what Hitler planted
Was quickly dug up
So he didn't have the misfortune
Of liberating such a worthless rabble!" [34]
Nearly a hundred friends gathered to bury Eckart in Berchtesgaden's old cemetery on December 30th. Ten speakers paid tribute. In accordance with his wishes, the headstone faced Obersalzburg's massive peak. Political colleagues such as Feder, Rosenberg, and Esser feared to attend the graveside service because of heavy police surveillance. Esser viewed the burial through binoculars from a distant vantage point.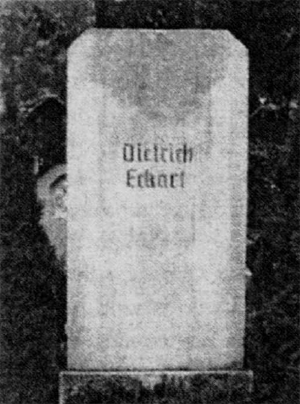 Dietrich Eckart's Tombstone in Berchtesgaden's Old Cemetary
To Hitler, Eckart seemed like a more cheerful and intellectual version of his own father: a gruff, restless, heavy-smoking alcoholic with an eye for younger women. His paternal friend's death saddened him. Surviving associates -- including Hess, Ludecke, Hanfstaengl, and Esser,-- all confirmed that the Fuhrer revered Eckart more than any other colleague. After World War II Hitler's secretary Christa Schroeder told an interviewer: "whenever the chief mentioned Dietrich Eckart's name, tears came to his eyes." [35] In the Munich Brown House Hitler placed his "Fuhrer Chair" beneath a portrait of Eckart. He spoke of erecting a monument to him between Platterhof Mountain and Haus Wachenfeld, "on a hill he loved so dearly and where he finally died, broken-hearted and alone." [36] Hitler commissioned architect Werner March to build Dietrich Eckart Theater, a huge outdoor stadium in Berlin, where the 1936 Olympic games were held. Two busts stood in the Reich Chancellery: one of Bismarck, the other of Eckart. Hitler had a statue of Eckart placed in Neumarkt's town square. Shortly before coming to power in 1933 Hitler declared: "My good friend Dietrich Eckart -- what would he say if he could see us now, and all we've achieved. I'd give a great deal if he could be here." [37] In an interview he advised reporter Richard Breiting:
"Eckart was an outstanding writer and thinker. My friends thought him eccentric, but I was convinced that ... we needed legions of men like (him)." [38] He "wrote poems as beautiful as Goethe." [39]
During the war Hitler confirmed that:
"(Eckart) shone in our eyes like a polar star... When he admonished someone, it was with so much wit. At that time I was intellectually a child still on the bottle." [40]
He told secretary Christa Schroeder:
"Never again did I find a friend with whom I was in such complete harmony, both in thoughts and feelings." [41]
Though never very conscientious about giving credit where due, Hitler dedicated Mein Kampf to his "dear friend Dietrich Eckart, one of the best, who devoted his life to the awakening of our Volk." [42] In 1943 he jailed Frankfurter Zeitung newspaper columnist Herbert Kuesel for writing a disrespectful "memorial" about Eckart on the 75th anniversary of his birth, which painted him as a down-at-the-heels Bohemian
"tossed around by vicissitudes... (who) tried again and again to secure public recognition, (but was) brusquely rejected." [43]
Hitler copied Eckart's brush-style mustache and imitated many of his mannerisms. For rhetorical effect Eckart frequently employed repetition. The whole trouble with the economy was "usury, again usury, and a third time usury. Hitler believed that the only appropriate response to Jews was "hate, hate, and once again hate." Some of Eckart's pet cliches were to become endlessly repeated Hitlerian staples, such as the one about Jews being "incapable of state formation." Zionist schemes to reclaim the Holy Land were merely efforts to secure "training bases for professional revolutionaries." Hitler shared Eckart's love for the Obersalzburg region of southern Bavaria. Though a non-drinker, he adopted his tutor's custom of holding court in cafes. Like Eckart, whose nocturnal filibusters at the Brenessel Weinstubbe were legendary, Hitler became a habitual late night sermonizer. His table talk during World War II echoes articles written by Eckart in 1919, as does his Last Will and Testament.
Ludecke and Hanfstaengl record that Eckart expressed disenchantment with Hitler in 1923. They imply that, had he lived, Eckart would have broken with him over his abandonment of the working class, and the Rohm Purge of 1934. Onoldia brother Eckart valued fraternal loyalty and would have disapproved of the Rohm and Strasser murders:
Margarete Plewnia suggested that Hitler had outgrown Eckart by 1923. She wondered "if his death had not interfered, would he have been treated as Anton Drexler, Ulrich Graf, and Gottfried Feder, and shoved aside?" [44] Although Hitler had a much closer bond with Eckart than he had with either Drexler or Feder, the acquisition of power obsessed him completely, leaving scant room for personal relationships.
Acquaintances such as Esser, Ludecke, and Hanfstaengl enjoyed Eckart's company while having a few drinks, and later made excuses for him. According to them, the poet simply had a fixation about Jews that couldn't be helped. Otherwise, he generally behaved decently -- at least according to the German code of male camaraderie. Neither they nor Eckart should be blamed for backing Hitler in the early 1920's since the latter had not become a full-fledged homicidal maniac until 1939.
One man's metaphysics is another's nonsense. During their conversations in the early 1920's Eckart often said one thing, while Hitler heard another. The playwright spoke figuratively like a prophet. The politician took things literally, filtering out Eckart's odd notion of spiritual anti-Semitism, while honing in on his conspiracy theories. Both wanted to create an earthly utopia for the German master race.
Hitler's "biological anti-Semitism" exceeded Eckart's "spiritual anti- Semitism" in virulence. Although an enraged Eckart, who confused materialism with Judaism, once blustered that Jews should be "packed into a train and driven into the Red Sea," [45] he actually favored a Jewish policy similar to Heinrich Class's program of higher taxes and second-class citizenship. Eckart wanted to expel recent emigres from the east, but did not object to assimilated Jews remaining in Germany, so long as they did not practice their religion, or amass too much power. Most third and fourth generation Jews -- like his former idol Heinrich Heine -- were almost indistinguishable from "real" Germans. In fact, as the tragic Otto Weininger recognized, they provided a stimulus to European society. People needed a certain amount of "world affirmation" to survive. Eckart opposed Zionism because not only would it concentrate an inordinate number of Jews in Palestine, but take too many out of Europe.
"That which Zionism wants or at least pretends to want, to leave us completely, would be just as fatal as the Jew ruling us." [46]
In Auf Gut Deutsch Eckart once compared Jews to "friendly" bacteria such as yeast and acidophilus, which facilitate healthy body functioning. He conceded that Jewish depredations usually provoked a "healthy defensive reaction" from Germans. Jews were a "necessary evil ... we must accept for. .. centuries to come." [47] The German Yolk required "the Jewish presence in order to remain vigorous until the fulfillment of its earthly mission." [48] Even Hitler realized the utility of Hebrew entrepreneurship. During World War II when his rulers of Eastern territories failed to popularize condom use among Poles and Ukrainians, he growled: "apparently it takes a Jew to get such things going." [49] Hitler paid another left-handed compliment to his archenemies on the evening of January 27, 1942, admitting that he could never exile them to Sweden, lest they capture all positions of leadership within a generation.
Physical cruelty disturbed Eckart. According to James Webb he emphasized that "the struggle was not to be carried on by brutal methods; ... it could only be settled on a spiritual level." [50] In Nazi Ideology Before 1933 Barbara Lane Miller and Leila J. Rupp try to explain Eckart's bewildering position:
"Jewishness is not solely a property of race, but a quality inherent in every folk, in every nation, in every individual; it is, in fact, essential to life itself. Germany, then, must keep its Jews. They must not be permitted to emigrate to Palestine and found a new state; but at the same time 'world affirmation' and 'world negation' must constantly do battle in order to maintain vital balance." [51]
Eckart deemed Alfred Rosenberg a more vehement anti-Semite than himself. In 1941 Rosenberg fell afoul of Hitler and Himmler for recommending "ghettoization" rather than extermination of Jews. This didn't make him a humanitarian -- just a less nefarious criminal than Hitler. A sober Eckart, remembering Heine, Weininger, and the Jewish landlady who let him slide during the "Hunger Years," would have sided with Rosenberg. He believed that the Jews should be reined in, not liquidated. In spite of his extreme Judeophobia, one cannot imagine Eckart sanctioning the use of slaughterhouses for humans. His prejudices resembled Richard Wagner's more closely than Adolf Hitler's. Auschwitz would have horrified him.
Dietrich Eckart, a man committed to insane asylums several times, served Hitler's principal advisor and publicist in the crucial early years of the party. His chief client before Hitler had been the quack mystic Tarnhari. In 1915 Eckart directed mental patients in a performance of Henry Hohenstaufen at Schwarzek Sanitarium. Five years later he coached Hitler. Because of Eckart gregariousness, many overlooked his irresponsibility and viciousness. He had a "Jekyll and Hyde' personality. According to Ralph Engelman,
"Acquaintances of Eckart ... attributed the two sides of his character, tender and poetic, yet given to violent outbursts of rage and hate, to the temperamental differences between his parents." [52]
Alcoholism has been identified as both a physical and spiritual disease. Those susceptible to it have a psychological void before they take their first drink. A tense and strong-willed child, Eckart suffered grievously at age ten when his mother died. Unaffectionate Georg Christian Eckart, probably a drinker himself, exiled his troublesome boy to at least five different boarding schools. When Dietrich hit the University of Erlangen fraternity scene at the age of twenty, he was ready to embark upon a dissolute life. Drinking exacerbated his existing neuroses. He exhibited all the classic symptoms of alcoholism: grandiosity, frequent changes of abode, heavy smoking, moodiness, hypersensitivity, cross addiction (morphine), binges alternating with cures, rule breaking, legal trouble, financial problems, rejection of conventional morality, association with inferiors, severed relationships, unreasonable resentments, false accusations, and bigotry.
One should bear in mind that Eckart's inflated alcoholic ego always placed himself at the center of the universe. The minions in his court included journalist Rosenberg, economist Feder, painter Max Zaeper, inventor Emil Gansser, adolescent girlfriend Annerl, and budding politician Hitler. He did not think Hitler would ever attain dictatorial power in Germany. At the time of his death the National Socialist Party was a defeated Bavarian splinter group. When the Beer Hall Putsch occurred on November 9, 1923, the NSDAP had only 55,000 members out of a German population numbering 65 million people. It remained weak until 1930. Eckart always viewed it as a small radical faction that had no chance of gaining real power. In his mind the Nazis' functions were to fight communism, expose the "Jewish conspiracy," obstruct Social Democrats in parliament, and push working-class opinion in a more nationalist direction. Hitler's ascension to the chancellorship in 1933 would have astounded him.
After a few years of post mortem fame Eckart became completely discredited in 1945 when the Third Reich fell. In the words of Ernst von Salomon "his bust went from its pedestal in the Temple of Glory ... to a dusty corner of the junk room." [53]
Nonetheless, Dietrich Eckart bears major responsibility for reinforcing Hitler's anti-Semitism and advancing his career during the critical years prior to the Beer Hall Putsch. His tendency to ascribe all ills to "the Jewish problem" resonated deeply with Hitler. Although Eckart's worst calumnies were written between 1918 and 1923, they set forces in motion which led to the Holocaust. The odious distortions and defamations in "Bolshevism from Moses to Lenin" provided an ideological justification for the perpetrators of the Holocaust. Hitler's own Last Testament rehashes the same kind of anti- Jewish rhetoric found in Auf Gut Deutsch. Despite his spiritual pretensions, Eckart was a venom-spewing drunkard who cobbled together an ideology of hate which produced untold human suffering. With judgment impaired by mental illness and intoxicants, he helped unleash a whirlwind.
_______________
Endnotes
1 Ralph M. Engelman, Dietrich Eckart and The Genesis of Nazism, Washington University, 1971, UMI, Ann Arbor, MI, 1971, p. 223.
2 Albert Krebs, The Infancy of Nazism, edited and translated by William Sheridan Allen, New Viewpoints, New York, 1976, p. 301.
3 Lothar Machtan, The Hidden Hitler, trans. John Brownjohn, Basic Books, New York, 2001, p. 268, op. cit. 3/3/23 police interview with Dietrich Eckart.
4 Ernst Hanfstaengl, Unheard Witness, J. B. Lipincott, Philadelphia, PA 1957, p. 84.
5 Ibid.
6 Engelman, p. 174.
7 Ibid., p. 190.
8 Der Volkischer Beobachter, 8/11/1921.
9 Ibid., 9/11/21.
10 Engelman, p. 213.
11 Hitler's Secret Conversations 1941-1944, ed. Harold J. Gordon Jr., University Publications of America, Arlington, VA, 1976, p. 173.
12 Ibid.
13 Ibid., p. 174, Hitler's conversation of 1/16/1942.
14 Ibid.
15 Ibid.
16 Ibid., p. 240, Hitler's conversation 2/5/1942.
17 Walter C. Langer M.D., The Mind of Adolf Hitler, Basic Books, New York, 1972 p. 35, op. cit. Ernst Hanfstaengl Statement to the O.S.S., pp. 902-903.
18 Hanfstaengl, p. 85.
19 Ibid.
20 Langer, pp. 35-36.
21 Hanfstaengl, p. 86.
22 Engelman, p. 227.
23 Margarete Plewnia, Auf dem Weg zu Hitler: Der Volkische Publizist Dietrich Eckart, Schunemann Universitatsverlag, Bremen, 1971, pp. 108-109, Dietrich Eckart's 8/26/1923 letter to Max Amann.
24 Hanfstaengl, p. 84.
25 Ernst Hanfstaengl, O.S.S. Report, FDR Library, New York, NY 1942.
26 Engleman, p. 230.
27 Alfred Rosenberg, Dietrich Eckart-Ein Vermachtnis, Munich, 1935, p. 60.
28 John Toland, Adolf Hitler, Ballantine Books, New York, 1976, p. 548.
29 Ernst Deuerlein, editor, Der Hitler-Putsch: Dokumente zum 8/9 November, 1923, Stuttgart, 1962, p. 438, op. cit. D. Eckart letter to Gustav von Kahr, 11/22/1923.
30 Ralph M. Engelman, "In Search of Hitler's Mentor," Yale Review, Vol. 65, June, 1976, pp. 640-41, op. cit. Dietrich Eckart's 12/8/1923 letter to Anna Obster.
31 Telford Taylor, ed. Hitler's Secret Book, Grove Press, New York, NY 1961, pp. 187-188.
32 Ernst Deuerlein, Der Hitler Putsch, Stuttgart, 1962, pp. 438-440.
33 Rosenberg, p. 65.
34 Plewnia, p. 112.
35 Christa Schroeder, ed. Anton Joachimsthaler, Er War Mein Chief, Munich, 1985, p. 65.
36 Kurt Ludecke, I Knew Hitler, Scribners, New York, NY, 1937, p. 83.
37 Ibid., p. 474.
38 Richard Breiting, Secret Conversations with Hitler, Edouard Calic, editor, trans. Richard Barry, John Day Co., New York, 1971, p. 51.
39 Joachim C. Fest, Hitler, trans. Richard & Clara Winston, Harcourt, Brace, Jovanovich, New York, 1974, p. 133.
40 R. G. L. Waite, The Psychopathic God: Adolf Hitler, Basic Books, New York, NY 1977, p. 139.
41 Joachim Kohler, Wagner's Hitler, trans. Ronald Taylor, Policy Press, 2000, Malden, MA, p. 152, op. cit. Christa Schroeder, Er War Mein Chief, p. 65.
42 Adolf Hitler, Mein Kampf, 1925, Eher Verlag, Munich, trans. Ralph Manheim, Houghton Mifflin, Boston, MA 1943, p. 687.
43 Machtan p. 115, op. cit. Frankfurter Zeitung article dated 3/23/1943, signed H.K.
44 Plewnia, p. 112.
45 Ernst Deuerlein, editor, Der Aufstief der NSAAP Augenzegenberichten, op. cit. Anton Drexler's Private Papers, from German Workers Party meeting minutes, January, 1920.
46 Miller & Rupp, p. 25, op. cit. D. Eckart, "Jewishness In & Around Us."
47 Ibid.
48 Jochen van Lang, The Secretary, Martin Bormann: The Man Who Manipulated Hitler, with Claus Sibyll, trans. Christa Armstrong & Peter White, Random House, New York, 1979, p. 248.
49 Dietrich Eckart, "Jewishness In and Around Us," Auf Gut Deutsch, April, 1919, from Barbara Lane Miller & Leila Rupp, Nazi Ideology Before 1933, University of Texas Press, Austin, TX, 1978, p. 25.
50 James Webb, The Occult Establishment, Open Court Publishing Co., LaSalle, IL, 1976, p. 337.
51 Barbara Lane Miller & Leila J. Rupp, Nazi Ideology Before 1933, University of Texas Press, Austin, TX, 1978, p. 17.
52 Engelman, Dietrich Eckart and the Genesis of Nazism, p. 4.
53 Ernst van Salomon, Der Fragenbogen, Hamburg, 1951, p. 225.