2: Heinrich Heine: Dietrich Eckart's Youthful Idol
"Heine is a thistle in the garden of literature."

-- Georg Brandes
"Although I don't agree with Heine's opinions, his poetry demands respect .... He should be honored with a monument."

-- Adolf Hitler, c. 1910 in Vienna, according to account of Reinhold Hanisch
Nazism's two literateurs, Dietrich Eckart and Dr. Josef Goebbels, both esteemed Heinrich Heine's writings as young men. Eckart admired the poet's comedic gifts, but eventually denounced him as an "International Jew." In a horrible irony, Doctor of Philology Goebbels consigned Heine's books to the flames in 1936 -- destroying works of the man who wrote: "where books are burned, they end up burning people." [1]
Heinrich Heine was born in Dusseldorf's Jewish ghetto on December 13, 1797 to Peira Van Geldern Heine, the orphan of a physician, and small tradesman Samson Heine.
Little Harry's parents sent him to Jewish and Christian schools. His ambivalence toward both cultures made him feel like a foreigner in his own land. Local Christian bullies taunted him. It didn't help that the local junkman constantly shouted at his donkey, named "Harry."
Heine received good first impressions of the French. While Napoleon's soldiers were quartered in Dusseldorf, his father's store prospered. The Emperor's philo-Semitic policies encouraged optimism among Jews desiring to assimilate into German society. These hopes were dashed by the reaction following the Congress of Vienna. In his student years Heine cherished the notion of a joint German-Jewish venture to unite Germany's far-flung duchies by peaceful negotiation, and liberalize Europe along French lines. Bitter experience caused him to abandon this pipe dream, though he continued to regard France as a source of progressive ideals.
As an adolescent Heinrich demonstrated facility with language and scathing wit. However, his literary gifts were accompanied by impracticality. Although he detested business, Samson Heine arranged for him to work as a bank clerk trainee in Frankfurt. Seventeen year old Harry's duties as a scrivener were merely tiresome. What happened on Sundays traumatized him. Dusseldorf did not overtly persecute Jews. However, Frankfurt police still observed the medieval custom of locking all Jews inside the overcrowded Jewish quarter from dawn to dusk on Sundays. Young Heine felt unwanted, alienated, lost. About Judaism he would later write: "it isn't a religion but a misfortune!" [2]
By dint of hard work and extraordinary business acumen Heinrich's paternal Uncle Salomon had become one of Hamburg's wealthiest bankers. Relations between uncle and nephew were often strained. A hard-headed entrepreneur, Salomon never appreciated belles-lettres. For his part, Heinrich usually showed more insolence than gratitude. Heine's partisans have exaggerated Uncle Salomon's "stinginess." He not only set up his ungrateful nephew in business, but paid for his college education, law school tuition, and most living expenses until age thirty. After "Luftmensch" Heinrich moved to Paris he frequently sent importuning letters to his rich uncle and received substantial donations by return post. Following Salomon's death, his son Karl paid Heinrich an annual pension of 4,800 francs, which he later increased to 8,000. Nevertheless, Heine's disciples fault his affluent Hamburg relations for being "philistines," declining to send money in certain emergencies, and for burning those passages from the poet's unpublished memoirs which libeled them.
In 1818 Uncle Salomon purchased a retail clothing store in Hamburg for Heinrich. Due his nephew's lassitude it folded within a year, prompting Salomon to write him off as "an empty-headed idler." [3] To escape from the grind of retail trade, Harry sought solace in the arms of prostitutes, and soon contracted venereal disease.
Heinrich Heine aspired to be a poet, even though he realized that an inordinately high number of bards died in almshouses of consumption. Literary magazines had already printed many of his poems. In 1821 he published a collection of romantic poetry entitled Gedichte. His Book of Songs followed in 1827.
In 1819 Heine prevailed upon Uncle Salomon to subsidize legal studies. That year he attended Bonn University, where he met philosophers Hegel and Schlegel, then subsequently transferred to the universities of Gottingen and Berlin. Though ostensibly pursuing a law degree, Harry mainly elected courses in the humanities. He enjoyed college life, while disapproving of nationalistic fraternities at Gottingen. In Heine's mind these militant secret societies were breeding grounds for intolerant chauvinism, a mindset incompatible with Gottingen's liberal arts tradition. Fraternity brothers wrongly imagined that they glorified the Vaterland by despising Jews.
University friends appreciated his lively sense of humor. Harry joked that his closet-sized apartment was so small that he had to leave before his roommate could enter. According to legend a ghost walked through Gottingen's campus at night along Pandect Lane. Heine quipped that this spirit must have been a student who had died from boredom. His readings of Voltaire and the French encyclopedists turned him into an agnostic. Jesus said: "if thine eye offend thee, pluck it out;" [4] Sardonic Harry added: "if thy brain offend thee, turn Catholic." [5]
Because Jews could not practice law in Germany, Heine converted to Protestantism in 1825. This move did not make him socially acceptable. The King of Bavaria rejected his application for a professorship at Munich University. No law firm hired him. Heine's ambiguous status as a baptized Jew intensified his angst. The conversion caused Jews to reject him, but didn't win approval from gentiles. In December, 1825 he advised Jewish friend Moses Moser not to convert.
"Isn't it crazy? The moment I am baptized they attack me as a Jew. Altogether I have had nothing but trouble ever since." [6]
He claimed to prefer Greek gods to wrathful Jehovah, deity of his own "morbid little sect." [7] Nonetheless, he found it impossible to escape his "inner Jewishness."
In 1828 Baron Cotta, publisher of Munich's Political Annals Magazine, offered Heine a position as editor. He accepted, but threw this sinecure away within a year because political journalism cramped his imagination. Heine returned to his parents' new residence in Luneburg, which he dubbed "the capital of tedium." It was a cold and unfriendly place where he "made the acquaintance only of trees." [8]
Meanwhile Heine signed up with literary agent and publisher Julius Campe. Lewis Browne observed that this association refuted the age-old Jewish stereotype, since shrewd German gentile Campe outsmarted innocent Jewish Heine at every turn. Heine published Travel Pictures, a popular book of essays which disseminated liberal views with cynical humor, but earned little due to a hard bargain driven by Campe. His satirical jibes did not go unnoticed by the Prussian Bureau of Censorship, which promptly banned it. Heine's 12th chapter particularly rankled them.
"The German censors of the press ... blockheads! ..." [9]
As a leading member of The Young German Movement Heine naively believed that Germany could lead the way toward European emancipation of workingmen, Jews, rural peasants, and the press. Young Germans rallied behind such liberal causes as free speech, separation of church and state, equal rights for women, and the overthrow of hereditary noblemen.
Heine befriended other radicals such as Ludwig Borne, Karl Marx, Friedrich Engels, and Ferdinand Lassalle. His writings reflected a cosmopolitan and anti-aristocratic bent. He railed against
"nobles who have learned nothing beyond horse-trading, card-sharping, drinking feats, and similar stupid rascally accomplishments." [10]
He referred to castles as "lodging houses for blackguards," knights as "ass-drivers," ladies in waiting as "common wenches," and monarchical governments as "puppet comedies." [11] He despised nationalists, whom he described as "false patriots whose love of the Fatherland consists of nothing but an insane hatred of foreigners and neighbors, notably France." [12] He worried about the underlying barbarism of German racists. They wanted
"the old stone gods (to) rise from their long-forgotten ruins ... (so that) Thor, leaping to life with his giant hammer (could) crush the Gothic cathedrals!" [13]
Heine predicted that socialism would eventually defeat these "Teutomaniacs," in a deadly struggle. His words prophesy the National Socialist movement.
"A drama will be enacted in Germany by the side of which the French Revolution will seem like an innocent idyll." [14]
In 1829 the restless Heine moved to Potsdam and supported himself by writing articles. He withdrew from such friends as Christian Sethe, Ludwig Borne, and Rahel von Varnhagen in order to concentrate on writing. The solitary poet compared himself to
"Robinson Crusoe on (an) island... For company I had only the statues in the Gardens of Sancouci. I kept from all contact with the outer world, and if anyone so much as brushed against me in the street I felt an uneasy sensation. I had a profound horror of such encounters ... like that which ... wandering spirits of the dead feel when ... they meet a living man ..." [15]
Heine's periodic bouts of introversion stemmed from a combination of shyness, ambivalence about his Jewishness, and an obsessive desire to write without interruption.
The poet suffered from a variety of neuroses, including anxiety, melancholia, hypochondria, obsessive-compulsive behavior, and oversensitivity to noise. Harsh criticisms could reduce him to tears. The ticking of clocks bothered him abnormally. He could not have one in his study or bedroom, and would often ask guests to put their watches in a drawer. In Paris the piano practicing of girls in a nearby apartment drove him to distraction.
A trip to England in September, 1827 triggered a phobic response. The poet saw one huge bedlam, a horrifying phantasmagoria, marked by
"colossal uniformity, machine-like movement ... shrillness ... a stone forest of houses... between ... surging stream(s) of living human faces ... " [16]
Florid John Bulls and their cocksure female counterparts frightened him. "Send a philosopher to London, but. .. not a poet!" [17] he exclaimed.
Heine's newspaper and magazine articles consisted mainly of social criticism. Like Dietrich Eckart, he was more of a pundit than journalist. As Ernst Pawel observed Heine always knew what he opposed, "but seldom what he (was) for." [18] Nietszche praised Heine for "divine malice," bur others have accused him of being "negative" -- a cynical pessimist rather than architect of social amelioration. No political system ever satisfied him.
In Letters from Berlin (1822) and Travel Pictures (1827) Heine dealt more with sharply expressed opinions than facts. His poison pen soon stirred up controversy. The poet and playwright Count von Platen lampooned him as "the Pindar of Benjamin's tribe ... Petrarch of the Feast of Booths ... baptized Heine ... pride of the synagogue ... whose kisses smell of garlic." [19] These spiteful taunts struck a nerve. Admitting that he was "bur a novice in Christian love," [20] Heine lashed back at "poetaster" Platen by outing him as a homosexual. An attack on ex-friend Ludwig Borne displeased many left-leaning readers.
Heine's celebrations of French Revolution ideals put him in bad odor with Prussian authorities since the publication of Letters from Berlin in 1822. His unrestrained diatribe against Count von Platen attracted more unwanted attention from them. Heine complained: "now I've been forbidden to write!" [21]
Unable to bear Germany's oppressive atmosphere any longer, thirty-three year old Heine emigrated to Paris in April, 1831. He became a boulevardier at once, making friends with Balzac, Beranger, George Sand, Gerard de Nerval, Hippolyte Taine, Theophile Gautier, Alexander Dumas, Giacomo Meyerbeer, Hector Berlioz, and Franz Liszt. French writer Philibert Audebrand remembered walking past Frascatti's Restaurant with Dr. Heller of the French Academy when the latter halted in his tracks, gestured toward Heine seated at a table, and excitedly whispered: "there is the wittiest man in Europe!" [22]
At the urging of irrepressible utopian Prosper Enfantin, Heine joined the St. Simonists. This politico-philosophical society advocated radical secular humanism. Count St. Simon (Claude Henri De Rouvroy) not only touted equality, fraternity, and liberty, but communal sharing of goods, universal suffrage, public education, meritocracy, women's liberation, and rule by councils of artists, poets, and scientists. St. Simon's unbounded optimism led him to believe that modern technology would redistribute wealth, raising everyone's standard of living. Though Heine did not swallow St. Simonism whole, he began to view himself as an internationalist. In a letter to his friend Alfred Meissner he wrote:
"I have this in common with all other artists; I do not write for the moment but for centuries, not for a country but for the world, not for a party, but for humanity." [23]
Heine agreed with St. Simonist visionaries that poetic intuition should not be lightly dismissed, asserting: "the poet's heart is the center of the world." [24] Being a German Jew living in France he fancied himself as a conciliator between the two nations: "the one writer sufficiently conversant with both cultures to interpret one to the other," [25] and defuse mutual distrust. Unfortunately, neither country ever recognized him as the "Jewish middleman" to broker peace through meaningful compromise -- even though such a consultation might have prevented the Franco Prussian War. He had to satisfy his longing for rapprochement on a small scale by elucidating German culture to the French in works such as The Romantic School (1833) and History of Religion and Philosophy in Germany (1835.)
Heine's poem "This and That Side of the Rhine" summarized his views.
"Wild caresses, tender throes, Toying with a burning rose, Fragrant fetor, pretty lies, Raw lust in a noble guise, Love's glad arts in any wise -- Ah, you French have mastered those!

But we Germans bow to none When there's hating to be done. German hate! It swells and spills From the soul in giant rills, And its poison overfills Even Heidelberg's great tun." [26]
Despite Heine's love for France, his devotion to Germany would not permit him to become a French citizen.
Besides gallivanting through salons with Gautier, Liszt, and Taine, Heine toured Paris's demimonde. In his travels among prostitutes and serving maids of easy virtue, he met shop girl Mathilde Cresentia Eugenie Mirat, a gay little Parisienne who laughed often and loved to sing, but never attended school. Heine could not get this air-headed grisette out of his mind. They broke up numerous times, only to reconcile. One day, when some students in a cafe flirted with her, the enraged poet slapped their ringleader's face and challenged him to a duel (which never occurred.) In September, 1841 Heine announced his recent marriage by writing to his sister Charlotte:
"on the 31st of August I married Mathilde ... with whom I have previously quarreled daily for more than six years." [27]
He told friend Caroline Jaubert that she aimed a pistol at him during the wedding ceremony. Heine informed Alexander Weill that he had to buy Mathilde from an aunt for 3,000 francs. He claimed to have spent another 10,000 on tutors in an effort to teach her to read, write, and reckon. Even after these expenditures she did not realize her husband was a Jew, and could not read his literary works. Heine asserted that Mathilde believed him when he told her that Jesus Christ was Archbishop of Paris. Ernst Pawel described Mathilde as
"a tough, cantankerous and shamelessly egotistical woman .... Quite possibly she saw in him little more than a meal ticket. .. She may have been genuinely fond of him in her own way, though she definitely fussed a great deal more about a sick parrot than ... sick husband." [28]
In spite of her painfully obvious faults, Heine sincerely loved Mathilde -- although that did not prevent him from engaging in some infidelities between 1842 and 1844. He diligently provided for her material needs, and put up with a great deal of nonsense. Letters to his mother and sister usually showed Mathilde in a favorable light. However, Heine wrote a short dialogue in verse between mother and son having dinner which illustrated his own inclination to change the subject when pressed for information about Mathilde. The mother asked:
"My darling child, in your foreign home Are you carefully served and tended? Does your wife understand how to keep house? Are your shirts and stockings mended?"
The son evades these questions by replying:
"Dear little mother, this fish is good, But fish is a risky diet; You so easily choke on a bone if you speak; Just leave me a moment in quiet." [29]
During long absences -- such as his 1843 trip to Germany -- Heine missed Mathilde desperately. He recalled that it had not been very difficult, as a total stranger, to seduce her after their first meeting in 1834. Thus, Heine worried that she would cheat on him. From Hamburg the possessive husband wrote:
"I am thinking only of you, my dear Nonotte .... do not forget that my eyes are always upon you. I know everything you do, and what I don't know I shall learn later." [30]
In spite of his entreaties for letters, she only dashed off a few short notes in six weeks. He scolded her for neglecting him.
"I am exceedingly angry with you, and when I arrive I shall give you only five hundred kisses, instead of a thousand!" [31]
Heinrich knew Karl and Jenny Marx personally and seems to have first coined the expression "Marxist platitude." Marx dismissed him as "one of those queer fowl called poets." Between 1844 and 1845 Heine visited the Marxes often at their apartment in Rue Vanneau. On one occasion their baby daughter Jennychen suffered from such severe cramps that they feared for her life. Heine coolly took charge, instructing Mrs. Marx to give the infant a warm bath, which immediately stabilized her condition. The thankful couple credited him with saving Jennychen's life.
Heine favored freedom of the press and liberal measures toward the downtrodden, however his enthusiasm for the masses waned after 1840. The mobs of Paris cheered mass executions in 1789. While he loathed aristocratic cads, Heine also "closed his ears to the shouting of the Marseillaise." [32] The canaille were brutal illiterates, who let unscrupulous demagogues entice them with bread, circuses, and conspiracy theories. In "Lamentations" he slammed the United States, world capital of slavery, as " America the Free, ... that Freedom stable where all the boors live equally" [33] In contrast to Friedrich Engels, Ludwig Borne, and Ferdinand Lassalle, Heine "did not like to fraternize with sweaty workers and refused to address them as comrades." [34] Communist agitator and tailor Wilhelm Weitling offended the poet by not removing his hat when addressing him. Anticipating Orwell and Huxley, Heine envisioned a "proletarian paradise" with abominable popular culture.
"With their horny hands they will heartlessly smash the marble statues of beauty so dear to my heart ... They will cut down my grove of laurels and plant potatoes in their stead. They will tear from ... the social order ... lilies that toil not or spin ... My Book of Songs will be used to ... wrap coffee or snuff for ... old women of the future." [35]
These snobbish premonitions struck a resonant chord with King Louis- Phillipe, who awarded the erstwhile revolutionary a pension. German newspapers that employed Heine as a columnist did not find out about this French subsidy until the collapse of Louis's regime during the Revolution of 1848. The Allgemeine Zeitung and other papers indignantly dropped him for being a propagandist on France's payroll. Heine pleaded that Louis-Phillipe and his minister Francois Guizat had simply given him "alms." He applied for this hand-out "after the Bundestag's ... deplorable decrees ... which tried to ruin me financially because I was ... choir leader of Young Germany." [36]
"He had received his subvention as an artist not a newspaper correspondent. It had been given him ... to keep a poet alive, not ... keep a radical silent." [37]
His fellow pensioners included
"exiles from every quarter of the globe, refugees from Greece, Santo Domingo, Armenia, Poland ... Barons and princes ... are among them, generals, ex-ministers, even priests, forming as it were, an aristocracy of poverty." [38]
But his credibility in Germany evaporated over night. None of these arguments swayed editors, who withdrew all assignments and crossed his name forever from their list of contributors.
In 1842 Heine experienced intermittent numbness in the fingers of his left hand. Five years later the thirty-nine year old poet wrote his friend J. H. Detmold:
"My left hand is getting thinner and thinner and is withering away perceptibly." [39]
He soon lost control of his left eyelid and began to hobble around on crutches. By 1848 Heine's vision deteriorated and he could not walk. The bedridden poet spoke of being confined to a
"mattress ... tomb without repose, death without the privileges of the dead, who are not required to spend money or write letters." [40]
His last excursion under his own power took place in May, 1848. With superhuman effort he dragged himself to The Louvre, but collapsed beneath the statue of Venus de Milo.
"At her feet I lay for a long time and wept. .. the blessed goddess of beauty ... looked down on me with mingled compassion and desolation, seeming to say: 'dost thou not see I have no arms, and therefore cannot help thee?' ... " [41]
Shortly thereafter his friend Alfred Meissner asked if he'd like to go anywhere. Heine answered "to St. Sulpice." Meissner expressed surprise that an agnostic would want to go to church. The poet retorted: "where else should one go with crutches?" [42]
Due to dissipations in Hamburg thirty years earlier, Heine now suffered the ravages of tertiary syphilis. He called his condition "spine rot," declaring "I have suffered more tortures than the Spanish Inquisition could invent." [43] In a letter to Ferdinand Lasalle he wrote:
"I kiss, but feel nothing. My palate and ... part of my tongue are also touched and everything I eat tastes like earth." [44]
To his brother Max he announced: "the advance guard of decrepitude has taken up its stand. My youth is gone ... " [45]
During the final six years of his life Heine required custodial nursing care. His sister Charlotte referred in a letter to her brother's "shriveled body with ... lifeless legs," [46] and how his nurse would carry him like a grotesque baby from couch to bed. She had to rub his open bed sores with paregoric salve daily. Heine jested that opium was the only "religion" that consoled him. He preferred opium-soaked poultices to Christian preaching, since "the relief is prompter." [47] Sneezes, coughs, and yawns brought excruciating torment.
"These yawns are unbearable. I wish I were dead, or else a healthy fellow who no longer needs enemas." [48]
For amusement the house-bound Heine sometimes borrowed his wife's binoculars to view Parisian street scenes. In 1854 he wrote:
"with incredible pleasure (I) watched a pastry baker offer his wares to two ladies in crinolines and a little dog standing on three legs by a tree next to them, relieving himself. At that point I put away the binoculars. I didn't want to see any more because I envied the dog." [49]
Many recognize Heine as the father of black humor. During his protracted terminal illness he spoke himself as "a decomposing corpse," ruefully adding that
"they took my measurements long ago for the coffin and ... obituary." [50]
He now realized that there was an afterlife, since "I have survived my own death." [51]
Heine told visitors: "my constitution is worse than Prussia's." [52]
Many German callers visited his apartment during The Paris World's Fair of 1855, prompting him to comment that he should be paid as one of the exposition's "sideshow exhibits." When his nurse lugged him into the living room on one occasion, he quipped: "do you see how they carry me about on their hands in Paris?" [53] Guests politely inquired about his prospects. When one asked if his condition were curable, he replied: "yes, I shall die someday." [54] Since he had wasted away to such an extent, Heine remarked that he would "have to apologize to the worms for offering them nothing but bones." [55] Heine told friends who knew of his repugnance for noise that it distressed him "to hear death (constantly) sharpening his scythe." [56] He sadly informed them: "one day you'll find the booth closed where the puppet show of my humor. .. entertained you." [57]
Heine clung to a "worthless existence," noting that "the horrible thing is dying, not death." [58] He compared himself to a bag of bones lying on a dock waiting through endless delays for his "voyage to eternity." To him time seemed like "a dreadful snail crawling at ... sluggish pace." [59]
In November, 1849 he grumbled about France's high cost of living to Julius Campe.
"It's already expensive to live in Paris. But dying in Paris is infinitely more expensive. And to think that I could be hung for free in Germany ... " [60]
Time and again Heine's humor rose to cosmic levels. In his poem "Lazarus" he wondered:
"Why does the Almighty permit evil to prevail. .. and why does he pick on me?" [61]
Heine groused about being unable to shed his Jewishness and become a "joyful Hellene." He cried that "no pagan gods would have done to a poet what ... Jehovah did to me!" [62] He portrayed himself as "a poor sick Jew," [63] and God as
"The Aristophanes of heaven (who) shows me, the little German so-called Aristophanes of earth, ... how pitifully I lag behind him in humor and the making of colossal jokes." [64]
Nevertheless, like his admirer Kierkegaard, Heine now handed his affairs over to God, and felt thankful that someone "upstairs" heard his "whimpering ... , especially after midnight." [65] He depicted his sudden piety as "surprising to God," [66] but insisted that he was still not a "pious lambkin." [67] In fact, his new-found faith increased the pleasure of blasphemy.
"Thank God I have a God again so that when the agony gets too bad I can let go of a few blasphemous curses. Atheists don't have that satisfaction." [68]
Of course, he realized that his return to the fold had no effect on God.
"The great white elephant of the King of Siam could not care less whether or not a little mouse in Rue d'Amsterdam believes in his grandeur and wisdom " [69]
At his wit's end on the eve of death in January, 1856, he wrote:
"I am almost going out of my mind with rage, anguish, and impatience. I am going to complain to The Animal Protection League about a God who tortures me so cruelly." [70]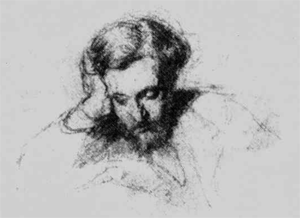 Heinrich Heine by Marcellin-Giblert Desboutin
When friends professed shock at his irreverence, he shot back: "God will forgive me -- that's His trade." [71]
Anxious about Mathilde's welfare, the shut-in poet continued to write. He published Romanzero, a volume of poetry in 1851, Confessions in 1853, and collections of poems in 1853 and 1854. Heine also arranged for a 4,800 franc annual stipend from his cousin Karl.
Mathilde did not reciprocate. Protesting that the smell of her husband's sickroom made her ill, she generally avoided it. Her laziness forced disabled Heinrich to pay for a nurse and cleaning lady, as well as a secretary for himself. Though she claimed to lack nursing skills, Heine noticed that Mathilde treated their pet cat with tender solicitude when he injured his paw after a fall. A compulsive shopper, she constantly bought clothing, knick-knacks, gew-gaws, and anything made of linen, including curtains, tablecloths, bedding, etc. Her spending sprees continued even when funds and apartment space ran out. Because of substantial weight gain due to gluttony, Mathilde continually required new finery, reasoning that she needed more elegant clothes to compensate for her fading looks.
Despite Heinrich's morbid aversion to noise, Mathilde purchased a parrot named "Cocotte," who squawked loudly at unpredictable intervals. When Mathilde's neurotic and slothful friend Pauline Rogue fell on hard times, she took her into the household. To Heine's chagrin Elise Arnault, the boisterous wife of a circus impresario, barged in almost daily. The dying poet wished Mathilde to remarry after his demise. Then "at least one man on earth ... will regret my passing!" [72]
Although Heine tried his best to put up with Mathilde's insufferable minions, she mistreated his own friends. When Alexander Weill commented that the fish had an odor one evening, Mathilde threw a serving plate of it into his face. One day, after Dr. Wertheimer questioned the quality of care Heinrich received from Mathilde, she punched him in the eye. The doctor left in a huff, abandoning Heine to the whims of Dr. Gruby, a proponent of strychnine, leeches, neck drilling, hot irons, and bloodletting. Though he preferred Wertheimer, Heine admitted that neither "quack" did him much good, noting that "all the people who died here this winter had medical attendance." [73]
Heine had a rope loop above his bed to help him change positions. When Caroline Jaubert asked him the purpose of this device, he said:
"a gymnastic invention, supposedly to help me exercise my right arm. But frankly, between you and me, I rather suspect it to be an invitation ... to hang myself, a delicate hint from my doctor ... " [74]
For awhile the Heines employed a comely and pleasant young nurse named Marietta, who delighted Heinrich. Jealous Mathilde quickly fired her and hired a churlish old crone as replacement.
On June 19, 1855 an attractive young fan of Heine named Camille Selden called on him. Enchanted by the girl, "last flower of my mournful autumn," [75] the poet begged her to visit again. Summoning all his strength he wrote this letter.
"My dear amiable and charming person, 1 greatly regret having been able to see you but for a few moments. You made an extremely favorable impression, and I am longing for the pleasure of seeing you again. If possible, come tomorrow, or in any case, whenever time permits. Announce yourself as last time. I am ready to receive you at any hour. The best time for me would be from 4 P.M. until as late as you want. Despite my eye trouble I am writing you with my own hand, because at the moment I don't have a confidential secretary. I have lots of trouble on my plate and am suffering a great deal. I don't know why your kind sympathy seems to do me so much good and why I want to imagine, superstitious as I am, that a good fairy is visiting me in a sad hour. It was the right hour. Or are you a bad fairy? I must find out soon." [76]
Mathilde detested Miss Selden and would not speak to her. Nevertheless, Camille came regularly to cheer up the despairing Heine. To her he wrote:
"I am now merely a ghost .... I look forward to seeing you again, fine Mouche de mon ame ... loveliest of muskrats ... soft like an angora cat. I am still in a bad state, constant cramps and anger. .. A dead man thirsting for the greatest of life's pleasures ... " [77]
Camille last visited him on Valentine's Day, 1856, three days before his death. "At last you have come!" [78] he exclaimed, and wept at the thought of being "a cadaver in love." He wrote one of his last poems to her.
"Let pincers nip my flesh red-hot,
Let me be flayed from sole to pate,
Or whipped with scourges -- but do not
Make me just wait and wait and wait!

Let tortures mangle me anew
With broken bones and twists and sprains,
But don't make me vainly wait for you,
For waiting is the worst of pains.

I looked for you all yesterday
In vain, till six was left behind:
You little witch, you came not -- nay,
I almost went out of my mind.

Impatience held me tightly bound
Like coiling serpents -- I would start
Each time I heard the doorbell's sound,
But you came not -- down sank my heart!

You did not come -- I rage and fume,
And Satan whispers in ridicule:
'The lotus flower, we can presume,
Is laughing at you, you old fool!'" [79]
Heine once said "poetry is my best friend." [80] The writing obsession stayed with him to the very end. Despite acute suffering he habitually scribbled sentences and phrases. When nurse Catherine Bourlois chided him for writing six hours straight in February, 1856, he cried: "I only have four more days to work!" [81] On his deathbed four days later he wanted to write, but was too sick. Catherine tried to comfort him, saying: "when you stop throwing up, you'll write." [82] Faintly but distinctly he sighed: "I'm dying." [83] He then kept repeating "I'm lost." Suddenly, at 4 A.M. he seemed to rally. In a hoarse voice he panted: "write-write! Paper ... pencil," [84] then became delirious. Heinrich Heine died at 5 A.M. on 2/17/1856.
One of Heine's poems related the tale of a crusader for freedom married to a slattern.
"At six in the morning he was hanged
At seven lowered into the grave;
She, however, by eight o'clock
Already drank red wine and laughed." [85]
Mathilde did not attend Heinrich's funeral at Montmartre Cemetery. No less an authority than Karl Marx declared her guilty of having an adulterous affair during Heine's final years. With the assistance of Henri Julia and an unscrupulous lawyer, Mathilde managed to support herself until 1883 by selling her late husband's manuscripts to the highest bidders. Their mercenary conduct disgusted Ernst Pawel.
"Driven exclusively by greed, Mathilde and Julia sold off odds and ends and even tried to interest both the Prussian and Austrian governments in preemptively acquiring the Heine papers, so as to prevent their ... publication." [86]
Mathilde also allegedly sold some of her husband's memoirs to his relatives with the express understanding that they would be torched.
Heinrich Heine had been a most impractical Jew -- unsuccessful In business, cozened by a French shiksa, exploited by gentile publisher Julius Campe -- yet revered as Europe's first modern intellectual.
_______________
Endnotes:
1 Lewis Browne (in collaboration with Elsa Weihl,) That Man Heine, The McMillan Co., New York, 1927, p. 192, op. cit. Heinrich Heine, "Alamansor."
2 Ibid., p. 186.
3 Ibid., p. 155.
4 King James Bible, Mark 9:47.
5 Browne, p. 247.
6 Pawel, p. 88.
7 Ibid., p. 85.
8 Browne, p. 104.
9 Ibid., p. 150, op. cit. Heinrich Heine, Travel Pictures, Hoffman & Campe, 1827.
10 Ibid., p. 239.
11 Ibid., p. 200.
12 Ernst Pawel, The Poet Dying: Heinrich Heine's Last Years in Paris, Farrar, Straus, and Giroux, New York, 1995, p. 126.
13 Browne, p. 258.
14 Ibid.
15 Ibid., pp. 181-182.
16 Ibid., p. 151.
17 Ibid., p. 152.
18 Ibid., p. 162.
19 Browne, p. 187.
20 Ibid.  
21 Ibid., p. 289.
22 Ibid., p. 218.
23 Ibid., p. 357.
24 Ibid., p. 254.
25 Pawel, p. 15.
26 Ibid., p. 26I, op. cit. Heinrich Heine, "This and That Side of the Rhine," Unpublished Poems, Hoffman & Campe, 1883.
27 Browne, p. 315.
28 Pawel, p. 68.
29 Browne, p. 327, op. cit. Heinrich Heine, "A Winter's Tale," Hoffman & Campe, 1844.
30 Ibid., p. 331.
31 Ibid., p. 333.
32 Ibid., p. 357.
33 Pawel, p. 199, op. cit. Heinrich Heine, "Lamentations," Romanzero, Hoffman & Campe, 1851.
34 Brown, p. 217.
35 Ibid., p. 356.
36 Ibid., p. 359.
37 Ibid.
38 Ibid.
39 Ibid., p. 296.
40 Pawel, p. 100, op. cit. Heinrich Heine, "Epilogue," Romanzero, Hoffman & Campe, 1851.
41 Brown, p. 362.
42 Ibid., p. 367.
43 Ibid., p. 377.
44 Ibid., p. 345.
45 Ibid., p. 297.
46 Pawel, p. 182.
47 Browne, p. 367.
48 Pawel, p. 185.
49 Ibid., p. 164.
50 Ibid., p. 100.
51 Browne, p. 396.
52 Ibid., p. 352.
53 Ibid., p. 396.
54 Ibid., p. 395.
55 Ibid.
56 Ibid., p. 230.
57 Pawel, p. 100.
58 Browne, 346.
59 Pawel, p. 237.
60 Ibid., p. 27.
61 Ibid., p. 101, op. cit. Heinrich Heine, "Lazarus."
62 Ibid., p. 45.
63 Browne, p. 363.
64 Ibid., p. 386.
65 Pawel, p. 151.
66 Browne, p. 365.
67 Ibid., p. 366, op. cit. Heine correspondence, mid-1848.
68 Pawel, p. 151.
69 Ibid., p. 110.
70 Ibid., p. 184.
71 Browne, p. 369.
72 Ibid., p. 319.
73 Ibid., p. 379.
74 Pawel, p. 83.
75 Browne, p. 398.
76 Pawel, p. 174, op. cit. Heinrich Heine, Letter to Camille Selden, June 19, 1855.
77 Ibid., p. 177.
78 Browne, p. 402.
79 Pawel, p. 275, op. cit. Heinrich Heine, "The Mouche," Unpublished Poems.
80 Browne, p. 384.
81 Ibid., p. 402.
82 Pawel, p. 189.
83 Ibid.
84 Browne, p. 404.
85 Pawel, p. 190.
86 Ibid., p. 191.