3: Back Into the Limelight
"Eckart meant his adaption of Peer Gynt to serve as a racial allegory in which the trolls and Great Boyg represented what (Otto) Weininger conceived to be the Jewish spirit."

-- Ralph M. Engelman
In the fall of 1911 Dietrich Eckart finished his "translation" of Henrik Ibsen's Peer Gynt. Since he knew only a smattering of Norwegian, Eckart did not translate the play, but transliterated the earlier German versions of Louis Lassarge and Christian Morgenstern. He rendered the dialogue into rhymed couplets and transformed the work from an adult fairy tale to a racist allegory. He truly loved Ibsen's play and strongly identified with it's protagonist. Alfred Rosenberg attested that "he saw in Peer Gynt a mirror of his own form." Eckart thought it significant that Ibsen worked on Peer Gynt in 1867 -- while he germinated in his mother's womb. It would take him another three years to market this work. Based on a Scandanavian folk tale, Peer Gynt presented a humorous but pessimistic view of the human condition. On his sojourn through our mad world protagonist Peer, a compound of animal and angel himself, veered between criminal and virtuous behavior. The work appealed to Eckart on multiple levels. He loved its fantastic world of goblins, trolls, and elves, as well as Ibsen's irreverence. Moreover, Otto Weininger, his favorite thinker, had praised it as Ibsen's greatest work.
With reckless candor Peer Gynt called aristocrats "degenerate idiots." His mother Aase referred to Norwegian villagers as "loafing sots, swaggerers, and booze sponges." When Aase dies, Peer bluntly ordered St. Peter to drop his "butler's airs" and let her into heaven. Eckart, who fancied himself a "country lad" from Neumarkt, strongly identified with Peer, another "strapping yokel" who spoke plainly, drank, brawled, and sported with wenches.
The plot of Peer Gynt resembles a botched Odyssey with an anti-hero in Ulysses' role, who tries to coordinate with "the soul's journey (toward) the unattainable." [1] After getting into trouble for seducing the bride at a wedding, Peer escapes into deep woods. There he encounters a flirtatious green-clad girl and has sex with her. She turns out to be a troll king's daughter. Soon a mob of trolls attacks Peer. They wonder: "should we roast him on a spit, or brown him in a pot?" [2] Considering men not markedly different from trolls, their king doesn't mind having a human son-in-law under certain conditions. He orders his subjects to cease their assault and advises Peer about the nature of trolls. They never think about what lies beyond the present time and place. Besides their provinciality, trolls are unrepentantly individualistic and self-sufficient. "Here among the trolls we say: 'troll, be thyself -- and thyself alone!" [3] The king then asks Peer Gynt: "what is the difference between troll and man?" Fully cognizant of mankind's brutishness Peer frankly replies: "none that I can see." [4] The king then explains the conditions under which Peer may become a troll. He must discard "Christian clothes," drink mead, and pin a tail onto his buttocks. Not relishing the idea of a tail, Peer decides to escape that night. While running down toward town he becomes entangled in The Great Boyg, a clammy blob described as "not dead, not alive, ... slimy, misty, shapeless ... (which) wins without fighting." [5] To some the Boyg represents society's resistance to excellence. In subsequent polemical writings Eckart compared the Boyg to materialistic culture, which slowly suffocates individual creativity by its sheer bulk, thus preventing earth's "valley dwellers" from reaching the peaks of idealism.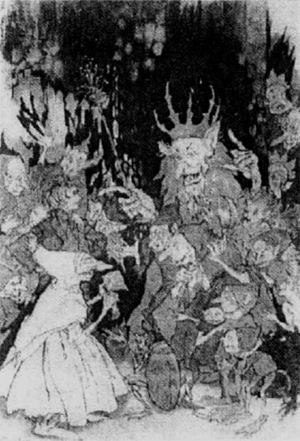 Peer Gynt before the Troll King and his subjects
(Illustration by Arthur Rackham, 1867-1939)
Somehow Peer extricates himself from the Boyg and builds a cabin, where he hopes to bring his sweetheart Solveig. But the troll princess, who now looks like an old crone, finds him there. One day she accosts Peer with their "son"-- an ugly, crippled little ogre who holds an empty ale mug. Peer flees at the sight of him.
In the next scene Ibsen shows middle-aged Peer in Morocco regaling German, English, and French drinking companions with his exploits in America and China.
"Peer: (Lights a cigar) My dear friends, consider my own career. .. The Charleston ship owners called me Croesus ... My cargoes consisted of Negro slaves to Carolina and heathen images to China ... But never mind, each ... Autumn I exported missionaries. For every (idol) sold they got a coolie honestly baptized. Thus, the effect was neutralized." [6]
Peer then journeys to Egypt with the idea of becoming Emperor of the World. Things go awry. He bumps into a gold-digging dancer named Anitra, who makes off with most of his money. Peer eventually winds up in a Cairo madhouse talking to a Sphinx. He prays to God, "Guardian of all madmen," but sinks into despair because
"He's not listening. He's deaf as usual. That's charming! A God who won't help when you need Him." [7]
Peer ends up with "a crown of the finest straw." He sails back to Norway with a chest of gold, gleaned from "the garbage cans of commerce." Though he earlier bragged that a man should be himself, not a "pack camel to a wife and children," Peer now ruefully admits nobody's "awaiting this rich old bastard ... " [8] His thoughts turn to death on the voyage home. Men are just meat for the cosmic "bratwurst machine." "Every story has the same ending ... (We're) shooting stars that flash for a moment, then ... disappear into the void forever." [9] The gravedigger makes our lodging; the soul drifts into extinction. One's epitaph should read: "Here lies no one." [10] After "life's long pilgrimage of fear," Peer must surrender to the Button Molder, who will melt him down.
Eckart took liberties with the play. He consciously transformed the trolls into Jewish caricatures, and insisted that Yiddish actor Max Pohl be cast as the troll king. Ibsen characterized Peer as a Norwegian peasant engaged in picaresque misadventures while vainly striving to become "World Emperor." Eckart changed him into a rustic sage -- the antithesis of modern phonies. This re-invented Peer came across as a humorously unpretentious Nordic -- always in touch with his "volkisch" roots. In one passage Ibsen's Peer stated that he learned "patience" from the Jews. Eckart's version substituted the word "cunning." Ibsen treated Peer's sexual encounter with the troll princess as youthful folly. Eckart added race-mixing overtones.
The Jewish firm of S. Fischer Verlag owned rights to Christian Morgenstern's 1880 German translation of Peer Gynt. Besides Ibsen, Fischer represented George Bernard Shaw, Hermann Hesse, Thomas Mann, and Gerhard Hauptmann. Eckart wrote to Ibsen's son Sigurd requesting permission to stage his translation. Dr. Ibsen politely refused, citing his long-term relationship with Fischer. According to Albert Reich Kaiser Wilhelm personally intervened to permit a stage performance of Eckart's version.
Eckart raised money to incorporate Herold Verlag and published the play at his own expense. His friend Georg von Huelsen-Haeseler staged the first production in February, 1914. Peer Gynt turned out to be a big hit. However, many critics, including Jewish editors Julius Bab and Fritz Engel condemned Eckart's translation as a bungled job, untrue to the original. They realized that he had smuggled in Pan-German sentiments, and transformed Peer from Ibsen's impish peasant into a Faustian figure. Jewish reviewer Siegfried Jacobsohn "ridiculed The Royal Theater's pretense of modernity by presenting Eckart's adulterated rendition of Peer Gynt." [11]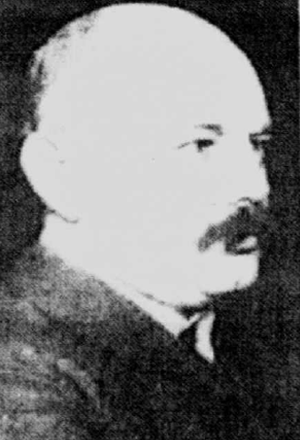 Dietrich Eckart, c. 1912
Former Onoldia Corps swordsman Eckart could not allow such insults to go unanswered. Baron Wolfgang Graf von Gersdorff, a Royal Theater official, counseled him to remain above the fray. "Let these Jewish dogs howl," [12] he wrote. Incapable of restraint, Eckart furiously scribbled a 104 page pamphlet, "Ibsen, Peer Gynt, the Boyg, & I," which maligned his Hebrew detractors. Eckart's vanity press, Herold Verlag, published this diatribe. Because the "Jewish literary Mafia" denied him a voice, he once again had to resort to a "tribune outside existing institutions." [13] His subsidy publishing followed a pattern of increasing virulence, beginning with Eckart's innocuous book on Heine in 1893, continuing through his drama career, Auf Gut Deutsch period, and ending with final testament, "Bolshevism from Moses to Lenin."
Despite the carping of critics Eckart's version of Peer Gynt delighted audiences, and lifted him from rags to riches. Kaiser Wilhelm saw it twice. Between 1914 and 1918 Berlin's Koniglichten Schauspielen Theater put on 183 performances to packed houses. The play toured all over Germany and was translated into Czech, Hungarian, and Dutch. In 1919 Peer Gynt ran continuously in twelve cities. Ten of those theaters utilized Eckart's version, two used Morgenstern's translation. Nationalist critic Paul Schulze-Berghof weighed in with qualified praise, but cautioned that Eckart and Ibsen were Jeremiahs (prophets of doom), not messiahs who could show a better way. Hitler's personal library contained a leather-bound edition of Peer Gynt illustrated by Otto Sager and signed by Eckart who wrote: "intended for his dear friend Adolf Hitler, Dietrich Eckart, Munich, October 22, 1921."
The resounding commercial success of Peer Gynt bailed Eckart out. He paid off an estimated 11,000 marks in debts, and received a steady income from royalties for the rest of his life.
In the fall of 1913 Huelsen-Haeseler commissioned Eckart to write a historical drama about Henry Hohenstaufen to celebrate Emperor Wilhelm II's daughter Viktoria Luise's marriage to the Duke of Braunschweig. In the Kaiser's view art's chief function was to instill patriotism. Therefore, Henry would make a fit subject for dramatic interpretation since he had briefly unified Germany in the 12th Century.
Huelsen-Haeseler went along with Eckart's unorthodox request for a six month stay at Dr. Paul Hermann Wiedeburg's Schwarzeck (Black Corner) Sanatarium in Bad Blankenburg, Thuringia. (Wiedeburg later published a laudatory biography, Dietrich Eckart, A Life and Spiritual History, Druck Verlag, Hamburg, 1939.) Shortly after finishing the script, Eckart directed a performance, using inmates as actors.
The Royal Theater Society performed Henry Hohenstaufen in January, 1915. Middle class German audiences liked the play, but Berlin critics panned it as "heavy-handed propaganda." [14] Because of hostilities with Britain Chancellor Theobald von Bethmann-Hollweg objected to a scene in which England's king swore an oath of fealty to King Henry. Instead of simply deleting a few offensive lines, he halted the entire production after only six performances. Eckart fired off another pamphlet -- "The Boyg Engulfs Theater Once Again" -- bashing his critics, and reproaching Bethmann- Hollweg for unjustifiable censorship.
Literary Lion in Schwabing
While at Schwarzeck Sanatarium Eckart met superintendent Paul Hermann Wiedeburg's sister, Rose Wiedeburg Marx, a widow with three daughters, whose late husband was apparently of Jewish extraction. The dried-out poet turned on his charm and won her over. The couple married on September 15, 1913 and traveled to Munich on their honeymoon, where they visited Dietrich's affluent cousin Simon Eckart who lived in Giesing. Expatriate playwright Henrik Ibsen had resided in Munich for twenty-three years. Eckart found the city's atmosphere congenial. Although the newlyweds returned to the Harz Mountain village of Bad Blankenburg, Eckart grew restive in this pastoral backwater. Enthusiastic about World War I and craving the stimulation of urban life, he persuaded Rose to move to Munich, adopted city of his idol, Henrik Ibsen. Soon Eckart would take her to Ibsen's favorite vacation resort: the alpine village of Berchtesgaden.
Generally regarded as a likeable rogue, Eckart had no trouble making friends in the Bavarian capital. He fit right in at the famous Schwabing Quarter -- a "Greenwich Village" where artists, writers, philosophers, and political radicals gathered every night to drink and talk into the early hours. Companions observed that the patriotic bard constantly smoked cigars and sipped beverages. While examining Eckart's papers in 1969 Ralph Engelman noticed that most of them were "pocked with wine or coffee stains," [15] because he usually wrote at tavern tables. Rumor had it that he had dashed off the Nazi anthem ("Feuerjo!") in one sitting at the Bratwurstglockl Cafe.
Between 1892 and 1904 poet Stefan George and his "Cosmics" -- Alfred Schuler, Ludwig Klages, Frank Wedekind, Karl Wolfskehl, Ludwig Delreth, and Fanni zu Reventlow -- set the tone in Schwabing. In retrospect Stefan George himself seemed a temperamental bore. Pale as a corpse, and always fastidiously dressed in black velvet suits, he held nightly get-togethers. Guests were expected to arrive with gifts. George required devotees to memorize his opaque poems and recite them aloud. He forbade disciples to capitalize nouns and decreed that they could not own more than fifty books.
Most of the Cosmics were decadent romantics who contrasted bourgeois society to vibrant primitive cultures. From his Berlin days Eckart knew playwright Frank Wedekind, a regular contributor to Simplicissmus Magazine. Many of the group had stopped speaking to one another by 1908. Nonetheless, Eckart met Ludwig Klages, the University of Munich philosophy professor who invented hand-writing analysis, and "Biocentric Theory." Biocentrism regarded Spirit, the source of reason, as a baneful force because it imposed an alien logical order on man, thus separating him from his animal nature. In 1938 Nazi Reichsleiter Alfred Rosenberg banned Klages' "hedonistic" writings.
Eckart also became friendly with Alfred Schuler, magus of The Great Mother Cult. Hitler and Eckart later encountered him -- and Klages -- at the salon of Frau Elsa Bruckmann in 1922. Alfred Schuler has been called an "air man" (Luft-mensch) because he refused to work for money and never published any of his voluminous notes. After exhausting a small inheritance following the death of his mother in 1912, he subsisted on lecture fees and contributions from patrons. Karl Wolfskehl claimed that Schuler, a homosexual, first met Hitler while trawling for a casual sex partner one night in 1913. However, this story has no factual basis. Schuler did not remember any prior encounter with Hitler when they met in 1922. He certainly had no love for the German Workers Party, and strenuously objected to their desecration of his beloved swastika symbol.
Schuler's principal objective in life was to revolt against "the tyranny of reason." An admirer of Swiss anthropologist J.J. Bachofen, he glorified "animal energy" and espoused a return to ancient Roman goddess cults. Primitive tribal peoples enjoyed greater health and "spirituality" than citified Europeans because of their closeness to nature. Schuler once offered to perform ancient Greek healing rites over the insane Friedrich Nietszche. Like Guido von List, he claimed that pure German blood enabled one to access the Teutonic racial memory. Eckart agreed with Schuler's view that Germany should abandon "oriental" Christianity and establish a new earth religion based on Wagnerian opera.
Srefan George's Cosmics were all oddballs, as well as top flight intellectuals. Though acquainted with Klages and Schuler, Eckart gravitated mainly toward lesser lights, such as painters Edmund Steppes, Max Zaeper, Otto von Kursell, and music teacher Adolf Vogl.
Countess Franziska Grahn zu Reventlow (1871-1918) grew up on her father's estate in Schlesweig-Holstein. Eckart knew her brother Ernst, a right-wing journalist and Reichstag deputy who joined the National Socialist Party in May, 1922, but fell from grace by 1937 due to his advocacy of an "inter-confessional" Nazi religion.
Due to Fanni's chronic misbehavior her father sent her to a Lutheran convent school in 1886. This institution expelled her for disobedience within six months. She joined The Ibsen Club in Lubeck and soon became involved in a relationship with an older man. Fanni's parents confined her at home for weeks, until she escaped to Hamburg and got married. Finding marriage unpalatable, she ran away to Munich. Since the Reventlows disinherited her, Fanni had to earn a living. In Munich, she painted images on beer steins, sold humorous short pieces to Simplicissimus magazine, translated French novels, and even tried to open a milk shop. Finding that these enterprises did not pay enough, the countess turned to prostitution. Ludwig Klages was one of her customers. He introduced Fanni to the other Cosmics in 1894. She joined Michael Georg Conrad's Society for Modern Life, and obtained a job as co-editor of the Schwabing Beobachter, along with Oskar Schmitz. She soon became known as "The Queen of Schwabing." Fanni described her Bohemian village as "not merely a place, but a state of mind."
Fanni's tell-all journal presents a confusing picture. Although an independent woman, she didn't care about female suffrage, or economic equality with men. Why would any sane woman want an aggravating career in business or law? "Women were not created for drudgery, but lightness, joy, and beauty." On the other hand she was sexually liberated and found it easy to chuck out "cold Nordic dutifulness and guilt complexes." Fanni enjoyed free love and expressed a preference for "sensuality (not) constancy." "To be desired by a man is never an insult, even when the desire is fleeting and without deeper feeling." [16]
In 1897 Fanni gave birth to a son she named Rolf, but never determined which paramour was his father. Several men offered to support her as a mistress, but she did not want to be a "kept woman." Fanni preferred having multiple sex partners. "I love one man, but desire six more, one after another. It's precisely the variety that excites me, the new 'strange man.'" [17] She wrote affectionately of three college boy clients -- "(such) dears, so energetic!" [18] Her diary often referred to "Paul," a cocky know-it-all who functions as a stereotype for the entire male gender.
"Paul is always an amusing thing, basically trivial and without consequence. Fortunately he shows up again and again, in varying shapes and sizes." [19]
At other times she described individual men by their sex organs -- "cudgel," "pencil," "bratwurst," etc.
Ludwig Klages proposed marriage to blonde, blue-eyed Fanni, so they could pro-create good-looking Aryan children. This proposition didn't interest her.
"Klages wants to overpower me intellectually, because he can't do it as a man. (He's) just another guy with illusions of grandeur." [20]
Her favorite among the Cosmics was Karl Wolfskehl, the Jewish poet and literature professor. She called him her "manly, beautiful Assyrian prince." [21] For years they exchanged love letters, sometimes as many as three per day.
Fanni ultimately became lonely and despondent. In 1908 she felt dirty while working in a dive called the Tip Top Bar in Schwabing. After several bad experiences with lowlifes there Fanni decided to retreat to the Monte Verita spa in Ascona, Switzerland, which Henri Oedenkoven and Ida Hoffman had transformed into an artists' colony. In this setting Fanni not only renewed her friendships with Stefan Georg and Karl Wolfskehl, but also encountered Martin Buber, Paul Klee, Isadora Duncan, Prince Kropotkin, Vladimir Lenin, Leon Trotsky, and others. Theosophists such as Franz Hartmann, Joshua Klein, and Theodor Reuss regularly passed through Monte Veritas. Rumors abounded that Reuss practiced tantric sex magic. Fanni may have also visited Rudolf Steiner's Anthroposophical compound in the neighboring town of Dornach. She died in Ascona on July 26, 1918 at the age of 47.
The Shift from Drama to Politics
In 1916 Eckart met Fanni Reventlow's friend Michael George Conrad, "the Zola of Munich," who shared his low opinion of Berlin's press. Conrad wrote naturalistic novels and short stories which graphically depicted the sleaziness of modern times. For years he edited Die Gesellschaft magazine. His articles repeatedly harped on Berlin's detrimental influence on Bavaria.
Between 1916 and 1917 Eckart and his wife Rose visited Conrad's home in Bad Toeltz on numerous occasions. At his request Eckart sent him copies of his pamphlets against critics, and promised to direct Munich's next run of Peer Gynt. Conrad admired the courage Eckart displayed in his fight against the "Jewish theater monopoly." He introduced his new friend to nationalist historian Alfred Bartels and editor Karl von Bothmer, who soon solicited articles from him. In January, 1917 Conrad wrote a glowing article about Eckart in Deutsche Volkstum magazine, which extolled him as one of Germany's leading volkisch writers. In his opinion recognition had eluded this Teutonic giant only because of their epoch's "degeneracy, the evils of Berlin, and above all, (his) ubiquitous foe." [22]
Eckart later admitted that his self-image changed after Conrad's tribute. He felt obliged to live up to his newly-acquired reputation as a defender of German culture. Heretofore, his social criticism had focused on the shallowness of contemporary mass culture. In this time of emergency, he must be more specific about the culprits dragging Germany to perdition.
Karl von Bothmer, a leading proponent of German patriotism during World War I, published several of Eckart's articles in Unser Vaterland and Die Wirklichkeit magazines. At this time Eckart also submitted pieces to the Deutsches Volkstum and Munich Times newspaper. The Times printed his patriotic poems "Bismarck" and" 1918," as well as a February, 1917 essay criticizing Nietszche as an agnostic and naysayer, who lacked the ability to express himself clearly. Eckart's four-part series for Die Wirklichkeit entitled "Merkmale Der Zeit" ("Signs of the Time") attacked Jews, pacifist intellectuals, and expressionist artists who "portrayed Germany as an insane asylum." [23] For the first time he denounced individual Jews such as Trotsky, Eisner, and Rathenau.
Some of Eckart's cronies were unabashed "Teutomaniacs." These included Ernst Wachler, a promoter of folk dramas and pre-Christian ceremonies performed in outdoor amphitheaters; a theosophically-oriented schoolteacher named Gustav Leisner, who used the stage-name Ellegaard Ellerbeck; Rudolf Gorsleben, a student of runology and the Norse Eddas; and Friedrich Krohn, a dentist fascinated by the occult. ElIegaard Ellerbeck wrote a book entitled The Sons of the Sunman in Sun-Land, which celebrated Aryan supremacy, and preached that all enemies of volkisch Teutons must be eliminated. In a tabloid article he wrote that "Jewish poison transforms the creatures of the sun into urbanites." [24] After the publication of The Sons of Sunman in Sun- Land many schools invited Ellerbeck to address children on the subjects of Theosophy and patriotism. At every speech he posed -leading questions to his youthful audience: "Is there a world of spirits?" In unison the children would yell: "yes!" Then he would ask: "can you transform yourselves into gods?" to which the students again cried out: "yes!"
In October, 1918 Eckart finally finished his tragedy Lorenzaccio, which he had been working on for two and a half years. His Lorenzaccio was a remake of French dramatist Alfred DeMusset's 1834 play. Eckart appropriated DeMussett's plot and characters, but rewrote the dialogue with a racist theme. Set in 1537 Florence, this drama pitted high-minded literary genius Lorenzaccio against a crooked, half-caste ruler named Alessandro, who had allied himself with the Medicis. Eckart intended the play as a cautionary tale with "world-denying" heroes such as Lorenzaccio and Savanrola standing for noble Germans, and the Medici cabal representing racially inferior parvenus. Lorenzaccio had assassinated evil Allesandro. However the latter's Jewish confederates Ahasver and Maurizio soon murder him. During his brief moment of glory in Act I, Lorenzaccio's ecstatic supporters chant: "our redeemer, our Fuhrer, no one, no one, no one purer!" In March, 1919 Eckart informed his brother Wilhelm that Lorenzaccio was "a great work, comparable to Faust." [25] Although he considered this play his masterpiece, it would not be performed until 1933, ten years after his death. He didn't much care. Germany's mounting political crisis now pulled him in a new direction.
______________
Endnotes
1 Ralph M. Engelman, Dietrich Eckart and the Genesis of Nazism, Washington University, 1971, University Microfilms, Ann Arbor, MI, 1971, p. 70.
2 Henrik Ibsen, Peer Gym, trans. Michael Meyer, Anchor Books, Garden City, New York, 1963, p. 39.
3 Ibid., p. 41.
4 Ibid., p. 40.
5 Ibid., p. 48.
6 Ibid., p. 70.
7 Ibid., p. 79.
8 Ibid., pp. 114-116, passim.
9 Ibid., p. 154.
10 Ibid., p. 155.
11 Engelman, p. 75.
12 Ibid., p. 77, op. cit. Wolfgang Graf von Gersdorff letter to Dietrich Eckart, 2/20/1914, Dietrich Eckart Literary Estate, curator Anna Obster Rosner.
13 Ibid., p. 72.
14 Ibid. p.80, op. cit. Berliner Tageblatt 1/31/1915.
15 Ibid., p. 204.
16 David Clay Large, Where Ghosts Walked: Munich's Road to the Third Reich, W. W Norton & Co., New York, 1997, p. 23.
17 Ibid.
18 Ibid., Franziska zu Reventlow Diary 7/15/1898.
19 Ibid. op cit, Franziska zu Reventlow, "Amouresken"
20 Ibid., p. 27.
21 Ibid., p. 29.
22 Engelman, p. 92.
23 Ibid., p. 100.
24 George L. Mosse, The Crisis of German Ideology, Schocken Books, New York, 1981, p. 82.
25 Engelman, p. 126, D. Eckart letter to Wilhelm Eckart, 3/30/1919.