4: Flashback: A Short History
"What we learn from history is that no one learns from history."

-- Otto von Bismarck
The Bloody Road to Unification
Following Napoleon's defeat in 1814 Germany consisted of 314 independent states and 1,475 noble estates. During the Thirty Years War (1618-1648), France, England, Sweden, Austria, Poland, and Russia overran small German duchies and laid them waste. In response to the brigandage of these nations, Prince Freidrich Wilhelm of Prussia raised an army of 30,000 to defend his province. Under Frederick the Great, who ruled from 1740 to 1786, Prussia extended its domain by defeating the Austrians, Poles, and Russians in key battles.
Germany remained divided into a multitude of small principalities. With the exception of Prussia, all were relatively weak. Therefore, France continued to reign as the preeminent continental power. Russia's internal problems and squabbles with the Ottoman Empire prevented her from challenging French dominance.
One man changed all that. In 1861 General Albrecht von Roon persuaded King Wilhelm I of Prussia to appoint diplomat Otto von Bismarck (1815-1898) as Minister-President. From the outset Bismarck resolved to divide Germany's predatory neighbors and unify all German states into one nation. In his maiden speech before the Prussia Landtag he asserted:
"The great questions of our day cannot be solved by speeches and majority votes ... but by iron and blood." [1]
With Austria's permission he dispatched troops to seize Schleswig- Holstein from Denmark in 1864. Austrian Emperor Franz Josef soon regretted colluding with him. Bismarck induced King Wilhelm to boycott Franz Josef's Conference of German States and began intriguing to undermine Austria's confederation with Bavaria, Wurttemburg, Saxony, and other south German regions. The situation became so intolerable that Austria declared war on Prussia in 1866. On July 3rd the Prussians decisively defeated the Habsburg monarchy and its allies in the bloody Battle of Sad ow a (or Koniggratz), which involved over 500,000 combatants. The Prussian general staff led by Field Marshal Helmut von Moltke, outsmarted Austria's high command at every turn. Breech-loading Dreyse rifles enabled Prussian infantrymen to fire and reload in prone position more rapidly than the Austrian muzzle-loaders.
Bismarck visited the battle scene near Koniggratz. The sight of dead and wounded soldiers affected him deeply. To Count Eduard von Bethusy-Huc, he declared:
"If foreign ministers ... always followed their sovereigns to the front history would have fewer wars to tell of. I have seen on a battlefield -- and what is worse, in the hospitals -- the flower of our youth carried off by wounds and disease ... With such memories and ... sights I should not have a moment's peace if I had to reproach myself for making war irresponsibly, ... out of ambition or the vain seeking of fame." [2]
In the wake of Koniggratz, Prussia absorbed Hanover, Nassau, and Hesse- Kassel into its Northern Federation, as well as the free city of Frankfurt-am- Main. Bavaria, Wurttemburg, Baden, Saxony, and Hesse-Darmstadt remained loosely aligned with Austria's Southern Confederation. However, within the next four years, Bismarck undermined Austria by concluding secret alliances with all its satellite provinces. Despite war's horror, he realized that it would take hostilities with an external enemy to effect a true consolidation of Germany.
Bringing the Hereditary Enemy to Heel
Since the late Middle Ages France had benefited from German disunity. The French ravaged Germany during the Thirty Years War, War of Spanish Succession, Napoleonic wars, and other conflicts Now Bismarck plotted to draw Emperor Louis Napoleon into The Franco-Prussian War. In September, 1869 a Spanish succession crisis provided him with the necessary pretext.
In 1846 Castilian conservatives forced sixteen year old Queen Isabella II to marry her homosexual cousin Prince Fernando I. Critics alleged that the royal consort had sired none of the queen's twelve children. This would have been tolerated if she did not surround herself with corrupt reactionaries who opposed all reasonable reforms. Incensed by her capricious meddling in politics, Moderados and Union Liberals engineered Isabella's ouster in September, 1868. Because Prince Leopold Hohenzollern-Sigmaringen was Catholic, as well as a blood relation of Spain's royal house, Prussian King Wilhelm I, and French Emperor Louis Napoleon, Regent Juan Prim proffered him the Spanish crown in September, 1869. Leopold initially demurred because of Spain's political instability, and the likelihood that King Wilhelm, in deference to France, would refuse him permission to accept. The Spaniards renewed their offer in February, 1870. In the mean-time, Bismarck goaded foot-dragging Wilhelm into authorizing this arrangement. On May 28, 1870 Prince Leopold agreed to become King of Spain.
Word of this secret plot to place a Hohenzollern on the Spanish throne leaked out on July 3rd, creating a furor in France. Emperor Napoleon and his cabinet worried that a German King of Spain would eventually translate into a two-front war for them. Instead of approaching the Prussians through proper diplomatic channels, French Foreign Minister Antoine de Gramont issued a series of vituperative public statements which denounced Prussia for violating the honor and interests of France. Mobs soon gathered on Champs d'Elysees chanting: "on to Berlin!"
Meanwhile, both Bismarck and the king went on vacation. On his way to Carlsbad Bismarck buttonholed Prince Alexander Gorchakov who assured him that Russia would remain neutral in a war between Prussia and France. Lord Odo Russell had previously indicated that England would also stand aside.
On July 12th everything seemed to fall apart. Prince Leopold suddenly withdrew his candidacy, dashing Bismarck's hopes of war. But the impulsive Gramont saved the day for Prussia's war faction by continuing to rant about Germany's grievous insult to France. He demanded that King Wilhelm formally renounce Leopold's candidature, and pledge in writing that no German prince would ever seek Spain's throne. Ambassador Vincent Benedetti received an urgent order from Gramont to communicate directly with Wilhelm I at Bad Ems. On July 14th, while the king strolled with his entourage along the Lahn River, Benedetti ran up, bowed, and earnestly requested his majesty to renounce Leopold's candidacy and sign an agreement swearing never to propose another candidate for any European throne without prior approval from France. Wilhelm doffed his hat and stated that he had no comment. Bismarck immediately released this story to the press. Prussians were outraged by Benedetti's act of lese majeste toward their monarch. France seethed at Prussia's interference in Spanish affairs. Within days General von Moltke mobilized, and the French called up their reserves.
On July 28th, France impulsively declared war on Prussia. Due to conscription, Prussia's Landwehr and its allies had 1,200,000 troops, compared France's army of 662,000. Because of a series of high-handed foreign policy moves dating back to the 1850's France now found itself isolated. The United States resented Napoleon Ill's disastrous attempt to install Austrian Prince Maximilian as Emperor of Mexico. The French had fought against Russia in the Crimean War (1854 -1856), and incessantly competed with her interests in the Ottoman Empire. England did not like Emperor Napoleon III's adventurism in China, nor his attempts to annex Belgium and buy Luxemburg. Italy objected to France's unwillingness to withdraw troops from Rome. Austrians bitterly recalled that Louis Napoleon not only refused to ally himself with Austria against Prussia in 1866, but extorted Venetia from them as payment for French neutrality. In 1870 he could not woo any southern German states away from Bismarck. In spite of Bavaria and Wurttemberg's reservations about Prussia, neither of them wanted another Bonaparte marching through their territories.
The two armies began moving toward each other on July 28th. Prussians used strategic rail lines to transport soldiers and materiel to the front quickly, and utilized telegraph to communicate among units. 320,000 German troops were massed on France's doorstep by August 1st. The French marched or rode horses, and used couriers to send messages Although Marshal Edmond Leboeuf assured Napoleon that his army was prepared "down to the last gaiter button," [3] troop movements and logistics were actually chaotic. Due to inadequate provisioning several French regiments resorted to looting in the coming weeks.
Nevertheless, France had well-designed forts at Metz, Verdun, and Toul. Their bolt-action Chassepot rifles, which had an effective range of 750 meters, were superior to the Prussians' Dreyse needle-guns. They also employed Mitraleusses, an early crank-operated machine gun with revolving barrels. On the other hand, German artillery guns manufactured by Krupp accurately fired contact-detonated shells containing zinc ball shrapnel up to 4,500 meters, while the French still relied on muzzle-loaded cannon which propelled shot no more than 2,800 meters.
German high command preferred offensive maneuvers and encirclements, whereas the French favored engineered defenses balanced by "elan." The Prussians fired artillery to soften up enemy positions prior to infantry attacks, and utilized Hussar and Uhlan cavalry squadrons for reconnaissance. Prussia had recently perfected the general staff concept. Field Marshal von Moltke exercised absolute control over military operations. His adjutants accompanied titled commanders such as Prince Frederick Charles and could countermand their orders. Moreover, Moltke deputized mobile staff officers like Colonel Paul Bronsart von Schellendorf and Colonel Karl von Brandenstein to visit frontline outfits and ensure that plans were being properly executed. They were empowered to improvise creatively as circumstances changed. Moltke understood that field commanders often failed to seize 'opportunities during the heat of battle because they got bogged down with tunnel vision. His roving staff officers guaranteed that Prussian forces would adapt to real conditions and quickly capitalize on enemy blunders. The French chain of command lacked this oversight, flexibility, and fast response time.
The war's first skirmish took place on August 2nd. Napoleon III ordered his Third Corps, commanded by General Francois Achille Bazaine, to take the dead-end river town of Saarbrucken. Prussia's 40th Regiment repelled this ill-conceived attack on a remote outpost. The French withdrew after losing 86 killed and wounded, giving away their main force's location, and wasting valuable time on a worthless objective.
On August 4th, the German 3rd Army, commanded by Crown Prince Frederick shelled the French garrison town of Wissembourg, then followed up with an infantry assault. General Abel Douay's 2nd Division repelled this onslaught. German forces withdrew, reformed in defensive posture, repulsed a charge made by France's Fifth Corps, then drove them out of town. The Germans sustained 1,551 casualties (killed and wounded). The French lost 1,300 men, including General Douay, who died of wounds caused by an artillery explosion.
At Woerth on August 5th', the adversaries clashed in bad weather. This battle went back and forth. 36,000 men from France's 5th Corps acquitted themselves gallantly against 81,000 German troops, but Prussian artillery ultimately turned the tide, compelling the French to fall back toward Spicheren. On August 6th at Spicheren the French army used automatic weapon fire from Gatling guns (Mitrailleuses) to devastating effect. Nonetheless, German artillery gunners once again shot exploding shells with more accuracy than the French, forcing General Bazaine to withdraw into the fortified city of Metz. Both sides recorded total casualties of approximately 15,000 in these two actions.
On August 13th 130,000 French soldiers commanded by General Bazaine attempted a break-out from Metz, with the objective of reaching Verdun. Prussian General Konstantin von Alvensleben's cavalry detected them near Vionville. His much smaller force prevented their escape. At nearby Mars La Tour General Wilhelm Adalbert von Bredow ordered a cavalry charge which overran the French, who were forced to regroup and head back to Metz. France suffered 14,000 casualties at Vionville/Mars La Tour, Germany 16,000. Bismarck's sons Herbert and Wilhelm, who served as cavalry officers, were both wounded in this battle.
While German divisions moved up to support Alvensleben, French soldiers dug trenches and sniper pits near Gravelotte on the Mance River. At 8 A.M. on August 18th General von Steinmetz ordered an attack into Mance Ravine. The French opened up with rifle, artillery, and Mitralleuse fire, mowing down the first waves of Prussian troops. Prince Frederick Charles, an ill-humored alcoholic, ordered a second fruitless charge into this fusillade, which resulted in 8,000 more casualties within 20 minutes. After the remnants of his cousin's IX Corps retreated, Crown Prince Frederick, with an eye toward minimizing harm to his men, utilized creeping artillery fire and staggered formations to dislodge the French from their defensive positions and capture St. Privat. Germany lost 20,163 dead, wounded, and missing in this bloody battle, while inflicting 12,275 casualties on the French.
Despite fearful losses at Gravelotte, the Germans continued to close in toward Metz. At this point Empress Eugenie, safely ensconced in England, demanded that her husband personally command the Army of Chalons, then march it from Paris to Metz in order to relieve General Bazaine's bottled-up Third Corps. Though so afflicted with urinary tract stones that he could hardly mount his horse, Emperor Louis Napoleon traveled with the troops, who were commanded by General Patrice McMahon, hero of The Crimean War. McMahon realized that an eastward deployment toward German lines would expose his army to enemy flanking movements. So did General von Moltke, who force-marched troops fifty miles north to make contact with McMahon. Crown Prince Frederick's 3rd Army attacked the French at Beaumont on August 30th, killing and wounding 5,000, and capturing 40 artillery pieces.
Moltke brought up Prussia's IX Corps and caught the reeling Army of Chalons in a pincer movement at Sedan two days later. For the last time in history a European king and his retainers viewed an unfolding battle.
"King Wilhelm rode up ... with his immense entourage and half the princes of Germany, together with war correspondents and attaches from America, Russia, (and) Britain... A little apart... there clustered the effective government of Prussia, ... a group of soberly clad civilian officials standing respectfully by Bismarck ... " [4]
On September 1, 1870 these spectators watched from a hilltop as German units poured artillery and rifle fire onto the enveloped French. This enfilade foiled attempts by General De Wimppen to break out of the encirclement. French cavalry commander General Marguerite died in. action leading a charge. After a few more sallies into withering German fire collapsed, Emperor Napoleon stopped the carnage and agreed to surrender. France lost 17,000 dead and wounded, plus 21,000 taken prisoner at Sedan, as compared to 8,366 German casualties. The Germans brought Napoleon III into custody, along with 104,000 prisoners of war.
German forces achieved military victory over the French Army at Sedan, yet France itself did not capitulate. Louis Trochu, Jules Favre, and Leon Gambetta deposed Emperor Napoleon III on September 4th and assumed control of France's government. Bismarck met with Favre on September 18th and offered him peace in exchange for Metz, Stausbourg, Alsace-Lorraine, and 5 billion francs in war reparations. Favre refused to agree to those terms, not wanting to give up an "inch of our territory, (nor) a single stone of our fortresses." [5] The German army then surrounded Paris and imposed a blockade. King Wilhelm, Bismarck, and several generals wanted to bombard the city. Crown Prince Frederick and General Leonhard von Blumentthal opposed shelling civilians on humanitarian and operational grounds. The Crown Prince held that atrocities against non-combatants were always counter-productive in the long run.
From October to January French melodrama took over. On October 7th Interior Minister Leon Gambetta escaped Paris in a hot air balloon and landed in the walled city of Tours, where he began recruiting a citizens' army. Within thirty days Gambetta signed up more than 500,000 men and combined this rag-tag mob with regular army units.
The war turned uglier at this point. A French resistance movement sprang up, and started committing acts of sabotage against the foreign invaders. The Germans responded by shooting terrorists and suspected sympathizers on sight, and burning down their neighborhoods. Enraged by French resistance Bismarck ominously suggested that populations "in particularly defiant areas should be carted off en mass to prison camps in Germany." [6] That never occurred, but sentiment in Britain, Italy, and elsewhere turned against the Germans at that point.
On October 10th the French Republican Army harassed German troops occupying Orleans, and continued to carry out hit-and-run actions in that vicinity until early December. They overwhelmed one small German contingent at Coulmiers on November 9th with a surprise attack. To combat this menace General von Moltke pulled battle-hardened troops from Metz and scored successive victories against Gambetta's forces at Amiens (November 27), LeMans (December 4), Bapaume (January 3, 1871), St. Quentin (January 19), and Lisaine (January 26). After his defeat at Lisaine General Charles Bourbaki's 80,000 men fled over the Swiss border at Les Verrieres and laid down their arms.
The Germans signed an armistice with French Foreign Minister Jules Favre on November 28, 1871. The Franco-Prussian War's casualty toll amounted to 60,000 French killed, 80,000 dead due to disease, and 143,000 wounded. 32,625 Germans were killed (including 29 from suicide), 12,147 expired from disease, 60,000 received serious wounds. Estimates placed French civilian deaths around 300,000 -- from injury, privation, sickness. Many lost their lives from German reprisals, however the majority of French civilians died because of civil war in Paris and martial law "justice" meted out by Premier Adolphe Thiers' regime.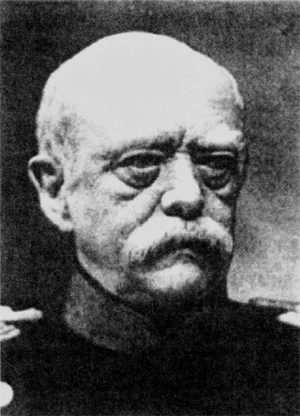 Chancellor Otto von Bismarck
On January 18, 1871 the Germans crowned King Wilhelm German Emperor in Versailles Hall of Mirrors. They further humiliated the French on February 17, 1871 by parading victorious troops through the Arc d'Triumphe. Three months later, on May 10, 1871, both parties signed the Treaty of Frankfurt which ceded Alsace-Lorraine to Germany and imposed a 5 billion franc war indemnity on France, payable over five years. Bismarck personally did not want to aggravate France by taking Alsace, but Moltke and his staff prevailed.
Since 1866 Bismarck used both carrot and stick in his dealings with other German states. He promised military protection and economic aid to cooperative neighbors, while threatening recalcitrant provinces with tariffs, Pan-German upheavals, and withdrawal of military aid. He formally established The Federation of Deutschland on November 24, 1870, which united all German-speaking territories except Austria. In the course of annexing Hanover, Bismarck struck a deal with deposed King George V, enabling him to retain 50% or royal assets, with the other half going into a "Reptile Fund" controlled by himself. The chancellor used this private account to pay bribes, employ a corps of private investigators, and subsidize his own yellow press to blacken the reputations of Social Democrats, Catholic leaders, Crown Prince Frederick, his English wife Victoria, and other liberals. When debt-ridden King Ludwig II of Bavaria refused to join the Deutschland Federation, Bismarck brought him around by empowering his banker, Gerson Bleichroeder, to arrange a 1,000,000 mark "stipend" and 100,000 annual pension from the "Reptile Fund."
Wilhelm I reluctantly assumed the title of Emperor. To him "Deutschland" was a theoretical construct -- an artificially consolidated mishmash like the United States. Crown Prince Frederick regretted that Germany only symbolized military might to other countries. In his journal he wrote:
"We are no longer looked upon as the innocent victims of wrong, but rather as arrogant victors, no longer content with the conquest of the foe, but determined to bring about his utter ruin ... At the moment. .. we are neither loved nor respected, but only feared." [7]
German unity came at a price.
________________
Endnotes:
1 Stefan Lorant, Sieg Heil, Bonanza Books, New York, 1974, p. 8.
2 Edward Crankshaw, Bismarck, Viking Press, New York, 1981, p. 215.
3 Wikipedia.org, The Franco-Prussian War, p. 7.
4 Crankshaw, p. 278.
5 Wikipedia.org., The Franco-Prussian War, p. 15.
6 Crankshaw, p. 285.
7 Ibid., p. 299, op. cit. Diary of Crown Prince Frederick (later Emperor Frederick III), 12/31/1870.