5: The Loose Cannon: Kaiser Wilhelm II
"I have seen three emperors naked and the sight was not inspiring."

-- Otto von Bismarck
Nineteen year old Prince Frederick of Prussia visited London in May, 1851 to see the Crystal Palace Exposition arranged by Queen Victoria's Consort, Prince Albert of Saxe-Coburg. Frederick's ten year old cousin Vicky, daughter of Albert and Victoria, conducted him on a private tour of the exhibits. She impressed him with her verve, cleverness, and perfect German. Four years later Queen Victoria invited Frederick to Balmoral Castle in Scotland. As in fairy tales, the handsome prince fell in love with the beautiful young princess and proposed marriage. Queen Victoria agreed to this union, but deferred the wedding date to January, 1858 because of her daughter's tender years.
Fritz and Vicky enjoyed a true love match, which produced eight children: Wilhelm, Charlotte, Henry, Sigismund, Victoria, Waldemar, Sophie, and Margaret. Nevertheless, Princess Victoria's life would be full of trials. After her honeymoon in England, she had to supervise a cold, filthy castle in Bornstedt with bad plumbing, ugly black furniture, and insubordinate servants. Her sons Sigsmund and Waldemar died in childhood. Although commoners loved Vicky for her charitable activities, most aristocrats despised "the Englishwoman" for radical views about women's rights, universal education, and representative government. Princess Victoria's detractors included her uncle, Duke Ernst of Saxe-Coburg, and Anglophobic mother-in- law, Empress Augusta, who untruthfully told Crown Prince Wilhelm that Vicky had refused to breast-feed him because of his crippled arm.
Although subjects hailed Fritz as second only to Field Marshal Helmut von Moltke the Elder as a hero of the Franco-Prussian War, Bismarck's tabloid falsely implied that Victoria was a British spy. He referred to Fritz, Victoria, and their broad-minded friends as "the Anglo-Coburg faction." [1] He did everything in his power to render them impotent. To this end he took adolescent Prince Wilhelm under his wing in the late 1870's and persuaded him that his parents' democratic notions endangered the monarchy. The newspapers Bismarck controlled regularly printed uncomplimentary stories about Victoria. One criticized her patronage of a Jewish orphanage. Another falsely alleged that she provided military secrets to Sir Robert Morier during the Franco-Prussian War (in which her husband fought bravely.) Actually, Victoria nursed wounded soldiers, and spent money from her own purse to improve the sanitary conditions of military hospitals. A servant disclosed to Bismarck's detectives that the Crown Princess wept upon hearing of Emperor Napoleon III's death. This story was probably true since Queen Victoria enjoyed a long and cordial friendship with Louis Napoleon and Empress Eugenie, who had often entertained Vicky and her siblings at Versailles.
Crown Prince Frederick served heroically in Germany's wars against Denmark, Austria, and France, however Chancellor Otto von Bismarck denied him any political role because of his liberalism. Frederick received a severe reprimand from his father for a May, 1863 speech at Danzig in which he disagreed with Prussia's measures against freedom of speech and the press. Although he acted as regent for a few months in 1878 after a madman shot his father, curmudgeonly Emperor Wilhelm I pulled through, and Bismarck saw to it that the Crown Prince handled nothing but ceremonial functions for the next ten years. Tragically, 56 year old Frederick died of throat cancer on June 15, 1888, three months after his coronation. In April, 1888 Queen Victoria made an unprecedented trip to Germany in order to bid him farewell. Had Fritz lived, an alliance treaty with England would certainly have been concluded. Instead, crown and scepter passed to his unstable 29 year old son Wilhelm.
Dowager Empress Victoria survived another thirteen years before dying an agonizing death from breast and spinal cancer in August, 1901. On her deathbed she instructed the Prince of Wales' secretary, Sir Frederick Ponsonby, to ship a trunk full of private papers to London, knowing that Wilhelm intended to destroy all her correspondence.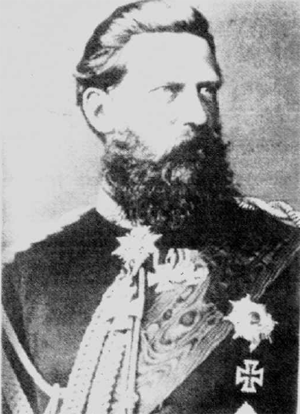 Crown Prince Frederick, 1875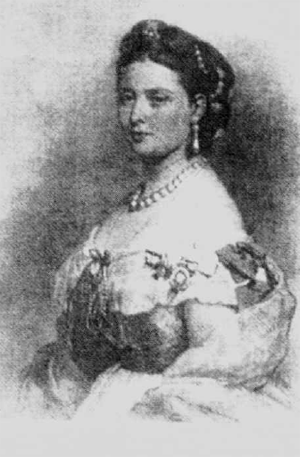 Crown Princess Victoria
Volatile Prince
Infant Prince Wilhelm's left arm had been dislocated during a forceps delivery on January 27, 1859. All his life he endured the handicap of a withered arm. The prince made up for this affliction with a cocky temperament. Though young Willy's mischievous behavior amused his grandmother, Queen Victoria, uncles "Bertie" (King Edward VII) and "Affie" (Alfred, Duke of Edinburgh) considered him a cheeky little monster. At the Prince of Wales' wedding to Princess Alexandra of Denmark in March, 1863 their four year old nephew threw his Aunt Beatrice's muff out a carriage window, tossed the cairngorm (leather purse) of his kilt on the cathedral floor, addressed Queen Victoria as "Duck," and remarked that his English relations had pug noses.
As an adult Wilhelm overcompensated for feelings of inferiority by warlike posturing. His Favorite leisure time activities were riding, shooting, and army maneuvers. Queen Victoria had warned her daughter not to allow eldest grandson Willy to associate exclusively with military officers.
"Princes ... should be thoroughly kind, menschlich, and should not feel that they (are) of different Aesh and blood (than) the poor, peasants, working classes, and servants, and that going amongst them, (is) of immense benefit to the character of those who have to reign ... The mere contact with soldiers never can do that, ... for they are bound to obey and no independence of character can be expected in the ranks." [2]
Emperor Wilhelm II's vanity demanded slavish devotion. He decreed that subjects must address him as "Most High," or "All Highest," though personal friends might shorten this to "Highest." Ministers and generals were never to questions his ukases, but simply bow and murmur: "as Your Majesty commands." [3] When English diplomat Sir Charles Harding declared that the Kaiser must build his navy slower if he wanted improved relations with Britain, Wilhelm snarled: "no one uses the word 'must' to a German emperor!" [4] His self-importance required a glittering uniform for every occasion.
"Berliners said he would not visit an aquarium without putting on admiral's attire, and had been known to climb into the uniform of a British field marshal to eat plum pudding." [5]
Wilhelm's megalomaniacal conduct distressed his mother, Dowager Empress Victoria, who prophesied in 1892 that his absolutism would take Germany
" ... down the steep path which leads to Republic or even a Socialist state. The latter could never last, there would be chaos, then reaction, dictatorship, and God knows what further damage." [6]
Wilhelm had a mercurial nature, marked by sudden mood swings. His high-strung personality constantly overreacted.
"He exaggerated good news out of all proportion, and allowed bad news to unnerve him for days." [7]
Due to what we would now call bipolar disorder, bouts of black depression often followed his temper tantrums. He combined occasional brilliance with impetuosity, arrogance, and superficiality. Noting his chronic impatience, Virginia Cowles commented that he "ruled by impulse and interference," [8] without methodical follow-up. His hyperactivity and craving for change impelled him to travel compulsively. After being crowned Emperor in 1888 he fled Berlin for fourteen out of the next eighteen months. Unlike his staid predecessors Wilhelm gadded about from Britain to Russia, Austria, Rumania, Bulgaria, Turkey -- even Morocco. He seized on any pretext to sail around the North Sea on his yacht or ride his private train to the royal hunting lodge at Rominten.
In 1879 Prince Wilhelm took courses at Bonn University. During this period he visited his cousins, the daughters of his mother's late sister Alice, and Prince Louis of Hesse. Wilhelm soon fell in love with Princess Elizabeth. He wrote love poems to her, and may have proposed marriage. She refused his advances and later married Grand Duke Serge of Russia. Elizabeth's rejection of Wilhelm disappointed their grandmother, Queen Victoria. "Ella, a girl of character, would have been a restraining influence on her cousin." [9]
On February 27, 1881 21 year old Wilhelm married Princess Augusta Victoria of Schleswig-Holstein, nicknamed "Dona," who shared the Prussian nobility's Anglophobic prejudices. Unfortunately, this wholesome and docile hausfrau enabled Wilhelm's supercilious nature. She waited on His Majesty hand-and-foot and dutifully complied with his expectation of sex-on-demand. The royal couple produced six sons and one daughter: Crown Prince Wilhelm, Prince Eitel Friedrich, Prince Adalbert, Prince August Wilhelm, Prince Oskar, Prince Joachim, and Princess Viktoria Luise. The Emperor seems to have been faithful to Dona during their forty year marriage. The Empress founded dozens of churches during her reign and tried to set a high moral tone. Although Dona urged her husband to show more respect toward his mother, she exercised little stabilizing influence over Wilhelm's erratic conduct. Virginia Cowles described her as
"dull, pious, servile ... the embodiment of devoted obedience. She fulfilled the Prussian ideal of womanhood by concerning herself mainly with ... kitchens and nurseries. Her spare time was dedicated to stamping out vice and raising money for ecclesiastical purposes ... She liked to hover over her husband (at breakfast) buttering his toast and removing his plates. As a result she frequently got no (food) herself, for as soon as (Wilhelm) ... finished he would jump up and announce that it was time for a walk. 'Come along! No dawdling!' And Dona would hurry after him." [10]
Cousin Elizabeth of Hesse would have controlled Wilhelm and guided him in a more positive direction, something never done by "gentle ... amiable, sweet Dona." [11]
Emperor Wilhelm II surrounded himself with sycophants who flattered him. Sir Fairfax Cartwright of Munich's British legation noticed this, and wrote:
"By his habit of selecting for his entourage men of colourless opinions, he has put himself into the unfortunate position of being unable to probe seriously below the surface of questions and ... learn the reality of things by encouraging contradiction." [12]
With the exception of Prince Philip Eulenburg, most members of his court were mediocrities who spouted militaristic cliches and reveled in horseplay. To escape from his domestic routine Wilhelm frequently repaired to his Rominten chalet with a group of cronies. After shooting as many as 65 stags in one afternoon, the Emperor would host bachelor parties. On these occasions Wilhelm often pinched, tickled, and slapped senior officers, calling them "muttonheads," "noodles", "donkeys", or worse. In the evening, while wine flowed, the Kaiser's hangers-on entertained him. Ministers and generals dressed up as giant sausages and Siamese twins to amuse their sovereign. General Dietrich von Huelsen-Haesler, uncle of Dietrich Eckart's patron Georg von Huelsen-Haesler, took a leading role in these skits. He not only performed magic tricks, but danced in drag. On the evening of November 14, 1908, the 56 year old chief of staff donned a ballerina's tutu. To the strains of Swan Lake he delighted his sophomoric audience with a series of leaps, pirouettes, and glissades. After this strenuous performance, he unfortunately collapsed and died of a heart attack. The Kaiser's physician could not revive him. After a local doctor pronounced the general dead, junior officers carried his corpse to an upper banquet room. Rigor mortis stiffened the body to such an extent that they had to cut off Huelsen-Haeseler's ballet costume with knives before dressing him in his army uniform.
Wilhelm inherited Chancellor Otto von Bismarck from his grandfather, but had no wish to follow his counsel. He annoyed The Iron Chancellor by interrupting cabinet meetings with impertinent remarks. Bismarck resisted the immature Kaiser's attempts to boss him around. On one occasion Wilhelm ordered him to stop parleying with a liberal Reichstag deputy.
"Bismarck threw his dispatch case on the floor, and said that if William wanted his resignation he could have it; he could not do his duty unless he saw whom he liked. 'Even if your Sovereign forbids it?' asked the Kaiser. 'The power of my Sovereign ceases at my wife's drawing room: snapped the Chancellor." [13]
The end came because of a dispute over benefits for workers. Wilhelm wanted to toss another sop to the masses. Bismarck had already stolen socialist thunder by passing his "Applied Christianity" program, which included the Health Insurance Bill of 1883, Accident Insurance Bill of 1884, and Old Age and Disability Insurance Bill of 1889. That was quite enough. He argued that union laborers should be regarded as whining children, who wished to be rewarded for low school grades. It was a mistake to give in to their endless and insatiable demands. Germany's products would become overpriced and uncompetitive on the world market if spoiled workers grabbed any more pay or benefit increases. He incurred the Emperor's wrath by vetoing his social welfare package.
Wilhelm privately referred to Bismarck as "a boorish old killjoy." [14] In his opinion he had been a liability for years. Prussian Landtag members annually petitioned his grandfather to sack him. He had incensed Catholics by ridiculing their doctrine of papal infallibility, requiring civil marriage ceremonies, and expelling all Jesuits from Germany in 1872. His unrelenting dirty tricks operations against Social Democrats provoked opposition to the crown.
Realizing that he could not work with an inexperienced 31 year old know-it-all, Bismarck resigned in March, 1890. The young Emperor offered a generous retirement bonus, which he declined, and a new title, Duke of Lauenberg. Bismarck sardonically replied that he might be able to use that name as an alias when traveling. The Chancellor alluded to the elaborate farewell ceremony held in his honor as "a state funeral." [15] From his East Prussian estate in Varzin he wrote articles criticizing the Kaiser's policies. After his wife's death in 1894, he moved to Friedrichsruh, a suburb of Hamburg, hoping to be consulted on matters of state, but Wilhelm never summoned him for advice.
Bismarck's departure in March, 1890 left a huge vacuum in Germany's foreign office. Baron Friedrich von Holstein, a misanthrope who trusted no one, assumed control from behind the scenes. He created a culture of paranoia at Wilhemstrasse. His favorite methods of diplomacy were intimidation and blackmail. He kept dossiers on all leading political figures in Germany. Even Bismarck, who occasionally indulged in extramarital affairs, treated him with deference. Although Holstein hated Britain, France, and Russia, he didn't want to fight all three at the same time. Therefore, his policy consisted of hatching schemes to divide these enemies, while flexing Germany's muscles to frighten them. He lacked the humanity, wisdom, and imaginative vision to forge an alliance with any of these parties. During this bungler's watch Bismarck's secret 1887 treaty with Russia lapsed. By 1906, thanks to Holstein's ill will toward every nation but Austria, Germany became isolated.
Bismarck famously described politics as "the art of the possible." His Realpolitik aimed at German hegemony in Europe. He wrote off the Balkans, Africa, and Far East as being outside the Reich's sphere of influence. Colonies always brought "a million savages to supervise," but rarely a good economic return. Wanting Germany to play a leading role on the world stage, Kaiser Wilhelm pursued the impossible dream of Weltpolitik.
Since the chief qualification for any ministerial candidate had to be slavish obedience to his every whim, Wilhelm's appointments were uninspired. He replaced Bismarck with a nonentity named Leo von Caprivi, who proved incapable of handling the post. Wilhelm appreciated General Helmuth von Moltke the Younger's manners and administrative abilities, in spite of his reputation for melancholia and indecision. The Kaiser chose Bernhard von Bulow -- dubbed ''The Eel" by colleagues for his slipperiness-as Chancellor in 1900. The unassertive Theobald Bethmann-Holweg succeeded von Bulow in 1909. On the eve of war Wilhelm sat back and permitted Alfred von Kiderlen-Wachter, Bethmann-Holweg's incompetent foreign minister, to provoke England, France, and Russia over trivial issues.
Prince Philip of Eulenburg und Hertefeld (1847-1921) was the Emperor's best friend between 1887 and 1907. This highly cultured man, twelve years older than Wilhelm, received decorations for valor in the Franco- Prussian war. He married Princess Augusta Sandels on November 20, 1875, by whom he had eight children. In 1877 he joined the German foreign service, eventually becoming ambassador to Austria. On his recommendation the Kaiser appointed Bernhard von Bulow chancellor in 1900. An accomplished musician and poet, Eulenburg not only diverted Wilhelm with humorous songs, but exerted a soothing effect on him.
"He chose to work in a feminine way, delighting the Kaiser with his witty talk, wrapping his criticisms in silky words and always waiting for the right moment to cajole and persuade." [16]
The unctuous prince -- whom Bismarck dubbed "Cagliostro" -- used the utmost discretion with the Kaiser. Rather than telling him to shut up whenever newspaper reporters approached, Eulenburg counseled him not to waste his "gift of eloquence" on "the hoi polloi." To Baron von Holstein's vexation, "Phili," nudged temperamental Wilhelm in a rational-direction -- away from imperialism, and toward rapprochement with Russia and England.
Baron von Holstein's diplomatic career ended in 1906 after the Moroccan Crisis. He offered to step down following the unsatisfactory Algeciras Conference, but did not expect his resignation to be accepted by Chancellor von Bulow. When it was, the Baron suspected foul play on the part of Eulenburg and wrote him a threatening letter in April, 1906. "You have now attained the object for which you have been intriguing for years -- my retirement." [17] Holstein then went on to accuse him of being "a despicable person" and sex pervert. When Prince Eulenburg challenged him to a duel, Holstein wrote a bland letter of apology, then enlisted Jewish journalist Maximilian Harden (real name Felix Ernst Witkowski) to defame him. On October 17, 1907 Harden wrote an expose in the disreputable tabloid paper Die Zukunft which vilified Prince Philip as a homosexual, and alleged that he had carried on an affair with Count Kuno Graf von Moltke, commander of Berlin's army garrison. Moltke immediately sued Harden for libel. At court hearings held between October 23rd and 29th, Moltke's ex-wife, Lili von Elbe, trashed him, swearing that they only had conjugal relations twice -- while on their honeymoon. Sexologist Magnus Hirschfeld ascended the stand as an expert witness and confirmed that "Moltke most certainly had a feminine side and was homosexual even if he never committed sodomy." [18] Incredibly, the court accepted such drivel as evidence of Moltke's guilt and Harden's innocence.
Eulenburg also sued Harden for libel, but the court returned a verdict of "not proven," then prosecuted him for perjury. In June, 1908 Munich Crown Solicitor Edouard Bernstein lined up 145 witnesses, most of them criminals. The court disqualified all but two -- Jakob Ernst, a drunken servant on Eulenburg's estate, and a petty crook named Georg Reidl, both of whom testified that Prince Eulenburg engaged in homosexuality. His reputation now ruined, Eulenburg wondered: "what can be God's purpose in this?" [19] Princess Augusta Eulenburg stood by her man, testifying:
"I declare on my honor as a wife and mother that the accusations put forward are from A to Z lies invented by envious enemies and false friends; and that in the long period of the thirty-four years comprising our married life I have never perceived the smallest sign of anything but perfectly normal emotional life ... Nor can I understand how any reasonable person can venture to speak of abnormality in face of the fact that in the first ten years of our marriage eight healthy children were born to us. But in Germany ... the happiest of marriages are not safe from such 'modern' suspicions ... " [20]
Although Kaiser Wilhelm allowed homosexuals into his court, he was indisputably heterosexual himself. Because of the scandal he sadly dropped Philip Eulenburg as a friend, and ordered Moltke and fourteen other members of the "Liebenburg Round Table" to give up their commissions. Six other officers, fearing exposure, committed suicide. Circumstantial evidence indicated that Prince Eulenburg might have indulged in homosexual liaisons. The Berlin Police Department's vice squad had files on several of his friends, including Georg von Huelsen-Haeseler, Kuno von Moltke, Wilhelm von Hohenau, Count Johannes von Lynar and Anton Stadele. However, Eulenburg's enemies never succeeded in convicting him. The perjury case dragged on for years, finally petering out due to his ill health.
Two facts were beyond doubt. Eulenburg exerted a moderating influence on Kaiser Wilhelm, and he disappeared from the imperial court forever in 1907. Max Harden, who considered himself a German patriot, later admitted to Magnus Hirschfeld that breaking the Eulenburg story had been the biggest mistake of his life.
Amateur at the Helm
"I am steady as the North Star."

-- Emperor Wilhelm II to Prince Philip Eulenburg
Kaiser Wilhelm adhered to a dilettantish belief that kings could circumvent their diplomatic corps and forge lasting treaties with a handshake. He naively thought that his affectionate relationship with "Cousin Nicky," Tsar of Russia, translated into amicable relations with the Russian Empire. On the other hand, testy encounters with "Uncle Bertie," King Edward VII of England, might lead to war. The Kaiser expressed alarm in June, 1908 when Bertie rendezvoused with Tsar Nicholas's yacht off the coast of Reval. Wilhelm worried about a plot against him because "Nicky" and "Georgie" (George V of Britain) suddenly stopped conversing when he entered a room during a party.
With the best of intentions "Willy" boarded his yacht, The Hohenzollern, in June, 1905 and cruised to an off-shore meeting with "Nicky's" "Polar Star," near Bjorko in the Baltic Sea. Amid champagne toasts and embraces the two emperors drew up an alliance and signed it then and there. Because of this impromptu agreement von Bulow threatened to resign. Nicholas's Foreign Minister, Count Vladimir von Lamsdorff, behaved more tactfully, commenting: "has his majesty forgotten ... (our) treaty with France?" [21]
The Kaiser's naval policy and his intransigent foreign office on Berlin's Wilhelmstrasse frustrated all attempts to reach an understanding with England. Most people hailed King Edward VII as an amiable bon vivant, yet Wilhelm called him "Uncle Satan" -- for cultivating France and Russia as allies, rather than his Anglo-Saxon cousins in Germany. When Wilhelm received an invitation for a state visit from Emperor Franz Josef in 1888, and learned that Uncle Bertie would also be there, he insisted that no other visiting royal be present at the Habsburg Court. This forced the embarrassed Prince of Wales to abscond from Vienna ahead of schedule, and patch together an improvised visit with King Carol of Romania. Edward had always regarded his nephew as a spoiled brat. He now prophesied that "Wilhelm the Great" would become "the most brilliant failure in history." [22]
An enthusiastic sailor, Kaiser Wilhelm competed in Britain's Cowes Regatta off the Isle of Wight many summers between 1889 and the early 1900's. At immense cost he had his "Meteor" tricked out as one of the world's swiftest racing vessels, and won the Queen's Cup several times. Uncle Bertie, mortified that the Meteor had beaten his own Britannia, began referring to Wilhelm as "the Boss of Cowes." [23] To humor her German grandson Queen Victoria made him an honorary Admiral of the English Fleet, a title he abused by inviting himself aboard British warships to inspect the latest additions to their naval equipment.
Wilhelm's love of sailing kindled a desire for an impressive navy. Regrettably, his nautical bent created a major bone of contention with England. Though far from stupid, the Kaiser never fully grasped the extent to which his naval building agenda jeopardized Anglo-German relations. Under Admiral Alfred von Tirpitz's tutelage, Wilhelm more than doubled the German navy's size and acquired an impressive fleet of dreadnoughts, cruisers, and submarines. He thought that this build-up would earn him respect and prod Britain into making concessions. In fact, it alienated the English and spurred them into an unprecedented naval construction program. As Germany's Social Democrat politicians pointed out, a land-locked continental power without serious colonial ambitions did not need a huge navy. The Kaiser remained undeterred. When war broke out in 1914, he did not even want to deploy his precious ships. Wilhelm actually reprimanded Admiral von Tirpitz for repulsing a British invasion of Germany's base at Heligoland. England never comprehended that childish Wilhelm treasured his fleet as a collection of valuable possessions, the way an auto buff prizes his sports cars and antique vehicles.
Germany prospered during the Wilhelmine Era. Per capita income doubled between 1888 and 1914. Population increased from 41 to 66 million. Germany led Europe in pig iron production, chemical manufacture, scientific research, and railroad technology. Business was so brisk during most of the Kaiser's reign that Germans experienced not merely full employment, but labor shortages which required the importation of foreign "guest workers."
In 1877, as an experiment in egalitarianism, Wilhelm's tutor George Hintzpeter convinced Crown Prince Frederick and Princess Victoria to enroll their 17 year old son in a boys' school at Kassel for one semester. To Hintzpeter's chagrin, his pupil ranked tenth in a class of sixteen. He explained that lack of application, not dullness, accounted for this dismal result. Kaiser Wilhelm certainly had above-average intelligence. He was a perceptive traveler, quick learner, excellent conversationalist, and had acquired profound knowledge of archeology. His flashes of insight far outnumbered his blunders. He unequivocally admonished Tsar Nicholas on several occasions to stay out of Austrian-Serb conflicts. During the 1913 crisis he notified Austria: "I shall not march against Paris and Moscow for the sake of Albania!" [24] In August, 1914 when Chancellor Bethmann-Holweg and the general staff insisted that Wilhelm sign a mobilization order in his capacity as constitutional monarch, he reluctantly acceded, with the prophetic words: "you will regret this, gentlemen!" [25] Many of Wilhelm's off-the-cuff judgments were clear-sighted, however his distaste for plodding work and want of staying power created a recipe for disaster. As an absolute monarch he wished to control policy, rather than delegate. But Wilhelm's short attention span, impulsiveness, vacillations, and neglect of state business helped create the diplomatic train wreck of 1914.
Most of Kaiser Wilhelm's gaffes resulted from intemperate speech. He liked to refer to Germany's Reichstag as "that monkey house," even when important appropriation bills were pending. His widely publicized telegram to Boer leader Paul Kruger on January 3, 1896 deeply offended Britain.
"I express my sincere congratulations that, supported by your people, without appealing for help of friendly powers, you have succeeded by your energetic action against armed bands which invaded your country as disturbers of the peace, and have thus been enabled to restore peace and safeguard the independence of the country against attacks from the outside." [26]
A firm believer in the Yellow Peril, Wilhelm exhorted German troops bound for China during the 1900 Boxer Rebellion to
"give no quarter! Take no prisoners! Kill (them) when they fall into your hands! The Huns under King Atilla made such a name for themselves as still resounds in terror through legend and fable. So may the name of Germans resound through Chinese history a thousands years from now ... " [27]
English journalists did not forget his choice of words. During World War I Britain's press contemptuously referred to Germans as "Huns."
Although his ministers liked to hinder British and French colonial ventures in Africa, Wilhelm blabbed that he considered Germany's colonies in Togoland (Ghana), Cameroon, Rwanda, Burundi, Tanzania, and Nambia a Financial burden. During the Boer War he complained to British ambassador Edward Malet that
"For a few square miles full of niggers and palm trees England ... threatened her one true friend, the German Emperor." [28]
With British support France took over Morocco in 1904. Irritated about not receiving advance notice of this move, Baron von Holstein decided to stir up trouble. At his suggestion Chancellor von Bulow urged Kaiser Wilhelm to visit Morocco and offer the local sultan military assistance against France. On March 31, 1905 Wilhelm's gleaming white yacht slid into Tangiers harbor. The sultan's uncle met him at the dock with a spirited Arabian horse and brass band. On this nimble mount the Emperor cantered through
"mobs of anarchists, swindlers, and adventurers... who displayed their enthusiasm by rending the air with deafening shouts, and shooting wildly in every direction ... " [29]
Wilhelm's fatuous social call on a Muslim chieftain almost triggered a war. The French cancelled all military leaves and Germany called up its reserves. The Algeciras Conference Finally settled the matter in France's favor, with token concessions to Germany. Did the Kaiser learn from these incidents? No, he lacked impulse control to the end.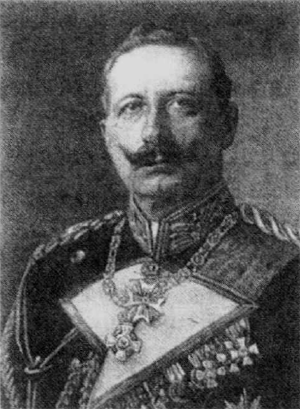 Emperor Wilhelm II
In October, 1908, without benefit of Prince Eulenburg's guidance, Wilhelm uttered a series of injudicious remarks while being interviewed by London's Daily Telegraph.
"You English are mad, mad as March Hares... What on earth has come over you that you should harbor such suspicions against us?" [30]
He went on to state that, because of Japan's meteoric rise, Britain should be pleased with Germany's growing fleet. Then Wilhelm revealed that Russia and France had secretly prodded him to join the Boers and teach those stuck-up Englishmen a lesson. He not only declined to do so, but sent Queen Victoria his general staff's review of British army tactics in South Africa. In one short newspaper article the Kaiser managed to embarrass Germany, England, Japan, France, and Russia. When a series of critical articles made it plain that Wilhelm had behaved like a jackass, he suffered a near nervous breakdown, spending days in bed with the shakes.
Missed Opportunities and a Fatal Alliance
Bismarck always regarded Germany's Austro-Hungarian "vassal state" as a "bottom-feeder," and emphasized that her ludicrous designs in the Balkans must never be allowed to drive German policy. He held that their alliance with the Dual Monarchy was purely defensive. Germany would come to Austria's aid only if another power attacked her. He knew that the Austrian hound liked to pick through garbage for a trophy, and wanted no part of her scavenging expeditions. Bismarck had famously asserted:
"The whole of the Balkans is not worth the bones of a single Pomeranian grenadier." [31]
During the Bulgarian Crisis of February, 1888 he reiterated his thesis that irresponsible Balkan backwaters must never be allowed to spark a general European conflagration.
"Bulgaria, that little country (below) the Danube ... is far from being an object of adequate importance ... for which to plunge Europe from Moscow to the Pyrenees, ... from the North Sea to Palermo, into a war whose issue no man can foresee. At (such a) conflict's end we should scarcely know why we had fought." [32]
In 1914 Kaiser Wilhelm and Theobald Bethmann-Holweg both forgot the Iron Chancellor's axiom that Austria would automatically void the terms of her alliance with Germany if she acted as an aggressor.
Bismarck realized that Germany, with only Austria as an ally, would be hard-pressed to win a two front war against Russia and the combined forces of Britain and France. Therefore, the Reich had to make friends with either Britain or Russia. The Iron Chancellor felt more comfortable with autocratic Russia, but did not bend over backwards to entice her. He refused to lower Germany's tariffs on Russian goods. While negotiating a peace settlement at the Congress of Berlin after the Russo-Turkish War of 1877, he favored the Ottoman Empire. Nevertheless, Bismarck did not want war with Russia. Thus, in 1887 he established the League of Three Emperors and signed a Reinsurance Treaty with the Russian Empire (which Holstein and company allowed to expire.)
Queen Victoria had always been a Germanophile. A Hanoverian princess herself, she took Prince Albert of Saxe-Coburg-Gotha as her spouse, and required all of her children to take German lessons. Four of them married Germans. Princess Victoria wed Crown Prince Frederick, whom the Queen especially esteemed. Princess Alice married Prince Louis of Hesse, Prince Arthur enjoyed a long and happy marriage to Princess Louise of Prussia, and Princess Beatrice got married to Prince Henry of Battenberg. Queen Victoria's son Alfred became Duke of Saxe-Coburg Gotha after his Uncle Ernst died in 1893. She went to her grave in January, 1901, confident that her grandson Wilhelm would never dream of waging war against his British cousins.
German surliness ultimately forced England to sign the Triple Entente with France and Russia in 1907, even though there had been several windows of opportunity for an Anglo-German Pact at the turn of the century. Britain solicited Germany for an alliance three times between 1898 and 1902. The Russian Autocracy repelled English moderates. Tsarist Russia had long been a menace in the Balkans and Middle-East. Her modus operandi had not changed since the 18th Century: send secret agents into Crimea, Turkey, or Montenegro to provoke an incident, then intervene for "idealistic" reasons. Posing as "protectress of all Slav states, no matter what their conduct," [33] Russia routinely permitted Serbia and Albania to threaten Austria-Hungary's interests.
Joseph Chamberlain, Viscount Richard Haldane, and other British statesmen advocated an accord with Germany rather than Russia. They did not oppose "legitimate" German colonial expansion into Africa or the Middle-East. The Reich's strength and competence would make it a much more reliable ally than backward Russia. In 1898 Colonial Secretary Chamberlain told German ambassador Paul Hatzfeldt that
"Britain's natural alliance was with Germany, as both countries had reason to fear French and Russian aggression." [34]
Paranoid Baron von Holstein suspected "English devilry" [35] -- a bid to obtain German protection for their far-flung empire.
" ... Holstein's twisted mind threw every picture out of focus; ... he seemed incapable of grasping the fact that Germany ... would have to give a quid pro quo ... " [36]
To the concerns of Hatzenfeldt and von Bulow that a rejection of this invitation might throw Britain into the arms of Russia, Holstein exclaimed: "Humbug!" [37] Based on his counsel Chancellor von Bulow rebuffed Britain's overtures, muttering that their navy would not be of much value in a land war anyway. Bismarck facetiously remarked that: "if the British Army landed in Europe, I'd have the Belgian police arrest them." [38] Bulow and Holstein shared this foolish underestimation.
To sabotage England's final offer, Holstein dredged up an old newspaper quotation in which Joseph Chamberlain had stated that British operations during the Boer war did not approach atrocities committed in "Caucasus, Algeria, Tong King, and ... the Franco-Prussian War." [39] The German press lambasted one of Germany few friends for daring to suggest that violence against civilians had occurred during the Franco-Prussian War. Chamberlain gave up his thankless campaign to form an alliance Germany. In a speech he admitted:
"Now I have had enough of such treatment ... There can be no question of an association between Great Britain and Germany." [40]
Gratuitous insults continued. In 1901 when Bertie came to see his dying sister for the last time, crowds of Germans gathered on railroad station platforms to boo him and play the Boer national anthem.
Due to the inanity of Holstein and Bulow Germany spurned English advances and set the stage for World War I. Emperor Wilhelm let this happen by failing to heed certain voices crying out in Wilhelmstrasse's wilderness. Count Paul von Metternich repeatedly warned that Germany's wasteful naval spending program would poison the Reich's relationship with England. Prince Karl Lichnowsky prophesied that the Russian Bear would draw France and Britain into war with Austria and Germany over the next Balkan crisis. Kaiser Wilhelm's favorite courtier, Prince Philip Eulenberg, often alerted him to Baron Holstein's baleful effect on German foreign policy.
Shortly before his death in July, 1898 Bismarck told Jewish shipping magnate Albert Ballin: "if there is ever another war in Europe, it will come out of some damned silly thing in the Balkans." [41] By August 3, 1914 the weaker treaty partners, Austria and Russia, had dragged stronger powers into World War I. The fault lay mainly with Austria, specifically her rash Foreign Minister, Count Leopold von Berchtold. A Serbian terrorist named Gavrilo Princip shot and killed Archduke Franz-Ferdinand and his wife Archduchess Sophia at Sarajevo on June 28, 1914. Wanting to pulverize Serbia and absorb it into the Austro-Hungarian Empire, Berchtold issued an ultimatum on July 23, 1914 which effectively demanded the establishment of an Austrian police state in Belgrade to crush Pan-Slavism. Serbia sent an accommodating response agreeing to outlaw Narodna Odbrna, a militant Slav organization, arrest anti-Austrian provocateurs, and censor all propaganda uncomplimentary to Austria-Hungary. Berchtold summarily rejected their reply and threatened to declare war. Bismarck once said: "anyone who has looked into the glazed eyes of a soldier dying on the battlefield will think hard before starting a war." [42] Oblivious to the imminent risk of war, Berchtold clung to the illusion that a conflict with Serbia could be localized. Eight million young men would die in vain because of his bad judgment.
France and Britain initially sympathized with Austria, agreeing that Serbia should be penalized for the Archduke's assassination. But public opinion in both nations altered after Austria promulgated her punitive ultimatum. Unhappily, Austrian enmity toward Serbia set a fatal chain reaction in motion. Serbia mobilized, causing Austria to declare war on July 28th. The Tsar and his general staff ordered a partial mobilization on July 31st to reassure Serbia and sober-up Austria. This action spooked Germany, which mobilized August 1st and declared war on Russia, thus bringing France into the conflagration. In hindsight Britain and France should have urged Russia not to mobilize until Austria actually marched toward Serbia. Due to Austrian ineptitude, that took two weeks. Catastrophe might have been averted within that period.
Germany's abysmal diplomacy since Bismarck's resignation now stood out in bold relief. Worthless allies such as Italy and Rumania instantly declared neutrality, leaving her with three second-rate powers -- Austria, Bulgaria, and Turkey -- to fight France, Russia, Britain, and eventually the United States.
During the Austro-Serbian Crisis of July, 1914 Kaiser Wilhelm was all over the place -- sometimes right, usually confused, always frantic, never operating as a steadying influence. He thought the Serbs should be punished for Franz-Ferdinand's death, but considered Austria's ultimatum too severe. Serbia's agreeable reaction afforded him hope of a peaceful resolution. Yet he could not resist fanning the flames by vilifying the Serbs as
"orientals, therefore liars, tricksters, and masters of evasion... Serbia is not a nation in the true sense, but a band of robbers... We can't act like gentlemen toward murderers ... " [43]
Russia's intrusion exasperated him. She had "stepped into a quarrel which did not concern her in order to advance her interests in the Balkans and Turkey." [44]
Wilhelm incorrectly presumed that Tsar Nicholas would let the monarchical principle take precedence over Balkan strategems. How could "Nicky" compromise his own self-interest -- and betray European royalty -- by championing the cause of Serbian regicides? By letter of July 29 Cousin Nicky exhorted "Willy" to "do what you can to stop your allies from going too far," [45] a sentiment echoed by British Foreign Minister Sir Edward Grey who advised Germany to hold back Austria in order to preserve peace. Beside himself, Wilhelm and his brother Prince Henry contacted Cousin Georgie in England. They framed the question: if France and Russia declared war on Austria, and Germany entered the fray due to treaty obligations, would England join her allies against Germany? To their horror King George V answered: "yes!. .. under certain circumstances." [46] This came as a rude shock to Wilhelm, who considered war with England as "a most unimaginable thing." [47] It seemed incredible to him that
"The final struggle between ... Slavs and Germanic races finds ... Anglo-Saxons on the side of Slavs!" [48]
Of course, King George's analysis should have come as no surprise. Germany's defective foreign policy had compelled Britain to join the Triple Entente seven years earlier. Now Austria, Serbia, and "forces of blind causation" were dragging all major European powers into a horrendous bloodbath that would benefit no one. Wilhelm immediately suspected a grand conspiracy against him on the part of Nicky, Georgie, and those devilish lechers in France.
"I no longer have any doubt that England, Russia, and France have agreed among themselves ... to use the Austro-Serb conflict as a pretext for waging a war of annihilation against us ... " [49]
At that point he abandoned all hope of a localized conflict, and tried to banish anxiety by assuming a macho attitude: "Bring it on!" [50] he cried.
______________
Endnotes
1 John Van der Kiste, Queen Victoria's Children, Alan Sutton, Gloucester, U.K., 1986, p. 58.
2 Virginia Cowles, The Kaiser, Harper & Row, New York, 1963, pp. 42-43, op. cit. Letters of Empress Frederick to Queen Victoria.
3 Ibid., p. 77.
4 Ibid., p. 252.
5 Ibid., p. 281.
6 Van der Kiste, p. 142, op. cit. Egon C. C. Corti, The English Empress, Cassell, 1957.
7 Cowles, p. 361.
8 Ibid., p. 106.
9 Van der Kiste, p. 99.
10 Ibid., pp. 77-78.
11 Van der Kiste, p. 99.
12 Cowles, p. 245.
13 Ibid., p. 94.
14
http://www.wikipedia.org
, William II, German Emperor, p. 5.
15 Cowles, p. 97.
16 Ibid., p. 108.
17 Ibid., p. 226.
18
http://www.wikipedia.org
, Eulenburg-Harden Affair, p. 3.
19 Cowles, p. 235. op. cit. Johannes Haller, Philip Eulenburg,: The Kaiser's Friend.
20 Ibid.
21 Ibid., p. 220.
22 Van der Kiste, p. 126.
23 Cowles, p. 240.
24 Ibid., p. 301.
25
http://www.wikipedia.org
. William II, p. 11.
26 Cowles, p. 46.
27 Ibid., p. 177.
28 Ibid., p. 146.
29 Ibid., p. 210.
30 Ibid., p. 258.
31
http://www.wikiquote
, Otto von Bismarck, p. 5.
32 Wikipedia, en.wikipedia.org, Otto von Bismarck, p.9, op. cit Otto von Bismarck's Reichstag Speech, February, 1888.
33 Cowles, p. 327.
34 Ibid., p. 162.
35 Ibid.
36 Ibid., p. 188.
37 Ibid., p. 189.
38
http://www.wikiquote.org
. Bismarck quotations, p. 4.
39 Cowles, p. 197.
40 Ibid.
41
http://www.wikiquote.org
, Bismarck quotations, p. 4.
42 Ibid., p. 2, August 11, 1867 speech in Berlin.
43 Cowles, pp. 316, 319, 330 passim.
44 Ibid., p. 353.
45 Ibid., p. 333.
46 Ibid., p. 303.
47
http://www.wikipedia.org
, William II, p. 7.
48 Cowles, p. 303.
49
http://www.wikipedia.org
, William II, p. 10.
50 Cowles, p. 321.