8: Crusading Muckraker
"The 'Establishment' represented the whole Western commercial system which had reduced the (Germany) to defeat."

-- James Webb
Dietrich Eckart acquired more renown in Munich than Berlin. Because of the war, his specialty shifted from drama to politics. In Berlin he often engaged in social criticism, condemning pop culture and modern materialism, but hardly ever grappled with concrete political issues. As a Munchener, he evolved into a full-blown polemicist. The war forced him "from the quietude of poetry, out into the chaotic public arena." [1]
In 1918 Eckart became associated with Rudolf von Sebottendorf's Thule Society, an outgrowth of Theodore Fritsch's German Order, which soon became known as "the godparent of National Socialism." Sebottendorf published several of his articles in Der Munchener Beobachter. Eckart delivered a talk at one of the Society's meetings in the Four Seasons Hotel. As a "guest member" of this organization he made the acquaintance of Professor Karl Alexander von Mueller, his brother-in-law Gottfried Feder, and wealthy publisher Julius Friedrich Lehmann.
Eckart soon established himself at several pubs, including the Bratwurstglockl Cafe, Osteria Bavaria, Cafe Heck, Die Fledermaus Hohle (The Bat Cave), and Die Brenessel (Stinging Nettle) Wine Cellar on Bayerstrasse. He came into contact with various compatriots in these "Ratkellers." Landscape painters Max Zaeper and Edmund Steppes hung out with him, as did Adolf Vogl, a music teacher who composed an opera score for Lorenzaccio. Alfred Rosenberg introduced him to his fraternity brother Otto von Kursell, a Baltic German portrait painter. Eckart soon recruited Kursell to draw caricatures for Auf Gut Deutsch, earning him the dubious distinction of being a specialist in grotesque "Jewish heads." [2]
To these friends Eckart spun out visions of a new Europe under German rule. The Pan-German ideal would finally be realized by the Kaiser's brave legions. Over beer, wine, and shots they envisaged a Teutonic utopia on the horizon. On one occasion a tipsy Eckart, amid hooting applause from Die Brenessel Weinstubbe regulars, announced his intention to join the army. He rethought this in the cold light of day and petitioned Hans Buchner of The Munich Times to hire him as a war correspondent. Aware of the forty-seven-year old dramatist's physical and psychological debilities, Buchner refused this preposterous request. Royal Theater manager Georg von Huelsen-Haeseler delicately encouraged him to abandon pipe-dreams of military service, and "arouse patriotism in a poetic capacity." [3]
Germany's worsening situation impelled Eckart toward polemics. He viewed World War I as "a religious war ... a struggle between light and darkness, truth and falsehood, Christ and Antichrist!" [4] Between 1915 and 1918, he wrote dozens of chauvinistic articles for Karl von Bothmer's Unser Vaterland magazine, and its successor Die Wirklichkeit, which future opponent Fritz Gerlich co-edited. He also published pieces with Deutsches Vo1kstrum, The Munich Times, Theodore Fritsch's Hammer Magazine, Julius Lehmann's Deutschlands Erneuerung (Germany's Renewal,) Rudolf von Sebottendorfs Munchener Beobachter, and his friend Klaus Eck's Miesbacher Anzeiger which anticipated the scurrility of Julius Streicher's Sturmer Magazine.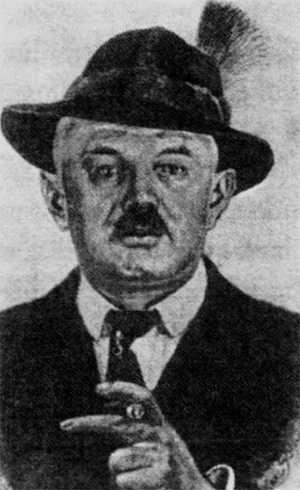 Portrait of Dietrich Eckart by Karl Schulz
As hopes of a German Middle Europe sank in 1917, he became paranoid. Due to "Jewish pressure" America entered the conflict on the Entente side. The Russian Revolution, "instigated by what he termed "a rabble of International Jews," compromised Germany's victory in the East. The "Jewish Press" now condemned Wilhelmine Germany's war of conquest, which had lately deteriorated into a bloody, treasury-draining stalemate on the Western Front. Eckart and his volkisch cohorts unreservedly supported the war. They equated pacifism with treason, and regarded Jewish liberals as foreign traitors.
Hugo Haase, Otto Landauer, and other Jewish Social Democrats did oppose the war, but they were joined by many gentiles such as Friedrich Ebert, Matthias Erzberger, and Wilhelm Liebknecht. Realizing the stupidity of being drawn into a European war because of Austria's quarrel with Serbia, Haase organized peace rallies, and argued against granting war appropriations in the Reichstag. Ironically, he and his colleagues faithfully adhered to Bismarck's dictum of avoiding conflicts caused by Austrian belligerence in the Balkans, while Kaiser Wilhelm, Chancellor Bethmann-Hollweg, and flag-wavers like Eckart strayed from this hallowed doctrine.
The German defeat of November 11, 1918 radicalized Eckart. After tossing and turning that night he woke up Rose to proclaim the founding of a new tabloid, Auf Gut Deutsch ("In Plain German,") which would elucidate Germany's plight with utter frankness. His title and tone were influenced by Adolf Josef Lanz's Ariosophic book, Unadulterated German Words, and Heinrich Class's blunt potboiler, If I Were Kaiser. Years ago Eckart learned from Schopenhauer's "On Authorship & Style" to aim for hard-hitting brevity and candor. Verbosity obscured ideas and weakened expression. If a writer could not explain concepts clearly and laconically, he didn't understand them. Southern Germans had long distinguished themselves by earthiness and plain speaking. Neumarkt native Eckart preferred concrete to abstract expression. Since slang conveyed authenticity, he spiced up his prose with Bavarian dialect and profanity. When a leftist news report falsely announced that France had fallen to the Communist International, Eckart remarked that "the red flag in (France's) trench ... "was only the handkerchief of a drunken Algerian." [5] Such vulgarity amused the military and working class audiences he targeted.
On November 12, 1918 Eckart begged Rudolf von Sebottendorf to give him financial backing for a political broadsheet that would expose "Zionism," and skewer the "November Criminals" who sold out Germany. Familiar with his irregular work habits, Sebottendorf offered to publish more of his articles in the Munchener Beobachter, but declined to finance a competing magazine. Eckart then put the touch on his old theatrical benefactor Georg von Huelsen-Haeseler -- to no avail. Finally he approached Munchener Zeitung owner Hans Buchner. After listening to his impassioned sales pitch, Buchner agreed to fork out 10,000 marks. With this money Eckart rented a hole-in-the-wall office on Tengstrasse and moved in his desk, bookcase, and file cabinet. Unable to afford printing charges, he made printer Adolf Muller a business partner in both Auf Gut Deutsch and Hoheneichen (High Oak) Verlag, his new vanity publishing company.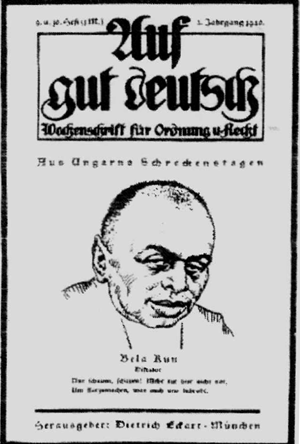 Cover of Auf Gut Deutsch featuring a caricature of Hungarian leader Bela Kun by Otto vo Kursell. Eckart considered Kursell's drawings "more revealing than photographs. "
Acting as Auf Gut Deutsch's chief cook and bottle-washer, Eckart wrote most articles, edited the rest, solicited advertisements (including one from brother-in-law Paul Hermann Wiedeburg's insane asylum,) and carried finished copy to the printer. He even worked as a paperboy. Kurt Ludecke remembered seeing Eckart's bobbing bald head among hurrying commuters in a train station as he hawked his scandal sheet during rush hour. Others recalled a boozy "retired wrestler" with round tortoise-shell glasses and half-smoked cigar butt clenched between his teeth, distributing handbills to passersby on street corners.
The Auf Gut Deutsch venture energized Eckart and gave him a new sense of purpose. On March 30, 1919 he wrote his brother Wilhelm:
"Despite all, I view Germany's future with composure ... The Jewish Corps still exacts a toll until they get their just deserts. We Germans have the responsibility for salvaging world freedom. The Third Reich approaches its beginning in the midst of vertigo ... Patience is all. It's worth the effort to endure life's struggle ..." [6]
With a nationalist mailing list in hand, Eckart sent out 25,000 copies of Auf Gut Deutsch on December 7, 1918. Over the next two and a half years, he published 56 issues, totaling 1,500 pages, for 50 pfennigs per single edition. By 1920 Auf Gut Deutsch had a circulation of approximately 30,000.
Eckart despised routine work. His drinking benders, illnesses, drug ingestion, impulse vacations, "artistic temperament," and general disorganization caused him to miss publication dates regularly. Alfred Rosenberg found him "incapable of sustained work." On the verge of deadlines Eckart rattled on about the humorous novel he intended to write, and book on Christianity then forming in his mind. When "divine inspiration" descended upon him, he'd drop everything to deliver newborn verse. Rosenberg remembered him pacing around with scrawled notes in hand dramatically reciting "Ecce Deus," a poem about Matthias Grunewald's famous altar painting, while yet another deadline expired.
Though negligent about timetables, Eckart felt obligated to send customers something every week. When feeling slothful, he'd order Rosenberg to mail out copies of Hammer Magazine and Sturm Magazine in lieu of Auf Gut Deutsch. One week subscribers received paperback editions of Artur Dinter's Sin Against Blood. Issues 15 to 29 of Auf Gut Deutsch simply printed his tragedy Lorenzaccio in fourteen installments.
Rosenberg remembered Eckart as a divided personality. He couldn't say no to friends, and handed money to any stranger with a sob story, yet positively abominated those he perceived as enemies, including complete strangers. Although sometimes magnanimous when soused in the Stinging Nettle Wine Cellar, a cold-sober Eckart could be an uncompromising taskmaster at the office.
"He cut an impressive figure behind his paper-strewn desk. His shining skull and knotted brow, dark horn-rimmed glasses in front of blue eyes; the nose slightly bent, small and fleshy; a full mouth and a wide, brutal-seeming chin." [7]
Eckart probably met engineer-economist Gottfried Feder through Karl von Bothmer in early 1919. Feder was a disciple of left-wing economist Silvio Gesell, who advocated land reform, equitable distribution of wealth, and a free market economy. He argued that abuse of monetary power by oligarchs and nobles generated poverty, trade imbalances, periodic recessions, and a widening disparity between the desperately poor and super-rich. Feder's diary recorded his first impressions of Eckart.
"Fatalistic, well-read, with enormous ... knowledge, sharp historical mind ... diligent ... restless ... "gemutlich" (warm, genial, pleasure-loving) ... His dialectic is studded with antitheses ... In the religious sphere uneasy feelings ... " [8]
Auf Gut Deutsch notified patriotic Germans of an unfolding "Pan-Jewish World Conspiracy." Eckart censured Jews for undermining national morale and accused them of masterminding the Bolshevik Revolution, which now spread like a cancer toward Germany. Karl von Bothmer, Ellegaard Ellerbeck, Rudolf Gorsleben, and Gottfried Feder all contributed articles. Eckart reprinted pieces that had already been published in Bothmer's Die Wirklichkeit and Julius Lehmann's Deutschland Erneuerung (Germany's Renewal.)
Auf Gut Deutsch's lead article "Men!" declared that Germany needed a statesman of Bismarck's caliber to lead it out of perdition. Unlike the current crop of petty politicians, the Iron Chancellor refused to affiliate himself with any one party. Eckart too vowed to remain independent. "Whoever wants to help my effort is welcome. But I cannot bind myself to him: neither to any individual nor ... party." [9] Germany's multitudinous political parties merely "raised weaklings to the heights." [10] Despite Eckart's pledge of impartiality, he soon plugged Anton Drexler's German Workers' Party, which sought "the ennoblement of the German worker, ... profit-sharing, not socialization ... a full pot, prospering children, " [11] while combatting "usury ... inflation, and drones ... who create no value " [12] Eckart promised that Deutsche Arbeiter Partei workers would form a protective rampart against Reds who took orders from Jewish Bolsheviks.
Eckart's desire to unite Germans of all classes resulted in seemingly contradictory operations. From his days as a debt-ridden writer in Berlin he had mastered "the pump art." Eckart started up the German Leading Citizens' Society in May, 1919 with the intention of attracting upper class support and funding. To that end he addressed the Thule Society on May 30, 1919 and published follow-up articles in Rudolf von Sebbotendorf's Munchener Beobachter. Although this organization fizzled by August, a few affluent nationalists flocked to his standard, including "outsiders among the rich" such as Emil Kirdorf, Gottfried Grandel, and his old friend from Berlin, Dr. Emil Gannser.
The "Russian Jewish" Revolution
On January 15, 1919, rightwing vigilantes in Berlin abducted radical Social Democrats Wilhelm Liebknecht and Rosa Luxemburg, dragged them to the Eden Hotel, then tortured and murdered them -- even though both renounced armed revolution. On February 21, 1919, nationalist officer Count Anton Arco-Valley assassinated Prime Minister Kurt Eisner. These outrages precipitated the Spartacist Revolt of April, 1919.
When the shooting started in Munich Eckart decided to leave. On April 6, 1919 he, Rose, and his step-daughters journeyed down the Isar River Valley to Wolfrathausen, where one of his partners in High Oak Publishers put them up for a few days. Eckart saw armed Bolshevik partisans financed by Russia driving past in cars with machine guns, and heard artillery fire exchanged between Freikorps and communist units. He traveled on to Bamberg with Rudolf von Sebottendorf. While on the train he harangued fellow passengers with a fiery anti-communist speech. In Landsberg Eckart lectured soldiers and vainly tried to persuade General Haas to use his 35,000 troops to squash the "Bolshevik Revolution."
After rejoining Rose at Wolfrathausen for a week, Eckart returned to Munich, and engaged in a series of high risk adventures. Possibly as a daring prank, he and Gottfried Feder went to communist headquarters at the Wittelsbach Palace, where he encountered Jewish poet Ernst Toller. The pair requested and received a permit from secretary Ernst Niekisch for their upcoming rally against interest slavery. In an Auf Gut Deutsch article Eckart compared the atmosphere at the communist office to a "Judenschule." He solicited ransom money from rich friends, and bribed a communist prison official to release Thule Society member Julius Knauf (who repaid him June 21st.) On April 16th Eckart and Rudolf Gorsleben had a very close call when a squad of Spartacist rebels arrested them at gunpoint near the Thule Society's office. His light-hearted banter disarmed the motley anarchists. He invited them to his home, offered food and drink, then read selected passages from his "socialistic" pamphlet, "To All the Workers." The maintenance man for Eckart's apartment building happened to know some of the Spartacists. He testified that their prisoner was "a good guy" who tipped on Christmas. The Reds released Eckart and Gorsleben. Four days later Spartacist terrorists executed thirteen hostages at Luitpold Gymnasium.
The Content of Auf Gut Deutsch
According to Hermann Esser, who worked under him at the Volkischer Beobachter, Eckart usually wrote in solitude, whether in hotels, his apartment, or corner bar table. He often revised articles in the evening, with a glass of wine within easy reach. Eckart rarely consulted others about subject matter and would not tolerate editorial corrections. Although historians refer to him as a journalist, melodramatic fiction remained his specialty. He was a propagandist who loved to pontificate. The discipline of journalism, with its painstaking corroboration and double-checking of facts, bored him. He liked to gossip, and pass off droll bar chat as truth. Opponents successfully sued Eckart for libel on several occasions. In his work as a newspaper columnist and book reviewer, he lapsed into the habit of voicing controversial opinions, without bothering to research alternative views. Like Hitler, he was essentially an indolent know-it-all, who wanted a forum for his Judeophobic prejudices.
Certain interrelated themes pervade Auf Gut Deutsch: the "Stab in the Back Theory" which held that Jews undercut Germany's war effort, Russian Bolshevik atrocity stories, calls for patriotic working men to establish an anticommunist party, dire warnings about an International "Jewish Conspiracy," and prophecies that a "God-sent Fuhrer with lion heart" would one day lead Germany out of its current predicament.
Eckart read Houston Stewart Chamberlain's bestselling War Essays in 1915. Another believer in the "Coming Great One," Chamberlain also advanced the "stab in the back" hypothesis, postulating a conspiracy of "International Jews." According to him, Jewish financiers incited the present crisis in order to garner spoils after racially-related English, French, Germans, Austrians, and Russians exhausted themselves in a deadly, internecine conflict. Patriotism means loyalty to one's homeland. Eckart's nationalism exaggerated and perverted that hallowed ideal. Going beyond defense of the fatherland, he preached xenophobia, anti-Semitism, and imperialism. Liberals who disagreed with his jingoism were branded as traitors.
Both Eckart and Gottfried Feder agreed with Chamberlain, claiming that Jews had long planned an unwinnable two front war in order to overthrow the Hohenzollern dynasty and grab power for themselves. Feder wrote: "with the cowardly bravery of assassins (they) felled a swaying giant from behind." [13] Germany's conservatives -- including the nobility, officer corps, and all nationalistically-minded men -- refused to participate in the surrender process, leaving that task to leftist politicians such as Haase, Landauer, and Erzberger. When things turned out badly due to French Revanchism, these agents became scapegoats. In Ernst Nolte's words nationalists blamed "the bankruptcy receivers for the bankruptcy." According to Eckart the same "backstabbing malefactors" who arranged Germany's capitulation then created the Weimar Republic in order to arrogate power to themselves. The November, 1918 disaster enabled "Jewish plutocrats" to install this sham government. Its American-style electioneering process staged media extravaganzas to gull proles. Anyone seeking office had to spend large sums for campaigning. Politics had become a part of show business. "Jewish wire pullers" bought candidates the way studios signed film stars. As a theater veteran, Eckart resolved to beat them at their own game.
Eckart's anti-Semitic prejudices were delusional, but he passionately believed in them. The struggling playwright, who thought Jews had stymied his literary career, was convinced that these wily adversaries now plotted Germany's ruin. The Entente victory deposed Kaiser Wilhelm and launched Jews such as Kurt Eisner and Walter Rathenau into thankless positions of power. Jewish Minister of the Interior Hugo Preuss wrote the Weimar Republic's Constitution, which Eckart viewed as a liberal-sounding hoax whose real intention was to establish Jewish authoritarianism down the road. According to him the Weimar Republic had been foisted upon Germany by "materialists, opportunists, and half-natures ... devoid of Aryan attributes ... " [14]
Alfred Rosenberg and other Russian emigres provided Eckart with sensational stories about "the kosher Christian-butchering dictatorship of the Jewish world savior, Lenin, and his Elijah, Trotsky-Bronstein." [15] When Eckart discovered that Lenin was an atheist of mixed Russian, Calmuck, German, Jewish, and Swedish extraction, he revised his slur to "that Tartar Lenin." Like Karl Marx, many Bolshevik leaders fit into the Jewish Messianic tradition, even though they repudiated Judaism. Auf Gut Deutsch never tired of repeating Rosenberg's charges that Leon Davidovich Bronstein (Trotsky), Lev Kamenev (alias Blumberg,) Grigori Zinoviev (alias Apfelbaum,) Karl Radek (alias Sobelsohn), Jakov Sverdlov (who ordered the Romanov murders), and Alexei Rykov were all ethnic Jews. Former Russian Orthodox seminarian Josef Stalin employed the code term "left oppositionists" for Jews, and persecuted them with gusto. During purges in the 1920's and 1930's he killed most of the above-mentioned men, plus another 500,000 Jews (out of a 10,000,000 Jewish population.)
After World War I Bolsheviks spread terror far and wide. Bela Kun toppled Hungary's rickety government. He and twenty of his twenty-six ministers were Jewish. Rosa Luxembourg agitated during Berlin's ill-fated Communist Revolution of January, 1919. Eugene Levine, Tobias Axelrod, Max Levien, and Ernst Toller fomented Munich's April, 1919 Spartacist Revolt. In the Autumn of 1920 Soviet leader Grigori Zinoviev persuaded Berlin's Independent Socialists to affiliate with Moscow. Eckart recycled the false rumor that British-Jewish financier Samuel Landman conspired with American Jewish stock market wizard Bernard Baruch to bring America into the war. He alleged that their colleagues subsequently took advantage of the unjust Versailles Treaty to buy up grain, steel, coal, and other commodities from Germany at bargain basement prices. Army staff officers hailed Eckart as a seer for unveiling these insidious plots. The battered playwright savored his new-found aura of self-importance.
Eckart's libels against Germany's Jewish population did not go uncontested. On April 10, 1919 The Central Union of German Jews, an organization consisting of over 200,000 members, paid for an advertisement in the Munich Post which took issue with his allegations. The piece concluded that Eckart wrongly scapegoated German Jews for what had happened in Russia. In May, 1919 the Central Union objected to his pamphlet "Buerger!" which proposed a German Leading Citizens' Society to oppose the "Jewish Menace." The Zentralverein complained that Eckart willfully promulgated lies in his campaign to abrogate Jewish civil rights.
Eckart stressed that a Bolshevik Revolution in Germany could only be prevented by a united effort on the part of volkisch workers, tradesmen, army veterans, and landowners. He wanted to take a page out of the Bolshevik playbook. To recruit dissatisfied laborers Eckart proclaimed the radical populist view that "skilled resident workers have the right to be considered members of the middle class." [16] The proletariat must have a voice in the New Germany, whether the aristocracy liked it or not. Intending to lure the masses away from communist agitators Eckart wrote:
"Is the factory hand not a citizen? Is every propertied person a good-for-nothing capitalist? Down with envy! Down with pomp and false appearances! Our aim is to regain simplicity and to be once more German. Our demand is true socialism. Power should only be given to him who has German blood alone in his veins!" [17]
These socio-economic notions reflected Gottfried Feder's influence. He believed that Marxist cliches such as "bourgeoisie" and "proletariat" had no factual basis; they were just Jewish propaganda terms designed to divide and conquer Germany's Volk. Eckart echoed the Pan German sentiments of Georg Ritter von Schoenerer when he wrote: "We have been goaded long enough. Let only those of pure German blood have influence!" [18]
In this age of mob-rule it was imperative to recruit Fritz and Otto from the local beer hall. Thirty years of pub-crawling had given Eckart a sure touch with the common man. Without condescension he could trade jibes and drink rounds with mechanics, bricklayers, and railroad workers. He possessed "extensive knowledge consonant with his prejudices," [19] and passed for a savant among laborers. Over mugs of Pilsner and goblets of Riesling he would regale boon companions of all classes with barstool humor, anecdotes, Jewish jokes, and anti-French epithets. He was a "big bear of a man, a "roughhewn comical figure," [20] who guffawed loudly at his own witticisms. His creative use of obscenities impressed army sergeants. In spite of respectable middle-class origins, Eckart loved ribald stories and prided himself on his mastery of the vernacular.
To woo working men Eckart and Feder founded the German Union for the Abolition of Interest Slavery in September, 1919. According to them, "Mammonism" caused most ills on earth. They defined it as "international money power," combined with
"the insatiable acquisitive urge based on a purely temporal view of life, which has led to an appalling degeneration of all moral standards ... " [21]
Under this system "a minority of drones" collected steadily increasing amounts of interest from working stiffs. Feder, an engineer who specialized in concrete construction, drew a distinction between "rapacious capital" that swindled Germany's masses and "productive capital," which created goods and jobs. He identified the former with Jewish financiers and the latter with native German industrialists. Every year workers slaved to raise 12 million dollars just to pay off interest charged by bankers. As a consequence of compounding the amount multiplied geometrically each year. To end this massive rip-off Feder proposed the abolition of loan capital — even though modern finance had funded Wilhelmine Germany's "economic miracle." Eckart dramatized Feder's economical theories for the readers of Auf Gut Deutsch:
"The greatest curse is omitted from all interpretations of Germany's crisis, namely loan capital, (which) earns money without work, by virtue of interest. I repeat: without budging a finger the capitalist increases his fortune at the expense of society." [22]
Eckart did not really want to outlaw interest. Such imbecility would arrest growth, and benefit France, England, and other competing nations. His compromise solution called for a state-controlled bank. Somehow he thought that government bureaucrats would do a better job than professional bankers, a delusion which betrayed his naivete in business matters.
In Auf Gut Deutsch Eckart repeatedly lashed out against usurers.
"The tormentor of the German people is international finance, a financial militarism. On God's earth there is no more cold-blooded criminality than (that) which hide(s) behind the invisible empire of global economics. With a complete lack of scruples which defies description ... the furtive Princes of Gold mix their pernicious brew, which makes mankind not only serve them, but crazy and blind enough to mistake evil for good and good for evil ... The Great Hunchback, a Hydra sucking up millions of our people's savings through his many banks and fattening himself with ever-increasing influence. Go ahead and put your last dime down, what kind of interest do you get for it? A trifle! The Great Hunchback, however, bears fruit a hundredfold. Shut him out, bring the state to your side, and you will have a double benefit: you'll yield a better interest on your money, and the state, being better served, can therefore pay debts and relieve you of your burdens." [23]
According to Eckart, speculators fomented World War I behind the scenes. Native German manufacturers should not be blamed, only members of the "Gold International."
"They play one people off against another, cheating both. For these drones German ... people are just objects of speculation! Not by the presumption of the military were we betrayed, but above all by usury, again by usury, and a third time through usury did we lose our power ... What? Did we die for the benefit of loan sharks? (The) uncrowned kings of the stock exchange are the international enemies of peace and law ... who sowed a storm to salvage the jetsam beached between corpses." [24]
Eckart's florid rhetoric presented a distorted picture. Nearly five times more gentiles were defense contractors than Jews. Among the principal ones were Krupp, Siemens, Mercedes-Benz, and Thyssen Steel Workers: all gentile firms. Jewish concerns accounted for a relatively small percentage of military supplies -- mostly uniforms and foodstuffs. Few manufactured arms or munitions, though some furnished chemicals or high-tech components to Krupp, Skoda, and Siemens. Many Jewish bankers provided loans to corporations with army contracts, but this was done with the government's blessing.
The war hurt more Jews than it helped. Shipping magnate Albert Ballin's experience was more typical than the nameless "Jewish war profiteers" mentioned by Eckart. Ballin started out as a travel agent. By dint of intelligence and hard work he built Hamburg-America into a major ocean liner company. He pioneered the concept of pleasure cruises to the Mediterranean and Caribbean for wealthy customers. A staunch German patriot, Ballin advised both Kaiser Wilhelm and Admiral Tirpitz on naval matters. However, the foolishness of letting Austria pull the Reich into a pointless war distressed him. His depression deepened when war-time operations ruined his business. On November 9th, 1918, he ended his life by taking an overdose of sleeping pills.
Eckart failed to grasp the obvious fact that recession and inflation adversely affected Jews. The hyperinflation of 1923 reduced Franz Kafka and many others to destitution. Why "engineer" an economic catastrophe that wiped out the savings of one's own people? But common sense verities did not interest Eckart. He stubbornly insisted that "Jewish bankers" and "armament company directors" were responsible for World War I and its aftermath. Because of them "twenty-two dynasties have fallen or are clinging desperately to crumbling rocks." [25]
In December, 1918 Eckart wrote "The Boyg," an Auf Gut Deutsch article comparing "Jewish" capitalism to the noxious mass of gook which entangled wayfarers in Peer Gynt's Valley of the Trolls. People could not "ascend to the heights" when stifled by materialism. To combat this nuisance he advocated Gottfried Feder's idea of nationalizing credit. Of course, such a "remedy" would have devastated Germany's economy. During the first week of April, 1919 he and Rosenberg and Eckart tossed copies of "To All Workers" out of taxicab windows. This incendiary pamphlet characterized the banking system as "a Hydra" [26] with voracious appetite for money. If working men and women realized this problem's severity, they would "join arms and throttle the monster before tomorrow." [27] According to Eckart the Rothschild family began its banking operations in 1806 with approximately 15,000 marks provided by "the abdicating Elector of Hesse." By 1919 their assets exceeded 40 billion, whereas the worth of Germany's entire industrial capital only amounted to about 12 billion.
"It sounds like the ravings of a madman, but it's true ... Your money (is) drawn into the coffers of these insatiable people ... not only the Rothschilds, but the Mendelssohns, Bleichroders, Friedlanders, and Warburgs -- to name only a few of the most important." [28]
Eckart feared that these foreign oligarchs had enough money to "buy" Germany.
"Interest slavery ... enabled Jewry to capture the entire cultural apparatus: painting, music, poetry, theater, and cinema." [29]
Eckart's mythic analysis of foreign policy displayed an anti-Semitic bias. Giving a new wrinkle to the age old German encirclement phobia, he interpreted current conditions as a conspiracy against the Reich by western Jewish capitalists -- the Gold International, and eastern Jewish Bolsheviks -- the Red International, both of whom allegedly worked in concert. In November, 1917 Russia fell to Bolsheviks of Jewish extraction. According to Alfred Rosenberg 432 of the 537 Soviet commissars were Jewish. Eckart averred in 1922 that "the toll of Russians sacrificed since the beginning of Bolshevik domination is estimated by ... authorities at about 30 million," [30] a phony statistic later quoted by Hitler in Mein Kampf. He never mentioned that approximately 90% of Germany's 400 political murders between 1919 and 1922 were perpetrated by nationalist reactionaries, not leftists.
Eckart's exotic conspiracy theories reveal him more as a liar than "mythmaker." The majority of American Jews were pro-German between 1914 and 1916. They perceived Germany and Austria as relatively liberal toward Jewry, especially when compared to anti-Semitic powers such as Russia and France. In 1914 German intelligence officers on the Eastern Front actually distributed propaganda leaflets in Jewish communities claiming to be their liberators. In postwar plebiscites the majority of Jews living in the Polish Corridor voted for re-unification with Germany.
Poet Laureate of Racism
In addition to churning out newspaper articles and delivering speeches, former Onoldia Corps Master of Ceremonies Eckart composed songs and poems to trumpet the cause of Nazism. In August, 1921 he wrote "Feuerjo!" which later became the storm trooper's fight song "Sturmlied." Hans Gansser, brother of Dr. Emil Gansser, put his lyrics to music in January, 1923. Hitler designated it the Nazi Party's official anthem. When befuddled by booze Eckart would recite poems or belt out songs before tavern crowds. Professor Karl Alexander von Mueller recalled his karaoke performance at the Hofbrauhaus one night.
" ... I still can see the large room before me, and how ... the red, glowing head of ... stocky, short-necked Dietrich Eckart sprang from the podium onto a table; and with gestures of furious violence shouted his song 'Germany Awake!' into the crowd, who upon receiving his words accompanied by a brass band, appeared in a state of paroxysm.'" [31]
Like Wotan the Awakener Eckart sought to rouse the German masses out of their slumber by loudly declaiming apocalyptic doggerel:
"Sound the alarm and let the earth rise up
At the sound of avenging thunder.
Woe to the nation that still slumbers!
Germany, awake!"

"The serpent, the dragon from hell has broken loose! Stupidities and lies have burst his chains asunder. .. Red as with blood are the heavens in flames, The rooftops collapse, a sight to appall. .. Ring out for the assault, now or never.
Shortly thereafter Eckart became an advisor to Julius Streicher's Deutschesvolkisches Shutz and Trutz Bund (German People's Offensive and Defensive Alliance,) comprised mainly of recently discharged soldiers. This paramilitary group helped beleaguered civil authorities put down communist disorders in Bavaria. On August 22, 1919 he addressed a 1,000 man rally, citing allusions to Peer Gynt, and advising all to "thrust through the realm of illusion toward enlightenment." [35]
The militant bard, like his father Georg Christian Eckart, now counseled "Herren" in worldly matters. He ebulliently dispensed ripe wisdom to "political dunderheads" in the officer corps, such as General Franz Ritter von Epp, Captain Karl Mayr, and Captain Ernst Rohm. Eckart persuaded Freikorps General von Epp and Army information officer Mayr to ally their legions with a party representing the laboring classes. The proletariat should be militarized and the military proletarianized. That would steal Communist thunder. A grass roots German type of socialism must prevail over "Jewish Bolshevism."
Dietrich Eckart joined Anton Drexler's German Workers Party in early August, 1919, and urged the army to support this tiny group. On August 14, 1919 he addressed thirty-eight members of the D.A.P. in a beer hall, demanding united action against the "Jewish-Bolshevik Peril."
Anton Drexler, a railroad tool and die maker interested in politics, embodied Eckart's ideal of the workingman. He had written a anti-Semitic pamphlet entitled "My Political Awakening." This booklet -- which inspired Hitler to write Mein Kampf -- recommended the disenfranchisement of Jews, dissolution of department stores, and repudiation of the Versailles Treaty. But the diffident and middle-aged Drexler felt more comfortable preaching to converted co-workers at a tavern table, than clashing with Red gangs in the streets. The German Workers Party needed a tougher leader to get its message out.
_______________
Endnotes:
1 Dietrich Eckart, "Men!" Auf Gut Deutsch, 12/7/1918, from Barbara Lane Miller and Leila J. Rupp, Nazi Ideology Before 1933, University of Texas Press, Austin, TX, 1978, p. 3.
2 Ralph M. Engelman, Dietrich Eckart and the Genesis of Nazism, Washington University, 1971, UMI Press, Ann Arbor, MI, 1971, p. 120.
3 Margarete Plewnia, Auf Dem Weg Zu Hitler: Der Volkische Publizist Dietrich Eckart, Schunemann, Universitasverlag, Bremen, 1971, p. 27.
4 Richard Steigmann-Gall, The Holy Reich, Cambridge University Press, London, 2003, p. 19, op. cit. Auf Gut Deutsch, 1919.
5 Eckart, "The Boyg," Auf Gut Deutsch, 12/7/1918, Miller & Rupp, p. 4.
6 Engelman., p. 126, D. Eckart letter to Wilhelm Eckart, 3/30/1919.
7 Ibid., p. 113, op. cit. Alfred Rosenberg, Ein Vermachtis (A Legacy), Franz Eher Verlag, Munich, 1928.
8 Ibid., p. 117, Gottfried Feder's Diary, VII, 16-17.
9 Eckart, "Men!" Miller & Rupp, p. 4.
10 Ibid., p. 3.
11 Dietrich Eckart, "Guidelines of the German Workers Party, Auf Gut Deutsch, January, 1919, Miller & Upp, pp. 99-10.
12 Ibid.
13 Gottfried Feder, "The Social State," Auf Gut Deutsch 5/24/1919, Miller & Rupp, p. 35.
14 Engelman, p. 219.
15 Eckart, "Men!" Miller & Rupp, p. 7.
16 Dietrich Eckart, "Guidelines of the German Workers Party," Miller & Rupp, p. 9.
17 Konrad Heiden, A History of National Socialism, Octagon, New York, 1971, p. 9. Reprint of 1935 edition.
18 Ernst Nolte, Three Faces of Fascism, trans. Leila Venewitz, Holt, Rinehart & Winston, New York, 1966, p. 328.
19 Joachim C. Fest, Hitler, trans. Richard & Clara Winston, Harcourt, Brace, Jovanovich, New York, 1974, p. 133.
20 Ibid., p. 132.
21 James Webb, The Occult Establishment, Open Court Publishing Co., LaSalle, IL, 1976, p. 291, op. Cit. Gottfried Feder, "The Struggle Against High Finance," Munchener Beobachter, 8/8/19.
22 Engelman, p. 128, op. cit. Dietrich Eckart, "To All Workers!" Auf Gut Deutsch, 4/5/1919.
23 Dietrich Eckart, "The Boyg," Auf Gut Deutsch, 12/7118, Miller & Rupp, pp. 7- 8.
24 Ibid.
25 Ibid.
26 Eckart, Auf Gut Deutsch, 12/17/1918.
27 Eckart, "To All Workers," Auf Gut Deutsch, 4/511919, Miller & Rupp, pp. 30- 32.
28 Ibid.
29 Engelman, p. 182.
30 Dietrich Eckart, "Bolshevism from Moses to Lenin," trans. William L. Pierce, Hohenreichen Verlag, Munich, 1924, p. 31.
31 Plewnia, p. 88.
32 Joachim Kohler, Wagner's Hider, trans. Ronald Taylor, Polity Press, Cambridge, U.K., 2000, p. 22.
33 Kurt Ludecke, I Knew Hitler, Scribners, New York, 1937, p. 83.
34 Hugh Trevor-Roper, editor, Hitler's Table Talk, 1941-1944, Weidenfeld & Nicholson, London, 1953, p. 156.
35 Engelman, p. 147.