WAR IS A RACKET
by Major General Smedley Butler, © 1935, © 2003 by the Butler Family
Smedley Butler's Contribution to Common Sense Neutrality © 1939, 2003 by the Butler Family
An Amendment for Peace © 1936, 2003 by the Butler Family
Introductory material © 2003 by Adam Parfrey
NOTICE: THIS WORK MAY BE PROTECTED BY COPYRIGHT
YOU ARE REQUIRED TO READ

THE COPYRIGHT NOTICE AT THIS LINK

BEFORE YOU READ THE FOLLOWING WORK, THAT IS AVAILABLE SOLELY FOR PRIVATE STUDY, SCHOLARSHIP OR RESEARCH PURSUANT TO 17 U.S.C. SECTION 107 AND 108. IN THE EVENT THAT THE LIBRARY DETERMINES THAT UNLAWFUL COPYING OF THIS WORK HAS OCCURRED, THE LIBRARY HAS THE RIGHT TO BLOCK THE I.P. ADDRESS AT WHICH THE UNLAWFUL COPYING APPEARED TO HAVE OCCURRED. THANK YOU FOR RESPECTING THE RIGHTS OF COPYRIGHT OWNERS.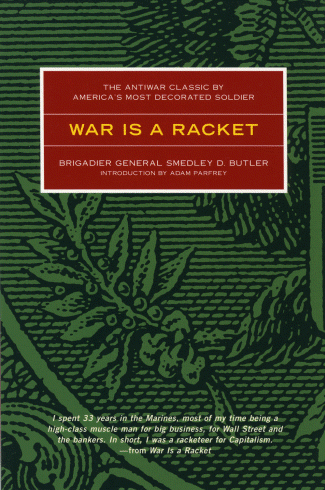 I spent 33 years in the Marines, most of my time being a high-class muscle man for big business, for Wall Street and the bankers. In short, I was a racketeer for Capitalism. -- from War Is a Racket
Table of Contents:
•
War is a Racket, by Major General Smedley D. Butler
o
Chapter 1: War is a Racket!
o
Chapter 2: Who Makes the Profits?
o
Chapter 3: Who Pays the Bills?
o
Chapter 4: How to Smash This Racket!
o
Chapter 5: To Hell with War!
•
Common Sense Neutrality, by Major General Smedley D. Butler
•
An Amendment for Peace, by Major General Smedley D. Butler
•
The Horror of It, Camera Records of War's Gruesome Glories
•
Back Cover
•
Introduction: How a Military Hero Blew the Whistle on Corporate Malfeasance, by Adam Parfrey
The normal profits of a business concern in the United States are six, eight, ten, and sometimes twelve percent. But war-time profits -- ah! that is another matter -- twenty, sixty, one hundred, three hundred, and even eighteen hundred per cent -- the sky is the limit. All that traffic will bear. Uncle Sam has the money. Let's get it ...

Beautiful ideals were painted for our boys who were sent out to die. This was the "war to end all wars." This was the "war to make the world safe for democracy." No one mentioned to them, as they marched away, that their going and their dying would mean huge war profits. No one told these American soldiers that they might be shot down by bullets made by their own brothers here. No one told them that the ships on which they were going to cross might be torpedoed by submarines built with United States patents. They were just told it was to be a "glorious adventure."

Thus, having stuffed patriotism down their throats, it was decided to make them help pay for the war, too. So, we gave them the large salary of $30 a month.

All they had to do for this munificent sum was to leave their dear ones behind, give up their jobs, lie in swampy trenches, eat canned willy (when they could get it) and kill and kill and kill ... and be killed.

But wait!

Half of that wage (just a little more than a riveter in a shipyard or a laborer in a munitions factory safe at home made in a day) was promptly taken from him to support his dependents, so that they would not become a charge upon his community. Then we made him pay what amounted to accident insurance -- something the employer pays for in an enlightened state -- and that cost him $6 a month. He had less than $9 a month left.

Then, the most crowning insolence of all -- he was virtually blackjacked into paying for his own ammunition, clothing, and food by being made to buy Liberty Bonds at $100 and then we bought them back -- when they came back from the war and couldn't find work -- at $84 and $86. And the soldiers bought about $2,000,000,000 worth of these bonds!

-- War is a Racket, by Brigadier General Smedley D. Butler