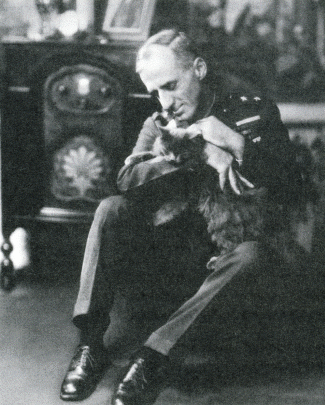 A Butler family photo of Smedley cradling his favorite cat.
(Courtesy of Molly Swanton)
AMENDMENT FOR PEACE
by Major General Smedley D. Butler
(Originally printed in Woman's Home Companion, September, 1936.)
AMENDMENT FOR PEACE
I PROPOSE an Amendment for Peace, to the Constitution of the United States:
1. The removal of members of the land armed forces from within the continental limits of the United States and the Panama Canal Zone for any cause whatsoever is prohibited.
2. The vessels of the United States Navy, or of the other branches of the armed service, are hereby prohibited from steaming, for any reason whatsoever except on an errand of mercy, more than five hundred miles from our coast.
3. Aircraft of the Army, Navy and Marine Corps is hereby prohibited from flying, for any reason whatsoever, more than seven hundred and fifty miles beyond the coast of the United States. Such an amendment would be absolute guarantee to the women of America that their loved ones never would be sent overseas to be needlessly shot down in European or Asiatic or African wars that are no concern of our people.
***
SUCH an amendment, linked with adequate naval and military defenses at home, would guarantee everlasting peace to our nation.
How would such an amendment insure peace?
In the first place, the United States is in no danger whatever of military invasion. Even the Navy and Army Departments, which are always preparing for war, and the State Department, which is always talking about peace but thinking about war, agree on that. By reason of our geographical position, it is all but impossible for any foreign power to muster, transport and land sufficient troops on our shores for a successful invasion.
There is another bar to any invasion of the United States by the political dimensions abroad, which prohibit any one nation from leaving its own borders unguarded in order to make war on a foe three thousand or six thousand miles distant. Yet if, by some incomprehensible diplomatic hocuspocus, an agreement could be reached among certain foreign powers whereby they would forget their own differences for the time being and pool their resources in a joint effort against the United States, there still would be very little fear of successful invasion.
Our fleet, bound by this Peace Amendment to stay close to home shores, would be on hand to repel such invasion at sea: if, through some serried of unforeseen circumstances and disasters, an enemy army did succeed in landing on our shores -- the Atlantic, the Gulf of Mexico or the Pacific -- the entire manpower of this nation would spring to arms. Every American, every man and boy, would be ready, without conscription, without pleading -- every American would be ready to grasp a rifle and rush forth to defend his home and his country.
Yes, everybody would be in that rush. Even the "peace at any price" people. They would forget their scruples. The pacifists would be among the first in line. The Quakers, the Mennonites and the members of other religious faiths which are opposed to the bearing of arms would be in that rush to protect our children and womenfolk.
History shows it. I know it from the experience of my own forefathers, who were FRIENDS.
Militarists and pacifists, Republicans and Democrats -- all Americans, regardless of race, creed or color -- regardless of political or economic beliefs -- regardless of everything -- all Americans would rush forth to defend their homeland.
Therefore, with the invasion of our shores an impossible military undertaking, the only war in which we can possibly become involved is one in which our people would have no interest and no concern -- and no right to join.
It would be one into which we should be thrown by some economic, political or diplomatic intrigue, and not a war which we should wage in defense of our homes.
And it is from just such a war, a war such as the late World War, that we must protect ourselves. And from all the evidence, such a war is now imminent elsewhere.
Money -- that's where we fit into the picture. Make no mistake about it. You can't fight wars without money. Everybody knows that. You can have all the airplanes and all the guns and all the warships and as many soldiers as you want, or as many as you can get, but you can't go to war without money. And remember. Uncle Sam has the money.
When the European powers get through their present task of "choosing up sides," and get down to the actual fighting, both sides will endeavor to maneuver the United States into the war -- on their side.
***
ANOTHER question naturally presents itself: What of our territories and our dependencies? The answer is subject to great study and debate but let us note here a few points.
The Philippine Islands are now on their way to independence. They are not a defense necessity; commercially they are a liability; it is virtually impossible to defend them adequately. We should let them go. A bill to give Puerto Rico its independence has been introduced in Congress; we should let it go. The Virgin Islands, Guam, American Samoa, Wake and the Midway Islands are not indispensable to our national life. While American capital is invested in each instance, it would have to take its chances, just as in all external investments. The balance of trade is against the United States in all these dependencies -- we buy more from each of them than we sell to them. They are not assets.
Hawaii and Alaska are our own territories: we cannot set them loose. It is virtually impossible, from a military or a naval standpoint, to defend them properly except at prohibitive cost, so I believe our defense of these territories would have to be by economic pressure. We would move the naval station and the huge military detachment from the Hawaiian Islands and such forces as we have in Alaska but we would announce to the world that these are ours and that they are not to be touched: that while we will not go abroad to fight for them, we will exact every possible economic pressure against any power which might be tempted to take these possessions. And the United States is so situated that it can successfully exert economic sanctions.
That leaves the Panama Canal Zone. The Canal is essential to our defense. We must defend it. Any notion which would attempt to block, damage or destroy the canal would do so only as a prelude to a war upon our people. We would defend it as we would any part of our coast.
We must always bear in mind that there is no royal road to peace. In recent years and as the result of disclosures of World War intrigues men and women have been endeavoring to chart new paths and byways toward the goal of peace. But no one of these paths, alone, leads permanently away from the danger of war.
These paths are neutrality, take-the-profit-out-of-war, referendum on war, total disarmament, mass protests, education of the masses, students' strikes and Oxford oaths. Let us suppose that all the antiwar measures that have been proposed were passed by Congress and placed on our stature books. Let us suppose that all America's youth of fighting age were to subscribe to the Oxford oath against participation in war.
***
THIS would not insure the peace of our nation. Laws passed by Congress in one week can be wiped off the statute books the next week. And laws can be evaded.
Take our neutrality measures, prohibiting the export of rifles, ammunition and other products to nations at war. There are ways and means of evading such embargoes. Machine guns can be -- as they have been in the past -- shipped as sewing machines. Cannons can be camouflaged as locomotive parts and, with the necessary bribes, placed aboard ship.
The proposed take-the-profit-out-of-war bill also could be evaded by intricate financial jugglery such as was common during the World War.
And last, even the war referendum -- the plebiscite to decide whether our people are to go to war or not -- is not foolproof. Don't you suppose that the American people could be roused, by skillful propaganda, to vote for a war in which we have no interest, even if a hysterical Congress did not previously wipe the law from the books?
Once the cannons begin booming and the drums begin rolling, red-blooded youth, despite its Oxford oaths, despite its massed protests, despite its satiric "veterans of future wars" will succumb to the war clamor. Radio orators screaming their pet and smug phrases of "war to end war" and "war to make democracy safe" and the newspapers shrieking in black headlines of war atrocities -- these and similar propaganda arts of warmakers would be invoked to break down the earlier opposition of America's youth to war. You think it impossible?
Just look back to 1916 and 1917. In November 1916, Woodrow Wilson was re-elected president of the United States on a platform of "he kept us out of war." Five months later, on April 6, America declared war on Germany. Antiwar sentiment can be changed to a war clamor in a very brief time. But it takes at least nine months -- that is the record for the prohibition amendment -- for an amendment to be taken from the constitution, and one such as the proposed Amendment for Peace would take considerably longer. And in that period, surely we should return to our better sense.
At any rate, in the bitter fight that would develop in an effort to remove such an amendment from the constitution we would forget about the war overseas and keep the fight, with voice and ballot, right at home.
***
THERE is nothing un-American in the Peace Amendment. When our forefathers planned this government, they foresaw no necessity for preparing for wars in Europe: for wars that didn't concern us. As a matter of fact, after the Revolutionary War had been won and after the new United States Government was established, our army and navy were eliminated. There was no provision for an army or a navy. True, we had a militia. That is, each state had its own militia. We still have them. We call them National Guards now. But the militia, the only armed force in the United States at that time, was not to be used beyond the territorial limits of the United States.
If you look back into history, you will find that during the War of 1812 a certain regiment of militia marched northward toward Canada. When they reached the Canadian border they refused to cross, and went home. The militia then was for home defense -- and home defense only.
That's what our army and our navy should be. Home defenders, ready and able to defend our homes, to defend us against attack -- that's all.
The efficiency of our navy can be maintained by maneuvers a few hundred miles off our own coast just as well as it can be manipulated by maneuvers thousands of miles away, and almost in Japan's back yard, where our navy conducted its main maneuvers last year.
Let's pass all our suggested antiwar legislation, let's attend all the peace and disarmament conferences; let's have all the war protest meetings we can arrange; let our young men form their "veterans of future wars" groups -- let's do all this and more; but if we really want to make it impossible to have our young men sent abroad to fight the wars of others, then let us by all means insist upon adding the Peace Amendment to the Constitution of the United States.
And the mother, the wives and the sisters of the future cannon fodder must lead the way!