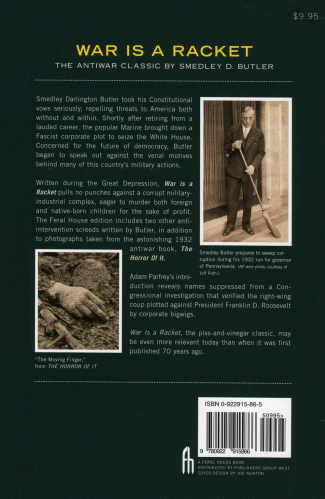 WAR IS A RACKET
THE ANTIWAR CLASSIC BY SMEDLEY D. BUTLER
Smedley Darlington Butler took his Constitutional vows seriously, repelling threats to America both without and within. Shortly after retiring from a lauded career, the popular Marine brought down a Fascist corporate plot to seize the White House. Concerned for the future of democracy, Butler began to speak out against the venal motives behind many of this country's military actions.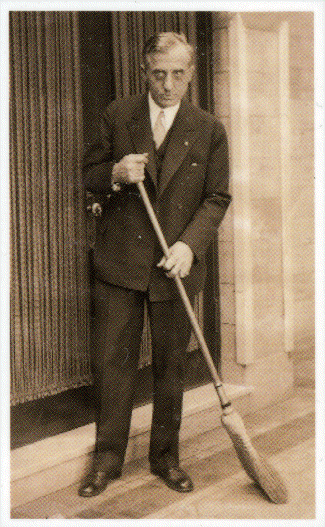 Smedley Butler prepares to sweep corruption during his 1932 run for governor of Pennsylvania. (AP wire photo courtesy of Jeff Roth.)
Written during the Great Depression, War is a Racket pulls no punches against a corrupt military-industrial complex, eager to murder both foreign and native-born children for the sake of profit. The Feral House edition includes two other anti-intervention screeds written by Butler, in addition to photographs taken from the astonishing 1932 antiwar book, The Horror Of It.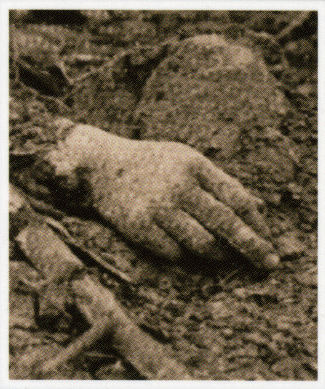 "The Moving Finger," from THE HORROR OF IT
Adam Parfrey's introduction reveals names suppressed from a Congressional investigation that verified the right-wing coup plotted against President Franklin D. Roosevelt by corporate bigwigs.
War is a Racket, the piss-and-vinegar classic, may be even more relevant today than when it was first published 70 years ago.