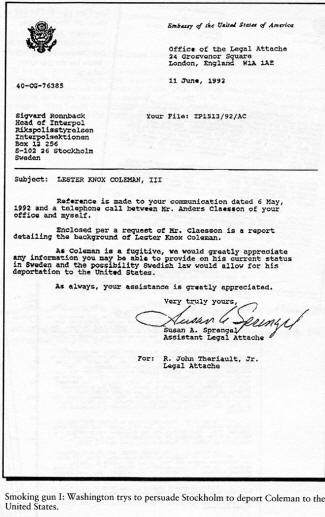 Embassy of the United States of America
Office of the Legal Attache
24 Grosvenor Square
London, England WIA LAE
11 June, 1992
40-CG-76385
Sigvard Ronnback
Head of Interpol
Rikspolisstyrelsen
Interpolsektionen
Box 12 256
S-102 26 Stockholm
Sweden
Your File: IP1513/92/AC
Subject: LESTER KNOX COLEMAN, III
Reference is made to your communication dated 6 May, 1992 and a telephone call between Mr. Anders Claesson of your office and myself.
Enclosed per a request of Mr. Claesson is a report detailing the background of Lester Knox Coleman.
As Coleman is a fugitive, we would greatly appreciate any information you may be able to provide on his current status in Sweden and the possibility Swedish law would allow for his deportation to the United States.
As always, your assistance is greatly appreciated.
Very truly yours,
Susan A. Sprengel
Assistant Legal Attache
For: R. John Theriault, Jr.
Legal Attache
Smoking gun I: Washington tries to persuade Stockholm to deport Coleman to the United States.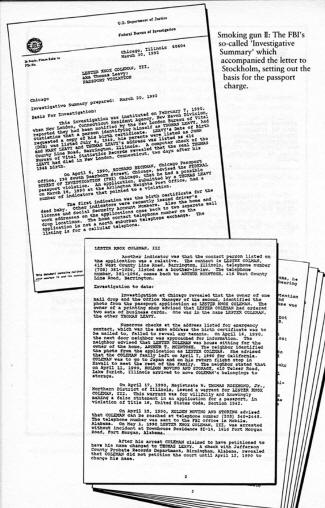 U.S. Department of Justice
Federal Bureau of Investigation
Chicago, Illinois 60604
March 30, 1992
LESTER KNOX COLEMAN, III,
aka Thomas Leavy;
PASSPORT VIOLATION
Chicago
Investigative Summary prepared: March 30, 1992
Basis for Investigation:
This investigation was instituted on February 7, 1990, when New London, Connecticut Resident Agency, New Haven Division, reported they had been notified by the New London Bureau of Vital Statistics that a person identifying himself as THOMAS LEAVY, had requested a copy of his birth certificate. LEAVY's Date of Birth (DOB) was listed July 4, 1948, his parents were listed as JOHN and MARY LEAVY and THOMAS LEAVY's address was listed as 416 County Line Road, Barrington, Illinois. A computer check of the Bureau of Vital Statistics Records revealed that the real THOMAS LEAVY had died in New London, Connecticut, two days after his 1948 birth.
On April 6, 1990, RICHARD BECKMAN, Chicago Passport Office, 230 South Dearborn Street, Chicago, advised the FEDERAL BUREAU OF INVESTIGATION (FBI) Chicago, that he had a possible passport violation. An application, submitted by a THOMAS LEAVY on March 26, 1990 at the Arlington Heights Post Office, had a number of indicators that pointed to a violation.
The first indication was the birth certificate for the dead baby. Other indicators were recently issued driver's license and Social Security Account Numbers. Also the home and work addresses on the applications came back to two separate mail drop locations. The home contact telephone number on the application is not a north suburban telephone exchange. The listing is for a cellular telephone.
Another indicator was that the contact person listed on the application was a relative. The contact is LESTRE COLMAN, 415 West County Line Road, Barrington, Illinois, telephone number (708) 381-1056, listed as a brother-in-law. The telephone number, 381-1056, comes back to ARTHUR MCINTOSH, 416 West County Line Road, Barrington.
Investigation to date:
Investigation at Chicago revealed that the owner of one mail drop and the Office Manager of the second, identified the photo from the passport application as LESTER KNOX COLEMAN. The owner of a printing shop advised that LESTER COLEMAN had ordered two sets of business cards. One was in the name LESTER COLEMAN, the other THOMAS LEAVY.
Numerous checks at the address listed for emergency contact, which was the same address the birth certificate was to be mailed to, failed to reveal any tenants. On April 16, 1990, the next door neighbor was approached for information. The neighbor advised that LESTER COLEMAN was house sitting for the owner of the home, ARTHUR T. MCINTOSH. The neighbor identified the photo from the application as LESTER COLEMAN. She advised that the COLEMAN family left on April 7, 1990 for California. COLEMAN was to go to Japan and on his return flight stop in Hawaii to meet the rest of the family. The neighbor stated that on April 11, 1990, KOLDON MOVING AND STORAGE, 410 Telser Road, Lake Zurich, Illinois arrived to move COLEMAN's belongings to storage.
On April 17, 1990, Magistrate W. THOMAS ROSEMOND, Jr., Northern District of Illinois, issued a warrant for LESTER KNOX COLEMAN, III. This warrant was for willfully and knowingly making a false statement in an application for a passport, in violation of Title 18, United States Code, Section 1542.
On April 25, 1990, KOLDEN MOVING AND STORING advised that COLEMAN can be reached at telephone number (205) 540-2448. The telephone number was sent to the FBI office in Mobile, Alabama. On May 1, 1990 LESTER KNOX COLEMAN, III, was arrested without incident at Townhouse Residence SE-14, 1616 Fort Morgan Road, Fort Morgan, Alabama.
After his arrest COLEMAN claimed to have petitioned to have his name changed to THOMAS LEAVY. A check with Jefferson County Probate Records Department, Birmingham, Alabama, revealed that COLEMAN did not petition the court until April 12, 1990 to change his name.
Smoking gun II: he FBI's so-called 'Investigative Summary' which accompanied the letter to Stockholm, setting out the basis for the passport charge.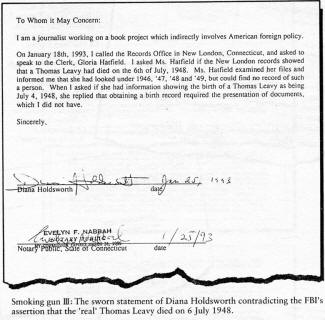 To Whom it May Concern:
I am a journalist working on a book project which indirectly involves American foreign policy.
On January 18th, 1993, I called the Records Office in New London, Connecticut, and asked to speak to the Clerk, Gloria Hatfield. I asked Ms. Hatfield if the New London records showed that a Thomas Leavy had died on the 6th of July, 1948. Ms. Hatfield examined her files and informed me that she had looked under 1946, '47, '48 and '49, but could find no record of such a person. When I asked if she had information showing the birth of a Thomas Leavy as being July 4, 1948, she replied that obtaining a birth record required the presentation of documents, which I did not have.
Sincerely,
Diana Holdsworth
January 25, 1993
EVELYN F. NABBAH
NOTARY PUBLIC
State of Connecticut
1/25/93
MY COMMISSION EXPIRES MARCH 31, 1995
Smoking gun III: The sworn statement of Diana Holdsworth contradicting the FBI's assertion that the 'real' Thomas Leavy died on 6 July 1948.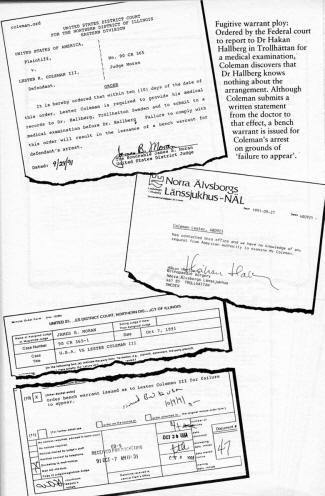 Fugitive warrant ploy: Ordered by the Federal court to report to Dr. Hakan Hallberg in Trollhattan for a medication examination, Coleman discovers that Dr. Hallberg knows nothing about the arrangement. Although Coleman submits a written statement from the doctor to that effect, a bench warrant is issued for Coleman's arrest on grounds of 'failure to appear.'