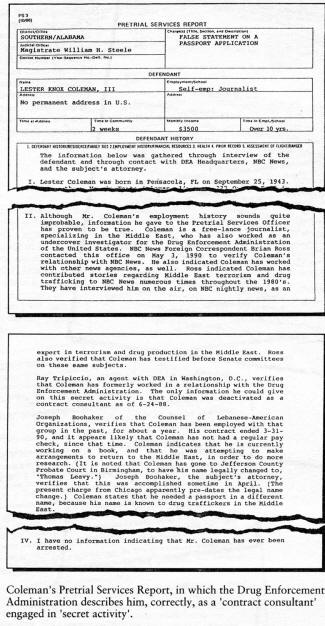 PRETRIAL SERVICES REPORT
District/Office: SOUTHERN/ALABAMA
Judicial Officer: Magistrate William H. Steele
Charge: FALSE STATEMENT ON A PASSPORT APPLICATION
DEFENDANT
Name: LESTER KNOX COLEMAN, III
Employment: Self-emp: Journalist
Address: No permanent address in U.S.
Time in Community: 2 weeks
Monthly Income: $3500
Time in Empl.: Over 10 yrs.
DEFENDANT HISTORY
1. The information below was gathered through interview of the defendant and through contact with DEA Headquarters, NBC News, and the subject's attorney.
I. Lester Coleman was born in Pensacola, FL on September 25, 1943.
II. Although Mr. Coleman's employment history sounds quite improbable, information he gave to the Pretrial Services Officer has proven to be true. Coleman is a free-lance journalist, specializing in the Middle East, who has also worked as an undercover investigator for the Drug Enforcement Administration of the United States. NBC News Foreign Correspondent Brian Ross contacted this office on May 3, 1990 to verify Coleman's relationship with NBC News. He also indicated Coleman has worked with other news agencies, as well. Ross indicated Coleman has contributed stories regarding Middle East terrorism and drug trafficking to NBC News numerous times throughout the 1980's. They have interviewed him on the air, on NBC nightly news, as an expert in terrorism and drug production in the Middle East. Ross also verified that Coleman has testified before Senate committees on these same subjects.
Ray Tripiccio, an agent with DEA in Washington, D.C., verifies that Coleman has formerly worked in a relationship with the Drug Enforcement Administration. The only information he could give on this secret activity is that Coleman was deactivated as a contract consultant as of 6-24-88.
Joseph Boohaker of the Counsel of Lebanese-American Organizations, verifies that Coleman has been employed with that group in the past, for about a year. His contract ended 3-31-90, and it appears likely that Coleman has not had a regular pay check, since that time. Coleman indicates that he is currently working on a book, and that he was attempting to make arrangements to return to the Middle East, in order to do more research. (It is noted that Coleman has gone to Jefferson County Probate Court in Birmingham, to have his name legally changed to, "Thomas Leavy.") Joseph Boohaker, the subject's attorney, verifies that this was accomplished sometime in April. (The present charge from Chicago apparently pre-dates the legal name change.) Coleman states that he needed a passport in a different name, because his name is known to drug traffickers in the Middle East.
IV. I have no information indicating that Mr. Coleman has ever been arrested.
Coleman's Pretrial Services Report, in which the Drug Enforcement Administration describes him, correctly, as a 'contract consultant' engaged in 'secret activity.'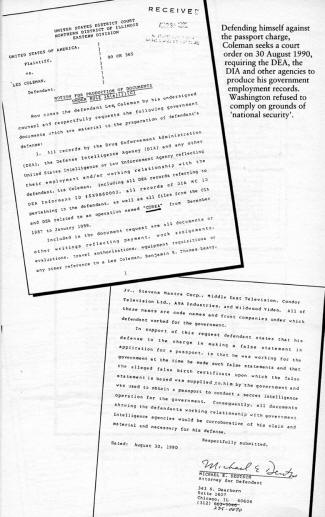 UNITED STATES DISTRICT COURT
NORTHERN DISTRICT OF ILLINOIS
EASTERN DIVISION
UNITED STATES OF AMERICA,
Plaintiff,
vs.
LES COLEMAN,
Defendant.
90 CR 365
MOTION FOR PRODUCTION OF DOCUMENTS
UNDER RULE 16(a)(1)(C)
Now comes the defendant Les Coleman by his undersigned counsel and respectfully requests the following government documents which are material to the preparation of defendant's defense:
1. All records by the Drug Enforcement Administration (DEA), the Defense Intelligence Agency (DIA) and any other United States Intelligence or Law Enforcement Agency reflecting their employment and/or working relationship with the defendant, Les Coleman, including all DEA records referring to DEA Informant ID #SX9860002, all records of DIA MC 10 pertaining to the defendant, as well as all files from the CIA and DEA related to an operation named "COREA" from December 1987 to January 1989.
Included in the document request are all documents or other writings reflecting payment, work assignments, evaluations, travel authorizations, equipment requisitions or any other reference to a Les Coleman, Benjamin B, Thomas Leavy, Jr., Stevens Mantra Corp., Middle East Television, Condor Television Ltd., AMA Industries, and Wildwood Video. All of these names are code names and front companies under which defendant worked for the government.
In support of this request defendant states that his defense to the charge in making a false statement in application for a passport, is that he was working for the government at the time he made such false statements and that the alleged false birth certificate upon which the false statement is based was supplied to him by the government and was used to obtain a passport to conduct a secret intelligence operation for the government. Consequently, all documents showing the defendants working relationship with government intelligence agencies would be corroborative of his claim and material and necessary for his defense.
Respectfully submitted,
Dated: August 30, 1990
MICHAEL E. DUETSCH
Attorney for Defendant
343 S. Dearborn
Suite 1607
Chicago, IL 60604
(312) 235-0070
Defending himself against the passport charge, Coleman seeks a court order on 30 August 1990, requiring the DEA, the DIA and other agencies to produce his government employment records. Washington refused to comply on grounds of 'national security.'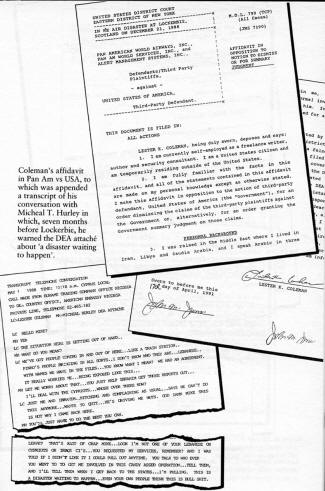 UNITED STATES DISTRICT COURT
EASTERN DIVISION OF NEW YORK
IN RE AIR DISASTER AT LOCKERBIE,
SCOTLAND ON DECEMBER 21, 1988
PAN AMERICAN WORLD AIRWAYS, INC., PAN AM WORLD SERVICES, INC., and ALERT MANAGEMENT SYSTEMS, INC.,
Defendants/Third Party Plaintiffs,
- against -
UNITED STATES OF AMERICA,
Third-Party Defendant.
M.D.L. 799 (TCP) (All Cases)
(JMS 7190)
AFFIDAVIT IN OPPOSITION TO MOTION TO DISMISS OR FOR SUMMARY JUDGMENT
THIS DOCUMENT IS FILED IN:
ALL ACTIONS
LESTER K. COLEMAN, being duly sworn, deposes and says:
1. I am currently self-employed as a freelance writer, author and security consultant. I am a United States citizen and am temporarily residing outside of the United States.
2. I am fully familiar with the facts in this affidavit, and all of the statements contained in this affidavit are made on my personal knowledge except as otherwise stated. I make this affidavit in opposition to the motion of third-party defendant, United States of America (the "Government"), for an order dismissing the claims of the third-party plaintiffs against the Government or, alternatively, for an order granting the Government summary judgment on those claims.
PERSONAL BACKGROUND
3. I was raised in the Middle East where I lived in Iran, Libya and Saudi Arabia, and I speak Arabic in three ...
TRANSCRIPT TELEPHONE CONVERSATION
MAY 1 1988 TIME: 10:10 a.m. CYPRUS LOCAL
CALL MADE FROM EURAME TRADING COMPANY OFFICE NICOSIA
TO DEA COUNTRY OFFICE, AMERICAN EMBASSY NICOSIA
PRIVATE LINE, TELEPHONE 02-465-182
LC=LESTER COLEMAN MH=MICHEAL HURLEY DEA ATTACHE
LC: HELL MIKE?
MH: YEA
LC: THE SITUATION HERE IS GETTING OUT OF HAND ..
MH: WHAT DO YOU MEAN?
LC: WE'VE GOT PEOPLE COMING IN AND OUT OF HERE ... LIKE A TRAIN STATION ... PINKO'S PEOPLE BRINGING IN ALL SORTS .. I DON'T KNOW WHO THEY ARE ... LEBANESE ... WITH NAMES WE HAVE IN THE FILES ... YOU KNOW WHAT I MEAN? WE HAD AN AGREEMENT. IT REALLY WORRIES ME ... BEING EXPOSED LIKE THIS ...
MH: LET ME WORRY ABOUT THAT ... YOU JUST HELP IBRAHIM GET THOSE REPORTS OUT ... I'LL DEAL WITH THE CYPRIOTS ... WHOSE OVER THERE NOW?
LC: JUST ME AND IBRAHIM .. BITCHING AND COMPLAINING AS USUAL ... SAYS HE CAN'T DO THIS ANYMORE ... WANTS TO QUIT ... HE'S DRIVING ME NUTS. GOD DAMN MIKE THIS IS NOT WHY I CAME BACK HERE.
MH: YOU'LL JUST HAVE TO DO THE BEST YOU CAN.
***
"LC:" LEAVE? THAT'S ALOT OF CRAP MIKE ... LOOK I'M NOT ONE OF YOUR LEBANESE OR CYPRIOTS OR IRAQI CI'S ... YOU REQUESTED MY SERVICES, REMEMBER? AND I WAS TOLD IF I DIDN'T LIKE IT I COULD PULL OUT ANYTIME. YOU TALK TO WHO EVER YOU WENT TO TO GET ME INVOLVED IN THIS CANDY ASSED OPERATION ... TELL THEM, AND I'LL TELL THEM WHEN I GET BACK TO THE STATES ... I'M PULLING. THIS IS A DISASTER WAITING TO HAPPEN ... EVEN YOUR OWN PEOPLE THINK THIS IS BULL SHIT.
Coleman's affidavit in Pan Am vs USA, to which was appended a transcript of his conversation with Micheal T. Hurley in which, seven months before Lockerbie, he warned the DEA attache about 'a disaster waiting to happen.'
UNITED STATES DISTRICT COURT
EASTERN DIVISION OF NEW YORK
IN RE AIR DISASTER AT LOCKERBIE,
SCOTLAND ON DECEMBER 21, 1988
PAN AMERICAN WORLD AIRWAYS, INC., PAN AM WORLD SERVICES, INC., and ALERT MANAGEMENT SYSTEMS, INC.,
Defendants/Third Party Plaintiffs,
- against -
UNITED STATES OF AMERICA,
Third-Party Defendant.
M.D.L. 799 (PLATT, CH. J.)
(ALL CASES)
DECLARATION OF LIEUTENANT COLONEL TERRY E. BATHEN
I, Terry E. Bathen, Lieutenant Colonel, United States Army, Assistant General Counsel, Defense Intelligence Agency, do hereby declare the following to be true and correct:
5. My review of Department of Defense HUMINT records reveals that Mr. Coleman was formerly associated with a Department of Defense intelligence activity. On or about October 25, 1985, Coleman contacted Defense Intelligence Agency personnel by telephone and volunteered to provide information concerning the Middle East. Mr. Coleman's offer to provide video tapes associated with his travels in that part of the world was favorably evaluated, and he became affiliated with a classified Department of Defense Intelligence activity during December 1986.
I certify under penalty of perjury that the foregoing is true and correct to the best of my knowledge and belief.
Terry E. Bathen
Lieutenant Colonel, U.S. Army
Assistant General Counsel
Defense Intelligence Agency
Executed this 29th day of May 1991.
Limited hang-out I: The declaration of DIA counsel in Pan Am vs USA which unexpectedly admits that Coleman worked for the Defense Intelligence Agency, although it plays down the extent and nature of his employment as a HUMINT agent.