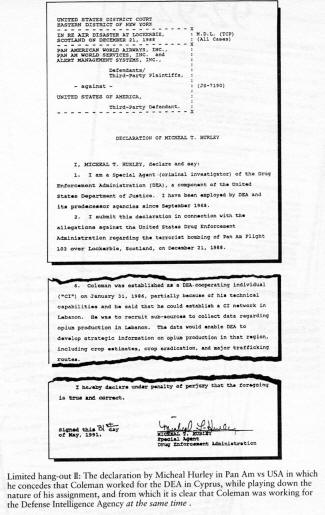 UNITED STATES DISTRICT COURT
EASTERN DIVISION OF NEW YORK
IN RE AIR DISASTER AT LOCKERBIE,
SCOTLAND ON DECEMBER 21, 1988
PAN AMERICAN WORLD AIRWAYS, INC., PAN AM WORLD SERVICES, INC., and ALERT MANAGEMENT SYSTEMS, INC.,
Defendants/Third Party Plaintiffs,
- against -
UNITED STATES OF AMERICA,
Third-Party Defendant.
M.D.L. 799 (PLATT, CH. J.)
(ALL CASES)
DECLARATION OF MICHEAL T. HURLEY
I, MICHEAL T. HURLEY, declare and say:
1. I am a Special Agent (criminal investigator) of the Drug Enforcement Administration (DEA), a component of the United States Department of Justice. I have been employed by DEA and its predecessor agencies since September 1968.
2. I submit this declaration in connection with the allegations against the United States Drug Enforcement Administration regarding the terrorist bombing of Pan Am Flight 103 over Lockerbie, Scotland, on December 21, 1988.
6. Coleman was established as a DEA-cooperating individual ("CI") on January 31, 1986, partially because of his technical capabilities and he said that he could establish a CI network in Lebanon. He was to recruit sub-sources to collect data regarding opium production in Lebanon. The data would enable DEA to develop strategic information on opium production in that region, including crop estimates, crop eradication, and major trafficking routes.
I hereby declare under penalty of perjury that the foregoing is true and correct.
Signed this 31st day of May, 1991.
MICHEAL T. HURLEY
Special Agent
Drug Enforcement Administration
Limited hang-out II: The declaration of Micheal Hurley in Pan Am vs USA in which he concedes that Coleman worked for the DEA in Cyprus, while playing down the nature of his assignment, and from which it is clear that Coleman was working for the Defense Intelligence Agency at the same time.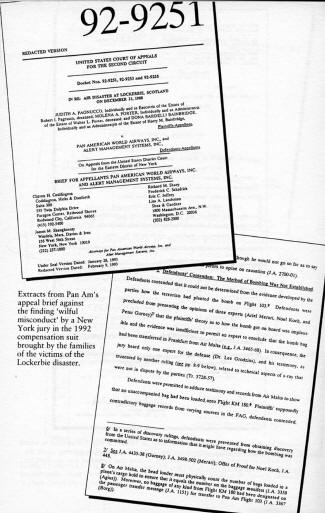 REDACTED VERSION
UNITED STATES COURT OF APPEALS
FOR THE SECOND CIRCUIT
Docket Nos. 92-9251, 92-9253 and 92-9255
IN RE: AIR DISASTER AT LOCKERBIE, SCOTLAND ON DECEMBER 21, 1988
JUDITH A. PAGNUCCO, individually and as Executrix of the Estate of Robert I. Pagnucco, deceased; MOLENA A. PORTER, Individually and as Administratrix of the Estate of Walter L. Porter, deceased; and DONA BARDELLI BAINBRIDGE, Individually and as Administratrix of the Estate of Harry M. Bainbridge,
Plaintiffs-Appellees,
v.
PAN AMERICAN WORLD AIRWAYS, INC., and ALERT MANAGEMENT SYSTEMS, INC.,
Defendants-Appellants.
On Appeals from the United States District Court for the Eastern District of New York
BRIEF FOR APPELLANTS PAN AMERICAN WORLD AIRWAYS, INC. AND ALERT MANAGEMENT SYSTEMS, INC.
Clinton H. Coddington
Coddington, Hicks & Danforth
Suite 300
555 Twin Dolphin Drive
Paragon Center, Redwood Shores
Redwood City, California 94065
(415) 592-5400
James M. Shaughnessy
Windels, Marx, Davies & Ives
156 West 56th Street
New York, New York 10019
(212) 237-1000
Richard M. Sharp
Frederick C. Schafrick
Eric C. Jeffrey
Lisa A. Landsman
Shea & Gardner
1800 Massachusetts Ave., N.W.
Washington, D.C. 20036
(202) 828-2000
Attorneys for Pan American World Airways, Inc. and Alert Management Systems, Inc.
Under Seal Version Dated: January 28, 1993
Redacted Version dated: February 9, 1993
2. Defendants' Contention: The Method of Bombing Was Not Established. Defendants contended that it could not be determined from the evidence developed by the parties how the terrorists had planted the bomb on Flight 103. [6] Defendants were precluded from presenting the opinions of three experts (Airel Merari, Noel Koch, and Peter Gurney) [7] that the plaintiffs' theory as to how the bomb got on board was implausible and the evidence was insufficient to permit an expert to conclude that the bomb bag had been transferred in Frankfurt from Air Malta (e.g., J.A. 3465-68). In consequence, the jury heard only one expert for the defense (Dr. Lee Grodzins), and his testimony, as truncated by another ruling (see pp. 8-9 below), related to technical aspects of x-ray that were not in dispute by the parties (Tr. 5728-57).
Defendants were permitted to adduce testimony and records from Air Malta to show that no unaccompanied bag had been loaded onto Flight KM 180. [8] Plaintiffs' supposedly contradictory baggage records from varying sources in the FAG, defendants contended,
_______________
6. In a series of discovery rulings, defendants were prevented from obtaining discovery from the United States as to information that it might have regarding how the bombing was committed.
7. See J.A. 4435-38 (Gurney); J.A. 3498-502 (Merari); Offer of Proof for Noel Koch, J.A. 448.
8. On Air Malta, the head loader must physically count the number of bags loaded in a plane's cargo hold to ensure that it equals the number on the baggage manifest (J.A. 3358 (Agius)). Moreover, no baggage of any kind from Flight KM 180 had been designated on the passenger transfer message (J.A. 1151) for transfer to Pan Am Flight 103 (J.A. 3367 (Borg)).
Extracts from Pan Am's appeal brief against the finding 'wilful misconduct' by a New York jury in the 1992 compensation suit brought by the families of the victims of the Lockerbie disaster.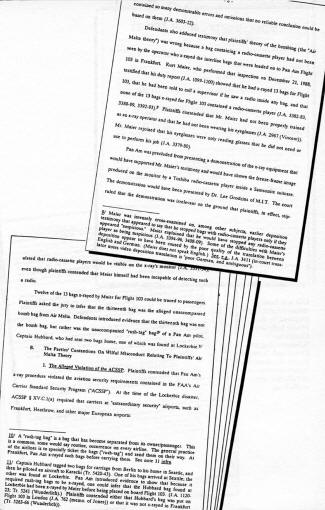 contained so many demonstrable errors and omissions that no reliable conclusion could be based on them (J.A. 3603-12).
Defendants also adduced testimony that plaintiffs' theory of the bombing (the "Air Malta theory") was wrong because a bag containing a radio-cassette player had not been seen by the operator who x-rayed the interline bags that were loaded on to Pan Am Flight 103 in Frankfurt. Kurt Maier, who performed that inspection on December 21, 1988, testified that his duty report (J.A. 1099-1100) showed that he had x-rayed 13 bags for Flight 103, that he had been told to call a supervisor if he saw a radio inside any bag, and that none of the 13 bags x-rayed for Flight 103 contained a radio-cassette player (J.A. 3382-83, 3388-89, 3392-93). [9] Plaintiffs contended that Mr. Maier had not been properly trained as an x-ray operator and that he had not been wearing his eyeglasses (J.A. 2967 (Vincent)). Mr. Maier rejoined that his eyeglasses were only reading glasses that he did not need or use to perform his job (J.A. 3379-80).
Pan Am was precluded from presenting a demonstration of the x-ray equipment that would have supported Mr. Maier's testimony and would have shown the freeze-frame image produced on the monitor by a Toshiba radio-cassette player inside a Samsonite suitcase. The demonstration would have been presented by Dr. Lee Grodzins of M.I.T. The court ruled that the demonstration was irrelevant on the ground that plaintiffs, in effect, stipulated that radio-cassette players would be visible on the x-ray's monitor (J.A. ____); even though plaintiffs contended that Maier himself had been incapable of detecting such a radio.
Twelve of the 13 bags x-rayed by Maier for Flight 103 could be traced to passengers. Plaintiffs asked the jury to infer that the thirteenth bag was the alleged unaccompanied bomb bag from Air Malta. Defendants introduced evidence that the thirteenth bag was not the bomb bag, but rather was the unaccompanied "rush-tag" bag [10] of a Pan Am pilot, Captain Hubbar, who had sent two bags home, one of which was found at Lockerbie. [11]
B. The Parties' Contentions On Wilful Misconduct Relating to Plaintiffs' Air Malta Theory
1. The Alleged Violation of the ACSSP. Plaintiffs contended that Pan Am's x-ray procedure violated the aviation security requirements contained in the FAA's Air Carrier Standard Security Program ("ACSSP"). At the time of the Lockerbie disaster, ACSSP § XV.C.1(a) required that carriers at "extraordinary security" airports, such as Frankfurt, Heathrow, and other major European airports:
_______________
9. Maier was intensely cross-examined on, among other subjects, earlier deposition testimony that appeared to say that he stopped bags with radio-cassette players only if they appeared "suspicious." Maier explained that he would have stopped any radio-cassette player as being suspicious (J.A. 3394-96, 3408-09). Some of the difficulties with Maier's deposition appear to have been caused by the poor quality of the translation between English and German. (Maier does not speak English.) See, e.g., J.A. 3411 (in-court translator notes video deposition translation as "poor German, and ambiguous").
10. A "rush-tag bag" is a bag that has become separated from its owner/passenger. This is a common, some would say routine, occurrence on every airline. The general practice of the airlines is to specially ticket the bags ("rug-tag") and send them on their way. At Frankfurt, Pan Am x-rayed such bags before carrying them. See note 11 infra.
11. Captain Hubbard tagged two bags for carriage from Berlin to his home in SEattle, and then he piloted an aircraft to Karachi (Tr. 5420-43). One of his bags arrived at Seattle; the other was found at Lockerbie. Pan Am introduced evidence to show that because it required rush-tag bags to be x-rayed, one could infer that the Hubbard bag found at Lockerbie had been x-rayed by Maier before being placed on board Flight 103. (J.A. 1120-23; Tr. 5241 (Wunderlich).) Plaintiffs contended either that Hubbard's bag was put on Flight 103 in London (J.A. 762 (memo. of Jones)) or that it was not x-rayed in Frankfurt (Tr. 5263-66 (Wunderlich)).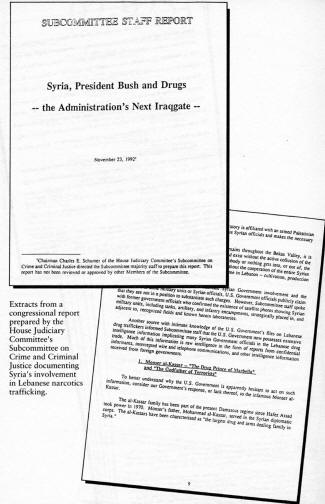 SUBCOMMITTEE STAFF REPORT
Syria, President Bush and Drugs -- the Administration's Next Iraqgate --
November 23, 1992 [1]
Chairman Charles E. Schumer of the House Judiciary Committee's Subcommittee on Crime and Criminal Justice directed the Subcommittee majority staff to prepare this report. This report has not been reviewed or approved by other Members of the Subcommittee.
... Syrian Government involvement and the ____ some military units or Syrian officials, U.S. Government officials publicly claim that they are not in a position to substantiate such charges. However, Subcommittee staff spoke with former government officials who confirmed the existence of satellite photos showing Syrian military units, including tanks, artillery, and infantry encampments, strategically placed in, and adjacent to, recognized fields and known heroin laboratories.
Another source with intimate knowledge of the U.S. Government's files on Lebanese drug traffickers informed Subcommittee staff that the U.S. Government now possesses extensive intelligence information implicating many Syrian Government officials in the Lebanese drug trade. Much of this information is raw intelligence in the form of reports from confidential informants, intercepted wire and telephone communications, and other intelligence information received from foreign governments.
1. Monser al-Kassar -- "The Drug Prince of Marbella" and "The Godfather of Terrorists"
To better understand why the U.S. Government is apparently hesitant to act on such information, consider our Government's response, or lack thereof, to the infamous Monser al-Kassar.
The al-Kassar family has been part of the present Damascus regime since Hafez Assad took power in 1970. Monser's father, Mohammad al-Kassar, served in the Syrian diplomatic corps. The al-Kassars have been characterized as "the largest drug and arms dealing family in Syria."
Extracts from a congressional report prepared by the House Judiciary Committee's Subcommittee on Crime and Criminal Justice documenting Syria's involvement in Lebanese narcotics trafficking.