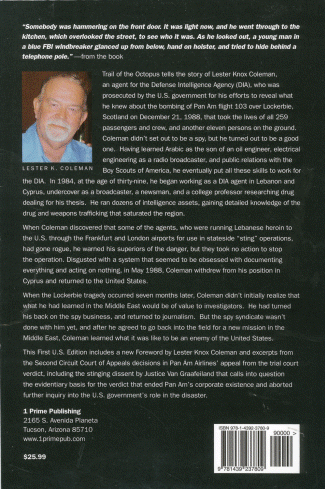 From the jacket cover, First U.S. Edition:
"Somebody was hammering on the front door. It was light now, and he went through to the kitchen, which overlooked the street, to see who it was. As he looked out, a young man in a blue FBI windbreaker glanced up from below, hand on holster, and tried to hide behind a telephone pole." -- from the book
Trail of the Octopus tells the story of Lester Knox Coleman, an agent for the Defense Intelligence Agency (DIA), who was prosecuted by the U.S. government for his efforts to reveal what he knew about the bombing of Pan Am flight 103 over Lockerbie, Scotland on December 21, 1988, that took the lives of all 259 passengers and crew, and another eleven persons on the ground. Coleman didn't set out to be a spy, but he turned out to be a good one. Having learned Arabic as the son of an oil engineer, electrical engineering as a radio broadcaster, and public relations with the Boy Scouts of America, he eventually put all these skills to work for the DIA. In 1984, at the age of thirty-nine, he began working as a DIA agent in Lebanon and Cyprus, undercover as a broadcaster, a newsman, and a college professor researching drug dealing for his thesis. He ran dozens of intelligence assets, gaining detailed knowledge of the drug and weapons trafficking that saturated the region.
When Coleman discovered that some of the agents, who were running Lebanese heroin to the U.S. through the Frankfurt and London airports for use in stateside "sting" operations, had gone rogue, he warned his superiors of the danger, but they took no action to stop the operation. Disgusted wtih a system that seemed to be obsessed with documenting everything and acting on nothing, in May 1988, Coleman withdrew from his position in Cyprus and returned to the United States.
When the Lockerbie tragedy occurred seven months later, Coleman didn't initially realize that what he had learned in the Middle East would be of value to investigators. He had turned his back on the spy business, and returned to journalism. But the spy syndicate wasn't done with him yet, and after he agreed to go back into the field for a new mission in the Middle East, Coleman learned what it was like to be an enemy of the United States.
This First U.S. Edition includes a new Foreword by Lester Knox Coleman and excerpts from the Second Circuit Court of Appeals decisions in Pan Am Airlines' appeal from the trial court verdict, including the stinging dissent by Justice Van Graafeiland that calls into question the evidentiary basis for the verdict that ended Pan Am's corporate existence and aborted further inquiry into the U.S. government's role in the disaster.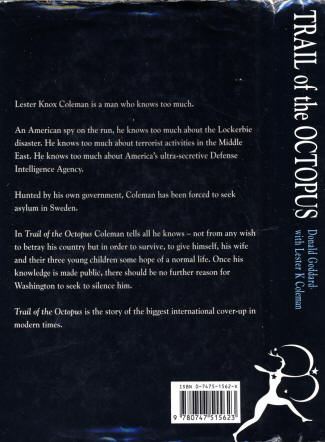 From the jacket cover, First U.K Edition:
Lester Knox Coleman is a man who knows too much.
An American spy on the run, he knows too much about the Lockerbie disaster. He knows too much about terrorist activities in the Middle East. He knows too much about American's ultra-secretive Defense Intelligence Agency.
Hunted by his own government, Coleman has been forced to seek asylum in Sweden.
In Trail of the Octopus Coleman tells all he knows -- not from any wish to betray his country but in order to survive, to give himself, his wife and their three young children some hope of a normal life. Once his knowledge is made public, there should be no further reason for Washington to seek to silence him.
Trail of the Octopus is the story of the biggest international cover-up in modern times.