PART 1 OF 2
9. Reagan's Big Spender Saloon
THE TWELVE YEARS from 1976 to 1988 should go down in history as a time when presidents Carter and Reagan each killed the conscience of his party. The Jimmy Carter debacle seduced, corrupted, and destroyed the ethical authority of the liberal establishment. Ronald Reagan did the same to conservatives who stood for fiscal responsibility and control over the national debt.
When I went back to work for the Air Force, at the end of 1973, I had to resign my chairmanship of the National Taxpayers Union (NTU), which was a lobbying organization. Jim Davidson took over and did an excellent job; by 1980 he had increased the membership to over 100,000. I kept in touch by reading the NTU newspaper, Dollars and Sense, and by talking frequently with people on the Washington staff.
As I noted earlier, NTU's view was that mere tax resistance or tax reduction could not restrain government spending. As the federal deficits kept climbing, NTU decided to back a constitutional amendment requiring a balanced budget. The spenders couldn't waste money if they didn't have it; they'd have to go to the taxpayers for any funds beyond the budget total.
Among our friends were many honest politicians who supported cost cutting. Occasionally they would break the pledge and fall off the wagon, but we forgave them. When they came back from a spending binge, they often sobered up and began to avoid the strong stuff even more diligently. But I thought we'd learned from experience that even the best of them would belly up to the bar at the Big Spender Saloon now and then. This new bunch of Republicans might mean what they say about fiscal sobriety, but then again ...
When candidate Ronald Reagan also came out in favor of a balanced budget, the NTU felt dizzy with success. I'd always been against tying the NTU to any politician or to either party. So I was horrified to see this comment in the December-January (1981) issue of Dollars and Sense:
Whoopie! NTU is a non-partisan organization, but we could not help letting out a cheer at the election results that brought defeat to so many big spenders and opponents of a constitutional amendment to balance the budget....

We have the greatest opportunity we've ever had to really win some great victories which will change the direction of life in this country.
But, as Dr. Johnson said about second marriages, it was the triumph of hope over experience. Ronald Reagan spoke just like a fiscal-responsibility preacher, and he didn't have a red nose, shaky hands, or a whiskey voice. How was the innocent NTU to know that he would become the worst spending toper of all time? The NTU formed the Committee to Back the President and started to raise funds to "get behind President Reagan and help him get his proposals through Congress."
Everything sounded very hopeful. In that same issue of Dollars and Sense, David Stockman, soon to be director of the Office of Management and Budget (OMB) had an article titled "Avoiding an Economic Dunkirk." In it he cautioned that Reagan's proposed tax cuts must be "accompanied by a credible and severe program to curtail FY 81-82 outlays, future spending authority, and overall spending authority." Another wonderful temperance lecture from another plausible preacher.
David Stockman later confessed, explained, and rationalized his yielding to the spender's demon rum and his eventual slide to the gutter in his 1986 book, The Triumph of Politics. He recounted how Jimmy Carter in the campaign of 1980 matched Ronald Reagan's proposals for raising the military budget, promise for promise. By election time each was on record in favor of a 5 percent increase in "real growth" (growth over and above expected inflation), compounded annually, in the bill from the Pentagon.
In 1972 I had been called crazy for predicting that by 1980 the military budget would be $141 billion. In 1980 Carter actually topped that by an additional billion. When Stockman came in as OMB director, he increased Carter's $142 billion to $222 billion annually. The $80 billion increase, or "budget plug" as Stockman called it, was an arbitrary figure. It had been conjured up by Deputy Secretary of Defense Frank Carlucci, columnist George Will, and Stockman. He was haunted by a memory of "the grim footage of the charred remains of U.S. servicemen being desecrated by the Iranian mullahs at the site known as Desert One." That last note is a marvelous example of American simple-mindedness about the whole matter of money and defense. It was stupidity that put the American servicemen into the debacle of the Iranian rescue mission, and no amount of money could cure it.
Now Stockman and his friends were pulling deep on the bottle of popskull. The 5 percent real growth of military spending went up to 7 percent a year -- and, Stockman says, he inadvertently applied the 7 percent to the grandiose base of $222 billion rather than the Carter base of $142 billion! If Carter had generals who couldn't organize a rescue mission, Reagan had managers of the budget who couldn't do honest arithmetic. When Reagan blessed Stockman's crazy budget figures, they became Revealed Truth for a delighted Pentagon. Anything less than the sacred number, it was said, would make us easy prey for the Evil Empire.
Stockman sobered up a little the morning after. (According to one OMB staffer, Stockman was a very quick study and had a great capacity for detail.) In 1981 he began to encourage the staff to bring him ideas about how to squeeze some fat out of the Pentagon.
President Reagan invited Defense Secretary Caspar Weinberger to a meeting to discuss Stockman's package of proposals. After the OMB director made his pitch, the secretary of defense followed with a plea for continuous increases in defense spending. Why? Well, the Russians are coming, said Weinberger.
Stockman returned to his office completely dejected. He called his staff together and told them that Reagan had said, "Dave, two bars can't overrule four stars. Your job is to help Cap get the money he needs." (The mention of captain's bars versus general's stars referred to Captain Reagan's rank at discharge. He spent his part of World War II at Burbank, California, where he helped produce army training films.)
Added to the administration warning about the Evil Empire was the old, discredited argument that military spending makes us rich. The key to the Reagan Recovery Plan was escalation of spending, especially in the acquisition accounts (R & D and Procurement). The FY 83 budget for acquisition was about $104 billion, more than four times the figure at the end of the Vietnam budget freeze in FY 75.
During the height of election fever, Newsweek (October 27, 1980) had taken a poll of popular opinion about defense. To the question "Do you think the U.S. has been falling behind the Soviet Union in power and influence in recent years?" 68 percent said yes, 27 percent said no, and 5 percent didn't know. And to the question "Which is the nation's most serious defense problem: that not enough money is spent for defense or that what is spent is not used efficiently?" 15 percent said "not enough money," 72 percent said "not used efficiently," and 13 percent didn't know. It was a pretty good indication that some 72 percent of Americans were thinking more clearly than their president. Unfortunately, no politician with leadership stature was making an issue out of it.
Ronald Reagan was acting like the man in the Big Spender Saloon who steps up to the bar and yells, "Drinks are on me! Everybody in the house!" The thirsty military spenders almost knocked each other down in the stampede. The horror stories of that era are still surfacing almost a decade later. And, of course, the binge was charged to the taxpayers.
As the new administration settled into the bad old habits, I began to be overwhelmed with calls from closet patriots, mostly government employees but also a few who worked for defense contractors. Most of the closet patriots, I should explain, were "cheap hawks" -- people who believed we could have a strong defense without bankrupting the country.
They wanted to bring to light some of the abuses they saw daily, but they were afraid of reprisals. Jimmy Carter had effectively hamstrung honest people of this kind with his civil service deform act. It was now clear that the "whistle blower protection" was nothing more than a sting operation to trap dissidents and destroy them. No one wanted to become another Ernie Fitzgerald, Henry Durham, or even Anthony Morris, who blew the whistle on the swine flu vaccine debacle and was fired for being right.
Two bright young staffers at NTU, David Keating and Dina Rasor, came to me and said they wanted to start a special project within NTU to monitor the military's extravagance and mismanagement. I'd been much impressed with their work on military spending issues; they were good at translating seemingly incomprehensible masses of expenditure facts and figures into terms a taxpayer could understand, and even better, they were in no way antimilitary. I saw their project as a good way to put the closet patriots' horror stories to good use. Dina was a careful investigator who wouldn't take my unsupported word for anything. She badgered me for verifying documents and reliable witnesses. As her project -- now named the Project on Military Procurement, or PMP -- grew, it seemed clear that it should be moved to another organizational home. The NTU tolerated it but didn't encourage it to become any bigger.
The National Taxpayers Legal Fund (NTLF) seemed an ideal place. Jim Davidson and I had set up the NTLF partly for educational work and partly to provide legal defense for taxpayers who were unjustly persecuted by the IRS. When I went back to the Pentagon, I swapped jobs with Davidson and took over chairmanship of the NTLF, which was not a lobbying organization.
When the PMP moved to NTLF, Jule Herbert, an NTU official went along. That was significant because Herbert had some very generous funders, principally the wealthy libertarian brothers Charles and George Koch. PMP was an immediate success in its new home. The closet patriots liked the conservative aura of the NTLF.
Journalists, more and more intrigued by the Pentagon spectacle, began to come to PMP for reliable information. One unusual thing about PMP was that it refused to receive classified documents. Washington journalism thrives on exploitation (usually unselective) of secret government documents; famous columnists and by-liners have built reputations on it. Readers, presumably, are impressed to read the forbidden insider stuff. In my experience, however, most of these journalists are pipelines for an agency or bureau or service that decides to leak a nominal secret to make a point or get some political advantage.
Just as PMP was becoming effective, a strange thing happened. It was attacked by a majority of the NTLF board of directors. The NTLF had a powerhouse board with former senator Eugene McCarthy as president, Ed Crane (who seemed to represent Charles and George Koch in Washington), some people Ed recommended, Jule Herbert, and Anne Zill, a director of FCG and Stewart Mott's agent in Washington. I was so smug about this group that I didn't pay attention to what was happening.
What I didn't realize was that our big-business financial backers would be happy with PMP only as long as its disclosures just embarrassed big government. When PMP began to get enough clout to generate proposals in Congress for genuine change, the businessmen got scared.
About a year after the PMP move, the project sponsored a conference of cheap hawks, whistle blowers, closet patriots, congressional staff members, and media people concerning practical, near-term remedies for the military spending disaster. Although the conference was successful, Ed Crane stomped out in a rage and shortly afterward wrote to the NTLF board complaining that "the Project on Military Procurement is attempting to increase the efficiency of our fighting machine. From my perspective, it is already grossly too efficient." He also said that Eugene McCarthy believed it was "more important to cut the Pentagon's lean than its fat."
I cite this small battle to point up a very important motivation in the position Ed Crane outlined. The "progressive" big businessmen, foundation people, labor unions, and Establishment liberals, using the same argument as Crane, didn't want to make the military spending machine more efficient; they would back a proposal to start disarming the United States because they knew such an idea would not go anywhere. Secretly they were happy with the benefits they received from big spending.
In the campaign of 1972 George McGovern's backers, too, had been primarily interested in cutting the size of military operating forces rather than in trying to economize. They simply could not grasp the idea that peacetime military spending has little to do with foreign policy or the world situation, that it is largely driven by domestic politics. Nor could they see that they were dealing with a military that projected its grandiose plans far into the future. Once Congress approved the modest start of a weapons system, that system was going to cost us many billions in the years to come. A little thing like the end of a war would not affect the self-perpetuating build-up.
My conversations with the McGovern people had ended when I got this sad little message from them: labor was against the economizing ideas, which would cost McGovern "the Lockheed vote." In the end it was easy for the Nixon strategists to obliterate McGovern's effort on this issue. One television commercial showed a game board set up with toy soldiers, ships, planes, etc. A hand, presumably McGovern's, appeared and swept half the pieces off the board.
The PMP did find another home under the roof of the Fund for Constitutional Government, thanks to its benefactor, Stewart Mott. And Dina Rasor's good work continued.
I had another educational adventure in the early Reagan years. I first heard of an astonishing new proposal when a friend sent me a copy of an editorial from the Memphis Commercial Appeal. Reagan had just fired the fifteen Carter-appointed inspectors general, the "watchdogs" who were supposed to sniff out waste and corruption in the various executive branch departments. The administration announced that it was looking for people who were more than just watchdogs, who were "meaner than a junkyard dog." The Commercial Appeal suggested that Reagan "might look up Fitzgerald and do right by him. Who knows, Fitzgerald might even know a dozen or so other honest people in the federal government who would like to have jobs as inspectors general too." I'd never thought of myself as mean, but I guess some people may have had that impression.
That proposal seems to have started something. Soon afterward I had a call from Tom Scarret, a Washington correspondent for the Newhouse newspaper chain, who told me there was some meaningful support for having me replace the retiring Elmer Staats as comptroller general and head of the General Accounting Office. Senators Hatch and Proxmire backed the idea, as did the NTU.
A friend of mine set up an appointment with Representative Jack Kemp, the conservative supply-sider who was supposed to have convinced Reagan that budget deficits didn't matter very much. Kemp told me that his philosophy didn't in any way condone waste. He took my resume and subsequently wrote to Reagan, saying, "I would like to give my highest recommendation to Mr. A. Ernest Fitzgerald who would make an excellent Comptroller General of the United States." He suggested that Reagan have a talk with me.
Next I had a letter from Congressman Jack Brooks, chairman of the House Committee on Government Operations, and Senator William Roth, chairman of the Senate Committee on Governmental Affairs, saying that I'd been nominated for the job and asking for extensive personal history information. This seemed to be a sign that I was under serious consideration. Under a relatively new law, a bipartisan, bicameral committee of Congress had to recommend nominees to the president.
But when the word got out, the familiar alliance of big military spenders and White House staff hit the panic button. I got the news from Clark Mollenhoff, that ever-hopeful Republican, who had his usual excellent contacts at the White House, that some of the staff were calling me a "communist dupe." My position, of course, was that the people who threw away vast sums of public money and condoned deficient armaments were the real agents of the Evil Empire. Even a Reagan true believer ought to be bright enough to realize that.
What were my credentials for dupism? Clark said the only charge anybody could think of was that I'd once been on the board of SANE, "a citizens' organization for a sane world," which had backed the limited nuclear test ban treaty in the 1960s and was opposed to nuclear weapons testing, the arms race, and the Cold War. As NTU chairman, I'd joined SANE partly to further our outreach program and partly to try to convince SANE that it was futile to think of converting such dedicated boondoggle corporations as Lockheed to civilian enterprise. When my missionary effort failed, I resigned.
My detractors suggested, through Mollenhoff, that I do public penance for having had any connection with SANE. I said that was unacceptable.
When I looked back through the record of my SANE activity, I found that the only aspect of SANE I'd been officially involved in did have something to do with the Russians. On September 14, 1973, backed by strong feelings among the membership, board members Edward Condon, Seymour Melman, and A. Ernest Fitzgerald had sent a letter to Soviet Ambassador Anatoly Dobrynin:
We are disturbed by the Soviet government's chilling persecution of such dissidents as Andrei Sakharov, Alexander Solzhenitsyn, and many other individuals we have considered our counterparts in the Soviet Union....

When Soviet scientists and intellectuals are threatened, jailed, or exiled, we see the spokesmen for detente with humanist values under attack.

When your dissidents are attacked by your government, we are concerned about the kind of peaceful coexistence your government has in mind.
The letter went on to point out that the Soviet Union, secure and powerful, hardly had to get jittery over a "handful of unconventional thinkers." Furthermore, the Soviets and Americans seemed to be "entering a phase of cooperation." We took a few more hard shots at the Soviets for cracking down on their whistle blowers and ended with a stand against any governmental repression of intellectual freedom.
Reading this over in 1981, I wondered long and hard why the Reagan White House could be upset about me. I recalled that in 1973 Nixon was getting so cozy with the Evil Empire that no public-interest organization in the country had been able to persuade him to protest the treatment of Sakharov and Solzhenitsyn. Then I saw a telling sentence in our letter, praising Sakharov for his brave declaration titled "Progress, Co-existence, and Intellectual Freedom." We had written, "Dr. Sakharov's study marks him as a principal spokesman in the Soviet Union for antimilitarism (emphasis added) and the worldwide fulfillment of the Declaration of the Rights of Man." Was it because we had praised Sakharov's antimilitarism that I was now under suspicion at the White House? Could it be anything that absurd?
I remembered the day we had delivered the letter. Sanford Gottlieb, executive director of SANE, and I decided to hand carry it in hopes of seeing Ambassador Dobrynin himself. As we walked toward the entrance of the Soviet Embassy on Sixteenth Street in Washington, an assortment of police cruisers with flashing lights converged on us. There were District of Columbia police cars, Executive Protective Service cars, and other unidentified vehicles. Out jumped a number of young men in dark business suits. Some began taking pictures of us, others seemed to have hearing aids in their ears and to be talking into their sleeves. None tried to stop us, however, so Sandy and I went to the front gate and rang for admittance. We were met by a man of about thirty who could have been a clone of those outside. He had the same clothes, the same expression, the same manner. Behind him were more clones in dark business suits, wearing hearing aids and talking into their sleeves. We didn't see Dobrynin.
Another indiscretion, as Mollenhoff discovered, was my former chairmanship of the National Taxpayer's Union. My candidacy for the comptroller general's job was all but doomed. I took the whole story to the staff of Republican Congressman Dornan of California, known to his detractors as "Mad Dog Bob." Dornan, arguably the most right-wing congressman in the last quarter of this century, to my surprise saw nothing wrong with my activities. He wrote a letter to Reagan, saying:
In my judgment, America's print and broadcast media will judge the Reagan Administration's efforts to control "runaway government" largely by what happens to Ernie Fitzgerald, the man who made the term "whistleblower" an honorable part of our political vocabulary.... I strongly recommend Ernie Fitzgerald for ... appointment as Comptroller General....

Capitol Hill opponents of your proposed spending cuts would be more charitable to your efforts if they saw a Comptroller General with impeccable "bona fides" who could make government programs run better for less money. This is especially helpful, Mr. President, in the critical area of defense, where budget requests have been increased while other programs have been trimmed.
The man eventually appointed comptroller general was Charles Bowsher, Jr., who had served as assistant finance manager in Reagan's 1980 presidential campaign. He was a partner in the Big Eight certified public accounting company of Arthur Andersen and Company, whose clients included General Dynamics Corporation, maker of the infamous TFX, the F-111 fighter-bomber I'd had so much trouble with.
***
After a while Reagan's "morning in America" began to look like the end of a lot of weary days I had seen before. The administration brought out the two old, dishonest maxims of their predecessors and paraded them as if they were something new: big military spending will make the armed forces strong and will make the country rich. Defense Secretary Weinberger and his deputy, Frank Carlucci, were the talking heads for these slogans.
In the Winter 1983 issue of Directors and Boards, Carlucci had an article titled "An Economic Defense of the Defense Budget." He began by saying, "The current defense program is carefully designed to redress a decade of neglect of our armed forces and restore the military equilibrium necessary for deterrence." Decade of neglect? The defense budget had gone from about $78 billion to over $136 billion in those ten years. What was the man talking about?
Carlucci's first economic argument -- also known as the self-milking cow argument -- was that only 70 percent of our industrial capacity was in use and unemployment was over 10 percent. Defense spending would help us cure this and attain a bigger GNP. Nothing new here.
The second one was the old spin-off argument: defense spending is a stimulus to industry modernization. If there were any truth to that, we would have been six times more state-of-the-art than Japan because, as a percentage of the gross national product, we spent six times as much as they did on defense.
The third point was that the defense industry was the largest trainer of skilled manpower. But Carlucci didn't explain that defense industry "training" was far and away the most expensive in the world. And most of it was of little use in a competitive commercial economy. Further, the slipshod methods used in Pentagon contracts tended to train industrial workers to be professional goldbricks.
The most incredible notion of all those expressed by Carlucci was that defense spending was a cure for our international balance-of-trade deficit. If this were true, our trade surplus would have been far bigger than Japan's or West Germany's. But it wasn't.
I had hoped -- naively, in retrospect -- that the Reagan team would keep its promise for a balanced budget and improved stewardship of the Pentagon. An early sign of that, I thought, was the appointment of Verne Orr as secretary of the Air Force. Some first-rate closet patriots reported that Orr was appalled by the things we had been troubled about and that he intended to make some real improvements. Their optimism only showed that the closet patriots could be as innocent about the ways of bureaucracy as I. We forgot that Verne Orr was surrounded by the larcenous officers of the Praetorian Guard.
When I was finally restored to an approximation of my original Air Force job in June 1982, I decided to test the thesis that Orr was a "good guy." I planned to send him as much useful information as I could and watch how he used it.
Some of Orr's detractors carped that he was unqualified because he'd been "only a car dealer." But he also had an excellent business background, was versed in investment analysis, and had a good sense of politics. He was a rich man and personally secure enough to be above temptations for petty advantage. Best of all, he had a close, longstanding relationship with Ronald Reagan. Orr was a member of the Lincoln Club, an organization of archconservative California businessmen that had given Nixon his start in politics and had backed Reagan. Orr had been a political appointee in Sacramento during Reagan's governorship and had worked in the 1980 presidential campaign. This added up to a lot of clout with the president and I hoped that I could influence him in the direction of cost reduction and control.
My immediate boss, the assistant secretary for financial management, was a young, aggressive man named Russell Hale, who had been a staff member of the House Armed Services Committee. Although he didn't approve of my return to the acquisition business, he took the forced settlement in good enough grace. But he absolutely refused to allow me to report on weapons systems to Congress. He wanted the reports to be handled by a political appointee, not a career man, and certainly not a maverick. I didn't like this arrangement, but we compromised on an agreement that I'd take over the reports to Congress in December 1984, when Hale said he planned to leave his job. I was in a mood to cooperate and get on with the work.
I was given two experienced and well-qualified assistants in Colin Parfitt and Duane Packard, a Ph.D. economist. Colin had been loyal to me in my deepest difficulties, and his current boss was trying to fire him. And Packard's boss was trying to fire him. Hale had solved all his personnel problems by collecting the possible dissidents in one group.
To keep an eye on us, Hale added both a military and a political keeper, although we had no secrets to keep. In fact we wanted our political superiors to know what we were doing. Our political keeper was a young White House appointee, a Mormon named Jim Ririe. He'd been a cost accountant at a plant making plastic garbage bags, a cost-competitive business. Our military keeper was a bright Air Force colonel named Dick Ensign.
***
I took my olive branch to General Thomas Marsh, in charge of the Air Force Systems Command (AFSC), and explained that I planned to survey the performance measurement systems in our acquisitions programs, especially those for cost control and cost reduction. What programs would he like to have reviewed?
Marsh said one he had in mind was the Imaging Infrared (IIR) Maverick missile in process at the Hughes Aircraft Company plants in Canoga Park, California and Tucson, Arizona. This missile was descended from the older Electro-Optical (EO), or television-guided Maverick, which had been something of a dud. The infrared detector on the IIR Maverick made it possible -- in theory, at least -- to hit a target in dim light or at night.
Both Mavericks, the Air Force's primary weapons of their kind, were supposed to be magic bullets against invading Russian tanks in Europe. The pilot of a close-support fighter would come in, point his plane in the general direction of the target, look at the TV-type monitor in his cockpit to pinpoint the target, lock the Maverick onto it, let fly, and then pull out. Even if the tank tried to evade, it would, in theory, get hit, sort of like those electronic games in the arcade.
Verne Orr had been reading the newspapers, which said that the new Maverick was vastly overrunning its cost and not performing very well. General Marsh wanted to learn at least as much about what was wrong as the reporters seemed to know.
At my request Marsh assigned the AFSC comptroller, Brigadier General Wilma Vaught, and Lieutenant Colonel Stan Kagan to work with us. General Vaught was an old acquaintance of mine, and Kagan turned out to be a very competent, intelligent officer. He'd learned the business while assigned to the ballistic missile system division of the AFSC, and he was now in charge of applying the systems for measuring contractor performance that my colleagues and I had developed in the 1960s.
We traveled by executive jet to Wright-Patterson AFB in Dayton, where the Maverick buying office was located. There we had our first stroke of luck. Nobody had thought to warn them we were coming. By even better luck, all the generals of the Aeronautical Systems Division (a buying division of AFSC) were away at a conference. So we were able to go directly to the analysts who got the performance reports from the contractors, evaluated them, and recommended action.
They were delighted to see us, and I was delighted to hear that my old performance measurement project was alive and well. Within fifteen minutes, the analysts and I had gone through the various levels of reports and gotten to the missile's technical trouble. The cost overruns were displayed. In fact, the performance measurement reports had been signaling grave trouble for over two years. But no matter how telling these analyses were and how scathing the accompanying comments from the analysts, management had done nothing. The military managers tolerated such reports, it seemed, simply for the sake of image.
There was a good side to that, however. Since the reports were never acted on, management felt no need to falsify them. These technicians had continued to operate in their own little 1960s world of relative accuracy and integrity.
That visit was so encouraging that I decided to go to Air Force Plant 44 in Tucson, where Hughes was building the Maverick. Our whole group, except for Duane Packard, was excited by the prospect of doing some worthwhile work with the backing, we thought, of the secretary, the assistant secretary, and the commanding general of the AFSC. As we discussed our plans enthusiastically on the plane ride back from Dayton, Packard became more and more silent. The morning after we got back, he went to the personnel office, filled out his retirement papers, and left before noon.
Packard, an economist, knew something we didn't. He was tuned in to the Reagan game plan of prosperity through unprecedented military spending, and he had seen the real meaning behind the situation in Dayton.
I still believed there must be some truth to Reagan's' loudly announced budget-balancing plans. Besides, I believed that the administration hawks must be deeply worried that their chief air-to-ground antitank missile didn't work, and it cost so much that quantities would be severely limited in any budget Congress was likely to pass.
In Tucson the Air Force plant representative, Lt. Col. Grant Hird, said he had instructions to give us whatever we needed. From Robert McDonald, the civilian contracting officer, I got the spare-parts pricing formula for the IIR Maverick. As was customary, the Air Force had negotiated markups based on whatever Hughes paid for that material plus Hughes's bill for labor, priced out in standard direct manhours, that is, the should-take times Hughes's engineers had determined were appropriate for fabricating, assembling, and testing the Maverick.
For starters, I saw that the should-take hours had been multiplied by a factor of fifteen to twenty. To that bloated figure, fattened by very high rates of pay, were added unbelievable further markups for "support labor and overhead." McDonald and the Hird staff assured me that what I was looking at reflected the actual costs.
I wondered. Then I remembered the case of Mr. Gillette who, it was said, learned that he could get rich not by selling razors but by selling the spare parts, the blades. The company sometimes gave away the razors because only Gillette blades would fit them. I wondered if Hughes, on somewhat the same pattern, had found an accounting gimmick to pass excessive costs on to their bills for spare parts. But Hughes was not doing a Gillette; their overpricing of spare parts was a general reflection of all the overpricing on their Maverick work.
At the time I'm writing about, big military contractors priced spare parts by contractual arrangements called Basic Ordering Agreements, or BOAs. This was a handy means of setting prices for frequent orders for spare parts that were available only from one source without having to negotiate the price of each part separately. The markups on the standard labor and material for spare parts orders would reflect the factory inefficiencies, labor rates, and overhead add-ons that were being accepted for the big stuff at the time the parts were ordered. Spare parts pricing piggybacked on the inefficiencies tolerated and the markups negotiated for the "major end items" -- airplanes, missiles, and so on. The parts prices would reflect the overpricing of the whole assembly.
On the labor side, BOA inefficiency markups on the standard or should-take times to make and test the parts were usually the same as those being used on other work in the shops involved. Then previously approved rates of pay and overhead markups were applied to standard times plus the inefficiency markups to arrive at the "actual costs" of labor. This was passed through to the government after a percentage was added for profit.
As I've described, materials and parts were generally treated as pass-through costs, too. Sole-source suppliers had a positive incentive to be as sloppy as possible in their buying, at least until they negotiated firm prices with the government.
To illustrate how this disincentive works, let's say we're buying a simple, familiar item such as a hammer. (Strictly speaking, hammers and other tools are not spare parts but "support equipment," a distinction I will explore later.) Say the military needs a hammer for its work on a weapon system. If the military is experiencing difficulty "executing the program" (spending the money), instead of ordering a hammer from supply, or, if supply is out, from a local hardware store, it gives the weapon system contractor a contract to "work the problem." In due course the system contractor's large engineering staff determines that, sure enough, the maintenance mechanics need a hand-held device to generate impacts at certain points. They ask a subcontractor, preferably another "established" contractor who knows the ropes, to give a quote on a multidirectional manually operated variable impact generator.
Then, if the subcontractor submits a quote of, say, $200 for the impact generator, the systems contractor adds his usual overhead markup for the purchasing department, let's say 25 percent, "justifying" a cost of $250. (The systems contractor can also add a slug of "engineering" and "program management" costs, both direct and overhead if he wants to, but for simplicity we'll assume he doesn't.) Then, because we are dealing with space-age capitalism, the profit is figured as a percentage of estimated costs. Let's be cheap and add only 10 percent, or $25 in this case, bringing the price of the hammer to $275.
A typical auditor will probably check that a document exists to show that the subcontractor actually bid $200 to supply the impact generator and that the markups are in line with those generally deemed acceptable and "reasonable."
Once this transaction is approved (or goes through automatically under BOA formula pricing), the system contractor can buy a hammer for $10 from the local hardware store, deliver it, and collect $275, pocketing a neat gross profit of $265. If the transaction is later detected, the contractor may be accused of "defective pricing" because he did not spend as much as he said he would for the hammer. He might have to give back some of the money, which wouldn't be all that important; but if news of the transaction leaks and generates a horror story, that becomes very important for it might ruin the racket. Usually the contractors just go through the wealth-sharing motions, and everybody who counts stays happy.
Wealth sharing for favored subcontractors was so attractive that cartel members who were not due for a prime contract in the rotating award system often were quite happy to take their turn as subcontractor to the winning lodge brother. It made for nice, gentlemanly bid rigging.
At the time of my visit to Tucson in May 1982, Hughes had already manufactured 20,000 of the EO Mavericks. Many of the parts on the new IIR model were identical or very similar to those on the EO; the major innovation was the "seeker head." Hughes had also built 93 "equivalent units" of missiles of the new design. (An equivalent unit was simply 262 standard hours of mixed production on the missile, because that was the should-take time to build a complete missile. This concept, useful for accounting, was a roughly accurate way of measuring manufacturing performance at given periods.)
When I checked the figures, I found that Hughes was spending 17.2 actual hours of factory labor to produce one standard hour of work on the IIR Maverick. Unfortunately, that was the relatively good news. The bad news was that when all the markups were added (except for certain costs such as those for the original design), the Air Force was paying Hughes $3,405 for one standard hour of work.
The worst news was that Hughes was turning out a terrible product. The quality experts in the Air Force Plant Representative Office (AFPRO) denied that, but during our factory tour, I saw some extraordinarily sloppy quality control. I didn't have time to verify the details during that visit, but I stored the memory away.
Next I took my group to Albuquerque to visit AFSC's Contract Management Division (CMD), the headquarters for all our AFPROs. There I met a civilian industrial engineer named Ompal "Om" Chauhan, who turned out to be a jewel in this business. Om had been born in Rajasthan and, after service in the Indian Army, had married an American, put himself through engineering college here, and become an American citizen. I was delighted with his quick intelligence and energy. I was also pleased that he had a good vantage point for looking at all twenty-five contractor plants where we had Air Force detachments. Even better, Om liked cost cutting. He wanted the big contractors to conform to a work measurement system that had been instituted, I believe, around 1972 by a CMD engineer named Pat Haugh but never employed.
Om was able to take the rough figures I'd gathered in Tucson and refine them, as shown in the chart. The "standard hours" line shows the measurement of should-take time, or standard work content as determined by Hughes engineers, which varied a little as the Maverick design changed. The "actual hours" line shows what really happened -- the actual manhours spent in production. The variance, of course, is the disparity between the should-take time and the actual time spent. And the ominous shaded area is waste caused by bad work, that is, time taken up by work the Hughes inspectors found unacceptable. Even this, Om said, had its phony aspect. A lot of work was done and redone before it ever got to the inspectors, but that wasted time wasn't counted as rework time.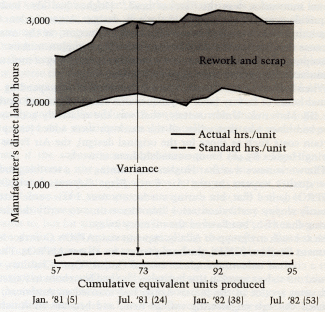 Variance between standard hours and actual hours in manufacture of the "R Maverick missile by Hughes Aircraft. Source: Air Force Contract Management Division.
For people who find stories in charts, Om's chart told some remarkable tales. One has to do with the learning curve. The theorists say that improvement should be steady and rapid after the first unit is made. Say Hughes spent 3,000 labor hours on the first. According to theory, the next should be made in 80 percent of that time (for the typical 80 percent improvement curve), or 2,400 hours. The fourth unit ought to be finished in 80 percent of the time the second one took, or 1,920 hours; the eighth unit at 80 percent of the fourth, or 1,536, and so on. By the time Hughes had made 64 units, they should have been down to a manufacturing time of 790 hours per unit.
But look at the chart: Hughes was actually taking more hours on each successive unit. This was not a slow learner, it was a reverse learner. Except for Om Chauhan, the CMD people saw nothing wrong with that. They seemed to think it was somehow preordained. As for the quality control people, they shrugged their shoulders at the shocking amount of time spent on rework and scrap. It struck me that Hughes hadn't learned how to make a missile efficiently, but it had learned the great self-serving lesson: how to get away with fiscal murder.
When I brought these findings to Russ Hale, he said he was concerned and that certainly some improvement should be made, but we shouldn't appear to be picking on Hughes. He suggested we apply Om Chauhan's chart to some other, similar tactical missiles we were buying. I then discussed this with General Marsh, who listened nervously and agreed but said he'd get the information himself. He said he had good people and he didn't want me "mucking about in his plants."
By this time Jim Ririe, our political keeper, had been converted to the economy cause. Jim, Colin, and I worked out a scheme to evaluate and challenge the excessive costs of our big contractors, using Om Chauhan's yardstick to measure factory labor hours. We were going to put such things as engineering hours, rates of pay, material costs, and overhead ("costs elements" in accountants' language) to the test.
***
Then an interesting new problem began to develop. George Spanton, a man I'd known as a Navy auditor some years back, was now in charge of a Defense Contract Audit Agency (DCAA) group at Pratt and Whitney's plant in West Palm Beach, Florida. George had had the bad manners to challenge excessive travel and improper entertainment expenses that the company was passing on to the government, and he'd balked at the big pay raises Pratt and Whitney executives were handing out to themselves and their employees. In the course of eleven months in the previous year Pratt and Whitney had granted themselves a total pay raise of 23 percent.
The Pentagon's system for evaluating pay raises was wonderfully loony; our contract negotiators would accept any raises that didn't deviate greatly from a trend line established by past raises. So the bigger the boosts in the past, the bigger the boosts the company could get away with today. George wanted to compare Pratt and Whitney's pay scales with those in other, cost-competitive industries and with those of government employees. He proposed that the company's pay hikes split the difference between the percentages allowed government employees and the percentages Pratt and Whitney wanted.
George's injection of sanity wasn't unjust to Pratt and Whitney. The company could reward themselves just as they wished out of their ample profits. All George was concerned about was the company's habit of rewarding its people directly out of the U.S. Treasury. Spanton's proposal would deny Pratt and Whitney a $150 million raid on the Treasury over the next three years. That pinched.
When I called on the CMD in Albuquerque, I asked for Spanton's pay audits, a request that made everybody very nervous. They said Spanton's reports were meaningless, and when the produced them, I found that somebody had scrawled on the cover page, "This report was withdrawn by DCAA'" -- which was not true. DCAA had only changed some of the explanatory language, not the substantive findings. Finally, the CMD people argued that Spanton's recommendations would kill the spirit of free enterprise in West Palm Beach.
When Jim Ririe saw the Spanton report, he told us that on April 15, 1982, Verne Orr had written a letter to Russ Hale along the lines of George's report. Orr had said that the zooming pay rates were "absolutely ludicrous" and had told Hale to put a stop to the permissive Air Force practices that allowed it.
That was Orr's hot potato. Nobody had wanted to touch it or even acknowledge that it existed. But our group was delighted to find a firm policy directive from the secretary that matched Spanton's independent field audit. Orr seemed pleased that somebody was getting into the problem. He told me he wanted the Air Force to be just as firm about holding the line on executive and white-collar pay as on hourly wages. That was a good sign; that summer of 1982 for the first time I was very hopeful that we could put a few controls on the giant jackpot machine.
Seeming proof that Verne Orr was on the right side came when he addressed a luncheon meeting of the Washington Times editorial board. He praised my work highly and said that my rehabilitation was a symbol of the Reagan administration's desire for economy and efficiency. I was happy for the good words and pleased that Orr had chosen this forum to praise me. Clark Mollenhoff, who had taken a summer leave from his professorship at Washington and Lee University to report on the Pentagon for the Times, was there. The newspaper -- nicknamed the "Moonie Times" because it was owned by the Reverend Sun Yung Moon -- was trying desperately to establish journalistic respectability and had brought Clark in to help. The paper had strong right-wing connections with the administration and, according to the editors, it was the first paper Reagan read every weekday morning.
But now the Air Force buying alliance was getting ready to shaft George Spanton. His DCAA bosses decided, quite illegally, to block his access to key records he needed for his work and to transfer him to California. They wanted to frustrate him to the point that he would decide to retire. When I spoke to Russ Hale and to Willard Mitchell, his principal deputy, Mitchell warned me not to carry on a campaign to help Spanton "directly." Being a good bureaucrat, I obeyed -- and carried on the campaign indirectly.
Clark Mollenhoff, with the help of Greg Rushford, eventually wrote more than a hundred stories about the Spanton case. His stories goaded the Office of Special Counsel (OSC) into action. The OSC was the "chaplain" that was supposed to protect government employees' rights under Jimmy Carter's grotesque whistle blower protection scheme. It did get some of Spanton's bosses removed from their jobs, but the victory was temporary. The OSC presented a flawed case -- deliberately, I thought -- and was reversed on appeal. Meanwhile George, stymied in his reform efforts, retired. Both the reforms and the reformer were lost to the taxpayers.
***