10. Adventures of a Born-again Muckraker
PROVING COLONEL ROBERTS WRONG was a never-ending task. Our effort to defend the interests of the taxpayers and the country seemed to be too abstract to win official support. The industry-military conspiracy, on the other hand, knew exactly what it was after and what arguments to use in rationalizing it. I got another view of that defensive reasoning in the fall of 1982 when Richard Stimson of the defense secretary's office referred me to Gordon Urquart, a Boeing executive, for the official word.
Urquart was high contractor brass, and if anybody had the Writ, he did. He was chairman of the Manufacturing Executive Committee of the Council of Defense and Space Industry Associations (CODSIA). When I talked with him, he sounded a little like a Bourbon courtier defending the divine right of kings. He said his powerful firm and association would continue to battle the idea of should-cost standards for estimating contract costs and uphold "actuals" (past "actual" costs). The whole system, he said, "is primarily oriented to actual costs." Precisely. And that's where the worst problem lay.
Verne Orr and Russ Hale renewed their commitment to support our attack on this "actual costs are good costs" line; in fact, Hale went on record in the November 13, 1983, issue of the New York Times to call the actual-costs argument "crazy." He seemed firmly on the side of "the Attic Fanatics," as he called us, because of the location of our Pentagon offices and our cost-cutting zeal.
One of the important contributions to "actual" costs, of course, was labor cost. Colin Parfitt reported that in 1970 labor rates in the aerospace industry were 24 percent above the Bureau of Labor Statistics' "All Manufacturing" rates, and by 1981 the gap had widened to 38 percent. Another comparison showed aerospace rates 22 percent higher in 1970 than those for all "durable goods workers," with the gap increased to 39 percent by 1981.
That was largely for blue-collar pay. Raises for executives and middle management people were proportionately higher. The interesting secret was that engineers on the payroll often outnumbered blue-collar workers -- in one big plant 50 percent of those employed were engineers; only 20 percent were blue collar. The companies were warehousing their engineering talent, holding on to technical people even when there was no work for them.
Thus, Parfitt found, executive salaries, were, on average, 130 percent above the durable goods industry average. (Except at Pratt and Whitney, which kept its figures to themselves.) That added up to a lot of overpaid people and an enormous vested interest.
One might expect the established government "audit community" to keep a sharp eye on all personnel costs, but that didn't seem to happen at the General Accounting Office or the Defense Contract Audit Agency (DCAA). The latter, instead of standing firmly behind their most courageous man, George Spanton, shrugged off responsibility for anything except blue-collar wage rates. It was beginning to be clear that feeble audit control by the government was one of the great flaws that allowed the whole scandalous system to flourish.
During my visit to the Hughes plant in Tucson, I had observed a peculiar practice among supervisors. In the "process" areas, where different kinds of parts were commingled, supervisors would assign employee time charges to various job orders on a more or less arbitrary basis. When I brought this to the attention of DCAA officials, they agreed that it was illogical but dismissed it as having a minor effect on overall costs. At our urging, however, the inspector general's office requested that the DCAA investigate. We heard nothing for more than a year.
In late 1983 Senator William Roth, chairman of the powerful Governmental Affairs Committee, was giving Pentagon procurement hell. What particularly incensed him was the famous antenna hexagon wrench, which was just a plain old allen wrench with an "'aerospace design" handle. As it turned out the only use for the special handle was as a place for the contractor's part number so that the Air Force wouldn't have to look it up before reordering more wrenches at the bargain price of $9,609 apiece. The company that actually made the wrenches charged twelve cents each. Westinghouse Electric took them on delivery and sold them to General Dynamics for $5,205 apiece. In short, the Air Force got one wrench for the price of 80,075 of them. And that was just the beginning of Roth's horror stories.
All of this pointed a stern finger at the DoD audit agencies. Roth's chief source was his investigator Chuck Woehrle, an ex-Pentagon auditor who shared our frustrations about the DCAA. On January 30, 1984, the Roth committee announced that it would hold hearings, beginning March 1, to discover just how effective or ineffective the audit agencies were.
George Spanton was among the witnesses to be called. Another one was A. Ernest Fitzgerald. From past experience, I should have caught a whiff of trouble on the wind. Russ Hale, however, seemed delighted at the news. Irritated at the stubborn noncooperation of the DCAA, he had put a bitter complaint on record. Hale made sure that I was being requested to appear in my official capacity, and he and Verne Orr assigned a team of four to help prepare the testimony.
Just about this time I learned -- somewhat after the fact -- that the DCAA had reported on the Hughes Aircraft labor-charging practices and, as usual, had found nothing amiss: "The reported internal control weaknesses were not found to exist."
We asked for a look at the work papers of this review, and when no one seemed able to pry them loose, Chuck Woehrle and Major Wayne Christein visited Hughes and came back with their own report. It showed that the DCAA had questioned only thirteen employees, but those thirteen had told the DCAA team about all sorts of negligence. Many workers simply estimated their work time, some signed time cards in advance, others had not worked on projects to which their labor hours were charged, and so on. This and more was in the work papers, but the official report gave Hughes a clean bill of health. This raised severe questions about the integrity of the audit agency.
Even though the defense secretary's office and the DCAA refused to provide data we needed, our team went ahead and prepared my testimony with the facts we had. After Hale had reviewed it, we sent it on to the Air Force security review, whose real function is to delete anything that might embarrass the Air Force procurement faction and their big contractors. The security review does have a side benefit for the bureaucrat; with its okay, he or she has official backing for statements pertaining to matters within his or her jurisdiction.
At the end of February, the security review officer, Lieutenant Colonel Hugh Burns, wrote a memorandum, not to me but to my legislative liaison keeper, Lieutenant Colonel Bill Thompson. "Mr. Fitzgerald will testify as a private citizen," he said. I was ordered to lead off by saying, "The views expressed in this statement are my own and do not reflect the official policy or position of the U.S. Air Force or the Department of Defense."
A rather dramatic turnabout. As I told Verne Orr, the testimony had been prepared by our whole office with the help of Senator Roth's investigator. We'd be willing to correct any factual misstatement or amend anything that conflicted with "official policy or position." For the first time since I'd known him, Orr began to crawfish. He tried to avoid the issue by saying it would be easier on everybody if I agreed.
I argued that our carefully assembled testimony would probably be denigrated by opponents as the isolated views of a lone fanatic. That point seemed to be effective, and Orr directed Colonel Burns to send a memo to concerned parties saying that my testimony was "to be processed as an official USAF witness statement." He asked for "concurrence- comment" by one o'clock on February 29, some twenty-four hours later.
One o'clock came and went, and nothing happened. After making several fruitless inquiries at the Pentagon, I went to Capitol Hill to see Chuck Woehrle and learned from him that something very fishy was going on. A group of Air Force officers had descended to lobby his nominal boss, Linc Hoewing, of the Governmental Affairs Committee staff, and Pentagon officials had been on the phone with Senator Roth that morning.
I then called Delbert "Chip" Terrill, an OSC investigator on the Spanton case, to see if he had any news. He had nothing firm but, he said the rumors on Capitol Hill were that Pentagon officials had worked up a plot to frame me. They would force me to testify without the protection of being an official witness. Then, if I produced cost and performance information that was arguably "proprietary" to the contractors, I would be set up for possible criminal prosecution or a civil damage suit. It was a neat and vicious trap to get rid of a whistle blower.
I went back to my office. About seven that evening, I received a memo from Orr's military assistants saying that my testimony could not be cleared, for reasons that were not specified. However, Secretary Orr warmly recommended that I testify in my "private capacity," and this had been approved by Linc Hoewing. It was obvious that the fix was in.
The next morning at eight o'clock, I was waiting in Verne Orr's outer office when he came to work. I told him that I had sent a letter to Senator Roth explaining my likely nonappearance. But, I added, in the next two hours we could still make factual changes in my testimony. Orr, looking very old and harassed, sent me to Dick Harshman, who was taking over as acting assistant secretary because Russ Hale had resigned. Harshman had before him a list of objections compiled by General Bernie Weiss's weenies, but they were so flimsy that he didn't try to defend them. "It's the OCAA thing," Harshman said. "That's the problem."
At the hearing that day, the senators were appropriately outraged that I was not present. Senator Roth told Joe Sherick, the inspector general, who was then testifying, to go back to the Pentagon and "clear this situation up" through "the highest channels."
I don't know whether the Capitol Hill rumors about criminal or civil prosecution had been cleverly planted by the Air Force opposition to head off my testimony, but their strategy had failed to deal with George Spanton and W. W. Murphy, the two DCAA auditors, whose testimony about the operations and management of the DCAA was devastating. Chairman Roth scheduled another hearing for March 7, and it looked as if something might come of all this.
I had to survive one more sneak attack. First Verne Orr put out the story that he'd encouraged me to testify even before the committee's request but that I had refused: "Mr. Fitzgerald's decision not to appear before the committee ... was his own decision." A little later Orr changed his story for Fortune magazine, saying I'd never been asked to testify as a private citizen. A year and a half later, confronted with the lie while testifying before Representative Dingell's committee, he retracted and apologized graciously. I accepted the apology. I liked the old guy, despite everything.
At the immediate time he was hardly as straightforward. On March 1, 1984, he sent a deceptive letter to Roth and succeeded in conning him into dropping the whole DCAA inquiry in favor of hearing "the official views of the Department on this issue of contractor labor rates and labor distribution." In my place as witness, Orr would send none other than General Bernie Weiss.
Bernie's March 7 testimony was harmless, except to anybody who wanted to stay awake. It completely avoided the original purpose of the Roth inquiry.
By this time the congressmen had lost interest and the whole investigation died away. Joe Sherick did produce his own counterfeit report of what had happened, saying that my prepared testimony represented no more than my "personal view" and that I'd tried to make the Air Force let me "present it as the official position of the Department." He even misstated my letter to Senator Roth to try to bolster his foregone conclusion. He cleverly avoided mentioning the issue of criticizing the DCAA for, among other things, covering up their auditors' findings, which, as Harshman had noted, was the real sticking point.
***
Late one Saturday night in early 1983, I had received a phone call. The Midwestern voice on the other end of the line said, "Hi. My name's Chuck Grassley, and I'm a senator from Iowa. Are you the Fitzgerald who wrote The High Priests of Waste?"
Uh-oh, I thought. This very conservative type is going to hassle me for that old heresy. It must have taken the news eleven years to get to Iowa.
"Is all the stuff you wrote in that book true?" I said that it was. "Are the same kinds of things going on in the Pentagon now?" I assured him that the Pentagon was getting even more money to do the same kinds of things. "Well," Grassley said, "I'd like for you to come in and talk to me about this."
Soon after, I met with Grassley and his two very astute young assistants, Kris Kolesnik and Lisa Hovelson. Grassley quickly grasped our sometimes-arcane cost-cutting proposals and it wasn't long before all of them became enthusiastic supporters of the Attic Fanatics movement.
Franklin C. "Chuck" Spinney, a Pentagon colleague of ours, had made a telling study showing that the Pentagon's concealed spending plans far exceeded even the supergenerous funds it was getting from Congress. When Grassley requested a copy of the study, Spinney's superiors, true to form, refused. Grassley didn't hesitate; he went straight to the Pentagon and marched into Weinberger's office to demand that Spinney and his papers be produced. They were. (He did the same thing at the White House to get a fair hearing for George Spanton, although in this case Reagan listened and did nothing.)
"What are they trying to cover up?" Grassley asked when he heard about the fiasco of Senator Roth's hearings. Amlie, Parfitt, and I told him. The senator and his staff quickly got into the details of the horrendous overpricing of major weapons as illustrated by the examples of their overpriced parts and by our work measurement initiative. He kept pressing for more and more comparisons between actual hours worked in defense industry compared to should-take hours for that work. Like everyone else who perceived the drastic discrepancy, he was deeply concerned.
"Mr. President," he once said to Reagan, "you've done the right thing in bringing the welfare queens under control. However, you've got to realize that there are welfare queens in the Pentagon, too. They're the big contractors."
Picking up the ball that Roth had dropped, Grassley decided to schedule hearings in late June 1984 before his own Administrative Practices Subcommittee of the Senate Judiciary Committee. He invited Ompal Chauhan and me, among others, to testify.
Was I going to be the victim of mixed signals once again? On the one hand, I remembered my treatment by Verne Orr and the Air Force in the Roth fiasco, but on the other hand, Orr had come forward again and made bold public statements damning too-high costs.
In putting together materials for the Grassley hearings, I based practically everything on official documents, nearly all from the executive branch. I even made an effort to include the views of our most hostile critics.
One good example came from an angry Air Force major named Ketcham. Tom Amlie, in a visit to the Hughes Aircraft California Division, which was working on the Advance Medium Range Air-to-Air Missile (AMRAAM), had uncovered enormous hidden costs in the program. Ketcham was the commander of the Air Force watchdog unit there, and his embarrassment was acute. His January 27, 1984, memorandum to us read, in part:
You have allowed yourselves to become little more than born-again 19th century muck-rakers, which is a disservice to the Air Force and the nation. We need to re-arm America. We need to spend our defense dollars prudently. We need whistle blowers and watch dogs to keep internal vigil and help make needed changes from within. We don't need internal detractors to add more fuel to the pacifist anti-defense movement by going external with all their information (emphasis added).
Knowing something about the history of "muckraking" (Major Ketcham obviously didn't -- he even failed to get the century right), I was pleased to be counted with Lincoln Steffens, Samuel Hopkins Adams, and Charles Evans Hughes.
I also used my hearing statement to carry the message that not everybody in the Air Force was a scoundrel ready to pay outrageous prices for junk hardware. For example Colonel Jack Bryan, director of manufacturing operations at the System Command's Contract Management Department, wrote his boss on January 27, 1983, that he wanted to furnish me some significant cost information I had requested. "Suggest you do nothing," replied his boss, Colonel Engelbeck.
I even included one internal Systems Command memorandum that described a data analysis we had pushed through as providing "instant visibility into program costs and schedule." The memo added, "We will have some opposition from the contractors if we use this format." Yes, there still were some good guys around.
Balanced and impersonal as I tried to make it, the statement still didn't pass. Verne Orr, Undersecretary Edward Aldridge, and their flacks denounced it as "not an expression of official Air Force policy" even before they saw it. A certain Major Whittaker later tried to explain to the Federal Times why the Air Force refused to clear my prepared testimony. No, there weren't any specific violations of policy, he said. Administration policy, Whittaker said, was "to view things a certain way." Here goes, I thought. The Roth hearing farce all over again.
Then one midday I heard a great commotion in my outer office and my secretary, Bette Dudka, shouting, "Oh, my God!" My door opened, and before I could turn around, flashbulbs began to pop. When my eyes cleared, I saw Senator Charles Grassley surrounded by photographers and reporters who had pushed past the bewildered Pentagon door guards. Yapping at the heels of this entourage were a lot of Air Force officers, trying to tell Grassley that he couldn't do that.
Very politely and formally, Senator Grassley served me with a subpoena to appear before his committee with my prepared statement and back-up documents. When my bosses and the Air Force general counsel saw copies of the subpoena, they caved in at once. The moral was clear: Congress could overcome executive branch cover-ups when it wanted to.
Senator Grassley was in a militant mood. He and Senator Howell Heflin, the ranking Democrat on the committee, put all my documentation into the record. Even better, they gave me plenty of time to explain how "bad management has shot down more airplanes, sunk more ships, and immobilized more soldiers than all our enemies in history put together."
I had been saying such things for sixteen years, and nobody was surprised to hear it again. But Om Chauhan's was a new voice, and his presentation opened a lot of eyes. He stressed that many people in the Air Force acquisition process were neither crooked nor incompetent, and he made a plea for support for the honest, dedicated, patriotic ones.
Senator Grassley and his staff gave that support. For the first time in my experience, I encountered a staunchly conservative Republican willing to attack military acquisition waste with vigor and skill. Our previous supporters had largely been liberals. It seemed paradoxical that the Republicans, who profess to believe in free enterprise and competition, could condone a governmental process so clearly full of favoritism, inefficiency, corruption, and monopolistic practices -- a process that was driving us ever deeper into debt.
In this case, though, concern for the nation's welfare cut across party lines; Kris Kolesnik was able to put together an unusual coalition in support of Grassley's cause. In the House it ranged from the extremely liberal California Democrat Mel Levine to Republican Denny Smith of Oregon, an ex-Air Force pilot who was especially concerned about the "less bang" aspects of Reagan's spending binge. What brought them together was a mixture of idealism and enlightened self-interest. They liked frugality. They hated the thought of American servicemen going into a war with bad equipment, or too little, because of Pentagon blunders. And they knew that "more bang for a buck" was still a good political stand.
Grassley had demonstrated the latter point. When I first started discussing things with him, some of my know-better friends had warned me that Grassley's star was sinking. His "family issues" seemed increasingly irrelevant to the hard-pressed Iowa farm economy. In the polls it was said he had about a 37 percent approval rating and was sinking fast. But once he started attacking military waste, he became the most popular politician in Iowa history.
The lesson, though, was lost on the national Democratic Party. With striking myopia the 1984 Mondale campaign wrote a platform plank that offered the Pentagon continued spending increases of inflation plus 5 percent.
In Denny Smith's district in Oregon, for example, the Democrats were frantic to defeat him. They had just gerrymandered his district. They found an attractive opponent, a popular state senator, and poured in campaign money from all over the country to support her. Denny Smith called for a military budget freeze; his opponent went along with inflation plus 5 percent.
Denny won.
But the American taxpayer lost. It soon became clear that the Reagan military build-up was no more than a spend-up. Despite Grassley and his allies, Congress continued to approve wild escalation in military budgets. But that escalation was buying fewer and fewer weapons: a lot more bucks and a lot less bang, and "stretchouts," which spread acquisitions over more years, were becoming commonplace. Projected unit cost increases could not be accommodated even within the huge sums Congress was giving Reagan. Pentagon budget planning starts about twenty months in advance of any fiscal year; the FY 86 plans were being made between January and May of 1984. Closet patriots on Weinberger's staff, appalled at the effects of letting unit costs get out of hand, leaked the figures shown in the table.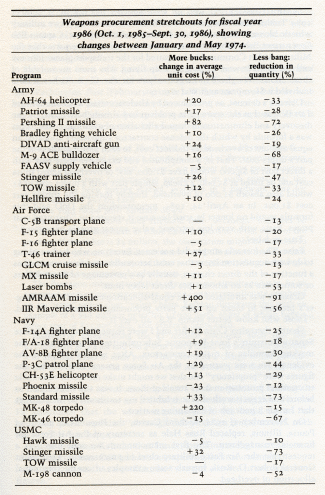 Senator Grassley followed up with another hearing in September 1984. To this forum congresswoman Barbara Boxer brought two military whistle blowers, Sergeant Thorn Jonsson and his superior, Captain Bob Greenstreet, who brought a large box of overpriced spare parts that the Military Airlift Command had acquired for the transport planes Jonsson and Greenstreet were helping to keep flying. The most memorable of these items was the $7,622 coffee pot for the C-5A. Other tidbits included a $670 passenger seat armrest.
Defense's defense, as pronounced by Undersecretary William Howard Taft IV was that the spare parts problem had already been cured by the discovery and elimination of "equal allocation of overhead costs." This was a formula by which the defense contractor supposedly allocated an equal amount of overhead, or indirect cost, to each part regardless of the part's direct cost. That is, a complicated and expensive spare part with a direct cost of $4,000 would have $1,000, say, of overhead added to its cost and be listed at $5,000; a cheap, simple part with a direct cost of $1 would also absorb $1,000 of overhead, thereby making the simple part cost $1,001. In an April 24, 1984, memorandum the DoD said this formula would no longer be used because it resulted in "distorted unit prices. Parts with very low intrinsic value appear grossly overpriced."
True or false?
False. The formula simply did not exist. Everyone who had anything to do with acquisition knew that contractors allocated their overhead as a function of the direct charges, usually as a percentage of direct dollars or sometimes as an amount per direct labor hour.
Grassley was infuriated by the equal-allocation excuse. Of Weinberger's promise to clean up spare parts procurement practices, he said, "Those who know better stamp 'B.S.' all over it."
Shortly thereafter Colin Parfitt and I were requested to appear before Senator Proxmire's Joint Economic Subcommittee to testify about the markup formulas of major contractors. After we had prepared the evidence, we were warned by the Air Force general counsel that the figures were "proprietary" and that we might make ourselves vulnerable to criminal prosecution if we revealed them. It was the same threat as before, and again it worked. It so inhibited my testimony in the hearings that I made a poor job of explaining matters.
On November 1, 1984, Richard Carver, the Republican mayor of Peoria, Illinois, replaced Russ Hale as secretary of the Air Force for financial management. The first memorandum we sent him was a request that the Air Force military chief of procurement, Lieutenant General Robert D. Russ, furnish some examples of contractors' equal allocation of overhead.
After a number of memorandums back and forth, General Russ, on January 15, 1985, confessed that there was no substance to the "equal allocation of overhead" excuse. He said, "All of the contractors over which we have cognizance use some measure of direct effort as a basis for allocating costs."
But lies are often very hard to kill. Just as I'd heaved a sigh of relief over the death of this one, it was born again in George Will's column in the Washington Post (February 3, 1985). Will, a medieval scholar who sometimes cites authority rather than relying on facts to "prove" his points, declared that the spare parts scandals were being exaggerated, a notion he based on an article by an academic:
Now, in the winter issue of The Public Interest, -- no liberal journal -- (Stephen) Kelman, of Harvard's Kennedy School of Government, argues that the horror stories about "waste" are almost always gross exaggerations. The (Grace) Commission specialized in such stories as: the Pentagon has been buying screws, available in a hardware store for three cents, for $91.00 each.

Make your blood boil? Simmer down.

Pentagon acquisitions rules stipulate that "overhead" expenses be allocated to each shipment as some fixed proportion of the value of the product. If the value is $5 million, the corporation might be entitled to add, say, 20 percent ($1 million) for overhead. Overhead includes cost above materials, machines, and labor -- cost of everything from legal departments to company headquarters.

The Pentagon orders many kinds of spare parts simultaneously. As an approved accounting convenience, many contractors allocate overhead on an "item" rather than "value" basis. Kelman illustrates this with an example of a $20 million order for 10,000 parts, some of which have a direct cost of $25,000 each, and others 4 cents each.

Instead of apportioning the $1 million overhead such that the $25,000 part gets a lot and the 4-cent part a little, the computer printout will allocate $100 to each part. This produces a charge to the government of $25,100 for the expensive part and $100.04 for the cheap one.
This drivel was so astonishing that I made a point of reading the Public Interest article to see if Kelman was really saying that. He was. He concluded that the whole misconception was based on an "accounting quirk" and that "although this produces horror stories, nothing horrible has happened."
I called Professor Kelman that Sunday morning to find out the source of his information. Did he have any specific, factual examples?
Well, no, he said. As a civilian, he "was not allowed to see actual cost figures."
Where, then, did he get the ideas for his article?
Kelman had called Bill Kaufman (a noted "defense intellectual") for referral to someone "whose judgment you trust" who could give "a dispassionate explanation" of the spare parts horror stories.
But, I asked, did judgment or passion have anything to do with the issue? Wasn't it purely a question of facts?
Kelman waffled a bit, then admitted, "Maybe so." At any rate, Kaufman had referred him to somebody whose name he didn't now remember -- possibly the minority staff director of the Senate Armed Services Committee. This authority had referred him to a Claude Messamore at the Pentagon. Messamore had given him the material for the article.
When I looked him up in the Pentagon phone book, Lieutenant Colonel C. E. Messamore turned out to be one of General Bernie Weiss's men in the Directorate of Contracting and Manufacturing Policy in the Air Staff. I called him.
Yes, he said, he was the source of Kelman's information.
But, I asked, how could he have given the professor such misinformation? I reminded him that the Air Staff, after many memos, had finally admitted that there was nothing to the "equal allocation" fable.
The colonel admitted that "equal allocation has not been a major problem." But, he said, there had been some examples. Air Force generals Dewey Lowe and Jim Dever had settled on a policy of "line item integrity" in pricing to make sure there were no pricing "distortions."
Had the generals dealt with the levels of spare parts prices? That, said Messamore, wasn't in their charter because it had to do with "productivity."
In short, Messamore was talking about a cosmetic treatment for overpricing, which was the root cause of the spare parts scandals.
We held a meeting with General Weiss, Colonel Messamore, and others, to which they were asked to bring some "equal allocation" examples. They produced nothing in the way of documentation, but a Major Mahler did assert that the infamous $435 hammer that the Navy had bought from the Gould Corporation's electronics division was a "true case." We could check that one out.
The hammer history (actually, there were two, a claw hammer for $435 and a hand sledge for $436) began when the walloping prices of these and other items in an order so shocked a Navy enlisted man that he went to Representative Berkley Bedell with the story.
Bedell, who had been a manufacturer himself, was baffled to see the price tags on the hammers, the figure of $652 for an ordinary tool box, and the $10,168.56 for the very ordinary tools that went inside. He went to a hardware store and bought all of these items -- of equal or better quality -- for $100.38.
The Navy's Bernie Weiss counterpart was a rear admiral named Joseph S. Sansone, Jr., who sent an explanation to Bedell's Small Business Committee hearings in October, 1983: "In Gould's proposal each item received an equal share of the non-hands-on support labor requirements, regardless of the value of the line item, which, when fully loaded with overhead and profit, amounted to approximately an additional $385.00 per line item."
Had we finally run an elusive "equal allocation" fox to earth? Colin Parfitt and I gave it a simple sanity test. We took the box and its tools and applied Sansone's "equal allocation." The table on page 178 shows the results. Sansone's excuse failed the sanity test. After the alleged "equal allocation" of $385 per item was removed, a $7.66 hammer still cost $50. After removing the equal-allocation markup from the Phillips screwdriver set, the cost would be negative $126.44. Confronted with this and other factual refutations of their fairy tale, Sansone's lackeys stammered to Colin Parfitt that the allocations were equal except when they were unequal.
Despite the total discrediting of this Pentagon fabrication, apologists have continued to trot out the same argument. Doubtless in the future other writers as gullible as George Will and Professor Kelman will front for the Pentagon again. The January 1987 Washington Monthly, in fact, got suckered with an article by James Fairhall titled "The Case for the $435 Hammer," in which the old myth got a new showing.
By this time, it was clear to anyone who wanted to know that equal allocation wasn't the basis of the trouble -- but what was? Were the defense manufacturers outright thieves? Or was there an unspoken excuse for these gross overcharges? When Bedell and his committee were totally stonewalled by Caspar Weinberger, the House Judiciary Committee picked up the matter and assigned it to investigator Ginny Sloan. She came up with an answer.
When she queried GAO executive Clark Adams, he explained that the apparent overpricing was the result of "full absorption accounting." Colin Parfitt, in a follow-up conversation, asked Adams how an accounting system, "full absorption or otherwise," could explain and justify the horror-story prices.
Adams finally answered, "Well, yes I did say that ... government is dedicated to full-cost absorption because it is the basis of our prices."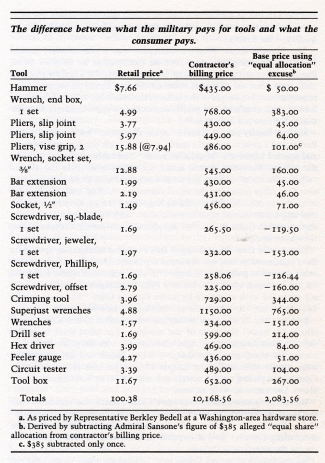 Parfitt commented in a memo for the record:
Mr. Adams meant that the prices the government pays major defense contractors are deliberately set at levels to insure total cost reimbursement, plus profits over and above that ... regardless of the intrinsic value of goods or services.

In short, the exorbitant prices ... are the result of incestuous partnership between DoD procurement ... and defense contractors to increase prices to whatever level it takes to absorb the total allowable costs.
Thus, when the Pentagon paid for a hammer, it also paid for a portion of all the expenses, the waste along with the necessary, of the favored supplier: heating, electricity, repairs, paper, salaries, office equipment, insurance, cocktail parties, advertising, the salaries of nonproducing engineers, trips for the CEO and perhaps his family, and a thousand other things. In short, because that seaman needed a hammer, the government was willing to give a corporation this all-expenses-paid free ride. And then pay it a profit on top of that. It was incidental whether the hammer head broke off at the first blow.
But wait, wouldn't "line item integrity" end all this nonsense? There happened to be some pliers almost as famous and even more exorbitant than the Gould hammer. They were Channel Lock duckbill pliers whose only distinction was a small groove in the jaws for holding a round pin. The pliers were supplied to Boeing by a consortium of the aircraft engine division of General Electric and SNECMA, a French engine manufacturer. They cost about $7.50 retail. Boeing resold them to the government for $748 apiece.
After Om Chauhan cited them before Grassley's committee in late June 1984, the Air Force announced, a bit prematurely, that the price had been reduced to $90 by formal contractual action. What followed was a typical Pentagon tragicomedy of errors.
We found that the total price of all the tools in the order had been reduced from $528,536 to $433,545. A step in the right direction? Not quite. Boeing had charged an additional $28,964 to "prepare the proposal" in the first place. With the new paperwork, the proposal preparation cost went up to $30,648. And another new cost popped up, an imaginative item called "Support Equipment Management" which cost the government $93,307. Lo and behold, after all the cost cutting, Boeing was still charging the government $557,500.
Wait a minute, we said to the Air Force flacks, this is a scam. Ninety dollars is still too much for a pair of $7.50 pliers, even if they do have a notch. And what of that support equipment management shell game? They agreed to take another look.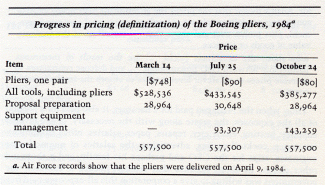 When we checked again in February 1985, the order had indeed been repriced a second time, with the results shown in the third column of the table. The pliers were now a bargain at $80 apiece, but the support equipment management bill had gone up to $143,259. The total price was exactly the same it had been at the beginning. So much for line item integrity.
***
A certain group of Air Force Intelligence operatives in the Pentagon who called themselves the Air Staff Closet Coalition contrived in 1984 to spring an interesting leak. My underground circles had nothing to do with this, but we were widely blamed for it. The coalition did a skillful job of leaking their case. They packaged their documentary evidence in case-study form with an excellent introduction:
At the end of each fiscal year (Sept.1, DoD invariable (sic) fails to obligate some funds that have been budgeted for specific purposes. The "fallout" funds result from various bureaucratic imperatives, including not getting the appropriate competitive bid or contractor. ...

The important point is that if certain budgeted funds are not obligated (as in a contract) by the end of the FY, they are by law returned to the treasury. The scramble to avoid returning ... unobligated funds is the real story here.

Here is how it works:

The team proceeds on the assumption that some DoD fallout funds will always be available as the FY draws to a close. In anticipation of this, a Pentagon office (in this case the Assistant Chief of Staff of AF Intelligence, or ASC/I) will negotiate "unofficially," in advance, a sole-source contract with a pet or crony contractor. The contract is drawn up in advance so that it may be signed on short notice when funds become available. By the time fallout funds are identified, it is too late for DoD to let competitive bids or otherwise legally obligate funds before the end of the FY. This is always so because the funds were originally budgeted for other (approved) DoD projects.

To move these funds from the fallout category and into pet contractor pockets, some cooperative agency other than DoD must "launder" the money for the prearranged contract. In this case that agency is the CIA.

The CIA is always a good choice for a number of reasons, the most important of which is that they are not subject to the same contracting restraints that apply to DoD. CIA can legally obligate funds in late September and they don't have to advertise for competitive bids. In short, CIA agrees to act as the official "sponsor." ... The advantage for CIA is that they get to build some capital with contractors with another agency's fallout budget monies.

The advantages for the originating DoD agency are obvious:

- They can funnel funds to cronies who have retired and now make their living selling "papers" to the government.

- These unregulated fallout funds represent a large, tax-supported slush fund that encourages conflicts of interest (e.g. government officials feathering their retirement nests by throwing contract monies at future prospective employers).
The Coalition's target was Major General James C. Pfautz, then assistant chief of staff, for intelligence (ASC/I):
The guy who is sponsoring the Pitt (University of Pittsburgh) connection is the Chief of AF Intelligence ... He is trying to farm out "sole source" contracts (without competitive bids) to some cronies at Pitt. The chancellor, the research director, and the proposed project director are all retired AF officers. To boot, the subject "papers" don't have a thing to do with AF intelligence concerns. The atchd. is another example of government/industry incest where the "old boys" take care of each other at taxpayer expense. Or the sponsor may just think he is feathering his retirement nest by throwing money at prospective future employers. Similar largess has been lavished on Dr. Jureidini at Abbot Assoc. of Alexandria, Va.
The memorandum went on to note that the proposed contract for the University of Pittsburgh had only the vaguest of terms and that in any case Pitt had no intelligence research capabilities.
The contract that had gone to Dr. Jureidini of Abbott Associates in Alexandria, Virginia, was for $41,000, for a paper on "the near-term events in Lebanon that impacted on USAF interests." The Closet Coalition noted that "the AF does not have any interests in Lebanon." The memorandum closed by asking why the general didn't ask his own staff of several hundred analysts, or CIA, or DIA (Defense Intelligence Agency) to produce such a paper if he really needed one.
Whereas such handouts to retired officer-teachers seemed to be no more than a small waste of money, other contracts to major defense systems contractors looked a good deal more sinister. Remember James Schlesinger's wondrous Dollar Model, described in Chapter 6, which paid (hypothetically) for the Soviet military machine in American dollars and with American contractor waste built into the equation? Now Pfautz was fueling up the old Dollar Model to once again inflate the Soviet threat and use our huge price markups to justify higher spending.
Task 12 on Pfautz's list of proposed projects, marked "CIA will fund in 1984," was titled "Development of CERs for Aircraft and Helicopters based on New Prices." CERs (Cost Estimating Relationships) were self-fulfilling did-cost/will-cost estimating formulas. In a note on Task 12, Pfautz wrote, "Based on the new production cost (American cost, that is) derived over the past several years, new CERs for aircraft and helicopters will create better (read: higher) cost estimates of Soviet military aircraft."
Paying the major systems contractors to make studies of CERs for their own products and to apply the same high costs to similar Soviet products permitted them to build in all the future waste and inefficiency they could imagine. It was like giving an alcoholic a key to the liquor store. Obviously, this was a job that demanded heavy conflicts of interests. Vought, a division of LTV, and McDonnell-Douglas, both of which made planes for the Pentagon, seemed ideal. The general tapped them. And who could better attribute their own padded inefficiencies to Soviet research, development, and production of jet engines than General Electric and Pratt and Whitney? Who knew better how to zoom the putative costs of command-control communications systems than the TRW Corporation? But the all-time prize practical joke was the project to estimate costs of the Soviets' new air-to-air and air-to-surface missiles. That was to be carried out by none other than Hughes Aircraft.
The Closet Coalition's comprehensive leak provided other interesting insights. General Pfautz -- obviously a man with no ear for the language -- even proposed a project he labeled "SCAM Improvement." And indeed it was. The Stonehouse Group was to "supplement current CIA efforts to improve the computer data base and model used to make most of their estimates of Soviet defense spending. It is basically a 'Price X Quantity' approach."
Sheila Hershow, now reporting for Cable News Network (CNN), did excellent broadcast coverage. The press (the Boston Globe, USA Today, and Defense Week) had discerning reports on SCAM Improvement. Writing in the March 20, 1984, Boston Globe, Fred Kaplan quoted an Air Force spokesman who said, "Who else would you turn to? These guys have the technical expertise and the knowledge." But he also quoted other Air Force officials who agreed with the comment of a former CIA official that "the estimates don't mean anything." Kaplan spelled out the fallacy in the whole notion: "If a company that gets one of these (Pfautz) contracts manufactures its weapons inefficiently, then the CIA estimate will automatically assume that the Soviets produce their weapons with equal inefficiency."
The great disappointment was that Congress failed to respond to these disclosures. Perhaps, after all the years of swallowing something akin to the Dollar Model figment, it was too embarrassed.
***
My first close look at my new boss, Richard Carver, came when we met in early October 1984 to discuss current programs. I told him that we had a series of promising cost-reduction initiatives under way, hampered only by the military's reluctance to concur. I suggested that establishing a series of tough goals for cost reduction and quality improvement, through a program for Air Force commanders and managers, would help to get us all on the same target. Such a course was designed to put into force Secretary Orr's announced objectives.
Carver looked at me coldly and said Orr had warned him about "the Fitzgerald problem." He didn't want to explain what that "problem" was, however.
Then, on October 15, 1984, Winslow Wheeler, assistant to Senator Nancy Kassebaum, called to warn me that the administration planned to get rid of me after the November election. His source was "a high-ranking Pentagon official." A month or so later Nancy Ramsey, chair of the Fund for Constitutional Government, told me she had heard that Carver's plan for getting rid of me would get around the obstacle of my court-supervised agreement with the Air Force: he'd make such outrageous provocations that I'd get angry and retaliate. Then I could be fired.
Jim Ririe was scheduled to depart from his Air Force job on December 1, 1984, and, as I had agreed with Russ Hale in June 1982, I was to take over the job of reporting to Congress on weapons systems. I wrote to Carver about beginning to work closely with Ririe on the reports in order to make a smooth transition. Carver replied ambiguously and spoke of the "apparent agreement." It was a foretaste of his later actions.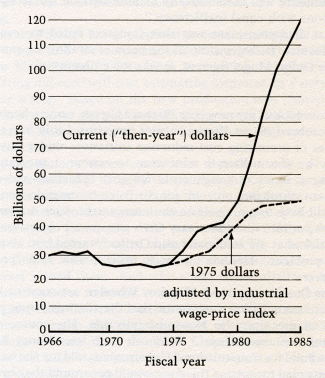 The Defense Department budget: total obligational authority for acquisition (research and development plus procurement), 1966-1985. Source: Office of the Assistant Secretary of Defense (Comptroller), "National Defense Budget Estimates for FY 1988/1989," May 1987.
When Kris Kolesnik paid him a courtesy call and expressed the hope that Carver would abide by my legal agreement with the Air Force, Carver replied that he didn't intend to let a court order tell him how to run his office. He quickly assigned Major Jim Wolfe to redistribute the duties of my office to other deputies. As revealed in an office diary Wolfe kept at the time, which Congressman John Dingell's investigators later captured and distributed, he met with Carver and others, including Air Force General Counsel Gene Sullivan, on January 4, 1985. Sullivan felt that reassigning some of my duties to another deputy was improper because it "infringes on FMM (Fitzgerald's) position description."
Carver thereupon ordered Wolfe and Colonel Warren Nogoki to write a new work plan for me -- one that would effectively put my office out of the cost reduction business. And in the end the general counsel approved the job description that began the whittling away of my responsibilities.
The timing of all this was interesting. My period of uneasy acceptance by Verne Orr and the Reagan team was over. They had identified the real enemy: it wasn't high costs, it was Fitzgerald. Reagan, who had just won a landslide victory and would never run for office again, could have ignored the pressures of big contractors and Pentagon generals. But as the chart on page 184 shows, his FY 1985 acquisition appropriations were the biggest in history. If Reagan had applied the cost controls we had shown him, he could have had an overwhelming military machine. Instead, the Reaganites were having to cut planned quantities of weapons. Even with the huge increases in available money, the military buildup couldn't be sustained.