12. The Phoenix Flop and Other Horror Stories
POOR RICHARD'S DEFENSE INDUSTRY Productivity/Quality Network was distinguished both by its breezy style and by the unintended opportunities it provided for insights into the motives of its correspondents. The messages were almost always edifying. For instance, the July 2, 1986, alert from Poor Richard (Stimson) himself:
Here we go again! The AF (Air Force) conducted a "tear down" of a missile. They found a large number of minor discrepancies -- none of them critical to operation.

So what's the Problem? -- Fitzgerald participated in the review.

I'll make a bet that "horrer" (sic) story on quality will hit the papers soon. If you like that bit, how 'bout another bit that a congressial (sic) hearing will also be in the wind.

It seems like AF likes to shoot themselves in the foot. If they take the position that there is a big problem, why didn't the AFPRO catch it earlier? If they take the position that there is no problem, then it's the classic cover-up with Fitzgerald blowing the whistle. Either way the industry loses.
Here we have Poor Richard, a high Defense Department official, not exactly worried about a bad missile but much concerned about bad publicity for "the industry." In this case the part of the industry he referred to (but was too delicate to name) was the Hughes Aircraft enterprise at Air Force Plant 44 in Tucson, Arizona. That plant reminded me of the traditional saying of British drill sergeants as they looked over a bunch of awkward recruits: "I don't think you'll scare the enemy, but by God, you do scare me!"
Poor Richard seemed sensitive to one of our group's small successes. Our efforts had contributed to the shutting down of Plant 44 because of poor-quality work. I'd kept in mind my 1982 visit and the serious problems we turned up then. With the valuable help of Ompal Chauhan, we kept trying to pierce the Blue Curtain whenever we could to track the quality problems at Hughes. In April 1983 Tom Amlie and I had made another visit, meeting privately with a civilian named Al Colt, who was deputy quality control chief at Plant 44.
Colt didn't deny or downplay any of our observations, he just shrugged. Getting a little annoyed, I told him that when I was a young quality control engineer, the Air Force had shut down my employer's plant for far less serious shortcomings than the ones in Plant 44.
"Are you suggesting I should shut Hughes down?" Colt asked incredulously.
"Damn right, " I said. "Why not?"
Colt just laughed; he wouldn't say anything more.
Over the next months we kept hearing horror stories of astonishingly high costs and astonishingly bad quality. One constant source was John Long, an investigative reporter for the Arizona Star in Tucson. Many Hughes employees had gone to him with such stories, and urged us to meet with some of them.
In January 1984 Colin Parfitt and I made another visit to Tucson. In our long first day reviewing the plant, we found the situation as bad as or worse than it had been before. And the Air Force plant representative was downright obstructionist.
At midnight that night my telephone rang. The caller identified himself as a young Air Force officer who had been in on some of the day's meetings and had seen how the AFPRO was stonewalling. He'd agonized over making this call, but he'd finally decided he must, "What's going on out there is sabotage," he said. We were on the right track, asking the right questions, and we shouldn't give up until we got answers. He'd do what he could behind the scenes to help -- but if his superiors suspected he was even sympathetic to us, his career would be finished.
John Long led us to some excellent sources, most of whom we met at his home. One of them was seriously ill and in the hospital, where John arranged for us to talk with him and his wife. From what this man said, Hughes seemed to have had a quality-control collapse (along with its cost-control collapse), and the Air Force plant representative was helping cover it up.
If Hughes had trouble building a high-tech missile, it was still very good at building a low-tech stone wall. We finally went away frustrated, with plenty of disturbing information from clandestine informants but no objective, documentary evidence with which we could make a case to the Air Force.
Tom Amlie thought he had a roundabout method. Among his very good contacts in the Navy acquisition organization was the chief of naval materiel, a four-star admiral named Steve White. Tom was convinced that White was committed to stopping the flow of shoddy equipment and weapons to the fleet. As it turned out, Admiral White needed our information more than the other way around. He had heard nothing but good reports -- "happy talk" -- about the Navy's Phoenix missile being produced at Hughes's Plant 44. This had raised some questions in his mind, so he asked Tom Amlie for a special out-of- channels report for his eyes only. It was so secret that it was typed with Tom's fingers only, and it went directly to White.
At the time I was trying, without success, to get Secretary Orr and Acting Assistant Secretary Dick Harshman to do something to correct the cost problems and the less well documented quality problems in Tucson. But in early June 1984 we had a breakthrough. Out of the blue, I had a telephone call from John McGee, whom I'd met through Senator Proxmire in 1969. John had been a Navy fuel inspector who had blown the whistle on some big-time fuel thieves in Southeast Asia and had gotten into serious trouble thereby. Proxmire had headed off the worst of the reprisals, but John had had to get out of the fuel inspection business. After a long time in do-nothing jobs, he had found a place in the Navy as a quality control specialist and had since worked up to a supervisory position at the Navy Fleet Missile Test Center at Point Mugu, California.
McGee was in charge of a group of Navy quality specialists who traveled around the country doing "tear-down" inspections. They would select a missile that had been accepted by the contractor's quality control system and by the Navy's contract administration organization (the counterpart of the Air Force's AFPRO). The completed missile would be disassembled under scrutiny and reinspected by John's team.
McGee told me that one of his crews had just completed the tear-down of an AIM 54-C, the latest version of the Phoenix, at the Hughes operation in Tucson. They had found thousands of deficiencies. "It was just junk," he said.
He had written a report on all this, but it was bottled up somewhere in the Navy department. The worst of it was that the AFPRO, acting on behalf of the Navy and with full knowledge of the Navy technical representative at Plant 44, was still accepting the Phoenix missiles being built for the Navy as if the tear-down had never happened. Could we, John wanted to know, get the information through to some top people?
That was where John's pressing problem and Tom's connection with Admiral White came together. Tom took a copy of John's report to White, who, without revealing that he had read it, requested a copy from his own organization. When this hit the fans in the Navy and Air Force procurement bureaucracies, the consternation was extreme. But nobody could see a way to deny the request of a four-star admiral.
White responded to the report decisively: as of June 22, 1984, the Navy would accept no more Phoenix missiles from Plant 44 until further notice. On September 10 Verne Orr wrote a memorandum to Secretary Weinberger noting the consequent events leading to a temporary shutdown at Air Force Plant 44:
Results of the Navy review prompted the Air Force to tear down a Maverick missile in early July and the Army followed with a similar inspection of the TOW missile (Phoenix, Maverick, and TOW were the principal products at Plant 44). The tear-down of the Maverick showed quality problems similar to the Phoenix missile. The Air Force stopped acceptance of the Maverick on August 3 and issued the 90-day cure notice which put Hughes on notice that their quality assurance program could be disapproved if satisfactory progress was not made.

We now had a plant-wide problem and each program had a common discrepancy -- poor workmanship caused by systemic operating problems. Hughes finally recognized this fact and, on August 9, they suspended final assembly of all three missiles ... so as to begin a major management push to correct their poor operating procedures and practices. As part of this action, they notified their suppliers to stop shipments until Hughes's management could review the quality of the items. Subsequent to Hughes stopping production, agreement among the three services led to suspending progress payments. After notice of intent on August 21, Hughes was advised by the administrative contracting officer on August 27 of the actual 100 percent suspension. Hughes has complained that the government action was inappropriate and would result in an unwarranted detriment to our national defense. I feel continued acceptance of poor quality products is more detrimental and cannot be tolerated.
A logical man reading this might conclude that the Attic Fanatics and their friends had been vindicated -- but Orr couldn't quite bring himself to say that. Politicians and bureaucrats are not notable for giving credit where it's due. Orr did write in his memo, "It is apparent that early signals from our reviews of the Hughes Tucson facility indicated that the company's manufacturing and quality assurance programs were suspect and that lack of aggressive follow-up by both Hughes' management and the Air Force Contract Management organization allowed the production and quality deficiencies to continue."
The scary part was that Hughes, though the worst of the lot we'd seen, was not alone. The "systemic operating problems" and "lack of aggressive follow-up by ... contract management organization" applied to many other shoddy giants in the defense contracting business.
At Orr's request I wrote another report summarizing our past recommendations. This resulted in a meeting with Orr, Harshman, and Tom Cooper, assistant secretary in charge of research and procurement.
The one problem we three subordinates -- Cooper, Harshman, and I -- agreed on most strongly was the AFPROs; we had to stop putting job-hunting colonels in charge of AFPRO detachments in the plants. It almost always happened that they went native and began to represent the contractor rather than the government. A good example was the plant representative who had obstructed our earlier efforts at Hughes, although, to be fair, he was under orders to do that. By this time he had retired from the Air Force and had moved down the hall to his new office as a Hughes executive. He was just one of many.
Orr said yes, it was unwise, but then in a plaintive voice asked, "I've got more than six thousand colonels; where can I put them?"
We made some strong recommendations for correction, but when the time for action came, Orr allowed himself to be shunted aside by the military who recommended -- of course, of course -- a blue-ribbon commission. I wrote to Verne to give him an idea of what we could expect from this august body. It would:
1. Change the subject by performing a worldwide "study" of truly cosmic problems, avoiding all particulars, most especially the specific problem that led to the blue-ribbon commission in the first place.
2. Buy time by taking as long as possible to perform the worldwide study. Other issues will arise that will command the attention of people previously concerned about the collapse of quality control at Hughes, and everybody will forget about it, permitting an early return to business as usual.
3. Ensure bland results by properly selecting the blue-ribbon commissioners. Make sure the chairman, at least, has a vested interest in preserving the status quo. Make sure that the majority of the other commissioners have similar conflicts of interest.
Air Force colonels do not become generals on the strength of a great sense of humor. AFSC Commander General Larry Skantze was furious at my little satire. At a blustery meeting with Verne Orr, my bosses, and me, he said he was outraged that I'd even suggest such things. He ended his remarks by promising that we'd have a "full report" on the Hughes debacle by December 1.
So far as I know, Skantze never delivered it. What he did do was appoint the former vice commander of the Air Force Systems Command retired Air Force Lieutenant General George Sylvester, to head the blue-ribbon commission. General Sylvester fitted neatly into point 3 of my memo. In his former position, he'd been the architect of the mess he was now supposed to look into. Nowadays he was a consultant to the acquisition community. The other commissioners were mostly ciphers, but not without conflicts of interest.
As for point 2, the commission took a very long time to do its thing, whatever that was. Actually, it was never clear when the commission finished its work. As people forgot the Hughes scandal, the commission just faded away. As for my point 1, many months later we got a clue to its performance when we saw a few skimpy Vu-Graph charts showing that the commission had toured the country having philosophical bull sessions with AFPROs and "experts." There was no evidence that it had ever faced the problem. Skantze's blue-ribbon troops had fulfilled my predictions to a T, but somehow he never got around to thanking me.
I kept itching to get back to quality control -- a field where I'd enjoyed some successes early in my career. The issue was a fascinating one. John McGee and others reported that Plant 44's quality had improved somewhat but that throughout the industry the DoD was still accepting products that did not meet contractual specifications. The services either lived with defective products, repaired them themselves, or gave the erring contractors profitable repair contracts to fix their own mistakes.
Surely, I thought, the military and I would have a common viewpoint on this. Even if they cared nothing about costs, they must be concerned about malfunctioning weapons and planes. But, I am sad to say, Admiral White was the only man we ever detected among the high brass who showed the kind of concern warranted by the quality problem.
***
One of Richard Carver's ways of trying to neutralize the Attic Fanatics was to appoint something called the "Private Sector Cost Management Group" (Private Sector Group, for short), which was made up of businessmen and professors and, especially, people he wanted to flatter. Carver's deputy, Eric Thorson, a political appointee, was a sort of general secretary and chaperon to this group as it traveled around the country listening to briefings by the contractor companies and military bureaucrats.
One day in 1986 Carver decided that I should take part in this by briefing the group on the cost and quality problems at Hughes pre-shutdown, that is, 1982-1984. I was to speak to them in Tucson on June 20 and provide a kind of "before" picture to contrast with the brilliant "after" picture that management and the Air Force would draw, according to the word I got from Eric Thorson.
I found, however, that the good news came first: the AFPRO briefers said there was a "basically positive trend." The Phoenix C missile (AIM 54-C) now showed up with an average of only four defects per hundred inspections, whereas in June 1985 the average had been thirteen and a half.
The AFPRO briefer described the tear-down procedure, now required for all programs, and said that an IIR Maverick guidance and control system torn down earlier in the year had disclosed only three minor defects. My own information was that the tear-down had been completed just a few days earlier and that over three hundred defects had been found. He went on to say that a Phoenix tear-down was in progress. I learned that evening from my sources that it had taken place about two weeks before and had turned up 2,578 defects, some of which could have caused mission failure. The AFPRO had been informed of this but wasn't telling.
I asked some questions. The AFPRO briefers looked fearful and responded evasively. After each question the Hughes executives present would whisper among themselves. Then I would back off and soften the challenge, and they would look relieved. I was determined to stay on my best behavior and learn all I could.
Next came the Hughes dog-and-pony show. It was easy to tell the Hughes briefers from the Air Force people: their Vu-graphs had more color and were generally better. And they were wearing much better suits.
They were full of equally good news. The first Hughes man said that Maverick production was being moved to the La Grange, Georgia, plant, with some of the work to be done in the Eufaula, Alabama, plant in Congressman Bill Dickinson's district. As he said that, the briefer looked intently at me as if to say, "So there!"
As for quality-control problems "beginning in June 1984," Hughes management had recognized them and had shut down the Tucson plant in August (no mention of our 1982, 1983, and 1984 warnings). "Now, we're doing very well," said the briefer, and declared that the Air Force had reported their defect rate the lowest -- by a factor of two -- of all plants the Air Force oversaw for contract management.
Ken Richardson of Hughes then said we'd probably hear something about the Navy's recent tear-down of a Phoenix C. A full report was expected within two weeks, but early findings showed that there were no final hardware problems, no new problems, and that the results overall were "rather good." Seventy-five percent of the defects had to do with solder joints. In 1982 we had found that Hughes's workers didn't know how to solder, and apparently they still didn't. The clincher was that Will Willoughby (the Navy's civilian quality control guru in Washington) and Admiral Wilkerson, commander of the Naval Air Systems Command, had said there was nothing to indicate trouble with Hughes's products. The AFPRO people present didn't comment on the Phoenix tear-down.
I skipped the scheduled social activities that evening to meet with John McGee and his ace tear-down supervisor, Fred Maloney. They produced documentary and photographic evidence to show that of the 2,578 Phoenix defects they had found, 106 were extremely serious -- even more serious because they had all turned up on a single guidance and control system.
Along with the systemic problems that we had been familiar with for years, there were some new ones in accounting for the configuration status, or design documentation, of the missile and in quality control by Hughes's suppliers. In fact, a legal inquiry was being made into reports that one supplier had deliberately shipped defective products.
In my briefing to the Private Sector Group and the AFPRO people, scheduled for eight to ten-thirty the next morning, I intended to stress the importance of giving top management timely notice of the truth, the whole truth, and nothing but the truth on weapons development and production. My case study was Hughes-Tucson: the evidence-of-trouble stage, which lasted from about May 1982 to May 1984; the facing-facts stage, from June to August 1984; and the follow-up stage, from September 1984 on.
I also intended to declare that a new cover-up was taking place. To support that, I'd asked the two Navy inspectors, McGee and Maloney, to come to the meeting with their Phoenix findings, including enlarged color photographs of some of the more significant defects.
Carver and his group were openly hostile to my message, but when John and Fred joined us, the hostility turned into fear and loathing. After a quick, whispered conference, Carver and Colonel Westover, the plant representative, ordered the inspectors out of the meeting room.
Eric Thorson and I followed them into the hall. Eric apologized profusely, handing them his card and saying he was available to help if they felt any repercussions from the incident.
When I returned to the meeting, the discussion soon degenerated into personal attacks on me. While our procurement community had been doing a great job, people like me had been putting out negative reports that hurt our image and hindered improvement. Then the group further degenerated into the standard Republican-businessman Congress-bashing.
Carver returned to my case with the assertion that I had accused General Skantze of being in "the contractors' hip pocket." When I denied saying that, Carver said that the charge showed up in my writing about the way the Troika had watered down the application guidance for work measurement.
Apparently maddened by such an indictment, one of the Private Sector Group, a very large and blustery type, threatened to attack me. He was an Ohio businessman named Sy Laughter, who remarked loudly, "If we weren't on government property, I'd grab you by the scruff of the neck and kick you out of here. I'd kick your ass good." His respect for United States property was a sentiment I found very touching. Since Sy was at least six inches taller and fifty pounds heavier than I, I tried to mollify him before I was asked to leave.
After I'd returned to my quarters, Colonel Westover came to try to smooth things over. After explaining that he wanted to "work the problems" at Plant 44 himself, he began to question me. He was especially curious about one thing. In the course of defending myself against the mob in the meeting room, I'd let slip something that John and Fred had told me: every single Phoenix 54-C missile was in storage because of defective target detection devices and fuses. The Navy had been willing to pay Hughes for them, but as for putting them in the fleet -- no thanks. Westover said this information was extremely "close hold." Of course it was.
***
Back in Washington I tried as usual to rock the boat toward corrective action. I told both Carver and Harshman that our office had a responsibility in the matter of the defective missiles. And again I predicted that both the Navy and AFPRO would get their whitewash buckets out. My recommendation was that we put back into effect my office's program called Quality Control and Cost Control at Point of Payment, which Carver had mothballed. Carver didn't remember the program. Harshman said he'd take it up with the acquisition people, which was like asking the usual suspects to help solve the crime.
Admiral Steve White, his job abolished by Secretary of the Navy John Lehman, was long gone. That left Will Willoughby as the Navy's quality expert. When I talked with him, he assured me that he had indeed given Hughes a clean bill of health. His message to the company was, "You're all right, keep going, get better."
How could he say that, I asked, in the face of the hard evidence -- photographic and documentary -- that his tear-down team had discovered?
Well, he could say that because the Phoenix C field results were good. The fleet had assured him that there were no operational problems with the missile.
Of course the fleet's not having problems, I said. The fleet doesn't have any Phoenix 54-Cs.
Not doing very well on these lines, Willoughby shifted to what he considered the main trouble: the quality inspection results being "blown out of proportion," the "irresponsible reporting by the press," "too many people reporting irresponsibly."
I noted that the recent Phoenix problems had not been in the press at all.
Well, there were his inspectors. He wanted them to have broad latitude to look at such things as soldering -- actually, he didn't think that was a real problem -- but if the adverse reports kept coming in, he'd have to put some restrictions on the inspectors. "If I have to cut them back, I will," said Willoughby.
As it turned out, the reports did keep coming, and McGee and the other Navy tear-down inspectors were ordered to stop counting defects. They could still look for defects and find them, but they had to be sorted into categories and only the categories reported.
But to go back to Poor Richard's plaintive message in 1986 that began this tale: everything he said was wrong. The Navy conducted the tear-down, not the Air Force. The Navy did, in fact, find "discrepancies" critical to the operation. Fitzgerald did not participate in the review. The tear-down did not produce a "horrer story," at least not then. And finally, "the industry" did not lose.
It did not lose what it ought to have lost -- its indifference to production blunders -- apparently because there were no powers in the Pentagon honest enough to find and use a big stick.
***
In the early months of 1985, the Pentagonal spenders had been taking a battering on Capitol Hill. Back home, the folks around the country were disturbed by all the news of procurement ripoffs and kept writing their congressmen. Maybe they didn't understand what a large, complicated thing like a Maverick missile should cost, but they knew about hammers and pliers. And it was perfectly clear in Keokuk that dog boarding, big parties at luxury resorts, and strolling musicians didn't do much to fend off the Evil Empire.
In The High Priests of Waste in 1972, I had predicted, "Once the great majority of exploited taxpayers understand that the Pentagon is far and away the biggest protector of welfare chiselers and law-and-order violators, some of the same, hot indignation that has settled upon the hapless welfare mothers will be directed against military waste."
By 1985 Grassley had prepared his case and was ready to apply the Freeze to the Pentagon budget. To be truthful, the Freeze was not much more than a sharp frost. It was being imposed on a very high budget that had almost doubled since Reagan took office, and it was stated in "constant dollars," meaning that the budget limit was allowed to rise with inflation. There was small danger of hypothermia in the Pentagon.
The story of the figures is interesting. The administration, foreseeing a freeze attempt, first put out the story that Weinberger had proposed a "rock bottom" budget of $334 billion for FY 1986, $40 billion above the previous year's budget (all figures in this passage refer to OMB's "Total National Defense" account, which includes substantial non-DoD sums). Then there were tales that Cap Weinberger had suffered savage slashes -- down to $324.8 billion before Reagan stepped in to protect the DoD.
The Senate rebels weren't hoodwinked, and Robert Dole knew it; Grassley staffers even said he was secretly sympathetic. Seeing that he was in for a fight, Dole, with the other Republican leaders, got the request down to $313.3 billion, which was about $10 billion more than the then-current budget.
In the climactic debate, reported in the May 2, 1985, Congressional Record, Grassley and his allies cited all the horror stories, from Fursten the executive dog to billion-dollar overruns. But meanwhile Grassley, Kolesnik, and company were doing what politicians do when they are really serious: dealing behind the scenes. They had already persuaded Dole to schedule the debate while Reagan was on his trip to the Nazi war cemetery in Bitburg, West Germany.
After a motion by Senator Goldwater to table had been defeated, Dole laughed and said, according to a reliable witness, "It's now five minutes after midnight in Bitburg, too late to place a call and have him come over." (The Congressional Record showed Dole saying Bonn, not Bitburg, but I like my witness's version. He said the Record was revised before it was printed.) With Reagan sound asleep in the Federal Republic, the Senate invoked the Freeze by voice vote.
***
The aftermath for me was another retaliation attempt by Richard Carver. To make a complicated story simple, he used my evaluation report in an attempt to get rid of me. His rating can be summarized as "Does not work and play well with others." That was so outrageous that Dingell came to the rescue with an investigation, and Orr was forced to overrule Carver.
Despite such unpleasant diversions, the Dingell detail was becoming very productive. We were completing a successful investigation of the procurement practices that were used to justify the enormously expensive "support equipment," which meant ordinary tools for the most part. Chuck Woerhle had uncovered some of this two years earlier, and Senator Roth had publicized the matter, but they had run into a stout Pentagon stone wall.
Dingell was not so easily put off. Because his oversight responsibilities included the accounting practices of publicly traded companies, his subcommittee was interested in that old fantasy, equal allocation of overhead. Colin Parfitt and I told them, first, it had never existed, and second, even its ghost was thoroughly discredited. But the members wanted to prove that for themselves. In the end this turned into one of the most enlightening investigations I'd ever worked on. The GAO was helping us, too, and after an unproductive start, they finally did an excellent job.
On September 19, 1985, Dingell wrote Caspar Weinberger a letter with a list of charges too lengthy to repeat here, but the general charge was "fraudulent intent" on the part of contractors. Taking up the "equal allocation" question, Dingell said:
It is important for you to understand that the GAO debunked a phony idea widely spread by some Air Force generals that the $435 hammer is a result of the "equal allocation of overhead" to these parts which are of minimum intrinsic value. The 12-cent Allen wrench did not increase to $9,606 by the "equal allocation of overhead" -- General Dynamics and Westinghouse actually charged engineering time to the wrench that resulted in that kind of price. According to an examination of the labor records, Westinghouse charged 63 hours of engineering time to develop a 3-inch piece of common wire for $14,835 -- a tool officially dubbed an assembly pin -- when Westinghouse had been using a wooden peg for five years for the same purpose.
In short, it took seven engineers a total of sixty-three hours to design a straight, three-inch piece of wire. No, there is nothing arcane about its composition or function -- it's just plain wire. Their engineering design drawing is reproduced on page 212.
Spare parts -- the actual pieces of engines, missiles, or planes -- were priced by formula, and illustrated the degree of overpricing of the big stuff. Tools, on the other hand, were priced individually and separately after long negotiation. The tool-buying process, then, offered a good chance to understand just how Pentagon procurement rules work, because tools are bought in the same way as the big stuff.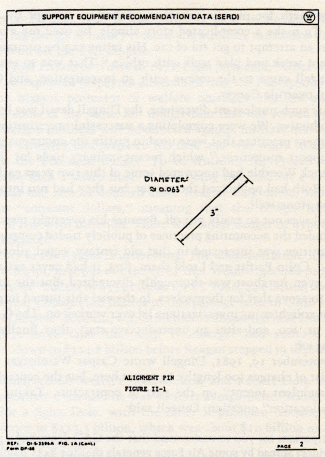 Engineering design drawing for the Westinghouse assembly pin.
One of the best-documented examples is a piece of F-16 support equipment called a pulley puller, which cost $8,832 (see the photo and cost chronology on page 214). Many readers will recognize that such a tool, used to remove wheels, pulleys, gears, and so on, can be bought commercially for about five to fifteen dollars. If you were to buy one, you would most likely find that it had two longitudinal slots in place of the two outer holes shown on the F-16 model. In addition, the commercial model would have a selection of sizes of the two outer machine screws or bolts to be screwed into the part to be pulled off. The body of the puller would also have slots for the outer screws to accommodate varying distances between holes in different pulleys. In short, your hardware-store pulley puller would be much more versatile than the F-16 tool, which accepts only one size of machine screw.
If, instead of buying a pulley puller, you decided to make one, you'd take a steel bar of approximately the correct cross-section, cut it to the right length, drill the three holes, tap the center hole to accept a threaded jack screw, and buy two machine screws and a jack screw. Presto!
As a test we decided to have a pulley puller custom made, so Tom Amlie called Jon Williams, owner of a first-rate aerospace machine shop near Dallas, on a Friday afternoon with an "emergency" order. The pulley puller shown on page 214 arrived from Dallas at Tom's home in Bethesda, Maryland, on Sunday morning, less than forty-eight hours after the order was placed. Its corners were neatly chamfered, the whole assembly had an attractive, gold-colored protective finish, and it worked perfectly.
Jon had given the order to his foreman on Friday and was given the finished product thirty-six minutes later. Picked up at the shop, the tool would have cost $25. On this emergency basis, the total cost, including profit and air express charges, was $69.
Compare this with the Air Force record. The Air Force placed its order on September 21, 1982, nine days before the end of the fiscal year, when funds had to be obligated before they expired. It then waited seventeen months for delivery and paid $8,832 for the item. Then the Air Force found out that its pulley pullers didn't even work!
This was bad, but even worse was that this "price justification" meant that the Air Force might pay the same $8,832 apiece, or more, for any reorder. Since the F-16 tool was a "unique design" it was probably claimed to be "proprietary," so we would have to buy it from Westinghouse through negotiation rather than get competitive bids. There would probably be some inflation between the time of the original purchase and the reorder, and the Air Force buyers would raise the price to account for that. And what about the cost of redesigning the pulley puller to make it work? Would the next shipment cost $10,000 apiece? $15,000?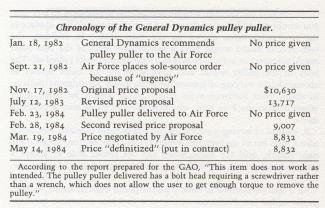 Chronology of the General Dynamics pulley puller.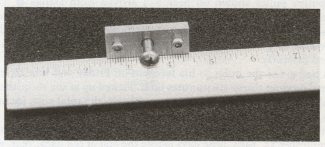 SERD 74966. the F-I6 pulley puller.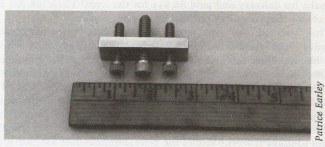 Pulley puller custom made by Ton Williams's machine shop.
The important point is that the pulley puller transaction was perfectly regular. When the participants were questioned about it, they were outraged. They had meticulously followed all the procurement rules, hadn't they? In appearance before the Dingell subcommittee on September 23, 1985, General Dynamics Vice President Frederick Wood, a former Air Force procurement officer, stoutly defended the deal.
He displayed a huge flow chart depicting sixty-five steps designed to give the tool a proper pedigree and make sure it worked as intended. The fact that it didn't work was not important -- it had been certified. General Dynamics had a signed compatibility test report, witnessed by three contractor experts and a government representative, certifying that the item was "suitable for the purpose intended." Not functional, just suitable.
The big price tag didn't bother Frederick Wood, either. He explained that his duty was to observe the rules and follow the set procedures. The price was just a natural outcome of that. Here is an exchange from the subcommittee hearing:
MR. DINGELL: Do you have a duty to see to it that these things are done in the most cost-effective fashion?

MR. WOOD: I would have to say no, then. I would like to explain why, then.

MR. DINGELL: When you tell us you don't have a duty to do it in the most cost-effective fashion, I think you not only have the right, but the duty to explain why you make that statement.

MR. WOOD: I think it is incumbent upon all of us to develop a process that would result in the most cost-effective way of doing business. In many ways, the processes we use in any part of the government are not specifically designed to be the most cost-effective.
Air Force Brigadier General Ronald Yates, the F-16 systems program director when the pulley puller was bought, was even more hard-nosed on the defensive. He didn't at all like Secretary Orr's request for a refund from the company after the ripoff had become embarrassing. When the GAO interviewed him on February 26, 1985, Yates said that he couldn't see anything in the data to support a refund request. Questioned further on this by Congressman Gerry Sikorski on September 23, 1985, General Yates said, "The straightforward answer is that in fact they spent the cost incurred. We knew that."
Now recall that the Pentagon rule is that the specific negotiated price should be close to what it actually costs the contractor to make or buy the item plus a percentage of the cost as profit. That was the basis of Yates's defense. But the Air Force waited until March 19, 1984, more than three weeks after the pulley pullers had been delivered, to negotiate the $8,832 price. This gave them good "actuals" -- costs that could then be audited by the Air Force and the DCAA. The chart reflects the zany way the final figure was arrived at.
First General Dynamics and Westinghouse proposed a price of $9,007 each for the pulley pullers. Our astute Pentagon negotiators were not to be fooled that easily, though. They knew that the actuals, as audited by the Air Force and the DCAA, came to $5,384. Now entered a mysterious figure: $246 to "finish" each pulley puller. Finish what? The defective tools had already been delivered. The Air Force had approved them, so Westinghouse hadn't the least intention of altering them to make them usable.
Then came the previously approved markups for G & A (general and administrative expenses), the cost of money (interest), and profit. The total was now a "fair and reasonable" cost to Westinghouse of $7,009 for each little gadget. For the frosting, General Dynamics got $789 per item just for dealing with its own subcontractor plus a profit of $1,034 for each item.
At this point some inquisitive busybody might ask who really made the things in the first place, and where? The answer was not General Dynamics, and not Westinghouse, but a subcontractor machine shop. Possibly because it is harder to find a machine shop to make defective pulley pullers than one that turns out something usable, the machine shop charged the rather high price of $353. That charge is hidden under the misleading accounting label "material."
Was General Yates fazed by any of this information? Not at all. He told GAO that if the Air Force had walked down to the corner hardware store and bought x number of pulley pullers off the shelf for $25, they would not have saved any money. That was because the related engineering and testing costs now on the bill would be shifted to a "sustaining engineering" charge that the Air Force would eventually pay for anyway.
This is one of the wonderful effects of the "full absorption accounting principle," which allows favored big contractors to take all allowable costs of doing business and distribute them willy-nilly onto all the work going through their plants.
When the GAO audited the General Dynamics refund ordered by Verne Orr, they found that the company had recorded a separate 359 engineering hours for the Westinghouse support-tool work but had excluded them from the final price proposal. Nevertheless, those hours "are used as a basis for progress payments by the Air Force on the F-16 contracts.... Therefore, the Air Force could end up paying the cost for these hours even though they were excluded from the proposed and negotiated price." (As the cost breakdown chart shows, General Dynamics charged $33.61 per engineering hour. That meant an additional hidden charge of $12,065.)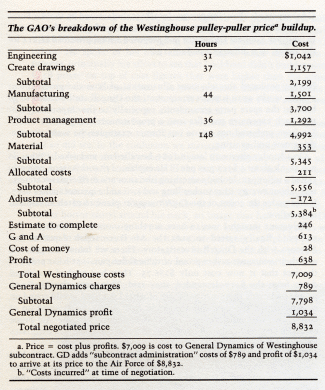 The GAO's breakdown of the Westinghouse pulley-puller price a buildup.
What if the Air Force simply made such tools in its own shops? The GAO reported: "Four items were locally manufactured by the Air Force and the SPO (Systems Program Office) was billed $995 for these items. In contrast, General Dynamics had proposed a total price of $41,514 for the items, or a difference of $40,515."
***
Having produced this eloquent illustration of how the procurement system works as to support equipment, the Dingell staff decided to go back to the spare parts conundrum, especially to the important point that each expensive part fits into a proportionately expensive whole. Stockton preferred not to use our former examples; he wanted something new and exciting.
On a Sunday afternoon late in 1985, he called me and asked, "What do you think about a $317 piss pan?" He explained that this item, properly called a toilet pan, looked something like an oversize fiberglass cafeteria tray, about twenty-nine inches long and two and a quarter inches deep. It slid under the toilet of the C-5A transport plane to catch any splash or overflow.
Reluctant though I was to have anything more to do with the C-5 turkey, I finally agreed to visit the Air Force repair depot at San Antonio with the Dingell investigators. There we found the generals and their assistants rather proud of their toilet pan -- at least proud of the fact that it now cost only $286.75. They had pushed Lockheed down from the $317 demanded, they said. This time, the Air Force people had made their own estimate of what Lockheed would spend on manufacturing the pan. But we saw a flaw in the usual stack-up of costs. The cost subdivisions, or "cost elements," in the Air Force estimate were radically different from those in the Lockheed estimates I had seen.
Under questioning, the Air Force analysts admitted that they had made up the numbers. After estimating that it would take 1.92 standard hours to manufacture each article, and adding the cost of material, they had simply plugged in some finagle factors to make their estimate approximate Lockheed's cost. Nobody at the depot could see anything wrong with that.
We decided to move on to the next toilet pan stop, Air Force Plant 6, at Marietta, Georgia, where Lockheed assembled C-5s. First we had to sit through the tribal ceremony of the boiler-plate briefings. I recognized one of the briefers as an old acquaintance, Reginald Andrews, a senior, influential civilian in the AFPRO. We'd been friendly long ago, but his bosses had so condemned my C-5A activities that I'd assumed that Reg, while knowing the reality, had kept quiet in order to hold onto his job.
Now an amazing thing happened. Right in the middle of his boilerplate briefing, Reg Andrews began telling the truth. In some detail he told us how Lockheed was ripping off the Air Force once again on C-5B prices. He spoke of his own efforts to inject some sanity into the process, principally his effort to see that Lockheed didn't build projected C-5B prices on top of cost figures that were higher than the actually expected costs. He said there was good evidence that they had made the phony boost on wages and salaries. He said the Air Force audits would prove it if we could only get a look at them.
Hearing this, the Air Force military were in disarray. Colonel Looney, the plant representative, tried hard to change the subject. Reg resisted, and so did we. In the confusion we managed to get hold of Lockheed's actual estimate sheets for the toilet pan. The company's first try added the cost of factory inefficiency in the conversion of standard hours to "actuals." With the usual markups, the price for each pan was $642.35.
But that price had some problems. Herblock's Washington Post cartoons had shown Caspar Weinberger with a $640 toilet seat (an earlier horror story) around his neck, an image that had made the DoD acquisition community very sensitive about anything having to do with toilets. In deference, Lockheed had reduced the tag to a "policy price" of $325. The Air Force penny pinchers had then reduced the price to the $317 "last price," and finally to the "better estimate" of $286.75.
The C-5A toilet pan.
We had all the information we needed. After making adjustments for errors and omissions by the San Antonio estimators in standard-hour content, I estimated that Lockheed had originally foreseen spending just over $300 per standard hour of output to manufacture the toilet pans.
This corresponded to about $275 per standard hour of output for the manufacture of the whole C-5B under the current contract, as estimated by the AFPRO engineers. (One of the engineers told me privately that I should add $10 or $15 per hour to that figure for costs that had been left out.) Close enough, Stockton and I decided. We might be able to stimulate some cost reduction with the notion that the cost of the C-5B was parallel to the cost of a collection of $600 toilet pans in flight.
Even though only one group of twenty-one aircraft out of the total planned purchase of fifty C-5Bs remained to be negotiated, we had to persuade the Air Force procurement people to do a should-cost study, which they started reluctantly. But first we had to break through the resistance of the Air Force auditor general, who didn't want us to see the reports Reg Andrews had referred to. Then, when it seemed that this study was headed in the usual direction -- toward "finding no evidence" of fat -- I decided to step in. Should-cost and other estimates were part of my jurisdiction, so I wanted to keep the verdict honest.
In July 1986, when I visited Air Force Plant 6, however, the information I wanted was denied me. It seemed that the Air Force generals had negotiated a back-room agreement with Richard Carver that "should-cost findings cannot be released until an ASD (Aeronautical Systems Division) position is determined and negotiations are complete or the FY 87 (last) option is exercised." In English that reads: after we get this thing wrapped up and signed, we'll let Fitzgerald get a look at it.
On the strength of some in-house Air Force encouragement about saving a few bucks on the despised C-5B, I'd taken on the should-cost matter by myself. Now I had to pay the price and confess failure to Stockton and Dingell's staff. It was worth eating a little crow, however, because they then managed to cut a peephole in the Blue Curtain, and I had a look at the should-cost team's results. They were nearly worthless, and I had to say as much in my critique. We also learned that even though I, the Air Force official legally in charge of such matters, had been denied information, Lockheed had been fully briefed on the team's findings.
On September 17 we had another of those clamorous debates, this time in a Lockheed auditorium, where I was confronted with dozens of Air Force officers, Air Force civilians, and expensive consultants trying to defend their fruitless results against my critique.
Fortunately for me, John Lynskey, the Air Force deputy chief of pricing (the top civilian in that capacity) was present. He later made an accurate record of my critique and wrote a report that essentially agreed with my findings. Even more fortunately, a draft copy of that report fell into the hands of the Dingell subcommittee before any general could censor it.
The result was that Secretary Richard Carver was now in a vise, one jaw being the Lynskey report and the other being a new discovery by Stockton that Carver was on the payroll of the big investment house of Smith, Barney ("They make money the old-fashioned way") while serving as Air Force assistant secretary for financial management. Being paid by the investment house and having access to much inside information -- especially as to where "black," or supersecret, contract money was to be spent -- Carver represented a potential scandal. Because Dingell had jurisdiction over SEC matters, this question was of concern to him.
Carver was asked to come to the Dingell staff office to explain his situation to Stockton, Mike Barrett, and others. The report to Dingell of this meeting reads:
On Thursday, October 2, 1986, the subcommittee staff interviewed Air Force Assistant Secretary Richard E. Carver in connection with his ongoing consulting relationship with Smith, Barney. The staff's inquiry into possible conflicts of interest with respect to Mr. Carver's Smith, Barney relationship is ongoing and will be the subject of another memorandum. However, during the interview, Mr. Carver said he wanted to bring us up to date on the fiscal year 1987 C-5B procurement...

Mr. Carver led us to believe that the Air Force might just be on the right track to recouping for the government up to $1 billion in overpricing on the C-5B aircraft. He was full of praise for the subcommittee's work, as well as for the work of his Management Systems Deputy, A. E. Fitzgerald, in focusing the spotlight on this potential waste of money. In contrast, he was highly critical of the "deficient should cost study" recently completed by General Skantze's Air Force Systems Command (AFSC).

Mr. Carver said that before the Air Force opens negotiations with Lockheed on the fiscal year 1987 C-5B -- when, according to him, everything including Lockheed's return on investment and DCAA's defective pricing findings would have to be put on the table -- a new "should cost" study would have to be done by someone competent to do such an analysis.... Throughout this discussion, we were led to believe that Mr. Fitzgerald would be in charge of the new "should cost" study.
This was a nice example of the soft answer that turneth away wrath -- or so they hoped. Neither Carver nor Pete Aldridge, now secretary of the Air Force, had the slightest intention of letting me have a close look at one of their most favored contractors. The next day Carver announced that Eric Thorson would be in charge of the new study. This did not please Dingell's staff:
From our conversations with Mr. Thorson, it is clear that he has little, if any, experience in such matters, while Mr. Fitzgerald and his associates developed the "should cost" approach in the early 1960's. Furthermore . .. the Air Force's legal agreement with Mr. Fitzgerald specifies he is responsible "at the highest Air Force level" for such studies. Apparently Messrs. Carver and Aldridge simply ignored their legal agreement.
I was permitted to participate in the work under Thorson's supervision, and luckily Eric was a very decent person, and his military assistant, Colonel Jim George, was a highly intelligent and well-motivated officer. We also had some closet patriots on the should-cost team, as well as the powerful backing of Reg Andrews.
Dingell was a great help, too. He brought the toilet pan controversy all the way to the desk of Larry Kitchens, Lockheed's chairman of the board. Haunted by that expensive piece of cheap plastic, Kitchens finally told Dingell he would reduce the price to one dollar if that would satisfy him.
It didn't satisfy me. I used the picture of the toilet pan as a prop in numerous television and newspaper interviews to hammer home the connection between overpriced spare parts and overpriced airplanes.
Finally the ASD team had to swallow their pride and ask Reg Andrews to help them in their renegotiations with Lockheed. In the end, though we didn't get nearly what we should have, the hard work and pressure paid off. The new option price was $1.947 billion, $498 million lower than the previous price. After adjusting for savings they might have had without the should-cost study, the Air Force announced, a saving of $273 million.
They had good reason for announcing the lower figure; both Dingell and Proxmire were determined that the savings be returned to the Treasury and not dissipated elsewhere. Even though Lockheed did not return any money on the previous options and managed to keep a lot of fat in the last one, the effort was still worthwhile.
That was the short-term benefit. The long-term benefit of our educational effort was that the high brass could now see very plainly the whole disastrous array of factory inefficiency, excessive rates of pay, specious "engineering" costs, insane overhead charges, and so on. The moral was that we should cut Pentagon unit acquisition prices drastically.
We had done everything we could to educate our leaders, but the question remained: were they educable?