14. The Santa Claus Coup
ON AUGUST 2, 1776, fifty members of the Continental Congress blew the whistle on their king, George III. They signed the Declaration of Independence, asserting that George had "so abused the Laws of Nature and of Nature's God" as to justify casting off the royal authority. Count number twelve against the king was that "He has affected to render the Military independent of and superior to the civil power." That was a very real concern among the founding fathers, who relied on the warnings of history in establishing the new republic.
In the Federalist Papers 41, James Madison wrote:
If one nation maintains constantly a disciplined army, ready for the service of ambition or revenge, it obliges the most pacific nations who may be within the reaches of its enterprises to take corresponding precautions.... The veteran legions of Rome . .. rendered her mistress of the world (but) not the less true it is that the liberties of Rome proved the final victim to her military triumphs; and that the liberties of Europe, as far as they ever existed, have ... been the price of her military establishments. A standing force is a dangerous, at the same time that it may be a necessary, provision.
Madison went on to say that large armed forces are at the least an inconvenience, at the worst fatal to the liberties of a nation.
In the past such valuable safeguards had kept the country free of military influence in politics. When generals were elected president -- Washington, Jackson, Grant, and Eisenhower -- they were rewarded as retired heroes, not as men on horseback. General Douglas MacArthur's defiance of President Truman's orders and the subsequent MacArthur boomlet for the Republican nomination are about as close as we've come to a military presidency, and that was not very close.
The interesting thing about American history is that the patterns are usually different from the patterns of history in other countries. One of the big contrasts is that we do not expect to see the military coup, the man on horseback, or the military junta in charge. Our dictator will not arrive at the head of a tank column coming down Pennsylvania Avenue. But it is only too easy to overlook him in the form of a thousand unarmed, well-behaved, anonymous officers sitting at their desks in the Pentagon and, in alliance with civilian contractors, gradually taking power over a huge part of the public economy and a whole range of governmental decisions.
Dwight Eisenhower, who knew the American military subculture as well as anyone, made one of the most clear-sighted democratic statements in our recent history when he warned in 1961 against allowing "the military-industrial complex" to have "undue influence in the councils of government." This was the first definition of something we'd never quite reckoned with before: the importance of econo-military issues in national policy. The new force Eisenhower was describing had arisen from the interlocking of the national security establishment and a great war industry. (Unfortunately, although Eisenhower described the problem, he did little to solve it.)
Herbert Hoover had recognized some of its dangerous effects. The 1956 Hoover Commission report, titled "Unbusinesslike Attitudes," said:
The performance of its national role, almost of necessity, introduces into the Defense establishment a philosophy and an attitude that are inconsistent with sound business principles as well as with economy in Government. Essentially, it is the military attitude that it is much better to have a surplus of supplies and of personnel than to have too little, because deficiencies might cause defeat. Obviously, this is true, and, obviously, also, it is unbusinesslike and wasteful. This philosophy is epitomized in the remark of a prominent flag officer:

"Our military people are not hired primarily to see how little they can get along with; they are hired primarily to seek to get enough materiel to meet their responsibilities."

An Assistant Secretary of Defense expressed the same view:

"It is not unreasonable to expect responsible military personnel to desire sufficient manpower and materiel at any place and at any time to minimize potential risks. Cost, even though given active and sympathetic recognition, tends to assume a secondary role."
The Hoover Commission noted some improvement in the "management structure" of the Pentagon but found that the secretary of defense had little real control over the joint chiefs or the three services. The efficiency level, Hoover found, was low, especially in the use of personnel. Here the commission made an important philosophical and psychological distinction:
The dual personnel system, with both military and civilians working side by side, involves increased costs and difficult problems of management. This is made much more difficult because the uniformed personnel are expected to function on the basis of command while the civilian personnel are expected to operate on the basis of sound management principles. These two dissimilar approaches are bound to clash.
And clash they did. Over the years, however, the military faction won almost every encounter. A few patriotic officers, it's true, tried to buck the System, but they quickly found themselves ostracized.
As the military party in the Pentagon steadily gained influence, attitudes in big business, Congress, the banking community, and major universities altered dramatically. From the post-World War II view that military spending was a necessary evil that ought to be curbed in peacetime, these powers and principalities began to view defense, or at least spending for defense, as necessary. Every one of them was profiting from it, after all. Then came the High Priests of Waste, those strange economists who reassured us that wasteful spending was not only necessary but good. It made jobs; it kept the economy humming; it subsidized the universities; the whole country just got richer and richer spending money on something we hoped we would never use.
The Hoover Commission's excellent insights went further:
This anti-economy and unbusinesslike attitude is of fundamental importance, for it permeates the thinking of the entire establishment. Although civilian control of the armed forces is accepted as a principle of American Government, this approach of a professional soldier has influenced the thought and actions even of the responsible civilian officials. This type of influence is not easily eradicated by reorganization or other simple means. Yet every responsible step should be taken to make civilian control of the defense establishment a reality; otherwise we might end up with a military dictatorship.
Hoover's thoughtful report in 1956 and Eisenhower's thoughtful warning in 1961 came too late. By that time the alliance of suppliers and the military was becoming the single most potent force in the economy. One soldier even had the audacity to speak its guiding motto out loud. On August 2, 1967, in a meeting at Wright-Patterson Air Force Base with me and others, Major General "Zeke" Zoeckler said that "inefficiency is national policy." Significantly, the general was in the process of defying written orders from Deputy Secretary of Defense Paul Nitze, DoD Comptroller Robert Anthony, and Assistant Secretary of the Air Force Ted Marks, all of whom wanted him to cut the fat out of the F- 111 fighter bomber program of which he was director.
Zoeckler's successful insubordination was the beginning of a series of triumphs for the military. Emboldened by the indulgence of the Nixon administration, they began to come out from the dark corners of the officers' clubs and speak their piece in public. Lieutenant Colonel William Simons in the official Air University Review of March 1969 wrote:
In the continuing controversy over Vietnam, it has become the vogue for those critical of U.S. involvement to challenge the policy role of the military. Charges of brainwashing the public have been leveled against that old bugaboo "the military- industrial complex." Some extremists (Eisenhower?) have demanded an end to "the Pentagon's unwarranted influence" on national policy formulation. But in this respect the current confrontation between Vietnam "doves" and "hawks" has provided only the most recent episode in a recurring controversy in American public life.
Simons went on to say that the military officers already deeply embedded in the government had developed an unfortunate tendency "to accept the political objectives stated by civilian authority as given." This was quite unacceptable to Simons: "To borrow from Clemenceau, if war is too important to be left to the generals, the maintenance of peaceful order is too complex to be left to the politicians or the political idealists."
The Declaration of Independence and the Constitution be damned, this officer implied. The military "have an obligation that goes beyond purely constitutional imperatives." He summed up, "It remains only for the military profession to use the institutional staff structure provided for it to help relieve these shortcomings in the nation's policy-making processes."
On the face of it, this might sound like a statement dear to the heart of Generalissimo Franco or the Argentine high brass of 1976-1983, but it is not quite that. Notice the language -- not that of the rebel commander at the head of troops but that of the bureaucrat who sees "the institutional staff structure" as the lever of power. With this kind of thinking going unchallenged, it is no wonder that the Poindexter-Packard coup was so easy to pull off or that the Air Force's New Order was so readily accepted.
For me, the move that came closest to home was the attempt to destroy my usefulness. On March 7, 1987, the National Journal carried David Morrison's full-page article titled "Extracting a Thorn, Air Force Style." The thorn, of course, was "procurement expert, A. Ernest Fitzgerald." Congressmen Dingell and Aspin thereupon wrote a letter of protest to Weinberger saying, "We fully expected the Air Force to use the Reorganization Act to take punitive action against A. Ernest Fitzgerald -- which they have done with a vengeance."
When they wrote this letter, the two committee chairmen did not quite realize that the Air Force was not reorganizing in accordance with the Goldwater-Nichols bill, now law, but in accordance with its own secret agenda, the Poindexter-Packard plan. Thus they were surprised at the scope of the takeover. The statutory civilian post of my boss, the assistant secretary for financial management, was to be abolished and his oversight functions allotted to a three-star general. As I noted in Chapter 12, the new assistant secretary of the Air Force for acquisition, a civilian, would be a figurehead; his deputy, and the man with the real power, would be a three-star general, Lieutenant General Bernard Randolph.
"Obviously," the chairmen wrote, "the three-star general is under the Air Force command structure. Reducing the civilian component will mean that the Secretariat will, in effect, be depending on a three-star general to oversee the effectiveness of various commands headed by four-star generals. In other words, a three-star general is being asked to hold four-star generals accountable."
That was an anomaly, but the worst effects, the chairmen recognized, were the emasculation of civilian controls over purchase of major weapons systems and the virtual elimination of checks and balances:
This portends the worsening of an already dismal record of financial and technical management of major acquisitions in the Air Force due to inadequate or non- existent cost and technical controls. The B-1 debacle is only one example.

We would like to receive your assurance that what appears to be a virtual elimination of civilian control in the Department of the Air Force will not take place, and that instead, you will take immediate action to ensure that civilian control is reinforced in the Air Force reorganization, as well as in the reorganizations of the other military department headquarters.
In answer, Weinberger thumbed his nose. The next day, March 27, he put the New Order in place. My office was put under Lieutenant General Claudius E. "Bud" Watts III, the military comptroller of the Air Force. Other generals assigned to the civilian Secretariat reported through the military chief of staff to their nominal civilian supervisors. The coup was as complete as the Air Force wanted, at least for the moment. Its generals now had approximately $100 billion for patronage.
Representatives Dingell and Aspin were not pleased. The March 30, 1987, Washington Post headlined a story, "Ill Winds for Air Force Staffing Plan," with the subhead, "House Chairmen Say Reorganization Weakens Civilian Oversight." Capitol Hill expected a joint hearing and an attempt to undo the coup. But in the end it was Chairman Bill Nichols of the House Armed Services subcommittee -- openly unhappy at having to question the boodle-distributing military -- who held the gavel.
He led off by saying that he wanted to "step back and let the responsible officials in the Department of Defense ... implement the law." But, he said:
The subcommittee is ... caught in the middle between two very prominent chairmen and the Air Force Secretary (Aldridge), who maintains that he has been faithful to the law. It is for this reason that I have invited the Secretary ... to begin this series of hearings. I would also note that I have invited both Chairman Aspin and Chairman Dingell to participate in these hearings as they see fit.
Unfortunately, they did not see fit. And thus Nichols's deferential attitude was an influence throughout the hearings. (One evident source of interest to some subcommittee members was the rivalry between Dingell's energy and commerce investigating subcommittee -- Dingell was also chairman of the full committee -- and the Aspin committee. In the course of the questioning, the focus turned to my work for Dingell. Congresswoman Beverly Byron had this exchange with Secretary Aldridge:
BYRON: You stated that there is a court order describing his job description and mandating that. In that court order, does it say -- First of all, what are the hours at the Pentagon? Eight o'clock to quarter to five?

ALDRIDGE: My hours?

BYRON: No, no. Just general.

ALDRIDGE: I think there is an official order around that says eight to five, I believe.

BYRON: Eight to five, okay. Having said that the official time is eight to five, is Mr. Fitzgerald in the Pentagon from eight to five on a daily basis?

ALDRIDGE: Not at this time.

BYRON: Has Mr. Fitzgerald been subpoenaed by a subcommittee to be on Capitol Hill on a daily basis from eight to five?

ALDRIDGE: Well, Mr. Fitzgerald has -- There is an agreement that Mr. Fitzgerald is part-time reporting to Congressman Dingell's staff for activities as they call for.

BYRON: So, really, he is not full-time back in what was his old job?

ALDRIDGE: At this point, he is not.

BYRON: Which is what the court order stated he should be doing? Is that correct?

ALDRIDGE: That is correct.
The point of citing this bit of testimony is to note how the Air Force managed to twist it. Major Skip Morgan, Aldridge's legislative lobbyist, summed it up this way in the resume he sent around to Pentagon offices: "Mrs. Byron asked what percentage of Mr. Fitzgerald's time was spent on the Hill giving inside information to certain other committees of Congress."
Petty as this revenge was, Aldridge's grossly misleading testimony was worse. The "court order" said nothing about hours of work; I always averaged more than forty hours a week at my Pentagon job, apart from the committee work (ironically, I first read Aldridge's testimony while working in my Pentagon office on a beautiful Sunday morning in May); I was assigned to Dingell's committee as an Air Force duty, not as anything else. The Dingell detail was an item on my evaluation sheet so that my Air Force bosses could grade my performance on it.
But the most bizarre of Aldridge's aberrations in his testimony was this: "Mr. Fitzgerald does not have an evaluation form (a form on which principal job duties are recorded). He refuses to fill out an evaluation form on which he can be evaluated."
This was absurd in view of all the controversy about my so-called work plan and "evaluation form" (see Chapter 11). Aldridge was clearly trying to change the subject by his false personal attacks on me. As Dingell's November 6, 1985, hearing had shown, my repeated submission of work plans had been misused by Aldridge's assistant, Richard Carver, to try to discredit me. When that was exposed, Carver was embarrassed into withdrawing his unjustifiably unfavorable evaluation. Aldridge was well aware of all this, and he also would have known that my revised evaluation form had been approved by Carver on February 23, 1987. So the useless lie takes its place in the long list of minor harassments and retributions of my Pentagon career.
With serious Air Force management problems already evident under the New Order and with the FBI's secret investigation of collusive fraud under way, Aldridge had focused his attentions and mental effort on damaging me with lies rather than looking to our weak and crumbling defenses against waste and fraud. And the Armed Services Committee let him get away with it.
Even though they didn't take part in Nichols's hearings, the Dingell staff was keeping watch on the New Order. Among the relevant documents the staff acquired was an interesting New Order organizational chart. It showed that the nominal head of the project was Dan Rak, deputy assistant secretary (acquisition management), a friend of the big contractors but a man who was passive to the point of near-inertness. An ideal front man. The real leader of the enterprise was Colonel Jim Lindenfelser, one of the Air Force's most intelligent, energetic, and capable officers. From a lowly beginning as defender of the (figuratively) gold-plated, diamond-studded C-5A coffeepot, he had risen to be one of the most effective workers on the Packard commission staff. Then, having helped to formulate the Poindexter-Packard recommendations, he returned to the Air Force to carry them out.
Another interesting name on the chart is that of Lieutenant General (retired) George Sylvester, head of the Organizations subproject in the New Order. As vice commander of the AFSC, he had presided over some of the greatest boondoggles in history and had headed the commission that finally put the lid on the Hughes Aircraft scandal.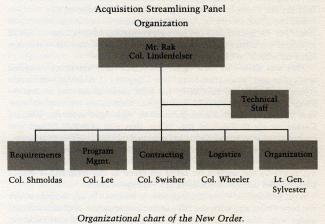 Organizational chart of the New Order.
Acquisition Streamlining Panel Organization: Mr. Rak, Col. Lindenfelser; Technical Staff; Requirements, Col. Shmoldas; Program Mgmt., Col. Lee; Contracting, Col. Swisher; Logistics, Col. Wheeler; Organization, Lt. Gen. Sylvester
At first the Nichols subcommittee found little to criticize in the New Order. However, it later relented somewhat and pushed a bill through Congress requiring the Air Force to restore a civilian to the top financial management post -- in 1989. Reagan vetoed the measure, but it was passed again and finally signed by a departing Ronald Reagan.
***
Toward the end of May 1987, I again gave the soldiers of the New Order reason to want to gag me. Following Dingell's investigators, I went to California to inspect and review the MX missile program. We scheduled stops at Northrop's MX operations in Hawthorne and the Air Force Program Management Office at Norton AFB in San Bernardino.
When I arrived at Hawthorne, the committee staffers had already collected sensational evidence of the familiar kinds of mismanagement and corruption. Out here, we discovered, closet patriots were called "allegators" -- those who allege -- and enough of them had spoken to Peter Stockton to give him a picture of an incredible mess in quality control and material control. The Northrop engineers' frequent design changes had produced chaos in the factory. After materials were ordered according to design specifications, the specs would change several times before delivery. Orders for new material were placed, but old orders weren't canceled. So much unusable material was stacked up in the plant that Northrop didn't know what to do with it.
These were not ordinary spare parts. It was complicated, expensive hardware, quite a bit of it plated with gold and much of it classified. How did Northrop solve the problem? They simply threw the hardware into dumpsters and junked it. To prove this, the allegators produced eighty-three banker's boxes full of missile guidance parts, some gold-plated and classified, that had been put in the trash.
The huge volume of orders and reorders had so swamped the purchasing department that management was sending the engineers out to buy spare parts wherever they could -- Radio Shack was a favorite vendor -- and be reimbursed out of petty cash. This desperation measure bypassed the elaborate and expensive quality control system the Air Force paid Northrop to maintain. And Northrop's internal control systems did nothing to flag the breakdown and attendant defalcations.
Total chaos threatened when the run on petty cash grew out of proportion. The allegators told us that the lines of engineers waiting to be reimbursed got so long that the halls were clogged. Clearly out of its depth by this time, management resorted to authorizing some key employees to set themselves up in business to buy spare parts. It worked this way: the employee would take out a business license, get a mailing address (usually the check-cashing store across the street from the plant), buy parts, then reimburse himself out of a revolving fund. Each employee "company" was given a name but, generically, they were known as DBAs -- "doing business as."
When word of these Rube Goldberg ways of running a company leaked out, management got scared enough to decide that the DBAs should be audited, at least nominally. That in turn scared the employee-proprietors, who thought they might end up as the fall guys. So they were eager to tell their tales to the congressional investigators.
Both Air Force and civilian managers at such plants have tactics for dealing with snoopy official visitors like us: they bore them to death. They try to use up as much time as possible with lengthy boiler-plate briefings and Vu-Graph lectures in hopes that the intruders won't have enough time left to find out where the bodies are buried.
When I arrived at the Northrop plant, Stockton and his associates, Bruce Chafin, Claudia Bevill, and Charlie Rey, were late because they were dealing with the huge bonanza of allegator evidence. We explained to the plant managers and USAF officers who met us that we were behind schedule and wouldn't they please dispense with the usual time killers?
Sorry, no, they said. At great expense and trouble, Northrop had prepared complete and extensive briefings for us, explained the group vice president and acting MX program manager, D. N. Ferguson.
To speed things up, couldn't we at least have paper copies of the Vu-Graphs? That would save us the trouble of taking notes on each graph or chart.
A very difficult request, Ferguson thought; it would have to be referred to the Air Force.
I said that I was the senior Air Force representative present and that Northrop had my permission to distribute copies of the unclassified Vu-Graphs, And while they were about it, I'd also like copies of the latest cost performance reports (CPRs) for each of the Northrop MX contracts.
Suppressed consternation. The Air Force officers present -- Colonel Speed, the program manager; Colonel Hatfield, the plant representative; his aide, a captain; and some Northrop managers left the room.
We had won a point, it seemed; after they came back, Northrop handed out copies of the Vu-Graphs and the captain gave us copies of the available CPRs. But something continued to agitate the Air Force officers, who kept leaving and returning throughout the meeting.
During the ponderous and rather pointless briefings, we interrupted from time to time with questions about our specific line of inquiry, but we got no substantive answers. Northrop's lawyer suggested that we be quiet and listen to the lecture.
Would Northrop answer some questions as to the extent of their public disclosure of their contingent liabilities arising from substandard contract performance? Northrop should understand that Chairman Dingell's committee was responsible for overseeing the Securities and Exchange Commission, which requires full and timely disclosure of such contingent liabilities.
No, Northrop was not prepared to answer any such questions.
Would Mr. Ferguson then bring to the meeting Mr. J. R. Roehrig, vice president and manager of the finance department? Mr. Ferguson surely remembered that one of our advance requests was to meet with the plant's top financial person.
Mr. Ferguson seemed to be having an attack of nerves. We were throwing too much at him at once! Why couldn't we ask our questions in a more orderly manner? He would have to staff them. Finally, he turned to one of his assistants and ordered him to get "the girl" so he could prepare written questions for the staff.
Mr. Ferguson's secretary appeared and he began to dictate questions:
1. Who is Mr. Roehrig?

2. Is he here?

3. Can these people talk to him?
He then told his "girl" to type the questions and bring them to him to sign. In a few minutes she returned with the paper, which he signed. Now these important questions could be staffed.
Eventually, we got our answers:
1. Mr. Roehrig was Mr. Ferguson's vice president of finance. (We already knew that. It was printed on the organization charts.)

2. Mr. Roehrig was not in the plant. (At least not by this time.) We couldn't talk with him.

3. Mr. Roehrig was recovering from a heart attack. (Possibly brought on by the scams he was involved in?)
In the meantime, as we learned later, some serious telephoning was going on between Hawthorne and the Pentagon. General Larry Skantze checked with Lieutenant General Bernard Randolph. A few minutes later the Air Force officers came into the meeting and requested that I give back the CPRs.
I didn't fall for it. This had happened to me once before, in 1986, when an Air Force officer at Lockheed-Georgia had demanded I return some contractor documents. That time I had given in.
But the big secret that Northrop was trying to wall up in the cellar was the dummy companies, the DBAs. We had asked to speak with a Mr. Kroll and a Mr. Peterson, both of whom had firsthand knowledge about them. For about an hour and a half, in some separate office, the Northrop managers and two Air Force officers tried to persuade Mr. Kroll not to talk with us. But Mr. Kroll said he had nothing to hide; he didn't mind meeting us.
When our talk with Kroll finally took place, Mr. Rosenberg, a Northrop assistant general counsel, and Colonel Speed were there to monitor. Kroll, cautious but helpful, explained about the DBAs. He also gave us some other troubling information: that certain important red-line drawings (design drawings modified in red pencil by engineers), documents, and records may have inexplicably -- and very recently -- gotten lost.
The upshot of this was that Kroll, accompanied by an AFPRO captain, went off to lock up the papers and records, reinforcing the locks with A quality-control seal. Colonel Speed expressed dismayed astonishment at the DBA revelations. He seemed cooperative and promised that when we reconvened next morning at his Norton AFB headquarters, there would be no more of the nonsense we had just encountered.
But a chill wind from Washington must have swept in overnight. When we arrived at Norton, the temperature had dropped by fifty degrees. We didn't get the customary handshake from the commander, Brigadier General Barry, but we did get visitor badges and escorts. We were taken to a small amphitheater and held there. When we went to the men's room, an Air Force lieutenant came along to watch us.
After the meeting finally began, it was clear that the Air Force had determined not to surrender the way Northrop had the day before. They were determined to head off our pursuit of the gold-plated trash and the DBAs. The boiler-plate briefing was endless. The Vu-Graph papers were denied us; General Barry told us that anything we asked for would be requested in due course through channels. Remembering Colin Parfitt's remark about old-fashioned British military justice, I longed to hold a court-martial for "dumb insolence."
Since Barry told us he was acting on orders from Skantze with approval from Randolph, we asked to set up a conference call with these gentlemen. Barry thought that would be "inappropriate." So we called Skantze from phone booths. Not to much avail, however; he stonewalled stubbornly, saying he was backed up by the deputy Air Force comptroller, the Air Force vice chief of staff, and the undersecretary of the Air Force.
General Barry and his people gave a great dumb insolence performance the rest of the day. They pretended not to understand. They couldn't remember things. They quibbled. They dissembled. They changed their stories repeatedly. If we hadn't known that these were officers and gentlemen, honor-bound to tell the truth in matters affecting their country's welfare, we might have believed that we had wandered into a den of very suspicious characters.
We made little progress until we questioned Cecil Blaznik, an engineer "rented" to the Air Force from TRW Corporation. (The company had for many years rented out employees to monitor other firms for the Air Force.) Blaznik, not long before, had been involved in following up allegations in "the Hyatt case"; a Northrop employee, Brian Hyatt, had brought charges of management irregularities and systems breakdowns, including falsification of test results of the MX missile guidance system. Those charges had been declared "baseless" by Air Force General Aloysius Casey. We asked Blaznik, were they in fact baseless?
Not at all, Blaznik conceded. The charges were serious and some of them had been provable. Northrop and the Air Force had tried to correct what they could.
But how about this? -- and we read the text of General Casey's repudiation of Hyatt.
Blaznik, rattled, tried to recant what he had just said. In his confusion he blurted out that fourteen folders of the original Hyatt allegations had never been shown to us. They were in the files of Air Force Major Boardman, since departed.
Blaznik was sent to search for the files, but he returned empty-handed and thoroughly subdued. It appeared he had received an omerta booster shot. General Barry said he didn't know what else to do. We suggested he start by calling Major Boardman to find out what had been done with the documents. General Barry did not respond.
A little later we did get a look at the district files of the Air Force Office of Special Investigations (OSI), and, of course, the evidence was not at all baseless. We proceeded to question the judge advocate general (JAG), who eventually admitted that he had written the letter closing out the OSI investigation and that Casey had signed it. The JAG tried to explain the "baseless" description by saying that he'd determined there was no basis for criminal prosecution. He further admitted, however, that a Mr. Fahy of the U.S. district attorney's office in Los Angeles had warned him not to talk to us about the Hyatt charges because the D.A. was considering criminal prosecution. It is almost needless to say that the Meese Justice Department didn't see anything criminal going on.
***
After I returned to Washington it was apparent that our quick review of the MX operation had disclosed symptoms of much larger problems, which could be serious enough to jeopardize the whole program. Northrop was already more than two years overdue in delivering MX guidance systems, and the quality of their work was highly suspect. In fact, some of the allegators charged that the missile, a supposedly vital deterrent, was so poorly conceived and badly built that it might never work correctly.
Northrop's problem now was to find a soft landing. They and their Air Force allies had to head off our investigation with some pro forma inquiry and find a sympathetic venue in which the case could be heard. The obvious choice was the House Armed Services Committee, which held hearings to preempt Dingell. The Northrop-Air Force alliance had to take some routine abuse from irate committee members, but it was worth it. The Dingell subcommittee held its own MX hearing several months later, then turned to other Northrop problems.
I was preoccupied, however, with preparing my testimony before the Nichols Armed Services subcommittee hearing on the New Order reorganization. With Colin Parfitt's help, I laid out the evidence to show that the Big Eight certified public accounting firms had degraded the standards for internal controls in big corporations, particularly defense contractors. This applied especially to the organizational independence of financial management, quality control, industrial engineering, and the like. I traced the history of internal controls in business and noted that in the era of American industrial dominance, leading businessmen always demanded proper organizational structure as a basis for other management controls. Properly designed, such controls inhibit the sort of fraud the Pentagon and its suppliers were accused of following the FBI raids in June 1988.
From our research, I'd concluded that the firm of Arthur Andersen was a major culprit. I've noted their conflicts of interest in connection with the Packard commission and their echoing of recommendations by the National Security Industrial Association for reducing controls on defense costs. And some of their own recommendations were equally bad.
As I noted in Chapter 9, President Reagan had appointed an Arthur Andersen man, Charles Bowsher, Jr., as comptroller general of the United States and head of the General Accounting Office. Bowsher, in turn, had appointed another Andersen partner, Fred Wolfe, to direct auditing and accounting policy in the GAO.
Before these appointments the federal Office of Personnel Management had been training government auditors and comptrollers in the good, old-fashioned checklist for evaluating internal controls in both government and contractor operations. But the head of the OPM training school was soon faced with a new checklist from Wolfe, one that practically eliminated any mention of the need for organizational checks and balances.
I wanted to present my testimony in a noncontroversial way because I expected I would have to face some hostile questioning when I appeared before the subcommittee on June 4. And I was right.
Chairman Nichols (from my home state of Alabama) treated me politely, and Congresswoman Barbara Boxer, by then a full-fledged member of the committee, was fiercely protective. But whenever I'd testified before, there had been at least one committee member out for my scalp, and this time was no exception.
The first to attack me was Congressman Sam Stratton from upstate New York. Stratton is a man who can hold a grudge, and he'd held this one for seventeen years. In 1970, shortly after I was fired from the Pentagon, Congressman Dan Button had arranged a speaking engagement for me at a service club in Albany. Unbeknownst to me, Button and Stratton were election rivals because most of their two districts had been combined into one through redistricting.
After giving my then-standard speech about waste in the Pentagon, I departed and thought no more of it until I began getting attacks from Sam Stratton during testimony before his committee -- allegedly for campaigning on Button's behalf.
By the time of the June 1987 hearing, he'd added a new sour note. He accused me of intervening in the 1970 congressional elections and thereby violating the Hatch Act.
As gently as possible, I tried to explain to Stratton that the Hatch Act applies to government employees and that I had not been employed by the government at the time. Unable to grasp this, he kept hammering away until his time ran out.
Then Congressman Larry Hopkins, ranking Republican on the subcommittee, took over. He began with these questions:
The information that you gather in your position, what do you do with that information? How do you go about exploiting that to the public? or to whomever it is that you might report to? What is the series of steps that you take?
I tried to explain that my small office handled a great volume of paper, most of which went routinely through channels to Congress. Selected Acquisition Reports were a good example.
"Do you ever leak information to anybody? Do you ever hold press conferences? Do you talk to staff members here?" Hopkins wanted to know.
No, I said I hadn't held a press conference for many years. I did talk to his subcommittee staff and to members of the committee as well. I explained that my work with the Dingell committee was part of a formal assignment from the Air Force.
Congressman Hopkins then took it upon himself to lecture me about the proper jurisdictions of various congressional committees. "This is the House of Representatives Subcommittee on Investigations," he said rather redundantly, "and we are the only subcommittee that investigates waste, fraud, and abuse involving the Pentagon. I have never seen you here."
I said I hadn't been invited before.
"Why is it," he asked, "that we read or hear so much about the Energy Subcommittee (Dingell's) rather than this subcommittee involved in some sort of work; why is that?"
This question was so daft it was difficult to answer, so I explained again that the Dingell detail was just part of my job.
Congressman Bill Dickinson, the ranking Republican on the Armed Services Committee, bailed me out. Dickinson, at his most persuasive, recalled taking my side in the C-5A affair. He noted that I'd had some bad experiences with congressmen on the committee who were trying to protect the Pentagon, and he said he could understand my situation in my job. Lapsing into his thickest Alabama accent, he said it was something like a coon hunt. "You take a stick and you jab that coon and he falls out into a pack of dogs and then he has got the option: he can either whip all those dogs and walk off or not."
Dickinson added, speaking to the committee members, "Here's a resource you can use. Mr. Dingell has used him because he is available and Mr. Dingell was smart enough to call him." The dogs stopped barking after that; the subcommittee treated me very considerately during the rest of the hearing.
This agreeable outcome, however, could only cause resentment at the Pentagon. My participation in the Dingell MX investigation had inflamed the old sore spot. On the other hand, the pentagonal New Order had come out of the hearings unscathed, and this gave the military renewed confidence in their power to squelch me.
The next move was not long in coming. Suddenly, on July 2, General Claudius Watts issued a memorandum unilaterally canceling my assignment to the Dingell detail, which had, of course, been set up by agreement between Chairman Dingell and the secretary of the Air Force. The general simply repudiated the civilian agreement. And he made it stick.
General Watts's figurative thumbing of his nose at the politically powerful John Dingell was symptomatic of the ascendancy of the uniformed military. They had captured control of two vital levers of political power: distribution of Pentagonal contract patronage and checking up on how the patronage money was spent.
The military's coup was shrewdly conceived in that they seized control only of the very popular function of government distribution of military contract largess. Unpopular aspects of the system, such as kneecapping the taxpayers and small savers to pay the bills, were left to the civilians. The military acquisition people were the new Santa Clauses of our political economic system.
With Congress under control, for the moment at least, the Santa Claus coup was a stunning success. All that remained was to make sure that no more acquisition horror stories emerged to disturb the tranquility.