16. Operation Ill Wind
THE PRO-ECONOMY WARRIORS on Capitol Hill seemed to have run out of energy and spirit by early 1988. They were beginning to lose battles to the counterattacking big spenders. And the freedom fighters in the Pentagon underground were so thoroughly demoralized that many buried their weapons for use at some more favorable time. Those of us in the public Resistance found ourselves isolated and powerless. In an election year, when no campaigning politician wants to be attacked as weak on defense, our prospects looked poor. At that time, we had no inkling of the "ill wind" to come that might -- just possibly -- blow the nation a great deal of good.
In the meantime our cause was suffering a heavy cannonade in studies by noted professors at great universities, "defense intellectuals," and experts at prominent think tanks -- all, apparently, rented out to the defense establishment. Washington does not produce much in the way of ideas, but it does consume them. The city has nothing like a Harvard or a Stanford, but it has a thousand columnists and reporters who must turn out copy containing some kind of thought content every day. A Rand Corporation study, a Harvard report, or an article in Foreign Affairs is quickly appropriated, simplified, and popularized for tomorrow's newspaper or next week's magazine article. Thus an arm of the government that can rent a think tank or eminent professor can produce scholarly justifications for practices that might cause lifted eyebrows at a meeting of Mafia dons. The previously cited case of misinformation that traveled from the Defense Department to Professor Kelman to columnist George Will is a good example of propaganda that became "scholarship" that became punditry.
One practice that needed justification was a wonderful Pentagon handout of $5.634 billion -- that limit imposed by Congress for 1988 to subsidize about one hundred favored contractors. (As a rule, the bigger the contractor, the bigger the grant.) The thin excuse for the spending amounted to little more than some impressive-sounding labels: independent research and development (IR & D) and bid and proposal expenses (B & P).
When Senator Proxmire questioned this and suggested that the Pentagon ought not to be giving such birthday presents, the Pentagon struck back with a heavyweight draft report produced on the Rand Corporation's letterhead. The Rand draft report was widely distributed, especially on Capitol Hill, in the spring of 1987. The DoD wanted its case dignified, so the corporation performed as requested, with arguments so devious and full of syllogistic error as to make Richard Nixon blush with envy. In effect the Pentagon's acquisition spending czars had rented the Rand Corporation's letterhead.
Rand proposed looking at the size of each grant as a measure of the grant's "surrogate" contribution to national security: the more money laid out in grants, the more national security we got. (But did we get 100,000 tons of national security, FOB, for each billion we paid?) Of course, we needed as much national security as we could get, presumably to store away in the Pentagon basement for a rainy day.
After the report was published, my associates and I asked the Rand experts if they could come up with an example of benefit the country had received from the billions of dollars spent on the IR & D and B & P boondoggle. They couldn't. That fact, however, didn't stop Robert Costello, the Poindexter-Packard acquisition czar, from sending his people to Capitol Hill to argue, on the basis of the Rand absurdity, for removal of the ceiling on the IR & D and B & P birthday gifts.
It worked. The June 6, 1988, issue of Federal Contracts reported (page 1108): "For the first time since 1983, the House Appropriations Committee has approved a funding measure for the Defense Department that does not contain a ceiling on independent research and development and bid and proposal costs."
This breakthrough was aided by a barrage from the MAC Group, hirelings of the military contractor trade-and-lobbying associations, the Aerospace Industries Association (AIA), the Electronic Industries Association (EIA), and the National Security Industrial Association (NSIA). The "MAC Report" (from the initials on its letterhead) was more officially -- and stultifyingly -- titled "The Impact on Defense Industrial Capability of the Changes in Procurement and Tax Policy, 1984-87." It was prepared by a group of obedient scholars, prominent among whom were Harvard Business School professor Robert N. Anthony, former comptroller of the Department of Defense, and his colleague Joseph L. Bower.
The report was a fairly inept attempt to roll back the various reforms in Pentagon spending habits that had been effected between 1984 and 1987, reforms that had been essentially halted by the Poindexter-Packard coup after modest progress in the right direction.
The report's "analytical" approach was based on a highly suspect presentation of cash flow. (It should be explained that the contracts used for examples were asserted to be real ones, though they were not identified.) Ordinarily, a cash flow statement is the simplest kind of financial analysis; every small businessman who ever got a loan from a bank knows how to put one together. A cash flow analysis does not contain accrued or booked revenues, and it doesn't show accrued costs. What it does display are cash collections and disbursements. Cautious bankers know that money owed, or "accrued," to the business might never turn into cash, since not everybody pays his bills. The bankers also want to make sure that the business has enough money coming in to pay current bills plus a sufficient surplus to make loan repayments to the bank.
Professor Anthony, in his textbook Management Accounting, said this about cash flow statements: "Transactions that do not involve a flow of cash are eliminated." Yet in the MAC report he changed the rules for the big contractors. In its "cash flow model logic," the MAC group showed presumed cash collections on the credit side of the ledger and presumed "incurred" costs on the debit side. I say "presumed" because the figures were simply furnished by the contracting companies and may or may not have had anything to do with reality.
When I asked Russ Aney, one of the authors of the report, what was meant by "incurred" costs, he said that meant accrued or booked costs. This altered the meaning of "cash flow" dramatically. Many of these costs are "accrued" on the contractor's books months before he pays the bills for them, so the contractor's cash requirements looked much larger than they really were. This didn't seem to bother the faculty members because it bolstered the case they'd been assigned to bolster.
The other noticeable feature of the report was its candor. It made no attempt to hide the fact that it was trying to justify larger IR & D and B & P handouts for the giant contractors.
One of MAC's loudest complaints was about "lower allowable cost recovery." I asked Aney what he was really talking about. I asked him if the "lower" part meant recent congressional restrictions and the "allowable cost" part meant paying room and board for dogs like Fursten, sending flowers, paying strolling musicians, and the like. He said yes.
I then asked him whether the companies were still indulging in these amenities even after the government stopped paying for them.
"What other assumption could one make?" said Aney.
In the upper brackets of executiveville, it's important to maintain the quality of life even if the ungrateful taxpayer won't foot the bill any longer.
Finally, from Harvard, came another fearsome broadside: the MAC report warned that if the 1984-1987 reforms were "allowed to run their course," we could expect the dire result of "increased competition." And that would lead to the worst of consequences -- "the potential for a low-cost culture." Not a single strolling musician in sight.
The bombardment was joined by Georgetown University's Center for Strategic and International Studies (CSIS), which delivered a treatise titled "U.S. Defense Acquisition: A Process in Trouble." As the title suggests, the authors conceded what nobody in his right mind could deny: there were troubles in boondoggleland. "There has been influence peddling. Kickbacks have been made. The revolving-door syndrome has been abused. Patently unrealistic promises have been made." And so on. CSIS even dared to admit that some of the spare parts and support equipment were overpriced, but it went on to rationalize such scandals by writing that the tools were bought "in strict accordance with regulations." There was no mention of the glaring flaws in the regulations (see especially Chapter 12), much less any proposal for correcting them.
Did Georgetown's staid Jesuit fathers know what was being committed under their aegis? The report produced a remarkable piece of flimflam when it blamed the soaring weapons costs of the Reagan years on "program instability," which was further explained as "the cost of stretch-outs." According to this bit of sophism, alterations in a weapons funding program in midstream drove costs higher than expected.
As I described in Chapter 10, however, the astronomical unit cost increases -- both realized and projected -- were recognized by the Pentagon's advance planners during the period January to May 1984, when the Reagan spend-up was going full steam. Out-of-control contractor costs and even wilder projections of costs to come drove unit prices up so steeply that even the Reagan money pump fell behind.
And the CSIS solutions? They were, it turned out, based on the false gospel of David Packard, that is, to retain and attract "professionally competent (military) acquisition personnel" and then to appoint not one, but two blue-ribbon commissions!
The first of these commissions was supposed to "examine the role of Congress through all stages of the acquisition process." That, of course, could postpone any real reform until doomsday. The second commission, charged with monitoring progress of the reforms and restoring "national confidence," would have a life of five years in the grand tradition of Chet Holifield.
When I finally reached the end of the CSIS report and read the list of its creators, I had a sudden epiphany. The turgid style and the abundance of error were explained: the chairman was none other than that old apostle of pork, James Schlesinger. I noted sadly that the co-chairman was Representative Les Aspin. I hoped he was there only as a reserve piano player and that he didn't know what was going on upstairs.
Finally, among the scholarly artillery, came the sound of Big Bertha. Under the copyright of the President and the Fellows of Harvard College, the Harvard Business School Press published The Defense Management Challenge. Its principal author was my old friend and associate, Dr. J. Ronald Fox, the Jaime and Josefina Chua Tiampo Professor of Business Administration at the B-school. Along with his academic credentials, Ron could point to almost thirty years of experience in Pentagon procurement.
I had met with Fox and his assistant author, James Fields, and had described some of the lessons to be learned through case studies of overpricing on tools and spare parts. On my recommendation, Dingell's investigators and the PMP had opened their files to Fields. I expected a worthwhile analysis that would get to the roots of procurement troubles.
When I saw the finished book in June 1988, I was momentarily gratified to find that the section "problems in the Defense Business" began with a look at overpriced spare parts and tools. But after five and a half lines the sag set in. I was faced with a warning of sophisms to come: "These allegations cause many Americans to question DoD's management capability as well as the integrity of the defense industry."
Dismayed, I wondered if Major Ketcham and Colonel Roberts were co-authors. Cover up the truth, they suggested, so the taxpaying suckers won't get wise:
Although (the media) rarely -- if ever - explained that the high prices frequently had to do with the allocation of overhead costs and the rigor of military requirements as much as or more than they do with implied contractor overcharges.

Government regulations require that overhead costs (i.e., costs associated with more than one program) be distributed equally among a contractor's products. Under this system, prices for small items are artificially inflated and those for large items artificially reduced. Overhead costs have to be absorbed one way or another, but if the allocation system results in pricing anomalies and is not adequately understood or explained by the media, the public is misled.
Could Professor Kelman's snake oil still have buyers? In dismay I called Chuck Spinney, who said he had reviewed Ron's manuscript and had advised Ron to delete the "equal allocation of overhead" fallacy.
Colin Parfitt followed up on the very queer "government regulations require" line. Where were those regulations to be found?
They were in the FAR (Federal Acquisitions Regulations) or the DAR (Defense Acquisition Regulations), Ron said. "You can look them up."
They weren't and you couldn't.
The fact that the Pentagon and its academic footmen had to keep the old lie alive suggested that none of the DoD flacks had enough imagination to invent a new lie to justify exorbitant prices. There was no defense.
I still believed that Ron Fox was a basically honest man, but I had no choice except to confront him about the distortions in his book. With some mortification, he said I should remember that "distributed equally" could have several meanings. It might mean equal percentages of overhead. Brightening, he said that was, in fact, what he'd meant all along.
Just what we'd always been talking about, I said. Isn't it true, I asked, that the overhead, fat and all, is distributed proportionately to measures of direct costs -- hours or dollars -- of the products in question? He agreed.
Fox would not agree, however, that one major thesis of his book -- namely, that Pentagon critics use false reports because they are against national defense -- was wrong. A close reading of The Defense Management Challenge revealed where the cheating really lay. Consider page 31:
In some cases, the news reports contained outright distortions, by omission. The $3,046 coffee maker was designed for the huge C-5A aircraft, which carries as many as 365 people. Major airlines have purchased similar coffee makers for $3,107.
This has to be taken as a blatant attempt to mislead. First, the C-5A pot was priced at $7,622. (After Lockheed was publicly embarrassed, the replacement pots came in at "only" $3,046.) Second, it would be dangerous flying if anybody tried to cram 365 people into a C-5A. Third, the coffee pot in question is a ten-cup model.
The authors went on to damn "the inaccurate or incomplete reporting by the news media" and "the theatrics of a congressman or senator" as he displayed a pair of grossly overpriced duckbill pliers. "Sensationalism and entertainment," said the Harvard report, an attempt "to discredit efforts to achieve a defense buildup." After such amazing misrepresentations, one can only ask whether the Harvard motto Veritas has lost all meaning.
The hero of the book was, predictably, David Packard: "one of the ablest Pentagon managers" (page 134) and "dedicated to improving the acquisition process" (page 49). And there are, indeed, many noble Packard quotes that sternly denounce contractor inefficiency and non-enforcement of contracts. The authors did not point out, however, that these were hindsight quotes, delivered as Packard was leaving office and were the diametric opposite of Packard's actions. The ruinous effects of Packardism in office were not considered: the "capable" officers in charge of programs (and up to their ears in money), the Poindexter-Packard "streamlining" that meant "contract now, ask questions later." "Self-policing" meant looking the other way while the scoundrels make off with the loot. And how could a book purporting to discuss "the defense management challenge" overlook the fact that the streamlining has resulted in a huge shortfall between the President's fiscal guidance, much less what funds Congress will supply, and what the Pentagon plans to spend? And the most painful part is that the fighting part of the Air Force certainly -- and perhaps the other services as well -- will emerge from the $2 trillion Reagan spending binge smaller than it was before Reagan.
The mischief that such irresponsible academics can do is not immediately apparent. The effects of false teachings on the students don't show up for years. But the bad thinking in those specialized publications and university press books does trickle down to unsuspecting journalists. It may influence politicians as well. In the 1988 election year, the for-rent intellectuals around Harvard Square were being sought out by the spending coalition because of their presumed closeness to Democratic candidate Michael Dukakis.
In spite of my feelings about the book, I went to the publication party for The Defense Management Challenge. I got there late, but I soon found that the party had split into two factions; when Ron Fox was introduced as the author whose book would counter the criticism of Pentagon buying habits, the establishment Pentagonists cheered. The underground types just sulked. Looking around at the crowd, I had the depressing feeling that no matter who won the election, the same corps of rationalizers would still be there in the Pentagon, running the same old sick system.
While Colin Parfitt and I were driving home that night, I was reminded of Colonel Joe Warren's long-ago comment on an earlier shuffle of administrations: "Same old whores, just new beds."
***
Even with the apparent success of the big push to make Pentagon management look respectable and the decline in morale in the economizers' ranks, I was still hopeful of a revival in our fortunes. Despite the propaganda barrage, real improvements in Fort Fumble's wasteful system were minimal. The first new crack in the facade would cause the latent public discontent to erupt again.
On May 31, 1985, communications specialist Richard Pollack had reported, in a privately distributed letter, pollster Peter Hart's assessment of a new trend:
There has been a dramatic change in public thinking on the military budget. Support for higher arms spending has dropped dramatically. This is due to the sharp cutbacks in social spending and the many reports on corporate fraud and abuse. As Peter Hart put it, popular outrage over fiscal irresponsibility at the Pentagon "comes roaring out of the polling data."

The fact that Johnny Carson is making jokes about the Pentagon's toilet seats and ashtrays confirms this analysis. You can't make jokes about something like this unless popular feeling and concern are very widespread. This attitude on military spending is a complete about-face on how the public felt just a few years ago.
Even at the height of public support for the Pentagon, in October 1980, 78 percent of the sampled public believed that the Defense Department didn't use its ample sums efficiently. And by 1988 cynicism was rising. It was a sleeping campaign issue with great potential, but no candidate for the nominations seemed to be acute enough, or opportunistic enough, to seize upon it.
But in 1986 a former Navy employee, now working for a contractor, warned the Naval Investigative Service that a consultant was trying to sell contractors inside information from the Pentagon. An FBI investigation was begun under the supervision of William Weld, head of the criminal division at the Justice Department. Attorney General Meese was not informed, and the inquiry not made public until mid-1988.
The Justice Department, which had behaved with such suspicious partiality for nearly eight years, now proved to have its own underground -- a prosecutor who was willing to listen to a closet patriot, and a sizable investigative force to follow up. No thanks, of course, to Edwin Meese, Ronald Reagan, Caspar Weinberger, or Frank Carlucci.
The sudden revelation reminded us that there is one very old-fashioned check on malfeasance even in a system as vast and complicated as the Department of Defense. And, for those who could see the lesson, it was also a reminder of the kind of mentality that feared and hated the results of simple honesty.
On June 14, 1988 -- the day before Ron Fox's book party -- FBI agents with search warrants descended on at least five Pentagon offices and on dozens of contractors' and consultants' offices in twelve states and the District of Columbia. Later news put the number of grand jury subpoenas at about 275. The two-year investigation, code-named "Operation Ill Wind," was a wide-ranging examination of bribery, bid rigging, and insider trading in the defense industry.
Former Secretary of the Navy John Lehman and consultant Melvyn R. Paisley (ex-chief of Navy research and development) were among the former high Pentagon officials under suspicion. Henry Hudson, the U.S. attorney in Alexandria, Virginia, who was overseeing the investigation, was scrutinizing such well-known corporations as McDonnell-Douglas, Martin Marietta, Litton Industries, Unisys, Hercules, Pratt and Whitney, and Norden Systems.
I first heard of the raids when Peter Stockton telephoned to ask if the office of my fellow deputy in the Air Force, Victor Cohen, was being searched. William Weld and FBI directors Webster and Sessions had shrewdly -- considering the Meese justice Department's record in such past cases as those of George Spanton and Bob Golden, not to mention Ollie North -- kept the operation under deep cover. Among the very few people on Capitol Hill who I know had prior knowledge was Kris Kolesnik.
In October 1985, Kolesnik's boss, Senator Grassley, had tried to investigate similar allegations but had been blocked by the Justice Department on the grounds that it was pursuing its own investigation of the case. Nothing had come of Justice's supposed effort, however. Congressman Dingell, too, had warned Caspar Weinberger of some alarming indications, but Weinberger had ignored them.
Most members of Congress professed to be shocked at the news. Senator John Warner of Virginia, senior Republican on the Armed Services Committee, probably spoke for the majority of Congress in his unintentionally recorded remarks to Senator Sam Nunn on June 16, picked up by an open WUSA-TV microphone. "I'm shook to my shoes about this fraud case, Warner whispered, adding, "Bribery is rampant."
Senator Grassley, on the other hand, spoke for me and my allies when he said that the congressional expressions of disbelief reminded him of a scene in Casablanca with the French police captain, Louis Renault (Claude Rains). Sitting in the front room of Rick's saloon, Renault is informed that gambling is going on in the back room. He says, "I'm shocked!" Just then a porter hands Renault a sheaf of currency, saying, "Your winnings, sir." The Washington Post's Herblock cartoon here reproduced is a good example of what many journalists thought of the "shock."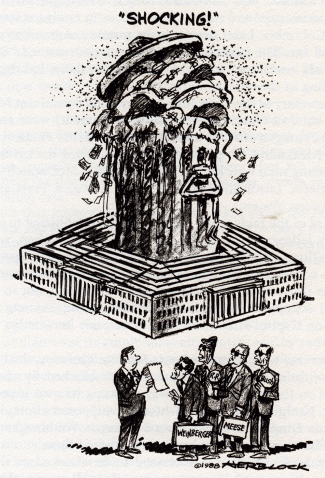 "Shocking!" copyright 1988 by Herblock in The Washington Post.
I was somewhat surprised by two aspects of the scandals. The first was that the FBI (and as later came out, Assistant Attorney General William Weld) was able to avoid having their project killed by Ed Meese, which they accomplished by not telling him about it.
The second mildly surprising aspect was the extent of alleged transactional bribery. My perception was that transactional, or "fee for service," bribery had been relatively rare in Pentagon acquisitions. Ordinarily the spending coalition buys the servant, so it has no need to buy specific services. The co-opted servants are obedient ("responsive," in the jargon) and understanding, real "team players." For the military, especially, the prospect of a plush, revolving-door retirement job gives the coalition a real hold on all but the most principled and selfless officers. Most are pushed out of the service in their mid-forties by the up-or-out system, and they need jobs for that expensive phase of life, what with growing families and staggering college costs ahead. They need good jobs, and the door at Defense Boondoggle Systems, Inc. (DBS) is open. As for simple black-bag bribes, most officers would regard them as both demeaning and unnecessary. There are so many fraternal, back-scratching relationships within the officer corps, including both active-duty and retired officers, that an ex-colonel at DBS can get the tip he wants without a bribe.
After the first shock the media stories of Pentagon scandal began to widen. Three congressmen were implicated, according to press reports, and names of more contractors and consultants began to surface. Reports cited specific examples of suspicious bid rigging, such as that on a $70 million Marine Air Traffic Control system. On July 1 Defense Secretary Carlucci announced that nine Navy contracts -- none for major weapons systems -- were "tainted" and would have their funding frozen.
Most of the Pentagon-industry spenders were, like Warner, "shook to their shoes" -- whether at the revelations or from the fear of being caught themselves only time would tell. The academic barrage they had instigated now seemed as feeble as the noise of firecrackers the ancient Chinese armies used to frighten the enemy. Nevertheless they tried to put on a bold face and offer explanations.
Because most of this happened on Weinberger's watch, he was questioned closely on a couple of TV panel programs. His defense, echoed in a statement by Reagan, was that "there are a few bad apples in any barrel" and that, with millions of people working for the Department of Defense, it wasn't surprising that a small minority were on the take. The corollary was that there was nothing wrong with "the system." That the system invites bad apples and makes bad apples prosper richly is, of course, part of the thesis of this book.
Another exculpatory, partial explanation of the scandals was voiced by Representative John Spratt, a member of the House Armed Services Committee (as quoted in Time, June 27, 1988), when he spoke about the contracts process: "You almost have to be an insider to understand it." Time went on to say that the consultant companies, or "rent-a-general" agencies, hire former procurement officers who "know both the procedural intricacies of how contracts are processed and the technical needs of the services." Time added, "Without these middlemen, the military's complex procurement system might not work at all."
If, instead of the insider system, we tried honest, old-fashioned competition -- such as that envisioned by Senator Grassley's Creeping Capitalism -- the greasemen wouldn't have a foothold. They would have little to sell, and bid rigging would be much more difficult, especially if we had good internal checks and balances.
The way the system "works" and to whose advantage it works was becoming more and more apparent. If and when the details of Project Ill Wind are fully exposed, the public will be more surprised by what is legal than by what is illegal. As I had illustrated in my June 4, 1987, congressional testimony, the Pentagon had all but destroyed its traditional, time-tested safeguards against corruption. Along with that, the Reagan team had suppressed that greatest of all controls: the impulse of honest men to tell the truth in public. The First Amendment's guarantee of free speech is not only the best of all legitimate management controls; no other works without it. Ex-Secretary Weinberger might be reminded of Sherlock Holmes's dialogue with Colonel Ross, speaking of a watchdog: "'Is there any point to which you would wish to draw my attention?' 'To the curious incident of the dog in the night-time.' 'The dog did nothing in the night-time.' 'That was the curious incident,' remarked Sherlock Holmes."
In addition, the combination of loose procurement rules and government acquiescence in rip-offs leaves many a crook untouched. As exposure followed exposure, the Packard doctrine of contractor "self- governance" or self-policing looked more and more ludicrous. Solemnly accepting the Packard rules on their face value, the Dingell staffers and I inquired as to whether any contractor had turned in a self-arrest form when the scandal broke. None had. We had previously asked Derek Vander Schaaf, the Pentagon's deputy inspector general and self-policing advocate, if he had been busy distributing the self-policing forms. Apparently he hadn't. On July 6, 1988, the House Armed Services Committee laughed out loud when Vander Schaaf testified that thirty-nine of the forty-six contractors who had signed up for the self-policing program were under investigation.
Secretary Carlucci moved quickly in the crisis. He appointed an internal review committee headed for the moment by his general counsel, Kathleen Buck. And he called in the oldest hand of all, David Packard, to go once more into the breach. On June 22 the Washington Post reported that Carlucci had asked Packard to examine the issues involved and to advise the Pentagon on ways to handle them.
One of the issues was very close to home. Kathleen Buck already knew that Secretary Frank Carlucci had a continuing financial stake in one of the companies under investigation. Between his Pentagon job as deputy secretary in the early 1980s and his appointment as Reagan's national security adviser, Carlucci had been elected to the board of Unisys Corporation, a major investigative target. He served on that board for two handsomely rewarded years.
In addition, this two-year stint earned him $82,482, to be paid over an unspecified number of years, starting when he left federal service, according to the financial disclosure statement Carlucci filed with Buck on November 9, 1987. Carlucci's disclosure form also included the following entry: "Pursuant to Unisys (Sperry) Corporation directorship, will receive pension plan payments ($14,300 to be paid annually effective 11/90)." These payments depend on Unisys still being in business by then, a circumstance heavily dependent on the actions of Secretary Carlucci.
After the June 1988 scandal broke, reporters began asking for copies of Carlucci's financial disclosure forms, whereupon another version appeared, this one dated May 16, 1988, and also approved by Buck. The earlier, obvious conflicts were changed, but not too neatly and certainly not convincingly. The new disclosures said that the $82,482 Unisys would pay Carlucci had been "cashed out." Actually, it appeared that Carlucci had cashed in. The disclosure form did not specify how much the serving secretary of defense received from the investigative target, but David Evans reported in the July 6, 1988, Chicago Tribune that the payoff was nearly $96,000.
In addition, Carlucci's new disclosure stated that his Unisys pension plan was being replaced "with an annuity with Travelers (Insurance Company)." No details were forthcoming, but the arrangements elicited these observations in Evans's July 6 article:
The report does not say if the transfer is, or was, made by a single lump-sum payment from Unisys, or if Travelers will receive a series of payments.

A series of payments would leave Carlucci with a continuing financial stake in the fortunes of Unisys, presenting a conflict of interest if he makes decisions on defense issues regarding the company. Carlucci has not made a public statement about how he will handle Unisys matters.

If a lump-sum payment was made, Carlucci may be in a similar situation to that of Melvyn R. Paisley, the former assistant Navy secretary who is one of the principal targets of the FBI investigation.

Paisley received a lump-sum "golden handshake" of $183,000 from the Boeing Co. when he left the company to join the government.

The U.S. Court of Appeals recently declared the payment was a conflict of interest, overturning a lower court ruling.
Where was General Cappucci, who saw conflicts of interest even where there were none, when we really needed him?
Finally, another talent pool was available to help out in the Pentagon inquiry. On the June 26 ABC "This Week" program already mentioned, Don Fuqua, head of AIA, the contractors' organization, volunteered that the CEOs of the giant corporations were willing to come to the Pentagon to help Packard smite their archenemy, Low-Cost Culture. What with Carlucci's own general counsel, an array of contractor moguls, and David Packard heading the parade, the malefactors would be begging for mercy.
On the other hand, they might be falling out of their chairs with laughter.