2. Carrying Out the Contract
AT THE END of 1968, as the Johnson administration gave way to that of Richard Nixon, the old Pentagonists handed on the message to the new: get rid of Fitzgerald. The man who passed the word was Air Force Secretary Harold Brown, described by his admirers as "the smartest man in the world."
Not demonstrably true, perhaps, but Brown certainly had a good claim to being smart.
In 1961, before his thirty-fourth birthday, he had been appointed director of defense research and engineering by President Kennedy. In this job he was one of the highest- ranking and most powerful of Secretary of Defense Robert McNamara's "whiz kids," whose reason for being was to bring the big military spenders to heel and make sure our defense got "more bang for a buck."
Although a fair number of his associates couldn't stand Harold personally because of his arrogance, he was generally considered to have performed brilliantly in his job. On October 1, 1965, just ten days after I, a civilian, joined as management systems deputy in the Air Force Secretariat, President Johnson appointed him secretary of the Air Force. I was delighted to be working for a man who was both brilliant and so critical of dubious military schemes that he had earned the nickname "Dr. No." I wanted to help him live up to that nickname.
Brown was aware of my intention -- at least I thought he was. When I filled out the standard government employment form before being hired, I appended a dense, six-page supplement that described some of my most successful cost-cutting assignments. I wanted to lay out my intentions from the very first. At the time I was president of a small but highly successful management consulting company, and I didn't want to interrupt a flourishing career if the top managers at the Pentagon had reservations about the aggressive approach to improving quality and cutting costs that my associates and I practiced. I had just turned thirty-nine, and I figured I could spend a few years shaping up the Air Force if Harold Brown had the stomach for it.
Brown didn't flinch. After looking at my papers, he wrote a note to retiring Air Force Secretary Eugene Zuchert -- in the small, clear hand I would come to know only too well -- "Gene, Sounds very good. Let's get him. H.B."
In the beginning all of us had great confidence in Brown. We respected him for his quick mind and his ability to isolate problems, and we worked very hard for him. I used to start early in the morning and finish late at night, and I worked many weekends.
After a promising start, though, Brown began to change course. He seemed to back away from the fundamental improvements recommended by our more-bang-for-a-buck staff. Our labors began to be Sisyphean. With great effort, we would bring projects to a point where his decision was needed -- to enforce a contract, endorse a directive, or support a stand on pricing -- and Brown would let the boulder roll back down the hill. His failure to support cost cutting was devastating. It wasn't long before the word got out to the big- spending military contractors on the outside and the open-handed generals on the inside that Harold Brown would not lift a hand to stop the "cannibals from eating our missionaries."
On November 13, 1968, I testified to Senator William Proxmire's committee (the Joint Economic Committee of the Congress) about the C-5A with hopes that Brown would support me. He had professed to support my management control initiatives, and he had been critical of the C-5 overruns in Pentagon meetings. As those familiar with this historic disaster will recall, Lockheed's giant C-5A transport plane, nicknamed "the tin balloon," had a tendency to shed parts in flight. At the time I testified, it looked as if the 120-airplane program would cost about $2 billion more than the original estimate.
A scandal such as the one caused by my testimony on the C-5A is usually a five-day wonder. Ordinarily, members of Congress lose interest once the headlines are forgotten. But Senator Proxmire and his assistant, Richard Kaufman, were made of sterner stuff. Proxmire scheduled another hearing for the following January, and Kaufman kept digging into the dirty details of the C-5A.
I didn't realize it fully at the time, but my testimony set off a big cover-up in the Air Force. Harold Brown tried to make my C-5A testimony appear inaccurate by allowing one of his assistant secretaries, Robert Charles, to alter the official Air Force C-5A cost estimates after my testimony. He tried to palm these off on Senator Proxmire as the genuine article.
When the new set of figures arrived at Proxmire's office, Richard Kaufman called me to ask why I'd changed my testimony. I hadn't, of course, but it took a lot of effort to get Brown and company to reveal the truth. When I got the original worksheets, they showed that my figures were correct and the secretary's were doctored. I requested that the evidence be forwarded to the congressional committee, but Brown stubbornly refused. It was only after Proxmire scheduled the January 16, 1969, hearing to find out why the Air Force was obstructing a witness and tampering with evidence (both of these are felonies punishable by big fines and long prison terms) that the secretary forwarded the real figures. When the hearing occurred, Brown copped out by sending Assistant Secretary Charles to testify in his place.
What, then, was Brown's solution to the scandals of the C-5A? It seemed obvious to him that the first course of action was to fire Ernest Fitzgerald. The time seemed right; the new Nixon administration was just about to come into office and Robert Seamans was to replace Brown. On January 9 -- as I learned ten years later through legal discovery -- Brown gave his advice to Seamans and dictated a memorandum about it for the record:
(a) With respect to Mr. Fitzgerald, I pointed out that, though some of his ideas about procurement practices and financial control of contractors had merit, his practices were unacceptable. These include speaking to the press against Air Force decisions, discussing internal Air Force matters with Congressional Committee staffs, and providing them with documents without going through Legislative Liaison channels. This behavior has greatly lessened, if not eliminated, his value as an employee of the Air Force. I drew the distinction between advocating one's views vigorously within the department before a decision was taken, and public non-support, or volunteering and advocating contrary views to the press and the Congress. ... I indicated that his actions up to now probably do not constitute sufficient reason for us to take removal action against Fitzgerald, but that we would act to make it clear to Fitzgerald that we considered his usefulness to the Air Force to be negligible if not negative. In the interest of discipline, it was important that the new Air Force Secretariat take a similar position in subsequent months. Dr. Seamans indicated that he understood this principle and that, in the light of the facts I had described, he recognized that Fitzgerald is of no use to the Air Force; though his rights must be protected, he is to be discouraged from remaining.
Then came the most important part of the memo -- something that involved many millions of dollars rather than my personal fortunes. Brown wrote, "I described to Dr. Seamans the C-5 technical progress and its satisfactory performance and contrasted them with the financial problems of the C-5." Brown then proceeded to argue that the Air Force should buy a fourth squadron, but suspend a decision on a fifth and a sixth, before he left office. Thus Brown's second action to solve the C-5A problem was to buy more of the flimsy tin balloons, thus helping to bail Lockheed out of its gross errors. Seamans agreed that it was Brown's decision to make.
Harold Brown was not content to simply pass the word about me to his successor. About a week before their discussion, Brown had decided to work out a strategy for firing me. As a merit-system employee, I was theoretically protected against arbitrary dismissal, so he had asked John Lang, his assistant, "What are his rights?" This was a little like Henry II's seemingly rhetorical question about Thomas a Becket, "Who will free me from this turbulent priest?" What Brown really meant (as testimony in my firing hearings later brought out) was, "How can I fire him?" Less bloody than Henry Plantagenet, but in the same robust spirit.
Lang's memo in answer outlined three ways to fire Fitzgerald, only one of them frankly described as "underhanded," although they all were. There was also a suggestion from Thomas Nielson, my immediate boss, as to how he could reorganize his office so as to get rid of me.
Through the process of legal discovery we also obtained a record of these events as seen by the new secretary of the Air Force. Seamans, an engineering professor at Massachusetts Institute of Technology, was a worthy successor to Brown. A few years after these events, in the recollections he tape recorded for the official Air Force historian, he said:
I never heard of a guy named Ernie Fitzgerald until either the last week in December or the first week of January, 1969.... At that very first meeting, (Brown) told me something about (him), and I'm pretty sure that by then Proxmire had written me a letter.. .. It talked about this "wonderful public servant" ... and he was sure I would want to rely on him heavily because he was one of the "greatest public servants" that ever came down the pike. So I wrote him back a short letter and said, "Thanks very much, and I'll look into this matter when I become Secretary of the Air Force." The facts of the matter are that Ernie did testify on the C-5, that he was certainly not encouraged to do so; that this was bigger than just the Air Force. ... Between Fitzgerald and Proxmire, they were "coony" enough to make it well-known publicly that he was up there testifying even though the Defense Department hadn't wanted him to. Of course that made it all the more exciting and everything appeared more valid and the Air Force and DOD looked more like conspirators deceiving the public.

Then, of course, a few strange things happened . .. the most amazing being the memo that John Lang (of Personnel) wrote to Harold Brown on three ways for separating Fitzgerald from the Air Force. One was to fire him for cause; one was to abolish his job; and the third one, which he (Lang) said would be a little deceitful, would be to -- and I can't remember what the third one was offhand, but it's all in the record. It took about 24 hours from the time Lang wrote the memo until Proxmire had (it).
(The third method was to convert my job to the "career service" and fill it through a competitive examination. The Air Force could then invite "all the eligibles from the executive inventory and an outside search" to compete.)
In all this, a fundamental principle was at stake: could a citizen employed by the government communicate information directly to Congress about serious errors or malfeasance in the executive branch? Many presidents hated the thought of such a situation. In 1906 Teddy Roosevelt promised instant dismissal for anyone caught in the act. In 1910 William Howard Taft made the rule a little stiffer by forbidding any employee even to answer a congressional request except through the head of his department. This clear violation of the First Amendment inspired the Lloyd-LaFollette Act (now Title 5, Section 7211, of the U.S. Code):
The right of persons employed in the civil service of the United States either individually or collectively to petition Congress or any member thereof or to furnish information to either House of Congress, or to any committee or member thereof, shall not be denied or interfered with.
The January hearing on the C-5A was notable for three things: Senator Proxmire revealed Lang's memo to Brown describing the three ways of firing me, I testified about the phony C-5A figures Brown had tried to hand the committee, and Assistant Secretary Charles stuck to the official party line that the C-5A was in great shape and that Lockheed was doing splendidly. All of this made it clear that the new Nixon administration would have to bring about some reforms in the Pentagon. It was also clear that I would need some political help to save my job.
Senator Len Jordan of Idaho, a Republican on Proxmire's committee, proved to be sympathetic. He asked me in for a talk. A tough old cowboy who had been governor of Idaho, Jordan had a shrewd idea of what I was up against. He told me that those forces were bigger and more powerful than anything my friends in Congress could muster, but that he would do what he could to help.
I also called on two Republican congressmen from my home state of Alabama, Bill Dickinson and Jack Edwards. They were willing to help arrange the one thing I wanted at the time -- to meet with some of the new administration's Pentagon appointees and explain my case.
This resulted in a short, unsatisfactory meeting with Secretary Seamans, whose most memorable comment was that "the staff" didn't like me. I already knew that. And, in his later confidential memoir dictated to the official Air Force historian, Seamans voiced his distaste for my public testimony about C-5A cost overruns and added, "He (Fitzgerald) is terribly good at playing the Southern Boy from Alabama, the country boy taking on the big corporations and all these big-money spenders and the generals -- 'the high priests of waste.'" (Seamans either had not read my book or had not understood it. The "high priests of waste" of my title were the economists, mostly neo-Keynesians, who preach that military spending, wasteful or not, makes the nation prosperous.)
The Seamans oral history memoir went on to note that my boss, Tom Nielson, was still hoping to reorganize his office in such a way that I would be out of a job. But Seamans knew that Nielson was going to depart in a few months, so he delayed his decision about me until Spencer Schedler (whose best-known contribution to the national welfare was helping to get Spiro T. Agnew elected vice-president in 1968) was sworn in as assistant secretary of the Air Force for financial management. By then Seamans, with advice from on high, had decided that I should leave the Air Force.
***
That same period, late spring of 1969, saw a new turn of events in the congressional wars. Congressman William Moorhead of Pennsylvania, a member of Proxmire's joint committee, had picked up some cues about the Pentagon follies. He carried his suspicions to the powerful House Committee on Government Operations, of which he was a member. Representative Chet Holifield was acting chairman of the committee. His southern California district included influential contractors for the Pentagon, NASA, and the Atomic Energy Commission. The last thing they wanted to read about in the newspapers was more about the C-5A and other corporate scams.
Holifield fell back on an old Washington strategy: if you have a problem that you want to deep-six, you simply study it into oblivion. After lengthy committee hearings, a blue-ribbon commission is appointed to study the matter; sometime before all the commission members die of old age, they authorize a report, which takes an extended time to write; and finally committee hearings are held to consider the report. A capable chairman can keep the process going for three or four years, but the talented Holifield managed to stave off action on the procurement scandals for a full six years.
The Holifield commission avoided the specific problem we had pinpointed, but "studied" the truly worldwide problem of government -- not just Pentagon -- procurement. (Part of the death-by-study strategy is to change the subject.) Any nasty particulars of waste, fraud, and abuse that managed to leak out during the Holifield commission's lengthy stalling process could then be referred to that august body for decent burial.
Peter Stockton, Congressman Moorhead's designated staffer on Holifield's committee, was an unassuming thirty-one-year-old whose life had committed him to no narrow category. His B.A. and M.A. degrees were in economics, and he had worked at the Bureau of the Budget, but he didn't look the part of a government economist. The lawyers and corporate officials in pinstripes who showed up at his office found a casual man in shirtsleeves, khakis, and running shoes. They knew very well how to deal with a slick congressional staffer on the make, but Stockton appeared invulnerable to their blandishments, and they couldn't fathom him.
There is nothing a representative or senator loves to talk about more than "oversight" -- checking up on the executive branch to find out what the special interests (mostly big corporations) are getting away with. The checking up is done by staff investigators, however, most of whom are political hacks whose specialty is finding no evidence of anything wrong. But once in a while we taxpayers get lucky. We were lucky when the people of Wisconsin elected William Proxmire and lucky when he chose Richard Kaufman as his investigator. And we were equally lucky with Moorehead and Stockton. A congressional investigator who really wants to benefit the United States has to have both a powerful elected protector and superb survival instincts. As an old-time congressional staff director once told me, "The ideal congressional investigator is a highly motivated, very intelligent ... savage."
Moorhead unleashed Peter Stockton on the C-5A scandal, and he slowly began to strip away the Pentagon camouflage. Using my C-5A testimony and working with the "closet patriots" in the Pentagon, Stockton learned of a sensational document hidden away in the safe of a high Pentagon official. The document, which became notorious as the "Trenton Boyd memo" after the Air Force auditor who wrote it, showed explicitly how top Pentagon officials had conspired to falsify official government records to cover up the C-5A cost overruns. The memo said in part, "They (System Program Office personnel) stated that verbal direction was received on or about June 6, 1968, that the anticipated overrun on the C-5A program should not be reflected in routine management-type reports. It was indicated that this direction was by Mr. Charles and Mr. (Bob) Anthony and was received by SPO through channels." If proven, such an action was, of course, a felony punishable by a stiff fine and a long prison sentence.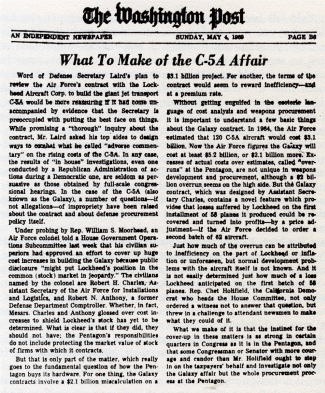 Word of Defense Secretary Laird's plan to review the Air Force's contract with the Lockheed Aircraft Corp. to build the giant jet transport C-5A would be more reassuring if it had come unaccompanied by evidence that the Secretary is preoccupied with putting the best fact on things. While promising a "thorough" inquiry about the contract, Mr. Laird asked his top aides to design ways to combat what he called "adverse commentary" on the rising costs of the C-5A. In any case, the results of "in house" investigations, even one conducted by a Republican Administration of actions during a Democratic one, are seldom as persuasive as those obtained by full-scale congressional hearings. In the case of the C-5A (also known as the Galaxy), a number of questions -- if not allegations -- of impropriety have been raised about the contract and about defense procurement policy itself.

Under probing by Rep. Willliam S. Moorhead, an Air Force colonel told a House Government Operations Subcommittee last week that his civilian superiors had approved an effort to cover up huge cost increases in building the Galaxy because public disclosure "might put Lockheed's position in the common (stock) market in jeopardy." The civilians named by the colonel are Robert H. Charles, Assistant Secretary of the Air Force for Installations and Logistics, and Robert N. Anthony, a former Defense Department Comptroller. Whether, in fact, Messrs. Charles and Anthony glossed over cost increases to shield Lockheed's stock has yet to be determined. What is clear is that if they did, they should not have; the Pentagon's responsibilities do not include protecting the market value of stock of firms with which it contracts.

But that is only part of the matter, which really goes to the fundamental question of how the Pentagon buys its hardware. For one thing, the Galaxy contracts involve a $2.1 billion miscalculation on a $3.1 billion project. For another, the terms of the contract would seem to reward inefficiency -- and at a premium rate.

Without getting engulfed in the esoteric language of cost analysis and weapons procurement it is important to understand a few basic things about the Galaxy contract. In 1964, the Air Force estimated that 120 C-5A aircraft would cost $3.1 billion. Now the Air Force figures the Galaxy will cost at least $5.2 billion, or $2.1 billion more. Excesses of actual costs over estimates, called "overruns" at the Pentagon, are not unique in weapons development and procurement, although a $2 billion overrun seems on the high side. But the Galaxy contract, which was designed by Assistant Secretary Charles, contains a novel feature which provides that losses suffered by Lockheed on the first installment of 58 plans it produced could be recovered and turned into profits -- by a price adjustment -- if the Air Force decided to order a second batch of 62 aircraft.

Just how much of the overrun can be attributed to inefficiency on the part of Lockheed or inflation or unforeseen, but normal development problems with the aircraft itself is not known. And it is not easily determined just how much of a loss Lockheed anticipated on the first batch of 58 planes. Rep. Chet Holifield, the California Democrat who heads the House Committee, not only ordered a witness not to answer that question, but threw in a challenge to attendant newsmen to make what they could of it.

What we make of it is that the instinct for the cover-up in these matters is as strong in certain quarters in Congress as it is in the Pentagon, and that some Congressman or Senator with more courage and candor than Mr. Holifield ought to step in on the taxpayers' behalf and investigate not only the Galaxy affair but the whole procurement process at the Pentagon.

-- What to Make of the C-5A Affair, by The Washington Post
Stockton blind-sided Holifield. He waited until the night before Holifield's climactic whitewash hearing on April 29 and 30, 1969. Representative Moorhead suddenly requested that the General Accounting Office (GAO) procure the document and turn it over to the committee. Secretary Seamans, weak-kneed at the summons, opened the safe. With great reluctance, Comptroller General Elmer Staats complied with Moorhead's request.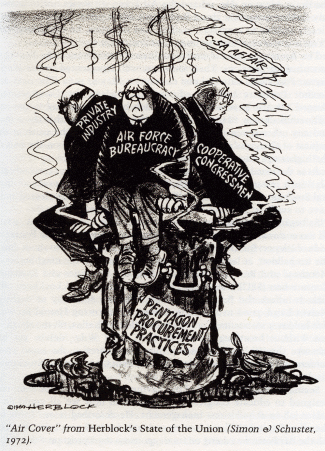 "C-5A Affair. PENTAGON PROCUREMENT PRACTICES: PRIVATE INDUSTRY, AIR FORCE BUREAUCRACY, COOPERATIVE CONGRESSMEN"
"Air Cover" from Herblock's State of the Union (Simon & Schuster, 1972).
Holifield had pointedly not invited me to the hearing, but it did him little good. In the midst of self-serving testimony by the C-5A program manager, Colonel Kenneth Beckman, Moorhead and Stockton fired their ground-to-air missile. Faced with the Trenton Boyd memo, Beckman began to stammer. Then, even worse, he began to tell the truth: he admitted that official records had been falsified, then compounded the felony by revealing that the purpose was to protect Lockheed's interests in the stock market.
Congressman Holifield, seeing a lot of hard-won obfuscation go down the drain, blew up. He ordered the Air Force witnesses not to answer any further questions about Beckman's admissions. Then, in a voice clearly audible to members, staffers, and reporters, he told Moorhead, "You're a son of a bitch to bring that document in."
The American press almost unanimously condemned the Pentagon procurement practices. Their views are well represented by the Washington Post's lead editorial and cartoon on May 4, 1969. The next day Senator Proxmire had the editorial inserted in the Congressional Record. He also gave a speech in which he said, referring to me and Kenneth Beckman, "I intend to do anything I can to see that these men, and any other government employees who testify to the truth at the request of Congress are insulated from petty retaliation on the part of the higher-ups who were at fault."
As is the usual outcome of such congressional dramas, everybody got his unjust reward. The Pentagon, Lockheed, and C-5A got off scot-free, and Stockton was fired. Holifield told Moorhead, "You're elected and I have to swallow you. But I don't have to swallow Stockton."
So began Peter Stockton's career as an outcast and a maverick, a fate all too common among us "whistle blowers" who violate the Pentagon code of silence. But if his Trenton Boyd missile had failed to shoot down the tin balloon, at least it drew a lot of attention in the neighborhood. Moorhead and Proxmire demanded that the Securities and Exchange Commission (SEC) investigate efforts by Pentagon and Lockheed officials to affect the financial markets. Nixon's secretary of defense, Melvin Laird, tried to limit the damage by throwing Harold Brown's two holdover assistants, Tom Nielson and Bob Charles, off the sleigh -- but without breathing a syllable of "C-5A." Wily Melvin got his message through by announcing these departures at the same press conference in which he defended the Pentagon against Stockton's disclosures.
Seamans also disapproved of my having taken part in some seminars designed to educate congressional staffers on how we all could do a better job in acquisitions management. He described it as "Ernie up there (on Capitol Hill) conducting seminars for staff people on the poor job the Air Force was doing on its weapons systems program." Actually, these seminars, which Richard Kaufman organized, were one of the few positive results of the C- 5A affair. For my part, I explained how the management systems my associates and I had been pushing for many years could give us the defense we needed without bankrupting the country. The simplest of these initiatives was a "should-cost" approach to contract pricing, which means we would pay only what goods and services should cost, according to industry standards. This contrasted with the Pentagon's idea of pricing based on past experience, which permits building in fat, inefficiency, fraud, and management abuse by the contractor.
My second major recommendation was for a comprehensive set of military-industrial indicators to show where we actually stood on big weapons buying programs. Pentagon buyers like to keep the bad news a secret until it is too late to correct mistakes, so they try to avoid making timely reports of the facts. In one of my seminar talks I compared the federal government to a corporation, of which Congress is the board of directors and the citizens are the stockholders. The directors and shareholders have every right to get timely, accurate reports from the operating divisions -- the federal agencies -- so that incipient problems are revealed before they become disasters. Full disclosure also depersonalizes the transmittal of information so that whistle blowers do not have to set their hair on fire just to shed light on the situation (and so they can't then be sacked for not having a proper military haircut).
The opposition to full reporting was represented by Holifield's assistant, Herb Roback, who argued that "Congress doesn't want all those facts." He explained that most members of Congress preferred to vote on military contract matters on the basis of "who gets the contracts, where are the jobs, and where the money is to be spent."
In May 1969 the Joint Economic Committee (JEC) issued a report titled "The Economics of Military Procurement." It endorsed should-cost, real competition for contracts, and ten other sweeping reforms -- ideas that my friends and I had been trying to promote. Any responsible steward of the public purse, such as the secretary of the Air Force, would welcome the JEC recommendations, right? Wrong. At the moment, Seamans and his administration colleagues were too worried about protecting Lockheed and its kind.
***
The SEC investigation that Stockton's disclosures had forced was also getting under way in May. My friends and I had serious hope that it would unwrap the C-5A cover-up, but the Nixon administration was worried. The government documents my lawyers extracted years later showed that this inquiry was the last thunderhead in a rainy week for the administration. They decided I had to go, and Seamans was the man to do the job. He called the president's counselor, Bryce Harlow, at the White House for the heavyweight support he needed.
Harlow, one of Nixon's most trusted barons, was his second appointee when he entered the White House. The two men had met in 1948 when Nixon was a freshman representative and Harlow was a staffer on the Armed Services Committee. Harlow's other close ties were with Lyndon Johnson and the congressmen who loved big military budgets. Pat Buchanan used to say that Harlow had the most intimate knowledge of Capitol Hill of any high official in the Nixon White House. (Much later, in 1979 when my lawyers took a deposition from him, Harlow made a funny Freudian slip in describing his administration role. He said, "I was sort of resident guru.... I was sort of his (Nixon's) transgressional savant and a stroker." On viewing the record, he changed "transgressional" to "congressional.")
In the early spring of 1969, Representative Bill Dickinson had invited me to speak on military spending to a group of his conservative Republican colleagues who called themselves the Good Guys. Dickinson, a very junior member of Mendel Rivers's generally awful Armed Services Committee, usually voted for the Pentagon's requests, but he had a certain sympathy for my proposal to sweat some of the lard off the great Pentagon stalled ox.
About forty of the Good Guys had gathered at Costin's restaurant in downtown Washington; I was seated next to their chairman, an affable Ohioan named Sam Devine. The diminutive, smiling man on my left was introduced as Bryce Harlow. When it was time to give my pitch, I pointed out that we kept coming up against a false choice of alternatives: either "support the military" by giving them whatever they asked for or be a "unilateral disarmer" by cutting the budget wholesale. I said that the third, and reasonable, alternative was to make the Pentagon a lot more efficient so that we could defend the country without bankrupting it.
One small, elderly -- and fairly drunk -- congressman was so infuriated by this message that he wanted to slug Bill Dickinson for sponsoring me. His friends restrained him. Dickinson, an ex-football player, was a very large man, much younger and soberer than the challenger.
The other Good Guys seemed receptive to what I'd said -- but not Bryce Harlow, who spoke next. Years after the event he recalled it this way in his deposition to my lawyers:
And, I said ... the statement of Mr. Fitzgerald was, in aggregate, an attack on the Defense Department leadership. I said, "Gentlemen, I don't know what to say about Mr. Fitzgerald's observations because I don't know anything about them ... All I can say now is that you all know Melvin Laird.... He is a former colleague of yours and he is enormously admired by all of you.... (And) he's the President's appointee in this area."
My own recollection is that Harlow was not nearly so milk-toasty as his deposition pretended. He suggested much more strongly that I was attacking the personal integrity of the new secretary of defense and was disparaging our brave lads who were out there holding the Bolshevik hordes at bay. Angrily, and no doubt against the coaching of his lawyer, Harlow accused me of "lese majesty" for my remarks at Costin's.
On May 6 Proxmire publicly demanded that the Justice Department conduct a criminal investigation of the C-5A scandal.
That same day saw something of a confrontation during a secret hearing of Rivers's Armed Services Committee. When Bill Dickinson reproached Melvin Laird for the way I had been treated for telling the truth, Laird was stung. He replied that the office of the assistant secretary for financial management was going to be reorganized and that the new chief of FM would make any decisions about me.
On May 7, again in secret testimony to the same committee, Seamans fulminated about the congressional staff seminars I'd been participating in and accused me of releasing classified information -- a very serious offense, or at least it used to be. (Seamans's accusation, he later told the official historian's tape recorder, was inspired by Herb Roback of Holifield's staff and General John Murphy of his own staff.)
Later, after I was fired, Proxmire forced Seamans to retract this accusation. In his apologia pro vita sua to the official tape, he produced this wonderful waffle:
At the time I was testifying, I really thought that Ernie had given them classified material, marked "Confidential." Later on, when we still had the opportunity of going over the testimony, it wasn't clear as to whether any of the material was classified or not. So we changed the word from Confidential with a capital C to confidential with a small c.
Since I hadn't given Congress any classified material, I thought I had nothing to fear. Little did I know how far my detractors would go in falsifying the record and just plain lying about me.
On May 8 the Washington Post's Bernard Nossiter, their designated C-5A hitter, published a brilliant analysis of the Golden Handshake, his name for the grotesque repricing formula by which Lockheed was able to reap rich profits by increasing their overruns. He backed the accuracy of my testimony on the C-5A overruns and suggested that the Pentagon use rubber slide rules to make the overruns look smaller -- and pay Lockheed with checks that could shrink in the same way. But it is not good to laugh at military establishment officials. It makes them unstable.
General Joseph Cappucci, head of the Air Force Office of Special Investigations (OSI), was in charge of compiling the "dirt file" -- the derogatory information that could be used against me. The dirt file was carefully organized to destroy evidence showing I had done nothing wrong and to circulate baseless gossip that harmed me. One of the detrimental contributors was my former assistant, Lieutenant Colonel Hans "Whitey" Driessnack, a secret informer (designated T-1) against me for the OSI. The downright silly OSI investigation charged that I worked late at night and was a "pinchpenny." Evidence for the latter charge was that I drove an old Rambler automobile. OSI's attempts to suggest that I had a conflict of interest involving my old consulting firm, Performance Technology Corporation, proved that I didn't, but that didn't bother OSI. They just discarded the proof of my innocence.
In mid-May Seamans unleashed Cappucci, who set out to smear me to justify my firing. Then Seamans called in Thomas Nielson and Spencer Schedler to discuss the plan that would reorganize me out of the Air Force. Far from being the objective, impartial protector of the merit system for the taxpayers' employees, the Civil Service Commission, or at least its chairman, Robert Hampton, was an active participant in the secret conspiracy to get rid of me, if we can believe Seamans. As he told the story to the historian's tape recorder:
The people that I talked to outside the Department of Defense were first of all, Bob Hampton, who runs the Civil Service Commission. I did check with him about this in May (1969) and asked him, "What are you supposed to do when you're managing a large government program, and you've got a guy like A. Ernie Fitzgerald on the payroll?" He said, "It's frankly one of the problems we face in running the government, and there's no very good answer to it." He said, "On the basis of what you've told me, I don't believe you could ever sustain a separation for cause. So your only alternative is to abolish his job."
Hampton never revealed this conversation during all the years he was sitting in judgment on my case, and Seamans kept it secret for ten years.
The case against me worked its way up to the highest of kangaroo courts on May 17 at a high-level meeting in the White House. The roll call included the president, Secretary Laird, Air Force General Stewart, the head of the Bureau of the Budget, Robert Mayo, and National Security Adviser Henry Kissinger. James Schlesinger later insisted that he was there, but his name does not appear on the original invitation list. The primary subject for discussion was the Manned Orbiting Laboratory (MOL), a very secret and very dubious Air Force boondoggle, an early attempt to take over control of space from the civilians. Nixon had decided to kill MOL, but Seamans was still pleading for it. The abolition of Ernest Fitzgerald came up as a secondary matter.
Years later, in a deposition to my lawyers, Schlesinger spoke of the "general feeling" of that White House meeting that "Mr. Fitzgerald had transcended the normal bounds of an executive branch employee." Schlesinger added that they "were concerned about the leaks that had occurred and the detrimental effect this was having on the image of the military overall ... and the effect it might have directly on requests to Congress regarding defense appropriations." He further deposed that Nixon had referred to the "Fitzgerald sort of thing" and had used my name "in an agitable way."
The Pentagon and White House position was that exposures of waste and mismanagement were actually attacks on the military motivated by unpatriotic sentiments. Unfortunately, this simple view has been held by most of our recent administrations, but President Nixon expressed it best in his June 4, 1969, speech to the Air Force Academy: "It is open season on the armed forces. Military programs are ridiculed as needless if not deliberate waste. The military profession is derided.... Patriotism is considered by some to be a backward, 'unfashionable' fetish of the uneducated and unsophisticated."
But the presidential declaration did not make the issue disappear; the news kept getting worse. In the Proxmire committee hearings of June 10, 11, and 13, my former associate Mert Tyrrell testified that the Minuteman program -- theretofore regarded as a model of good management -- was hugely overrun and full of other troubles. Additional testimony pointed to serious problems in the Mark II avionics system for the F-111 fighter-bomber. The Short Range Attack Missile (SRAM) was revealed as another fiasco. Shipbuilding contracts were said to be in shambles.
The last straw for the Nixon administration, apparently, was a long article by Richard Harwood and Lawrence Stern on Robert McNamara's legacy, published in the Washington Post on June 15, 1969. It inspired a long Special Report written by John Charles Huston, an assistant to Patrick Buchanan, which was included in the president's daily news summary. According to the report the Post article made the point
... that McNamara's reputation is being placed on trial by virtue of the current investigation of defense spending practices, most of which were developed during his tenure. The article notes that he is accused by former Kennedy administration colleagues ... of having helped create ... a military machine of such size and power that it is not responsible to political control. These critics say that "we should be clear on one point: it is not the uniformed military which has created the present situation, but the civilian leadership and the institutions they have created to centralize and expand the performance on national security functions" (emphasis added; even as he was writing this, the military were well on their way to taking control of those institutions -- and thus of the distribution of patronage).

McNamara has declined to testify before the Proxmire committee, but he has his defenders -- General David Shoup, the Marine dove; General Maxwell Taylor; and Rosewell (sic) Gilpatric among them. Even Dave Packard "expresses the common view" -- "he (McNamara) made great contributions. ... You might criticize some things with hindsight, but I don't know that I would have done anything different at the time."
Huston's "even Dave Packard" is interesting. The chairman of Hewlett Packard, a big supplier to the military and their contractors, was currently deputy secretary of defense under Laird. The procurement policies of McNamara and his predecessors had made Packard rich. So it was hardly surprising that he wouldn't have done anything differently. Huston quoted Harwood and Stern's assertion that when McNamara took over the Pentagon, the "operative word was rationalize." In this the authors were a bit naive. They didn't quite understand the nuance of meaning in what they were writing: a secondary meaning of "rationalize" is "to devise self-satisfying but incorrect reasons for one's behavior." One of the things McNamara rationalized was waste. His whiz kids had seized upon the cost-justifying mathematical procedures in wide use and had extended them throughout the vast establishment. Except for a small circle of spoilsports -- mostly my associates and me -- no one had resisted them. In fact, the spending coalition loved them.
The Special Report continued:
It would, I think, be a serious mistake to take lightly the impact of the Proxmire hearings. He has been very effective, particularly on television. The administration, however, had not come off well. Witnesses from the Pentagon, with the exception of Barry Shillito and Johnny Foster, have been indecisive, defensive, and often ill-prepared. Except for Senator Goldwater and Congressman Rivers, the friendly forces in Congress have been conspicuously quiet. ... And the Pentagon's muzzling for 72 hours (a vain attempt to keep me from testifying before Proxmire again) of the Air Force civilian who first exposed the C-5A overrun was a classic case of poor public relations, exceeded only by the five large defense contractors who refused to appear before the committee to present their case....

While the buck stops at the President's desk, the heat ought not to be concentrated there. The attack on ABM and on defense spending has centered on the President because DOD, congressional and party officials are not doing the appropriate thing -- sticking their necks out. Every time some obscure critic belches, The New York Times reports it on page one. We have to expect that, but surely we can generate a little support among our friends if some initiative and good judgment and toughness is displayed. We have noticed among our friendly columnists and papers an attitude of lying low which suggests to us that they don't know what line to take ... about the Proxmire hearings. Surely Secretary Laird must have some goodies stashed away over there on the McNamara years that Mollenhoff and others could use with some effectiveness.
Richard Nixon drew a half circle around the last sentence and noted in the right-hand margin, "Check this." But Mollenhoff told me later that he was never asked to check anything. The truth was that McNamara and the whiz kids didn't start the mess in Pentagon management; they simply made it worse, especially in the later years, when the Johnson administration was preoccupied with the war in Southeast Asia.
The report went on:
Perhaps this sort of thing is inappropriate -- dirty politics and unstatesmanlike. But it strikes me that we have a tough fight on our hands, and it strikes me that we ought to fight like we are used to power and know how to use it.

Our opponents will scream bloody murder if we really turn the heat on them, but they will know we mean business, that we're not soft, and that they cannot expect to fire away with immunity.
Right below this passage Nixon wrote "E -- have Huston and Buchanan work with defense and congress to stir up some activity." (Nixon, in his second deposition to my lawyers, said that the E stood for John Ehrlichman.)
Those who remember Watergate will scarcely be astonished to find Huston recommending "dirty politics and unstatesmanlike" deeds and Richard Nixon endorsing it. Henry Kissinger and his assistant, Colonel Alexander Haig, had already started their wiretapping campaign against dissidents and suspected "leakers." As William Safire recounted in his book Before the Fall, Haig gave the names of his suspects to William "Crazy Billy" Sullivan of the FBI, who then arranged the wiretaps.
Sullivan, said to be Nixon's favorite FBI agent, was one of those involved in an attempt to pin something -- perhaps an espionage rap -- on me. On May 29, 1969, Alexander Butterfield, a retired Air Force colonel and former schoolmate of Robert Haldeman, and at that time a kind of doorkeeper for the Oval Office, wrote Ehrlichman and Colonel Hughes of the White House staff a memorandum:
It has come to my attention -- by word of several mouths, but allegedly from a senior AFL-CIO official originally -- that a civilian named A. Ernest Fitzgerald, presumably employed by the Department of the Navy, is about to blow the whistle on the Navy by exposing to full public view that service's "shoddy purchasing practices." Evidently, Fitzgerald attended a recent meeting of the National Democratic Coalition and, while there, revealed his intentions to a labor representative who, fortunately for us, was unsympathetic.

I believe that this information has already been passed to Bill Sullivan at Justice (FBI), but I thought I should alert each of you to the facts as they were presented to me.
When I first read this memo many years later, I was charmed with its pure silliness. Why would I plan to "blow the whistle" on the Navy? My special knowledge was Air Force boondoggles. Why would I be "about" to do that, when I had testified six months earlier? The whole report baffled me. (I have never, incidentally, liked the newspaper term "whistle blower," because it tends to set apart and isolate taxpayers' employees who do what they're paid to do -- tell the truth.)
I finally figured out some of it. In May a minister from Connecticut named Joe Duffy had phoned me with an invitation to join him at a banquet for Senator Edward Kennedy. We met at the hotel, had dinner with about a thousand other people, and listened to some forgettable speeches. That was all.
But many years later, through a Freedom of Information request, I got a heavily censored copy of an FBI report in reply to Butterfield's memorandum. This fruit of "Crazy Billy" Sullivan's investigations, dated June 20, 1969, was addressed to J. Edgar Hoover. Its subject was, in part, "miscellaneous information concerning espionage." The first page is largely blanked out; the second page reveals only the site (the Sheraton-Park Hotel) and the sponsor of the dinner (the New Democratic Coalition). The third page, after censorship, yields only the information that Ernest Fitzgerald was "third in command of top civilians in the Air Force, and the man who had exposed USAF for excessive contract costs." Fortunately, I was never hanged on charges of espionage for exposing excessive contract costs.
On June 17, at the final session of Senator Proxmire's hearings on military waste, I presented information on more C-5A problems and other embarrassing failures. (A few days earlier the Air Force had tried to keep me from doing this by muzzling me for seventy-two hours.) After I returned to the Pentagon, Secretary of Defense Laird called me in. Present also were his military assistant, Colonel Robert Pursley and -- to impress me -- Deputy Secretary of Defense David Packard. Laird, friendly and smiling, said that Jack Edwards and Bill Dickinson had spoken highly of me (Proxmire and Moorhead had also tried to intervene). He said Dave would have things under control in short order.
When I asked Dave how he planned to go about it, Packard stared at me, apparently incredulous that a nobody industrial engineer would dare question one of the eminent industrialists of the age. After spending some time puffing on his pipe, he said, "I'm going to select good people, the best people I can find, and put them in charge and let them alone -- just like I did at Hewlett Packard."
It was foreordained that the "good people" whose names would be sent to Packard would be the military officers who had been in charge of big Pentagon programs. The ones who had excelled in getting and spending money, not necessarily in acquiring useful products, and certainly not in operating with economy and efficiency. Packard was going to put the biggest-spending officers in charge and "let them alone."
I was appalled. I had seen other highly regarded businessmen fail as Pentagon managers because they did not understand -- or so I thought -- how fundamentally the Pentagon differs from private business. In a truly competitive private business, each branch manager has the job of maximizing revenues and minimizing costs. The profit and loss statement is the Book of Judgment. But the Pentagon has no profit and loss statements. The job of Pentagon managers is to get money and to spend it on schedule. The two financial management indicators are obligations, which commit monies to be spent, and outlays, which record the spending. Meeting the goals of these two is called "executing the program."
I thought then that Packard was naive. How wrong I was. Gently, I tried to explain why his plan had to be reinforced with some other measures. My suggestions were not welcomed. Packard, incensed, puffed furiously on his pipe. After about twenty minutes Laird ended the meeting, saying we would get together another time. He left the problem of what to do with me in the hands of Colonel Pursley. They were going to go through the motions, at least, of placing me in a job somewhere.
I had become acquainted with Bob Pursley, one of our more intelligent Air Force officers, when he was an assistant to Robert McNamara and I was working on the faltering F-111 program. I had a high regard for him, but unfortunately he was a product of his conditioning. Military omerta was part of his code. After the meeting he wrote a memorandum to Laird:
The more I reflected on our meeting Tuesday, the bigger plus it became. Ernie's analysis of weapons system management has so much merit it would be a shame to lose the value of his insights. The danger of a maverick in our midst is clear, however. I wonder if it would be useful on Monday June 23 to ask him to reduce some of his key concepts to writing. It would be a brief paper outlining:

-- major problem areas
-- organizational changes desirable
-- procedural changes desirable
-- the utility or disutility, as he sees it, of going to the Hill, as he has, versus working through (a) the old administration and (b) the new administration.

The last policy is the key. If he feels his contacts have continuing value, that would be a factor in deciding whether to keep him on the team. If he signs a paper disavowing -- in any way -- his current modus operandi, such a paper could be of great value if he were to jump the fence again.
My modus operandi, of course, was simply to speak about problems and propose solutions. My sin was that I was doing it in public. Pursley wanted me to sign a paper stating that I would agree to gag myself, a statement that could be used against me if I ever again said anything in public. The man was way ahead of his time.
Pursley's career was on the rise. He later became important enough to have his phones tapped on Henry Kissinger's orders, but he passed the telephone loyalty test. His promotion to three-star rank in the Air Force presumably gave him more scope for his ideas about loyalty tests to protect the system of big spending.
Pursley followed up with a series of memorandums to Laird, all raising the question of my loyalty. Loyalty to the Army, Navy, and Air Force in the field? No, he was speaking of loyalty to "the team" that was ripping off the public treasury for the benefit of some giant corporations and their allies in government. The armed forces were getting less equipment than the expenditure warranted, and in many cases equipment that didn't perform very well. What about loyalty to the taxpayers who paid the bills?
On July 11, 1958, Congress had passed a Code of Ethics, ten commandments for every person in government service. The first was to "put loyalty to highest moral principles and to country above loyalty to persons, party, or government department." Commandment four was to "seek to find and employ more efficient and more economical ways of getting tasks accomplished." The shortest was number nine: "Expose corruption wherever discovered." A cynic might note that most congressmen didn't mean a word of it. And "the team" counted on that.
After my meeting with Laird in June until I was fired in November, I kept trying to do my regular job. Little by little, however, I was stripped of important functions and excluded from meetings. I persisted in trying to complete the reports on C-5A technical performance I'd promised the Joint Economic Committee and SEC investigators interviewed me several times in connection with their probe of insider trading and Lockheed's C-5A debacle.
Meanwhile the tide had turned in favor of Richard Nixon. The moon landing in July was a public relations bonanza, even though his administration had little to do with it. His hard line attacks on critics of military spending paid off; he won every round against congressional attempts to cancel dubious weapons systems.
Melvin Laird prospered as well. His standing was so high that he could afford to make long-range plans to boost Pentagon spending even though the war in Southeast Asia was supposedly winding down. Opponents of the war had assumed that its end would bring a "peace dividend," a $30 billion reduction in an $80 billion military budget. Laird and his friends laid plans to head off this dangerous development.
His first move was deceptive. On October 18, 1969, he wrote to Paul McCracken, chairman of Nixon's Council of Economic Advisers, to discuss the impact of defense spending on the economy. He summarized military-contracting activity for the past June and July: DOD outlays for the military and for national defense were the highest since 1967; shipments of defense products were the highest since 1953; DOD procurement outlays were the highest since 1954; manufacturers' inventories for defense products were the highest in history.
Laird admitted that "it does appear that the defense spending is contributing toward overheating the economy at an unprecedented rate"; as a result, he said, he was cutting $4.1 billion from outlays. The truth was that the administration -- despite some victories on behalf of wasteful programs -- had lost a battle on Capitol Hill. In an effort to get Nixon to end the war, a congressional consensus had formed to essentially freeze the military budget. Laird was making a virtue of necessity.
All this called for some modest budget trimming and some careful shielding in the Bureau of the Budget and the Pentagon to protect the core group of big contractors as much as possible. Budget director Robert Mayo and his deputy, James Schlesinger, worked on the Pentagon budget problem but in the end left the details up to David Packard. As Mayo said later (January 31, 1980) in a deposition to my lawyers, "We left it up to his discretion, however, armed with what we had given him ... because he was running the Department, as a practical matter, for Mel Laird."
But at about that time McCracken, veering in the opposite direction, told Nixon that he feared a recession. Ever obliging, Laird wrote McCracken that the Defense Department stood ready to pump up the economy by spending more, if necessary.
***
That fall the Nixon administration decided to "get tough" -- a policy proposed by Buchanan, Huston, and Kissinger and adopted by Nixon. It was the time of the "silent majority" speech and Nixon's confrontation with the Vietnam demonstrators. No one was in any mood to pay attention to the bleeding hearts and wimps who complained that my firing -- on November 4 -- was illegal. That firing was pulled out of the hat as a "reorganization." Nothing personal, you understand. But in explaining my removal to their supporters on the Hill, Seamans and Schedler told a different story: Fitzgerald was not a "team player." This was a personal charge having nothing to do with the supposed reduction in force. If I had had evidence of this charge at the time, I could have been reinstated.
Seamans had called Representative Gerald Ford's office and volunteered that I was fired for cause, not as the result of a RIF. He complained that at a Proxmire hearing I had "made it extremely difficult" for Assistant Secretary of the Air Force Whittaker and that he couldn't use a man who did that. (Whittaker had tried to convince the Proxmire committee that the C-5A was a great little airplane with no technical problems.) Ford's assistant wrote a memo to his boss about Seamans's complaint -- a memo Ford kept covered up for many years.
As soon as the deed was done, Seamans called Bryce Harlow at the White House to let him know that I had finally been disposed of. Harlow was to rally the Nixon supporters on Capitol Hill and fend off the congressmen who might complain; their letters or petitions would do little good. Only Congressman Dickinson agreed to testify on my behalf. Senator Len Jordan, ill and retired, sent a written statement of support. Unknown to me, however, I had two secret supporters in a most unlikely place: the White House itself.