4. The Cost-Plus Economy
FIRED FROM THE PENTAGON and effectively blacklisted in my former profession as an industrial engineer, I took some part-time jobs to support my family. My lawyers filed an appeal with the Civil Service Commission asking that my illegal firing be reversed so I could go back to my unfinished business in the Pentagon. Even the strongest appeal typically takes years, however, and in the meantime I had to make a living.
Senator Proxmire and Chairman Wright Patman of the Joint Economic Committee gave me some work to do for the JEC, and I was asked by the Businessmen's Educational Fund (BEF) to make some appearances and speeches under their sponsorship. The BEF was a very dignified, and expensive, kind of protest movement against the war in Southeast Asia: members were expected to contribute at least $25,000 a year to the organization.
I welcomed the chance to talk to these people about the peculiar processes of the military mind from a perspective a little different from their own. They were repulsed by the whole concept of "body counts" (the counts included women, old men, and children -- some of my military friends said they knew of dead animals being counted). And, like a majority of other Americans, they were shocked by the nightly scenes of war on television.
Beyond these horrors, what worried me about the war was the evident fact that it had no goals. We were supposedly trying to protect the "idea" of an independent, noncommunist government in South Vietnam, but what specific goals we were trying to achieve and what we meant by "winning" were very uncertain.
I told my BEF friends that the body-count idea showed the military analysts' compulsion to quantify and rationalize. One hundred dead bodies here and two hundred there were just like line items in the Pentagon's accounting. Each step would be justified, and eventually they would be figured into some insane and irrelevant total. Perhaps, in the long run, we should worry most about the kind of mentality that produces such totals and believes that they prove something.
In addition, in the minds of the military and their fellows, the war created, subconsciously perhaps, a picture of an ideal society. In theory, our country would be united in a common cause, everyone would have a job, for the war economy would be booming, people (except for war widows and orphans) would be happy, and the military -- once again respected -- would assume its proper leadership role. The hidden elements in this equation were, of course, great waste (of life and materiel), great profiteering by a few, and the artificiality of a military-based economy. This society was draining its resources, both material and moral, and producing nothing.
My father, a skilled artisan, pattern maker, and self-taught engineer, turned to farming after his health went bad. He raised beef cattle. Once, when I recited to him the Pentagon's waste-makes-you-rich theory, he said, "I never saw a cow get fat sucking herself." He was referring to an actual phenomenon: cows that satisfy their hunger by sucking their own teats. That diminishes their urge to graze, and they produce less and less milk and begin to decline. Unless they are broken of the habit, they will die. It was a good parable.
My BEF patrons believed that once the war was behind us, we could make a healthy "conversion" back to the assumptions of a free and peaceable society. The big military contractors would beat their corporate swords into plowshares and gratefully switch from making stuff to kill people to making stuff to help us all live better. As a corollary to that, they envisioned a "peace dividend" of $20 billion to $30 billion a year that could be used for domestic needs.
What they didn't understand was that an influential part of the nation had contracted the cow's bad habit and wasn't about to give it up. My BEF friends looked forward to the end of a militarized wartime society, but I was worried about the advent of a militarized peacetime.
The shrewd old men in Congress, in whom the real power resides when they wish to use it, decided rather too late in the 1960s to end the war by their own kind of attrition. They effectively froze the Pentagon's acquisition budget, which included procurement plus research and development. As General Pete Crow told me then, the war would end when Congress decided to end it. "They'll let us know when they're serious. They'll cut off the money," he said. The mad old days when mad old Mendel Rivers could use cutthroat tactics in the House Armed Services Committee, silencing all dissent against limitless funds for the Pentagon, were gone. Congress finally got serious.
For a moment. Once the war was over, the seriousness began to evaporate. (To paraphrase Senator Aiken of Vermont in another context, Congress declared a victory and went home.) The enormous silent pressures for a military-spending economy weren't to be denied. Even in 1970 it was apparent that our bovine bad habit had become an addiction. Big business, big labor, the big universities had become war-bucks addicts. Bankers needed the contracts to bail out sick corporate clients. Communities fought for them, economists extolled them.
By now a new breed of industrialist knew that the market for killing stuff was rich and easy. Their objectives were as Professor Seymour Melman put it in his book Profits without Production (1983), maximization of costs and subsidy. And by and large the government purchasing market didn't worry much about quality.
In contrast, the market for better living stuff demanded, for the most part, efficient production of quality goods that real people wanted to buy at a reasonable price. This market required working hard and competing hard against the company down the street that was trying to use more efficient means to make even higher-quality goods than yours. My upright and old-fashioned BEF friends didn't understand the gap between new industry and old when they talked about the "conversion" of the economy.
By this time the big contracting corporations were in their second or third generation of management by the "new breed" of executive. These men found that the rewards lay in maximizing allowable costs and getting, under various guises, what amounted to welfare from the government. As business enterprises in the traditional sense, their corporations were not viable. They were massive constructions of organized inefficiency. The main thing to note about the people who ran them is that they had lost the one ruling principle of the old-era capitalists: they no longer cared about delivering the best quality at the lowest price.
There were exceptions, of course. I came to know quite a few people who felt trapped by the system. Many of them had little real work to do, but they had gotten accustomed to the large salaries, fringe benefits, and retirement prospects, and they did not believe they could earn these in a competitive business. They had lost their self-respect and had accepted the corporate immorality. To protest in any way would probably cast them up on the same desert island as Ernest Fitzgerald and Henry Durham. (Durham told the public embarrassing truths about Lockheed's mismanagement of the C-5A transport plane; as a result he was fired, and he received many threats that he would be killed, his house burned, and his teenage daughter disfigured.)
In the late 1960s a subtle antiwar current was emanating from a not very obvious source: the Pentagon. Most people do not realize that the Department of Defense and the dominant palace guard factions of its service departments hate war. Occasional bloodlettings keep the public in the right mood, but actual war is disruptive, disconcerting, and disorganizing. A lot of strangers have to be brought into the armed services, and the pressure is on to work hard and produce results. Worst of all, a great deal of the money is spent on troops and support (the traditional Bs of logistics: boots, blankets, beans, bacon, and bullets). The Pentagon prays that war will never really happen, but it loves its main mission in life: eternally preparing for war. I once heard an Air Force general say that there didn't seem to be much military point to the war in Vietnam, "except that it's helping to buy us a new tactical air force."
In the minds of the military-industrial coalition, "conversion" didn't mean beating swords into plowshares but beating the Bs into enormously expensive weapons systems. Thus, as it became clear that the Southeast Asia war was going to end, the big defense corporations were licking their chops over the bright new prospects. This was revealed very well in Bernard Nossiter's Washington Post article (December 8, 1968) on the giant military- contractor conglomerate Ling Temco Vought (later LTV).
James Ling, the man who created the conglomerate, was quoted as saying, "Our future planning is based on visible contracts. One must believe in the long-term threat.... Defense spending has to increase in our area because there has been a failure to initiate (new weapons systems) -- if we're not going to be overtaken by the Soviets."
Ling's financial vice president, Samuel Downer, described the situation to Nossiter even more vividly when he said, "The postwar world must be bolstered with military orders." He continued:
It's basic. Its selling appeal is defense of the home. This is one of the greatest appeals the politicians have to adjusting the system. If you're the President and you need a control factor in the economy, and you need to sell this factor, you can't sell Harlem and Watts, but you can sell self-preservation, a new environment. We're going to increase defense budgets as long as those bastards in Russia are ahead of us. The American people understand this.
Note how inexact The Threat is. Ling has us ahead of the Soviets but in danger of being overtaken. Downer has "those bastards in Russia" ahead of us. It doesn't matter, though. The main thing is to have faith in the existence of The Threat.
***
After being fired from the Pentagon, I served as the unpaid chairman of the National Taxpayers' Union (NTU). My close associates at NTU and I hoped to propagate the idea of a budget that would give us a strong defense for an economical expenditure without distorting the normal peacetime economy. That meant cutting Pentagon spending. I felt that the winding down of the war gave us a rare opening to send our message.
The approach we advocated involved a strange-bedfellows alliance. As the Milwaukee Journal reported, about a speech I made in April 1971, "Liberals who want to be effective in cutting defense spending must join fiscal conservatives who are fed up with government waste."
The voices of the Threat's guardians became particularly shrill with alarm when they realized that our seemingly unnatural coalition's message was catching on. Pro-Pentagonist columnist William S. White was one of the shrillest. In his column for April 24, 1971, he reported that the Democratic congressional leaders were "pleading" for Republican help in the effort to repel "a gathering, neo-liberal, neo-isolationist assault" on the Nixon military budget. White declared that our poor, loosely connected band, powered by only truth and ideas, had brought about the "gravest crisis" for America's national security since the 1930s. Heady stuff, that. In a way it was flattering to think that our ragtag band of yins and yangs was more powerful than Hitler, Tojo, and Mussolini in World War II, the Evil Empire in the Cold War, or the dread Viet Cong, who were even then, in the fevered fantasies of people like William S. White, threatening Denver.
The NTU did indeed give an umbrella to all sorts: conservatives, liberals, populists, and libertarians. On the board, for instance, were Robert Kephart, publisher of the ultraconservative Human Events, and Marcus Raskin, cofounder of the left-wing Institute for Policy Studies. We wanted to pose a strong challenge to the conventional thinking of people like William White, for we believed that the nation could have a strong defense with a minimum of waste and corruption.
***
The lessons I had been trying to teach at the Pentagon -- and had taken into more public forums after I was thrown out -- were, simply stated, about designing and manufacturing defense products in the most efficient way, delivering a faultless product in good time to the government, and charging no more than a fair price. In competitive private industry this was done every day in America, and in some sectors it still is. In the defense industry, such practices are more the exception than the rule.
The bad effects of defense industry practices were especially noticeable in the productivity of industrial blue-collar workers. The decline in productivity could be measured readily because we had a long history for comparison. Roughly eighty-five years ago, the industrial experts of that day developed means for measuring, more or less objectively, how much work factory mechanics and technicians should produce in a given period of time. Other industrial engineers and I were worried to see the widening gap between what industrial workers were producing now and what they should be producing.
In the early 1950s, at the beginning of my career as an industrial engineer, I'd helped install work-measurement cost-control systems in large-scale aircraft maintenance and modification. That had been a valuable lesson, and I had later applied some of those techniques to cost-cutting programs in a variety of nonmanufacturing work. Work measurement was one of the primary instruments for determining what a manufactured article should cost. Properly performed, work measurement establishes the time it "should take" a qualified worker to perform a manufacturing operation; for a complex product, the should-take times for a myriad operations must be added to arrive at an estimate. Work measurement was such a powerful cost-reduction and appraisal tool that its use was specifically outlawed by the Pentagon's cost-estimating gurus during my first tour of duty there. At first officials didn't understand what I was trying to do; when they did, they became outright hostile.
Industrial engineers call the raw should-take time for a given task or unit of product "normal-time." Since no one works every minute on the job, allowances are added to the normal time for personal breaks, fatigue, unavoidable minor delays, and the like. The normal time for a job plus all the allowances is the "reasonable expectancy" of the time it should take to do the job, and that is called "standard time."
The reasonably expected amount of work to be done in one chronological hour is called a "standard hour of work." I must emphasize here that the standard hour is a measure of work output and has no necessary relationship to chronological time actually expended doing the job. Old-fashioned, competitive business management tried to get as many standard hours of output as possible for labor hours expended. When a journeyman reached a certain stated level of output, he was "making standard. " Often he could get extra pay for exceeding a "fail day's work" standard of output.
Although military contractors saw little sense in trying to control their costs, out of some atavistic habit they did maintain time standards sections in their industrial engineering departments. The function of these sections was to do work measurement mostly as part of a "management image" facade, but the time standards did exist and were subject to audit, verification, and adjustment if necessary.
Unfortunately, the Pentagonists viewed standard output as a limit on performance. Old- fashioned industrialists measured their improvement on how much their shops exceeded standard output, but the big military contractors viewed normally expected output as a goal to be approached asymptotically -- only under "perfect" conditions at never-to-be-reached production quantities. The old floor for output had become the ceiling.
One aspect of the warped psychology I had to contend with at the Pentagon was that of people I called the "cost Calvinists" for their almost religious faith in one kind of predestination. The cost Calvinists believed that the future cost of a product was preordained by its past cost history, with just a couple of variable factors: the product's parameters -- a change in weight or speed for a newly ordered aircraft, say -- and inflation. Otherwise, once a Pentagon project was set in motion, its costs were inexorably set and were beyond the power of mere men to alter. The project manager's duty was to make sure that the defense contractor had "no funding problems," that is, plenty of money, and that no meddler would come along to impose cost controls or make major cost reductions. The Cost History god must not be angered.
This Calvinist dogma was based on numerous logical fallacies. To begin with, the historical costs were highly suspect; the contractor on a job could do many interesting and self-serving things with a cost trend line. In fact, one of my students, a production superintendent, declared that he could so manipulate the manhours per unit line by including creative labor- time charges that he could write his name with it. And labor costs were only one item. All kinds of extraneous items were added in -- waste in the plant, fraud somewhere along the line, inaccuracies and "accounting adjustments" in past "actual cost" records, and so on.
The general rule was that the fair and reasonable price to pay a contractor was a figure that closely approximated the contractor's cost to make or acquire the product plus a reasonable profit. In the usual course of negotiating contracts with big firms, the government allowed contractors to include all "normal costs of doing business" in their "allowable actual cost" base. (Normal costs were not supposed to include interest, bribes, party girls, or other frills; these were all termed "unallowable.")
The contract negotiations were a kind of ritual mating dance. The contractor-creature would take three steps forward by throwing into the cost sheet some excesses, which, he knew, the auditors would catch and disallow. The government negotiator-animal would then take three countersteps forward and the contractor would take three steps back, putting him exactly where he was at the beginning and exactly where he wanted to be (he would get the excess back in the future with some tricky steps). The negotiator was happy because he could show some "savings."
Straightforward cost-plus-percentage-of-cost contracts, in which profits are calculated as a percentage of the costs incurred, were hypothetically illegal, on the theory that they invited the contractor to pile up as many costs as he could possibly get away with. In actual practice, things weren't quite so clear. Say that a company manufactures an initial order of M-12 Bibelots and charges $100 apiece, with a profit of 10 percent. In due course the government reorders at the same price. But in the meantime, the company has found a more efficient production method for making bibelots and the $50 cost of manufacture has been halved. Question: does the company put the new production methods into effect, cut staff, and thereby make a profit of $35 on each bibelot instead of $10?
Answer: don't be silly. The company either sticks with the same old costly manufacturing methods or, if its methods do change, keeps the excess people on board anyway; a dramatic cost reduction now would mean a reduction of the cost base in future contracts -- and thus smaller profits. Worse, if the new "actual" (and lower) cost records were entered into the cost Calvinists' data banks, the price structure of the whole industry might be in danger. The big, protected Pentagon contractors' real product is allowable costs, the basis for calculating prospective profits; cutting these costs threatens both sales volume and profit.
Another strange phenomenon was something called, in the wonderful Pentagonese language, an "undefinitized" order. This meant that the contractor had received an order for a product or product modification whose specifications were still subject to change. The contractor was authorized to begin work, or at least start spending money, before firm prices were agreed on with the government. Now those undefinitized contract objectives were, in translation, indefinite objectives. The taxpayer can imagine some shambling jumbo corporation with $100 million to spend on indefinite purposes. When the revised contract price was finally set, the product changes sometimes cost more than the price originally estimated for the whole job. I have seen many cases where the changes actually reduced the amount of work to be done -- but the contractor still charged the government a hefty sum just for making any changes.
Usually undefinitized change orders remained unpriced until it was reckoned that the expenditures for change were about 90 percent complete. Then would come the negotiations and the final deal, which usually gave the company all it asked for. Most of the costs incurred were labeled "good costs," the company got additional money to finish the job, and the change order profit was figured on a percentage of allowable costs. Thus, once the contractor got into the changes, the money he spent almost always produced a pure cost- plus-percentage-of-cost return -- the forbidden formula -- in practice.
On the government side, the program manager had at his disposal reserve funds to cover any cost increases that might occur. He was under military orders to get rid of this money -- in Pentagonese, to "execute the program" by meeting his "obligations and outlays" goals. And rarely was any program manager embarrassed by having money left over.
These were the normal machinations to accommodate big contractors; small ones were sometimes held so strictly to commitments that they went into bankruptcy. Where this dodge of putting in continual change orders -- "contract nourishment," in the Pentagonal idiom -- might have awkward political or public relations consequences, the government sometimes simply ignored the contractual commitments and handed the big corporation whatever money it asked for. The bailout law (Public Law 85-804) used in the Lockheed case was just one example, and it set a precedent for the rescue of other failing corporate behemoths. Later the Pentagon had found an even simpler way to resolve a controversy with a contractor about cost overruns: it simply conceded.
In the early 1970s the effects of all these horrendous practices were beginning to show. The direct consequences touched our ability to supply the armed forces. The unit costs of equipment were rising so rapidly that Senator Proxmire used to make speeches about "unilateral, gold-plated disarmament." Instead of a bang for a buck, we were beginning to get a pop for many bucks.
The long-term danger that worried me was the epidemic spread of the cost-plus virus throughout the whole business community. As it had already done in the defense and space industries, so it would drive up unit costs and degrade quality in all industry, especially in corporations that must compete with the defense companies for land, labor, materials, and services.
Nixon's half-hearted price-control guidelines of 1971 gave an impetus to this trend. lf a businessman could show that his costs had increased, he could raise his prices -- and he was very likely to go unchallenged. Management, in industries with those administered prices, could pass on cost increases to their customers without penalty so long as the increases were industry-wide. That way no company had to worry much about its competition.
Congress was not much help in trying to halt the spread of the cost-plus virus. In fact, Congressman Chet Holifield's commission on government procurement was actually helping it by encouraging the spread of Pentagon cost-justification techniques to all contracting agencies of the federal government.
The really insidious part of the cost-plus infection, though, was what it did to managers. On the Pentagon pattern, private-sector managers prospered if they were skillful at justifying higher costs as a way to get higher prices. This was particularly true in the medical and health-care industry and contributed to the skyrocketing costs of medical treatment.
The "management sciences" academics were intrigued with the Pentagon's cost-justification procedures, especially the formula for using past "actual" costs as a basis for extrapolating future costs. Their formula for the so-called learning curve, an exponential hyperbola of the form y = kx-m, looked so scientific and was so widely endorsed by professors of statistics, business, and economics as an inexorable law of human behavior that it had come to be accepted.
The learning curve illustrated on page 49 is said to have an 80 percent slope or improvement rate. The slope and starting point depend on the past history of manhours and costs for the same or an analogous product, cost-estimating theology, and available money. Clearly, the fatter the estimate of manhours and total cost, the easier it is to fit to the learning curve. The curve is a self-fulfilling prophecy if it is fat enough, and estimates that can be made to come true are said to be "credible." Therefore, the fatter the estimate, the more credible it is.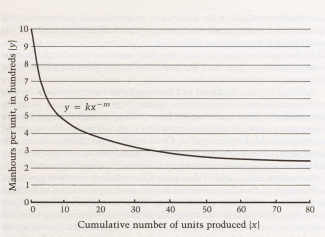 The learning, or improvement, curve, illustrating an 80 percent improvement rate. The number of manhours it takes to build each unit is reduced to 80 percent of the previous value each time the cumulative number of units doubles. For example, the first unit takes 1,000 hours; the second, 800 hours; the fourth, 640 hours; the eighth, 512 hours; and so on. Although it is a curve on the arithmetic scale, the learning curve is a logarithmic straight line of the form y = kx -m, where y is manhours per unit, k is a constant, x is the cumulative number of units produced, and m is the slope exponent (.80 in the example).
Actually, the learning curve hyperbola had been selected in the days before computers. When plotted on logarithmic graph paper, it was a straight line, thereby easing the computational chores of cost-justifying pencil whippers. The magic hyperbola was also indispensable to those managers who wanted to project higher costs as unavoidable. As long as contractors' reports showed that the levels and trends of manhours per unit of product were more or less on track with the learning curve, a government buying office usually wouldn't challenge them. Also, whenever a change was made in the contract, they reasoned, the curve would have to be "spliced. " This meant that the "learning" would have to start over to some degree, thereby jacking up allowed costs again and compounding the already complex mathematical formulas.
In short, the whole approach was tailor-made for charlatans, while having enough pseudoscience about it to gain acceptance among well-meaning academics.
As I went around the country giving talks about military spending, I noted with increasing despair that universities were teaching cost justification instead of the hard-nosed cost- education and cost-control techniques I had learned as a young engineer. David Packard and his confederates were furious when I wrote, in The High Priests of Waste, that the leaders of the military spending complex were fiscal Typhoid Marys, carrying their bad doctrine into many parts of our national business and industrial body.
Admiral Hyman Rickover had been just about as critical as I, saying to Senator Proxmire's committee, "Many large companies are virtually unmanaged." That really didn't hurt profits, though: "Large defense contractors can let costs come out where they will and count on getting relief from the Department of Defense through changes in claims, relaxation of procurement regulations and laws, government loans, follow-on sole-source contracts, and other escape mechanisms."
Packard, it seems, didn't dare attack the admiral, who was powerful, influential, and well connected. I was none of those things, so Packard attacked me personally and viciously in his review of my book.
I resolved to fight back on strictly factual lines by making renewed efforts to show what the bad effects on our competitive private sector would be if the inefficiencies of the Pentagon- sheltered corporate giants were to spread widely. My first educational efforts were directed at the Joint Economic Committee staff. My substitute for the false gospel of "did cost = will cost" in contract pricing was the should-cost approach -- what work should cost after the fat is squeezed out.
At that time my predecessor as Air Force management systems deputy, Ronald Fox, was an assistant secretary of the Army in charge of procurement. Ron, who professed to be a convert to the should-cost approach, contracted with one of my former partners, Mert Tyrrell, to help institutionalize should-cost in Army programs. They had some limited success, although they approached the giant contractors on the biggest, most political programs only gingerly.
Senator Proxmire and the JEC staff were impressed by Ron and Mert's results and by the fact that such an effort was being made at all in the Nixon administration. Proxmire arranged some hearings so that Ron could testify about how well the Army was doing in cost cutting. The unfortunate result was that the Army movers and shakers were so shaken that they moved to put a damper on should-cost. The program, nevertheless, limped along and the concept stayed alive.
At this point I decided to introduce into my congressional educational efforts a very rough rule of thumb for measuring the fat in manufacturing operations, one I'd used successfully as the head of a small but busy management consulting firm. I was often asked to survey a company to determine whether our services would pay off in reduced costs. I called these surveys gold-in-the-mine studies because they were like geologists' surveys of ore-bearing rock: without some good indication of available pay dirt, there would be no point in starting a new mine or continuing to work one that might be almost played out. I usually had to do the survey myself and with my own money, so I developed a number of simple indices of organizational effectiveness that I could rely on in recommending what needed to be done.
One of my most useful measures was the total in-house cost for a standard unit of output by the "touch labor" people. In manufacturing there are only two kinds of people: touch labor -- the people who make things -- and everybody else. The touch labor people are easy to evaluate and measure quantitatively, and everybody else is there to serve and support them. That is, the non-touch labor people should be focusing on efforts to help make the product better, less expensively, and faster. In the most fundamental sense, the output of the touch labor people is the output of everybody else as well. As a common-denominator measurement for labor output, I used the standard hour described earlier.
Later I found total in-house dollars of cost per standard hour of output a useful yardstick for assessing military contracts involving manufacturing, whether for production or for research and development. It was a rough measure, and I was not happy with its roughness, but given the circumstances of that time and the nature of the problem, it was the best measure available.
At that time, in the early 1970s, the government had no approved measures that were meaningful. In what became a real economic tragedy, the GAO, then headed by Comptroller General Elmer Staats, joined with the Pentagon spenders to oppose measures of the performance of military contractors. Specifically, they rejected the old-fashioned should-cost approach, recommended by the JEC, in favor of new-fangled, heavily qualitative procedural evaluations, which were misleadingly labeled "should-cost." They kept the name but changed the concept.
What the Pentagon adopted were the Air Force's old Industrial Management Assistance Surveys (IMAS) with a pro forma review of contractor work measurement systems added, and a few negotiation fillips thrown in. This process, which was predominantly qualitative and procedural, was so vague that the GAO told Proxmire they had no way of quantifying the fat that showed up in the pseudo-should-cost studies. That quantification, of course, was the point of any good should-cost scrutiny.
The pseudo-studies were also, as one might have guessed, much more expensive than the old ones. In the 1960s, four or five people could study a manufacturer's operation for four to eight weeks and typically find ways to reduce costs by about 30 percent. Under the new- look program, forty or fifty people would work for three to four months and come up with much smaller savings. (And it appeared that the initially negotiated savings were either given back to the contractor or diverted to other purposes. Certainly we could never track any should-cost savings being returned to the Treasury.)
Another reason that my dollars-per-standard-labor-hour index was useful in judging the amount of manufacturing fat was that manufacturing methods, especially within subgroupings of the industry -- automotive, airframe, missile, and electronics, for example -- were generally similar. The defense companies with the most diverse processes were the big so-called systems contractors, whose factories typically had three hundred to five hundred different kinds of manufacturing operations. Usually their industrial engineers had usefully accurate formulas to determine should-take times for products in each operation. Few of the operations were unique. The companies had little interest in devising methods to cut down on touch labor. After all, direct labor hours were the most defensible kinds of "allowable costs" in manufacturing. (In a completely automated factory, my dollars-per-standard- labor-hour index would have been irrelevant -- but there were no completely automated plants that we knew of in defense industry.)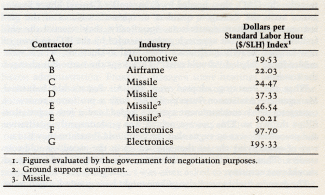 In the early 1970s ten dollars per standard labor hour was about the top cost in competitive industry. If the factory labor cost more than that, the business was in deep trouble. In contrast, observe the costs to contractors for the Army shown in the table.
I make no claim that these sample costs per SLH were scientific or even necessarily representative of the overall figures for military contractors. These were the figures we could get in Congress -- and they were very troubling. Remember that competitive industry costs rarely went above ten dollars a standard labor hour, and the best showing in the table is almost twice that. The worst is almost twenty times that.
To find out some of the reasons for the discrepancies, we took a closer look at electronics manufacturer G. We found that he was having quality problems. We were told that the $195.33 included large, but not specifically identified, charges for scrapped material and for corrections to the contractor's work.
I wanted to express the rather arcane $/SLH comparisons in terms that would be meaningful to nontechnical people, especially the JEC members. I consulted some electronics manufacturers for estimates of what contractor G would have to charge if he were to make a nineteen-inch portable color TV set, which in those days sold for about $400 retail. Assuming the efficiency levels shown in G's government contracts and making other markups proportionately high, the set would cost the consumer about $8,000. And considering contractor G's lousy performance, it probably wouldn't work.
The $8,000 TV was a good example for my innocent friends in the Businessmen's Educational Fund who believed in "conversion." It also had very disturbing implications for our competitive position in world markets in the future. With work habits, efficiency, rates of pay, and management practices like those of G, our nondefense electronics industry would die a quick death.
Was I the only one who knew these secrets? Not at all. A great many people in government and in industry had both experience and a sure hand in dealing with cost bloat and poor quality. And military contracting offered dramatic opportunities for cost cutting.
Even if the feared and despised should-cost approach was unacceptable, other cost-cutting remedies could be used. For instance, Admiral Rickover testified before the JEC that only 11 percent of Pentagon procurement (including research and development) could be described as competitive. By that he meant advertised solicitations to all comers and sealed bids. The other 89 percent came through negotiated contracts that were the result of varying degrees of procurement looseness. Even limited bid competitions in the past ("cost rivalry," as I called it) had produced dramatic reductions in what the Pentagon expected to pay or had paid. The JEC gathered some statistics on sole-source contracts that were later subjected to cost rivalry: reductions in unit costs ranged from 16 to 80 percent.
There was another way to inject a little competition into the insulated world of the big defense corporations. Many of them carried on their operations in government-owned facilities. Lockheed, for instance, used Air Force Plant 6 to complete work on the C-5A. Because of the company's disastrous record, I suggested we hold a competition for the operation of Plant 6. David Packard rejected the idea, but later, when it was too late, he agreed that it could have been done.
Admiral Rickover had advocated the same treatment for shipbuilders that used their sole- source position to hold the Navy up for reimbursement for overruns. The Army had its GOCO plants -- government-owned, contractor-operated ammunition plants, tank arsenals, and the like -- and frequently changed contractor-tenants, which demonstrated the feasibility of changing contractors through cost-saving competition. (Though many of the changes, I suspect, were made for political rather than competitive reasons.)
Some successful examples of competition could be found, even in the Nixon administration. A notable one was the "fly-off," or competition between prototypes, that produced the F-16 fighter plane (and I give David Packard a measure of credit for this success). Most of the good work was done in the early 1970s by a maverick group within the Pentagon known as the "Fighter Mafia," led by Air Force colonels John Boyd and Everest Riccioni and an analyst named Pierre Sprey from the office of the secretary of defense. The F-16 was a momentary triumph for the spirit of competition and cost regulation, giving us a good product at a bearable price -- at least until contract nourishment set in.