6. Dr. Doom's Dollar Model
I RETURNED TO THE PENTAGON on December 10, 1973, with a gloomy feeling that when nobody was looking, the Pentagon had become an independent entity outside the laws of the United States. What should have been a solid legal victory for me had produced no more than a minor, grudging concession. And the extent of petty vindictiveness was hard to believe. Although the Civil Service Commission had ruled that I had a right to my back pay, the Air Force refused to give it to me. It took several months of legal fighting to get a partial settlement. Both John Bodner and Bill Sollee stuck by me in the continuing legal fight with the Air Force and the CSC.
Bodner was so outraged by their perfidy that he agreed to draw up a damage suit against those who had retaliated against me. I was sick of appeals and legal processes, but I decided to carry on the fight. The complaint was against Alexander Butterfield and several high-level Pentagon officials; though we did not know at the time about the roles of Richard Nixon, Bryce Harlow, Harold Brown, Robert Hampton, and others in the conspiracy, John put in a John Doe clause on the chance that others had been involved.
At first it looked as if John and I were taking on the whole federal establishment on our own, but on February 20, 1974, we received a letter from Ralph Temple of the ACLU saying that both the local ACLU and the powerful national organization "would become fully associated" with us. This meant that the national ACLU would pay the expenses of the litigation and provide some staff assistance. It seemed like a gift from the gods. With those problems in the best of hands, I could concentrate on my much-circumscribed job and look for some ways to save money in the swollen military budget.
***
After the Saturday Night Massacre and the firing of Special Prosecutor Archibald Cox in October 1973, the Nixon presidency had seemed doomed. For me there was one significant quote that other people seemed to have missed in all the commotion. When Attorney General Richardson refused to fire Cox, Alexander Haig ordered Deputy Attorney General William Ruckelshaus to do the job, reportedly in these words: "Your commander in chief has given you an order."
This was more than the usual Al Haig bluster; it was a general's symptomatic misconstruction of the Constitution. The president is commander in chief of the armed forces, not of the entire nation. With respect to the rest of us, our elected leader's primary function is "to take care that the laws be faithfully executed." But the military mind was formed with the Macedonian phalanx of hoplites, where unquestioning obedience was the key to victory. When a commander gives an order, legality is irrelevant.
The Pentagon, from my worm's eye view, had the ethic of the phalanx, though it had no Alexander. The military men knew by heart every bureaucratic detail, every arcane regulation for what many considered the only legitimate function of government: the common defense, or at least expenditure for defense. They were the only ones with the right vision for the nation. They knew what would make the United States both secure and prosperous: military discipline and military spending.
In many ways James Schlesinger was the ideal person to con America into a defense spending boom after the disillusionment of the Asian wars. He was plausible, intelligent, energetic, and completely uncowed by facts. These talents made him a good propagandist and a favorite of Richard Nixon, who promoted him to higher and higher jobs. As soon as he became secretary of defense, Schlesinger pushed for huge, unprecedented peacetime increases in the military budget. Schlesinger's other great qualification for his new post was that he was really good at scaring the daylights out of the American people. He always saw the Russians or their missiles coming over the horizon in such hordes that the underground circle of cynics in the Pentagon named him "Dr. Doom."
Before his defense appointment Schlesinger had been director of the CIA, where he had brought to prominence an unusual method for assessing the military expenditures of the Soviet Union. This shaggy creature was called the Dollar Model. Using this model, we no longer had to ferret out how many rubles the Soviets were spending on their military establishment; we would just estimate the size of that establishment. Then we (or the private contractors) would estimate what it would cost us in dollars to reproduce that establishment here. In other words, what would it cost the United States to buy for dollars every ship, radar, missile, uniform, tank, plane, and artillery piece now owned by the USSR? And, furthermore, what would it cost us to maintain that establishment under American, not Russian, conditions for the coming year (as if we were paying upkeep on our new purchase)? With the Dollar Model, every price-boosting blunder in a California aerospace plant, every slick bookkeeping dodge by a contractor in Detroit was added to the "cost" of running the Soviet military machine. Each time the C-5A overran its estimate, the Dollar Model price of its approximate counterpart, the Soviet AN-22, increased proportionately.
Estimating the Soviet military payroll was an even more incredible exercise. The Red Army draftees are issued new footrags (reportedly -- not socks) and a few rubles per month; American soldiers' pay is princely by comparison. The Dollar Model attributed American pay to the huge Soviet armed forces and included all military personnel doing essentially civilian duties, for example, as border guards or internal security duty.
And lo! The estimated Soviet expenditures doubled before our eyes. They got no more bang for a ruble, but they "spent" a lot more rubles. That sure as hell increased The Threat. As LTV Aerospace Vice President Samuel Downer had told reporter Bernard Nossiter in 1968, "We're going to increase Defense budgets as long as those bastards in Russia are ahead of us. The American people understand this" (Washington Post, December 8, 1968).
Schlesinger's promotion to secretary of defense gave him a wonderful opportunity to cash in on the misconception he had helped create. He was very good at his scam. He cultivated a deliberate, seemingly thoughtful manner of speech, often fumbling with his pipe, which conveyed an impression of profundity. And he had a disarming habit of punctuating his absurd rationalizations for big spending with flashes of candor that helped earn him a reputation for independent thinking and credibility.
Although I did not admire the man, I respected his shrewd sales ability. So I was encouraged when I came across this passage in his book The political Economy of National Security: "We could, without substantial difficulty, double the amount of the military protection we are receiving even without doubling the military expenditures." With this heartening thought, I tried that much harder every time Schlesinger dropped a hint about some area where he would support cost savings.
At the time I returned to the Pentagon, Schlesinger was making a public noise about the "teeth to tail" ratio of our armed forces -- meaning that the animal had not enough to bite with and a very large rear. Schlesinger seemed to be saying that he wanted more incisors and less derriere. Okay, I thought, I can help with that.
As deputy for productivity management, I had no real authority, but I could initiate modest projects of my own, so long as I stayed away from big weapons buying. I decided to use my little productivity job as a lever to improve the operations of the Air Force Logistics Command (AFLC). This huge, industry-like organization employed more than 80,000 people, with an overstaffed headquarters in Dayton, Ohio, five large Air Logistic Centers (ALCs) scattered around the country, and one smaller installation. The centers supplied, maintained, and modified weapons systems -- planes, missiles, and support equipment. Their operations included practically everything done by the big aerospace and missile manufacturers. Although an increasing share of this work was being let out to private contractors, the AFLC still carried on a great deal of activity. 1 reasoned that if we could make our ALCs models of low-cost, high-quality organization, we could use that as a lever to get the big contractors to improve their performance. Or we could let the ALCs compete with them. There were already large areas of potential direct competition.
Since the time in the 1950s when I had been associated with the AFLC (then called Air Material Command), their use of industrial engineering methods had gone downhill. But a few true believers were left from that era, and they had kept the old cost-control procedures alive. They saw to it that the performance of the maintenance shops was measured by comparing the standard-hour value of work produced directly to the chronological hours spent on that work.
Perhaps out of sentimentality, in that should-cost represented the kind of industrial management that had once made the United States the greatest manufacturer in the world, I was determined to preserve this endangered species in the ALCs. As far as I knew, the rest of the aerospace industry wasn't using should-cost. The private contractors had a stake in adding as much as they could onto the should-take time, usually by multiplying it by a large factor, supposedly to account for the learning curve. For instance, if Aerospace Factory X had a job that should take 100 manhours to perform, they would typically allow ten times the should-take time, or 1,000 hours for the first item made, 800 for the second, 640 for the fourth, and so on (the 80 percent improvement curve).
This system allowed the contractor to set up an inflated level of "actual hours," and this fraudulent measure would then be applied to future jobs. Repeated cycles of this process "justified" an ever-increasing upward spiral of allowed costs.
Although the AFLC had kept, in theory at least, the old cost-control methods, their shops were not highly efficient. They didn't have the big contractors' incentive to maximize allowable costs, but they didn't have much incentive to excel. Their workloads, and therefore their jobs, rested on political considerations more than competition.
I was pleasantly surprised, though, to find that AFLC used my old in-house dollars per standard-labor-hour produced to compare one ALC with another. In 1974 the ALCs' costs were in the $12-$14 range for a standard labor hour. Those standards were too fat. And certain charges, such as depreciation and headquarters' expenses, were not included. But overall the ALC cost for good work (at least as good as that of the private contractors) was under $20 per hour, a fraction of what the contractors were charging the Pentagon.
I'd often been accused of trying to make the Air Force look bad. Here was a chance to make the Air Force look good. I was eager to bring these facts to notice and to build on them in hopes of stimulating better performance across the board. I wanted to use the AFLC as a model for improvement that could be applied to the operations of big contractors when I got back to working on them. I had an ally in Colin Parfitt, an assistant to one of Woodruff's other deputies. An experienced certified public accountant, Colin was too honest and competent to have much chance for notable success in the Air Force.
We did have a few problems. The stickiest one was that in the process of making the Air Force look relatively good, I would make the pet contractors look bad. But I thought I might be able to keep that hidden until the program got under way. The second problem was that I'd inherited some garbage called the productivity program, which was designed quite literally to be useless for budgetary work and so even more useless for cost control and cost reduction.
One wonderful part of this program was a practice called "unbundling." The AFLC measured the productivity of the civilian workers who purchased supplies by comparing the number of manhours they worked with the number of purchase orders they issued in that period. It was easy to look a lot more productive if one large purchase order was unbundled (or divided) into a host of smaller ones. End result? The mythical productivity was increased, but no more real work was accomplished. And with all the extra paperwork, the costs went up.
The situation was even worse if a boss decided that the purchase orders should be carried through in less time. Since the place was run on a cost-plus philosophy and everybody was under pressure to spend the large sums available in the budget, all control vanished. It is easy to get purchase orders out faster if nobody questions the unit cost of what you are buying: don't dicker over prices, don't waste time getting competitive bids, just spend the money.
Early in 1974 I first pointed out that their "productivity" program actually made overall costs rise. Oddly enough, nobody in the Air Force disagreed with me, but nobody changed the system, either.
There was a perfectly good measurement for productivity in the maintenance work AFLC carried out, but the Command forbade its use in the productivity program.
Instead, they used a gobbledygook "market basket" measurement so bad that even the people who concocted it admitted it was invalid.
Even with the backing of the old-time true believers, I couldn't seem to persuade AFLC to adopt a meaningful productivity program. They reared back in horror at the mention of standard hours or should-take times: on March 8 General George Rhodes, chief of staff of the AFLC, wrote me:
We do not believe a work measurement system indicator, such as the Labor Cost Trends (AFLC's work-measurement-based performance indicator) or any similar comparison of standard (earned) to actual or standard-to-payroll hours should be used as a substitute for even the most invalid productivity measurement system indicator.
I took this absurd paradox to my bosses, Bill Woodruff and Thomas Moran, but all they wanted to know was whether Schlesinger's office was happy with the invalid yardsticks. When I said that Schlesinger's people didn't care one way or the other, they said that we were answering the mail, so why worry?
About this time, there arose a monster called ALS, or Advanced Logistics System, which was so foolish that the AFLC fell in love with it. Part of it was a cost-justification scheme called Project Max (after Max Kennedy, its unfortunate instigator); it seems to have been lifted pretty much intact from Boeing's Wichita, Kansas, division. ALS was an attempt to shift the emphasis at AFLC from what work should cost to what it did cost and to engender and justify ever-higher labor costs, just as the big contractors did. The big spenders in the AFLC and Schlesinger's office wanted to get rid of one of the vestiges of sanity left, the ALCs' work-measurement system, and bring in the hairy monster. Because the monster was very costly to feed -- the mere administrative expense was huge -- we had good grounds to oppose it. It was simply too complicated to work. But the AFLC cherished its pet and allowed it to eat money for years, even though Congress kept canceling it. Colin Parfitt and I more or less fought the big spenders to a draw at the AFLC. Project Max didn't go anywhere, but neither did our improvement program. However, the work we did and the allies we made put us in a good position later to effectively apply our analytical approaches to the big contractors.
I didn't realize at the time that Schlesinger was unalterably opposed to what I and my kind were trying to do. I had little evidence that he was working to increase the military budget, but I began to see that the mood in Washington favored that course.
As the hated Southeast Asia war drew to a close, the military were trying to change their reputation for lavishly supplied but ineffective warfare. By 1974 some military thinkers were beginning to counsel a new public relations line. Dr. Theodore Kahn, a retired colonel, writing in The Retired Officer magazine for January 1974, advised:
By defending our country's war role in public forums and in the media, the military inevitably drew upon itself some of the blame for the existence of this policy. Any justification by military officers of political decisions made by our elected civilian leadership will make the military vulnerable as a scapegoat if, later, these decisions prove to be unpopular.
With the waning of the war in Southeast Asia, Congress was eager to get back to the old pork-barrel politics, a natural instinct stimulated by the fact that the country seemed to be entering a recession. As Time put it on June 4, 1974, "The mood on Capitol Hill was shaped by the economic slowdown." In response, Congress saw to it that the aerospace industry began to boom again. From midyear 1973 to midyear 1974 its employment rose from 946,000 to 962,000. Wage rates, too, took off, from $4.91 per hour to $5.36 on average. As has so often been the case in our economic history, defense contract pay and prices were a leading indicator of inflation ahead.
The newspapers often describe this kind of action as "heating up the economy." On that theory, Schlesinger was trying for a barn-burner. On August 13, 1974, he called his top assistants' together and, as this Memorandum for the Record puts it:
Secretary Schlesinger urged the Services to expedite the obligation and expenditure of funds to minimize the impact of inflation on defense Purchasing Power. In this connection, the Comptroller's office will regularly measure the progress of obligations and expenditure for each Service and ensure appropriate visibility.
Then there was Israel. In the opening days of the 1973 Yom Kippur war, Israeli forces had suffered unexpected and shocking losses. Americans had enormous respect and admiration for the nation of Israel, and a majority in this country were willing to sacrifice to ensure her safety. The Pentagonians played brilliantly upon this sympathy, putting out the party line in speech after speech: a dollar for the Pentagon is twenty-five cents for Israel.
After living with his predecessor's budgets through fiscal 1975, Schlesinger broke through with big increases in military acquisition in the fiscal 1976 budget and set in motion the post-Vietnam spending spree that continues to this day. From the standpoint of Schlesinger and his big-spender constituency, this was a historically successful breakthrough. They melted the de facto freeze on acquisition spending that had temporarily arrested the growth of the military spending coalition's political and economic strength. More ominously for our future national solvency and our liberties, they set in motion explosive growth in military acquisition spending as a major war was ending, a political feat never before accomplished in our country. The chart, which uses DoD figures, tells the story.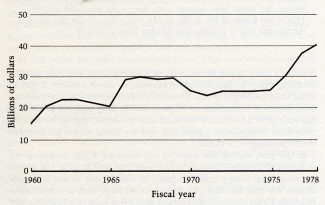 The Defense Department's total obligational authority for acquisition (research and development plus procurement), 1960-1978. Source: Office of the Assistant Secretary of Defense (Comptroller), "National Defense Budget Estimates for FY 1988/1989, " May 1987.
Schlesinger, repudiating his published opinion, now announced that cutting fat out of the military budget without hurting the muscle was a "charming illusion." On January 15, 1975, he previewed his 1976 budget with a ringing "guns before butter" statement. (It is instructive to remember that this idea was first enunciated by Air Minister Hermann Goering in 1936 when he said, "Guns will make us powerful; butter will only make us fat.") Schlesinger said: "It is part of the system that we make sacrifices of consumption or domestic investment activity in order to maintain an appropriate level of defense."
Contrast Schlesinger's outlook with the classic American ideas in Dwight David Eisenhower's famous Cross of Iron speech of April 16, 1953:
Every gun that is fired, every warship launched, every rocket fired signifies in the final sense a theft from those who hunger and are not fed, those who are cold and are not clothed. This world in arms is not spending money alone. It is spending the sweat of its laborers, the genius of its scientists, the hopes of its children.... We pay for a single fighter plane with a half million bushels of wheat (by 1987, the price was twenty million bushels). We pay for a single destroyer with new homes that could have housed more than eight thousand people.. This is not a way of life at all, in any true sense. Under the cloud of threatening war, it is humanity hanging from a cross of iron.
Because I had escaped the sad fate of Kenneth Cook and had "won" a decision, many potential whistle blowers, or closet patriots, began to bring their problems to me. Everybody had a horror story to disclose, from defective equipment to dubious-quality drug supplies to cases of big-scale theft. I could only tell them that it was easy enough to exercise their First Amendment rights, but that for doing so the government would probably ruin them.
In the past, during the worst of my troubles, I had discussed my situation with Ralph Nader. He had been kind and helpful, but except for occasional forays into the field, he would not tackle Pentagon abuses. He told me that the mess was so huge that it could easily consume all his time and effort. Now that I was back in a Pentagon job, I began spending some spare time with Nader's whistle blower project, which was headed by Peter Petkus, with the assistance of an energetic young woman named Felice "Fritzy" Cohen. They were anxious to do what they could, within their limitations, to offer legal defense in legitimate cases. My association with the project was well within the bounds of the government employees' Code of Ethics, yet it exposed me to considerable carping from my bosses.
My contacts with Nader's group and with congressional staff investigators infuriated the Pentagonists. And as relations with my bosses grew chillier, I began to have some curious experiences. Sometimes I still fell into my old habit of working late at the Pentagon. A couple of nights when I left the almost-deserted parking lot, a nondescript sedan with a government-issue look would pull in behind my car and follow me closely along the circuitous route to my home in suburban Virginia. Two men with short haircuts sat in the front seat; they made no secret of the fact that they were following me. I kept this to myself because I didn't want to sound paranoid. But I remembered the remark of an investigator on Capitol Hill, "If you're in my business in Washington and you're not paranoid, you're crazy."
***
At this time Senator Frank Church was conducting a sweeping investigation of bribe giving abroad by American corporations, especially Lockheed and Northrop. Because of my familiarity with Lockheed, Church's investigators questioned me several times. For a while it seemed that Church might succeed in exposing a lot of this corruption, but as the scandal grew larger, the opposition grew stiffer. The investigators' success was their undoing. Henry Kissinger, now secretary of state, was a particularly vigorous and effective opponent.
At one point the staff was zeroing in on a tip that some Lockheed equipment was being exported, via third countries, to the Soviet bloc, an early instance of the illegal "technology transfer" that was to become such a heated issue in 1979. But, according to the Church committee staffers, some Republican senators put heavy pressure on Church to kill that line of inquiry for "national security reasons." Quite suddenly during the spring of 1975, much of the steam seemed to go out of the Church committee investigations, cooled by these complaints. To all of us close to the inquiry, Lockheed's millions of dollars spent abroad in "agent commissions" smelled of bribes and kickbacks. But the curtain of official secrecy was a stout one.
Some of Lockheed's imitators in the art of political manipulation were pretty amateurish; the worst and unluckiest of these was the Northrop Corporation. Whereas Lockheed had been king of the hill among Pentagon contractors for most of a generation, Northrop was still trying to become one of the big boys. It had scored a coup in persuading the Navy to buy its new F-18 fighter plane in apparent defiance of a congressional order that the Pentagon buy versions of the same "lightweight, low-cost" fighter for both the Air Force and the Navy. Northrop's F-17 had lost out to General Dynamics' F-16 as the plane chosen for both the Air Force and NATO, so Northrop simply made some changes in the F-17, renumbered it F-18, teamed up with McDonnell-Douglas, and sold the loser to the Navy. That, of course, quieted any urges for competitive excellence that the aircraft manufacturers may have had aroused by the fly-off.
Northrop's product mainstay had been the F-5 Freedom Fighter and its derivative, the T-38 training plane. The F-5 never quite made it with the U.S. military, but it had been a big seller overseas. Why foreign governments loved the F-5 so much was seen as something of a mystery, but disclosures of laundering money for illegal political contributions and even more direct baksheesh (a Persian word much honored in the Middle East) cleared the picture considerably.
Northrop probably would have gotten away with its clumsy black-bag operations if it hadn't been for Watergate: the special prosecutor's office found that the company had made an illegal contribution of $150,000 to Nixon's 1972 campaign. If there had been any criminal indictments, Northrop would have been in boiling water. One Northrop executive had the bad judgment to show back-dated documents to federal investigators (and had to confess the deception), while others told inaccurate stories about the timing of their commitments to make political contributions. Some top Northrop officials pleaded guilty and accepted tiny fines -- two for $5,000 and one for $1,000. It was clear that the fix was in.
Most of the focus of the Church committee investigation was on overseas bribes, but my friends and I were more interested in laundered money coming back into this country for domestic hokey-pokey. We all were familiar with the Mexican laundry where the cash for Nixon had its past washed away, but a lot of other cleaning establishments might have been uncovered if the House Banking and Currency Committee's subpoena powers had not been cut off in the summer of 1972, just when Representative Wright Patman's men were hot on the trail.
One blanchisserie was operated out of Paris by a man named William A. Savy. In the course of twelve years, Northrop paid him about $1,150,000; he returned $376,000 in cash to Northrop vice president James Allen, who distributed it for "political contributions and other purposes."
Some of the money Savy returned went to a Washington lawyer named Frank J. DeFrancis, who was reported to have disbursed it to a "retired general." The "general" turned out to be a former Marine major, John Blandford (who held the rank of major general in the reserve), and who was best known as chief counsel and head honcho on the House Armed Services Committee in the days of Chairman Mendel Rivers.
DeFrancis was fortunate enough to have a fifteen-year contract with Northrop paying him more than $100,000 a year for services that Northrop's executive committee could not identify. And he helped Northrop set up a Swiss corporation whose purpose was to distribute gifts of cash or stock to those who proved "helpful to Northrop."
Northrop cried foul at the congressional investigation because, its officials said, they were only doing what Lockheed always did. Protestations notwithstanding, Northrop's board of directors, aided by its auditors, Ernst and Ernst, set up an executive committee to investigate the charges.
In fact, Northrop's contracts covering DeFrancis and the Swiss deal were copied from contracts Lockheed had with Dr. Hubert Weisbrod, a Swiss lawyer. Weisbrod ran an operation for Northrop from 1968 to 1973, receiving $750,000 in fees -- charged to U.S. taxpayers when Northrop added the sum to its Pentagon bill as "indirect support costs." Under examination, Northrop could not identify any services rendered by the Swiss lawyer, but Northrop's chairman, Thomas Jones, said that Weisbrod helped the company sell aircraft to European governments. Weisbrod himself said he was a "trustee" and that his services consisted of endorsing checks from Northrop for deposit in his clients' Swiss bank accounts. He would not say who his clients were.
Naturally, all these leads tantalized Wright Patman's investigators. One of them, a bright, engaging young Texan named Robert Riggs, on the staff of the Joint Committee on Defense Production, had had a good introduction to the weaknesses of politicians when he served as an aide in the Texas legislature. Robert was one of the promising young investigators I tried to help. Riggs was certain that at least some of the loose hundreds of millions of dollars that had gone for foreign washing and bribes must have floated back to our shores for the fun and profit of native politicians. When the Northrop executive committee's report to the board of directors stiffly admitted: "It is reasonably clear that officials of the Executive Branch agencies have received corporate hospitality under circumstances in which the official involved could have been subject to disciplinary action or public embarrassment for breach of his agency's Standards of Conflict Regulations," Riggs's nostrils widened at the familiar whiff of corruption on the breeze.
"What kind of hospitality?" he asked me. "Do the contractors hire whores for the generals?"
I explained to him that things were not quite so crude as that. I'd seen some expenditures charged off as fees for "public stenographers," but the usual way was to bring together the right mix of friendly women and impressionable brass.
Riggs clung to the belief that the instincts of influential Washingtonians were no different from those of some of the good old boys in Austin. He said that few people really cared that some foreigner was bribed -- it might be necessary just to get his order. And the news about laundries didn't excite the taxpayers much, either. But they really felt stung when they read about their dollars being spent on bimbos. That was a good attention-getter for more serious venality and more serious money.
So began what Robert Riggs called "the great whore hunt." I couldn't help him, but I did introduce him to Dick Bast, a Washington private investigator who had once represented a prostitute who was having contractual difficulties with her defense industry employer. Dick was very helpful.
At about this time in 1975, Ernst and Ernst filed a report with the SEC revealing that during the period 1971-1973, Northrop had entertained 123 military personnel, 21 Defense Department officials, 11 congressmen, 85 congressional staff members, 119 Northrop employees, and 49 unknowns at the corporation's hunting lodge near Easton, Maryland, on the Eastern Shore of the Chesapeake Bay.
Ronald Reagan and other politicians had had free trips in the corporate jet; Senator Howard Cannon, then chairman of the Senate Armed Forces Committee on Tactical Airpower, an approving body for Northrop's F-18, had almost a shuttle service from Las Vegas to a resort in the West Indies. (Cannon's less publicized job was as chairman of the Senate Ethics Committee.)
Though the accountants' report was too late to prevent the Northrop follies, it did reflect great credit on Ernst and Ernst, the only CPA firm involved in the bribery mess that produced anything like 530 pages of penance. Most of the heavy matters in the report were not followed up, but the hunting lodge was. When Senator Church's Foreign Relations Committee held hearings on the matter in May 1975, Senator Richard Clark demanded the names of the Pentagon officials Northrop had entertained. He didn't ask for names of congressmen and their staffers who had been at the lodge.
Riggs should have caught the significance of that omission, but he didn't. Instead, he plunged with enthusiasm into the business of hunting the hunters. He talked with prostitutes who had worked for contractors and found that most of these ladies didn't know the names of their Pentagonal johns but might recognize them if they saw them. This sent Riggs scurrying around for pictures of officers and officials, past and present.
It was a war of nerves on both sides. The generals were mightily upset by a newspaper report that a large defense contractor had hired two prostitutes to entertain a gathering of forty or fifty high-ranking Pentagon officials at an Eastern Shore hunting lodge. An Air Force major came into my office, sat down, and read the account. After he'd finished, he remarked, "Forty generals? Two whores? Those guys aren't combat-ready."
My secret sympathizers in the Pentagon, who were always coming up with helpful suggestions, proposed that we keep track of the whore-to-general ratio as a management indicator. They prepared phony letterhead memorandums speculating whether the Russians were ahead of us in this important statistic and, if so, wondering what it would cost to catch up. Could we economize by setting up civil service classifications for call girls? Should we avoid discrimination in hiring? What about seniority?
Riggs's inquiries eventually became too widespread and too pointed to remain secret. One Sunday afternoon in September 1975, he went to the Eastern Shore to interview a duck plucker named Lawrence Gay. Riggs wanted Gay's list of clients, their hunting license numbers, and the record of their kills -- all of which Gay was required to keep for the federal migratory waterfowl regulators. In the middle of the conversation, Gay was called away to the telephone. When he came back, he asked Riggs to return in the evening for the lists. Riggs agreed, but when he visited the house again, Gay had vanished for good.
Riggs's inquiries into other aspects of contractor entertainment began to shake the Pentagon tree. He managed to get a look at a section (suppressed by the Pentagon) of a Defense Contract Audit Agency (DCAA) report that disclosed lavish Northrop selling parties given by Mrs. Anna Chennault (widow of the Flying Tigers hero, General Claire Chennault) and subsidized by the Pentagon. Mrs. Chennault, a favorite of right-wing circles, the China lobby, and several Asian dictators, was known in Washington as the Dragon Lady.
Riggs told his colleagues on Capitol Hill about the report and got the cooperation of Bill Broydrick, a staff assistant to Congressman Les Aspin. Broydrick, who was just about as brash and energetic as Riggs, managed to get a copy of the DCAA Northrop report from an Air Force officer who was playing both sides. The newspapers began printing disclosures from the report, and drop by drop, the young mavericks kept the water torture going.
The first revelation was about Anna Chennault's entertainments. On the Northrop payroll since 1971, she had been hospitable to a great many of the top brass and top politicians who had something to say about military contracts. But when I saw her guest lists, I knew my friends and I were in big trouble. Prominent among the names was that of the House minority leader, Gerald Ford. We were in equal trouble with the Democrats. Another of her prominent guests was Tommy "the Cork" Corcoran, who, since his days as one of FDR's brain trusters, had been a kind of legend in the party. Now he had become Anna's friend, lawyer, and protector -- and he was using his famous charm to bring her together with senior Democrats.
Corcoran's visits to the Hill, as Riggs described them, were pure theater. He would begin by invoking the sainted name of Roosevelt and recall all that he and FDR had been through together during the New Deal and World War. Next he would recount how the dying Claire Chennault had called him to his bedside and with his last breath had pleaded, "Cork, take care of my little girl."
"He shed real tears," Riggs said. "Tears as big as horse turds."
Anna needed about as much protection as a full-grown barracuda, but Tommy the Cork's masterful lobbying did manage to weaken congressional support for Riggs's inquiries.
Then the Pentagonists landed a hard blow on Riggs's political kneecap. Displaying brilliant tactics not learned at West Point, they released a list of the congressional recipients of Northrop entertainment -- to devastating effect. It was bad enough that key representatives and senators were on the list, especially members of the Armed Services and Military Appropriations committees. Even more painful was to find there practically the whole of the congressional staff establishment -- men from the Senate Appropriations, Foreign Relations, and Armed Forces committees, and from the House Armed Services subcommittee; the secretary of the Senate; Barry Goldwater's administrative assistant; John Blandford; and William Woodruff, once counsel to the Senate Military Appropriations subcommittee and, in 1975, my boss at the Pentagon.
Only people who have worked on the Hill can appreciate the gravity of offending this powerful group. They run the day-by-day affairs of the Congress; they are courted by both contractors and the military. If they choose to belong to one of the armed services reserves, that service sees to it that they rise in rank. The unwritten rule in this powerful brotherhood is decorum. When some rich corporation is entertaining, it's all right to eat, drink, and screw as much as you can -- but it must be done discreetly.
Having won the round with Congress, the Pentagonians went after another vulnerable target -- me. I had just reached an agreement with Secretary McLucas about settlement of the legal dispute over my demotion and exclusion from the big weapons projects, when suddenly that agreement was reversed. In a conversation with Robert Riggs, I learned that the Defense Investigative Service (DIS) had targeted me as the source of the leak of the DCAA's Northrop report. They knew I was not guilty, but that didn't matter. At a press conference on October 20, 1975, Dr. Doom himself denounced the leak as "a criminal act."
As though I needed a reminder that I was in trouble, I was again tailed a few nights later. When I left the nearly deserted Pentagon parking lot, a nondescript sedan followed me closely. I slowed up, then put on speed, then slowed again as I headed out the George Washington Parkway toward my home in McLean. The sedan stayed right behind me.
I began to get alarmed as I left the parkway and turned into narrow, winding, hilly Kirby Road. Where the road twisted down between high banks toward Pimmit Run, I steered my old Rambler toward the center line. The sedan had to drop back, but I could hear its engine roar as we approached the bridge. Apparently my new fellow travelers didn't realize that the bridge was extremely narrow. When the driver tried to pull up beside me, he had to slam on his brakes to avoid hitting the rail or going into the creek. I drove as fast as I could to get out of that deserted place. When they caught up, I was turning into my street.
I stopped the car, ran into my house, and grabbed my 30-06 rifle. I ran out into the yard again and crouched behind a large tree, working the bolt as noisily as I could. The rifle was empty. I didn't even have any ammunition in the house. My hands shook, but I pointed the rifle at the car. The men lit cigarettes and seemed to be talking it over. I didn't know what I would do if they got out of the car. Finally, they started up and drove away.
The DIS was still trying to frame me for the release of the DCAA report. One evening when I was at Riggs's Capitol Hill apartment, his wife took a phone call for him. She said, "Robert, a man just called and said your car is ready, then hung up." It was a prearranged signal. We left the apartment immediately and walked to the Immigration building a few blocks away. As we entered, a pay phone in a booth in the lobby began to ring. Riggs answered, took some notes, and hung up.
"That's one scared spook," he said, "but he's hanging in." He went on to tell me that the DIS investigators had been trying to interview my trusted secretary, Ann Hayduck, without my knowing about it. Ann was a serious-minded, extremely competent secretary who was nearing retirement. She had loyally resisted the investigators, refusing to be interviewed anywhere but in our office. Riggs's source said that the DIS would get her to talk sooner or later and suggested I wait until afterward to ask Ann about it.
Soon after, I had to go to Alabama to visit my mother, who was seriously ill. In my absence, Riggs found out, the DIS people did interview Ann. When I learned of this, I asked her into my office, closed the door, and suggested she tell me about the interview.
She said that both the DIS men and my office mate, Colin Parfitt, who had helped set up the interview, had told her not to say anything to me. She had agreed not to volunteer anything but had said she wouldn't lie to me if I asked about the episode.
The DIS men, James E. Kartis and Daniel O. Payne, soon found out that I had no access to the Northrop audit report, which Parfitt, who reviewed audits for the Air Force Secretariat, kept in his safe. Both Ann and Parfitt testified to that. But the DIS interviewers were not easily discouraged. They grilled Ann for two hours about my contacts with congressmen, congressional staffers, and the press. Ann said she really lost her temper when they began asking "embarrassing personal questions" about me. She told them they ought to be ashamed of themselves doing this while they could have been investigating people who were taking bribes.
When I confronted Parfitt, he unhappily admitted all Ann had said about his role. Thereafter, he was a staunch supporter of mine.
I asked my boss, Arnold Bueter, to help me get the files on the DIS frame, but he refused. Bill Kinkaid, Riggs's boss in the bureaucracy, also refused. But Riggs, Broydrick, Peter Stockton, and Ron Tammen of Senator Proxmire's office helped me all they could. Broydrick even defused the whole issue of secrecy and the leak of the DCAA audit report by announcing that he had distributed 509 copies of it. That called Schlesinger's bluff; of course, the Pentagon did not prosecute anybody.
As for the DIS investigation of me, Pentagon officials lied briskly when asked about it. Jack Stempler denied any knowledge of it. Terrence McCleary, the DoD comptroller who oversaw the DIS, said my name couldn't even be found in the records, and his deputy, D. O. Cooke, said the file couldn't be released to me because it contained only material affecting the privacy rights of others. Eventually I got enough excerpts from the files to prove that all these officials were lying.
Robert Riggs won another small skirmish in the great hunting lodge affair. On February 3, 1976, when Deputy Secretary of Defense William Clements testified before Proxmire's Joint Committee on Defense Production, he said that the press had blown the whole thing out of proportion. He thought these "highly placed flag officers" couldn't be "impugned over a duck hunt." And, furthermore, nine months of investigation by the DIS had turned up no new names on the Northrop guest list.
That was funny, Proxmire said, because Robert Riggs had turned up fifty-five new names in one afternoon of research on the Eastern Shore. Riggs had gotten the names of purchasers of hunting licenses and duck stamps from the local sporting goods stores and had found a lot of familiar Pentagonal names.
But that was the end of it. The investigation fizzled out, Riggs was fired, and the Joint Committee was later abolished. In Washington you can get away with anything as long as you have the high moguls of Congress as accessories before and after the fact.
Luckily for me, President Ford fired James Schlesinger about then. The voters were beginning to look on the military with a skeptical eye, so the legislators had made small, public-relations cuts in Schlesinger's ballooning budget.
But Dr. Doom wanted it all. He could have praised congressional leaders for helping, though not quite enough, to close his invented spending gap with the Soviet Union. But instead he began to scold Congress for its "deep, savage, and arbitrary" cuts. Ironically, it was Congressman George Mahon of Texas, chairman of the House Appropriations Committee, who bore the brunt of Schlesinger's fury. Mahon was as stout a friend of the Pentagon as ever escorted a multibillion-dollar budget through Congress. Ford, as a former high mogul of that body, knew the rules of the game: Schlesinger had to go. His uses as a Pentagon front man were over.
***
In the last year or so of the Ford administration, the national security apparat tried hard to regain the luster lost after the retreat from Vietnam and after Watergate. The first solution that occurs to such minds is to shut people up. It wasn't their own sins that had given them a bad name, but people who talked in public about those sins. What we needed was a lot more secrecy. Congress began to cooperate with the administration in an agreement to limit probes. Incriminating material on hand was not released publicly. The courts produced a number of decisions that upheld aspects of official secrecy.
Then the White House, that leakiest of all vessels, cynically mounted a campaign against Congress for its looseness in handling secrets -- mostly secrets that had to do with government wrongdoing. At one point Ford even had the effrontery to suggest assigning the FBI the job of plugging congressional leaks.
Ford issued an order giving himself broad new powers. As the Washington Post described it on February 19, 1976, "President Ford's new charter for the US intelligence community legitimizes domestic spying and other activities that had been considered legally and politically questionable." In the same issue, an article by Walter Pincus noted that CIA and NSA employees already had to sign secrecy oaths but that the new order extended the rule "throughout the executive branch and on former government employees and outside government contractors." CIA Director George Bush was put in charge of enforcing the order.
The administration was trying to make an issue of "unauthorized disclosures," and Pincus quoted White House Counsel Philip H. Buchen, who said the new procedures would "give the administration a real threat over people who can't be controlled by discipline." The logic was not self-evident. If a government employee broke a law by making "unauthorized disclosures," he could be punished under that law. But legal processes were apparently too chancy for this administration. It wanted something quicker, dirtier, and easier to use on selected targets. Much like the gag rule Colonel Robert Pursley had proposed in 1969 to end "the Fitzgerald kind of thing."
Fortunately, Ford and Bush left office before they could carry out the secrecy order. But the creature, alive somewhere in the basement of the White House, would rise again to haunt us.