CHAPTER IV: THE READER'S DIGEST
IF IT IS true that five, six or seven persons read every copy of the popular magazines, then it is also true that the reactionary, anti-labor, and frequently fascist propaganda which the Reader's Digest passes off on an unsuspecting public influences no less than 50,000,000 persons. The Digest has 9,675,000 subscribers, 8,300,000 in America. It pretends to be an impartial reprint magazine, selecting the best items from all the others, but it is in fact a skillfully manipulated publication spreading the reactionary views of a powerful nobody named De Witt Wallace.
A man who has so much power in his hands -- the making of public opinion by reaching the majority of the people of this country who can read -- should realize his social responsibilities. De Witt Wallace is either a knave of a fool. Either he is so stupid that he does not know that he is spreading Fascism, or he is a Machiavellian knave who has devised a wonderful and sinister method, far superior to any known to Herr Goebbels.
Before presenting the evidence -- most of which is visible to any person who will go to the public library and study the issues of Reader's Digest beginning with 1933, the year Hitler took over -- I will permit Mr. Wallace himself to speak first. In reply to my indictment of himself and his publication as native-Fascist, he replied by saying my charges were "unadulterated lies." My three-part indictment was summarized as follows:
1. That De Witt Wallace, owner and publisher of the Reader's Digest, told his staff he does not want Hitler defeated.
2. That beginning with the November, 1942, Reader's Digest, a new editor has been appointed who as editor of the American Mercury was first to publish native fascist propaganda in the United States. (Foreign fascist propaganda, written by Mussolini, Ribbentrop, Goebbels, Goering, etc., was first introduced to America by William Randolph Hearst in his magazine Cosmopolitan, and his 20-odd newspapers.)
3. That Reader's Digest has consistently published reactionary, anti-labor and native fascist propaganda, sandwiched in with pleasant human interest stories which have built up the largest circulation in the world.
Here is Mr. Wallace's form letter, sent no doubt to thousands of his readers who protested. Please note that there is no rebuttal of the second and third part of the indictment, the documented parts. Mr. Wallace wrote:
"The statements attributed to me are unadulterated lies, as anyone knows who has ever talked to me. The magazine itself and the easily available record of its 25 senior and roving editors speak for themselves. The members of our staff feel that we should regard as laughable such complete drivel. -- DeWitt Wallace."
More than a hundred persons sent me their copies of this letter. To many of these persons I wrote suggesting they write Mr. Wallace this simple question: "Is Paul Palmer a senior editor? Is this the same Paul Palmer who printed Dennis and other fascist propaganda in the American Mercury? If Wallace replies No, he is a liar; if he replies Yes, he is a native Fascist."
Mr. Wallace did not reply.
The evidence against the Reader's Digest as a fascist publication hinges somewhat on the most famous declaration about American Fascism ever made. Its author was the man who at one time appeared to be the logical demagogue who might take over the country. I was very much impressed with him when I met him in the lobby of the Senate because he was so clearly the Mussolini (rather than the Hitler) type: smiling (rather than frowning), affable, silver-tongued (rather than strident), apparently well-read and considerably cultured (rather than hoodlum-minded like Hitler) and crookedly demagogic. Fascism, said Huey Long, will come to America on an anti-fascist platform. A study of Wallace's expressions and deeds indicates that behind all his patriotic flag-waving Americanism and his declarations against Fascism here is indeed a man in the Huey Long tradition.
The statements which Mr. Wallace called "unadulterated lies" were reports of his views made to me by several members of the editorial and business staff of Reader's Digest. At least four of Mr. Wallace's employees are aware of his Fascism, and one of them quoted Mr. Wallace as saying:
"We do not want Germany completely defeated. I think Germany should be beaten up a bit, and I prefer that the American army does it, so that Hitler will learn who is boss in this world.

"But I do not want Germany smashed. What will become of the continent of Europe if Hitler is killed and Fascism completely eradicated? The Russians will conquer all of Europe. Therefore our policy should be to whip Hitler to the point where he recognizes we are the biggest power in the world, and then keep Hitler in Europe to police the continent and maintain order.

"We also need a little Fascism in the United States to keep this country in order. We need a certain type of Fascism here to keep radicals out and radical systems and philosophies from making any headway, and even attempting to take over the government."
Shocking as this statement sounds in wartime, when we are fighting Hitler and Mussolini, and spending blood and treasure in vast amounts to preserve the anti-fascist or democratic way of life, it is a fact that just before Pearl Harbor this view was held by all the native Fascists who feared Hitler less than a victory of the people of all countries. William Randolph Hearst, Colonel McCormick, the appeasement Senators, the pro-Nazi Representatives led by Clare Hoffman and other anti-Semites, the large body of preachers led by Father Coughlin, Rev. Gerald L. K. Smith, Rev. Gerald Winrod, Rev. Bob Shuler and the like, and Lindbergh, were so anti-Russian that they preferred Hitler. Several expressed the hope that both nations would bleed themselves to death. And all these native Fascists, including De Witt Wallace, were following in the footsteps of the French 200 Families, the richest men of France, who in order to protect their money expressed themselves in the famous phrase: "Mieux Hitler que Blum." [Better the Nazis than a Socialist premier willing to coalesce with the far left]. Premier Leon Blum was the social-democrat-liberal-coward who ran the Popular Front the time of the beginning of the Fascist rebellion against the Republic of Spain. Although he knew that the Nazis were sending aviators by train through France and by air over France, he closed his eyes and remained neutral, rather than offend his own Fascists, who ruled the Banque de France, big industry, the press, and the Chamber of Deputies, and who preferred their money and their possessions above all else in the world -- even to sacrificing their land to the rule of Hitler. Blum, despite his cowardice and appeasement and betrayal, had made some feeble gestures to the labor unions and to the poor and humble, and every such gesture meant a slight gain in the standard of living of the working class, a necessary slight increase in taxation on the rich. They would not stand for it. They would not even stand for taxation for the purpose of building up an air fleet and for armaments to meet the menace of Hitlerism. "Better Hitler than Blum" became their motto and their program.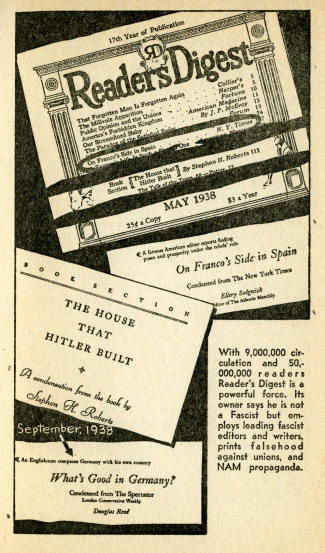 With 9,000,000 circulation and 50,000,000 readers Reader's Digest is a powerful force. Its owner says he is not a Fascist but employs leading fascist editors and writers, prints falsehood against unions, and NAM propaganda. -- 17th Year of Publication, Readers Digest, May 1938, 25¢ a Copy, $3 a Year: "On Franco's Side in Spain -- A famous American editor reports finding peace and prosperity under the rebels' rule -- Condensed from The New York Times, Ellery Sedgwick, Editor of the Atlantic Monthly;" "Book Section -- The House That Hitler Built -- A condensation from the book by Stephen H. Roberts;" "September, 1938: What's Good in Germany? -- An Englishman compares Germany with his own country -- Condensed from The Spectator, London Conservative Weekly, Douglas Reed."
Americans, of course, were not faced with this choice. But we were aware of two very important facts, first of which was the fact that the American labor movement was coming of age, and that the 13,000,000, out of a labor force of 52,000,000 in normal peace times, who belonged to unions were intelligent enough to demand something more than a few cents on the hour, a few hours less in the week. Labor, more than any other class in American society, was grasping for something better, that something which Vice President Wallace -- no relation to the reactionary owner of Reader's Digest -- epitomized for us all in his "Century of the Common Man."
The other fact was best expressed by Mussolini in his famous "We or They" speech in which he predicted, a decade ago, that the "world was dividing itself between Fascism and Democracy, and that they would clash, and that Fascism would have to destroy Democracy to survive. America saw this conflict the day the Fascist International, the three signatories to the powerful Anti-Komintern Pact, the Axis powers, turned on Russia, after attacking and conquering many small nations and threatening to invade Britain.
In the face of these two facts all native reactionaries (and you can use this word if "native-Fascists" offends your sensitive ears) were united in attacking and undermining labor, and in upholding the fascist nations in their attempt to overthrow the Union of Soviet Socialist Republics (better known as Russia). There were many in America, outside the Fifth Columnists who were indicted for treason and sedition, who changed the French "Mieux Hitler que Blum" to "Better Hitler than Russia."
De Witt Wallace denies that he never said he preferred Hitler. I have therefore printed his denial, although I can produce several members of Mr. Wallace's editorial and business staff who say otherwise. But Wallace's denial of this quotation is not enough because there is a volume of evidence that Mr. Wallace employs Fascists, prints fascist propaganda, has consistently attacked labor unions, has lied about one union and refused to print a retraction, has smeared labor, and has, generally speaking, followed the fascist rather than the anti-fascist line, and tried to indoctrinate 50,000,000 Americans who have read his propaganda against the general welfare of all the people, and especially against the Century of the Common Man. The evidence which follows has not been denied by Mr. Wallace.
AMERICA'S FIRST FASCIST EDITOR
The evidence which Mr. Wallace dare not answer follows the charge that in the November, 1942, issue of his magazine he named Paul Palmer a senior editor. Paul Palmer is the first and foremost fascist editor in America. There is no getting around or explaining away of these facts.
Palmer introduced American Fascism in the American Mercury during his editorship. The publisher at that time and even now is Lawrence E. Spivak. Spivak was publisher of all the fascist propaganda which Palmer bought and remains publisher today with his new editor, Eugene Lyons, and the Spivak-Lyons American Mercury is the favorite place in which Wallace places some of his reactionary propaganda.
Palmer and Spivak appeared as editor and publisher of the American Mercury April, 1935. The amount paid is estimated at $25,000 to $40,000.
Previous to the Palmer-Spivak fascist regime there had been a liberal regime which permitted Lawrence Dennis to criticize the New Deal, but under Palmer's guidance Dennis, the leading native Fascist in America, came out in the December issue with "Portrait of American Fascism," which openly stamped the American Mercury as the foremost advocate of Fascism in this country. The Mercury also announced that Dennis was the author of The Coming American Fascism, which was about to be printed and which was recognized as a
Mein Kampf
for America.
March, 1936, Dennis wrote for Palmer and Spivak a review of Einer's Mussolini's Italy and
Sawdust Caesar
by the present writer. Dennis defended Fascism against all critics. Paul Palmer published this defense of Fascism.
Throughout the Palmer-Spivak regime the American Mercury published other Fascists also, but Dennis was the favorite. July, 1936, in The Highly Moral Causes of War Dennis repeated the propaganda for war which was put out by Mussolini; he also defended the Hoare-Laval betrayal of Ethiopia to Mussolini. February, 1937, in Liberalism Commit Suicide Dennis attacked any attempt to aid China against the aggressor Japan, or Loyalist Spain against the Fascist Axis-Germany, Italy and Portugal. Dennis defended fascist aggression in all countries. May, 1938, in Propaganda for War: Model 1938, Dennis not only pleaded for the cause of fascist aggression but asked American sympathy for it. January, 1939, in After the Peace of Munich: Is Hitler a Madman? Dennis exulted over Hitler's victory at Munich, heiled the rule of force in Europe and praised a coming world conquest by the Fascist Axis.
Early in 1942, when Dennis was applying for a commission in the U.S. Army, which most people believe is being trained to fight Italian Fascism and German Naziism, he was writing in his Weekly Foreign Letter that the U.S.A. would turn to a "brand of National Socialism (Naziism) of our own making, already emerging in its institutional pattern." Margolin and Conant exposed Dennis in PM of March 1 as having gone to Italy, in 1936 when an official car of the fascist foreign office was placed at his disposal because fascist officials called him "an important American Fascist." Dennis is revealed telling Italian friends that Nazi Fascism is better than Italian Fascism, that it is necessary to do away with democracy in the U.S. It is also revealed that in the files of the Dies Committee (which notoriously has failed to do anything about native Fascists and Nazis in America) there is a note from Dennis to the Nazi agent Friedrich Auhagen, now in jail, with a notation by Auhagen saying "Had lunch with L.D.; paid him $50 on account."
On March 5 Conant published in PM copies of correspondence between Dennis and other Fascists: letter from Dennis submitting articles to Auhagen; letter from Ralph Townsend, Japanese agent now in jail, approving Dennis' May, 1938, article in American Mercury; letter from General Van Horn Moseley, who wanted to lead a fascist march on Washington; letter from Amerika-Institut, Berlin, to Nazi propagandist Zapp, telling him to see Dennis; letter from George Deatherage. Thanks to this exposure, Dennis was refused a commission.
How Paul Palmer worked as an editor was revealed by the New Republic (December 22, 1937): "A few months ago the editors of the American Mercury approached Henry F. Pringle ... asked him to write an article about the New Republic and the Nation. ... He was promptly paid. ... (Later) he was told firmly that the American Mercury would not print his article. It was explained that what that magazine wanted was an article indicating that the liberal journals were tools of Moscow and constituted a great danger to the U.S. Mr. Pringle replied that he did not propose to stultify himself by writing things that he regarded as unfair and untrue. Thereupon the matter was dropped until Mr. Varney was persuaded to write the article." It appeared December, 1937. Harold Lord Varney was associate editor of another fascist magazine published by Dennis -- The Awakener.
June, 1937, the American Civil Liberties Union sued the American Mercury for $50,000 for a libelous article by Varney entitled Liberalism a la Moscow. The annual report of the Liberties Union said: "The American Mercury, now a spokesman for the fascist viewpoint, published in December an article ... by Harold Lord Varney, associate editor, formerly secretary of the Italian Historical Society, subsidized by Mussolini. Mr. Varney was personally decorated by the dictator. The article so libeled the Union that suit for $50,000 was brought. ... When the Union offered to submit to an impartial referee the examination of Mr. Varney's charges, provided the Mercury would publish his findings, the publisher (Lawrence E. Spivak, who is still publisher) refused." New Republic, approving the suit against the Mercury, said "individuals and organizations of progressive outlook who are working for justice and fundamental human rights are made the targets of loose and irresponsible charges."
And just to round out the history of Palmer, Spivak, the American Mercury, Dennis and Varney: June 1, 1935, the Guild Reporter, official organ of the American Newspaper Guild, denounced the "arrogant public statements the Mercury publisher and editor, Lawrence E. Spivak and Paul Palmer, have been issuing" in the strike of seven editorial employees for decent living wages. The New York Newspaper Guild at a general meeting voted not to read the Mercury until it had recognized the right of its employees to organize. Spivak fought his employees until 1937 when the Regional Labor Board found him guilty of violating the law. Spivak and Palmer yelled freedom of the press, announced they would not obey the law, would fight to the Supreme Court. The Nation (May 22) called the Mercury owners reactionary.
One of the contributors to Palmer's Mercury and the present Mercury is George E. Sokolsky, exposed by the La Follette committee as secretly in the pay of the NAM, the most powerful and the most fascist organization in America.
During the Spivak-Palmer regime the partners quarreled over only one subject, anti-Semitism. Being a Jew, Spivak spoke up against Palmer's bringing in anti-Semitism with his Fascism, but up to February, 1939, Spivak went along with Palmer, and helped introduce most of the fascist writers of the nation to an audience.
This is the history of the new senior editor of the Reader's Digest.
READER'S DIGEST FASCISM
Nothing as crude as the labor-baiting campaigns of the Scripps-Howard chain papers, as violent as the red- baiting in the Hearst chain papers, as defeatist as the McCormick-Patterson chain papers or as viciously anti-semitic as Coughlin's Social Justice and the vermin press of the 28 persons indicted for sedition, has ever appeared in the Reader's Digest, nevertheless labor-baiting, red-baiting, defeatism and anti-Semitism do appear in the world's biggest magazine. They appear because the owner has a fascist mind, and these are some of the main traits of Fascism.
Incidentally, Mr. Wallace, in addition to a fascist mind and a dictatorial editorial viewpoint, is also one of the "sweetest" men who ever lived. The girl employees think he is a "honey." At the drop of a sneeze he sends around a dozen American Beauty roses, and it is nothing for him to pay for an appendix operation or to hand $71,400 to the staff of 348 as a bonus on Christmas eve. But let an editor take issue with him on one of his pet fascist articles and Mr. Wallace will revenge himself with cruel subtlety: he won't fire the upper-bracket editor but he'll put him to work clipping snippets for filler.
On the other hand a journalist like the Rev. Dr. Stanley High may sometimes say to Mr. Wallace that his suggestion for a story is vicious, or "it stinks" or that he could not possibly do it; and then Mr. Wallace ups the price $500 and Stanley High does the article the reactionary way Mr. Wallace first suggested.
The Stanley High smear on consumers is one instance of the policy of reaction (which is Fascism) of the Reader's Digest. By consumers of course we mean the entire American people; and while it is the purpose of a democracy to aid the people, to aid all consumers, it is the purpose of a Big Business dictatorship (Germany, Italy, Japan, Spain, Portugal, ManDerheim-Finland, etc.) to aid only the industrialists who subsidize the fascist party and the top party leaders at the expense of the entire nation. This is what Fascism in every nation was founded for.
We the people -- the consumer, labor, the majority -- never get a square deal in the newspapers or in the magazines which take advertising for two reasons: (1) the advertiser does not want us to know the facts and (2) the advertiser is part of the Big Business setup which is the enemy of labor and of the consumer, the majority. Enlightened America therefore has always prayed for newspapers and magazines which will not be prostituted by advertising and which will therefore be in a position to tell the truth. Most publications which refuse advertising are more honest than most publications which live by advertising, but in recent history two horrible exceptions to the rule almost ruined it. They are Social Justice, which spread more actual falsehood and more maliciousness than any publication in the country; and Reader's Digest, which was in the position to lead the Henry Wallace Crusade for the Century of the Common Man, but which preferred instead to lead the De Witt Wallace retreat into the economic and social barbarism of Fascism.
The Stanley High smear on consumers' organizations is a good example because it betrays the fact that the typical Fascist is a hypocrite as well as an enemy of the people.
Taking no advertising, Reader's Digest would have no fear of writing honestly about the cooperatives, the cooperative commonwealth of the future, liberal and radical minority parties or movements, fraudulent medicines, the corrupt press, the treason of Big Business in wartime. But whereas the newspaper publisher is afraid of the advertiser, the little man who started out with a pastepot and scissors 22 years ago is today scared to death of losing some of his accumulated millions. Mr. De Witt Wallace believes that he can take it with him.
And so even consumers' cooperatives and non-profitmaking public welfare organizations are smeared, and the leading brass-checker of upper-bracket journalism, Stanley High, does the smearing.
The smear, entitled Guinea Pigs, Left March, was planted by Wallace in the Forum magazine, October, 1939. According to a revelation later made by New Republic (January 1, 1940) the original order for High's smear came from the offices of Hearst's Good Housekeeping, which had been charged with fraud by the U.S. Government in the operation of its Seal of Approval and other enterprises in conjunction with the advertisers of patent medicines, Miracle Whip, which was later found to have killed four children, and other products. It is also a fact that Hearst's Good Housekeeping Club Service sent the Forum-Reader's Digest piece throughout the country with a foreword saying that the cooperatives and consumers' protection organizations were "radical elements ... bent on foisting their revolutionary views on an unsuspecting public." Here is an instance of Mr. Wallace, aided by the bootlicking writer High, doing a job for America's No. 1 Fascist, William Randolph Hearst. But this is not the first or last time the Digest followed the Hearst line.
As originally published in the Forum, non-profit-making cooperatives and public service organizations were attacked. Listed alike were Consumers Research and Consumers Union, both of which test products and issue reports. But when Mr. Wallace, who had ordered and planted the High article in the Forum, reprinted it in the Reader's Digest, he made one change; he censored out the name of Consumers Research.
Here is the explanation: Consumers Union was formed as a non-profitmaking organization by employees of Consumers Research after a strike against Consumers Research owners, including J. B. Matthews, who were making fine money and paying workers as little as $13.13 a week. Liberal publications and liberal-labor organizations denounced Matthews, and pledged their support to the new organization, Consumers Union. Matthews in revenge went over to the Dies Committee and became its chief smearer of labor-liberal organizations. Matthews cooperated with the maker of Listerine (Lund, once head of NAM); Hearst and Sokolsky joined in the Dies smear against cooperatives and consumers' organizations shortly afterwards. But so far as Wallace, High and the Reader's Digest were concerned, both consumers' organizations did the same work, and both had been smeared in the original Forum article, but because Matthews had already aligned himself with the fascist forces of the country, Wallace cut the name of his organization out of the Reader's Digest reprint of the smear. This is not only venal censorship, it is a high water mark of hypocrisy. (We still insist the Pulitzer journalism committee should issue hypocrisy prizes annually.)
Again, in the High article the author, who attacks everything benefiting the consumer as "subversive," also deplores the bulletin of the Idaho State Department of Education which says: "Advertising has assisted in bringing about a fake scale of value in our civilization." Hearst and other Fascists who live on the millions from advertising, and the Pacific Coast ad organizations, declared such statements subversive, but what explanation is there for a similar viewpoint in the only big publication in the world which takes no advertising? Obviously Wallace's interests and Hearst's interests are identical as are the interests of most millionaires.
DIGEST PUBLISHES NAZI AGENT
Being one of the richest publications in the world, and dominating American magazine journalism, Reader's Digest is in a position to choose whatever it likes. Its choice, therefore, is evidence of its policies. (None but a moron would deny that there is a policy behind the selections, and Mr. Wallace would not care to deny that there have been numerous, but discreet, quarrels in the editorial office when junior editors protested selections of reactionary or fascist articles.)
There are, of course, many entertaining articles and book condensations, and once in a while something which is literature and really honest, but too frequently there is the usual catering to the moron taste which prevails in every publication which has to satisfy many millions, and there is the obvious choice of the stuff of the native (and foreign) Fascisti.
Surely Mr. Wallace cannot deny he is a knave or a fool when he chooses the work of George E. Sokolsky frequently. Mr. Sokolsky was exposed by the La Follette Committee as being secretly in the pay of the National Association of Manufacturers. He was a paid anti-labor writer and lecturer. The NAM was accused officially of working in secrecy and deceit. The fact Mr. Sokolsky was appearing as a columnist at the time he was secretly in the pay of the worst native fascist outfit in America resulted in one of the greatest scandals in the history of American journalism -- a scandal so great that even Editor & Publisher, and its editor, Arthur Robb, could for once find no brasscheck excuse. But Sokolsky is still a labor-baiter and Mr. Wallace, having the choice of the whole world of columnists, chose Sokolsky for one and only one reason: because Sokolsky expresses Mr. Wallace's own bias and prejudice and reactionary mind.
In its March, 1941, issue Reader's Digest published a hoax by a Nazi agent.
Here is the evidence: In an order for the arrest of Richard Krebs published in all newspapers the evening of November 24, 1942, the Board of Immigration Appeal declared:
"His life has been so marked with violence, intrigue and treachery that it would be difficult, if not wholly unwarranted, to conclude that his present reliability and good character have been established. ... Within the past five years [i.e., from 1937, when he entered America, to date] the subject has been considered an agent of Nazi Germany."
The New York Mirror (for which same publisher this Nazi agent wrote many anti-Russian and generally red- baiting articles for big money) said November 25: "In effect, the decision means he perpetrated a huge literary hoax."
Thus ends the story of Jan Valtin (Richard Krebs) and his fabulous Out of the Night, the hoax which the Reader's Digest palmed off on its readers because it was willing to use a Nazi agent's frauds in order to smear Russia.
Mr. De Witt Wallace, in his introduction to his condensation of the so-called non-fictional book Out of the Night (published by Alliance Book Carp., distributed by Book-of-the-Month Club), said: "Out of the Night will be one of the most-discussed books of 1941. ... Carefully authenticated by the publishers."
Mr. Wallace, the publishers, and the Book-of-the-Month, for as little as the cost of a letter addressed to the Los Angeles police department, could have had all the evidence necessary to prove that Valtin-Krebs was a liar, an anti-Semite, a thief, and hoodlum, a Fascist and a Nazi. In New York and Connecticut, the novelist Wellington Roe had made an investigation of General Krivitsky and Jan Valtin and found that both were Fascists and frauds, and that "there is no doubt the State Department and the F.B.1. have been protecting Valtin, a criminal alien." But here is the evidence the Los Angeles police were giving out to the newspapers for the asking -- the evidence which Mr. Wallace could have had weeks before he reprinted Valtin, evidence already printed in the anti-fascist press:
"He [Richard Krebs, said the judge in the Los Angeles assault case] went into a clothing store and after purchasing certain articles got into a controversy with the proprietor. He thereupon pulled a revolver and threatened the proprietor and started to beat him over the head with the revolver. He then took the articles of purchase and left the store and was apprehended."
This same episode appears in Out of the Night as an order from the O.G.P.U. in Moscow to murder an enemy of the Soviets in America.
But this is not all. The reason Valtin-Krebs so brutally beat up the shopkeeper was because his name was Morris Goldstein and he was a Jew. Here is the evidence:
Assistant District Attorney Kenneth Thomas at the preliminary hearing, August 19, 1926: "Defendant (Valtin- Krebs) took the stand and testified that he struck the victim because 'The Jew made me mad.'" (Full court record: Los Angeles Superior Court, Case No. 28625.)
Also, in January, 1938, Valtin-Krebs was openly charged with still being a Nazi spy in America by Paa Torn (Stand Watch), the Scandinavian Seamen's Club paper.
It is true, however, that the Book-of-the-Month Club did get an approval from Assistant Secretary of State A. A. Berle, the so-called "liberal" in our State Department, to publish the book, but Berle is one of the many officials of our State Department frequently on the Fascist-appeasement side.
Said Kenneth Stewart, an editor of PM, in that paper (March 3, 1941, p. 15):
"It [Out of the Night] is being crammed down the public's throat whole -- no questions asked. ... The Book-of- the-Month Club's promotion and publicity, Life magazine, and the Reader's Digest seem more interested in discrediting our enemies than in being reasonably skeptical. [Note: enemies then meant Russia first, Germany second.] "I am convinced that at least some representatives of the U.S. Government have played active roles. Harry Scherman is not the kind of fellow to go out on a limb. Everybody agrees that he got his go-ahead from Adolf Berle in the State Department."
As for Mr. Scherman, he is the same Scherman who put over a National Association of Manufacturers anti- labor so-called anti-inflation piece, had it printed in Reader's Digest, then tried to get every member of the same Book-of-the-Month Club, which he controls, to spread his reactionary propaganda.
READER'S DIGEST LABOR BAITING
In America every native Fascist, from the DuPonts to Pegler and Kaltenborn to De Witt Wallace of Reader's Digest and Hearst, Howard, McCormick and Patterson and the rest of the defeatist, native-fascist press, does the next best thing to destroying labor: all these native Fascists fight labor with propaganda and falsehood. Ninety-two per cent of the American press, according to a poll taken by Federated Press, is anti-labor.
Any fair person can spot anti-labor bias in almost any issue of Reader's Digest. But here is a case where Wallace was called on his propaganda. It concerns the Federation of Architects, Engineers, Chemists and Technicians (F.A.E.C.T.), a C.I.O. union which together with 19 other C.I.O. unions was once smeared by Chairman Dies of the Un-American Committee -- this was before Vice-President Wallace declared that Dies was acting as if he is in the pay of the Nazi propaganda head, Goebbels.
Following the typical collections of falsehoods and half-truths which the pro-Dies newspapers frontpaged, the F.A.E.C.T. had inserted in the Congressional Record (April 30, 1941) a statement showing the Dies charges were falsehoods and that Dies, in violation of accepted rules, refused to permit persons and organizations slandered to appear before his committee. One of Martin Dies' many lies concerned the technical school where F.A.E.C.T. was teaching men to build ships. F.A.E.C.T. started this school when the Navy failed to listen to its plea for the future defense of the nation in a probable war. F.A.E.C.T. joined the C.I.O. in 1937 and its constitution declares no one shall be barred because of "race, color, creed, nationality, sex, religious or political belief." Naturally the poll-taxer and Negro-baiter Dies smeared the C.I.O. union as red.
This was no excuse, however, for Mr. Wallace of Reader's Digest to do the same. Nevertheless, in the July, 1941, issue there is a piece called "We Are Already Invaded" by Stanley High which is a more yellow, sensational and wild-eyed piece than Hearst ever printed, and smears the unions as Moscow agents who have already captured the country. Among the unions smeared is the F.A.E.C.T.
I have the entire correspondence between the Navy Yard Civil Service Association, F.A.E.C.T., and Reader's Digest. On August 26 Wallace was asked to take notice of errors in the High article. On September 3 a letter signed "The Editors" says they have read the statement in the Congressional Record "and feel it offers comforting assurance of the patriotic purposes of the F.A.E.C.T. ... We welcome your denial. ... Upon Mr. High's return your letter and the reprint from the Congressional Record will be referred to him."
On September 27 the Navy Yard Civil Service Association wrote "Your reply is far from satisfactory. Your article has done our organization incalculable harm." On the basis of the article 23 employees had been dismissed without a hearing by the U.S. Navy. Reader's Digest was informed it was libel, and asked to retract.
On December 8, having no reply, the association wrote again. On December 24 it repeated its request for a retraction of the libels, "which the first Reader's Digest letter indicated. On January 12, 1942 -- a month after Pearl Harbor -- Reader's Digest sent the following letter:
"Our failure to reply to your letters was due to the fact that after further investigation we found no basis for any affirmative action on our part in connection with the article which you criticized. Hence there seemed no point in protracting the discussion.

"There seems to us less point in so doing now. In the present emergency, with the American people forgetting bygone political and social dissensions, for spontaneous and unified action ... this struggle for national survival regardless of any political theories ... December 7th. ..."
Under American law it is legal to libel groups, minorities, "races," religions, Negroes, Jews, Catholics, political parties. It is doubtful if the union could have sued Reader's Digest for libel, no matter how big the falsehoods. But the code of ethics of all branches of publishing provides for a fair hearing. The union could not get it. Its final letter to Kenneth Payne, executive editor, said:
"This is the fifth [letter] ... Your last letter wraps up the American flag in the libel you committed against our organization. Today, more than ever, it is necessary that the truth be told and the facts which were misrepresented by Stanley High be given. Today more than in the recent past, the F.B.I. is watching all employees in defense industries, and by redbaiting and libeling us you have furnished an excuse for the F.B.I. to regard the entire membership of the ... Association ... with suspicion. I have presented you with the facts. The facts are that you did not tell the truth. The facts are that you harmed us. ... You have hurt individuals and the organization. I have asked you on four previous occasions to be decent about this and publish an honest retraction of a serious slander, if not a criminal libel against us, and you have stalled us for half a year, and now try a cheap flag-waving trick."
Mr. Wallace has not replied.
Another victim of Reader's Digest labor-smearing -- and falsehood, according to Senator Sheridan Downey of California -- is the Railroad Brotherhoods, a conservative association of many organizations totaling a million and a quarter men.
Mr. Wallace joined America's No. 1 Nazi, Hearst, and numerous other labor-baiters, notably Pegler and the Scripps-Howard press, in publishing an attack on what they term "featherbedding" in the railroad unions. This is a smear which is repeated many times in each generation, but is of particular use in wartime when the corporations, and notably the railroads, are attempting to destroy the unions and the Wagner Act, and all the gains labor has made. Mr. Wallace went to the aid of the corporations by reprinting the propaganda which appeared under the names of John Patric and Frank J. Taylor, two brasscheck polishers of Big Business, in Barron's, a commercial anti-labor publication. The Reader's Digest-Barron's smear was so raw that Downey protested in the Senate. He said:
"Lately, certain newspapers and magazines have been carrying derogatory and false articles concerning the number of hours being worked by railroad men. Someone is trying to popularize and propagandize the expression 'featherbedding' in an attempt to make the public believe that large numbers of railroad workers are working very short hours, and that due to arbitrary rules there has been a large waste of railroad workers. I desire to brand such statements and articles as wholly false.

"The Reader's Digest, in its last issue, has a most unfair and misleading article on that very subject. It is true that in the U.S. there are approximately 500 railroad engineers and firemen who have what we call a fast blue-chip run. The article in the Reader's Digest discussed that particular group of 500 men as though its members worked under conditions typical of those of hundreds of thousands of other railroad workers. ... In the State of California, to which the Reader's Digest refers ... there are probably only 30. ...To cite conditions surrounding less than 500 workers in an endeavor to make the American people believe it is typical of the railroad workers, cannot be condemned in too vigorous language. I do not intend to engage in a discussion of that particular group. What I am castigating are the propagandizing articles printed in magazines and broadcast over the nation to make the American people think that railroad workers at the present time are not working long hours a week." [At this point Senator Downey placed statistics into the Record.]

"Any magazine, any newspaper, any speaker who takes isolated statements and then attempts to prove from such statements the truth about the whole group is committing, in my opinion, a treasonable offense. Why do I say 'treasonable'? I say it in the broad meaning of the word, it is true, but I say it because when magazines and newspapers give out data wholly misleading and unfair to the railroad workers, it not only creates a false impression in the mind of the public as to such workers, but it causes bitterness and resentment among the railroad workers against the propagandizing instruments that issue the figures.

"Likewise, I might say, that the same thing is true of the figures with respect to absenteeism."
Senator Downey placed in the Record reports from London which show that investigation prove that only 2% of absenteeism is due to malicious intent. No less than 66-2/3% of absenteeism is due to sickness. Fatigue due to long hours of work is another factor. Labour Minister Bevin is quoted as saying "The majority of the absentees stay away occasionally because of exhaustion."
In its March, 1943, issue Reader's Digest committed another fascist sin: it reprinted a piece of propaganda from the propaganda clip sheets sent out by an outfit whose chairman had already been denounced as one of the worst Fascists in the United States.
Under this item Mr. Wallace wrote: "Condensed from a publication of the New York State Economic Council." This sounds just fine. It sounds as if it was an official agency of the state of New York, and that it was an economic council, whereas in truth it is nothing more or less than a pro-Big Money, anti-labor, pro- fascist outfit run by Merwin K. Hart. Every editor in America who is not a Fascist places the propaganda sheets of the N.Y.S.E.C. in the wastebasket, but it remained for Mr. Wallace, who will call you a liar if you label him a Fascist to reprint a piece of this propaganda and spread it before 50,000,000 persons.
Mr. Wallace reprints Mr. Hart. Mr. Hart is also one of the leading propagandists for Franco and Spanish Fascism; he was closely associated with the Rev. Charles E. Coughlin of Social Justice fame. Mr. Hart contributed to this publication -- which escaped a charge of sedition by folding up after Pearl Harbor. Hr. Hart was associated with one Allen Zoll, now in jail facing a criminal charge of common extortion and another charge of being actively pro-Nazi. Mr. Hart was the associate of John B. Trevor, John B. Snow and a dozen other Bundists, Fascists, and anti-Semites.
Fascists of a feather flock together. The Mr. Hart who runs the New York Economic Council is the same Mr. Hart who originated the school textbook witch hunt and who succeeded in banning Professor Rugg's works from several upper New York public schools before the NAM took up the matter, with Professor Robey doing the Goebbels act.
Sokolsky, paid agent of the NAM, wrote a defense of Hart and an excuse for his being a Franco-Fascist, in his New York Sun column (April 15, 1941), which Senator Nye obligingly placed in the Congressional Record (May 23, 1941, p. A2631). This piece smears the friends of Republican Spain, supports Franco, and also smears Congressman Joseph Clark Baldwin because Baldwin had declared that he had been informed "that certain sponsors of the N.Y.S.E.C. hold views on our American democracy completely at variance with mine. ... Those who attempt to divide our nation today ... those who place race or party prejudice above patriotism; those who refuse to recognize the vital importance of national unity ... are wittingly or unwittingly preparing the downfall of our nation, just as the same elements prepared the downfall of France. ..."
Mr. De Witt Wallace has seen fit to present to fifty million readers the propaganda of Hart's N.Y.S.E.C. Nevertheless, Mr. Justice Jackson of the Supreme Court included Hart and his organization in a denunciation of the leading enemies of American democracy; Justice Jackson also called them underminers of morale and economic exploiters. These are the native Fascists Mr. Justice Jackson named:
1. H. W. Prentis, Jr. (then) President National Association of Manufacturers, head of Armstrong Cork Co., friend of Fascist Franco.
2. Charles A. Lindbergh, Jr.
3. The Saturday Evening Post, published by Walter D. Fuller, one time president of the NAM, and still a director.
4. League for Constitutional Government. This is the outfit run by ex-Congressman Samuel Pettengill, now G.O.P. director, the Rev. Norman Vincent Peale, S.S. McClure the Fascist, Dr. Rumely, the former German agent, and Frank Gannett, the chain newspaper publisher.
5. Major General Van Horn Mosely, U.S. Army, retired, who wanted to lead a fascist march to take over the government.
6. Merwin K. Hart.
Said Mr. Justice Jackson:
"... Merwin K. Hart, president of the so-called New York State Economic Council, which is closely allied with the manufacturers' associations. Merwin Hart is well-known for pro-fascist leanings. In 1936 it was his proposal that every person who accepted any form of government help should be denied the right to vote. And now ... Mr. Hart says that 'it is time to brush aside this word "democracy" with its connotations.' That was the theme of his speech [at the Union League Club], that democracy is a danger to this country."
In an address at Columbia University December 17, 1940, on "The Threat of Fascism" Secretary of the Interior Harold L. Ickes denounced "native, fascist-minded Nazi sympathizers, profit-seeking business men, appeasers," etc. He named: Lawrence Dennis, the only overt American propagandist for Fascism; Lindbergh, Charles E. Coughlin and Merwin K. Hart.
In an address to the Protestant Digest Associates February 25, 1941, Mr. Ickes denounced five "Quislings" and named them as: Colonel Lindbergh, the Rev. Charles E. Coughlin, Major Alford I. Williams, Lawrence Dennis and Merwin K. Hart, adding that these are men "who would sacrifice democratic ideals and Christian civilization to alien economic and social predispositions. These men are supported by others who play upon the prejudices of the anti-Semite, the anti-Negro and the anti-sharecropper. These are the Quislings who, in pretended patriotism, would cravenly spike our guns and ground our planes in order that Hitlerism might more easily overcome us." (In August, 1942, Hart sued the Friends of Democracy for $1,000,000, saying it was a libel to call him a Quisling; this was a year and a half after this Quisling charge was published in the New York Times.)
And in March, 1943, the Non-Sectarian Anti-Nazi League published its Bulletin charging Hart with attending a secret meeting in Chicago with anti-Semites, native Fascists, America Firsters, etc. Named are Harry A. Jung, notorious peddler of anti-Semitic propaganda, aid to Mrs. Dilling and advisor on radicalism to Col. McCormick of the Chicago Tribune; Earl Southard, Illinois chairman of the America First Party, now being run by Gerald L. K. Smith.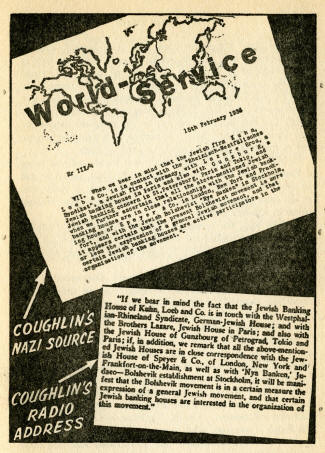 The foremost liar in America is Father Coughlin. His "Social Justice" was next only to Hearst in spreading Nazi propaganda. He repeated Goebbels' "World-Service" lies.
Mr. Hart frequently has denied that he is an anti-Semite. In his speeches -- he was one of the promoters of a Christian Front rally in honor of Franco, along with John Eoghan Kelly, who is now under indictment as a Fascist agent -- Hart did not use the word "Jew" but phony words such as "refugees," "international liberals," etc., and denounced those "blinded by fury at the persecution of minorities in Germany," whom he accused of being those who want "to drag us into their wars." Mr. Hart's Council has also published literature recommending that its members read Mrs. Dilling's material (now termed seditious) and buy literature put out by the notorious anti-Semite and labor-spy, Harry Jung. A preface to a pamphlet urging use of this propaganda material is signed by Hart.
In May, 1943, John Eoghan Kelly was found guilty of being a Fascist agent. His associate, Merwin K. Hart, who was just as pro-Franco as Kelly, although not paid for it, as Kelly was, is the man whose economic fascist propaganda Mr. Wallace prints in Readers Digest.
In July, 1943, the columnist Charles Fisher of the Philadelphia Record established the fact that Mr. De Witt Wallace had been employing one George T. Eggleston to do some work for the Reader's Digest.
Eggleston had been editor of Scribner's Commentator and The Herald ("The National Newspaper for an Independent American Destiny"), two pro-Nazi fascist publications which closed up shop when they were under investigation by the F.B.I. after Pearl Harbor.
Eggleston had been with Lindbergh when he made his most vile pro-Nazi speech -- the race, blood and color oration at Des Moines; Eggleston had collaborated with Henry Ford in making a propaganda list of fascist sympathizers, and according to Editor Morris Watson (in his newsletter Release) the German Library of Information, Nazi propaganda agency in America, had also collaborated. Finally, Eggleston had as associate editor Ralph Townsend, who wrote pro-Japanese propaganda in both Scribner's Commentator and The Herald and who is at present in the penitentiary as a Japanese agent.
We now have Mr. DeWitt Wallace employing as senior editor Paul Palmer, the first fascist editor in America, the man who used the American Mercury for Lawrence Dennis's and other frankly fascist propaganda; publishing the pro-Franco article of Ellery Sedgwick, employing as editor one Max Eastman, a Trotsky propagandist and Russia-smearer; publishing the articles of numerous labor-baiters and labor-liars; employing as editors and writers every "liberal" and "radical" who sold out for money; publishing articles in favor of the Nazis ("What's Good in Germany"); publishing the falsehoods of Lindbergh and other "racists"; and finally, employing Mr. Eggleston, editor of the first fascist publication to disappear in the roar of the guns of Pearl Harbor and an associate of an American Japanese agent.
Mr. Wallace denies he is a Fascist.
_______________
Bibliography:
Mr. Justice Jackson (as Attorney General of the United States) exposed the leading Fascists at Boston City Club, October 16, 1940. The United Press and Associated Press suppressed all the names but one. The full text is in Law Society Journal, Boston, November, 1940.