PHOTOS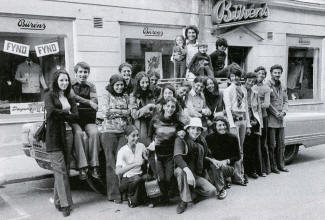 The bin Laden family on a 1971 visit to Falun, Sweden, where the family did business with Volvo. Osama, second from the right, was then about fourteen years old.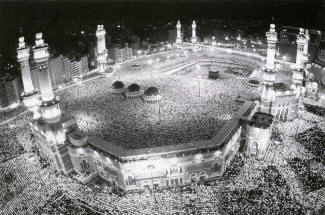 The magnificent Grand Mosque in Mecca, which is visited by 2 million Muslim pilgrims during the hajj each year. Renovated by the Saudi Binladin Group, it was also the site of a violent siege by Islamic militants in 1979 that involved Mahrous bin Laden.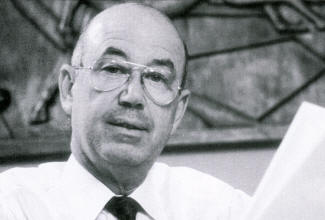 In the mid-seventies, Houston businessman James R. Bath represented the interests of Salem bin Laden and Khalid bin Mahfouz. Bath was also friendly with George W. Bush, his father, James Baker, and other prominent Texas politicians.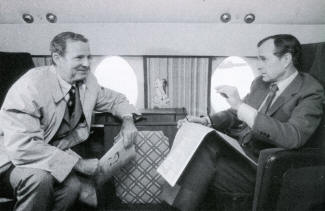 Shown here during George H. W. Bush's failed 1980 presidential campaign, James Baker and George H. W. Bush had complementary strengths that made them a potent duo. "They're these big, tall, lanky, hot-as-a-pistol guys with ambition so strong it's like a steel rod sticking out of their heads," said speech writer Peggy Noonan. "But they always make a point not to show it. Steel with an overlay of tennis."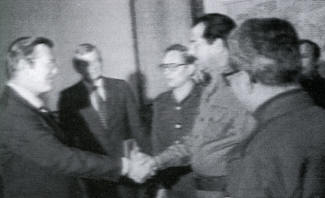 In 1983 and 1984, Donald Rumsfeld served as presidential envoy to Saddam Hussein's Iraq. He privately assured Iraqi leaders that even though the United States was publicly protesting Iraq's use of chemical weapons, America's goal of improving relations with Iraq remained undiminished.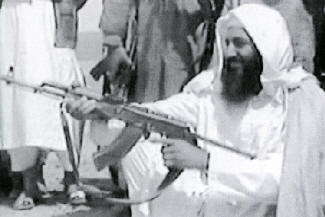 Bin Laden, shown here training in Afghanistan in 2001, in a still taken from a videotape. He was backed by both Saudi Arabia and the United States to lead the "Afghan Arabs" against the Soviets during the eighties.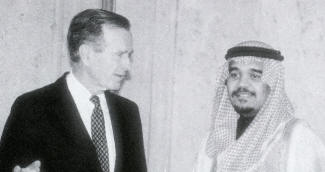 Prince Bandar was at home in full Arab dress but was also so close to George H. W. Bush that he thought of him as "a buddy." Here he meets with President Bush in 1991 after their Gulf War victory.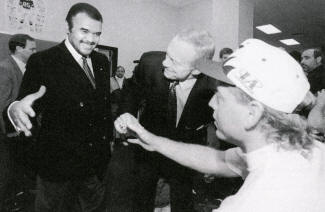 A devotee of the Dallas Cowboys, Bandar stirred up controversy with his visits to Texas Stadium to see his friend team owner Jerry Jones, shown here with quarterback Troy Aikman in 1993.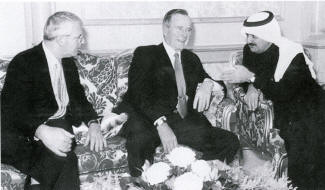 Former prime minister John Major of Great Britain and former president Bush both served the Carlyle Group, the giant private equity firm, in Saudi Arabia. In late January 2000, they met with Saudi businessman Khaled al-Ibrahim, a nephew of King Fahd's, at his palace in Riyadh.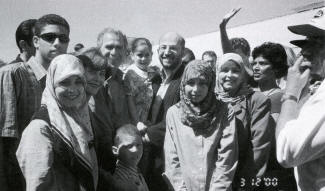 Campaigning in Tampa, Florida, in March 2000, George W. Bush made an aggressive push to win the Muslim-American vote, courting Islamic militants such as Sami Al-Arian, to the right of Bush. Al-Arian, who was allegedly a member of the Palestinian Islamic Jihad, was later arrested on dozens of charges, among them conspiracy to finance terrorist attacks that killed more than a hundred people -- including two Americans.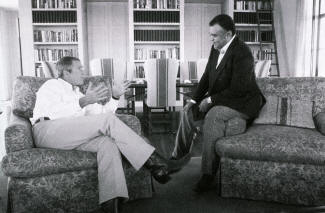 Prince Bandar, shown here at the president's ranch in Crawford, Texas, in August 2002. Bandar was not as close with the younger Bush as he was with Bush senior, yet the prince remained very much a friend of the family.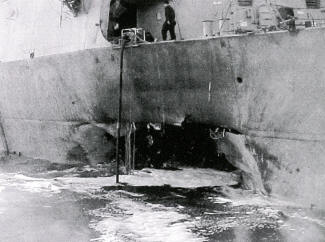 Counterterrorism czar Richard Clarke drew up plans to retaliate for Al Qaeda's October 2000 bombing of the USS Cole, which killed seventeen American sailors, but the Bush administration never acted on them.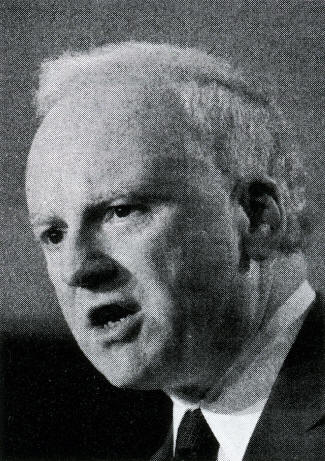 After working for George H. W. Bush, Bill Clinton, and George W. Bush, Richard Clarke resigned as counterterrorism czar in February 2003. "I already don't miss it," he said later. "You know that great feeling you get when you stop banging your head against a wall?"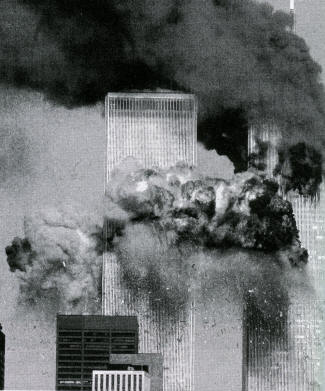 The attack on New York City's World Trade Center, September 11, 2001.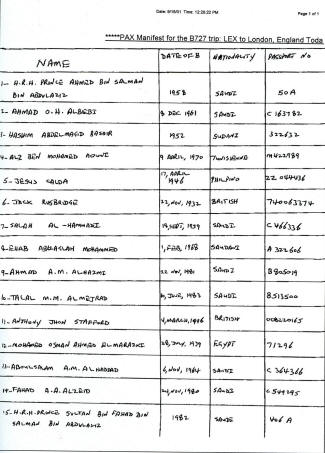 The passenger list drawn up by the Saudi embassy for the flight out of Lexington, Kentucky, en route to London showed Prince Ahmed bin Salman at the top of the list, which included other high-ranking Saudis.
Flight attendants remember Prince Ahmed bin Salman boarding the lavishly customized Boeing 727 in Lexington during the White House-sanctioned evacuation of Saudis that began just after 9/11. In May 2002, his racehorse War Emblem won the Kentucky Derby. During a controversial interrogation, an Al Qaeda operative said Ahmed served as an intermediary between Al Qaeda and the House of Saud and knew in advance that Al Qaeda would attack on 9/11. Not long afterward, the prince died mysteriously in Saudi Arabia of a heart attack at the age of forty-three.