WHO KILLED BOBBY?: THE UNSOLVED MURDER OF ROBERT F. KENNEDY
by Shane O'Sullivan
© 2008 by Shane O'Sullivan
Cover photo of Robert F. Kennedy by Evan Freed; background image from Sirhan's notebook courtesy California State Archives
YOU ARE REQUIRED TO READ

THE COPYRIGHT NOTICE AT THIS LINK

BEFORE YOU READ THE FOLLOWING WORK, THAT IS AVAILABLE SOLELY FOR PRIVATE STUDY, SCHOLARSHIP OR RESEARCH PURSUANT TO 17 U.S.C. SECTION 107 AND 108. IN THE EVENT THAT THE LIBRARY DETERMINES THAT UNLAWFUL COPYING OF THIS WORK HAS OCCURRED, THE LIBRARY HAS THE RIGHT TO BLOCK THE I.P. ADDRESS AT WHICH THE UNLAWFUL COPYING APPEARED TO HAVE OCCURRED. THANK YOU FOR RESPECTING THE RIGHTS OF COPYRIGHT OWNERS.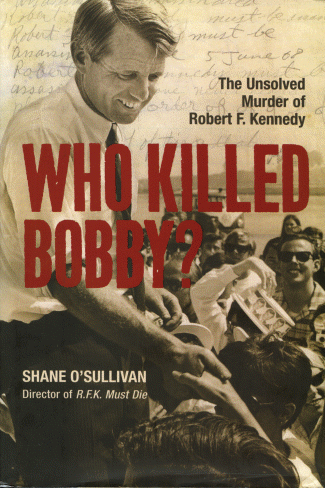 To Kanako and my parents
In memory of Larry Teeter and Philip Melanson
From his observations of Sirhan and the writing in his notebooks, Dr. Crahan noted the following characteristics: "Emotional immaturity. Better than average intelligence. Idealistic. Impressionable. Easily led. Zealous. Inflammatory. Dogmatic. Stubborn. Self-sacrificial. Visionary. Worshipping. Fierce hatred and animosity. Detailed planning habits. Studious. Frugal. Hunger for Knowledge. Money hungry. Power proud. Opinionated. Arrogant. Self-assured. Patriotic. Egocentric."

***

The first witness called before the grand jury on June 7 was Dr. Noguchi. He pronounced the cause of death as a "gunshot wound of the right mastoid, penetrating the brain."

Noguchi noted a gunpowder tattoo one inch long around the fatal entry wound on the edge of Kennedy's right ear. He didn't want to preempt firearm tests, but "the position of the tattooing and the powder on the edge of the right ear indicate that ... the muzzle distance was very, very close."

***

Dr. Noguchi remained skeptical, later noting in his autobiography, "Eyewitnesses are notoriously unreliable but this time sheer unanimity was too phenomenal to dismiss. Not a single witness in that crowded kitchen had seen him fire behind Kennedy's ear at point-blank range. There are lessons to be learned from this case: Do not take for granted that the one who is in custody is the one who committed the crime. Until more is positively known of what happened that night, the existence of a second gunman remains a possibility. Thus I have never said that Sirhan Sirhan killed Robert Kennedy."

***

Sirhan was the name of an ancient tribe that roamed the Syrian Desert and means "wolf" in Arabic.

***

2 June 67, 12.30 p.m.

A Declaration of War Against America

When in the course of human events it has become necessary for me to equalize and seek revenge for all the inhuman treatments committed against me by the American people.

The manifestation of this Declaration will be executed by its purporter(s) as soon as he is able to command a sum of money ($2000) and to acquire some firearms -- the specifications of which have not been established yet.

The victims of the party in favor of this declaration will be or are now -- the President, vice, etc. -- down the ladder.

The time will be chosen by the author at the convenience of the accused.

The method of assault is immaterial -- however the type of weapon used should influence it somehow.

The author believes that many in fact multitudes of people are in harmony with his thoughts and feelings.

The conflict and violence in the world subsequent to the enforcement of this decree, shall not be considered lightly by the author of this memoranda, rather he hopes that they be the initiatory military steps to WWIII -- the author expresses his wishes very bluntly that he wants to be recorded by historians as the man who triggered off the last war.

Life is ambivalence

Life is a struggle

Life is wicked

If life is in any way otherwise, I have honestly never seen it. I always seem to be on the loosing end. Always the one exploited to the fullest.

***


The "$2000" reference was odd because it matched the disability award Sirhan got for his injuries the following April. After lawyers' fees, Sirhan pocketed $1,705. Sirhan was disappointed he got so little, so how could he have predicted the size of his award nine months before? Were these statements really written on June 2, 1967, or postdated to look that way?

It should be noted the dates on both pages and "the America must fall" reference are written in slightly different writing and different pen than the main body of text on each page, suggesting they may have been added later.

***

Kennedy didn't advocate sending fifty jet bombers to Israel until a speech on May 26 at Temple Neveh Shalom in Portland, Oregon. How could Sirhan write of his increasingly "unshakable obsession" to kill Kennedy on May 18 when he wasn't even aware of Kennedy's support for Israel until two days later and the bombers weren't mentioned until six days after that?

***

At 12:50 that afternoon, Sirhan paid a dollar and signed in at the Corona Police Pistol Range and practiced for a couple of hours. Prosecution handwriting expert Lawrence Sloan later confirmed that the signature in the log book was in Sirhan's handwriting, and according to the rosters, no one else was shooting on the range at that time.

But was it really Sirhan? The only people who saw him at the range that day were the range master, William Marks, and his deputy, Harry Starr, both regular Corona policemen.

Marks identified Sirhan from a police mug shot but described him as twenty to thirty years old, six foot to six foot two, and 215 to 225 pounds, with brown hair. This was at least eight inches too tall, double Sirhan's weight, and the wrong hair color. Marks said "Sirhan" was accompanied by a man of about the same age, five-five to five-seven and 130 to 145 pounds, with brown hair, a pencil moustache, and horn-rim glasses. The second man spoke with an unknown foreign accent and questioned Marks about aliens using the range, but did not shoot. "Sirhan" fired a .22-caliber gun, which he carried in a zippered carrying case (something the real Sirhan did not own).

Officer Harry Starr provided the same description....

Deputy DA John Howard asked Starr if he could identify the defendant as the same man.

"Do you want a stipulation?" asked defense counsel Grant Cooper, somewhat bizarrely.

"No, I don't think so," said Howard. "Thinking back to that Saturday, June 1st ... did you see the defendant?"

"I can't truthfully say that that is the man," said Starr. "I picked out a picture that resembled the man but to be truthful about it, I cannot say that he is the man."

"I will offer a stipulation, having first talked to counsel," said Cooper.

"We will accept the stipulation," said a grateful Howard.

Cooper, shamefully unaware of the range master's statements, stipulated that Sirhan was on the range.

***

Sirhan left the range at three and stopped off at the Lock, Stock 'n Barrel gun shop in San Gabriel on his way home. Retired fireman Larry Arnot was the clerk who served him....

[A]ccording to Arnot, Sirhan entered the store with two other men. The group looked very serious and didn't talk among themselves.

"I want two boxes of Mini-Mags," said Sirhan.

"Standard or hollow points?" asked Arnot.

"Hollow points," came the reply.

"Going rabbit hunting?"

"That's the plan," said Sirhan.

***
"I could never go along with the theory that there was a second gun in the pantry," said Kaiser.... Kaiser ultimately dismissed Serrano as a "red herring."

***
"McCowan was in, saw Hernandez. Michael professed cooperation and indicated he'd obtain needed background information from family. He wants photos or maps showing kitchen and location of witnesses."...

Secretly working for the prosecution to elicit information from the Sirhan family was a dangerous game, even allowing for the LAPD's hardball tactics in releasing routine information to the defense camp. It's also curious that McCowan's contact would have been Hernandez, of all people, the polygraph operator.

***
Sirhan was reluctant to talk about the influence of the occult on his life and was insistent that McCowan and Kaiser stay away from the Rosicrucians.

***
[A] week into the case, Cooper was already colluding with the prosecution and floating plea bargains.

***

It's also never been clear where Sirhan was on Monday, June 3, the day before the shooting. Sirhan got up early that morning and drove his mother to work. At around ten thirty, he put gas in his car at Richfield Service Station, where he used to work, waved to his former boss, Jack Davies, and drove off. According to one FBI report, sometime during the day a man from the telephone company was doing service work at a house across the street from the Sirhan home when he saw Sirhan being dropped off in a green or metallic-colored Mercedes. The car was driven by a male, and a female was riding in the front seat. Mary Sirhan was at work in the morning but said Sirhan was home the rest of the day; Sirhan himself has contradicted this statement, and has always been vague about his movements that day. According to Robert Kaiser, he changed his story three times. "First, he said he was home all day. Then he admitted to me he'd gone to Corona. Later still, he told me it wasn't Corona at all, but 'someplace in that direction.' And still later, he told defense investigator Michael McCowan with some satisfaction that he'd put 350 miles on his car June 3 and no one knew where he'd gone ... [he said] 'the FBI doesn't know everything.'''

***

On June 4, Sirhan woke up just before eight, and Munir saw him on his way to work, buying a newspaper on a street corner in Pasadena. Sirhan had been going to the races, betting, nearly every day for two weeks, and today he planned to go again to Hollywood Park. But he'd been losing money and he didn't like the horses that were running that day, so he decided to go shooting instead.

***

Sirhan had nothing to do until the Tuesday night Rosicrucian meeting at eight.

***

"As long as the coffee was being served, I told her how I would like to drink some coffee, too."

"What was the next thing you did?"

"The next thing I remember, sir, I was being choked."

***

"I seem to have just been railroaded into this thing."

***

"Sirhan, you know what hypnosis is?"

"Isn't it the domination of the weaker will by the stronger?"

"No, it isn't that at all," said Diamond. "It's simply a way of demonstrating one's own ability to concentrate ... and the hypnotist is not dominating over the will of the other. No one can be hypnotized against his own will, and the hypnotist really just gives suggestions and encouragement to a person so that he can use his own willpower to strengthen his own abilities."

***

"I could have slapped him in the face; I could have broken his nose. I could have thrown my cup of coffee at him .... Why? Why not? Why the hell didn't I do that?" ... If I'd wanted to kill a man, why would I have shot him right there where they could have choked the shit out of me? Would I, sir, be so stupid as to leave that notebook there, waiting for those cops to pick up? ... I may have done more damage to the Arab cause," said Sirhan ruefully. ''I'm not a killer; I'm not a killer," he repeated.... "I said this, sir, a thousand times; I'm not proud of this .... You could shoot me right here for what I did, sir.... My own conscience doesn't agree with me. ... It's against my upbringing, my very nature, sir," said Sirhan, sounding anguished. "My childhood, family, church, prayers ... the Bible and all this, sir. 'Thou shalt not kill.' Life is the thing, you know. Where would you be if you didn't live, sir? And here I go and splatter this guy's brains. It's just not me."

***

"Were you hypnotized when you wrote the notebook?"

"Yes yes yes."

"Who hypnotized you when you wrote the notebook? Write his name down."

"Mirror mirror my mirror," wrote Sirhan, "my my mirror."....

"Who taught you how to do this?" asked Diamond.

"AMORC," wrote Sirhan. "AMORC AMORC."

***

"Now, get this straight, Sirhan. I do not believe that anybody hypnotized you and told you to kill Kennedy. I think you did it to yourself. You get the distinction?"

***

Coming late into the case, Cooper had a very poor grasp of the physical evidence. He was going to stipulate that Sirhan had killed Kennedy, so the less time spent discussing bullets and gunshot wounds in front of the jury, the better. The defense was chock-full of psychiatrists and psychologists but had no forensic expertise. Cooper stipulated to the bullets presented by Wolfer and asked Dr. Noguchi to spare the court "the gory details" of the autopsy. At no point in the trial were the issues of extra bullets or extra guns mentioned, and there was no meaningful examination of the ballistics....The defense didn't bother to hire a ballistics expert.

***

But, as the New Year began, Cooper's participation in the trial was in doubt. On Friday, January 3, he admitted to a federal grand jury that he had lied in court about the source of the unauthorized transcript found on his counsel table during the Friars Club trial.

Cooper said he had nothing to do with acquiring the transcripts -- he was on a fishing trip to the South Seas at the time. He cited attorney-client privilege in refusing to answer forty-six questions about how they were obtained and said he would risk contempt and jail before revealing anything that would damage his client.

An urgent three-page FBI Teletype, titled "Re Illegal Possession and Use FCG Transcripts," to J. Edgar Hoover later that day is still heavily redacted. Two pages are blacked out; then the last eight lines read, "USDJ set hearing for such argument at two PM Monday next. USA W. Matthew Byrne, Jr. today advised that if government obtained facts suitable to indict [Grant Cooper] and others while Sirhan case in progress, such indictment would be returned secretly and not released until Sirhan case concluded." The threat of an indictment weighed heavily on Cooper throughout the Sirhan trial. In fact, hearings on the stolen transcripts would resume the day after Sirhan was sentenced.

So, U.S. Attorney Matt Byrne was prosecuting Sirhan and pursuing a possible indictment of Sirhan's attorney at the same time. If an indictment was returned before the trial, it would be hushed up but still secretly hanging over Cooper while he defended Sirhan.

Three days later, Cooper played down the possibility of an indictment to Judge Herbert Walker, who would preside over the Sirhan trial. Al Wirin appeared in chambers to advise Sirhan that he should continue to be represented by Cooper, despite the conflict of interest posed by Cooper's possible indictment by an agency participating in the prosecution. Sirhan consented, and Cooper stayed.

***

By now, Sirhan had grown distant with Kaiser. "We had a pretty good relationship for the first few months and then, the trial came and he began to cool toward me," Kaiser recalled. "I'd go to see him and he'd be pretty close to the vest. He didn't want to tell me things as he was telling me before. I found out later that Russell Parsons, one of the other attorneys in the case, told Sirhan's mother, Mary Sirhan, not to trust Kaiser because he was telling the DA's office everything he knew, which is not true.

"But there was a struggle for power inside the defense team, and that was one of the results of it. Parsons was not in the loop, and I think he resented my having more information than he did ... and so, maybe Sirhan got the word, you know, that I couldn't be trusted."

***

It was then left to Grant Cooper to make a final stand for Sirhan's life. "We are not here to free a guilty man," he began. "We tell you, as we always have, that he is guilty of having killed Robert Kennedy. Under the facts of this case, Mr. Sirhan deserves to spend the rest of his life in the penitentiary," he said, immediately contradicting Parsons...."As I view the evidence," Cooper said, "it would be illogical to suggest this wasn't a willful, deliberate and premeditated murder. There's no suggestion in this case that it was upon a sudden heat of passion, which reduces it to manslaughter."...

Cooper then proceeded to trample roughshod over the other issues in the case in a desperate plea for second-degree murder, throwing out any good work the defense had done:

"For the purpose of this argument, we can admit that he bought the gun with the intention of killing either Senator Kennedy or President Johnson or [UN] Ambassador Goldberg or any one of those people that he mentioned in his notebook. We can admit that he did it because he was angry at this country for ... supplying arms to Israel.

"We can admit that on June 2nd, he went to the Ambassador Hotel, having in mind that he wanted to kill Senator Kennedy ... for the purpose -- as Mr. Fitts said -- of casing the joint.

"We can admit that he made inquiries of the different persons, sometimes on the 2nd and sometimes on the 4th, as to the route that Senator Kennedy would take; where he was going to be; whether there were going to be bodyguards or not -- all of these things go to show premeditation and deliberation. It shows some planning, some thinking.

"But we come back to the law, and whether or not that is mature and meaningful thinking. The issue in this case is diminished capacity with respect to premeditation and deliberation. It isn't what happened at the time of the firing of the shot. The deliberation took place a long time before that. I don't care if he was in a hypnotic state at the time he fired the shot, or whether he was in a trance, as Dr. Diamond said; this is beside the point."

He then bizarrely dissociated himself from Dr. Diamond: "Were you to accept the fact that he shot Senator Kennedy in a dissociated state, he would be not guilty by reason of insanity, because he didn't know what he was doing at the time."

***
As he awaited the verdict, Russell Parsons told the press that Sirhan expected to be traded by the government for concessions in the Middle East if convicted, and that Ambassador Nakhleh had discussed the matter with King Hussein of Jordan at the UN.

***
"I'm talking to Don Schulman. Don, can you give us a halfway-detailed report on what happened within all this chaos?"

"Okay. I was, ah ... standing behind Kennedy as he was taking his assigned route into the kitchen. A Caucasian gentleman stepped out and fired three times ... the security guard ... hit Kennedy all three times. Kennedy slumped to the floor. As they carried him away, the security guards fired back ... As I saw ... they shot the, ah ... man who shot Kennedy, in the leg. He, ah before they could get him he shot a -- it looked like to me -- he shot a woman and he shot two other men. They then proceeded to carry, ah, Kennedy into the kitchen and ... I don't know how his condition is now."

***

Schulman later recalled the interview for Deputy DA Thomas Kranz: "I said, ... 'The Senator was shot three times.' They said, 'No, he was shot twice.' I said, 'Well, I saw three times.' They said, 'No, he was shot twice.' I said, 'Fine, whatever, I thought I saw three times.' Then they said, 'Anything else?' I said, 'Yeah, I saw other guns pulled and possibly fired.' They said, 'Why do you say that?' I said, 'Well, because there was just like firecrackers, a whole bunch of shots.' They said, 'There was no other guns.' I said, 'I thought I saw them.' They said 'No, you didn't.' I said, 'Okay.'''

In other interviews, Schulman said, "As soon as I told them [my story], they weren't interested in me ... They filled out their reports, thanked me very much and ... the officer who interviewed me [said] they had enough witnesses and none of them saw that, so there's no use him even writing it down."

***

It was also clear that Don Schulman was not the only one who saw a guard with a gun in his hand in the pantry. Bill Barry saw a guard with a gun out and told him to put it back in his holster, and Karl Uecker told Ted Charach that "just after releasing Sirhan from the headlock," he also saw a guard with a gun in his hand: "I just couldn't believe my eyes.... " He confronted the guard, shouting "Are you crazy! Pulling your gun ... you could've killed me."

Television producer Richard Lubic was three feet to the right of Kennedy at the time of the shooting: "I was at Senator Kennedy's right side when Sirhan appeared. The muzzle of the gun was 2 to 3 feet away from Senator Kennedy's head. It is nonsense to say that he fired bullets into Senator Kennedy from a distance of 1 to 2 inches, since his gun was never anywhere that near to Senator Kennedy.

"I was kneeling at Senator Kennedy's right side after he fell to the floor. I saw a man in a guard's uniform standing a couple of feet to my left behind Senator Kennedy. He had a gun in his hand and was pointing it downward." Lubic told the police about this second gun, but it was omitted from his police interview summary.

***

The Kranz Report effectively closed the lid on the official investigation of the RFK investigation. Although Kranz recommended that the LAPD open its files to the public, this didn't happen for another eleven years. When the files were finally released in 1988, twenty years after the shooting, they clearly showed up the Kranz Report for the sham it was.

Kranz went on to serve as principal deputy general counsel of the army in the Reagan administration and as a special assistant to President George H.W. Bush. In 2001, President George W. Bush appointed him as principal deputy general counsel of the navy. He is a member of the Council on Foreign Relations, and the case remains closed.

***

Lisa Urso didn't see a second gun fired but "she clearly recalled someone she assumed to be a 'security guard' drawing a gun" right after the shooting, then putting it back in his holster. But Urso's "guard" was not wearing a uniform -- she described him as blond, wearing a gray suit, and standing "by Kennedy." When she told investigators about this guard, "they reacted with disinterest on one occasion; hostility, on another."

Urso was also puzzled by the senator's reaction after the first shots. She told Melanson that "Kennedy grabbed his head behind the right ear and jerked forward about six inches before moving in the opposite direction and falling backward. Why this [double] motion, she wonders, if Sirhan fired from the direction the Senator first moved toward."

Melanson also located Kennedy fund-raiser Nina Rhodes, and asked her to write a statement in support of a petition to the LA County grand jury to look into LAPD misconduct during the original investigation:

"As the speech came to a close," recalled Rhodes, "I left the Press Room to wait for the Senator at the bottom of the ramp .... The entourage moved rather quickly. I chased after the Senator and as I did, I heard a series of popping noises which I first thought were flash bulbs but then realized were gunshots. There were 12-14 shots in all. I was 6-7 feet from the Senator when I saw him and a number of others fall. Rosie Grier and Rafer Johnson charged after someone ahead and to the left of me. This surprised me because it was my impression that some of the shots had come from ahead of me and to my right [the Senator's position] and my attention was focused there ... in conclusion, I would like to stress ... I heard 12-14 shots, some originating in the vicinity of the Senator, not from where I saw Sirhan."

When Melanson gave Rhodes a copy of her FBI interview summary, she identified fifteen errors. Most important, she stated, "I never said I heard eight distinct shots. From the moment the tragedy began I knew that there was at least 10-14 shots and that there had to be more than one assailant. The shots were to the left and right from where I was."

Investigators ignored Nina Rhodes. The FBI altered her troubling statements, and the LAPD omitted her from their list of witnesses in the pantry at the time of the shooting.

***

Harper's examination of the rifling impressions on People's 47 and People's 54 disclosed no matching individual characteristics to establish they that had been fired from the same gun, so he proceeded to measure the "rifling angle" -- the slant angle of the impression made on each bullet, by the spiral rifling grooves and ridges ("lands") cut into the barrel during the boring process.

Harper measured a difference in rifling angles of twenty-three minutes between the bullets -- about a third of a degree. "Since the rifling angle is a basic class characteristic of a fired bullet," he wrote, "it is my contention that such a difference would rule out the possibility of those bullets having been fired in the same weapon." To Harper, this was "independent proof that two guns were being fired concurrently in the kitchen pantry of the Ambassador Hotel at the time of the shooting."

***

The day before Harper was due to testify before the grand jury, he was shot at in his car by two "workmen" in a blue Buick who tailed him from his Pasadena home.

***

Despite all the controversy around Wolfer and the ballistics, Sirhan's appeal attorneys were strangely indifferent to the possibility of a second gun. Luke McKissack refused to include Harper's findings in Sirhan's appeal, and later said -- rather implausibly -- that if there was a second gun, it was someone unconnected to Sirhan "who seized on the impulse of the moment" to fire at the senator.

***

By now, the board of supervisors, the DA, and the state attorney general had joined a separate Schrade-CBS firearms petition in the hope of ending the long-running controversy. On September 11, 1976, Superior Court Judge Robert Wenke approved their bid to reinvestigate the firearms evidence, and a panel of seven examiners was appointed ...Contrary to later spin by the LAPD, the panel's conclusions unanimously rejected Wolfer's key findings. They found that not one of Wolfer's seven copper-coated test bullets had sufficient striation marks for identification with the victim bullets, with one another, or with the Sirhan gun. "The examination results contradict the original identification made at the trial of Sirhan," noted Lowell Bradford, "in that there is no basis for an identification of any of the victim bullets ... because of the failure of the test bullets to receive bore impressions."...

Garland later noted that "carelessness, incomplete notes [and] improperly marked evidence are unacceptable in a job in which a man's life or freedom are dependent on an examiner's competence." ...

"The question of a second gun is open, but the weight of findings is against it ... unless it were of identical class characteristics as the Sirhan gun and using ammunition of class characteristics identical with the Sirhan ammunition."

***

FBI agent William Bailey had ... been in the pantry four to six hours after the shooting, on FBI assignment to interview witnesses and carefully examine the crime scene. He wrote out an affidavit for Bugliosi on the spot, stating, "At one point during these observations, I [and several other agents] noted at least two small caliber bullet holes in the center post of the two doors leading from the preparation room [pantry]. There is no question in our mind that they were bullet holes and were not caused by food carts or other equipment in the preparation room."...

I've serious reservations whether or not any of Bobby's wounds were inflicted by Sirhan's gun. I, at this point, feel that there probably was a second gun there and that it was fired."

***

The most comprehensive study of the bullet holes in the pantry was conducted by author Dan Moldea. In the spring of 1990, he interviewed more than one hundred LAPD officers and sheriff's deputies, a dozen of whom recalled seeing bullet holes in the pantry. Sergeant James MacArthur, senior police detective at the crime scene, said he saw "quite a few" bullet holes. Inspector Robert Rock told Moldea that a couple of bullets were dug out of a door frame. Officer Kenneth Vogel was positive he saw two bullet fragments on the pantry floor, which he brought to the attention of an LAPD official. No such fragments are recorded in police files. Sergeant Raymond Rolon told Moldea, "One of the investigators pointed to a hole in the doorframe and said, 'We just pulled a bullet out of there.'" Deputy Sheriff Thomas Beringer recalled a man in a tuxedo "trying to take a bullet out of the door-frame with a silver knife, for a souvenir." SID Officer David Butler told Moldea he saw Wolfer take two .22-caliber bullets out of the center divider. They tore out the wood facing and laid it down on the steam table, and Wolfer disassembled it to get the bullets out. These bullets were never booked as evidence.

***

Rose Lynn Mangan ... made two extremely important discoveries. The first was that the inventory done by the firearms panel in 1975 suggested that the ID markings on the base of the Kennedy neck bullet and the Goldstein bullet had changed since 1968, breaking the chain of custody of two key bullets in the case. Of the three bullets that hit Kennedy's body, one was lost in the ceiling, and one was so fragmented that Dr. Noguchi could not even confirm what caliber it was, so the bullet removed from Kennedy's neck was the only bullet that could link Sirhan's gun to the murder. Dr. Noguchi's autopsy report describes the recovery of the Kennedy neck bullet at 8:40 a.m. on June 6: "The initials TN, and the numbers 31 are placed on the base of the bullet for future identification." But no bullet markings were noted when the bullet was booked into evidence and there is no further record of the ID marking "TN 31" in reference to this bullet. When Pat Garland made his inventory in 1975, he recorded the markings on the base of the Kennedy neck bullet as "TN DW." The" 31" marked on the base by Dr. Noguchi had disappeared.

Similarly, the base of the Goldstein bullet was marked with an "X" by Dr. Finkel on extraction on June 5, 1968. By 1975, the "X" had been replaced by a "6," a new panel ID number added by Garland.

Identification markings on the base of a .22-caliber bullet are engraved with an electric needle and are so small, they would be extremely difficult to erase or write over.

Mangan's second important discovery came in the form of a second test-shot envelope. The envelope for Exhibit 55 entered as evidence at the trial contained three test bullets and was dated June 6, with the name "Sirhan B. Sirhan," the crime "187 P.C." (murder), and the serial number of the Jake Williams gun, H-18602.

***

The LAPD confirmed that Sirhan had indeed been hypnotized before. He'd gone to see stage hypnotist Richard St. Charles in late 1966 at a Pasadena night club within walking distance of his home. He volunteered to be hypnotized on stage and joined the performer's mailing list. St. Charles then wrote notes on his potential clients. "The notes that I had were that he was a very good subject." St. Charles felt Sirhan had "very definitely" been hypnotized before.

***

For centuries, "hypnotic couriers" have been used to convey messages, to lessen the chance these messages would fall into enemy hands. In 1500 B.C., the Egyptians used a hypnocourier system in which "programmed" virgins served the pharoah as royal "message-bearers from the gods." As Emery notes, these women were sent under military escort to distant dignitaries who knew the cue that would unlock the courier's lips and release the secret message locked in her unconscious." The courier had no conscious knowledge of the message, and no torture would release it without the right prompt.

***

In one of Bryan's most famous cases, he had hypnotized Albert DeSalvo, the Boston Strangler, for attorney F. Lee Bailey. DeSalvo was the sexual psychopath who murdered thirteen women between 1962 and 1964. Sirhan's notebook contains the reference "AMORC AMORC Salvo Salvo Di Di Salvo Die S Salvo," but it was clear from a conversation Sirhan had with Frank Foster in Central Jail in the hours after the shooting that he had no idea who DeSalvo was....

William Bryan was found dead in 1977 in his room at the Riviera Hotel, Las Vegas, apparently from natural causes. Hollywood reporter Greg Roberts had queried Bryan about the Sirhan case just before his death, but Bryan had strongly denied any involvement.

Two Beverly Hills call girls subsequently told Jonn Christian that they had been "servicing" Bryan twice a week for four years. Bryan regaled them with talk of his famous cases -- how he had deprogrammed Albert DeSalvo and hypnotized Sirhan Sirhan. He said he had worked with the LAPD on a lot of murder cases, so they didn't think his work with Sirhan anything unusual. Bryan also told them he worked on "top secret projects" for the CIA.

A close colleague of Bryan's later told Philip Melanson that Bryan flatly announced to him that he worked for the CIA and said the authorities had summoned him to hypnotize Sirhan. "It was actually, I believe, conducted in a prison cell. That's what I got [from Bryan]."

The executor of Bryan's estate was John Miner, a deputy DA during the Sirhan trial, specializing in the "medical evidence." Miner later accompanied Enrique Hernandez to Wisconsin to interview Henry Peters, the priest who gave Sirhan Bible lessons -- perhaps thinking that Peters might have "influenced" Sirhan -- but Bryan himself was never interviewed.

Bryan is by no means the only suspect in the search for Sirhan's programmer. When the police searched Sirhan's car, they found a copy of Healing: The Divine Art, by Manly Palmer Hall, on the backseat. Hall was the highly theatrical founder of the Philosophical Research Society. He was a master hypnotist with a practice in hypnotherapy. Sirhan confirmed to Turner and Christian that he paid several visits to the headquarters of the Philosophical Research Society, an alabaster temple near Griffith Park. The police never interviewed Hall, and he was protected by strong links to Mayor Yorty, who had considered Hall his guru for the past twenty years.

Candy Jones was a famous pinup model during World War II who later claimed to be a victim of CIA mind control during the sixties. She developed the alter ego "Arlene Grant," she said, and was used as a hypnocourier by the CIA in the manner described by Estabrooks. In The Control of Candy Jones, author Donald Bain gave Jones's programmers the pseudonyms "Gilbert Jensen" and "Dr. Marshall Burger." Jensen, a disciple of Burger, was Candy's recruiter and primary programmer. He programmed himself into the role of her lover and was an associate of Dr. Bryan's. During deprogramming by her husband, John Nebel, in the early seventies, Jones recalled that under hypnosis, Burger talked about a racetrack in California and "bragged" about hypnotizing Sirhan. Jones also reenacted a visit to Dr. Burger's institute in Los Angeles on June 3, 1968. "Was he with the CIA?" she was asked. "He is the CIA," she said.

Dr. Spiegel worked closely with Candy Jones and John Nebel and wrote the foreword to Bain's book, believing Jones's claims to be authentic.

When "Dr. Burger" died, his true identity was revealed as Dr. William Kroger. By his own account, Dr. Kroger worked as a consultant to the FBI during the seventies, using hypnosis to assist memory recall through age regression, time compression, and automatic writing. Kroger also worked closely with Dr. Martin Reiser, who had run the behavioral science investigation program for the LAPD since 1968. Kroger later worked at the Neuropsychiatric Institute at UCLA, run by Dr. Louis Jolyon West, an MKULTRA veteran. There, he wrote Hypnosis and Behavior Modification, with a preface by Martin Orne and H. J. Eysenck, two other MKULTRA veterans.

***

By late 1967, LBJ was besieged by the antiwar movement. From his bunker at the White House, he looked out at the student dissent and disgust with government and could not believe it was the work of true Americans. Foreign influence must be at play, corrupting American youth, and he encouraged the CIA to root it out with the launch of Operation Chaos, a domestic surveillance operation on the protest movement and the Black Panthers....

One of the main cities targeted was Los Angeles, and links were established with the intelligence division of the LAPD, which was also responsible for the security of VIPs visiting Los Angeles.

In sync with this effort, the CIA provided training to police departments in guerrilla techniques and tools of urban warfare. Former CIA officer Victor Marchetti told researcher Betsy Langman that while he was with the agency in 1967, the Chicago and Los Angeles police departments received several days of "training" from the Clandestine Services Division. When Marchetti asked why a dozen or so LAPD officers were at CIA headquarters, he was told it was a "special," "sensitive" activity that had been directly approved by the CIA director.

***

By 1968, the Hughes organization, through Maheu, was working hand in glove with the CIA. John Meier was Hughes's third in command and an arch-nemesis of Maheu's. In an interview with researcher Lisa Pease, Meier claimed that Maheu had connections to Thane Eugene Cesar and the upper ranks of the LAPD. According to Pease, "Meier saw enough dealings [within the Hughes organization] before and after the assassination to cause him to approach J. Edgar Hoover with what he knew ... Hoover expressed his frustration, saying words to the effect of "Yes, we know this was a Maheu operation. People think I'm so powerful, but when it comes to the CIA, there's nothing I can do."

***

When they retired, two legendary figures of American intelligence also held photographs of Robert Kennedy's autopsy in their personal safes -- FBI chief J. Edgar Hoover and CIA counterintelligence chief James Angleton. As author Anthony Summers noted, of all the famous deaths in Hoover's long career, the gruesome color pictures of the RFK autopsy are the only death pictures preserved in his official and confidential files, segregated from the main FBI filing system.

Angleton's colleagues were astonished by their bizarre find in his personal safe when he retired. They had no idea why Angleton had the pictures or "why it was appropriate for CIA staff files to contain them. They were accordingly destroyed."

***

Toward the end of November, as Ayers trained Cuban exile commandos on a tiny island in the Florida Keys, he recognized a plane passing overhead "as the single-engine Cessna based at the CIA headquarters in Miami .... A white object was released directly over the old house. It was a roll of toilet tissue, streaming as it fell. It landed only a few feet away.... The center tube of the tissue roll had been closed with masking tape .... Hastily, I opened up the tube and pulled out the paper inside. It was Campbell's printing:

NOVEMBER 22 1963: PRESIDENT KENNEDY HAS BEEN SHOT BY AN ASSASSIN. SUSPEND ALL ACTIVITY. KEEP MEN ON ISLAND. COME ASHORE WITHOUT DELAY. GORDON

***

My own attempts to contact the Joannides family had met a wall of silence, but Morley planned to visit one of Joannides's daughters that weekend. For years, Morley has been involved in a laudable and protracted struggle to get the CIA to comply with the JFK Records Act and release Joannides's operational records from JMWAVE. He has been supported by a who's who of respected authors on the Kennedy assassination, a bipartisan group mixing Oliver Stone and Gerald Posner, the most famous proponent of Oswald as lone gunman. Although Joannides's wife is dead, Morley has courted the Joannides children during this period, believing that their cooperation would ultimately help lead to the records' release. When he visited one of the daughters that weekend and showed her the main photograph in the ballroom, the response was a terse "No comment." Weeks later, a second daughter, now a superior court judge in Alaska, would give the same response. You had to wonder: If it wasn't their father in the photograph, why were they being so defensive?

***

The last leg of Talbot and Morley's journey took them to see Joannides's former station chief in Saigon, Tom Polgar. Word came back that before Talbot and Morley mentioned his name, Polgar identified Joannides in the photograph. Polgar also identified the blond man in horn-rimmed glasses in the other ballroom photographs as James Critchfield, the CIA's chief in the Middle East at the time.

***

In 2003, Hunt thought he had months to live. He was bedridden with lupus, pneumonia, and cancer of the jaw and prostate, and gangrene had forced the amputation of his left leg. As he faced death, he spoke to his son about the planners of the JFK assassination. He scribbled a crude diagram connecting LBJ at the top to senior agency figures Cord Meyer and Bill Harvey (who first brought Morales to JMWAVE). The arrows continued down to the names "David Morales" and "David Phillips." A line was drawn from Morales to the framed words "French Gunman Grassy Knoll."

***

In 1949, Bradley became the first chairman of the Joint Chiefs of Staff, stepping down in August 1953 to become chairman of Bulova Research and Development Laboratories, a subsidiary of the Bulova Watch Company devoted to the development of precision defense items. Bulova had just built a state-of-the-art ten-million-dollar factory in Jackson Heights, Queens, focused on secret defense research. Bradley would advise Bulova scientists on military needs, and while Bulova continued to make jeweled watches, clocks, and radios, defense work accounted for 40 percent of sales. When Arde Bulova died in 1958, Bradley was named chairman of the Bulova Watch Company, and in fiscal 1959 the company delivered "more than twenty million dollars in defense items to the armed forces on sales of fifty-eight million dollars." Over the next eight years, Bradley helped the company double annual sales, lobbying the Senate Armed Services Committee to maintain tariffs on watch imports so that the United States would not become "the only major power without a watch manufacturing industry." He argued that the watch industry was essential to national security and made significant contributions to national defense and space technology.

In the summer of 1967, Bradley went to Vietnam on assignment for Look magazine to report on the war. After a two-week tour of the battlefront, Bradley was convinced that Vietnam was "a war at the right place, at the right time and with the right enemy -- the Communists."

After a winter at the races in Southern California, he bought a new custom-designed home on a hilltop in Beverly Hills and was one of the "Wise Men" advising Johnson on his war strategy through the spring of 1968. Bradley's diaries at West Point show that he traveled to the Bulova offices in New York on May 31, 1968 and returned to California on the evening of June 6.

***

Michael Roman's son was quite surprised to receive my call but extremely open and cooperative. I was making a film on Robert Kennedy, I said, and had been told his father may have worked for U.S. intelligence. At first, he thought I had the wrong person. Michael D. Roman of Bulova? Oh, yes, that was his father all right, but working for the CIA? "That's a new one on me."

His father had told him he was at the Ambassador Hotel the night Kennedy was shot and that the CIA interviewed him afterward.

***

Through careful and meticulous analysis of the five second sequence of shots, Van Praag made two sets of startling discoveries: "I have located approximately thirteen shot sounds," he said. "Now, I cannot absolutely guarantee that thirteen is the correct number. However, it's greater than eight; I can certainly say that."

***

Noguchi concluded that the sequence was as follows: "The shoulder pad shot as he was raising his arm, the two shots to his right armpit ... and, lastly, the shot to the mastoid .... In other words, the nonfatal wounds first and then the fatal wound." Noguchi thus described the fifth shot as the one that killed Kennedy. If Uecker was correct in saying that he grabbed Sirhan's hand after the second shot, how could the fatal shot have been fired by Sirhan?

-- "Who Killed Bobby?" by Shane O'Sullivan
Table of Contents:
• Inside Jacket Cover
• Introduction
• One: The Assassination
• Two: The Aftermath
• Three: Autopsy and Ballistics
• Four: Sirhan B. Sirhan
• Five: The Girl in the Polka-Dot Dress
• Six: The Polygraph Test
• Seven: Security on the Night
• Eight: Sirhan's Defense Team
• Nine: Sirhan's Memory
• Ten: Inside Sirhan's Mind
• Eleven: The Trial
• Twelve: The case for the Defense
• Thirteen: The Second Gun
• Fourteen: The Reinvestigation
• Fifteen: The Manchurian Candidate
• Sixteen: Intelligence Connections
• Seventeen: The CIA at the Hotel
• Eighteen: Chasing Shadows
• Nineteen: What Really Happened?
• Notes
• Bibliography
• Acknowledgments
• Index
• About the Author
"My Mirror, my mirror," by Tara Carreon

[Manly P. Hall] Yorty for President.

[Sam Yorty] "A Declaration of War Against America ..."

Lycanthropy is folklore associated with the name of Lycaon, mythical king of Arcadia, who was changed into a wolf by Zeus who was offended because the king made him an offering of human flesh. In many myths persons are changed into animals as punishment for evil deeds, but in most cases these merely signify that the animal nature dominates vicious persons and they become human beasts. Accounts of lycanthropy do not imply that the physical body of the wizard or witch changed into a wolf, but rather that the soul or 'double' of the sorcerer assumed the appearance of the wolf.

-- Healing: The Divine Art, by Manly P. Hall
Sirhan was the name of an ancient tribe that roamed the Syrian Desert and means "wolf" in Arabic.

-- Who Killed Bobby Kennedy?: The Unsolved Murder of Robert F. Kennedy, by Shane O'Sullivan