Appendix II: Patterns Among Individuals
To broaden our understanding of why some people obey and others defy the experimenter, a number of individual tests were given to the subjects. To see whether obedient and disobedient subjects differ in their concept of responsibility, subjects in the first four experimental conditions were exposed to a "responsibility clock." This consisted of a disk which the subject could divide into three segments by means of movable rods rotating from the center. The subject, after performing in the experiment, was asked to "cut slices of pie" proportional to the responsibility of the three participants in the experiment (experimenter, subject, and victim). We asked, "How much is each of us responsible for the fact that this person was given electric shocks against his will?" The experimenter read off the results directly on the back of the disk, which is graduated in the manner of a 360-degree protractor.
On the whole, subjects did not have very much difficulty performing the task. And the results for 118 subjects for whom the test was given are shown in Table 9.
Table 9. Assignment of Responsibility by Defiant and Obedient Subjects
The major finding is that the defiant subjects see themselves as principally responsible for the suffering of the learner, assigning 48 percent of the total responsibility to themselves and 39 percent to the experimenter. The balance tips slightly for the obedient subjects, who do not see themselves as any more responsible than the experimenter, and indeed, are willing to accept slightly less of the responsibility. A larger difference occurs in assigning responsibility to the learner. The obedient subjects assign him about twice as large a share of the responsibility for his own suffering as do the defiant subjects. When questioned on this matter, they point to the fact that he volunteered for the experiment and did not learn very efficiently.
Thus, the defiant subjects, more often than obedient subjects, attribute primary responsibility to themselves. And they attribute less responsibility to the learner. Of course, these measures were obtained after the subject's performance, and we do not know if they constitute enduring predispositions of the obedient and defiant subjects, or whether they were post facto adjustments of thought.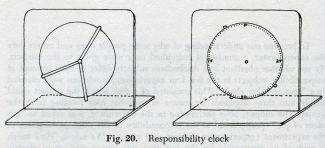 Fig. 20. Responsibility clock
Dr. Alan Elms administered a number of psychological tests to about twenty obedient and twenty defiant subjects who had performed in the proximity series. His major finding is that there was a relationship between obedience in the experiment and score on the F scale. This is a scale developed by Adorno and his associates to measure fascistic tendencies (1950), and Elms found that those subjects who had obeyed showed a greater degree of authoritarianism (a higher F score) than those who refused to obey. Offhand, this sounds somewhat tautological but Elms explains:
The relationship between obedience and some elements of authoritarianism seems fairly strong; and it should be remembered that the measure of obedience is a measure of actual submission to authority, not just what a person says he's likely to do. Too much of the research on authoritarianism ... has been on the level of paper-and-pencil responses, which don't necessarily get translated into behavior. But here we have people either obeying or refusing the demands of authority, in a realistic and highly disturbing situation.... So it does look as if those researchers in the late 40's had something, something which can be translated from abstract tendencies into actual authoritarian behavior: submitting to the man in command, punishing the weaker subordinate. (page 133) (A. C. Elms, Social Psychology and Social Relevance, 1972)
The relationship between the measure on the F scale and performance in the experiment, although suggestive, is not very strong, owing in part, I think, to the imperfection of paper-and-pencil measuring devices. It is hard to relate performance to personality because we really do not know very much about how to measure personality.
Still another effort to find correlates of obedience was undertaken by Dr. Lawrence Kohlberg, a colleague of mine at Yale University. Dr. Kohlberg had developed a scale of moral development, which is based on the theory that individuals pass through a number of stages of moral judgment as they mature. Using a group of 34 Yale undergraduates who had served in pilot studies, he found that those who broke off were at a higher level of moral development than those who remained obedient. Again, the findings are suggestive, though not very strong (Kohlberg, 1965).
I had also collected background information on subjects immediately after participation in the experiment. The findings, although generally weak, pointed in the following directions. Republicans and Democrats were not significantly different in obedience levels; Catholics were more obedient than Jews or Protestants. The better educated were more defiant than the less well educated. Those in the moral professions of law, medicine, and teaching showed greater defiance than those in the more technical professions, such as engineering and physical science. The longer one's military service, the more obedience -- except that former officers were less obedient than those who served only as enlisted men, regardless of length of service. These were the findings when subjects in the first four experimental conditions (the proximity series) were studied. Many of these findings "washed out" when further experimental conditions were added in, for reasons that were somewhat mysterious to me. (It is true, of course, that the meaning of obedience and disobedience changes from one condition to the next.) My over-all reaction was to wonder at how few correlates there were of obedience and disobedience and how weakly they are related to the observed behavior. 1 am certain that there is a complex personality basis to obedience and disobedience. But I know we have not found it.
In any event it would be a mistake to believe that any single temperamental quality is associated with disobedience, or to make the simpleminded statement that kindly and good persons disobey while those who are cruel do not. There are simply too many points in the processes at hand at which various components of the personality can play complicated roles to allow any oversimplified generalizations. Moreover, the disposition a person brings to the experiment is probably less important a cause of his behavior than most readers assume. For the social psychology of this century reveals a major lesson: often, it is not so much the kind of person a man is as the kind of situation in which he finds himself that determines how he will act.