Aleksey Vayner has died.
By John Carney, Senior Editor, CNBC.com
Monday, 28 Jan 2013
NOTICE: THIS WORK MAY BE PROTECTED BY COPYRIGHT
YOU ARE REQUIRED TO READ

THE COPYRIGHT NOTICE AT THIS LINK

BEFORE YOU READ THE FOLLOWING WORK, THAT IS AVAILABLE SOLELY FOR PRIVATE STUDY, SCHOLARSHIP OR RESEARCH PURSUANT TO 17 U.S.C. SECTION 107 AND 108. IN THE EVENT THAT THE LIBRARY DETERMINES THAT UNLAWFUL COPYING OF THIS WORK HAS OCCURRED, THE LIBRARY HAS THE RIGHT TO BLOCK THE I.P. ADDRESS AT WHICH THE UNLAWFUL COPYING APPEARED TO HAVE OCCURRED. THANK YOU FOR RESPECTING THE RIGHTS OF COPYRIGHT OWNERS.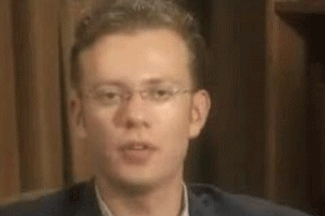 Vayner's death was first reported by the website IvyGate, and later confirmed by a relative who spoke to Gawker.com. New York Daily News also confirmed the story.
"It looks like he took some drugs or medicine, had a heart attack, a friend of his drove him to the hospital, and they couldn't resuscitate him," a person Gawker identifies as a cousin-in-law said over the phone this afternoon. "Not exactly sure though."
The New York City Medical Examiner public affairs office confirmed to several media outlets that a 29-year-old man named Alexander Stone died in Jamaica Hospital in Queens, NY Saturday. Apparently, Stone was Vayner.
Six and a half years ago, Wall Street people at a half-dozen firms were suddenly sending Vayner's resume to DealBreaker.com, where I was editor.
The resume, which Vayner had sent to several investment banks in hopes of landing a position, was certainly impressive—if it could be believed. Still an undergraduate, Vayner claimed to have founded a charity for troubled kids, started an investment advisory business called Vayner Capital Management, and to have published a book title Women's Silent Tears; A Unique Gendered Perspective On The Holocaust.
The resume also listed his experience in ballroom dancing, powerlifting (specifically noting he could bench press 495 pounds), and martial arts (Tai Chi Chuan master; Shaolin Kung Fu 8th Dan). Most importantly, he included a link to a video entitled "Impossible Is Nothing." (Someone has reposted it to YouTube, so you can watch it here.) [dead link]
Here's how DealBook described the video:
A Zen-like koan — "Impossible is nothing" — introduces the seven-minute clip, which shows Mr. Vayner performing various feats of physical strength and skill, interspersed with inspirational maxims. Viewers are presented with images of Mr. Vayner bench-pressing weights (a caption suggests it is 495 pounds), playing tennis (firing off what is said to be a 140 mile-per-hour serve) and performing martial arts (he breaks seven bricks with his palm).


The tone of the video seems too serious to be parody, yet too over-the-top to be credible. After sharing the clip, fellow students at Yale began to share their favorite Aleksey-style tall tales, notably involving reminiscences of bare-handed killings and nuclear waste.
The cover letter for his resume stated:
I strive in intense, competitive environments. As a world-level athlete in several sports, I have developed an insatiable appetite for peak performance and continuous learning. My trainer and world martial arts champion often said, "Impossible is just someone's opinion." I live by those words. My unique mix of previous work experience and my record as a professional athlete demonstrate a level of focus, a pattern of setting and achieving objectives, as well as adaptation to change.

I live everyday with passion because I embrace change as a daily challenge. Nothing will prevail over genuine human relations because we succeed as a team, or we fail as individuals.
It was all so over-the-top that I doubted its veracity. It seemed like a prank. A hoax. Even his name seemed to be too much. Vayner: Vainer: More Vain.
In the end, we decided it was authentic. So DealBreaker linked to the video on Vayner's website. It became the biggest story we had ever run. Stories in the New York Times, the New Yorker, Gawker, IvyGate, the New York Post, and Nightline followed. Dealbook described it as "The Resume Mocked Around The World."

Looking back now, I think its safe to say that Vayner was in some ways a victim of technological innovation. YouTube was less than a year old. The ability to include a link to a video on your resume was brand new. The rules for such things weren't yet well-understood. Someone was bound to make an epic error in judgment. Vayner got to be that someone.
In the context of a Yale undergraduate applying to an investment bank, Vayner's video seems ridiculous. But perhaps his error was just choosing the wrong field. Donny Deutsch, for example, said that he would have given Vayner a job. Someone of Vayner's ilk might not have belonged on Wall Street. But show business, especially reality television, would have suited him nicely.
Vayner was actually already famous at Yale. Even before his freshman year began, the campus tabloid Rumpus published a story about him, entitled "Craaazy prefrosh lies, is just weird." At an event for high school seniors admitted to Yale, Vayner—then using the name Garber—had bragged about being an action star, about secret martial arts tournaments held in caves, and about an affiliation with the CIA. No one believed him but he certainly became something of a campus celebrity.
For years, I didn't know what became of Vayner. We traded an email or two back in 2006, when he sent DealBreaker a cease and desist letter asking that we take down the video. (We had to point out that we weren't actually hosting the video, just linking to his own website.) But he stopped responding to me.
I did track down his YouTube account. As recently as 8 months ago, he was still posting videos of himself. In one of the videos, he claims that the "Impossible Is Nothing" was a tribute to his martial arts teacher and was taken out of context when it received public attention.
Gawker reports that he was using the name Alex Stone, most likely in an attempt to avoid the notoriety attached to the name Aleksey Vayner.
Rest in peace Aleksey.