Part 1 of 2
The CIA's Role in the Anthrax Mailings: Could Our Spies Be Agents For Military Industrial Sabotage, Terrorism, and Even Population Control?
A Special Report Expressly Prepared for Simultaneous Publication in The Spectrum and Media ByPass
from Tetrahedron Website
by Leonard G. Horowitz, D.M.D., M.A., M.P.H.*
2001
NOTICE: THIS WORK MAY BE PROTECTED BY COPYRIGHT
YOU ARE REQUIRED TO READ

THE COPYRIGHT NOTICE AT THIS LINK

BEFORE YOU READ THE FOLLOWING WORK, THAT IS AVAILABLE SOLELY FOR PRIVATE STUDY, SCHOLARSHIP OR RESEARCH PURSUANT TO 17 U.S.C. SECTION 107 AND 108. IN THE EVENT THAT THE LIBRARY DETERMINES THAT UNLAWFUL COPYING OF THIS WORK HAS OCCURRED, THE LIBRARY HAS THE RIGHT TO BLOCK THE I.P. ADDRESS AT WHICH THE UNLAWFUL COPYING APPEARED TO HAVE OCCURRED. THANK YOU FOR RESPECTING THE RIGHTS OF COPYRIGHT OWNERS.
On October 1, 2001 - approximately two weeks before the first publicly announced anthrax mailing - Federal Bureau of Investigation (FBI) officials received an urgent warning from this author.(1)
Government investigators were directed to consider the growing anthrax fright as the planned response to military-style propaganda.
The American news media's coverage of anthrax, and subsequently the anthrax mailings, held many similarities to what military officials in previous years called psychological operations (PSYOPs) for command and control warfare (C2W).
The primary objectives in this unique anthrax campaign appeared to be pharmaceuticals sales and forced "emergency" legislation effecting stringent population controls.
Broadcasters such as Peter Jennings on the ABC Nightly News (September 26, 2001) featured the Bayer pharmaceutical company's anthrax antibiotic Cipro, without mention of far less costly and risky alternatives to mass population prophylaxis. The Food and Drug Administration (FDA) and Centers for Disease Control and Prevention (CDC) advanced Cipro for anthrax along with a "Model State Emergency Health Powers Act" for generic bioterrorism response including forced drugging and certain vaccinations for anthrax and smallpox.(2)
Due to the panic and official endorsements, Cipro sales skyrocketed more than 1000%. At a single consumer prescription cost of $700 for a mere sixty-day supply, the resulting revenue helped rescue Bayer from the brink of bankruptcy.(3) Then, Department of Health and Human Services (HHS) Secretary Tommy Thompson rushed to spend millions more on a "special" Cipro contract in further defense of the nation's health.(4)
By November, in the wake of the anthrax mailings, more than 30,000 panicked people in the United States were taking Cipro.(5) Unreported by the media was the grave likelihood that given Cipro's myriad side effects, and largely untested status, more people had died from taking the drug than the handful who had succumbed from the anthrax mailings.
Meanwhile, the deadly mailings - a form of serial homicide - had seemingly stumped our nation's most adroit sleuths. From my perspective as a Harvard-trained behavioral scientist and public health authority with special expertise in media persuasion technologies, this apparent military-industrial PSYOPs was so obvious I felt compelled to report it to the FBI. It was, after all, my constitutional duty as an American citizen and public health professional to do so.
Between 1990 and 1993 I became familiar with the FBI's official methods and materials for investigating and solving such serial homicides. My ninth book, in fact, Deadly Innocence: The Kimberly Bergalis Case-Solving the Greatest Mystery in the Annals of American Medicine, dealt largely with the FBI's "motivational model" for serial homicide. I used it to evaluate the apparently intentional spread of an infectious agent - the AIDS virus (HIV) - by a Florida dentist in his effort to bring national media attention to his conclusion that the AIDS-virus, from which he was dying, was a government biological weapons laboratory creation.
He believed that the genocidal weapon was subsequently distributed through contaminated vaccines.
Prior to this book, I published three peer-reviewed scientific articles that employed the bureau's "motivational model."
The core of the FBI's investigative protocol involved reviewing the developmental histories of their principle suspects, while analyzing their potential motives to best explain the murders. The same approach was indicated in the anthrax mailings investigation, I reckoned.(6)
It took approximately two months before my initial concerns regarding the Bayer corporation and Cipro sales scam were taken seriously. Not by federal investigators, mind you, but by a small portion of the national news media
led by the Washington Times
.(7)
On December 2 and 3, 2001, following numerous press releases sent to mainstream science reporters and news sources by our affiliated organizations and networks, the New York Times finally focused on the concerns I initially raised regarding the likelihood that U.S. military biological weapons contractors were the source of the anthrax-mailings.(8)
This article relays additional evidence that these criminal offenses are best explained by a relatively new treasonous form of military-industrial sabotage and terrorism in support of population control approaching economic genocide in support of the political pursuits of globalization.
This conclusion is supported by massive evidence compiled in the prophetically titled book Death in the Air: Globalism, Terrorism and Toxic Warfare that preceded the horrible events of September 11, 2001, along with the public access reports cited herein.
While introducing a definitive 20-page referenced report on the anthrax mailings on December 10, 2001, that eventually reached close to 500,000 readers through the Internet, I wrote that,
"amazingly, despite generally perceived limitations on freedom of the press, enough truths are still told today to allow determined investigators and journalists to piece little known facts together to reflect broad, sociopolitical criminal realities."
At that time I was unaware that in the days following that report several mainstream newspapers, including the Baltimore Sun, New York Times, and Washington Post, would be following my leads and additionally supporting my conclusions with the testimonies of many anonymous experts and officials who, like me, felt compelled to relay urgent truths in defense of the American people.
The following report provides important background on the suspects implicated in the anthrax mailings. As with every official FBI investigation of suspects in serial slayings, a review of the developmental histories of chief suspects was conducted while considering military-industrial sabotage and terrorism as a possible motive for the crime of sending anthrax through the mail.
From this knowledge, chief suspects were identified, and a determination of the primary, if not sole, source of the mailed anthrax was made.
The evidence strongly suggests a conspiracy to commit military-industrial sabotage, terrorism, and treason against America involving anthrax developers at the Battelle Memorial Institute and collaborating agents within the Central Intelligence Agency (CIA) and/or national security system.
Background
On April 24, 1997, a package containing a Petri dish labeled "anthrachs" was received by the B'nai B'rith in Washington, D.C. According to researchers reporting in the Bulletin of the Atomic Scientists this triggered a new era in mailed anthrax hoaxes and threats. (9)
By February 1999, the CDC reported that seven major anthrax threats were recorded during a three month period in 1998. Perhaps not coincidentally, the same day this report was issued, the media reported four more incidents.(9)
Among the first to suspect military-industrial terrorism involving anthrax was Leonard A. Cole, a political scientist at Rutgers University in Newark, New Jersey. He recalled that the letters claiming to contain anthrax, much like those in recent mailings to news sources,
"arrived at the Washington Post and... at an NBC news office in Atlanta."
He, like many political observers, balked at the unprecedented announcement by Defense Secretary William Cohen on national television concerning a "5-pound bag of Domino sugar" the military official likened to powdered anthrax. Mr. Cole wrote that the,
"military's controversial decision to vaccinate U.S. troops against anthrax," gave the anthrax threat a "special cachet."
I wrote, at that time, Mr. Cohen's behavior was virtually treasonous. After all, when in America's history had our military leader(s) publicized our nation's greatest attack vulnerabilities?
A new military mentality, if not a form of psychological warfare, had obviously foreshadowed current events. In Death in the Air: Globalism, Terrorism and Toxic Warfare,(10) the use of such "PSYOPs" - psychological operations - was predicted to facilitate severe curtailments of American civil liberties.
Professor Cole editorialized that such threats of bioterrorism,
"reportedly brandished by an assortment of 'rogue states,' helped the Pentagon, justify its still sizable post-Cold War military budget."
Might all of this reflect the officially heralded, though mostly classified, "Revolution in Military Affairs"?
(11)
Within days of the anthrax hoax at the B'nai B'rith, FBI director Louis Freeh suddenly offered a very different view from that which had been previously expressed by leading military and intelligence officials regarding the risk of bioterrorism. The acquisition or use of biological weapons by individuals or terrorist groups, he stated, constituted "one of the gravest threats to the United States."(9)
Discerning the change in articulated official policy and its economic ramifications, Professor Cole lamented over the soaring bioterrorism budget - $1.4 billion at that time.
"Even bioscientists who think the threat is exaggerated are reluctant to contradict officials who say it is 'only a matter of time' before one of the many anthrax alarms turns out to be real," he wrote.(9)
In a related article, Jonathan B. Tucker, director of the Chemical and Biological Weapons (CBW) Nonproliferation Project at Monterey Institute of International Studies, and his associate Amy Sands, director of the Monitoring Proliferation Threats Project at that Institute, discussed anthrax-related hysteria.
They reflected on,
"the tendency of U.S. government officials to exaggerate the threat of chemical and biological terrorism" which they wrote was "reinforced by sensational reporting in the press and an obsessive fascination with catastrophic terrorism in Hollywood films, best-selling books, and other mainstays of pop culture."
Had their writing not preceded the Hollywood production called "Wag the Dog" they might have modified their dismal view of "Tinseltown" truth-tellers.(12)
Likewise, in the Washington Post (March 16, 1999), science policy analyst Daniel S. Greenberg criticized what he called,
"a whiff of hysteria-fanning and budget opportunism in the scary scenarios of the saviors who have stepped forward against the menace of bioterrorism.... While a gullible press echoes [their] frightening warnings, there are no independent assessments of the potential for terrorist attacks or the practicality of the proposed responses."

(12)
Indeed, these scholarly assessments foreshadowed today's news headlines concerning the official origin of the mailed anthrax-reports that seriously implicate military defense contractors, if not government officials themselves. What many may wish to believe is an appropriate National Security response to threatened bioterrorist attacks, is best explained by the words on the back of every dollar bill - "Novo Ordo Seclorum." [Google translate: New World Order clan]
Without entertaining broad conspiracy theories, current events demonstrate a "New World Order" is certainly evolving from militarily managed chaos.
Investigating the Primary Suspects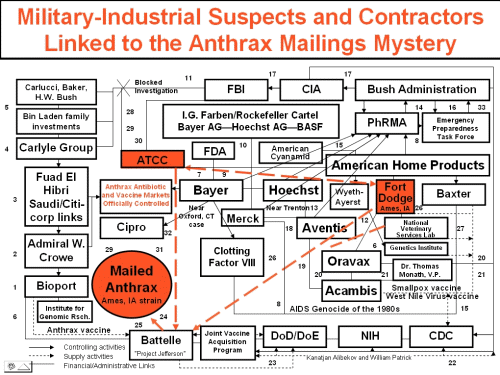 (Numbers correspond to those on above flow chart.)
Most people affected by this apparent mass-mediated military-industrial PSYOPs cannot fathom a conspiracy of this extent or nature.
The accompanying diagram (above) may help those who wish to help themselves to a most rational explanation of the anthrax mailings and related outcomes. I composed this flow chart to accompany my special report to the FBI and the mass media. It depicts the relationships between the chief military-industrial suspects, and is best reviewed in sequence according to the following numbered text.
This flow chart evidences the organizational dynamics upon which a relatively broad anthrax mailings conspiracy was apparently effected. Again, the following numbered text items, corresponding to the numbers provided on the flow chart, provides information evidencing a military-industrial conspiracy to commit sabotage through the U.S. mail.
In this way, media coverage and terrorism was effected in support of economic agendas and political concessions, including highly restrictive legislation, that has grossly compromised the civil rights of every American.
Background on the Anthrax Vaccine Maker - Bioport
1. In March 16, 1999, Robert C. Myers, DVM, Chief Operating Officer of BioPort-America's only anthrax vaccine maker-appealed to a Senate Appropriations Committee for urgent funding for both anthrax and smallpox vaccines.
In 1996, in his own words, he,
"was part of a team of organizations, led by Battelle Memorial Institute, which came together to compete for the [Department of Defense's Joint Vaccine Acquisition Program] JVAP. Despite there being dozens of potential bioterrorist threats, Dr. Myers stated these two threats were the greatest since anthrax is easy to handle and "because smallpox is highly contagious and probably most of the world is now susceptible. . . ."
He also testified,
"Suppose we have a smallpox vaccine stockpile and a manufacturing capability... Funding for adequate security must be included in this program if the threat is to be optimally minimized. Included in these security measures and to prevent against natural disaster, there should be two or more geographical separate manufacturing facilities and two or more facilities for storage of the manufactured vaccine."
He further stated that few companies wished to become involved in the production of anthrax and smallpox vaccines due to the high expense and risks involved in research and development. Today, the only other companies linked to smallpox vaccine production include Baxter, Aventis (Hoechst-Rhone Poulenc subsidiary) OraVax/Acambis, and Fort Dodge Animal Health as detailed in the accompanying above flow chart.(13)
2. The preceding year (September 1998), Bioport Corporation took over a failing anthrax vaccine business from state-owned Michigan Biologic Products Institute. Less than a month later, the company landed an exclusive $29 million contract with the Department of Defense to "manufacture, test, bottle and store the anthrax vaccine."
Admiral William J. Crowe, Jr., a former Chairman of the Joint Chiefs of Staff and close personal aid to President Clinton, with no financial investment of his own, received 22.5% of Bioport's stock to promote, secure, and manage military anthrax vaccine contracts.(14)
3.
Bioport's principal investor was Saudi business man Fuad El-Hibri - a close friend of the bin Laden family, and a previous merger and acquisitions manager for the Rockefeller-linked Citigroup in New York.(14,15)
According to some investigators,(16) additional Bioport shares were believed to be held by The Carlyle Management Group - America's 11th leading defense contractor largely directed by past CIA director Frank Carlucci, James Baker III, George H.W. Bush, and former British Prime Minister John Major.
4. According to the Associated Press, Past President George H.W. Bush acts as a business agent for the Carlyle Group and wealthy Saudi families including the bin Ladens.(17)
Journalist Ian Gurney provided additional evidence linking Osama bin Laden's al-Qaeda network to Bioport in a report issued over the Internet on December 19, 2001. According to the original story published on December 1, by the Pakistan News Service, documents originating from the US Defense Department that referred to Bioport, Inc. were found in the possession of the al-Qaeda in Kabul, Afghanistan.
The documents contained highlighted items and stars scribbled across the top of one page. According to Bioport spokeswoman Kim Brennen Root,
"The document was a report on the environmental impact of renovations to our Lansing, Michigan plant, not a 'how-to' manual on making the vaccine."
The Bioport official surmised,
"The discovery supports the notion that the al-Qaeda and the Taliban have been studying biological warfare and protecting against weapons of mass destruction,"
...despite
the greater likelihood that Osama bin Laden, in light of the above revelations - his family's investments in the Carlyle Group and ties to Bioport principle Fuad El Hibri - desired to keep tabs on their alleged Bioport investments.(18)
5.
According to Forensic Intelligence International investigator Dr. Stephen P. Dresch, in a report submitted to Henry J. Hyde, Chairman of the Committee on International Relations, two suspicious deaths of biological weapons experts, Larry C. Ford and Vladimir Pasenchnik, may reflect the criminal mentality and behavior of principle suspects in the anthrax mailings investigation, especially those with direct links to Bioport - a virtual front for the British oligarchy controlled Porton Down establishment.
(See side bar detailing "Mysterious Deaths.")
6. From 1998 to the present, Bioport has successfully negotiated through a steady storm of controversy and illegalities to secure ongoing defense contracts and government endorsements for anthrax vaccine.(14,15,19)
On December 19-20, The New York Times reported that Bioport's vaccine was being offered by government officials to civilians possibly exposed to the mailed anthrax.

In response, Connecticut Republican Representative Christopher Shays articulated the opposition's concern regarding the general danger for people "to take a vaccine that hasn't been approved by the FDA and that was made in a plant that hasn't been approved either."(19)
Background on Anthrax Antibiotic Maker-Bayer
7.
In July 2000, Germany's Bayer AG negotiated an unprecedented sole endorsement by the FDA of the antibiotic Cipro for anthrax, despite the drug's high risk, high price, and largely untested status
.(7) Shortly thereafter, USA Today reported a study of conflicting interests on the FDA advisory committees endorsing drug policies.
Author Dennis Cauchon wrote that between January 1, 1998 and June 30, 2000, during 92% of the 159 meetings,
"at least one member had a financial conflict of interest. At 55% of meetings, half or more of the FDA advisers had conflicts of interest. Conflicts were most frequent at the 57 meetings when broader issues were discussed: 92% of members had conflicts. At the 102 meetings dealing with the fate of a specific drug, 33% of the experts had a financial conflict."(20)
Given this background, it is most reasonable to speculate that the FDA's unprecedented sole antibiotic endorsement of Bayer's largely untested and outrageously expensive Cipro for anthrax likewise reflected special and grossly conflicting financial interest.
8.

During the 1980s, Bayer AG and Baxter Healthcare both marketed blood clotting factor VIII. Both firms were found guilty of knowingly transmitting the AIDS virus (HIV) to more than 7,000 American hemophiliacs. Both firms settled out of court for what amounted to economically motivated genocide.(21)
9.
World War II military background on Bayer: Company President, Hermann Schmitz, also directed Germany's leading industrial organization - I.G. Farben. He was found guilty at Nuremberg trials for running Nazi concentration labor camps. He merely served four years in prison. According to CBS News war correspondent Paul Manning, Schmitz held more shares of Rockefeller Standard Oil Co. stock than the Rockefellers. Farben's principle partner, the Rockefellers, profited greatly from World War II. A Federal Court judgment cited the Standard Oil Co. as America's "Enemy National," that is, a "traitor."Bayer was blacklisted at that time by the U.S. Federal Government.(22)
10. During the late 1940s, I.G. Farben was "decartelized" by the Allied High Commission led by America's John J. McCloy - a Philadelphia banker and lawyer with intimate ties to Rockefeller oil and banking interests. Farben stockholders received equal shares of Bayer, Hoechst, and BASF stock.(10,22,23)
Related Smallpox Vaccine Makers-American Home Products/Baxter and Fort Dodge, Hoechst/Aventis/Oravax-Acambis
11.
American Home Products (AHP) was formed in 1926 but evolved largely under the same direction as Bayer, Hoechst and BASF, that is, from I.G. Farben/Rockefeller financial interests according to cancer investigator and author G. Edward Griffin.(24)
During WWII, Ayerst Laboratories joined AHP and Wyeth International Limited was formed. This company went on to "perfect" the smallpox vaccine according to company promotions.(25)
12.
The Genetics Institute, an offshoot of the Rockefeller initiated and dominated genetics industry, is a biotech research unit of AHP/Wyeth-Ayerst. The Institute contributes to Baxter's product line of genetically engineered products, as does AHP, including the smallpox vaccine.(10,26,27)
13. Aventis Pharma, with headquarters in Frankfurt, Germany-coincidentally the home of I.G. Farben and the post-war CIA-was formed by Hoechst AG and Rhone-Poulenc S.A. during their merger in 1999. American headquarters of the company are not far from Trenton, NJ in Bridgewater.(28)
14.
The politically powerful Pharmaceutical Research and Manufacturers Association (PhRMA) is directed by Aventis's CEO Richard Markham. Mr. Markham is also Chairman of the Task Force on Emergency Preparedness that meets regularly with Bush administration officials. The Bayer and Merck companies are also heavily represented in PhRMA and its bioterrorism task force.(28)
(Merck should be recalled as the primary recipient of the Nazi "flight capital" on August 10, 1944 at the time the company's president, George W. Merck, was America's biological weapons industry director.(29))
According to Paul Manning, who credited CIA director Allen Dulles for his intelligence and guidance in Martin Bormann: Nazi in Exile, the "flight capital scheme" assured the rise of the Fourth Reich, alternatively called the "Neuordnung" - New Order, for the global petrochemical-pharmaceutical and banking cartels, according to Farben documents discussed by Manning and others.(22,30)
15. One example of the steady stream of incestuous mergers and acquisitions within the IG Farben/Rockefeller cartel, is American Cyanamid's purchase by AHP in 1994.
American Cyanamid is infamous for producing, through Lederle Labs, monkey cancer virus contaminated polio vaccines linked to several contemporary human cancer epidemics.(29)
AHP then sold its Cyanamid Agricultural Products business, including carcinogenic pesticides said to reduce the spread of the West Nile virus, to BASF Aktiengesellschaft in June 2000.(31)
Current Events Potentially Impacting the Anthrax Mailing Investigation
16.
PhRMA officials have met regularly and illegally with Bush administration officials under the auspices of "emergency preparedness" according to The Public Citizen in November, 2001. Multi-million dollar drug and vaccine contracts have emerged from these mostly secret meetings that violate the Federal Advisory Committee Act-a transparency law enacted to protect consumers against closed-door dealings between government and special interests.(32)
17.
The BBC and London's leading Sunday newspaper, The Guardian, reported (Nov. 7, 2001) that the Bush administration, through the CIA, hog-tied the FBI in their investigations linking Bush family and bin Laden family investments, including commonly held stock in the Carlyle Management Group. This may have profoundly suppressive implications affecting the indicated investigations of Bioport and Battelle Labs for this and other reasons cited below.(33)
18. Based in Bridgewater, New Jersey, Aventis Pharma AG sought and received a lucrative smallpox vaccine order from the U.S. government. Along with Bayer, Hoechst, and Merck & Co. all four firms have major plants within 45-minutes drive of Trenton, NJ where most of the anthrax mailings originated. Aventis's European operations are jointly (50:50) owned by Merck & Co.(34)
19. Aventis collaborates with Oravax/Acambis to produce enough smallpox vaccine for the federal government's large order, and fulfills Bioport's Chief Operating Officer, Robert Myers's recommendations to the U.S. Congress that his company, and at least one other, be able to produce critical anthrax and smallpox vaccines.
The Aventis/Acambis 20-year contract, awarded by the CDC, is worth approximately $343 million for a 40-million dose stockpile.(13, 34, 35)
20. Acambis-evolved from OraVax-allied with Baxter Heathcare to produce smallpox and West Nile virus vaccines. Aventis fully funds the OraVax/Acambis dengue fever vaccine and subsidizes other joint ventures. Months before 9-11, the CDC awarded Acambis a 20-year contract to develop a new smallpox vaccine.(36)
Apparent Origin of the Weaponized Anthrax-The Chief Suspects
21.
In April, 1998, OraVax/Acambis Vice President, Dr. Thomas Monath met with President Clinton, New York's Emergency Management Director, Jerry Hauer, Rockefeller University president emeritus and American Type Culture Collection (ATCC) curator, Dr. Joshua Lederberg, CIA Director John Deutsch, and government biological weapons expert William C. Patrick, III, to discuss/negotiate the first of several multimillion dollar anthrax, smallpox, and West Nile virus vaccine contracts.
According to New York Times reporters William Broad and Judith Miller,(37) "seven scientists endorsed the stockpile."
These included "two men who stood to gain financially from the decision...." These men included Dr. Monath and Dr. J. Craig Venter, president of The Institute for Genomic Research near Washington working on anthrax genetics.
"The apparent consensus on acquiring vaccines masked deep divisions among scientists and military officials," according to the Times reporters

.(10,37)
22.
Around the same time, according to New York Times reporter William Broad,(8) William C. Patrick, III, was commissioned to compile a report for an undisclosed government contractor concerning the ramifications of mailing aerosolizable anthrax.
In an earlier report,(8) investigators Broad and Miller cited the published paper of Dr. Barbara Hatch Rosenberg, a,
"private expert in biological weapons," in which she contended "that a government insider, or someone in contact with an insider, . . ." was responsible for the mailed anthrax. "One official close to the federal investigation called the Rosenberg theory 'the most likely hypothesis,'" according to the New York Times article

.
Given this most credible theory, obvious suspects among the government "insiders" with economic and/or political motives to mail anthrax for military-industrial espionage related outcomes are Bioport - sole maker of the anthrax vaccine; allied smallpox vaccine makers OraVax/Acambis, Baxter, Aventis, Bayer-the anthrax antibiotic profiteer; and most importantly the principle government and U.S. military contractor - Batelle Memorial Institute's Chemical and Biological Information Analysis Center with bioweapons research, development, and testing labs in West Jefferson, Ohio and Dugway Proving Grounds in Utah.
(See the summary of Battelle's CBW operations by clicking here:
http://www.nbcindustrygroup.com/battel.htm
)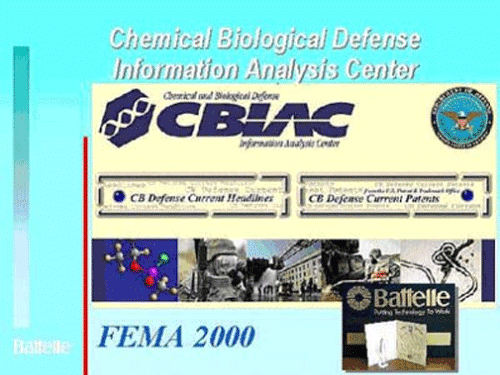 Astonishingly, a photograph of the specific building in which the Ames strain of hyper-weaponized powdered anthrax was tested appears courtesy of the Federal Emergency Management Agency (FEMA) from one of their educational slide presentations.
This photo further establishes, as detailed in BMI's operations description, the direct association between the Dugway Proving Grounds "Life Sciences Facilities" and BMI's "Aerosol Engineering & Biological Sciences Facilities." (38,39)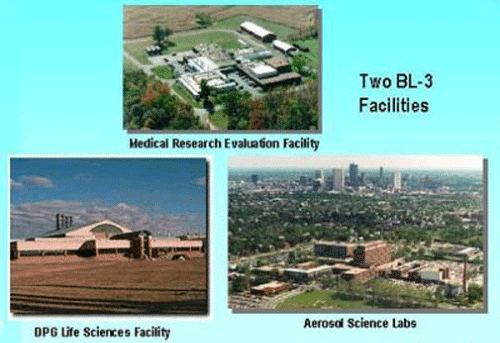 See the below second side bar for information concerning Battelle's "Defense Enterprise Integration Services" and their logo that apparently reflects the secret coding system used by the British oligarchy's MI6, their Secret Service.
23.
Most heavily implicated is Battelle and Bioport, both of which maintain financial and administrative links to highest level U.S. National Security officials, top government "defense" agencies in the United States and Britain, the DoD's "Joint Vaccine Acquisition Program," and the manufacture of the anthrax vaccine domestically and in the U.K. Based on a September 7, 2001 Associated Press report, a "new strain" of extremely lethal anthrax had been under development before September 2001, by an unnamed U.S. biological weapons contractor. This fit William Patrick's report in which he "said the American [anthrax] program had achieved a concentration of one trillion spores per gram."

How was William Patrick privy to this classified intelligence unless he had consulted, or worked, on the development?
According to William Broad's New York Times article,(3) this concentration of the Ames, IA strain of anthrax was unprecedented throughout the world. Even the Soviets were unable to produce weaponized anthrax concentrated beyond 500 billion spores per gram according to top Russian anthrax expert (employed by the CIA) Dr. Kanatjan Alibekov (alias, "Ken Alibek").
No one else had come close to describing such concentrated anthrax powder. Given this astonishing difference alone, the FBI should have been able to quickly determine the few, if not single, U.S. military bioweapons contractor(s) capable of this unprecedented feat simply by interrogating William Patrick.
Facetiously, I reported to my radio audience on the World Wide Christian Network on December 3, 2001, this tip may be worth $1 million according to the New York Times.(40)
24.
Keenly related, First Amendment Press investigator Christopher Williams, determined that a recent U.S. military project to develop this advanced type of weapons-grade anthrax was reported by the Associated Press. In the article, Russian munitions expert Alexander Gorbovsky voiced his government's concerns regarding the increased threat posed by the obviously active U.S. biological weapons program-a program that according to all mainstream media reports had died with President Nixon's signing of the 1925 Geneva Accord in 1969.
So much for accurate reporting! (Emerging Viruses: AIDS and Ebola-Nature, Accident or Intentional? also reviews the
Frank Church Congressional investigation into the CIA's illegal storage and testing of biological weapons during the 1970s. Reprinted herein is a 1975 document from the Director of Central Intelligence that shows 100 grams of Bacillus anthracis was illegally maintained by the agency.)
(29)
In early December 2000, an anonymous source at the Pentagon told Mr. Williams that Battelle's anthrax program was referred to as "Project Jefferson." Further research by Williams revealed Battelle Memorial Institute's laboratories in West Jefferson, Ohio had been contracted for this purpose.(41)
This operation was ongoing around the same time U.S. military anthrax specialist William Patrick's report on the ramifications of mailed anthrax powder, commissioned by an unidentified "contractor" - apparently Battelle - was being completed.(8) In other words, that was why Patrick was privy to this classified intelligence.
25.
According to admitted CIA consultant and exposed bioterror-propagandist Richard Preston,(29) William Patrick and "Ken Alibek" were very "close friends!"(42) Moreover, both leading anthrax experts held classified consulting contracts with the CIA. In this article, Preston revealed that Alibek, besides using CIA provided VISA cards, was then working at the Battelle Memorial Institute (BMI).
BMI, according to its website, is a virtual one-stop-shopping-center for U.S. and foreign militaries, the Department of Energy, the national security industries and the agencies, organizations, and institutions evaluating every major aspect of modern methods of population and environmental control and warfare.
With nearly $1 billion of business volume annually, Battelle's 7,500 scientists, engineers and support specialists, have designed and developed a wide variety of innovations from the uranium used in the top secret "Manhattan Project" of WWII to the Xerox copying process.
In addition to their voluminous research, development, and testing activities, this private institute co-manages America's most secret enterprises including the DoE's:
• Brookhaven National Laboratory
• National Renewable Energy Laboratory
• Oak Ridge National Laboratory
• and fully manages several others including the Pacific Northwest National Laboratory
Their two biological level-3 "Aerosol Engineering & Biological Sciences Facilities" in West Jefferson, Ohio appear in photographs on a Federal Emergency Management Agency (FEMA) promotions slide (See above photograph.)(43)
The BMI/Department of Energy combined web page explained (on December 7, 2001 at
http://battelle.org/doe/natsecurity.stm;
get it while you can! - otherwise see below insert) that Battelle's "National Security" contract called for the administration of Brookhaven's "chemical/biological stand-off detection technology" for which New York City was selected for an "interagency chemical exercise."
[To substantiate above, read below Battelle's insert recovered through WayBackMachine, dated April 7, 2001]
Department of Energy

National Security

For more than three decades, Pacific Northwest and Brookhaven have made notable contributions to DOE's national security mission by developing innovative solutions in arms control and nonproliferation, security affairs, and emergency management.

Pacific Northwest has been a leader among the national laboratories in developing the Nuclear Cities Initiative, a program aimed at helping Russia's "nuclear" cities diversify their economies and build a new employment base for their nuclear scientists. And Brookhaven is playing a lead role for DOE in arms control and treaty verification.

Also at Brookhaven, researchers are supporting the energy and defense departments with counter-terrorism technologies — especially in dealing with weapons of mass destruction. Laboratory staff have provided technical expertise to the New York City Office of Emergency Management to enhance its capability to respond to terrorist attacks. Brookhaven's chemical/biological stand-off detection technology (known as the Mini-Raman Lidar System) was tested at a major New York City interagency chemical exercise.

Finally, at Pacific Northwest, national security experts are transferring technologies to federal, state and local crime fighting agencies. The program provides innovative science and technology solutions to difficult law enforcement and forensics problems. Pacific Northwest's objective is to give law enforcement agencies access to capabilities and tools that cannot be provided by local, state, and federal sources or the private sector. For example, in a Washington community, vapor collection and analysis provided by Pacific Northwest helped authorities obtain a search warrant for a suspected methamphetamine lab and resulted in two convictions.

Battelle Home
For business development inquiries please call
(800) 201-2011, other inquiries call (614) 424-6424
© Battelle Memorial Institute 2000. All rights reserved.
Webmaster
Moreover, this test was conducted sometime prior to the new Millennium.
Therefore, it would have involved Jerry Hauer, additionally linking Battelle's chemical and biological warfare testing program to the industrialists that met in the Clinton White House in 1998 to discuss, highly suspiciously, vaccine provisions for the impending West Nile virus outbreak that occurred the following year for the first time in history.(10)
Battelle's "Aerosol Engineering and Biological Defense Science" description relays their unequaled ability to develop, test, evaluate, and modify a variety of biological agent detection systems, as well as the agents themselves. This is done, they say, "for the Joint Services including BL-3 [i.e., biological safety level of containment] operations."
While superficially publicizing their unique qualifications and activities in the realm of chemical and biological weapons "defense," detailed disclosures here are classified.
Relating to their apparent development of the highly weaponized strain of anthrax in question, they reported their,
"Aerosol Science and Technology (AS&T) group develops lab experimental and field test procedures for... point-source emissions and the transport and atmospheric fate of aerosols by means of modeling and field assessments for industrial process."
Thus, the government "contractor" for whom anthrax expert William Patrick wrote his mailed anthrax aerosol dispersal assessment could have only been Battelle for whom "Ken Alibek" worked; Robert Myers, Bioport's Chief Operating Officer affiliated; and Jerry Hauer in New York's emergency management helped facilitate tests.
All of these suspects (except Alibek), played roles in the Department of Defense's Joint Vaccine Acquisition Program that was accelerated due to the anthrax mailings and national fright they caused.
From December 11 to the 20th, 2001 Tetrahedron, LLC e-mailed the above information implicating BMI in the production of the mailed anthrax to more than 8,700 members of the national news media, 1,500 FBI agents, most members of Congress, and more than 400,000 Americans. Eventually, as days passed, William Broad at the New York Times and writers for the Associated Press picked up on the Battelle lead, as did the FBI.
On December 20, 2001, ABC News reported that the FBI was "now interviewing current and former scientists [at Dugway] in Utah and at the second secret anthrax-producing facility, Battelle in Columbus, Ohio, a nonprofit corporation that does the work for the CIA and the military."(44)
The next day, the Washington Post reported that the primary thesis I had urged the FBI to immediately investigate on October 1, 2001, more than a week before the anthrax letters were sent from Trenton, was finally being taken seriously.(45)
In summary, there are several serious indicators that the source of the anthrax weapon used in the mailings was the Ames, Iowa strain of silica-impregnated and electro-statically charged anthrax produced by the Battelle Memorial Institute under their classified CIA and Defense Department "Project Jefferson."
This hyper-weaponized germ was likely produced with the help (or under the direction) of Dr. Alibekov and/or Dr. Patrick.
The fact that these Battelle agents and affiliated agencies gained financially as a result of the anthrax mailings and public fright fits the parameters of a conspiracy to commit military-industrial sabotage, terrorism, and serial homicide approaching economic genocide.