Part 1 of 2
PROFESSOR STEVEN E. JONES, 9-11 LECTURE AT UTAH VALLEY STATE COLLEGE
by Professor Steven E. Jones
February 1, 2006
NOTICE: THIS WORK MAY BE PROTECTED BY COPYRIGHT
YOU ARE REQUIRED TO READ

THE COPYRIGHT NOTICE AT THIS LINK

BEFORE YOU READ THE FOLLOWING WORK, THAT IS AVAILABLE SOLELY FOR PRIVATE STUDY, SCHOLARSHIP OR RESEARCH PURSUANT TO 17 U.S.C. SECTION 107 AND 108. IN THE EVENT THAT THE LIBRARY DETERMINES THAT UNLAWFUL COPYING OF THIS WORK HAS OCCURRED, THE LIBRARY HAS THE RIGHT TO BLOCK THE I.P. ADDRESS AT WHICH THE UNLAWFUL COPYING APPEARED TO HAVE OCCURRED. THANK YOU FOR RESPECTING THE RIGHTS OF COPYRIGHT OWNERS.
[Transcript prepared from the video by Tara Carreon]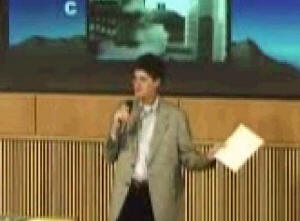 David Keller
[David Keller ] There's clearly a lot of passion about this topic, but please keep in mind that this is an academic forum, and that democracy cannot function without dialogue. But dialogue cannot function if people feel threatened. So please, during the question and answer period, keep your demeanor civil and collegial. Thank you.
My name is David Keller. I'm director of the Center for Study of Ethics here at Utah Valley State College. September 11, 2001 unmistakably marks a turning point in history, and has set the tone for the current political climate both nationally and globally. The horror of that clear autumn morning will forever be burned into our collective psyche. For me, and many of my generation, those born after World War II, and who were too young to comprehend the significance of the Vietnam War, September 11 is perhaps, politically speaking, the defining moment. This moment is all the more significant if the public has not been given the full information regarding the collapse of the World Trade Center buildings. It may, at first glance, seem odd that an academic Ethics Center would invite a physicist to speak. Yet the collapse of the World Trade Center buildings illustrates a strange convergence of physics, engineering, ethics, and politics. To this end, it is my great honor and privilege to introduce Steven E. Jones, Professor of Physics from the Department of Physics and Astronomy at Brigham Young University. His vitae is too long to read, so I will just turn the time over to Dr. Jones.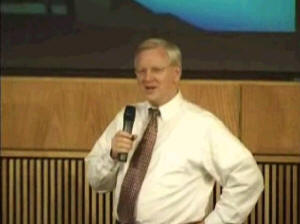 Professor Steven E. Jones
[Steven E. Jones] Thank you. Well, let's get started. We have a lot of material to cover. In fact, I think you'll find it's like trying to get a drink out of a fire hydrant. I apologize, there's just a lot of material out there. Even then, I can't expect that you'll be able to absorb all that we're going to discuss tonight, especially if it's your first time looking at this material. So I have a handout. I hope that we have enough. There's obviously a lot of interest in this topic. It has been discussed in the Deseret News lately. Miami Herald carried an article talking about our Scholars for 9-11 Truth group, which we have at last count around 100 members. It was 50 last Friday. We've grown. And I'll talk more about that group as we go along.
So at the top of this handout, there are two papers that I will refer you to. So if you have questions, of course I'll take questions at the end, and in addition I'd encourage you to read these papers. That's why we write scholarly papers, so that you can read on your own, and digest and click on the websites, and get more information, look at the video clips at your leisure, and so on.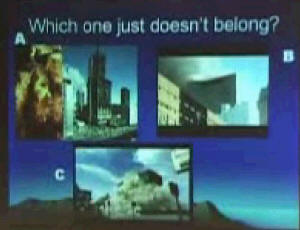 Now tonight as we are starting, I notice that this clip here, which is the collapse of Building 7, World Trade Center 7 -- I might say WTC from now on instead of World Trade Center --this clip I requested to be shown on the Tucker Carlson show. And I couldn't see what others were seeing, but they didn't show this clip. It's ironic, this is the one that wouldn't play for us tonight. But now you see it. So you've all seen it collapse, and as you notice, it dips in the middle, falls straight down, and very rapidly. That's "B", World Trade Center 7.
Over here, we have a large high-rise in Madrid, Spain last year that burned. It was an inferno for about 24 hours. It did not collapse. And indeed, there has been no example, at least none before 9/11/2001, where fire has caused a building to collapse completely. So this is "A". But that is in fact the official explanation of the collapse of Building 7. That it was due to fire. And we'll talk about this more in some detail. In the paper that I wrote, and it's available on the Net, it's on the notes, you can read more of the scientific arguments about why fire is very unlikely to have caused this building to collapse. You might notice the amount of smoke as we get to the building here. This is over at the World Trade Center. But it's not an inferno, certainly.
Now these are different views of a controlled demolition with explosives. This is in Norway. Oslo, as I recall. And it shows again the straight down, rapid collapse using explosives.
So it's not nutty to say – let's get that straight – that this looks like it could be controlled demolition due to explosives. I hope you would agree that at least there is some comparison here, that it looks fairly similar between the collapse of World Trade Center 7 and this, which of course is done by explosives.
Okay, now I want to back up a step or two and see if this will work here. Yes. The outline is on your notes as well: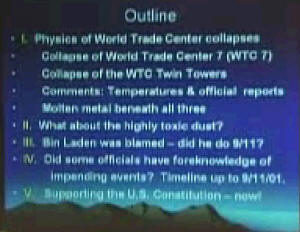 Outline
1. Physics of World Trade Center collapses
• Collapse of World Trade Center 7 (WTC7)
• Collapse of the WTC Twin Towers
• Comments: Temperatures & official reports
• Molten metal beneath all three
II. What about the highly toxic dust?
III. Bin Laden was blamed – did he do 9/11?
IV. Did some officials have foreknowledge of impending events? Timeline up to 9/11/01.
V. Supporting the U.S. Constitution – now
I'll start with the physics. I'm quite comfortable talking about the physics. I've studied it and discussed it with many scientists and engineers in the last several months. I find it quite fascinating. We'll then talk about the highly toxic dust and so on. So you can see where we are.
The goal: To Preserve Constitutional Law in the United States of America, including the Bill of Rights. 1775, Patrick Henry: "We are apt to shut our eyes against a painful truth … is this the part of wise men, engaged in a great and arduous struggle for liberty? Are we disposed to be of the number of those, who having eyes, see not, and having ears, hear not …?
• "For my part, whatever anguish of spirit it might cost, I am willing to know the whole truth; to know … it – now."
• We are engaged in a struggle for liberty and truth, right now.
• And the truth shall make you …
I want to back up one more step. The goal tonight I have in mind is to preserve Constitutional Law in the United States. And I love America. And I love the Constitution which Patrick Henry, George Washington, Ben Franklin, you know, the list. My daughter knows the list better than I. She studied the Revolutionary War at length. These men were considered rebels. We call them patriots, but the British called them rebels because they wanted independence, they wanted freedom, they wanted certain rights: freedom of religion, freedom of speech. We have these. Knock on wood. And hopefully they will continue.
So Patrick Henry in 1775 said: "We are apt to shut our eyes against a painful truth … is this the part of wise men, engaged in a great and arduous struggle for liberty? Are we disposed to be of the number of those, who having eyes, see not, and having ears, hear not …" And I hope you'll join in with Patrick Henry in saying this, "For my part, whatever anguish of spirit it might cost, I am willing to know the whole truth; to know … it – now."
Many of the things I'll be talking about tonight, and if there are questions I'll be clarifying that, but there are a lot of things we have learned about 9/11 that we need to take a look at.
I maintain that we are engaged in a struggle for liberty and truth right now, and my exemplar actually said, "The truth shall make you free." So let's see if we can get some truth going, shall we?
So here's Building 7. We'll start there, with the collapse of Building 7 on the afternoon of 9/11. Now it's important to realize that Building 7 -- we're looking at it now after both towers have collapsed, looking from the plaza area over to Building 7 -- Building 7 was never hit by a plane. No plane hit Building 7. Is that clear? So the towers were each hit by a plane, of course. We'll talk about them later. Building 7 was not hit by a plane. There was no jet fuel. Fires were random, but not particularly large, and certainly not an inferno. It collapsed seven hours after both towers had fallen. It's not like it was immediate. It's not like a shock from the falling of the towers somehow made that fall, which you'd think would happen immediately. The official theory is damage and fire.
Now in this photo you'll see a close-up of the fires in Building 7. You can see a little bit of fire in there, not much, and yet when it collapsed, it collapsed straight down into a tight little pile. Very curious.
In fact, engineers were baffled over the collapse of this building. And myself, I didn't see it on the day of September 11th. When I first saw it, I thought, this is very strange. I mean, that the building should collapse straight down and rapidly, it just did not look like what I would expect from the law of entropy, which is things topple over. And indeed, other scientists and engineers have worried about this mystery of the collapse of the 47 story Building 7. Experts said that no building like it, a modern steel reinforced high-rise, none had ever collapsed because of uncontrolled fire before. So they are trying to figure out what happened, and worried that other buildings might have this problem around the country.
Now in giving this talk -- by the way, there is a fair amount of material here, I'm not going to be able to read everything -- I'll focus on the yellow parts. So if you're a fast reader, you can pick up the white. That's just the way the rule works here, because of the time. So down here, fire and structural damage, this is Professor Barnett of Massachusetts: "Fire and the structural damage would not explain steel members in the debris pile that appear to have been partly evaporated." Now it takes a very high temperature to evaporate steel. We'll see how that could happen. It's not due to ordinary fire.
So now we see some photos in the late afternoon. Not a lot of fire is seen here, or damage. There is damage if you look close right down in this corner. The corner from Tower 1 did cause some damage here, which would make me think that if it would fall, it would fall towards the southwest corner. And maybe immediately too. If you damage something, knock your knees out, you start to fall. But that not the way. Instead, it came straight down. It had 24 steel beam core columns. Enormous steel beams up the core, 57 perimeter columns. A student drew this. The damage is here, on the corner, and some damage here on a floor. Nothing wassevered in the core, we're quite sure. No evidence of that. So why did it fall symmetrically down if the damage is just on the south side. And why did it take seven hours? This is a good question, I think.
As we saw in the clip, it does fall symmetrically and nearly straight down onto its own footprint. Even the FEMA report, writing about this, says, "The Collapse of WTC 7 had a small debris field. The façade was pulled downward, suggesting internal failure and implosion." It's a very interesting term they use there. "Implosion" is the term used for controlled demolition, when you pull the core and force the building to collapse. Now FEMA is not talking about explosive demolition I assure you. They are talking about fire. But nevertheless, they use the word "implosion."
Now over here, we have a description of how buildings are demolished using explosives. Demolishing the building so it collapses straight down into its own footprint -- this is the total area at the base of the building -- this is the goal of controlled demolition. That's what they shoot for. They work real hard to set the charges so that the building will collapse straight down and rapidly. This feat requires such skill that only a handful of demolition companies in the world will attempt it, using explosives of course.
If you can get buildings to collapse that way using fire, we should patent that. And then we'll set a few fires, and make a lot of money doing that. But it's not so easy. Here's what happens when you have uncontrolled collapses. This is what you expect from earthquakes. In fact, these buildings were toppled by earthquakes. They fall over. They topple over. They don't' fall straight down. And so again, it's just not reasonable that Building 7 fell seven hours after the collapse of the towers. That could not be due to seismic waves. And if it were, it would have fallen immediately, and toppled to the side that was damaged. That's not the case of course. This is what you would expect from uncontrolled fires, something like this. You'd expect it to topple, twist, bend, and cause much more damage than it did.
By the way, the surrounding buildings didn't collapse. A number of them were damaged also. I'm talking about non-WTC buildings. And so it is curious that Building 7, about 350 feet away -- that's over a football field away from the closest tower -- should collapse in this way.
It collapsed fast. And if you study this videoclip, I've got it here second by second from my friend Jim Hoffman at
http://www.WTC7.net
, which is an excellent place to get detail by the way about 9/11. Jim has done a lot of research. In timing this, and with some students, we had a number of students time this, it took 6.6 seconds to fall. And the free-fall time, if you dropped an apple off the roof without any air resistance, would be 6.0 seconds. With air resistance, it works out pretty close to the same time as the building collapsed. Now how do you do that? You've got all this material in the way. You've got these enormous steel columns, 24 of them, and then the concrete too, resisting the collapse, slowing it down if it's the pancake theory that the official reports talk about. So they talk about one floor hitting a stationary floor, and then that would slow the fall down. Those go together again and hit the next floor, and it slows her down. I did a calculation -- you have to make some assumptions -- it was over 10 seconds for the collapse. And I ignored the steel columns. I was just looking at the mass of the concrete floors, and the conservation of momentum. It was looking impossible to me as I did this calculation that the official theory could be correct. It violates laws of physics, and in this case conservation of momentum.
On the other hand, explosive demolition is very fast. You knock the material out of the way below, and the building collapses very rapidly. To many onlookers, the speed of destruction is the most incredible aspect of an implosion (note the word for controlled demolition). How can a building that took months and months to build, and stood up to the elements for 100 years or more, collapse into a pile of rubble as if it were a sand castle? Following the blast, a cloud of dust blows out around the wreckage, enveloping nearby spectators as we observed on September 11th.
Now in the 9/11 Commission report, they said they would give the fullest possible account of the events surrounding 9/11. But they didn't even mention the collapse of Building 7. I can almost rest my case. I'm not going to. This is very sad. It is very suspicious. And of course, not good science to neglect data that's just so in your face there. It's so important. FEMA admitted that their best hypothesis, which is the only one they considered, which is fire and some damage, they admitted it had low probability for explaining the collapse of Building 7.
Now this is the latest. NIST is the National Institute of Standards and Technology, another government-sponsored agency like FEMA. And at first they "decoupled their analysis" -- that's their word, "decoupled" -- their analysis of Building 7 from the towers study. And now, just last month, just a couple of weeks ago, there is an announcement from NIST that they are asking contractors to study and analyze and figure out the collapse of Building 7. You can almost rest your case again. So there's a good question here: "What is going on that they don't just look at explosive demolition?" And we should consider this possibility. None of these studies looked at that seriously. At least, not in writing.
Now we're going to shift over to the towers. As you can see, in this view while the towers are being constructed, you see the central core columns, 47 steel core columns. Look at the size of these columns. Huge and interconnected. I had an email from a mechanical engineer who read my paper and agrees with me, and she teaches at a major university. And she's a little worried about her job. And she said, "It's true. These buildings were solidly built." And this core, the way it's put together, the comparison is to a biological organism, like to a tree. So you have these interconnected fibers, and when wind or other stress is put on this building, just like on a tree, it absorbs that stress. It picks it up.
Now the designers of this building, actually both towers, said that they were designed to withstand being hit by multiple Boeing 707 collisions. That was the big jet in those days. And as we see in the official reports, it wasn't hitting the towers with the jets that caused them to collapse. That's not it. You're talking about fire again. So this professor I referred to, Judy is her name, sent me this photo of a stove which she shows to her mechanical engineering students. And she has the temerity to talk about the collapse of these buildings in her class of mechanical engineering. She points out that when we burn wood, and in this case it would be office materials and jet fuel too -- but the jet fuel burned off very rapidly -- when we burn organic materials we don't expect the stove to collapse. It can stand. And she got a laugh too. And I thought she'd made a good point there. You can imagine building a huge bonfire under here. Would you expect the thing to just give up? So let's be a little more specific, though.
Let's quote Professor Eager from MIT. Now he is trying to explain how the building could come down by fire, but he's laying out facts. And his factual presentation is really very helpful. The fire, he said, is the most misunderstood part of the collapse. Even today, the media reports, and many scientists believe, that the steel melted. It is argued that the jet fuel burns very hot, especially with so much fuel present. And then he goes on. This is not true. I've seen many other scientists, including Dr. Barnett that we quoted earlier, and Frank Gale, and other scientists and engineers, saying this is not true. The temperature of the fire at WTC was not unusual, and it was most definitely not capable of melting steel. Now the reason is, as he goes on, the temperatures here were around 500-650 C. The 650C is important. At this temperature of 650C, the steel loses about half its strength. But he goes on. Even with the strength halved, the steel in the World Trade Center towers could still support two to three times the stresses imposed by this 650C fire. So it's not enough just with these fires. They aren't hot enough, certainly not to melt the steel, which has to get around 1500 C. Much hotter. And at 650C, which is red hot, they would still support the structure. Now another paper says 800 C is what they believe is required for failure. So somewhere in that range.
Now in NIST's report on the towers -- they did do a report on the towers, just not on Building 7; I like to say they punted on Building 7, let the other team, the contractor, see if he can figure it out -- anyway, using a metallographic analysis, NIST determined -- remember this is a government lab -- determined that there was no evidence that any of the samples had reached temperatures above 600C. Not hot enough. And indeed, if I look closely, and I read through their paper -- that's hundreds of pages; most of it is on the evacuation of the towers and that sort of thing; interesting though when they talk about the physics here -- they show the temperatures. And there were some columns knocked out. Not the whole building, you understand, just on those few floors where the jets collided. It's like puncturing a screen on your screen door with a pencil. It doesn't make the whole thing fail. That was what one of the experts on the towers said. He said when the plane hits, we designed for that. It's like punching a hole through a screen door. It doesn't really hurt much, okay? Anyway, so for these temperatures, you see, we need to be up here in the yellow and orange temperatures, and red to get failure. But instead, they are all down in the green and blue. It's just not hot enough. And NIST did some tests, and in their report they point out that jet fuel was mostly consumed during the first few minutes. I keep getting people saying, "Oh, it's the jet fuel." No! And of course, Building 7 wasn't hit by a jet. But even in these towers, when you look at the science, the jet fuel burns up very quickly. That's not the problem.
By the way, the steel has to get to 650C, not just the fire.
Now these steel structures are interconnected, and when heat gets whipped away, it's called heat transport. As you heat up one piece, that heat carries over and goes through this structure. And so it's hard to heat up one area to the temperature required for failure. And indeed, NIST sponsored WTC floor models, and tested with actual fire and actual models, to get this thing to fail. It wouldn't fail. Oh my goodness! They couldn't get the temperatures high enough with fires and damage! They can't get actual models to fail!
By the way, my wife thought I should mention this. This is where the plane went in. I believe it's the north tower. And in this little red box, there is a brave woman standing there who came to the edge, standing, holding on. Admittedly, I'd be crawling. In fact, there's another person over here laying down. That's me. I mean, that would be me. I'm not going to be standing up. But this is Rachel. Her last name is known. There is enough detail. She did not survive the collapse, but she did testify: "It's not that hot, folks. I'm holding on here. It's not like a red hot oven." And so her testimony is received.
Now let's see what Kevin Ryan -- he works at Underwriter Laboratories -- said: "Performing tests on the models" – this is where the tests were done, at Underwriter Labs – "the results of these tests indicate that the buildings should have easily withstood the thermal stress caused by burning jet fuel and office materials." And he goes into some detail. He's writing to a scientist. "Your comments" – and this is to Frank Gale – "suggest the steel was probably exposed to temperatures of only about 250 C, way below the heat needed for failure. And that is what one would expect from a thermodynamic analysis." And then he says: "The temperatures are not enough. Can we admit this?" And he says, "The official story just does not add up." And there are many engineers and scientists now awakening to that fact. Mine was one of the first peer-reviewed papers for some reason. And what do you think happened to Kevin Ryan writing this to NIST saying, "Look, we've got to face the facts here. The floor models did not collapse due to the fire. The official story of fire and damage, it just doesn't work. We've got to face this, and look at what else could have caused the collapse of these towers." What happened to Kevin Ryan? He was fired. I've been in email contact with him. He said it was because this letter of his went public, and disclosed this glaring discrepancy. So I don't know if I'll spend too much time on this. David got the joke. So you've got fire here, you've got damage, and over here you've got collapse. But how do you get from here to here? Well, some sort of miracle must have happened. And this is kind of what's going on.
So I read through the NIST report, and what they do is they do a computer simulation. If you can't get actual models to fail, go to the computer. Middle cases, and what they thought would be reasonable -- less severe, middle, and more severe -- upon examination of the middle cases, it remained clear that the towers would likely remain standing. So what do you do? You go to the severe case, and then you adjust the input. That's what they admitted they did. You adjust the input, but you stay within the range of reality. They talk about pulling forces on the perimeter of the columns by the sagging floors. UK experts immediately jumped on that. I've read what they said: "The core columns cannot pull the exterior columns, the perimeter columns, via the floor." So the NIST model, they are struggling here. And then as it came out in October, the final NIST report, we have structural engineers criticizing the NIST work. They say: "The investigators at NIST are refusing to show computer visualizations of the collapse of the towers, despite calls from leading structural and fire engineers. Visualizations of collapsed mechanisms are routinely used." I'm quoting from this journal. It's a well-respected journal, "The New Civil Engineer." You can look it up there, and there is some detail. Notice what the professor of Civil Engineering at Manchester says, Colin Bailey: "NIST should really show the visualizations. Otherwise, the opportunity to correlate back to the video evidence, and identify any errors in the modeling, will be lost." But NIST is not doing that. Furthermore, there is now a leading U.S. Structural Engineer -- not named – that says, "the software used by NIST has been pushed to new limits. There have been a lot of simplifications, extrapolations, and judgment calls."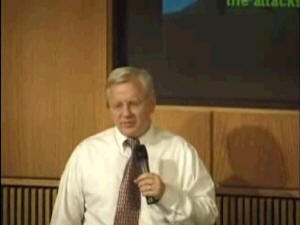 This does not make me want to believe the NIST report. And in my report you can see other reasons why I don't believe that report is correct. But I'm not alone, you see, in complaining about this approach. It is like they are looking at it with blinders on: "We'll consider fire; we'll consider damage; Building 7 wasn't hit by a plane, but we'll consider fire." NIST does have a preliminary report on it, and that's all they talk about there. They say, "We see no evidence for explosives in Building 7." And I'm saying, "Open your eyes. It fell straight down very rapidly. There's squibs coming off. What do you need?"
FEMA report. This is another journal, Fire Engineering, January 2002: "Respected members of the fire protection engineering community are beginning to raise red flags." That's what I'm doing here. I should have brought a red flag. "The structural damage from the planes, and the explosive ignition of jet fuel, in themselves, were not enough to bring down the towers. Fire Engineering has good reason to believe that the official investigation blessed by FEMA is a half-baked farce."
Now these are not polite terms that we usually use. They feel very strongly about this. These are engineers saying, "Look, you've got to do more than what you're doing." "And furthermore, a half-baked farce that may have already been commandeered by political forces whose primary interest, to put it mildly, lie far afield of full disclosure." He hit the nail right on the head. This is what we're seeing throughout. These are burning questions that need answers. He's calling for an investigation. The steel beams were destroyed very rapidly after the collapse of these buildings. They were cut up, they were shipped off to Asia for recycling. And the engineers are saying, "Wait, we got to look at those so we can understand how fire could possibly have brought these buildings down." The evidence at the crime scene was rapidly destroyed. This is over the objections of engineers.
Here's a civil engineer's comment which I just really appreciate. It was sent to me by someone else. He's writing to someone else about reading my paper. He said, "Initially, I was a bit incredulous." He did not believe me. "The sheer number of players that would have been involved is extraordinary." I'll come back to that. It's not true. It's a common misconception. "I downloaded all of the official reports" – which we've been talking about – "basically expecting to find holes in the good professor's hypothesis. I'm a professional civil engineer with a lot of experience in the construction of major structures. And I was just astounded at what I found. In my COO days, if my staff had put up reports like that, there is no way they would have been accepted. And I would have been asking some very tough questions." Which I hope we're all starting to ask. The official reports, he concludes, are not at all convincing. That they are not, is a serious worry. Take care. Yes, it is a concern.
Now let me come back to this misconception that you would need an extraordinarily large number of players. If you look at controlled demolition for these large buildings, the towers, it would take only about 4,000 pounds. That sounds like a lot: two tons. But ten trips by ten men, 40 pounds each, and you've got the explosives that you need. This is now again my friend Jim Hoffman talking about how this could be done. The charges could be hidden in elevator shafts, set off via radio signals. The elevator shafts were right next to the core columns, you see. It could even be done by foreigners. However, you have to have access to the buildings.
So let me emphasize that point: it does not take a large group. There might be a dozen or 20 leaders in the know of all that's going on. The rest are just following orders, you see, in a secret combination like that.
This is a mechanical engineer at Clemson University. She says, "As far as I know, I'm the only person in my department that doesn't buy the official story. And this bothers me. I've approached a few others, but they have each thought I was crazy, yet were unwilling to look at the facts." Now this is a problem I've run into. Are there any physicists here tonight? So we have one, I appreciate that. And another back here. So there are a couple of physicists. Anyway, I have this same problem in my same department. Though I did have a number when I was first talking about this way back in September of last year. So I can't say they were totally unwilling. But in her case, they wouldn't look at the facts. "So far I've not been called to the Dean's office, or the Chair's office for covering this material." I cannot make that same statement. However, they were kind. They said I could go ahead with the investigation, and please give academic seminars and write papers, and that's what we're doing tonight. It's okay. It's not BYU that's trying to shut me up. That's not the case. And there are a number in my department that think there are serious questions, and that seriously doubt the official story that fire brought these buildings down.
Then she says a little more. She didn't contact me last fall because: "I was afraid of what might happen with my career. Now I'm more afraid of what is happening with the world than with my career." That is admirable. We have this group, Scholars for Truth, she joined us. And those two physicists and others, if you want to join us, go to ST911.org. It's really easy to remember.
We're halfway through, folks, but I'm not halfway through. I might look at one of these collapses. You've seen this one that we started with. Let's look at towers for fun. These are some towers, and you'll see squibs. See the plumes coming off the sides. Now that doesn't take a lot of explosives. You pull or "cut" – the term demolition experts use is "pulling" the building -- you pull these core columns. You get them out of the way and the support is gone, and then gravity brings her down. I had a mechanical engineer say, "Man, you need to have so many tons of explosives." No, no, no, you just don't understand how demolition works.
Here's another one. This one, you'll notice it dips in the middle first, and then down she comes as you pull the support. That's all it takes to bring them straight down, onto their footprint, just like Building 7. And the towers also came down, pretty much straight down. But there the explosions were at the top, so it's a little different there. But it certainly could have been explosive demolitions.
Here's the collapse of Building 7 once more, the collapse that MSNBC declined to show for some reason. I'm sure a lot of you have looked at this before as you started studying these issues. And this is the central issue, this collapse of Building 7. But I'm just curious, for how many of you is this the first time you've seen Building 7 collapse? Quite a few. Cool. Kind of neat the way it comes down.
So here's a demolition expert, and this is published in the New Scientist the day after, on September 12th: "It looked like a classic controlled demolition." That's Mike Taylor, Demolition Contractors. "If there's anything good about it, it's good that the towers did not weaken to one side. They would have toppled onto other buildings." That's what you expect from uncontrolled demolition. This again is the law of physics, the law of increasing entropy or disorder. You expect it to topple over. However, the collapse of the towers mirrored the strategy used by demolition experts. In controlled demolitions, explosives are placed not just on the lowest three floors, but also at the higher floors. On several consecutive floors. "The explosions on the higher floors enable the collapse to gain downward momentum, as gravity pulls the full weight of the unsupported higher floors into the lower floors like a snowballing effect." It's actually pancaking, but where you've pulled the material out of the way below. "It cascaded down like an implosion." There's that word again.
So here you see Building 7 in the upper right, and we saw the squibs. Remember the towers in the controlled demolition, you saw the plumes of gas and debris come out? An explosion causes those plumes.
Now if you look here at the tower -- this is one of the towers, this is the other -- you see these plumes way below the area where there's destruction up here, and pulverization, which is also interesting. You see these plumes, and if you look closely, there is substantial debris in there. We're hoping to get a close-up of this and see if that isn't actually a beam that has been severed and is being hurled out.
But these plumes, and I had a civil engineer who is otherwise very skeptical of my paper say, "That really does look suspicious." This plume coming off here.
Let's look again here. This is Building 7 now. You'll see the plumes. They are smaller, and they are going up, not down, which is significant. See how quickly they go up?
Now if it's collapsing floors, a floor making air pressure, that should go down not up. So this does look like what you expect. And you see some in the front, too, over here in this area. You see? And over there.
There is testimony from firefighters reporting explosions, and it was on the lower level of the building, not just the upper. I'm moving along now because I'm 15 minutes behind.
Here's a building fire expert saying, the Editor-In-Chief of Fire Engineering saying, "Look, we've got to stop destroying the evidence." He's complaining about this structural steel that has been, and continues to be, cut up and sold for scrap. "Crucial evidence that could answer many questions" -- which we all, or at least many of us, apparently some don't -- "the destruction of evidence shows the astounding ignorance" – this guy tends to speak rather boldly, he was upset – "shows the astounding ignorance of government officials to the value of a thorough scientific investigation." He finds nothing to justify this behavior. "The destruction and removal of evidence must stop immediately." And then he calls for a thorough investigation.
Destroying evidence: Why did they do this? This is kind of a famous cartoon, depicting what we call pathological science. He's written a paper saying no two snowflakes can be alike. And then here come these two snowflakes, and he sees that they are exactly alike. So what does he do? He destroys the evidence. So that's what we call pathological science. And in this case, I would call it unethical, because it was a crime scene.
Now I would like to talk about thermite, one of my favorite topics. This is a demonstration at the University of California with thermite. The reaction is iron oxide, rust, plus powdered aluminum, plus sulfur. Well, this didn't have sulfur, but if you put sulfur in it, it cuts through steel faster. Thermite: Fe203+Al (+sulfur: fast cutter). And now you see the white hot steam. Now this reaches temperatures hot enough to evaporate steel. Does that sound familiar? Remember, evaporated steel was seen in the rubble pile. And this is the collapse of the North Tower. Here we see this aluminum oxide coming off, and the glowing hot metal. We're trying to get more photos, but it looks like this is a steel structure. Now, from the North Tower, something glowing there. And then this trailing-off smoke coming off of that. It certainly looks like thermite. But there's more.
There was molten metal found beneath both towers and Building 7. Now the temperature, according to Eager and others, of these fires were about 650 C. To melt steel requires 1500 C. Thermite gets you up well past that, to 2500 C. And as you look at the molten stuff being pulled out -- we have photographs and so on of this -- you see that you've got this yellow hot stuff. Now the color of the metal tells you the temperature. It's physics, independent of the metal. So this has to be something that can hold together even when it's salmon and yellow hot. What is that? Structural steel can handle that, lemon and salmon temperatures, no problem. Aluminum melts at 660C. If this had been aluminum, it would just be liquid. It can't be solid at those temperatures. And it was also weeks after 9/11.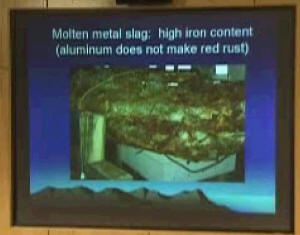 Molten metal slag: high iron content (aluminum does not make red rust)
And after this slag solidifies -- we finally got a picture of this -- you see that it's covered with a red material which certainly looks like rust. Again, the end product of the thermite reaction is molten iron. And you see the entrained cement and rebar here, of course. I've had people say, "Well, it's just aluminum from the planes." Well, I'm sorry, first of all there was molten metal beneath Building 7 and there was no plane there. And plus the fact that we're building the evidence here. We're hoping to analyze some of this stuff, and really nail it. Does it have high iron content and aluminum oxide as well?
An explosive specialist says, "I have read your paper regarding the towers' collapse, and agree that military thermite" -- which is the type with sulfur as an accelerant to make it cut through steel much faster -- "is the only explanation for the molten slag found weeks after the collapse. Thermite charges, used in conjunction with small linear charges." Now I want to emphasize that. I believe that if thermite was used, there were also explosives like HDX or RDX used as well.