Part 1 of 2
The Great Conspiracy: The 9/11 News Special You Never Saw
by Barrie Zwicker
NOTICE: THIS WORK MAY BE PROTECTED BY COPYRIGHT
YOU ARE REQUIRED TO READ

THE COPYRIGHT NOTICE AT THIS LINK

BEFORE YOU READ THE FOLLOWING WORK, THAT IS AVAILABLE SOLELY FOR PRIVATE STUDY, SCHOLARSHIP OR RESEARCH PURSUANT TO 17 U.S.C. SECTION 107 AND 108. IN THE EVENT THAT THE LIBRARY DETERMINES THAT UNLAWFUL COPYING OF THIS WORK HAS OCCURRED, THE LIBRARY HAS THE RIGHT TO BLOCK THE I.P. ADDRESS AT WHICH THE UNLAWFUL COPYING APPEARED TO HAVE OCCURRED. THANK YOU FOR RESPECTING THE RIGHTS OF COPYRIGHT OWNERS.
Hello. I'm Barrie Zwicker, journalist and media critic. Welcome to The Great Conspiracy: The 9/11 News Special You Never Saw. On this program, we ask questions the 9/11 Commission and the media never asked. We introduce experts you've never seen before, and provide background you never get. We recommend books, magazines, videos and DVDs you've probably never heard of, and websites the media keep under wraps.1 We avoid thought-stoppers such as 'anti-American' and 'conspiracy theorists', and that new word, 'believed-to-be-linked-to-al-Qaeda'.
US President Franklin Delano Roosevelt declared: "The greatest thing we have to fear … is fear itself." And indeed, fear may well be the greatest single human motivator. It can serve us and it can save us. But ill-founded fear – that's another story. For instance, before we commit to a war based on a threat we're told to fear, before we commit our children's blood, and billions of dollars to that war, we'd better be sure the threat is real, that a clear and present danger exists. Because war itself is to be feared.
The 'War on Terrorism'
US President Franklin Delano Roosevelt fought fear. Today's leaders traffic in it, chiefly the fear of … terrorism. That's it. Not global warming. Not the end of oil. Not domestic and worldwide injustice. Not rampant militarism, not war itself, or even war without end. Just … terrorism. The words are hypnotically repeated: terrorism, terrorist, terrorist threat, and of course, 'believed-to-be-linked-to-al-Qaeda'. These words appear in millions of newspaper and magazine headlines and are embedded by the billions in stories.
But it's the so-called "war on terrorism" that's in our faces practically 24/7 as the inescapable focus of our existence and the justification for great sacrifice.
Donald Rumsfeld: "One day our grandchildren will look back on this time and ask, 'How was the War on Terror won?' And we will tell them about the brave men and women who gave their lives so that we could live in freedom."
BZ: Some would have it that our support for this new quasi-religion, the so-called war on terrorism, is the measure of our commitment to country and civilization. This program explores interwoven fictions that make up the fabric of the so-called war on terrorism. It explores the promiscuous issuing of terror alerts. It explores the biggest secret and dirtiest deception of all: bloody terrorist events carried out, not by foreign but by our governments, to trick the public into supporting war and police state agendas. We explore, in particular, the radioactive core of today's terrorist hysteria, namely the official story of 9/11, the over-arching fiction and crime and cover-up of our time.
Before you see this program, or after you do, there may well be another state-sponsored dirty deception. If there is, and the information in this program helps you to see it for what it is, it will have been worthwhile.
The 'Official Story'
The sacred text at the heart of the so-called war on terrorism is the official narrative of what happened on September 11th, 2001. Namely, that the whole of US intelligence, civil aviation, military and the political apparatus is caught completely off guard by one evil man and his small network of co-conspirators.
George Bush: "America was targeted for attack because we're the brightest beacon for freedom and opportunity in the world, and no one will keep that light from shining."
BZ: That provides ready-made, easy-to-hate villains and their motives. "They hate our freedoms," George Bush repeats, over and over. But the official story just doesn't make sense, as we will show. It's exploited, as planned, by its creators, the government. But final responsibility for the unbelievable story, living on to the extent it does in the public mind, lies with the vast majority of my colleagues in the mainstream media. If they ever start to do their job properly and examine it skeptically, the official story will crumble into dust finer than that of the Twin Towers.
Now absolutely no one disagrees that 9/11 was a conspiracy. Conspiracy is at the heart of the official story, after all – a conspiracy perpetrated allegedly by Osama bin Laden. But what if the conspiracy were hatched not in a cave in Afghanistan, but in Washington, D.C., at the highest levels of the US government? What if the public found out the official story is a Big Lie? How might that change plans for endless war?
There are other paths to true security and lasting peace. The first step on those paths is to expose the official 9/11 story for what it is, a contrived fiction. And then to demand a true accounting of what happened on 9/11 and who was behind the events of that day.
Retail and Wholesale Terrorism
Terrorism has been with us for a long time. It tends to be the last resort of the powerless suffering under acute injustice. And as such, one person's terrorist is seen by another as a freedom fighter. This is what Noam Chomsky calls retail terrorism, that carried out by angry or paid individuals. But then there's wholesale terrorism, that is carried out by states.
Robert Jensen writes in the Houston Chronicle: "For more than five decades, throughout the Third World, the United States has deliberately targeted civilians or engaged in violence so indiscriminate that there is no other way to understand it except as terrorism. And it has supported similar acts of terrorism by client states."
He could have reached back further. In his new book The American Empire and the Fourth World, Anthony J. Hall, according to one reviewer, "connect(s) the unspeakable crimes visited upon indigenous people since the conquest by Columbus in 1492 to … today's so-called war on terror …"
According to Hall himself, "the imagery of terrorism (has) replaced that of savagery and (then) communism as the main explanatory catch-all to describe the real, illusory or manufactured enemies of the American way of life."
So, on one side – ours – the use of terror either is not admitted or is simply defined as not terror, and the other side's terror is defined as the only kind of terror. Terror, then, needs to be put into perspective. 'Perspective,' writes Lawrence Martin, former Washington correspondent for The Globe and Mail, "is a ghost in American journalism. … Last year, acts of terrorism killed 300 to 400 people, ranking it so far down the list of dangers … that it is barely visible." He might have added that 300 is the number of Americans struck by lightning each year.
Another note about appearance and reality: the vast majority of people arrested as terrorism suspects are released without charges being laid. It's the arrest stories with those Arab names and pictures that remain in the public mind as reality. Isn't there a pattern of state-sponsored, media-abetted, deception here?
The Reichstag Fire –
'Fact is Stranger than Fiction'
But the dirtiest secret about terrorism is also by far the largest. Many spectacular acts of terrorism are fearsome fakeries carried out by cabals within governments. And I mean our own governments. The gold standard is the attack on one's own country to mobilize public opinion for power, political gain and profit.
The Nazis masterminded the torching of the Reichstag – the German Parliament buildings – on February 27th, 1933, one week before a national election. That they did so is historical fact, portrayed best in William L. Shirer's masterpiece, The Rise and Fall of the Third Reich. Within hours, Hitler and his henchmen designate the Communists as the villains, and label them terrorists. The government promises proof but never provides it. The communists did not do it. A single communist was the patsy.
The Big Lie of who torched the Reichstag is used by Hitler to sow fear. He bullies the German President to sign a decree suspending seven main articles of the German Constitution. The claim is that the Fatherland – think 'Homeland' – is under threat. Ensuing arrests and murders of communists and socialists terrorize anti-Hitler dissent. In the ensuing election Hitler does not get the majority he needs to rule, but soon after, he essentially seizes power. He then is free to launch pre-emptive strikes against other countries and wage a world war sold as patriotic. The ultimate result for Germans is calamitous: 600,000 civilians dead, seven and a half-million homeless – their country broke and in ruins. The Reichstag fire was a major turning point.
Within hours of the planes crashing into the World Trade Center, the Bush White House designates the alleged villains. Within 30 days the US Constitution and the civil liberties of Americans are weakened by near unanimous passage of the Patriot Act. A war on terror is announced. Within months pre-emptive strikes are launched against Afghanistan and Iraq, though no evidence is produced that Iraq took part in 9/11. Dissent in the USA is under fire even as millions in the USA and worldwide oppose the Iraq war. The White House announces that the 'war on terror' – in effect, world war – may never end. At least a thousand Americans are soon to die in Iraq alone. Expenditures mount into the trillions.
The so-called war on terrorism justifies the mounting deaths of US soldiers and civilians in Iraq and elsewhere, justifies the little-publicized construction of giant new US military bases overseas and is the basis for the doctrine of pre-emptive war, contrary to international law and basic morality. It's responsible for grotesquely ballooning deficits to pay for all this – debts being passed on to coming generations – and plans for even more expenditures on terror-fighting bureaucracies.
The so-called war on terror is cited as the ultimate basis for sharp increases in domestic spying and reduction in freedoms and civil liberties at home and attempts to criminalize dissent.
All this because the official, authorized truth is that foreign terrorists attacked the USA on 9/11. As we tape this in the Summer of 2004, fear grows as authorities and pundits predict more terrorist events – on the scale of 9/11, or greater. The I-word – 'inevitable' – is increasingly used. Cui Bono – Who Benefits? The designated scapegoats of 9/11 gained nothing positive from it. On the other hand, even the hardliners in Washington themselves agree 9/11 boosted their agenda. Who benefits from more of the same? The fear campaign, always resting on the official 9/11 story, looks deliberate.
Again, what if the official story of 9/11 is a Big Lie? You probably don't know if you're trapped inside the cocoon spun by the North American media industry, that there is in fact widespread skepticism about who was behind 9/11.
30% of Germans, according to reliable polls, think the US government had a hand in it. They remember that big Reichstag deception. A poll done in Canada in May 2004 showed 63% of Canadians think "individuals within the US government including the White House had prior knowledge of the plans for the events of September 11th, and failed to take appropriate action to stop them."
In this program we present some of the accumulating evidence indicating that lying behind the Great Deception of 9/11 is the Great Conspiracy of 9/11. But first, more historical context. When we come back, three true stories of fake attacks on America.
* * *
Film narrator: Let's find out about despotism. This man makes it his job to study these things.
This man: Well, for one thing, avoid the comfortable idea that the mere form of government can of itself safeguard a nation against despotism.
* * *
BZ: Welcome back to The Great Conspiracy: The 9/11 News Special You Never Saw.
If 9/11 is a Big Lie, a fake attack, an inside job, is it unique? No, quite the reverse. Most war-triggering incidents are great deceptions.
Pretext War Incidents
The Mexican-American War, the Spanish-American War, the attack on Pearl Harbor – all involved secretly contrived attacks on Americans planned or encouraged by American presidents. The Vietnam War and Desert Storm in 1991 also were triggered by deceptions involving US presidents. If 9/11 is not such a deception, it's an exception to the rule.
Most people want peace most of the time. That's a problem for rulers bent on war. History teaches that rulers arranging for their country to be attacked, or appear[ing] to be attacked, is the fastest method for these rulers to get their way when they want war.
1. Operation Northwoods
Consider only three cases, starting with the book, Body of Secrets. Author James Bamford is a former Washington Investigative Producer for ABC's World News Tonight with Peter Jennings. I learned of this book on ABC's website.
Bamford's information comes from interviews with, for instance, the former Dean of the US intelligence community and from government documents. It takes 80 pages to list Bamford's more than 600 sources.
Here is the story. It's 1962; John F. Kennedy is US President; Robert McNamara is Secretary of Defense; General Lyman Lemnitzer heads the US Joint Chiefs of Staff.
The CIA fails in its illegal Bay of Pigs invasion of Cuba. "JFK decides," Bamford writes, "to back away from military solutions to the Cuban problem." But Lemnitzer, the CIA and others at the top remain obsessed with Cuba. Writes Bamford: "As the Kennedy brothers appeared to suddenly 'go soft' on Cuba, Lemnitzer could see his opportunity to invade … quickly slipping away … Attempts to provoke the Cuban public to revolt seemed dead. Lemnitzer and the other chiefs knew there was only one option left that would ensure their war. They would have to trick the American public and world opinion …"
Lemnitzer comes up with 'Operation Northwoods'
"We could blow up a US ship in Guantanamo Bay and blame Cuba … casualty lists in US newspapers would cause a helpful wave of national indignation."
"We could develop a Communist Cuban terror campaign in the Miami area, in other Florida cities and even in Washington."
An elaborate variation: create "an exact duplicate for a civil registered aircraft … At a designated time the duplicate would be … loaded with … selected passengers, all boarded under carefully prepared aliases. The actual registered aircraft would be converted to a drone [a remotely controlled unmanned aircraft] … the destruction of (that) aircraft will be triggered by radio signal." The Cubans would be blamed.
Finally, another variation is described by Bamford: "On February 20th, 1962 (John) Glenn was to lift off from Cape Canaveral … on his historic journey. Lemnitzer "proposed … that should the rocket explode and kill Glenn, the objective is to provide irrevocable proof that … the fault lies with (Cuba) … by manufacturing various pieces of evidence which would prove electronic interference on the part of the Cubans."
Thus, Bamford notes, "as NASA prepared to send the first American into space, the Joint Chiefs of Staff were preparing to use John Glenn's possible death as a pretext to launch a war."
The Operation Northwoods plan shows the Pentagon was capable, according to Bamford, "of launching a secret and bloody war of terrorism against their own country in order to trick the American public into supporting a (war on Cuba)."
In light of this, does Pentagon complicity in the events of Sept. 11th sound entirely far-fetched? Now fast forward just two years from Operation Northwoods, to August 2nd, 1964.
2. The Gulf of Tonkin Incident
In the Gulf of Tonkin, North Vietnamese torpedo boats attack the US destroyer Maddox. The Associated Press story for some reason is datelined Pearl Harbor. The lead: "Three PT (patrol torpedo) boats, identified by Secretary of State Dean Rusk … as North Vietnamese, attacked …" Later a second US destroyer is attacked, according to news reports.
Although no US sailor suffers a scratch, the American public is outraged. President Lyndon Johnson goes on television to ask the country to support war action. Two days later the Tonkin Gulf Resolution is approved by the US House of Representatives, unanimously, then by the Senate, 88 to 2. The resolution becomes the entire justification for the United States' war against Vietnam. Before that's over 58,000 American soldiers and three million Vietnamese die. One small problem. There never were any North Vietnamese PT boats. The events never happened, as Secretary of State Rusk, the President, and Defense Secretary Robert McNamara well know. They know because they planned the entire deception.
One source for this is former Admiral James Stockdale in his book In Love and War. On the night in question Stockdale is at the controls of a fighter jet flying cover for the two destroyers. He sees nothing.
Another source is Ben Bradlee, much-respected former managing editor of the Washington Post. Bradlee, in a public lecture in England in April 1987, states: "The 'facts' behind this critically important resolution were quite simply … lies." Fast forward, again, to August 2nd, 1990.
3. The Kuwaiti Incubator Baby Deception
Iraq attacks Kuwait, claiming the Kuwaitis are slant-drilling into Iraq's oil fields. US President George Herbert Walker Bush pushes for a land war against Iraq. But polls show the US public is split 50-50 on that idea.
Then comes this eyewitness testimony before a Congressional committee, from a 15-year-old Kuwaiti girl. The claim is she cannot be identified for fear of reprisals.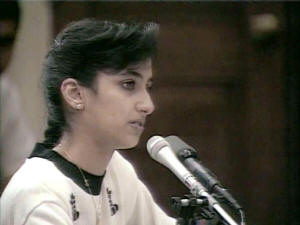 15-year-old Kuwaiti girl: "While I was there I saw the Iraqi soldiers come into the hospital with guns. They took the babies out of incubators" (her voice breaks; there's a long pause while she sniffles and wipes tears from her eyes), "took the incubators, and left the children to die" (her voice rises tremulously into crying) "on the cold floor."
BZ: The US public is outraged. The result? Support for land war zooms. It's a turning point. Desert Storm is launched. One hundred and thirty-five thousand Iraqis are killed. An estimated one million Iraqis, many of them children and old people, then die as a result of 10 years of sanctions.
One small problem. There never were any incubator baby deaths. Not one.
The Canadian Broadcasting Corporation's investigative flagship program, the fifth estate, reveals the girl to be the Kuwaiti Ambassador's daughter, given her lines and coached in acting by the giant American PR firm Hill & Knowlton. It's one phase in a ten-million-dollar joint US-Kuwaiti campaign of deception.
This man is lying.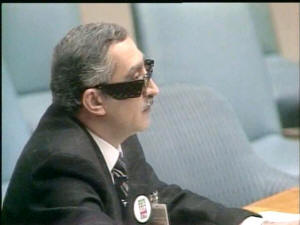 "I myself buried 14 newborn babies that had been taken from their incubators."
BZ: This man is lying.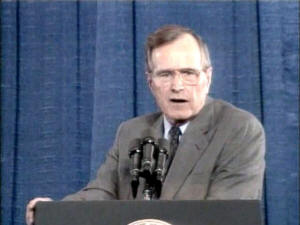 George H.W. Bush: "…kids in incubators and they were thrown out of the incubators so that Kuwait could be systematically dismantled."
BZ: There were a lot of people who participated in the conspiracy – yes, an out-and-out conspiracy – of fake organizations, false documents, fraud and disinformation.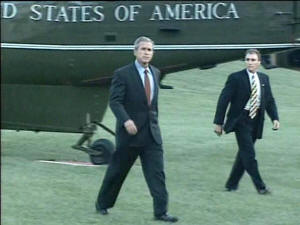 So, if a new man named Bush is in the White House and helps engineer a brazen deception in order to achieve global geopolitical goals as well as domestic and personal ones, it wouldn't be a first, would it? After a short break, a detailed look at the events of September 11th, 2001
* * *
Film narrator: Today democracy can ebb away in communities whose citizens allow power to become concentrated in the hands of bosses.
Boss: What I say goes see? I'm the law around here (gleeful laughter).
Film narrator: The chance of despotic power is that it can disregard the will of the people.
* * *
BZ: Welcome back to The Great Conspiracy: The 9/11 News Special You Never Saw.
The events of 9/11 begin with aircraft going wildly off-course. Incredibly, despite radar tracking for almost two hours, the whole of the mighty US Air Force goes AWOL that morning. It's a mind-bending anomaly.
Not a single US Air Force interceptor turns a wheel until it's too late. There are no jets at all. It's a matter of historical record.
That could happen only two ways. Either it was staggering multiple simultaneous coincidental incompetence at all levels in many agencies, defying known laws of averages, a 54-million-to-one chance, which is the 9/11 Commission official story. [Or] there's another explanation: the US Air Force is neutralized by design. The evidence indicates this is about a one-to-one chance.
An 'Intended Paralysis'
Standard procedures for dealing with aviation emergencies of all kinds have been in place and have worked for years. David Ray Griffin is the author of The New Pearl Harbor, the most widely respected critique of the official story of 9/11. He quotes the Federal Aviation Authority's Aeronautical Information Manual: Official Guide to Basic Flight Information and Air Traffic Control (ATC) Procedures. It states: "If you are in doubt that a situation constitutes an emergency, or potential emergency, handle it as though it were an emergency."
As for the military, the guiding document is ACC1 13-SAOC, Volume 3, US Air Defense Command and Control Operations. At the top of the first page it reads "Compliance with this order is mandatory." The first paragraph reads, in part: "The ADC (Air Defense Command) is to provide … North American Aerospace Defense Command [NORAD] … with the means to detect, monitor, identify, intercept, report and if necessary destroy any airborne object that may pose a threat to North America in the fulfillment of the tactical threat warning attack assessment and to provide such information to collateral missions of NORAD."
Michael C. Ruppert
Michael Ruppert, a former Los Angeles Police Department detective, was the first major 9/11 skeptic and researcher in the world and remains one of the foremost. He was one of 40 experts on 9/11 who testified at the six-day International Citizens' Inquiry Into 9/11, held in Toronto in May of 2004. I helped organize that event. At the Inquiry, Michael Ruppert addresses the absence of jet interceptors, but the unlikelihood of a simple stand-down order, and asks …
Michael Ruppert: "What if they were so confused, and had been so deliberately confused, that they couldn't respond?"
BZ: Michael Ruppert is standing by at his office in Sherman Oaks, California. Michael, thanks for this. What is the reason for the failure of US military jets to show up in a timely fashion on 9/11?
MR: Well, the simple fact is, Barrie, that they didn't know where to go. The reason that they didn't know where to go was because a number of conflicting and overlapping war game exercises were taking place, one of which, Northern Vigilance, had pulled a significant number of North American fighter aircraft into Canada and Western Alaska and Northern Alaska in a mock Cold War hijack exercise. There was another drill, Vigilant Guardian, which was a hijack exercise, a command post exercise but it involved the insertion of false radar blips onto radar screens in the Northeast Air Defense Sector. In addition we have a confirmation thanks to General Richard Myers who was Acting Chairman of the Joint Chiefs, who told Richard Clarke as reported in Clarke's (recent) book that there was another exercise, Vigilant Warrior, which was in fact, according to a NORAD source, a live-fly hijack drill being conducted at the same time.
With only eight available fighter aircraft (and they had to be dispatched in pairs) they were dealing with as many as 22 possible hijacks on the day of 9/11 and they couldn't separate the war game exercises from the actual hijacks.
BZ: But this was done deliberately though?
'Crossing the Rubicon' – Ruppert's Evidence
MR: Apparently so and I will be saying that in my forthcoming book Crossing the Rubicon – The Decline of the American Empire at the End of the Age of Oil. We have done an extensive investigation on that to show that these war game exercises were apparently very well planned by someone, (who I will show, I believe was Dick Cheney) in the United States government, who deliberately confused FAA, NORAD and US Air Force fighter response to fulfill a prophecy that another man once said, "Let one happen and stop the rest."
BZ: On that very point we have a recording. FAA: Hi, Boston Center TMU, we have a problem here. We have a hijacked aircraft headed towards New York. We need someone to scramble some F-16's or something up there, help us out.
N.E. Air Defense Sector: Is this real world or exercise?
FAA: No, this is not an exercise, not a test.
* * *
BZ: Now the 9/11 Commission didn't mention the war games, is that right?
MR: No, in their final report they did mention I think in one paragraph Vigilant Guardian, but the response given by NORAD Commanding General Ralph Eberhart and other Air Force spokespeople was absolutely nonsensical and it made no mention of any of the other war game exercises. Eberhart's position was, in fact, (and this is a very ludicrous position) that the Vigilant Guardian exercise, leaving aside the others, actually helped speed response on 9/11. That is absolutely not the case.
BZ: How does this relate to the 9/11 Commission report which says that planes had gone in the wrong direction?
MR: Well, that is a separate issue that remains to be clarified, but what I will be disclosing in my book, in effect, is that there were two simultaneously operating command-and-control systems functioning on the day of 9/11 and sometimes they were issuing conflicting orders. We do not have a clear explanation for why fighters from [Langley] Air Force Base were sent out over the sea first and couldn't turn around because the 9/11 Commission seemed to change all the evidence just arbitrarily right before it issued its final report. So we don't have a clear explanation. But certainly it is all consistent with a motive that said, make sure that the fighters don't get to any place in time to stop the three critical attacks on the World Trade Center and the Pentagon.
BZ: I have called that in my own research an "effective stand-down". Would you say that would be a correct characterization?
MR: Well, it is a de facto stand-down. That was the intended result. I would really call it "an intended paralysis." With only eight available fighters and fighters have to be scrambled in pairs, you only had a chance for four responses out of what we have confirmed were as many as 22 possible hijacks showing up on radar screens.
BZ: That is fascinating and damning information. I look forward to your book. What about the motivation for the whole of 9/11?
MR: Well, overall the primary motivation was something we call 'peak oil', the fact that the world has either passed or is now at its permanent peak of hydrocarbon or oil production and now about to go into a condition of permanent and irrevocable decline in oil production, even as demand is soaring exponentially, both in the West and in China and Asia and the developing countries. This has set off what we at From the Wilderness and certainly in my book … will describe as a very bitter sequence of conflicts, (as Dick Cheney told us, in a "war that will not end in our lifetimes") to secure the last remaining oil reserves on the planet.
We have seen a lot of other instances where this kind of attack was predicted and stated as a requirement for the American empire to mobilize its military resources. Zbigniew Brzezinski did it in his book The Grand Chessboard in 1997; the Project for a New American Century called for "a new Pearl Harbor" in [2000]. So there's a lot of evidence here showing very clearly that this attack was needed, it was planned and all of the evidence that has been so diligently compiled has just been absolutely ignored by the Kean Commission.
BZ: And finally Michael, (I certainly for one accept your motive of peak oil), what about other motives that could be involved?
MR: Well, if you are going to, as Zbigniew Brzezinski wrote, have some kind of direct external threat, [you need] an attack like Pearl Harbor basically. [Then] you [can] scare the bejesus out of the American people to get them to support the 'imperial mobilization,' (those were his words), necessary to secure those vital resources in these strategic geo-political regions on the planet. Without that, the American people would never have gone to war, and of course, in late 2004 we're beginning to see that the American people aren't going along with it now either.
BZ: Michael, thank you for this today.
MR: Bye Barrie.
Dr. Robert M. Bowman
BZ: Dr. Robert M. Bowman is a veteran of 101 combat missions in Vietnam. His 22-year Air Force career culminated in his job as Director of Advanced Space Programs Development for the Air Force Space Division during the presidency of Ronald Reagan. He's President of the Institute for Space and Security Studies. His presentation to the Citizens' Inquiry was titled "A Fighter Pilot Looks Back at 9/11 and Forward to a Resurrected America."
Robert Bowman: 9/11 is related to just about everything else, particularly the war against Iraq. These two things have one aspect very much in common. They are both in my opinion, treason.
The cabal of neo-conservatives at PNAC … [The Project for a New American Century], who planned this war: Cheney, Rumsfeld, Wolfowitz, Libby, Perle, Jeb Bush, even before W. became president – I don't say 'elected', I say 'became' president – this cabal knew the American people would not stand for a war against Iraq, unless there was, as they put it in their own document, "a new Pearl Harbor." 9/11 supplied that.
BZ: In other words, 9/11 was a false flag operation. That's one term to describe an act carried out to make it appear it was done by someone else. Next, the man who's written the book on false flag operations.