Lie by Lie: How Our Leaders Used Fear and Falsehood To Dupe Us Into a Mideast Quaqmire: A Timeline
by Tim Dickinson & Jonathan Stein
Illustration by John Ueland
Mother Jones
September, October 2006
NOTICE: THIS WORK MAY BE PROTECTED BY COPYRIGHT
YOU ARE REQUIRED TO READ

THE COPYRIGHT NOTICE AT THIS LINK

BEFORE YOU READ THE FOLLOWING WORK, THAT IS AVAILABLE SOLELY FOR PRIVATE STUDY, SCHOLARSHIP OR RESEARCH PURSUANT TO 17 U.S.C. SECTION 107 AND 108. IN THE EVENT THAT THE LIBRARY DETERMINES THAT UNLAWFUL COPYING OF THIS WORK HAS OCCURRED, THE LIBRARY HAS THE RIGHT TO BLOCK THE I.P. ADDRESS AT WHICH THE UNLAWFUL COPYING APPEARED TO HAVE OCCURRED. THANK YOU FOR RESPECTING THE RIGHTS OF COPYRIGHT OWNERS.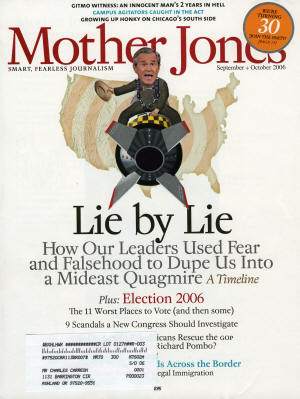 In the representative system, the reason for everything must publicly appear. Every man is a proprietor in government, and considers it a necessary part of his business to understand. It concerns his interest, because it affects his property. He examines the cost, and compares it with the advantages; and above all, he does not adopt the slavish custom of following what in other governments are called Leaders. ...

It is the laws that govern, and not the man.

-- Thomas Paine, The Rights of Man
Chronicle of a War Foretold -- Truth Was a Casualty Long Before We Invaded Iraq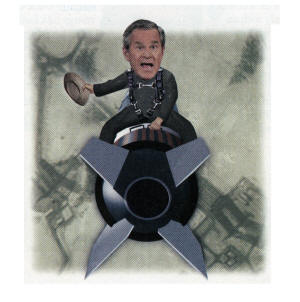 At a June Congressional hearing examining the march to war in Iraq, Republican congressman Walter Jones posed "a very simple question" about the administration's manipulation of intelligence: "How could the professionals see what was happening and nobody speak out?"
Colonel Lawrence Wilkerson, Colin Powell's former chief of staff, a man who has dedicated his civilian life to speaking truth to the Bush administration, responded with an equally simple answer: "The vice president."
It is easy to pass judgment on Dick Cheney, for there is no longer any reasonable doubt that the vice president willfully distorted the threat posed by Saddam Hussein's Iraq while abusing the power of his office to suppress countervailing information. The administration's dead certainty about the righteousness of "regime change" was like a cancer: Al Qaeda and Saddam were in league -- they just had to be. So detainees would be tortured. And torture would breed false confessions -- of collaboration and chemical weapons training -- providing essential lies that girded the case for a preordained war.
But the blame for Iraq does not end wtih the vice president, President Bush, or even Donald Rumsfeld's Pentagon. Nor is it limited to the intelligence operatives who sat silent as the administration cherry-picked its case for war, or to those, like Colin Powell or Hans Blix, who, in the name of loyalty or statesmanship, did not give full throat to their misgivings.
It is shared by useful idiots from the Fourth Estate. The New York Times' Judith Miller, to be sure. But also the editors of the Washington Post who routinely relegated vital reporting on the flimsiness of the administration's Iraq intel to Page A13. Blame also belongs squarely on the shoulders of the 94 U.S. senators who could not be bothered to read the full 92-page National Intelligence Estimate on Iraq -- which contained far more dissenting intelligence than had ever been made public in the national debate -- before voting to send American troops to war.
And it lies, inescapably, with we the American people, who, in our fear and rage over the catastrophic events of September 1, 2001, alowed ourselves to be suckered into the most audacious bait and switch of al time. Half a trillion dollars later, Saddam may be in jail, but Osama's still at large, Iraq looks ever more like Afghanistan -- where the Taliban is again resurgent - and nearly 60,000 Americans and Iraqis are dead.
How did it happen? This timeline is, in part, an effort to answer that question. It draws upon the first drafts of history: the essential news reporting of America's finest journalists. Some, like the Post's Walter Pincus and Dana Priest, were bold enough to buck the administration's master narrative; others -- including the mythic Bob Woodward -- compromised their journalistic integrity for access but nonetheless captured details that only access could provide. It is complemented by the work of foreigners: the British reporter Michael Smith, for instance, who unearthed the so-called Downing Street memos. And it is rounded out by tales of whistleblowers and administration turncoats -- by the firsthand accounts of former Treasury Secretary Paul O'Neill, ex-counterterror czar Richard Clarke, and, yes, Colonel Wilkerson.
The first drafts of history are, by their nature, fragmentary. They arrive tragically late, and too often out of order. Here, then, we have stripped the history of the five bloody years since 9/11 to its bare bones, and reconstructed a skeleton that we hope will be a key to resolving open questions of the Bush era. What did our leaders know, and when did they know it? And, perhaps just as important, what red flags did we miss, and how could we have missed them?
The eight pages we present here are a small fraction of this project. Our website, MotherJones.com, offers a greatly expanded timeline, one that is completely sourced to primary documents and initial news accounts; one that is interactive, sortable, and continues to the present day. It is our hope to make this second draft of history as definitive as possible. So that we won't be fooled again.
--THE EDITORS