Shaukat Aziz
by Wikipedia
NOTICE: THIS WORK MAY BE PROTECTED BY COPYRIGHT
YOU ARE REQUIRED TO READ

THE COPYRIGHT NOTICE AT THIS LINK

BEFORE YOU READ THE FOLLOWING WORK, THAT IS AVAILABLE SOLELY FOR PRIVATE STUDY, SCHOLARSHIP OR RESEARCH PURSUANT TO 17 U.S.C. SECTION 107 AND 108. IN THE EVENT THAT THE LIBRARY DETERMINES THAT UNLAWFUL COPYING OF THIS WORK HAS OCCURRED, THE LIBRARY HAS THE RIGHT TO BLOCK THE I.P. ADDRESS AT WHICH THE UNLAWFUL COPYING APPEARED TO HAVE OCCURRED. THANK YOU FOR RESPECTING THE RIGHTS OF COPYRIGHT OWNERS.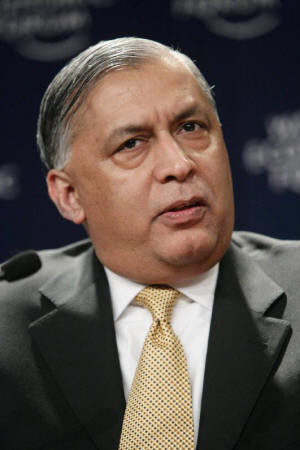 Aziz at the 2007 World Economic Forum Annual Meeting.
Shaukat Aziz (Urdu: شوکت عزیز), (born March 6, 1949 in Karachi, Pakistan) was the Prime Minister of Pakistan from 2004 to 2007. He became Finance Minister in November 1999 and was named by the Pakistan Muslim League for the position of Prime Minister after the resignation of Zafarullah Khan Jamali on June 6, 2004. He became Prime Minister on August 28, 2004 and served until November 15 2007. He became the first Prime Minister of Pakistan to complete a full term in office. He is a rare high-level government leader of a major power with a strong background as a successful businessman and financier.
Education
Aziz attended Saint Patrick's High School, Karachi and Abbottabad Public School, Abbottabad. He passed his Intermediate from Saint Patrick's College, Karachi. He graduated with a Bachelor of Science degree from Gordon College, Rawalpindi, in 1967. He obtained an MBA Degree in 1969 from Institute of Business Administration (IBA) in Karachi, one of the premier business schools in Pakistan. It was during his studies at the IBA that he secured an internship at Citibank and began his banking career.
Pre-politics
In 1969 he joined Citibank, serving in various countries, including Pakistan, Greece, the United States, the United Kingdom, Malaysia, Philippines, Jordan, Saudi Arabia, and Singapore. He served as Citibank's head of Global Wealth Management & Private Banking, Corporate and Investment Banking for the Asia Pacific region and the CEEMEA region (Central & Eastern Europe, the Middle East and Africa); as Corporate Planning Officer, Citicorp; as Managing Director, Saudi America Bank; as Citibank's Chief Country Officer in Malaysia and, later, in Jordan. He has been a board member of Citibank subsidiaries, including Saudi American Bank, Citicorp Islamic Bank, and of several non-profit organizations[1].
Finance Minister
On 26 November 1999, while addressing a gathering of PakPAC, a political lobbying sub-body of the Association of Pakistani Physicians of North America (APPNA), Musharraf stated that Shaukat Aziz has come to Pakistan with forty other financial experts who have offered free service to revive the Pakistani economy. Then he asked Shaukat Aziz to stand up and introduce himself to the audience.
In November 1999 Aziz became the government's Finance Minister with responsibility for Finance, Economic Affairs, Statistics, Planning and Development, and Revenue Divisions. As Minister of Finance Aziz also headed the Economic Coordination Committee of the Cabinet, the Cabinet Committee on Investment, the Executive Committee of the National Economic Council, and the Cabinet Committee on Privatization.
In 2001 Aziz was declared 'Finance Minister of the Year' by Euromoney and Banker's Magazine.
By October 2007, at the end of Prime Minister Shaukat Aziz's tenure, Pakistan raised back its Foreign Reserves to $16.4 billion. Pakistan's trade deficit was at $13 billion, exports were $18 billion, revenue generation was $13 billion and attracted foreign investment was $8.4 billion. [2]
Pakistan's fiscal performance was praised by IMF and World Bank.[3] The World Bank further reiterated that Pakistan's Economic growth bolstered International confidence.[4]
World Bank Praises: World Bank President Mr Wolfensohn said, ""The progress has been terrific. Now Pakistan must stay the course until the benefits of its achievements reach the vulnerable sections of the society including the very poor, women, children and the disabled,".[5]
IMF Praises: IMF's new Middle East director Mr. George Abed, said he was "very pleased with the record of Pakistan in the past three years of continued macroeconomic and financial stabilisation and we have begun to think of Pakistan as a country of promise and a country of potentially high rate of growth."[6]
Asian Development Bank also praised Pakistan's Micro-Finance [7]
Media Recognition: In 2001, Mr. Aziz was also named "Finance Minister of the Year" by the prestigious Euromoney and Bankers Magazines.
Prime Minister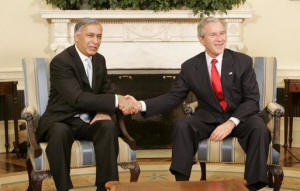 Shaukat Aziz at the White House with US president George W. Bush, 24th January, 2006.
Aziz was named by the Pakistan Muslim League (Q) as the next Prime Minister after Mir Zafarullah Khan Jamali resigned on June 6, 2004.
The post was held by Chaudhry Shujaat Hussain while Aziz fulfilled the constitutional requirement of securing a seat in the lower house of parliament. Aziz ran from two constituencies, Tharparkar-I in Sindh, and Attock District.[8] While campaigning on July 29, 2004 Aziz survived an assassination attempt in the small town of Fateh Jang in Attock District. A suicide bomber blew himself up next to a car in which Aziz was travelling, killing his chauffeur and eight others. However, Aziz continued campaigning and won from both constituencies. Since he could retain only one seat, he immediately vacated his Tharparkar seat, preferring to represent Attock, where he had won by 76,156 votes to 29,497.
Aziz was elected Prime Minister by parliament on August 27, 2004, by a vote of 191 to 151 in the National Assembly of Pakistan, and was sworn in on August 28, 2004. He retained his position as Minister of Finance, and he presided over an unprecedented boom in the Pakistani economy as well as broad based structural reforms.
Aziz left office on November 16, 2007, at the end of the parliamentary term and became the first Prime Minister of Pakistan who left seat after completion of parliamentary term of five years.[9]
Assassination attempts
While campaigning on July 29, 2004 Aziz survived an assassination attempt in the small town of Fateh Jang in Attock District. A suicide bomber blew himself up next to a car in which Aziz was travelling, killing his chauffeur and eight others.
Nuclear Policy and Energy Policy
Shaukat Aziz, as Prime Minister of Pakistan, played an important role in establishing of both military and civilian purpose nuclear power plants within Pakistan. Aziz launched work on the 325-megawatt plant in Chashma, which is the second to be built at the site with Chinese help. He also met with then-PAEC Chairman Mr. Parvez Butt, who, together with fellow scientists and engineers, submitted a long-term nuclear power plants and nuclear technology plan. On December, 28, 2005, Aziz inaugurated Chasma nuclear power plant along with PAEC Chairman Parvez Butt, where both Chinese and Pakistani nuclear scientists attended. In an inauguration, Prime Minister Shaukat Aziz said "a milestone" in the history of nuclear technology in Pakistan"[10]. He also allowed PAEC to upgrade its nuclear laboratories and Karachi nuclear power plant. He also sat up funds of PAEC to established more nuclear power plants within the country. Prime Minister Shaukat Aziz allowed PAEC to designed another heavy water power plant in Khushab district of Punjab.
Aziz played a pivotal role in hydroelectric power plants project in Pakistan. He also assisted President of Pakistan, General Pervez Musharraf in the Diamer-Basha Dam project. On January, 17,2006, he announced the decision of Government to construct 5 multi-purpose storages in the country during next 10 -12 years. Diamer Basha Dam Project will be undertaken in the first phase. His efforts were heavily involved in launching of wind power plants in Pakistan. Aziz also set up Solar Power plants in different cities of Pakistan]. Heis also credited with establishing particle accelerators in the universities of Pakistan. He, along with known Pakistani chemist and research scientist, Atta ur Rahman, worked closely to establish particle accelerators at Quaid-i-Azam University and many other universities of Pakistan. He also alloted funds of Riazuddin National Center for Physics, also at Qau.
Aziz chaired a meeting of WAPDA's and KESC scientists on 2006. He was briefed by the Deputy Chairman Planning Commission Dr. Muhammad Akram. He issued directions to the concerned ministries and departments to focus on energy requirements of the country with a view to sustaining the tempo of development. He would also convene a meeting soon to draw up a plan for the purpose[11]. Dr. Akram said in the Press Conference that the "Prime Minister has given special directives to meet the energy demand in the country. He said that Prime Minister will be convening a meeting of WAPDA, its transmission and distribution departments and petroleum sector in next two weeks to discuss with officials the energy issues to ensure future requirements and not to affect industrial and agricultural growth in the country.
Involvement in Pakistan's Astronautics and Aerospace Program
On March 2007, Aziz met with PAF Chief of Air Staff, Air Chief Marshal Tanvir Mahmood Ahmed, where he discussed him about the Pakistan's JF-17 Thunder program. He also set up an separate fund for JF-17 Thunder program. On April of 2007, Aziz visited the People's Republic of China, where he met with high government and military officials. Aziz signed a deal with Chinese to deliver Chengdu J-10 fifth-generation aircrafts.
On August 2006, Aziz visited People's Republic of China. He sought Chinese cooperation in rocket science and space technology. China can help Pakistan in developing and launching satellites[12]. In a joint statement of Prime Minister Shaukat Aziz and Chinese Premier Wen Jiabao said that "both countries are determined to elevate their friendship and strategic partnership".
In 2007, after a visit to China, the Prime Minister said in a press conference held in Islamabad that serial production of JF-17 Thunder would soon start in 2008 and Pakistan would like to sell fourth generation JF-17 Thunder multirole combat aircraft to those interested. The Prime Minister also confirmed that the JF-17s in Pakistan had completed 500 combat missions/sorties.
The same year, he met with chairman of SUPARCO, the leading Pakistani space agency, where he was briefed by the chairman on the status of Pakistan's Space Program. Prime Minister Shaukat Aziz gave green signal SUPARCO to developed PAKSAT-IR and Satellite Launch Vehicle to be developed. However, the status of SLV are remained unclear.
Shaukat Aziz's credentials and Economic Policy
Shaukat Aziz is a banker by training and extensive experience in New York. His credentials are similar to those of the successful US treasury secretaries such as Bob Rubin and Nick Brady who did well under Clinton and Reagan administrations. He understands the role of banking, finance, investment and consumer credit in economic growth of a nation. He focused on building strong banking, investment and finance sectors in Pakistan to underpin its economy. He strengthened capital availability, an essential and increasingly important economic input, in addition to labor and land improvements. With higher education budget up 15-fold and overall education spending up 36% in two years, he focused on education to improve the availability of skilled labor to fill new jobs. He pushed land development and public and private construction spending to improve infrastructure and facilities to attract greater business investment. Aziz was largely successful in his efforts. He was regarded as a reformer, with Pakistan's structural reforms ranking high amongst emerging economies. Aziz co-chaired the Secretary-General's High Level Panel on the United Nations System-wide Coherence in the areas of development, humanitarian assistance and the environment.[13]
• Pakistan's economy grew by 100% — to become $ 160 billion[14][15]
• Revenue grew by 100% — to become $ 11.4 billion
• Per Capita Income grew by 100% — to become $ 925
• Foreign Reserves grew by 500% — to become $ 17 billion
• Exports grew by 100% — to become $ 18.5 billion
• Textile exports grew by 100% — to become $ 11.2 billion
• Karachi Stock Exchange grew by 500% — to become $ 75 billion
• Foreign Direct Investment grew by 500% — to become $ 8.4 billion[16]
• Annual Debt servicing decreased by 35% — to become 26%
• Poverty decreased by 10% — to become 24%
• literacy rate grew by 10% — to become 54%
• Public development Funds grew by 100% — to become Rs 520 billion.[17]
In 2008, Aziz participated in the Global Creative Leadership Summit, organized by the Louise Blouin Foundation. As a delegate, he delivered a keynote speech for the panel entitled "Economic Crisis, Economics of Change: Credit, Commodities, and Trade."
References
1. Profile: Shaukat Aziz - BBC NEWS
2. Foreign Reserves Phenomenon
3. [1]
4. Pak economic growth has bolstered int'l confidence: WB
5. World Bank President praises Pakistan's recent economic achievements
6. IMF praise for Pakistan - BBC News
7. ADB praises micro-finance in Pakistan
8. Shaukat takes oath as MNA, Retains Attock Seat - Pakistan Times
9. "Soomro takes oath as Pakistan's caretaker PM", Xinhua News Agency, November 16, 2007.
10.
http://news.bbc.co.uk/2/hi/south_asia/4565212.stm
11.
http://www.pakdef.info/forum/showthread.php?t=7131
12.
http://www.atimes.com/atimes/South_Asia/ID26Df01.html
13. Economic Indicators
14.
http://economicpakistan.wordpress.com/2 ... 007-beyond
Economic Indicators
15.
http://www.pakboi.gov.pk/eco-ind.htm
16.
http://dailymailnews.com/200903/28/news ... age10.html
17. [2]