Egyptian Man Denies Son's Involvement in Hijackings, Calls Accusations "Nonsense"
by Neil MacFarquahar
The New York Times
Sept. 19, 2001
NOTICE: THIS WORK MAY BE PROTECTED BY COPYRIGHT
YOU ARE REQUIRED TO READ

THE COPYRIGHT NOTICE AT THIS LINK

BEFORE YOU READ THE FOLLOWING WORK, THAT IS AVAILABLE SOLELY FOR PRIVATE STUDY, SCHOLARSHIP OR RESEARCH PURSUANT TO 17 U.S.C. SECTION 107 AND 108. IN THE EVENT THAT THE LIBRARY DETERMINES THAT UNLAWFUL COPYING OF THIS WORK HAS OCCURRED, THE LIBRARY HAS THE RIGHT TO BLOCK THE I.P. ADDRESS AT WHICH THE UNLAWFUL COPYING APPEARED TO HAVE OCCURRED. THANK YOU FOR RESPECTING THE RIGHTS OF COPYRIGHT OWNERS.
CAIRO, Sept. 18 — Sometimes shouting, sometimes crying, sometimes shaking his head, Mohamed al-Amir Atta said Tuesday that his son and namesake was a shy man who could not possibly have sent a hijacked jet slicing through the first World Trade Center tower.
"Mohamed. Oh God! He is so decent, so shy and tender," said the father, a 65-year-old retired lawyer. "He was so gentle. I used to tell him, 'Toughen up, boy!'"
Mr. Atta stood on the barren concrete doorstep of his 11th-floor Cairo apartment today, alternating between rage at the picture being painted of his son as one of the attack's ringleaders and pride that his boy had done well abroad after graduating with average marks in architecture from Cairo University's Faculty of Engineering.
The FBI has identified the 33-year-old son of Atta as one of the hijackers. He has been traced to at least two flying schools in Florida in the 14 months before last week's attack.
The elder Atta laced his conversation with fierce attacks against the United States, a "tyrant nation" that he blasted repeatedly for supporting Israel and for moral contagions like adultery and same-sex marriage.
Some of his son's university friends in Germany have described Mohamed Atta as a sharply intelligent, strict, serious man who seemed to retreat socially, seeking solace from religion.
The elder Atta said he never encouraged his children to be social, even avoiding the incessant contact between relatives so common in Egypt. Neighbors in their slightly tattered, middle-class neighborhood in Giza, just off the road to the Pyramids, confirmed that family members rarely said more than hello.
"We keep our doors closed, and that is why my two daughters and my son are academically and morally excellent," Atta said.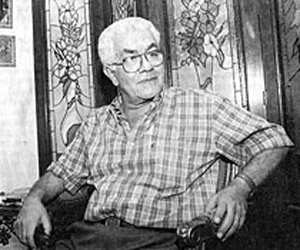 Mohamed El-Dakhakhny for The New York Times
Mohammed al-Atta, a lawyer in Cairo and the father of one of the hijacking suspects, expressed rage at the picture being drawn of his son.
He was outraged at reports that his son was seen drinking in a Florida bar on the eve of the attacks.
"My son is a hijacker and drinks vodka!" yelled Atta, his face reddening to the roots of his short white hair and his hands waving in the air. "It is like accusing a decent, veiled religious girl of smuggling prostitutes into Egypt. It is nonsense, imagination!"
Indeed, two German students who spent the months of August to October 1995 in Cairo with Atta while completing an urban-renewal field study said they did not drink alcohol around him because it made him uncomfortable.
The elder Atta said that while his son was also religious, that fervor did not extend to politics.
He had refused, his father said, to take part in a neighborhood basketball league when he found out it was organized by the Muslim Brotherhood, Egypt's most established religious political organization.
"He was a donkey when it came to politics," his father said. "I advised him, like my father advised me, that politics equals hypocrisy."
The father said the only vaguely political remark he heard his son make was that the restoration of a mosque in Cairo's Old City was too lavish, and the money could be better spent on job creation.
But the two German classmates, Volker Hauth and Ralph Bodenstein, said Atta, who left Egypt in 1993, spoke with increasing bitterness about what he saw as the autocratic government of President Hosni Mubarak and the small coterie of former army officers and of rich Egyptians gathered around him. The classmates said he called the ruling elite "the fat cats" and decried both their close ties to the United States and their suppression of both religious and non-governmental organizations.
The entire restoration project around the old city gates, Bab al-Nasr and Bab al-Futuh, involved knocking down the homes and workshops of the poor. "It made him angry, he said it was a completely absurd way of developing the city, to try to make Disney World out of it," said Bodenstein, interviewed by telephone.
The elder Atta said that once his youngest child had completed his master's degree, he wanted to come home and get married. But he told the son that he needed a doctorate even though he was too old to be living without a woman.
The elder Atta confirmed that the picture in all the newspapers was that on his son's passport, but said the younger man might have been murdered and his documents stolen. He said he did not know many details of his son's life in the United States, other than that he thought he was going there for more education. The younger man was last in Egypt a year ago.
If he was on the plane, and there were books left in a suitcase about flying, it was because he had a curious mind, the father said. Someone like Israel's intelligence agency had the capacity to organize such an attack, the father said. But his son, an urban-planning architect, did not.
"I do not believe my son did it; I am sure he is alive," the father said. "He was afraid of flying."