CIA WHISTLEBLOWER SUSAN LINDAUER EXPOSES EVERYTHING! "EXTREME PREJUDICE"
by Susan Lindauer
Video from Portland, Oregon
August, 2011
NOTICE: THIS WORK MAY BE PROTECTED BY COPYRIGHT
YOU ARE REQUIRED TO READ

THE COPYRIGHT NOTICE AT THIS LINK

BEFORE YOU READ THE FOLLOWING WORK, THAT IS AVAILABLE SOLELY FOR PRIVATE STUDY, SCHOLARSHIP OR RESEARCH PURSUANT TO 17 U.S.C. SECTION 107 AND 108. IN THE EVENT THAT THE LIBRARY DETERMINES THAT UNLAWFUL COPYING OF THIS WORK HAS OCCURRED, THE LIBRARY HAS THE RIGHT TO BLOCK THE I.P. ADDRESS AT WHICH THE UNLAWFUL COPYING APPEARED TO HAVE OCCURRED. THANK YOU FOR RESPECTING THE RIGHTS OF COPYRIGHT OWNERS.
I am not making this up ...

And I got up out of bed, and I looked out the window, and there are men in flak jackets on my porch ... and I was just like, "What are you talking about? I'm making coffee ...

But I will tell you upfront that I believe there was both the hijackings -- and that does not mean that I'm right and you're wrong -- I believe there were both hijackings and a controlled demolition scenario ...

And it's also very important for you to know that as the 10-year anniversary of 9/11 comes up, I mean no offense, but you guys have no idea what actually happened. The lies are so much bigger than what you know. And it's so much deeper. And it's so much more tragic once you have the truth....

So, on that note ...

And contrary to everything you were told, the Iraqis were not resistant to weapons inspections....

This is very important for you to understand. So this is like the background of what you have to know....

There was something else going on that summer that was very beautiful. This peace framework that we had been working on was magnificent. It was turning out just glorious for a peace dividend. The Iraqis were now offering the weapons inspections, which, of course, the United States had very vigorous standards for the weapons inspections. Iraq was offering cooperation with anti-terrorism, to allow the FBI to go in. And Iraq started to offer a lot more. A lot more came on the table. By June and July of 2001, Iraq was offering the United States preferential contracts -- now think about the economy today -- preferential contracts for the United States corporations on telecommunications, healthcare, hospital equipment, pharmaceuticals, and transportation. Iraq offered to buy 1 million American-manufactured automobiles every year for 10 years. Think of what that would have done for the economy. Think about non-dual use factory production. Because the CIA was like, "If we are going to give up these darn sanctions, we're going to take a pound of flesh with it." They had no -- and whether you like the CIA or not, and most of you, 99% of you don't like the CIA. I realize that. Of course! But the CIA was doing what it was supposed to do. Whether you like it or not, they were taking care of what is in the best interests of the United States Government, with the best interests of the United States economy....

You see, you guys couldn't get this number, but I have it. I have the number inside the Attorney General's office. I'm not calling a switchboard, I'm calling his private staff. Okay? ...

What I have learned since then -- now, all the things I have told you are things that I did directly. So I'm not relating what somebody else did, or a conversation that somebody else had that has been reported to me. This is direct, primary knowledge from my own experience. But what I'm going to tell you now is from somebody else. Okay? And so I distinguish these two things. I have been told by somebody who saw the videos, that at the World Trade Center, from approximately ... August 23rd until approximately September 3rd ... my friend says that at approximately 3:00 in the morning ... a couple of vans arrived at 3:00 in the morning, after the janitorial trucks had left the building. And it's very important, because they were able to identify the vans according to make, model, color, and there were no markings on the vans. But the janitorial vans did have markings. And so they were able to distinguish these are not the same vans. And they know how the janitorial trucks left the building. They actually tracked the paths that the janitorial trucks took to drive home. Like the janitorial workers were driving down certain roads to get over to their houses. And the CIA, or the FBI, or the NSA folks, tracked those people home. And he was quite convinced that these are not the same trucks. And from the hours of 3:00 and 5:00, these trucks had never been in this building before. It was an anomaly, definitely. It wasn't like it was going on for months and months and it just continued. They showed up for 10 days, 10 or 11 days approximately, then they were never seen again. And that's when they believe they wired the building.

And my friend told me, absolutely, it was a thermite bomb with potential sulfur in it. The important thing about a thermite bomb is it is an extraordinary heat producing bomb. Okay? It takes steel and it creates molten steel. So it takes beams of steel and it turns it into molten steel. And it just rots, everything underneath just sinks into the ground, like what you saw. And it is a special U.S. military grade weapon. Okay? It is a military grade weapon. It's not something you could make -- ever! -- in your kitchen, or your garage, or your living room. It is impossible for you to do this. This is a U.S. military weapon.

And so I do believe that that helps to explain some of the missing pieces. And I believe this is what happened: They had known about the terrorist attack for months. There is a long-term advance knowledge. Assets are being watched. The so-called "terrorists", whether they are real -- Mohamed Atta was an asset, trained by the United States government, supervised by the United States government, and I can assure you that assets -- and I'm speaking directly from my own personal experience -- assets are heavily controlled individuals....

And so it's more likely that they were using Mohamed Atta to GUIDE the conspiracy, to track the conspiracy. And then they discovered they were bozo pilots, they were clowns, they weren't any good at this flying stuff. And now they had an agenda. And the agenda was that when this attack happened, they were going to go to war with Iraq....

So it's not like they just spontaneously wired the World Trade Center. They knew it was coming. And they wanted to make sure they had maximum damage when it hit. They knew they were going to use the airplanes as the cover to demolish the building....

I was what is called an "asset." I was an intelligence asset. I was supervised by handlers for the CIA and the Defense Intelligence Agency....They knew that I was a passionate, anti-sanctions activist, and passionately anti-war. I hated the first Gulf War. I protested the Gulf War....

[I]t's really questionable that there was a jihadi plot. I do believe there were hijackers. Now, I have to tell you that I do believe there were hijackers. On the other hand, I know that the people they did identify were assets. Okay? They worked for the United States government. And the men who were identified as the hijackers were not jihadis. They were not devoutly religious men. They went to strip clubs. They drank alcohol. They smoked cigarettes. They chased women. Real, deep, authentic jihadis would do none of that. And so it's really curious to me as to what their -- and I don't have an answer for you, unfortunately -- but what their final minutes must have been on this earth. What did they think they were doing? I truly do not know. I don't know if they just thought it was a training exercise. I don't know if they thought -- I just don't know.

Q. One other point. You say that there was a point in midsummer 2001, when the CIA and elements in the U.S. government may have become concerned that having planned this event, cared for it, that the alleged jihadi pilots weren't going to be able to accomplish the goal. Well now, according to the official version of 9/11, they did accomplish the goal of flying the airplanes into the buildings. And so, do you think that the CIA made a mistake, and underestimated the talent of these pilots?

A. Well, here's the thing. They did fly into the building. Of course they did. And they could have been on automatic pilot -- that makes sense. We know that there was a heightened GPS, and a heightened cell phone activity that is very unusual. Usually, the GPS only works to, it doesn't work to certain altitudes. And at a scale of like 1-10, the GPS signal was working at a 10, whereas ordinarily it might work at a 4. See? And so something was helping boost. And it had to be boosted. It couldn't have just spontaneously done this on its own. Something had to be boosting the GPS signal. And it's just a matter of scientific requirement that it had to be boosted. And it was!

The cell phone was the same thing. You know, some people have tried to say that the cell phone conversations did not happen. I do believe they did happen. I do believe that people got through to their spouses. But again, you see, there had to be some technological boost for it to be done. And I think the hijackers got a lot of help. They got a lot of help....

Q. So what I'd like to get from you in part is, first of all, your picture of the big, overall. What's the primary motive? You said before, but who? I mean, what is the big picture? Who are the big honchos at the top that are directing it?

A. Well, I'd like to answer this on a couple of levels. First of all, the CIA has a long track record of false flag operations on itself. And one of the reasons that I may be more trustworthy, is that I was an asset, not a CIA director.... But the other thing is that I was -- the reason you should trust me is because I paid for this. [Laughs] I was locked up in prison on a military base for a year, and I was held under indictment for five years. And if you do a little research on my story, you'll find the government was so threatened by what I was going to say, that they actually argued to -- and this is in the record; there's a history of this; you can confirm this -- they wanted to forcibly drug me with Haldol, Ativan and Prozac, which would have chemically lobotomized me. Because they admitted that I was not hallucinating. I do not suffer depression -- uh, for those of you who do suffer depression, sorry, but I don't. I don't have mood disturbances ...

They implied very strongly that I was a religious maniac. And I do believe in God, and I have a spiritual life. Yes, I do. But I'm not a religious maniac. I guess a religious maniac would be someone like Elizabeth Smart, rapist-kidnapper who went into court and was like spouting religious stuff, and was standing up and singing hymns in court. Stuff like that....

[A]s an asset, this is probably going to frustrate you, because I'm trained to stop where I -- it's very much compartmentalized. And there are certain things that I know from my own direct, personal experience that I can tell you. And then there are other things which I am taught to draw a line. And it may drive you crazy, but there are some things that I cannot answer, because I don't know. And as an asset, I'm told to stop, and to always distinguish what I actually know from what I don't know. And that's one of the things I don't know. Sorry. But I do believe there were hijackings.

Q. How do you hold on to the story that there were hijackings?

A. But we don't necessarily know who the hijackers were....

Q. And then there was that plane that went down in Pennsylvania with no plane parts.

A. That was shot down.

Q. There were no plane parts anywhere.

A. There was a plane that was shot down, and I know that there was a pilot who shot down one of the airplanes, and he is locked up in prison in Florida right now.

Q. Who is he?

A. I don't know. I could get it for you. I will get it for you. I'm sorry, I have been told his name before, and I'm actually doing a radio interview with Michael Hertzog tomorrow, who is the one who told me about the guy. And I will get that information, and I will pass it to our friend over here. And we'll get that to you. Because he needs help. The last I heard, it could be, I hope he's been released. And he may have been released by now. But the last I heard he was still in prison. And if he is still in prison, it would be awfully nice if you guys could help him....

Q. I just want to say that anyone can claim, any pilot can claim to have shot down the airliner. It's easy to claim something like that. But did it happen? And I just want to point out that not only was there no plane debris at the alleged crash site, but neither was there a debris-field anywhere else. We know from incidents like Lockerbie that when a plane blows up over land, it leaves a debris field.

A. Well, it's also the Pentagon. I do not believe the Pentagon was hit by an airplane. I mean, all that debris was suddenly, just magically removed? [Laughs] There was no airplane there, either. So there's still a lot of questions about 9/11 that I cannot answer for you ... But hopefully I'm going to give you enough new information that you'll be able to put some more pieces of it together....

Well, I will tell you that the 9/11 conspiracy is based on something called "Project Bojinka." Are all of you familiar with "Project Bojinka"? Bojinka was designed by Ramzi Yousef, who was the mastermind of the 1993 World Trade Center attack. And in his grand scheme, 11 airplanes would be hijacked, and would strike different targets all over the United States. The World Trade Center would be one. And then they would hit the White House. They'd hit the Justice Department. They'd also hit like Chicago. They'd hit Los Angeles. And throughout the whole country there'd be strikes. And the military discovered this when they found, or the CIA discovered this, when they arrested Ramzi Yousef in the Philippines in 1995, and they found the blueprint for this 9/11, what became the 9/11 attack, on his computer....

I was accused of acting as an unregistered Iraqi agent, because I had delivered a letter to my cousin, who is the Chief of Staff to George Bush, telling him that the war in Iraq would be catastrophic, and outlining several of the consequences like: democracy ...

Q. I just wanted to know how you knew Mohamed Atta was a CIA asset?

A. That's been very well established. They've admitted that he was a CIA asset.

Q. Could you send me a reference or something so I can verify that?

A. Um, I will find a reference for you and give it to these guys. And, yeah, sure. I'll get you some references on that. But it has been verified that he was. And he received some military training, too....

[B]ut the facts are the [Libyan] rebels are Islamic radicals. They do want to institute sharia. And at least be honest and say it. Because that's what you are going to get. And don't pretend you're somewhere else. Don't pretend these are people who are doing something different than what you say. That is what their goal is. And they don't want democracy....

When I was locked up in Carswell, I cried every day. Not when I first went in. When I first went in, I was told it was going to be four months, and then I'd be released. And the first four months I was okay. Because I was like, "I'm going to get out of this. And boy am I going to have a story to tell. And they're not going to shut me up." But when they refused to release me, and I realized I was not going home, and at that point they dropped the bomb on me that they were trying to hold me indefinitely, and only when I thought I was going to be held indefinitely -- and then that continued for another eight months -- I became absolutely terrified out of my mind. And I began to have very serious post-traumatic stress.

Q. Well, you said you hadn't gone through depression before, and I was just wondering how --

A. I went through deep anxiety. And it was like my blood pressure, the stress level, it was like a war. A constant war. I was so frightened. I actually [clearing her throat] color my hair, okay? My hair actually went white....

[A]nd all the political prisoners, all the women political prisoners are being held in Carswell. So if any of you guys are ever arrested on the Patriot Act, you'll be seeing the inside of Carswell, too....

And believe it or not, there's an affidavit from him in the back of my book....

An asset is like an operative. It's like a field operative. A human asset is the eyes and ears that goes into the situation, "into the room," and has direct contact with events. So that's why assets are trained, we are trained to be very observant of the full situation, and to be very descriptive of what we are doing. And we're trained not to change what we've seen for any reason. And that was a real threat to the Bush administration, because you don't ever change your story. Because the detail that you think is small, that you think you might compromise, could turn out to be very important, because you are compartmentalized. And you're like seeing a picture of this, and they need to know what this is. They need to see what you see right here. Even if you don't know what's over there, or what's over there. They have to know that this here that you're reporting, is as accurate and precise as possible....

Q. So after that, what happened until now?

A. So, we did have the hearing in June of 2008, right before the presidential election in November. And people like Michael Hertzog, at Oracle Broadcasting, and public broadcasting, the Internet radio was giving me a lot of attention. And they were helping to defend me....

Q. Did you hear anything from anybody about the book?

A. Oh! When I do radio interviews, there are funny things that happen. Like my phone will cut out. Like I make sure I have my batteries charged, and all this stuff, and the phone will just drop dead. Drop out. And the battery will just disappear. Or, if they can't kill the phone calls, sometimes there will be like a loud beeping noise: "BEEP! BEEP! BEEP!" And all the way through like an hour interview without stop. It'll just continue all the way through.

Q. Has anyone directly come up and threatened your publisher?

A. Well, I have had to self-publish it. Because the corporate press, they're like "No one wants to hear about 9/11. No one wants to hear this." And then we were afraid, we did have some smaller publishers who were willing to take it, but we were very much afraid at that point that a smaller publisher would be threatened, and then they would close the book. And they'd stop it. And so I decided that the safest way to go forward would be to self-publish it.

-- CIA Whistleblower Susan Lindauer Exposes Everything! "Extreme Prejudice", by Susan Lindauer
[Transcribed from the movie by Tara Carreon]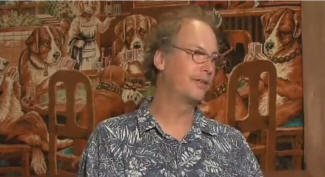 [Man] I want to welcome everybody to this evening's event, which has been brought to you by the 9/11 Truth Alliance, who got word that Susan was coming to town, and needed a place. So we arranged "The Lucky Lab" as a suitable venue for her kind of talk and book selling/signing event. And I just want to spend a few moments and just talk about the 9/11 Truth Alliance, and what we've been up to, and what's coming up. And I'll briefly introduce Susan, and get this talk underway. Now I assume that we'll talk for a little while, and then there will be some discussion?
[Susan] Oh, lots of questions. Anything you want to ask.
[Man] Alright. And I'm glad you said that, because I think that's a real hallmark of the 9/11 Truth Alliance. The thing that's really special about the 9/11 Truth Alliance is that it insists on free thinking and free speech, and critical thinking. And it really reacts quickly to gatekeepers. And when these phrases come up, you know, and a lot of people don't know what they mean offhand, but once you've studied the events of 9/11 2001 -- it's been almost ten years now -- one realizes that, you know, there are all of these cliches that you can throw up, like "We're in the matrix!" or "It's 1984." It's all sorts of highly controlled spectacles are being thrown at the public in a very coordinated and nefarious manner, in a way to get the populations of the world to be docile and not think, and be afraid, and do what they are told, and not speak out.
And the 9/11 Truth Alliance is one of the few groups that refuses to stop speaking out, and to stop thinking. And so by coming here tonight, you are part of this tradition of enlightenment, and resistance, and truth seeking. That's kind of been the hallmark of a lot of the higher cultures of this planet, and it's a real disappointment that we seem to be entering this period in which truth and enlightenment are far from being cherished, and stamped out with the likes of Guantanamo, and any other torture chamber you care to name.
So, anyway, if you want to talk about these things, you can come to the 9/11 Truth Alliance Meetup meeting every Saturday morning at 11:00, at the True Brew Coffee House, which is on Southeast Milwaukee just south of Powell Boulevard, on the east side of the street -- I don't remember the exact address. It's right there. We meet at 11:00 until, I don't know, for as long as people want to talk really. And then we also aim to put together some other events and things.
Coming up, of course, is the Tenth Anniversary of 9/11: Ten years of war and torture, and ripping up the Constitution, and crashing the economy.
And here we are. And we're about to be treated to a media bloodbath in which they're going to rev it all up again, and maybe this time for Iran. And we'll be doing our counter-events. It looks like we will have Jim Fetzer, who has talked about 9/11 also for a real long time. And he'll be speaking on Friday the 9th. And I believe it's going to be at the Sellwood Mills, or the Sellwood Community Center, down in Southeast Portland this September. And then on Saturday, in the same building, we hope to have kind of an all day seminar for beginners, and then for more advanced people, on the ins and outs of 9/11. I mean, there have been all these fabulous documentaries done about 9/11. All kinds of documentaries done. I mean, there is information out the wazoo about it. Books, etcetera, etcetera.
But it all doesn't appear to pierce the hardcore media grip on reality. But we're going to talk about it anyway. And it's down in the Sellwood Community Center. And we're here in the Lucky Lab, because the 9/11 Truth Alliance has experienced the backlash of truth-telling in this town.
We've had various different events, and we've been chased out of venues! Time and time again! Chased out of venues, one after the other. And, you know, this is the reality of where we are right now.
I mean, liberal friends, who we thought were liberal friends, turned out to just be liberals. And they appear to be just as more in favor of Obama, and bombing Libya, and attacking Yemen, and shredding the Constitution, and instituting rendition here in the United States. And I guess employing Guantanamo tactics, that Pelican Bay and other supermax prisons now in the United States -- where there's a hunger strike, which you also wouldn't know about unless you like kept your ear extremely close to the ground. I mean, Pelican Bay, our very own Guantanamo, is actually just over the border in California from Oregon. So it's not even just a few hundred miles from here. And they are torturing people right now, right there.
So anyway, it's a dark time, but I'm really happy that we are still able to practice our free speech rights -- for now -- and have a speaker like Susan Lindauer, who has had her own story to tell of being in the fold of the national security state, and then kind of being kicked into the hole for not going along with it. And I'm really excited to hear her talk about it. I've heard of a few of the prices she's had to pay with her family, and others. So it's like, whenever you really start telling the truth -- you know I hate to be so doom and gloom -- but you've got to be prepared for the consequences.
[Susan] There are some serious consequences.
[Man] And at the same time, keep in mind that it's not all about now. It's never always been about now. We're dealing with the future now, and we're fighting for the future.
And you know, that's where we're at. So, here we go.
[Audience] [Clapping]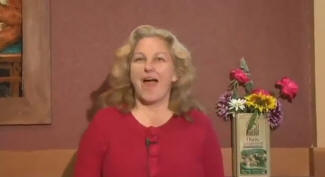 [Susan] Thank you. Thank you. Well, I have to say, I am so pleased to be here.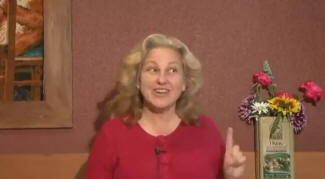 I have waited 10 years, 10 years to tell this story! I remember after 9/11 when my CIA handler, Richard Fuisz, told me that "there really wasn't going to be much of a 9/11 investigation." And, "We were going to try to keep the people calm." That's what he said. "We're going to keep them calm." And I said, "What do you mean?" And he said, "Well, we don't really need them to know everything that we were doing before 9/11." And I said, "Well, why? What do you think is going to happen when they find out that you didn't tell them the truth? Why don't you just tell them the truth right now?" And he said, "Well, that's not really what they want to do."
And I had different ideas. I will tell you straight off the bat that right after 9/11, my CIA handler received a $13 million dollar payoff from the 9/11 investigation, that was supposed to be money used to secure Iraq's cooperation. And I ended up getting indicted under the Patriot Act. I was the second non-Arab American ever indicted under the Patriot Act, after Jose Padilla. And my crime was in opposing terrorism, and going to Congress. And I had spoken to the staff of Senator John McCain, and Senator Trent Lott. And I pounded them. I called their chiefs of staff, their legislative directors, and their foreign policy people. And I said, "I'm an asset who covered Iraq and Libya at the United Nations. And I have a story to tell. And you need to hear what I have to say." And within 30 days -- I am not making this up -- thanks to the Patriot Act, all of my phone calls to these offices are taped by the FBI, so I can actually prove that they occurred, and I have the dates, I have the actual phone conversations on tape -- and within 30 days of those conversations, I woke up to hear the FBI pounding at my door. And I got up out of bed, and I looked out the window, and there are men in flak jackets on my porch. And I opened the door, and they came into my house. And the FBI agent is shaking. He's shaking. And he said, "You are Susan Lindauer. You are hereby notified you are under arrest under the Patriot Act. You have the right to remain silent. And anything you say, etcetera, etcetera." He read me my Miranda rights ...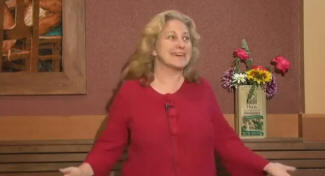 and I was just like, "What are you talking about? I'm making coffee. You know, I'm not a bank robber, I'm not a drug dealer, I'm not a murderer. I haven't broken any laws that I can think of. And I have no idea what you say that I've done." He says, "Well, your attorney will explain it to you later on."
Okay. That began a five-year indictment, five-year nightmare under the Patriot Act. I was never taken to trial. In five years, I was allowed one morning of testimony with two witnesses. The two witnesses were a former chief of staff for a congressional member of Congress, and my old friend Park Godfrey, who verified the 9/11 warnings that I'm going to talk about tonight. And I'm going to tell you, and then I'm going to let you guys ask a lot of questions. And I know you're going to have a lot of questions. I'm going to do my best to answer as honestly as I can. I do not have all the answers.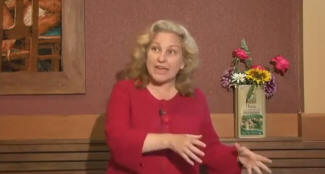 But I will tell you upfront that I believe there was both the hijackings -- and that does not mean that I'm right and you're wrong -- I believe there were both hijackings and a controlled demolition scenario. And I'll explain to you how the whole thing fits together. And you may disagree. And that's okay if you disagree with me. But when you hear what I have to say, you'll understand why I've reached this conclusion. So I believe both of them happened. Okay?
And it's also very important for you to know that as the 10-year anniversary of 9/11 comes up, I mean no offense, but you guys have no idea what actually happened. The lies are so much bigger than what you know. And it's so much deeper. And it's so much more tragic once you have the truth.
So, on that note, let me just take you to -- I'm actually going to start, I'm going to move you a little bit ahead to -- remember when George Bush and they were counting the votes in Florida? Okay. I'm going to take you back to November of 2000. They had not yet declared that George Bush had won the election.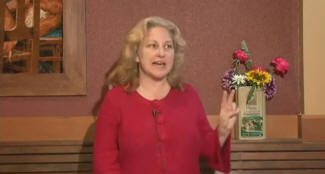 I was having meetings, with the full knowledge and permission of the CIA, with Iraq's ambassador to the United Nations, on resuming the weapons inspections. It is very important for you to understand that this story with 9/11 also ties in deeply to what happened with Iraq. And contrary to everything you were told, the Iraqis were not resistant to weapons inspections. They had a comprehensive agenda. The CIA already had a comprehensive agenda for resolving the entire conflict without war at all. And it involved weapons inspections, cooperation with anti-terrorism, and major financial contracts for U.S. corporations. And oil. And this would be developed over a period of time. But we already had, by November 2000, we already had an agreement with the Iraqi government. We had a framework agreement that at that point was undefined, or not so well-defined. And we had to make it defined. But they had already consented to all of these things. They wanted peace with us. And so by February of 2001, the Iraqis had agreed to offer to invite the FBI to send a task force into Baghdad, with authorization to conduct terrorism investigations and to make arrests of terror suspects. This is very important for you to understand. So this is like the background of what you have to know.
Okay. In April of 2001, I was summoned -- oh, this is already happening: the comprehensive peace framework, those discussions are already underway, and I am at this point the chief asset covering the Iraqi embassy and the Libya House. I do both of them. And Yemen, and Syria, and Egypt, and Malaysia. But Iraq and Libya are my primary countries.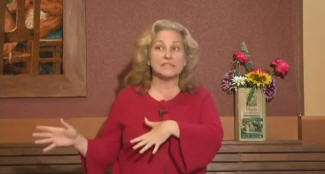 And so I'm a back channel. Which means that the U.S. Government gives me messages to give the Iraqis, and then the Iraqis give me messages to give to Washington. So I know everything. Every single conversation is going through me. And I can tell you that in April of 2001, I was summoned to my CIA handler, Dr. Richard Fuisz, and he said he had a message for me to deliver to New York at the earliest possible convenience. And the message was this: "We are looking for information on a conspiracy to highjack airplanes. We expect the target to be the World Trade Center. We think they're going to fly the airplanes into the World Trade Center. And we want the Iraqis to provide any 'actionable intelligence.'" "Actionable intelligence" is a name, an airport hub, a flight number, something that's going to help us identify who they are, where they are meeting, what their nationalities are, anything like this. And he says, he gives me a message and he says, "We want this information. And we want you to tell the Iraqis that if they fail to give us this information, and if it is later determined that they knew the information and they did not give it to us, then the United States is prepared to go to war with Iraq."
Okay, this is April of 2001.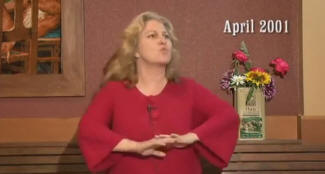 Well, I went up to New York, and we were in the middle of these great negotiations. From February of 2001, we have an invitation for the FBI to come to Baghdad. So I go up to New York, and I'm very pleasant. I'm very polite. There's no reason to be nasty with these people: they want peace! I say, "Hey, could you please send a message to Baghdad. We'd like this information. If you come across anything." Saddam had been one of our best sources on terrorism throughout the 1990s.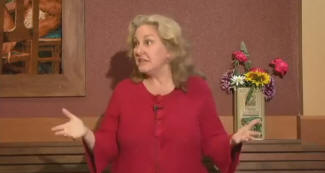 Iraq hated terrorism, because they believed that -- they hated Islamic jihadists. I mean, he did! Whether you like Saddam or not, whether you hate Saddam or not, he hated Islamic Conservatives. He was convinced that they would take advantage of the crumbling of authority in Baghdad under the sanctions, and that they would then try to overthrow, overturn his government. And the poverty of the people from the sanctions would fuel this problem, would help overturn his government. So he wanted to help us at every turn to keep these people from becoming too powerful.
Okay. And so we knew this.
So when I go to New York in April of 2001, I'm very friendly. And I say, "Hey, look, could you send the message to Baghdad, let them know we're looking for this? Thanks."
And the message from the Iraqis in April of 2001 is, "Hey, send the FBI. We've already invited you to send the FBI. Come on. Tell 'em, 'just bring them on!' Sure!" Wow! You didn't know that, did you?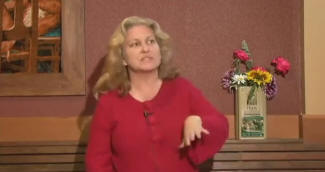 Okay. So I go back to Washington, and I get a phone call from Richard. And he says, "Come down; come down to my office. I want to hear what they said." I go down and I say, "Oh, I was real polite. Yeah, yeah, I gave them the message. Sure, sure." He said, "I didn't tell you to be nice. I told you to tell those -- "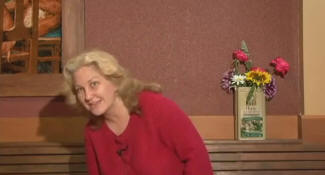 this is going to be on television, right?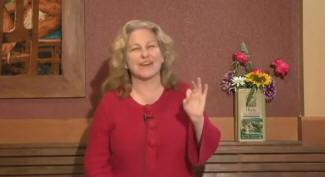 Okay, I'll soft pedal what he said. He was like, "You stupid, godddamn blankety blankety blankety blankety. I told you to tell those SOB MFers God-G-D blah blah blah" -- SCREAMING!, and circling me around his conference desk. I'll never forget it.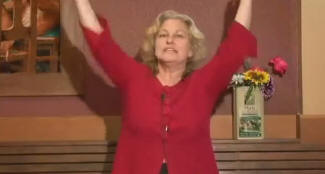 Circling his conference desk, ranting and raving, waving his arms around. He didn't do that very often. He does not have that kind of personality.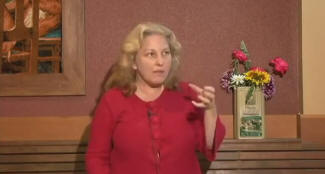 He's a very calm man. He feels that if you're really angry at somebody, then the more calm you are, the more dangerous you are. That's CIA! He's old-school CIA.
Okay. So he's screaming now. And he's like, "You go back to New York, and you deliver the message exactly the way that I told you to deliver the message." And I said, "Well, Richard, I don't want them to think I'm threatening them, because I believe in negotiations, and conflict resolution." He said, "No, no, I don't want them to think you are threatening them. And I don't want them to think I am threatening them.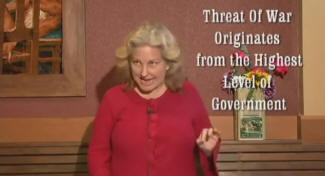 I want you to tell them this threat of war originates at the highest level of government, above the CIA director, and above the Secretary of State." That would be three men: President George Bush, Vice-President Dick Cheney, and Secretary of Defense Donald Rumsfeld. And no one else. Those are the three people who are threatening war.
And I want to be really clear about the message that I was ordered to give them: "We demand that you turn over any actionable intelligence, any fragment of intelligence, outlining a conspiracy involving airplane hijackings and a strike on the World Trade Center. If you withhold this information, if we discover that you have withheld this information, and the attack occurs, then we will bomb you back to the stone age. You will be bombed harder than you have ever been bombed before. You will be destroyed. You've never been hit the way we're going to hit you now."
Okay. So I went up and I delivered that message. This is May of 2001.
In June and July, practically every single week my CIA handler, Dr. Richard Fuisz and I, talked about 9/11. And it was very clear that the intelligence community was being prepped for two things: One, to expect airplane hijackings. Now, I have to be honest with you, because I know a lot of you are interested in the controlled demolition, they prepped us to expect the airplane hijackings. They told us about it. Like my CIA handler demanded that Iraq had to give us this. And they insisted that if it happened, there would be dire consequences.
Now, what you're going to see in my book -- and we have more copies of my book outside [EXTREME PREJUDICE], and we've got more here, too. There was something else going on that summer that was very beautiful. This peace framework that we had been working on was magnificent.