PART 1 OF 2

Chapter 4: Shaming and the Digital Scarlet Letter
Laura had to write a five-page college paper on Hinduism in a hurry. She had little to work with and knew nothing about the topic. So she decided to cheat. She sent an instant message to Nate Kushner, who listed Hinduism in his online profile with AOL. She offered him money if he would write her paper for her on short notice. Nate was appalled by what Laura was trying to do, so he hatched a plan. He would agree to write her paper but would fill it with silly errors and copied passages that could readily be found by searching on the Internet. Kushner also had a blog, and he dashed off a post about his plan with the title: "Laura [lastname] is a Plagiarist." [1] Kushner referred to the student by her real name, and he also mentioned the college she attended. According to his plan, once she turned the paper in, he would email her as well as her college dean with a link to his blog post.
What he didn't expect was that his blog post began to attract significant attention. Other bloggers began linking to Kushner's blog post. Hundreds of people wrote comments to it. Some criticized Kushner as being too harsh on Laura. Others approved of Kushner's plan. "I can't wait to see this chick get her comeuppance," one commentator gleefully declared. "You do the crime, you do the time," another wrote, "She is absolutely getting everything she deserves."
The biology professor PZ Myers of the blog Pharyngula observed: "Here's a fine object lesson: a student solicited a term paper via instant messenger, and got more than she expected. Like her name up in lights on a web page and the information forwarded to the president of her university. I like it. It's a great little poison pill to make students more reluctant to attempt this sort of thing." [2]
In a follow-up post, Kushner wrote:
God, I honestly had no idea this would become an internet-wide thing. My imagination had told me that this could be a funny story kept between me, her school, and a couple dozen friends of mine who visit this site.
People began calling Laura's school and her home. In a subsequent post, titled "The Saga Is Over," Kushner wrote:
First of all, everybody, this is a cease and desist order to stop calling Laura and stop calling her university. Everybody knows now.
In a post the following day, Kushner wrote:
Alright, here's how it ends, people. Brace yourselves for disappointment, because you're going to find our where I failed to show you blood when you wanted it.

Also, let's reiterate. Nobody call Laura or her school anymore. Everybody knows now....

I do want this to be over. ...

I had thought I could make her sweat (as had been my plan practically since the paper solicitation fell into my lap) by sending her the link to the original story sometime on Wednesday, after she'd handed the paper in ....

So it became Monday, and instead of finishing off my nice prank I was going to share with two or three dozen real-life friends, I was faced with all of you people looking for blood. I didn't want blood. What I wanted was irony.
Laura called Kushner and begged him to take down the post. Laura's mother got involved, pleading with him to take Laura's name off the Internet. Kushner wrote about the conversation in his post: "I explained another three times that I couldn't erase her from the whole internet, and that everybody knows." Kushner agreed, however, to edit his posts to substitute a fictitious last name for Laura.
Is the story true or just a hoax? One difficulty with the information on the Internet is that it is hard to know how true it really is. If CNN ran the story, we'd trust that the facts were checked and verified; we'd believe that CNN would not deliberately fabricate the story. We'd be assured that if CNN's story were wrong in any way, CNN would suffer reputational harm. Reporters might get fired. Retractions and corrections would be made. But Kushner is an amateur. He's not a professional journalist. He doesn't have fact checkers. He doesn't have much of a journalistic reputation at stake. He might be concocting this entire scenario for amusement. Or he might be telling the truth. We just don't know for sure.
Whether true or false, this incident demonstrates how fast information can speed across the Internet. Kushner's blog posts attracted a large audience within a matter of hours. Numerous bloggers linked to it, and the Internet's bright spotlight moved over to Kushner's blog for a short while. Kushner appeared to be quite surprised by the sudden interest. He thought he was writing for the amusement of a few of his friends. And once the story broke out around the Internet, Kushner was unable to stuff it back into the bottle. His posts indicate how quickly it spiraled out of his control. When one puts information on the Internet, it can easily become like Frankenstein's monster, escaping the dominion of its master.
This incident also demonstrates the growing phenomenon of shaming people via the Internet. Shaming is nothing new -- we've been doing it for centuries. But Internet shaming creates a permanent record of a person's transgressions. And it is done by amateur self-appointed investigative reporters, often without affording the target a chance at self-defense. Numerous others then join in to help shame the victim, creating the cyberspace equivalent to mob justice. Recall the dog poop girl incident, a classic example of the Internet's profound power to shame an individual. What are the virtues and vices of using the Internet to shame others? What, if anything, should be done about Internet shaming?
CYBERCOPS
Peoria is a city of slightly more than one hundred thousand people in Illinois. It is frequently used as a symbol of mainstream America. The question "How will it play in Peoria?" has become a formula for assessing the reaction of the average American citizen. So perhaps Peoria's entrance into the shame game is especially significant. The local government began shaming campaigns for property owners who owned blighted properties. Soon residents got into the shaming business. The anonymous creators of one new website, Peoria Crack House, attempt to publicly shame people suspected of owning drug dens. [3] A sample post contains the address of the property, the name of its owner, and a picture of the owner's relative who was an ex-convict. The post is written in the form of a letter to the owner:
Dear Angela [last name]:

I'm not bothering to introduce myself, bur that is only fair, considering you did nor bother with introductions when you moved into the neighborhood and began to re-introduce it to young thugs dressed in getto [sic] attire, conducting their drug activity....

It's ironic that someone who was smart enough to qualify for a $61,000.00 loan from GSF Mortgage Corp ... is too stupid to realize that in a neighborhood where most homes are at least twice the value of yours your neighbors are not going to put up with the sort of illegal, property devaluing crap with which the inhabitants of your property think they can engage.

And here is what we already know about you, Angela [last name]:

1. You used to live on the East Bluff, in a house subsidized by a PHA affiliated Nor for Profit Corporation ... where you apparently liked to threaten and intimidate your neighbors by letting your Rottweiler run loose;

2. You also had a child at that address, Jamar [last name], that like [sic] to run around loose at night after curfew.

3. Last year you moved into [address], and then you got married to a Christopher [last name] when he was paroled from the Illinois Department of Corrections in January of 2005.
The post continues with more personal details about Angela. [4] In a follow-up post later that day, the blogger wrote:
Parole was contacted and advised of the information on this blog. Promptly, Parole agents swarmed the house, arrested and tested Mr. [last name], who was found to be positive for illegal drugs. Upon questioning, Mr. [last name] admitted that he had been smoking crack in the shed behind the house. He claimed he had nor smoked it in the house, because he did nor want to dis his woman.

But now there are three young thugs ... that are hanging off of the porch.

Wanna bet that Angela is going to lose her house before the year is out!
Peoria Crack House fashions itself as a citizen's way to eliminate neighborhood crime and blight. At least from the blog's description of the events, it played a role in bringing the information to the attention of the authorities. But how did the blogger obtain all the information? What if it weren't correct? And what if it led to others in the neighborhood trying to take the law into their own hands?
The New York City Subway Flasher
On a hot day in August 2005, a twenty-two-year-old woman was riding on a New York City subway train. A man seated nearby on the train unzipped his pants, exposed himself, and began to masturbate. But the young woman was ready to fight back. She snapped his photo with her cell phone camera and posted it on the Internet. More than forty-five thousand people viewed the photo. "He made me feel creepy," the woman said. "I want to embarrass him." [5]
The New York Daily News reprinted the photograph on its front page and later published an editorial which stated: "The perv in her picture looks much more like a regular citizen than the Basher of myth. The difference is that nothing of the pre-cyber age could generate disgrace such as [the woman] so justly imposed when she posted the photo on the Internet." [6] Shortly afterward, the man was arrested. He was a forty-three-year old man who owned a restaurant in New York City. [7]
The Cell Phone Thief
In August 2005 John's expensive Sprint cell phone was stolen from his car. Sprint provides a website where people can upload the photos they take with their cell phone cameras, so John went to the site and saw that somebody had taken nearly forty photos and made some videos. They were mostly of a young man who appeared either alone or with his girlfriend and family members. [8]
John was angry. He sent a message to the man who apparently took his phone: "Like to steal cell phones and use them to take pics of your self and make videos .... HA! guess what pal ... i have every pic you took and the videos. I will be plastering the town with pics of your face." The young man, named Danny, texted an indignant reply, but he carelessly exposed his full name in the process. John posted the information and photos on an electronic bulletin board-a website where users can have online discussions. He also took the information to the police. [9]
Comments erupted on the website. One person proclaimed: "Hope that the fool that took the camera gets what is coming to him." Another cackled: "I absolutely love this! ! ! ! ! ! ! ! ! ! ! ! ! !" Yet another snorted: "HAHAH! This is spreading on the internet like wild fire!" One commentator did a search under Danny's name and listed the results, which included the addresses for six people with Danny's full name. Comments poured in from around the world. "He's now famous in Germany too," one person wrote, "cause a well known German board posted the link and the stor[y]." [10]
Kevin Poulsen, a reporter for the magazine Wired, wrote a story about the incident. He contacted Danny and learned that he was a sixteen-year-old. Because of Danny's young age, Poulsen "elected not to report his name." [11]
When John found out that Danny was a minor, he regretted posting the pictures and his name on the Internet. Now, commentators were reposting Danny's name and photo across the Internet. John removed what he had posted and wrote:
THE PICTURES HAVE BEEN REMOVED TO PROTECT THE PRIVACY OF MINORS. WHEN I FIRST POSTED THIS STORY I DID NOT REALIZE THE PERSONS IN QUESTION ARE MINORS. I ENCOURAGE ALL OTHERS WITH PHOTOS OF THESE PEOPLE TO DELETE THEM FROM THEIR WEBSITES AS WELL. [12]
Others, however, didn't remove the photos. In fact, many plastered the photos in the comments to John's post. Some morphed the picture into a wanted poster with Danny's name.
Responses grew much nastier. Others posted pictures of Danny's face superimposed on various images, including pornographic photos. Comments on various electronic bulletin boards devolved into bigoted slurs and insults lodged against Danny. [13]
Back at the electronic bulletin board where John originally wrote about Danny, comments continued to pour in. One commentator said:
And I encourage everybody that has the pictures to keep on spreading them so this little thieving idiot will be infamous, and if you live in his neighborhood to make a poster and warn EVERYBODY of this little rotten bastard. I hope he rots in prison, but most probably he will get a slap on the wrist, the spoiled brat. [14]
Another asked: "WHO THE HELL CARES IF THEY ARE MINORS OR NOT????"John wrote in reply:
Because minors do really stupid things without even thinking of the consequences and how other people will be affected.

When I was kid I did absurdly stupid things .... Now by no means is that statement I just typed meant to be a pardon to Danny. This has been reported to the police and I WILL be following through to make sure this punk learns that there are consequences for stealing another person's property.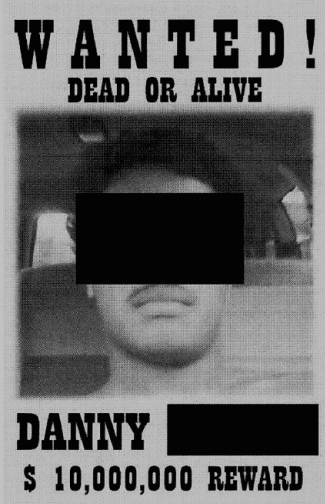 Photo of the cell phone culprit morphed into a wanted poster (last name and face obscured)
What has gone on here is just as wrong. In another time this would be described as a lynching and you people would be called a lynch mob. Yes, I know I'm the one who started this, it was bad judgment on my part. People who ... had nothing to do with this have been dragged in just due to the fact that they keep extremely bad company. Does anyone realize that they could be creating another victim of this crime? [15]
Incensed by John's change of heart, commentators began posting John's personal information on the comment board. One commentator wrote:
Now you've had some moral dilemma and want to recant, well I have some bad news for you. You may not find Danny's persecution funny, but we sure do .... [We] have no pity on thieving punks like Danny and I bet he's learned quite a lesson.

Consider our work a community service. Danny could have gone from boosting phones to jacking cars, thug life and all. I would venture to guess that he'll keep his hands to himself ....

Behold the power of the internets! ! ! ! ! ! ! [16]
This incident raises several difficult questions. A stolen cell phone is probably not high on the priority list of the NYPD. Perhaps the Internet is a great new tool to aid in law enforcement. It can enable people to help enforce laws that police aren't sufficiently enforcing.
On the other hand, in Danny's case, the photos posted included not only himself but his teenage girlfriend and family. These other people were not engaged in any crime, but their pictures were plastered across the Internet. Danny was just a juvenile, too. John regretted his decision to post Danny's pictures and information on the Web, but the situation spiraled out of John's control. Although the illegal conduct of the subway flasher is scarcely open to question, perhaps Danny wasn't the thief. Perhaps he just found the phone or perhaps somebody gave it to him. What happens when people think that they have found the culprit but are mistaken?
Self-Deputized Police on the Internet
The Peoria Crack House website and the pillorying of the subway flasher and the cell phone thief are just a few examples of how the Internet is being used by people to shame others. In these cases, people frustrated that others were getting away with crime attempted to take the law into their own hands and expose the wrongful conduct. In some instances, they got salutary results -- the wrongdoers were caught and punished. Can the Internet serve to enhance people's ability to help the cops catch criminals? Is this a good thing?
NORMS AND SHAMING
In a San Francisco Apple computer retail store, customers noticed a vaguely androgynous person spending a lot of time there with a computer. The Apple store had free wireless Internet service, and the person apparently was taking advantage of it by frequently hanging out at the store. Some people became annoyed at the person, and they blogged and posted pictures online. One blogger noted:
The photo, taken on July 7, appears to show the same person: same hair, same earbuds. And it appears that he is a she.

Her tenure at the store is now approaching at least one month. Given that the average monthly rent for an apartment in San Francisco is currently about $1700 (not including wireless Internet access), I'd say she's getting a pretty good deal. [17]
Another blogger wrote:
[Other bloggers] have been razzing the so-called Apple Store Squatter -- a PC-toting woman who allegedly spends hours, if nor days away at the San Francisco Apple Store slurping up the free will. Just a reminder to y'all that no one's privacy is safe from the blogosphere -- especially if you spend any time in public! [18]
Was the Apple Store Lady breaking the law? Perhaps she was loitering, but the store employees apparently didn't seem to care. Why were others so concerned about such a trivial thing as one woman who overused free wifi in a store?
Norms
Although not breaking the law, the Apple Store Lady was violating a norm. She was using a free service "too much," which is to say beyond the amount of time that some people thought reasonable. To understand shaming, it is essential to understand norms. Every society has an elaborate lattice of norms. A norm is a rule of conduct, one less official than a law, but sometimes as improper to transgress. If you break a law, you can be punished by the government or be sued by another person. Norms generally are not enforced in this manner. Nor are they written down in a book of legal code. Nonetheless, norms are widely known and widely observed rules of social conduct. [19]
Norms and law overlap to some extent; many crimes are violations of social norms that we have agreed through legislation and adjudication to enforce through formal punishments. But norms cover a wider range of conduct. For example, there is no law against picking one's nose in public or against being rude, but both are norm violations. Norms encompass a litany of rules involving manners and etiquette that law doesn't cover. A poem from the seventeenth century humorously illustrates the rules of etiquette:
Let not thy privy members be
layd upon to be view'd
it is most shameful and abhord,
detestable and rude.

Retaine not urine nor the winde
which doth thy body vex
so it be done with secresie
let that not thee perplex. [20]
Norms develop and change over time. Consider, for example, the norms of cell phone use. In the United States, the number of people using cell phones grew by more than 350 percent from 1993 to 2003, from 34 million users to 159 million. [21] Worldwide, there are more than a billion cell phone users. [22]
Bystanders are especially irked by the disruptiveness of cell phones. According to one poll, 59 percent said that they would rather go to the dentist than sit beside a cell phone user. [23] In a popular commercial shown in movie theaters, an obnoxious man uses his cell phone in a myriad of outrageous ways. A jingle plays in the background with lyrics that begin: "It's inconsiderate cell phone man." At the end of the ad, he boasts to another person over the phone: "I've got a million minutes." [24]
Generally accepted rules of etiquette for cell phones have quickly developed. Turn them off at the theater. Don't speak in a loud voice on the phone when in public. If you get a call during dinner at a restaurant, excuse yourself from the table if you need to take it. Few people would argue with these norms. Within a relatively short time following the wide acceptance of this new technology, there appears to be considerable consensus about cell phone norms. The extent of compliance with these norms, however, still lags.
Norms are often good things. As Henry David Thoreau observed, "We live thick and are in each other's way, and stumble over one another." Thus we "have had to agree on a certain set of rules, called etiquette and politeness, to make this frequent meeting tolerable and that we need not come to open war." [25] Norms enable us to get along smoothly and to resolve many situations that could lead to disputes.
But norms can be bad things, too. For instance, they can be riddled with double standards. Throughout much of Western history, for example, adultery by women was viewed as vastly more culpable than that by men. [26] Additionally, some activities are common but hidden, such as certain sexual practices. As Anita Allen notes, society can be quite hypocritical about sex. Society's attitudes toward sex are a complex stew of "conflicting physical, emotional, and social imperatives." [27] There are also many norms we now recognize as unjust.
Norm Enforcement
When somebody violates a norm, a few others might try to confront that norm violator. I call these people the "norm police." Just as we need police to enforce the law, we need norm police to enforce norms. If a norm never gets enforced, then it will gradually cease to be a norm.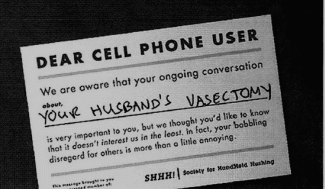 Sample SHHH card. Designed by Aaron James Draplin, http://www.draplin.com. based on an idea by Jim Coudal's wife, Heidi, http://www.coudal.com
Regarding cell phones, the designers Jim Coudal and Aaron Draplin, inspired by an idea from Jim's wife, Heidi, created free cards that people could download from the Internet and hand our to obnoxious cell phone users. [28]
According to the website,
After reading a story in the NYT, Jim's wife Heidi came up with a method to fight back against the obnoxious cell phone users that we all have to deal with in stores, restaurants, trains and pretty much everywhere else. Can design ride to the rescue? Jim and the incomparable Aaron Draplin think it can. So, as a public service, we introduce the reasonably polite SHHH, the Society for HandHeld Hushing.
In many cases, norm police help us maintain an orderly society. We want to keep cell phone users from becoming too obnoxious. We want norms to develop and for them to be enforced. Shame makes us self-aware in an often painful and uneasy way. [29] It can serve as both an external and an internal check on behavior. The tough issue, however, is just how much norm enforcement we want.
The Internet is quickly becoming a powerful norm-enforcement tool. A plethora of websites now serve as forums for people to shame others. For example, a website called Rude People allows users to post reports of their encounters with impolite individuals. [30] On the website PlateWire, people post information about bad drivers, identified by their license plate numbers. The site declares: "Report and flag bad drivers, award good drivers, and even flirt with cute drivers. PlateWire was born our of frustration from years of driving alongside drivers who seem to have no concern with anyone's safety, including their own." [31] And on the website Flickr, where people post photos, there are countless snapshots of individuals accused of talking too loudly on their cell phones. [32] Some post pictures of "the annoying guy behind us," the "rude man," "obnoxious people," or anybody else who acts in an uncivil manner. [33]
This new norm policing technology raises all sons of difficult questions. To explore these questions, let's look at an example of how the Internet can be used to enforce norms of tipping.
Bitter Waitress
For quite a long time, sociologists, psychologists, and economists have been fascinated by tipping. Scores of scholarly papers have examined the practice. [34] The practice is less common in Europe and in many other countries than in the United States, where people tip for a variety of services. We tip servers in restaurants, doorpeople at hotels, concierges, cab drivers, and more. The general rule of thumb is that one tips between 15 and 20 percent. Tipping in the United States generates $27 billion per year in income. [35]
One reason why scholars find tipping so fascinating is that people often tip servers whom they will never encounter again. Of course, if we will see a server again, it makes good sense to tip that person well. After all, if we tip poorly, the server might treat us badly next time. But in many cases, we'll never see a particular waiter or waitress again. Why bother tipping? Why not just keep the cash? We could save a lot of money this way, and there would be few consequences to us. After all, who would find out?
Certain traditional economic theories of human behavior have a difficult time explaining tipping. If there's no external sanction for not tipping well, and there's no continuing relationship between the tipper and server, then the rational self-interested person shouldn't bother tipping. Yet the majority of us tip anyway.
For those who don't, there's little that can be done to punish them for it. By the time the server finds out about the measly (or nonexistent) tip, the diner has left the restaurant. Nobody else might find out either -- it's something known by the server and the tipper and anyone the server happens to complain to.
But now something can be done about lousy tippers. A website called BitterWaitress allows servers to enter information to a "Shitty Tipper Database." [36] It contains the names and locations of bad tippers, the tip, the percentage, as well as a description of the tipper. The website declares:
Welcome to the Shiny Tipper Database (beta). OK, so here's how the fun works. Very simply, you click submit to the STD and enter the name, total check, and tip of somebody who left you a shitty tip.
The database looks like this:

The database goes on and on. People can search the database for specific names. According to the website's author, "A shitty tip is, by my definition, any gratuity under 17% for service which one's peers would judge as adequate or better (e.g. Orders are correct, on time, special requests are honored, etc.)." Offenders are also offered a rare online opportunity: "If you see your name here and would like to apologize, click submit an apology."
When you click "read details" in the database, you get a short narrative about each bad tipper. Here's an example:
Tipper's Name: [full name]

Where it happened: Virginia

Total bill / Tip amount / Percentage: $40.93/ $0.00/ 0%

What happened: If you get this girl, watch out! She is the type to use the excuse that you are rude to not leave a tip. I was working cocktail (by myself) the night she came in, and had just got sat with a party of 10 that wanted 10 separate checks. I brought their food out, and was particularly nice to them, and thanked them for coming in etc. In the tip space of the credit card slip, she wrote "Don't be rude." ... Is this your pathetic excuse not to tip me because you are a ghetto piece of shit?? Fuck you then ... be careful next time that there is not a big pile of spit in your stupid well done steak. [37]
The author of a comment about another patron gripes: "Cheap dirt buckets! Maybe they should spend a little less money on their grody tattoos and a little more money tipping for exceptional service. Cheap, unattractive, ignorant jerks." [38]
Malcolm Gladwell, author of the best-sellers The Tipping Point and Blink, found himself in the website's database for leaving only a 10 percent tip. Gladwell denied that he is a bad tipper: "I could have sworn I was reliably in the 15-to-20 percent range." [39] There is no attempt to verify the information on the website, and any server can submit a name and an entry. The website has a disclaimer that states: "Please note that all submissions are printed with minimal or no editing. We are not responsible for submissions to the [database]. Uh-uh, no way, not in the least."