Chapter 7 - Rampant Bonking at the News of the World
When Murdoch hired me as a News of the World photographer, he knew full well that I was an ex-criminal with a seedy and sleazy past. But so was pretty well everyone at the News of the World where I worked for some two decades. In fact, whole departments from lofty executives to lowly reporting hacks would all go bonking in the very establishments we were exposing.
Except for one club, the Cabaret Club in Old Bond Street. For many years while I was at the News of the World, me and Ray Chapman (the paper's longest serving reporter) had been putting the heat on this clip joint. The club was owned by a man called Toni Ingleman, who has a string of convictions for living off immoral earnings. If we took off the heat, Ingleman promised, he would let us visit the club for a taste of its delights whenever we liked. Obviously we took him up on his offer and so did most of the other staff members at the time, including the news editor, Alex Marunchak who worked at the News of the World between 1981 and 2006 and moonlighted as an Ukrainian interpreter for the Metropolitan Police for 20 years while still at the newspaper, but that's another story.
The Cabaret Club turned into a bordello almost exclusively used by News of the World staffers. Nor did we confine ourselves to Bond street. Far from it. Me and Chapman probably had a thousand 'legovers' apiece during the late seventies and eighties. At least we were culpable many, many more times than the people we purported to expose. We also acted as procurers for several other members of staff, including some of the hierarchy. Me and Chapman, acting openly as pimps for News of the World staffers, high and low, were paid in 'shifts' at £180 a time. At one stage both of us were doing nine 'shifts' a week. After a while we did not need to do any real work at all. Executives would sign the dockets automatically, and then go off to Toni's for a screw.
Over a very long period of time, Toni Ingleman's club put on orgies for the News of the World staff. All we had to do was to promise that the club would never be exposed.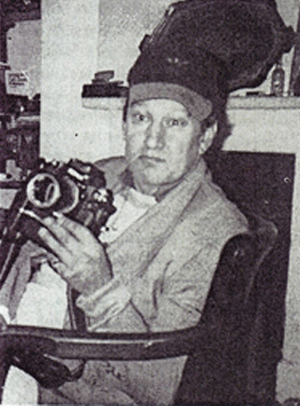 Ian Cutler
After leaving the News of the World and setting up Scallywags magazine, I began to tell the truth of what really happened back then. It appears that after we published parts one and two of this story, where rat eats rat and then exposes himself, the Screws' took exception and began a harassment campaign of our outlets, printers, distributors and so on. Murdoch was obviously unable to take being spanked with his own riding crop. Of course this behaviour ensured that we would continue with the series. After all, there was a lot more dirt where this lot came from.
The News Of The World "Animal's Room": The recent book on the history of the News of the World, "150 Years: the News of the World Story" by Cyril Bainbridge and Roy Stockdill, proudly names all the stalwart soldiers who have battled to save public morals and expose the sleazy side of the life. The only thing the authors did not mention was that at one time or another, pretty well everyone they have named was at it themselves. It refers to ex-editor Barry Askew in derogatory terms about his relationship with the ghastly woman Sonia Sutcliffe, but it falls short of mentioning that he took her to The News Of The World's "Animal's Room" on a regular basis every time she came to the office. It was here that she would give him a blow job during "sensitive negotiations".
The "Animal's Room" was upstairs in the old Bouverie Street office and had been set aside as a den for anyone to sleep after a later shift when they could not get home, but in reality it was a permanent bordello. In more generous times, pre- Murdoch, there had been a similar suite permanently reserved for similar purposes at the Strand Palace Hotel within easy walking distance of the office. Rupert, however, soon got to know about the indiscretions and cancelled the facility.
Gobbling: The "Animal Room" was my idea, but all I had done was move the sleaze into the hallowed building itself.
Central to all the indiscretions was Tina Dalgliesh, a former secretary who had, literally, gobbled her way to the top and become an 'ace' reporter on the feature's desk. She very nearly lived in the "Animal's Room", and there were very few staffers, from Deputy Editor Phil Wrack downwards, who had not had their flies undone.

A senior executive, Stuart Kuttner, had a different predilection. He not only liked to dress up as a woman, but he was an uncontrollable voyeur who, dressed up and fully made up, would haunt the brothels of Shepherd's Market.
I often used to screw Rosanne, secretary to the controversial and foulmouthed Kelvin McKenzie, Rosanne claimed that Kelvin "didn't seem to know what to do with it", even, apparently, when it was exposed under his desk. Using his brother's name, Craig McKenzie got into the act, even at one stage with Mike Parker (former Features Editor at the Daily Star). In full view of everyone they used to do a "double gobble" with two of Toni's whores.
Whores Galore: I remember a notorious party I threw at my home in Mercers Road, Islington. With the promises of hoards of whores, just about everyone on the News of the World turned up. I did not let them down. Features supremo, Rod Tyler, "good friend" of Caroline Thatcher, did a free floorshow by bonking a girl called Jean Leyland on a sofa. He 'paid' me by signing a docket for two shifts - £140 at the time.
Upstairs, Gerry-can Brown had ignored the ten top call girls supplied by me from Toni's Club and settled for the faithful Tina Dalgliesh. In the next bedroom veteran reporter Ray Chapman was doing it the wrong way up with Rosalie Shan, the "fashion" editor who had become quite used to office customs.
Even one of the authors of the "150 Years: the News of the World Story" book, Roy Stockdill (who ended up as news editor of the sanctimonious Screws) was at it with one of Toni's girls.
The News of the World has gone now, never to be seen again. It was an institution for 168 years.
Every time you read of an orgy you would know that the article had been written by the world's greatest experts on the subject.
Vintage Presbyterian Rupert Murdoch has been sent a copy of this present book in the hopes he might buy it for a SKY TV mini-series.
Carbon Tetrachloride: One day Ray Chapman called me to the hospital where his wife lay near to death. Chapman was beside himself with grief and could not stop sobbing. "You've got to get up there," he told me. "I'm desperate. I don't know what to do. Judy is dying".

Of course I rushed to the hospital where I found Chapmen almost demented. Still sobbing he spluttered out his story. Michael, a tramp who Chapman had used on various stories, had been given the job of cleaning the Chapman's bath.

Michael had bought a cleaning solvent called carbon-tetrachloride, telling Chapman a cock and bull story about it being a date-rape drug. He claimed that if a girl sniffed the substance she would go into an immediate sexual high. Chapman couldn't wait to try it out on his unsuspecting wife.

That night they wined and dined and he plied her with drink. Then they went to bed and Chapman admitted, "I screwed her just about every way possible". In the morning however, Judy did not wake up and Chapman became worried. He eventually called an ambulance and she was rushed to hospital where she was declared "in a state of emergency". Unless they knew what the trouble was, the doctors told him, she might die.

Chapman knew that if he told them the truth he would be arrested. So he despatched me to his home to remove the evidence. Chapman told the doctors that his wife had been cleaning the carpet with this toxin. The doctors quite literally clutched her from the jaws of death in the nick of time and she gradually recovered.
Wrack's Little Baby: One of the favourite stories to do the rounds at the time was when Deputy Editor, Phil Wrack became acting editor, pending a new appointment. Wrack had a reputation for being both a seasoned drinker and an outrageous flirt. He would most certainly not have survived today's mood of so-called political correctness.
His long-term secretary was called Angela Mulligan and she was summoned into the editor's office after Wrack had been on a lengthy binge. She found him standing in front of his desk with his trousers around his ankles and everything on display. He chased her round the room three times before she could escape, chanting, "Get your lips around this Angie".
"I was terrified", she later told stunned staffers in the Printer's Pie. "His tool was as large as a baby's arm holding an orange".
Anal Fixated Craig McKenzie: Poor Craig had contracted herpes by going with a prostitute (supplied by me) called Diane. Craig had apparently asked, not for the proverbial "blow job" so favoured by so many staffers, but that she should lick his private parts including his anus. She apparently obliged, but later told me that she would prefer not having to service McKenzie again.
Craig McKenzie became a senior editorial executive at the Daily Express under Sir Nicholas Lloyd who, despite his humble beginnings, was knighted by Thatcher for his services to the Tory party. While Lloyd did spend a long period as Feature's Editor at the Screws, it is not suggested that he had any inkling of what his underlings were doing. But perhaps he should have known.
Bribed: My former fellow culprit, Ray Chapman, accepted a £25,000 bribe from a well known villain after Chapman was going to expose him for murder. He used the money to buy a flat in North London.
When I left the paper in the mid 1990s I received a golden handshake of £10,000, a glowing reference from the then editor, Derek Jameson and another £10,000 to keep my mouth shut.
Much Bonking On My Boat: My sex boat, permanently moored in St. Catherine's dock, was well Known to Rupert. On one occasion Rod Tyler and Carole Thatcher had a pleasant afternoon on board!!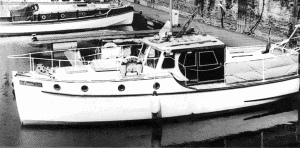 Ian Cutler's sex boat in St. Catherine's dock, well known to Rupert. Rod Tyler and Carole Thatcher had a pleasant afternoon on board!!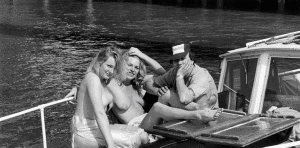 Friends on board Ian's boat.
Suicide: Later on a young lady who had been a constant visitor to the now notorious Animal's Room became pregnant. She managed to convince Parker the child was his. Low and behold, Craig McKenzie was invited to be the best man and of course, I took the wedding photographs. Parker had absolutely no idea that his bride had visited the Animal's Room so often with me.
As with many of these sordid tales, this one has a sad ending which goes over and above the general sleaze. After the wedding, the lady wanted to get a gas cooker on hire-purchase and made an agreement with the company pretending she was the wife of Ray Chapman who had a much higher credit rating.
When she could not pay the bills the company moved in on Chapman and he reported the lady to the police who subsequently charged her. Unable to face the impending disaster she committed suicide.