PART 1 OF 2
THE REVOLT OF THE DEMONS
by Lewis Mumford
The New Yorker, May 23, 1964
NOTICE: THIS WORK MAY BE PROTECTED BY COPYRIGHT
YOU ARE REQUIRED TO READ

THE COPYRIGHT NOTICE AT THIS LINK

BEFORE YOU READ THE FOLLOWING WORK, THAT IS AVAILABLE SOLELY FOR PRIVATE STUDY, SCHOLARSHIP OR RESEARCH PURSUANT TO 17 U.S.C. SECTION 107 AND 108. IN THE EVENT THAT THE LIBRARY DETERMINES THAT UNLAWFUL COPYING OF THIS WORK HAS OCCURRED, THE LIBRARY HAS THE RIGHT TO BLOCK THE I.P. ADDRESS AT WHICH THE UNLAWFUL COPYING APPEARED TO HAVE OCCURRED. THANK YOU FOR RESPECTING THE RIGHTS OF COPYRIGHT OWNERS.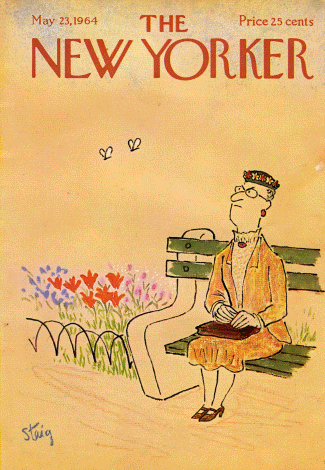 AS the nineteenth century drew to an end, most people believed that the demons that had plagued mankind all through history were at last disposed of. If they were not mere phantoms, they were at least safely locked up and so would never trouble man again, though they might still on occasion torment individuals. Disease would be wiped out through inoculation, pain would be banished by anesthesia, poverty would be overcome by machine-made plenitude, and no personal problems would exist that the rational mind, aided only by the scientific method, could not handle. Herodotus boasted of the ancient Greeks that they were emancipated from silly nonsense; that is, from belief in astrology, magic, transmigration, divine kings, and perverse, mischief-making gods. But this claim seemed even more applicable to the modern mind. Nor was it entirely an illusion; the thin, icy crust of rational behavior actually grew thicker in many areas and concealed the turbid black water beneath. Yet there were cracks in the crust even so, and before our century had well begun, the demons broke out again, precisely as Dostoevski had predicted in his "Letters from the Underworld."
What has happened to mankind this last half century is inexplicable in terms of either the sanguine ideology of the eighteenth-century Enlightenment or the nineteenth-century doctrine of Progress, the main props of this hope. We should still perhaps lack sufficient clues to the condition of man today had it not been for the daring discoveries made during the last decade of the nineteenth century, mainly by a middle-aged Viennese doctor named Sigmund Freud. His "The Interpretation of Dreams," published in 1899, exposed the devious mechanisms of human irrationality, and though it took eight years to sell the six hundred copies of the first edition, the book has had an impact on the modern mind similar to that of Galileo's "Dialogues" and Darwin's "The Origin of Species." From our present vantage point, it is easy to see that, symbolically, this book marked a turning point in history. It took a little time to realize what was happening to our innocent hopes of automatic perfection, but it is obvious that nothing has been quite the same ever since. Freud did not intentionally release the demons that now claim dominion over us; his great distinction was that he made them visible, and in a sense, by sheer familiarity, made them respectable. For he alone, by his fresh interpretation of dreams, had found a passage to the catacombs where the demons lurked.
Though Freud was a happily married man, with a large, well-beloved family, he had been going through a severe neurosis, marked by a quasi-intellectual but deeply emotional attachment to another physician, Wilhelm Fliess. It was in the analysis of his own dreams during this ecstatic but tormenting period that Freud came face to face with a long-unvisited territory of the mind. With an audacity born perhaps of desperation, he risked his reputation as a scientist to expose the irrational elements that -- as Plato long ago pointed out in his parable of the black and white horses -- have always been ready to invade the human psyche. These forces are so ambivalent in their manifestations that their victims in the past were regarded with awe, as the favored possessors of higher powers, or thrown into cells, as if they were criminals. Because Freud dared so greatly, twentieth-century man has an insight into the worst disorders of human behavior such as only great poets or religious teachers like Shakespeare and St. Augustine ever had before.
Freud's exploration of the hidden sources of human behavior, with the aid of the long-discredited key he had found in dreams, encountered severe disapproval from the medical fraternity for the next generation. He could hardly have succeeded in making his ideas known, still less in getting them accepted, if he had not had the help of a closely knit band of disciples, all grounded in medical science but unusually open-minded about his astonishing discoveries, partly because they -- Ferenczi, Rank, Jung -- were in the throes of their own psychoneuroses. Through their own experience they had come, like Freud, to suspect that neurotic difficulties were a normal phenomenon, an acute manifestation of "the psychopathology of everyday life," whose cure lay in bringing the repressed portions of the psyche into the light and air. That proved only a partly effective therapy, but it came as both a revelation and a promise of blessed relief.
Of all these followers, the one whose figure now stands out most sharply, as nearest to Freud in stature and total achievement, is Carl Gustav Jung. Jung's recent book, "Memories, Dreams, Reflections" (Pantheon), dictated and written mainly at the very end of his life, rounds out the picture of the whole development that began with Freud's classic interpretation of dreams. Jung, junior to Freud by nineteen years, was predisposed by his own unruly fantasies to make the most of Freud's new approach to mental disturbances, but perhaps his greatest contributions, if we can trust his own account, came after he had broken with his Viennese master and plunged into the severe neurosis that marked his own middle life just as Freud's had been marked.
"What would we give for such an autobiography of Shakespeare?" Carlyle wrote in 1828, two decades after the word "autobiography" had entered the English language. Jung's work, with its copious disclosures of his inner life, is perhaps as near as one can get to such a literary confession -- profuse in subjective materials, dreams, premonitions, projections, but relatively bare of data about more commonplace external events. For all that, his narrative tells us much about his boyhood and invites us into the lonely cell of his old age, even if it barely touches -- in an account of his travels and his dealings with his patients -- upon the busy, productive, yet secretly devastating years that lay between. The very title of the book, "Memories, Dreams, Reflections," mirrors its subjective emphasis, for a good many of the memories are concerned with dreams, often admonitory or prophetic ones, whose description and interpretation became his life work. Yet the travel letters that Jung wrote to his wife, Emma, during his famous trip to America in the company of Freud to attend the conference President Stanley Hall, of Clark University, had arranged, show that he had a sharp eye and a healthy appetite for the outer world. As Jung grew older, however, it would seem, his inner world enveloped him to such an extent that the most commonplace reports from that domain often engrossed him more than far more significant external events. While he accepted many social responsibilities and duties --treatment of patients, participation in psychoanalytic conferences -- it was the hidden domain of his life that he valued, and this is what, in his final backward glance, he chose mainly to expose.
Twice during the past year I have slowly gone through Jung's autobiography in an attempt to get a rounded view of this teasing, many-faceted personality, and at almost every point I have found Jung's figure accompanied by the huge shadow of Freud. Each of these men was to establish a special school of psychoanalysis, dominated by the strong personality at the center, but the view of Freud's most faithful followers -- that these men's characters and careers were utterly unlike, that Freud was the rigorous scientist and Jung the unreliable mystic -- are belied both by the evidence of Dr. Ernest Jones's three-volume biography of Freud, published during the last decade, and by Jung's present self-revelation. Such antagonisms as existed between the two men were due as much to their likenesses as to their many residual differences.
Both these psychologists were the sons of fathers unsuccessful in worldly affairs; both grew up in comparative poverty; both were favored children; and if Jung was disturbed by the patently unhappy relations of his parents, seemingly a result of their sexual incompatibility, Freud was equally upset by the private intimacies of his parents. Both men loved the rural scene, but Freud was torn away from it at the age of three, while Jung remained a country boy at heart, at home in the forest and the barnyard, accustomed to the superstitions and smut of this environment, with its cruelty, its open sexuality, even its occasional incest and sodomy. Both physicians were trained in the rigorous, confidently determinist science of the late nineteenth century, and disciplined in objective observation and respect for the impersonal criteria of truth. Yet they were in varying degrees fascinated by dubious occult phenomena -- poltergeists, ghosts, thought transference, clairvoyance, and prophecy -- as well as by non-scientific systems of interpretation, like numerology (Freud) and alchemy and astrology (Jung). If these are sins, Freud was nearly as great a sinner as Jung. Though usually Freud took care to conceal his intellectual temptations and peccadilloes, he at one point considered proclaiming an open alliance between psychoanalysis and occultism.
To honor these physicians of the soul sufficiently, one must remember the intellectual atmosphere in which they worked, with its dogmatic mechanistic doctrines. One of William James's austerely scientific colleagues told him that if psychic research brought forth indisputable evidence of the existence of ghosts and an afterlife, he would suppress that truth in the interests of science. Similarly, orthodox medicine in the eighteen-forties had flatly rejected as fraudulent John Elliotson's demonstrations of painless surgery under hypnotism. The great contributions psychoanalysis has made to the understanding of human behavior could have been achieved only by such recklessly open- minded -- indeed, often overcredulous -- men as were Freud and Jung. Both of them had the courage to realize, as in Freud's rephrasing of his favorite Shakespearean quotation -- borrowed from his master, the psychiatrist Charcot -- that there were more things in heaven and on earth than were dreamed of in current scientific philosophy or were discoverable by its one-sidedly "objective" methods. The two men's readiness to deal with psychic leftovers, seemingly the rubbish and garbage of conscious life, was responsible for their most original contributions to psychology. (Many of our contemporaries, following in some measure Jung, have been tempted to regard the leavings and dribblings of the unconscious as a form of human sustenance superior to food, but that is another story.) At one in their basic understanding, Freud and Jung nevertheless developed along different lines, for Freud overvalued the ego, Jung the unconscious. It turns out that Jung was a sufficiently open-minded and contradictory personality to part company even with himself at the end of his autobiography.
Both men had minds and characters of extraordinary complexity; both used the austere protective covering of science to enter realms too private and subjective to be handled by the ordinary methods of science; both clung to their authority as physicians to escape the odium of seeming a new kind of medicine man, performing lengthy incantations and magic ceremonies to exorcise demons and to lift curses. Both anticipated -- correctly, I believe -- that the unconscious world they dared to explore would lead them far back to the very origins of human culture, and so both manifested, at a quite early date, an interest in archeology and prehistory. Indeed, Jung remembers that when he was a student he played with the thought of becoming a philologist in order to learn Egyptian and Babylonian, while Freud's desk was covered with an array of little statues that bore witness to his lifelong attachment to archaic images.
Goaded as he was into his exploration by his own unconscious, Freud was quite as tempted as Jung to treat occultism as a coordinate branch of "metapsychology." But he anchored himself for safety in the matter-of-fact science of the nineteenth century. In 1921, in discussing telepathy, he approvingly declared, "Analysts are fundamentally incorrigible mechanists and materialists." This was perhaps true of their conscious intentions but false as related to their unconscious preoccupations. Freud's touchiness over Havelock Ellis's calling him an artist rather than a scientist reveals the weak spot his early faith in mechanism made him wish to cover, for his conscious philosophy had not been modified by his own new discoveries, which should have made the mechanistic universe of his youth as old-fashioned to him and his followers as it now is to the disciples of Einstein, Planck, and Bohr. Jung came later, with the better grounding in philosophy and history, if not in languages, that a student in Basel, the home of the great historian Jakob Burckhardt, could get, so he moved with greater freedom over the whole field of human culture. Jung's skepticism, unlike Freud's, extended even to the exact sciences, though it did not prevent him from entertaining the truths of religion, which came by quite another route.
Curiously, even in the matter of the dominant dogma of Freudian analysis -- the central role played by sex from infancy on -- these men were closer together than is usually realized. True, Jung broke with Freud over this very point by strongly denying the Master's insistence that sexual repression was the sole source of neurotic symptoms (a belief Freud stubbornly equated with psychoanalysis itself), for he was far more ready than Freud to admit that unbearable burdens and misfortunes having nothing to do with sex might be responsible for many mental disorders. Instead of holding, as Freud so long did, that the disclosure of an infantile traumatic experience was the only means of cauterizing the festering neurotic wound, as a physician Jung was ready to enlist the troubled patient's philosophy or religion to bring about the cure. "We need a different language for every patient," he observes in his chapter on his psychiatric activities. "In one analysis I can be heard talking the Adlerian dialect, in another the Freudian.... What matters most to me is that the patient should reach his own view of things. Under my treatment a pagan becomes a pagan and a Christian a Christian, a Jew a Jew, according to what his destiny prescribes for him."
In method, Freud would allow no departure from the psychoanalytic procedure of seeking with limitless patience for the infantile sexual basis of a neurosis. In the act of giving sex its rightful place in the human economy, he created a dogmatic theology of sex and sought to excommunicate as heretics those who did not accept every item of his doctrine. (This notion fostered the almost comic annunciation, by Dr. Wilhelm Reich, of the orgasm as the sole vehicle of human salvation.) Such a curious departure from the ways of science inevitably calls attention to Freud's own sexual repressions, as well as to the compulsive substitute gratification -- his smoking twenty cigars a day -- that possibly caused and certainly aggravated the cancer of the jaw that poisoned his last sixteen years.
If the facts were not extremely painful, the contrast here between the two great analysts would be amusing. For Jung was visited by overpowering sexual impulses whose open expression shook his whole life to the roots, and these impulses were visible, just as Freud held, in his earliest childhood reactions. When he was a child of four, Jung discloses, he had a dream -- a singularly Freudian dream -- dominated by a towering phallus, twelve to fifteen feet high and two feet thick, with a hairless head and a single eye at the top. This vision was followed by a confrontation with evil, in which he dreamed that God defecated upon his own altar. In the dream, Jung says, the gigantic phallus did not move, but he had a feeling that at any moment it might crawl off the throne like a huge worm and move toward him. And he heard his mother's voice cry, "That is the man-eater!"
Jung relates this dream, as he does all his later dreams, with graphic exactitude and bland, if not almost blind, naivete, but he confesses that he had never communicated it to anyone until he was in his sixties. This would seem a significant repression, though the fact that his admission came only in old age leaves doubt as to when, in his increasingly dream-ridden world, this particular image actually appeared to him. Was it a projection or an elaboration of maturity, protectively relegated to infancy? "When I die," Jung smilingly told a friend of mine, "probably no one will realize that the old man in the coffin was once a great lover." Jung's sexuality, in short, was no less overwhelming than Freud's, but it seems, since he fully enacted it, to have been far less obsessional, while Freud, apart from his fond marital relations, apparently sublimated his ambivalent sexual impulses by making them both the center of his thereapeutic method and the dominant theme of his writing. In the final phase of Freud's life, the Eros theme was supplemented by the death theme, the power of Thanatos (both Eros and Thanatos conceived of as deities), yet in almost his last words on the subject he held forth the hope that a resurrection of Eros might save the world from the forces of destruction.
Unlike Jung, Freud refused to commit, save for a few details, his intimate life to paper, and he rejected and disparaged the efforts of anyone else to write about it. For all his immense physical courage in facing pain, he quailed at such an exposure. As far as he could, he destroyed the data he had set down for an account of his inner life, and we would lack the most significant clue to this development had it not been for the precautions taken by Dr. Fliess's wife to preserve Freud's letters to him. Freud's words on the subject demand to be quoted: "Whoever undertakes to write a biography binds himself to lying, to concealment, to flummery, and even to hiding his own lack of understanding, since biographical material is not to be had, and if it were it could not be used. Truth is not accessible; mankind does not deserve it, and wasn't Prince Hamlet right when he asked who would escape a whipping if he had his deserts?"
These are strange words to come from the father of psychoanalysis, for the method he fabricated is nothing less than the art of autobiography carried to such exhaustive lengths in the interest of self-understanding that no painful event, whether relevant or seemingly irrelevant, remains unexposed. Freud's rejection of biography is, in his own vocabulary, a classic example of "overdetermination." If lies and concealment are inevitable, if it is indeed impossible to obtain material, what becomes of psychoanalytic purgation? To clinch his objection, Freud insisted that even if one could get hold of material, one could not use it, for it would reveal the subject's weaknesses. Freud openly feared, in his own case (if Jung quotes him accurately), that the truth about his inner life would destroy his authority. As to this judgment, Freud was surely wrong. His struggle to get at the dismaying truth about his own psyche, as revealed by his dreams when he was under Fliess's influence, must count as one of the heroic episodes of science; it gave him authority to do unto others as he had done unto himself. But when his life was nearly lived out, he was wrong to suppress the record of it, for only he, with his sharp intellectual scalpel and marvellously deft touch, could have examined the morbid psychal organs without injuring the patient or cutting short his life. Such an act would have confirmed Freud's authority, much as Augustine's "Confessions" add their weight to his philosophy and theology.
JUNG, on the other hand, though almost equally reluctant, was persuaded by his publisher, the late Kurt Wolff, and by Dr. Jolande Jacobi, one of Jung's associates, to assist a younger colleague, Aniela Jaffe, in the preparation of a biography. And he did his part so well that the result is an invaluable document, though it is unsystematic, spotty, and far from complete, exactly as one would expect of an old man -- now relapsing into dream, now flashing unexpected illuminations, sometimes cannily concealing what everyone else knows, sometimes revealing intimacies that tell far more. In "Memories, Dreams, Reflections" Jung appears to have maintained a rigid reserve about parts of his life one would legitimately like to learn more of, though, if rumor can be credited, certain relevant passsages about his sexual and marital relations have been omitted at the request of the surviving family. This omission -- or deletion -- is unfortunate in the case of a man whose personal experiment in open erotic relationships influenced the marriage of more than one patient who came to him for advice. One would like to know his final judgment in maturity upon his efforts to maintain a continuing bipolar relationship between two psychologically contrasting types, a Griselda and an Iseult. In this respect, Jung's confession goes no further than Freud's own minute autobiographical notations. In fact, the sum of his wisdom at one point seems to be that he can make no judgment about his own life. That is a singular confession. Did his life not bear further reflection, or did it teach him nothing?
If Freud opened the door to the dream world, it was Jung who took possession of it, to such a degree that the demons and angels, the tormentors and redeemers, of the unconscious increasingly displaced in his mind the everyday figures of existence. The territory of the unconscious had long been suspected, and even sporadically visited, as the unknown continent of America was occasionally visited before anyone identified it or sought to colonize it. Every artist and thinker realizes that more goes on within his mind than he is aware of, sometimes with astonishing results, such as the famous dream of the University of Pennsylvania archeologist H. V. Hilprecht, in which a Babylonian priest showed him how to put together in a meaningful sequence the widely separated fragments of an inscription that had baffled him. In the nineteenth century, Karl Edward von Hartmann, in Germany, and Samuel Butler, in England, had indicated some of the scope of the unconscious processes. Even before that, the quick, probing mind of Emerson had more than once, like a divining rod, dipped sharply to point out these functionings. Emerson not only observed, in his "Journal," that by way of "beasts and dreams" -- read "evolution" and "psychoanalysis" -- man would "find out the secrets" of his own nature but elaborated on the second intuition in his essay on "Demonology." "Sleep," he said, "takes off the costume of circumstance, arms us with terrible freedom, so that every will rushes to a deed. A skillful man reads his dreams for his self-knowledge.... My dreams are not me; they are not Nature or the Not-me: they are both. They have a double consciousness, at once sub-and ob-jective. We call the phantoms that rise the creation of our fancy, but they act like mutineers and fire on their commander; showing that every act, every thought, every cause is bipolar, and in the act is contained the counter-action."
It was in dealing with those who were the victims of unconscious repressions and unconscious psychic replacements that in the eighteen-eighties a new school of psychologists -- Charcot, Janet, and Breuer -- opened the way for the explorations of Freud and Jung. Nor were these intrepid investigators alone; a group of physicians -- Ivan Bloch, Krafft-Ebing, Havelock Ellis -- were exploring all the devious byways of sexuality, gradually closing in upon the basic expression of sex, while psychologists like William James and F. W. H. Myers were delving into a whole variety of possibly related phenomena indicating the working of an unknown psychal factor that failed to behave in terms of the known properties of mass and motion.
The common source from which, seemingly, these erratic manifestations arose came to be called the unconscious -- seemingly the same source from which the conscious mind draws the memories, hints, images, ideas, anticipations, projections that are convertible into poems, dramas, philosophies, scientific theories, aesthetic monuments. Both Freud and Jung made themselves at home in the unconscious realm, but Freud put higher value on the potency of his conscious mind and he was reluctant to accept the testimony of his senses when upon one occasion Jung, in his presence, apparently became the catalytic agent of two unidentifiable explosions in a nearby bookcase; on the other hand, Jung from his youth on was quite apt to surrender to the unconscious and immersed himself in all its fantastic presentations, including such poltergeist phenomena as those explosions.
For Jung, the world of dreams became -- to a degree matched only in adolescents or in neurotics -- the supreme reality; nothing else fascinated him so much, nowhere else did he find such major values and such rewarding themes. For a long time, however, he concealed this attachment. Instead of openly challenging current medical practice, as Freud did, only to become resentful over the inevitable rebuffs, Jung affected an air of scientific detachment and non-involvement, though his doctoral thesis was in fact an examination of a youthful psychic "medium." But from the time he equated Freud's discoveries with his own observations of neurotics and psychotics in a mental hospital, Jung committed himself to the unconscious and treated its sane and insane manifestations as equally "normal" and equally real. He also found there "the matrix of a mythopoeic imagination that has vanished from. our rational age." By that discovery he made meaningful and in some degree usable a vast treasury of seemingly confused religious and poetic intuitions other ages had accumulated -- material that the nineteenth-century mind had patronizingly dismissed as unscientific, as of course it was.
Freud's concern with sexuality and Jung's with the unconscious were, in fact, complementary, and they restored to modern man two important provinces he had, at his peril, ignored. This restoration was a precious gift, but -- as happens in the fairy stories -- the implications of it were ambivalent and the consequences have proved unexpectedly disastrous. For it turns out that the unconscious is as full of double-talk as the Delphic oracle, and that if Emerson's commanding demon was a blessing, Hitler's was a curse. In the end, Jung himself, in his final self-revelation in his old age, after sinking more deeply into the unconscious than sanity usually permits, was forced to admit that consciousness is the transcendent gift of life.
Jung's lifelong devotion to the unconscious was prefigured in his youth in the form of a special ritual, which oddly paralleled mankind's own prehistoric expressions. He attached significance to a stone he had found and a small manikin he had carved; he hid them in a secret place in the attic, to which he made furtive visits. With the knowledge of symbolic ritual his own teachings now help to elucidate, we today can see that both the fetishes and the ceremony announced as plainly as any verbal declaration his future career. But Jung, like Freud, had another qualification for investigating the unconscious; he had an exceptional -- indeed, an incredible -- capacity for remembering his dreams in the minutest detail. So exact are Jung's descriptions of his earliest dreams that one is tempted to mistrust them as possibly much later inventions till one remembers Goethe's minute descriptions of his own juvenile feelings and fantasies in his "Poetry and Truth." (This similarity is perhaps the only plausible reason for believing the legend Jung mentions that Goethe begot an illegitimate ancestor of Jung's, though the symbolism of "Faust, Part II" is Jung's veritable spiritual ancestor. )
After having some difficulty -- again like Freud -- in choosing a career, Jung settled for medicine, but at the last moment switched from internal medicine to psychiatry. Both men seem to have been prompted by their own as yet unformulated needs to move from the safely scientific domains that treated the diseases of the body to those shadowy areas where the same rigid system of classification and diagnosis was being applied to the disorders of the mind. Jung had already separated these two aspects of life in his recognition of his own two personalities; the conventional, extroverted personality who studied science, prepared for a career, got ready for marriage, and the daring private personality, who had confronted God in his fantasies and who felt that God was terrible as well as benign and could lead him into temptation as well as deliver him from evil -- indeed, would offer him grace only if he dared to sin.
For Jung, dreams were more gripping than wakeful life; he often felt he was living simultaneously in two different ages and being two different persons. This feeling of living a double life persisted to the very end, even in the dwelling he built for himself at Bollingen -- a tower that was by intention an ancestral home, a refuge for his family "ghosts," where he continued that dual existence. Though in the course of time this rural refuge became by various reconstructions a whole, many-chambered house, he kept it in the homely mode of the seventeenth century, and except for the matches with which he lighted his fire, it belonged in style to his forebears. Here he lived life as they had lived it, feeling that he was actually seeking answers to problems they had been unable to cope with or come to conclusions about. Jung denies that these were split personalities in the neurotic sense, but his diagnosis is not beyond challenge. As his life lengthened and his thought developed, Jung No. 2 (the Jung who was absorbed in the exploration of the unconscious) tended to suppress No. 1. As with two eyes that do not focus, one eye became virtually blind.