CHARLES FOLLEN
by Wikipedia
NOTICE: THIS WORK MAY BE PROTECTED BY COPYRIGHT
YOU ARE REQUIRED TO READ

THE COPYRIGHT NOTICE AT THIS LINK

BEFORE YOU READ THE FOLLOWING WORK, THAT IS AVAILABLE SOLELY FOR PRIVATE STUDY, SCHOLARSHIP OR RESEARCH PURSUANT TO 17 U.S.C. SECTION 107 AND 108. IN THE EVENT THAT THE LIBRARY DETERMINES THAT UNLAWFUL COPYING OF THIS WORK HAS OCCURRED, THE LIBRARY HAS THE RIGHT TO BLOCK THE I.P. ADDRESS AT WHICH THE UNLAWFUL COPYING APPEARED TO HAVE OCCURRED. THANK YOU FOR RESPECTING THE RIGHTS OF COPYRIGHT OWNERS.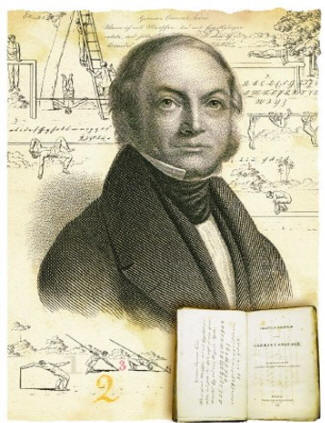 Frontispiece of 1841 edition of Collected Works
There were more radical, conspiratorial, and revolutionary groups within the Urburschenschaft, such as the Unbedingten (Unconditionals) and the "Giessen Blacks" – Karl Follen (1796-1840) and his protégé, Karl Sand (1795-1820) were amongst its leaders. Sand would politically assassinate the conservative dramatist August von Kotzebue in 1819, which led to the Carlsbad Decrees and the repression known as the Demagogenverfolgung. Follen was suspected of being involved and he eventually fled to Chur, Switzerland. "None of Follen's political associates in Jena had the slightest doubt that he was a 'German devil' and a 'bloody revolutionary.'" Prussian historian Heinrich von Treitschke would famously describe Follen as a "petty Robespierre … endowed with great terroristic powers."

A recent remarkable biography of Karl Follen consolidates and assesses the scattered, but increasingly voluminous research into his life and times. Follen et al. – the Giessen Blacks and the Unconditionals – it turns out – were akin to terroristic nihilists. On July 1st in the same year as the Kotzebue assassination there was a failed attempt on the life of Karl von Ibell (1780-1834) by a Giessen Black and Follen associate, Karl Löning (1791-1819). Löning was arrested, imprisoned, and committed suicide by swallowing broken glass. Löning was practically brainwashed, much like Sand, by the rhetoric of the radicals in Jena and Giessen. Reminiscent of the all-too-familiar Muslim Jihadists, Löning was convinced he was doing "something good, which pleased God and humanity." Friedrich Münch (1799-1881), a friend of both Karl and his brother Paul Follen, wrote that Karl Follen wished "to intimidate government authorities" and make them think "that his secret conspiracy of political murderers could strike anytime and anywhere they chose to." Löning's justification for the attempted assassination was in whole the doctrine of Karl Follen, Jakob Fries, the Giessen Blacks and the Unconditionals. "Follen may not have directly ordered Sand and Löning to murder specific individuals," writes Spevack; "he did, however, explicitly recommend murder to them as a political tool as often as he could."

In Spevack's book the doctrine espoused is described as the "principal of conviction," while Treitschke calls it a "cult of personal conviction":

It was bluntly declared that for the righteous man no law was of account. What the reason recognises as true must be realised by the moral will, at once, unconditionally, uncompromisingly, even to the point of annihilating all those who hold different opinions; there cannot be any talk of a conflict of duties, for the realisation of the reason is a moral necessity. This proposition was known simply as "the principle," and it was on its account that Follen's confidants termed themselves the "Unconditionals." To the members of this sect it seemed that anything was permissible for the sake of popular freedom -- lying, murder, or any other crime -- for no one had the right to withhold freedom from the people.

Thus did the evangel of the overthrow of all moral and political order make its first appearance in Germany, that terrible theory which, under many different cloaks, was ever and again to disturb the century, and which was finally to receive its extremest development in the doctrine of the Russian nihilists. But Follen draped his nihilism in a Christian mantle: Jesus, the martyr of conviction, was the Unconditionals' hero; their association-song declared "A Christ shalt thou become!"

In 1819 the assassinations of the Duchess Dowager of Russia, as well as Czar Alexander I, were also contemplated by the Follen Unconditionals. Russia was, after all, integral to the Holy Alliance and the Metternichian suppression of real and imagined revolutionaries. Kotzebue was assassinated because of his ties to the court of Russia, as well as his vilification of various radical factions within Germany.

The Kotzebue assassination had an "electric effect on wavering revolutionaries," wrote James H. Billington. [29] Chief among them was the Filippo Buonarroti (1761-1837) accomplice – Mason and Carbonaro, Philadelphe and a Sublime Maître Parfait – Joachim Paul de Prati (1790-1863). To Prati, this was a striking example of the "power of fanaticism," and an inspiring "signal for a general combat."

…from that moment all my mind became as it were inflamed for political strife; from that moment I plunged headlong in a continual series of conspiracies and revolutionary commotions.

It was while in exile in Chur that Karl Follen had met Prati,

and, together with Wilhelm Snell (1789-1851) committed to forming a conspiratorial triumvirate-junta, in April 1820.

Twelve men, from different countries, should act as leaders. Each of the twelve were entitled to form as many secret societies as they thought proper, in order to associate the army, the nobility, the students, the craftsmen, and others, whilst the political creed was adapted according to their peculiar notions, but leaving them in the dark as to the first and more secret union. Thus the mysterious "Männerbund" was established with the aim to unite and republicanise Germany, whilst for the students the "Jünglingsbund" was organized. It was planned to recruit political associates in Italy, France and Germany. Snell left for Germany, Follen for Paris, Prati for Italy. Follen was in Paris from May-July 1820, where he met Voyer d'Argenson and Joseph Rey, who had founded in 1816 at Grenoble a secret society "Union", of which in Paris Lafayette and Voyer d'Argenson were members. Implicated in the conspiracy of Nantil, 19th August 1820, Rey fled to Switzerland. There, at the end of that year, he met Prati and Wilhelm Snell, and then discussed plans to internationalize "Union" and the "Männerbund". The "Männerbund" was dependent, as was stated in the "mémoire" for Metternich "on that secret centre which has secretly directed the greater part of the secret societies of Europe for years". In other words: on Buonarroti.

Follen's Jünglingsbund (Youth League) seems to have been formed, but the directing body, Männerbund (League of Men) was not.

The 1820s were a prime time for secret societies of all stripes. Follen's exploits and connections enabled him – however briefly – to rub shoulders with the "crème de la crème" of the European-wide revolutionary movement. He stayed in Switzerland until 1824, escaping the authorities in Germany and Prussia for five years. Finally, he realized it wasn't safe any longer and fled for good to the United States. Through the aid of Lafayette, Karl Follen was accepted into the faculty at Harvard, becoming the University's first professor of German.

The Influence of the Illuminati and Freemasonry on German Student Orders (and Vice Versa), by Terry Melanson
Charles Follen (September 6, 1796 – January 13, 1840) was a German poet and patriot, who later moved to the United States and became the first professor of German at Harvard University, a Unitarian minister, and a radical abolitionist.
Life in Europe
He was born Karl Theodor Christian Friedrich Follen at Romrod, in Hesse-Darmstadt, Germany, to Christoph Follen (1759–1833) and Rosine Follen (1766–1799). His father was a counselor-at-law and judge in Giessen, in Hesse-Darmstadt. His mother had retired to Romrod to avoid the French revolutionary troops that had occupied Gießen. He was the brother of August Ludwig Follen and Paul Follen, and the uncle of the biologist Karl Vogt.
He was educated at the preparatory school at Giessen, where he distinguished himself for proficiency in Greek, Latin, Hebrew, French, and Italian. At the age of seventeen, he entered the University of Giessen to study theology. In 1814 he and his brother August Ludwig went to fight in the Napoleonic Wars as Hessian volunteers; however, a few weeks after enlisting, his military career was cut short by an acute attack of typhus fever, which seemed for a time to have completely destroyed his memory. After his recovery he returned to the university and began studying law, and in 1818 was awarded a doctorate in civil and ecclesiastical law.[1] He then established himself as Privatdocent of civil law at Giessen, studying at the same time the practice of law in his father's court. As a student, Follen joined the Giessen Burschenschaft whose members were pledged to republican ideals. Though he did not attend himself, Follen was a major organizer of the first Wartburg festival of 1817.[2][3]
Wartburg Festival

by Wikipedia

Students marching to the Wartburg in 1817

The first Wartburg festival (German: Wartburgfest) on 18 October 1817 was an important event in German history that took place at the Wartburg Castle near Eisenach.

After the war of liberation against France and Napoleon, many people were bitter about dreams of German unity shattered after the Congress of Vienna. Democratic reforms were stalled, and governments had cracked down on press freedom and rights of association.

In 1815 the students of Jena founded the youth organization Teutonia in order to encourage German unity at the university. Many of them had participated as voluntary soldiers on the fields against Napoleon, e.g. in the Lützow Free Corps with its black-red-gold colour scheme that was adopted as the Flag of Germany. The German students demonstrated for a national state and a liberal Constitution and condemned reactionary forces in the newly recreated German states.

1817: The Thing at the Wartburg

What no one could forget were the bells. Joyously ringing their welcome to the young men who had come from afar, the bells of Eisenach would be forever etched in their memories. [6] Having gathered just outside the red-tiled buildings of this medieval German town, the young men lit torches and began their solemn procession up to the castle, yellow and red autumn leaves blanketing their path. Some of the young men referred to this congregation at the Wartburg castle as a Thing -- what the ancient Germans called their annual tribal gatherings. Some of the young men were in ancient German dress, but most wore the Trachten, or traditional folk dress, of their native regions. They were urged to do so by the event's organizers, one of whom was Friedrich Ludwig Jahn, the famous "Turnvater Jahn," best remembered for founding gymnastics societies (Turnvereinen). There was no Germany in 1817, only several dozen principalities united by language, culture, and their common history of being recently overrun by Napoleon's armies. Jahn's gymnastics societies were designed to kindle the sparks of German nationalism in a defeated, fragmented, and often sleepy population. (Many of the foreign travelers through these lands in the nineteenth century described the Germans as rather indifferent, dreamy folk, all too glad to share their bread, wurst, and beer -- not as seething tribes of warriors.)

Many of the young men marching with torches to the Wartburg castle that day were members of these proud gymnastics societies. The rest belonged to student fraternities, some of them secret known as Burschenschaften. Most were from the university in Jena. These student fraternities had only just come into being, but they would play an important role in German cultural life in the nineteenth century. [7] Some of them were also affiliated with an older secret society, the Freemasons, for whom the rose and the cross were blended into a meaningful occult symbol. Some of the participants at the Wartburg festival wore cloth bands around their torsos in the colors that comprise the flag of today's Germany -- black, red, and gold.

It was no coincidence that these rituals of nascent German national fervor played out in the shadow of the mighty Wartburg fortress on an October night. It was here that Martin Luther gave Jesus a German accent. Luther's translation of the New Testament into German catalyzed nationalist sentiment and revolutionized the German world of letters. Heinrich Heine captures so many of the contradictions in the German soul in his often quoted description of Luther as "not merely the greatest but also the most German man in our history, so that in his character all the virtues and failings of the Germans were united in the most magnificent way." Luther was "the tongue as well as the sword of his age ... a cold scholastic word-cobbler and an inspired, God-drunk prophet who, when he had worked himself almost to death over his laborious and dogmatic distinctions, in the evening reached for his flute and, gazing at the stars, melted in melody and reverence." [8] For many of the young men, the commanding walls of the Wartburg fortress rose above them like the brooding, corpulent specter of Martin Luther himself.

In October of 1517 a defiant Martin Luther hammered his theses of protestation to a church door. October also was celebrated as the anniversary of the defeat of Napoleon at Leipzig in 1813. The feeling of being German swelled whenever these victories of the Volk were recounted.

"Feelings" of being German were all that one could have, for "Germany" was a word for an ideal, not a reality. German-speaking peoples lived in a loose confederation of dozens of autonomous states of varying sizes and significance bound only by a weakly ruled political entity called the Holy Roman Empire of the German Nation. They shared no common currency or legal system, and travel and commerce between many of them was a gauntlet of complex taxes, customs fees, and unanticipated local restrictions on personal freedoms.

At the foot of the Wartburg, the men built a huge, blazing bonfire and other pillars of fire that could be seen by the people of Eisenach. Encircling the central fire, with an excitement driven by a sense of the sacred and the dangerous, the men sang the traditional hymn "Eine Feste Burg" ("A Mighty Fortress Is Our God"). One of the leaders then offered a few inspirational remarks about justice and invoked the important symbol of the German forest of oaks. The mighty oak was sacred to the ancient Teutons and indeed was the "cross" upon which Wotan (Odin) underwent his revelatory self-sacrifice. Nostalgic references to it recur throughout more than a century of German spiritual longing.

More songs were sung and a patriotic sermon was delivered. Then, before a final hymn to end the formal segment of their ritual, the young men joined hands around the fire and took a collective oath of allegiance to one another and to their group (Bund). They also pledged to preserve the purity of the Volk. Before the Wartburgfest concluded, for the first time in recorded German history "un-German books" were denounced and burned in the great central fire.

Karl Gustav Jung -- the grandfather of Carl Gustav Jung -- considered his participation in the Wartburgfest one of the purest and most meaningful experiences of his life. He was twenty-three. He carefully preserved his black, red, and gold wrap from his days of student activism, and it became one of his grandson's most cherished possessions.

--

The Aryan Christ: The Secret Life of Carl Jung, by Richard Noll

On the occasion of the three-hundredth anniversary of Martin Luther's nailing of his theses and the fourth anniversary of the bloody Battle of Nations at Leipzig, the student groups organized a festival at the Wartburg. This castle had been a refuge for Martin Luther. As he translated the bible there and thus set a standard for the German language, it became a symbol of German nationalism.

Accordingly, it must and dare not be considered a trifling matter but a most serious one to seek counsel against this and to save our souls from the Jews, that is, from the devil and from eternal death. My advice, as I said earlier, is:

First, that their synagogues be burned down, and that all who are able toss in sulphur and pitch; it would be good if someone could also throw in some hellfire. That would demonstrate to God our serious resolve and be evidence to all the world that it was in ignorance that we tolerated such houses, in which the Jews have reviled God, our dear Creator and Father, and his Son most shamefully up till now, but that we have now given them their due reward.

Second, that all their books their prayer books, their Talmudic writings, also the entire Bible, be taken from them, not leaving them one leaf, and that these be preserved for those who may be converted. For they use all of these books to blaspheme the Son of God, that is, God the Father himself, Creator of heaven and earth, as was said above; and they will never use them differently.

Third, that they be forbidden on pain of death to praise God, to give thanks, to pray, and to teach publicly among us and in our country. They may do this in their own country or wherever they can without our being obliged to hear it or know it. The reason for this prohibition is that their praise, thanks, prayer, and doctrine are sheer blasphemy, cursing, and idolatry, because their heart and mouth call God the Father *Hebel Vorik* as they call his Son, our Lord Jesus, this. For as they name and honor the Son, thus they also name and honor the Father. It does not help them to use many fine words and to make much ado about the name of God. For we read, "You shall not take the name of the Lord your God in vain" [Exod. 20:7]. Just as little did it avail their ancestors at the time of the kings of Israel that they bore God's name, yet called him Baal.

Fourth, that they be forbidden to utter the name of God within our hearing. For we cannot with a good conscience listen to this or tolerate it, because their blasphemous and accursed mouth and heart call God's Son *Hebel Vorik,* and thus also call his Father that. He cannot and will not interpret this otherwise, just as we Christians too cannot interpret it otherwise, we who believe that however the Son is named and honored thus also the Father is named and honored. Therefore we must not consider the mouth of the Jews as worthy of uttering the name of God within our hearing. He who hears this name-from a Jew must inform the authorities, or else throw sow dung at him when he sees him and chase him away. And may no one be merciful and kind in this regard, for God's honor and the salvation of us all, including that of the Jews, are at stake!

-- On the Jews and Their Lies, by Martin Luther

A key event was a book-burning of reactionary literary works, and symbols of Napoleon like a corporal's cane. This act was used in 1933 as a justification for the Nazi book burnings.

The event itself was also used as a justification for further suppression of liberal forces, like the Carlsbad Decrees of 1819.

In 1832, the Hambacher Fest was held in similar manner. A second festival at the Wartburg was held during the Revolutions of 1848 in the German states.

Some works burned during the book burning

• Jean Pierre Frédéric Ancillon: Ueber Souverainitaet etc.

• F. v. Cölln: Vertraute Briefe. Freymüthige Blätter

• August Friedrich Wilhelm Crome: Deutschlands Crisis und Rettung im April und May 1813.

• Dabelow: Der 13e Artikel der deutschen Bundesacte

• Karl Ludwig von Haller: Restauration der Staatswissenschaft

• August von Kotzebue: Geschichte des deutschen Reichs

• Ludwig Theobul Kosegarten: Rede gesprochen am Napoleonstage 1800, Geschichte meines fünfzigsten Lebensjahres, and Vaterländische Lieder

• Carl Albert Christoph Heinrich von Kamptz: Codex der Gensd'armerie

• W. Reinhard: Die Bundesacte über Ob, Wann und Wie? deutscher Landstände

• Schmalz: Berichtigung einer Stelle in der Bredow-Venturinischen Chronik; und die beyden darauf

• Saul Ascher: Germanomanie

• Zacharias Werner: Martin Luther oder die Weihe der Kraft, Die Söhne des Thals

• K. v. Wangenheim: Die Idee der Staatsverfassung

• The Napoleonic Code

• Justus Friedrich Wilhelm Zachariae: Über den Code Napoleon

• Carl Leberecht Immermann: Ein Wort zur Beherzigung, 1814, (gegen die Burschenschaft zu Halle)
Early in the fall of 1818, he undertook the cause of several hundred communities in Upper Hesse which desired to remonstrate against a government measure directed at the last remnant of their political independence, and drew up a petition to the grand duke on their behalf. It was printed and widely circulated and aroused public indignation to such a pitch that the obnoxious measure was repealed. However the opposition of the influential men whose plans were thereby thwarted precluded any thought of a career in Follen's home town, and he became a Privatdozent at the University of Jena in October 1818.[3]
At Jena, he wrote political essays, poems, and patriotic songs. His essays and speeches advocated violence and tyrannicide in defense of freedom; this, and his friendship with Karl Ludwig Sand brought him under suspicion as an accomplice in Sand's 1819 assassination of the conservative diplomat and dramatist August von Kotzebue. Follen destroyed letters linking him with Sand. He was arrested, but finally acquitted due to lack of evidence. His dismissal from the university and continuing lack of opportunity prompted him to move to Paris.[2] There he met Charles Comte, the son-in-law of Jean Baptiste Say and founder of the Censeur, a publication which he defended until he chose exile in Switzerland instead of imprisonment in France.[4] He also became acquainted with Marquis de Lafayette, who was then planning his trip to the United States.[3] Follen came under suspicion again after the political assassination of Charles Ferdinand, duc de Berry in 1820, and fled from France to Switzerland.
In Switzerland, he taught Latin and history for a while at the cantonal school of the Grisons at Coire. His lectures having given offence by their Unitarian tendency to some of the Calvinistic ministers of the district, he asked a dismissal and obtained it, with a testimonial to his ability, learning, and worth. He then became a lecturer on law and metaphysics at the University of Basel.[1] At Basel, he made the acquaintance of the theologian Wilhelm de Wette and his stepson Karl Beck. Both Follen and Charles Comte were forced to leave Switzerland.[5] In Follen's case, demands were made by the German governments for his surrender as a revolutionist. These were twice refused, but on their renewal a third time in a threatening form, Basel yielded, and a resolution was passed for Follen's arrest,[1] and in 1824 he and Beck[2] left Switzerland for the United States of America via Havre, France.
Life in the United States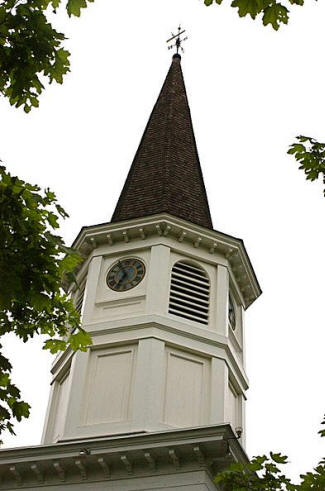 Follen Community Church
Arriving at New York City in 1824, Follen anglicized his name to "Charles." Lafayette was then visiting the United States and sought to interest some people of influence in the two refugees, who had moved from New York City and settled in Philadelphia. Among those Lafayette contacted were Peter Stephen Du Ponceau, a prominent lawyer, and George Ticknor, a Harvard professor. Ticknor in turn interested George Bancroft.[3]
With the help of these sympathetic people, the refugees established themselves in Massachusetts society. Beck quickly secured a position at Bancroft's Round Hill School in Northampton, Massachusetts, in February 1825. Follen continued to study the English language and law in Philadelphia, and in November 1825 took up an offer from Harvard University to be an instructor in German.[3] In 1828 he became an instructor of ethics and ecclesiastical history at Harvard Divinity School, having in the meantime been admitted as a candidate for the ministry. In 1830 he was appointed professor of German literature at Harvard.[1] He became friendly with the New England Transcendentalists, and helped introduce them to German Romantic thought. In 1828, he married Eliza Lee Cabot, the daughter of one of Boston's most prominent families.
Follen also gave demonstrations of the new discipline of gymnastics, made popular by "Father Jahn". In 1826, at the request of a group in Boston, he established and equipped the first gymnasium there and became its superintendent. Follen resigned this position in 1827, and the responsibilities were taken over by Francis Lieber.[3] With the assistance of Beck, Follen established the first college gymnasium in the United States at Harvard in 1826.[6]
The Follens had a house built on the corner of Follen Street in Cambridge. Their family Christmas tree attracted the attention of the English writer Harriet Martineau during her long visit to the United States, and the Follens have been claimed by some as the first to introduce the German custom of decorated Christmas tree to the United States. (Although the claim is one of several competing claims for the introduction of the custom to the United States, they, together with Martineau, were certainly early and prominent popularizers of the custom.) His brother Paul Follen emigrated in 1834 to the United States, settling in Missouri.
In 1835, Charles Follen lost his professorship at Harvard due to his outspoken abolitionist beliefs and his conflict with University President Josiah Quincy's strict disciplinary measures for undergraduates. A close friend and associate of abolitionist William Lloyd Garrison,[7] Follen's outspoken opposition to slavery had incurred the hostility and scorn of the public press. Like most of the early radical abolitionists, Follen at the beginning was censured by public opinion even in the locality which later became the centre of the abolition spirit. The good beginning that had been made in the study of the German language in New England was totally discontinued. The cause of German literature had still a friend in Henry Wadsworth Longfellow, who in 1838 began his lectures on Johann von Goethe's Faust.[8]
Follen's friendship with the prominent Unitarian minister William Ellery Channing drew him to the Unitarian Church. He was ordained as a minister in 1836. He had been called to the pulpit of the Second Congregational Society in Lexington, Massachusetts (now Follen Church Society-Unitarian Universalist) in 1835, but the community was unable to pay him sufficiently to support his family. Follen took other employment; Ralph Waldo Emerson supplied the pulpit from 1836-1838 at the church. In 1838 Follen became the minister of his own congregation in New York City, now All Souls, but lost the position within the year due to conflicts over his radical anti-slavery views. He considered returning to Germany, but returned in 1839 to the congregation in East Lexington, Massachusetts. He had designed its unique octagonal building, for which ground was broken on July 4, 1839. Follen's octagonal building is still standing, and is the oldest church structure in Lexington. In his prayer at the groundbreaking for the building, Follen declared the mission of his church: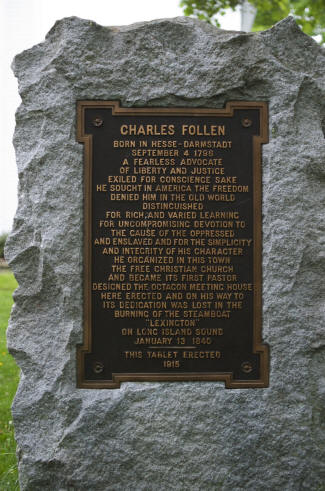 Memorial to Charles Follen in the churchyard
[May] this church never be desecrated by intolerance, or bigotry, or party spirit; more especially its doors might never be closed against any one, who would plead in it the cause of oppressed humanity; within its walls all unjust and cruel distinctions might cease, and [there] all men might meet as brethren.
Follen broke off a lecture tour in New York and took the Steamship Lexington to Boston for the dedication of his new church. Follen died en route when his steamer caught fire and sank in a storm in the Long Island Sound. Due to Follen's abolitionist positions, his friends were unable to find any church in Boston willing to hold a memorial service on his behalf. Rev. Samuel J. May was finally able to hold a memorial service for Charles Follen in March 1840 at the Marlborough Chapel.
Works
• Psychology (1836)
• Essay on Religion and the Church (1836)
In 1841, Follen's widow Eliza, a well-known author in her own right, published a five-volume collection containing his sermons and lectures, his unfinished sketch of a work on psychology and a biography she wrote.
References
1. This article incorporates text from a publication now in the public domain: "Follen, Carl". The American Cyclopædia. 1879.
2. Kuno Francke (1959). "Follen, Charles". Dictionary of American Biography. III, Part 2. New York: Charles Scribner's Sons. pp. 491–2.
3. This article incorporates text from a publication now in the public domain: Fred Eugene Leonard (1923). A Guide to the History of Physical Education. Philadelphia and New York: Lea & Febiger. pp. 227–233, 235–238.
http://www.archive.org/details/guidetohistoryof00leon
.
4. Alan Barrie Spitzer (1971). Old hatreds and young hopes: the French Carbonari against the Bourbon Restoration. Cambridge, Massachusetts: Harvard University Press. pp. 203 ff.. ISBN 9780674632202.
http://books.google.com/books?id=Te07Ek ... &lpg=PA203
.
5. Charles Dunoyer And French Classical Liberalism
6. Feintuch, Burt; Watters, David H., eds. (2005). The Encyclopedia of New England. Yale University Press. p. 282.
7. "Follen, Charles Theodore Christian". New International Encyclopedia. 1905.
8. Faust (1909), v. 2, pp. 216-217.
• Thomas S. Hansen, Charles Follen: Brief life of a vigorous reformer, 1796-1840, in the Harvard Magazine (September-October 2002).
• Unitarianism in America: Charles Follen (1796-1840)
• "Follen, Karl". Encyclopædia Britannica (11th ed.). 1911.
• "Follen, Charles Theodore Christian". Appletons' Cyclopædia of American Biography. 1900.