Charles Ferdinand, Duke of Berry
by Wikipedia
NOTICE: THIS WORK MAY BE PROTECTED BY COPYRIGHT
YOU ARE REQUIRED TO READ

THE COPYRIGHT NOTICE AT THIS LINK

BEFORE YOU READ THE FOLLOWING WORK, THAT IS AVAILABLE SOLELY FOR PRIVATE STUDY, SCHOLARSHIP OR RESEARCH PURSUANT TO 17 U.S.C. SECTION 107 AND 108. IN THE EVENT THAT THE LIBRARY DETERMINES THAT UNLAWFUL COPYING OF THIS WORK HAS OCCURRED, THE LIBRARY HAS THE RIGHT TO BLOCK THE I.P. ADDRESS AT WHICH THE UNLAWFUL COPYING APPEARED TO HAVE OCCURRED. THANK YOU FOR RESPECTING THE RIGHTS OF COPYRIGHT OWNERS.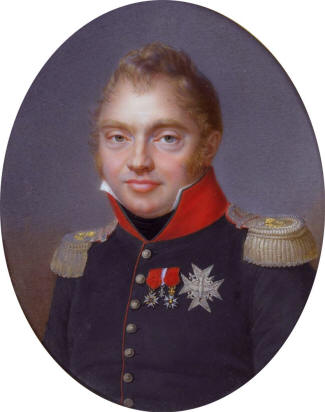 Charles Ferdinand d'Artois, miniature of Jean-Baptiste Jacques Augustin
Charles Ferdinand of Artois, Duke of Berry (Charles Ferdinand d'Artois, fils de France, duc de Berry; 24 January 1778 – 14 February 1820) was the younger son of the future king, Charles X of France, and his wife, Princess Maria Theresa of Savoy. His maternal grandparents were Victor Amadeus III of Sardinia and Maria Antonietta of Spain. She was the youngest daughter of Philip V of Spain and Elisabeth Farnese.
Biography
He was born at Versailles. As a son of a fils de France not being heir apparent, he was only himself a petit-fils de France, and that is how he was known in emigration. However, during the Restoration, he was given the higher rank of a fils de France (used in his marriage contract, his death certificate, etc.).
Since he was already dead when his father became king, he always had "d'Artois" as his surname.
At the French Revolution he left France with his father, then comte d'Artois, and served in the émigré army of his cousin, Louis Joseph, Prince of Condé, from 1792 to 1797. He afterwards joined the Russian army, and in 1801 took up his residence in England, where he remained for thirteen years. During that time he had a relationship with an Englishwoman,[1] Amy Brown Freeman, by whom he had two daughters whom he only recognized on his deathbed: Charlotte Marie Augustine de Bourbon comtesse d'Issoudun (13 July 1808- 13 July 1886), by marriage in 1823 to Ferdinand de Faucigny-Lucinge, princesse de Lucinge, and Louise Marie Charlotte de Bourbon comtesse de Vierzon (29 December 1809- 26 December 1891), by marriage in 1827 to Charles de Charette, baronne de la Contrie.
In 1814, the duke set out for France. His frank, open manners gained him some favor with his countrymen, and Louis XVIII named him commander-in-chief of the army at Paris on the return of Napoleon from Elba. He was, however, unable to retain the loyalty of his troops, and retired to Ghent during the Hundred Days war. In 1816 he married Princess Maria Carolina Ferdinanda Luisa of Naples and Sicily (1798–1870), oldest daughter of the Duke of Calabria (heir to the Neapolitan throne), following negotiations with the Kingdom of Naples and Sicily by the French ambassador, the Count (later Duke of Blacas) of Blacas.
Three children were born before the duke's death: the last and only surviving one, Louise d'Artois, born in 1819, later married Charles III of Parma.
On 13 February 1820 the Duke of Berry was stabbed and mortally wounded, when leaving the opera house in Paris with his wife, by a saddler named Louis Pierre Louvel. He died on 14 February. Seven months after his death, the duchess gave birth to a son, Henri, who received the title of duc de Bordeaux, but who is better known in history as the comte de Chambord.
The Duchess of Berry was compelled to follow Charles X to Holyrood after July 1830, but it was with the resolution of returning speedily and making an attempt to secure the throne for her son. From Britain she went to Italy, and in April 1832 she landed near Marseille, but, receiving no support, was compelled to make her way towards the loyal districts of Vendée and Brittany. Her followers, however, were defeated, and, after remaining concealed for five months in a house in Nantes, she was betrayed to the government and imprisoned in the castle of Blaye.
Here she gave birth to a daughter, the fruit of a secret marriage contracted with an Italian nobleman, Count Ettore Lucchesi-Palli (1805–1834). The announcement of this marriage at once deprived the duchess of the sympathies of her supporters. She was no longer an object of fear to the French government, who released her in June 1833. She set sail for Sicily, and, joining her husband, lived in retirement from that time until her death, at Brunnsee in Austria, in April 1870.
Issue
• Princess Louise Élisabeth of France (13 July 1817 – 14 July 1817)
• Prince Louis of France (born and died 13 September 1818)
Louise Marie Thérèse d'Artois (21 September 1819 – 1 February 1864)
• Henri Charles Ferdinand Marie Dieudonné de France, Duke of Bordeaux and Count of Chambord (29 September 1820 – 24 August 1883)
Notes
1. It has been claimed that he married her, but that is highly unlikely and in any case was never proven: see Christophe Brun, Descendance inédite du duc de Berry: documents et commentaires, Paris 1998.
References
This article incorporates text from a publication now in the public domain: Chisholm, Hugh, ed. (1911). Encyclopædia Britannica (11th ed.). Cambridge University Press.