AFTER ZIZEK'S TALK OF COMMUNIST CATASTROPHE: AN ALTERNATIVE SCRIPT
by Radical Eyes
Kasama Project
Monday, 11 January 2010
NOTICE: THIS WORK MAY BE PROTECTED BY COPYRIGHT
YOU ARE REQUIRED TO READ

THE COPYRIGHT NOTICE AT THIS LINK

BEFORE YOU READ THE FOLLOWING WORK, THAT IS AVAILABLE SOLELY FOR PRIVATE STUDY, SCHOLARSHIP OR RESEARCH PURSUANT TO 17 U.S.C. SECTION 107 AND 108. IN THE EVENT THAT THE LIBRARY DETERMINES THAT UNLAWFUL COPYING OF THIS WORK HAS OCCURRED, THE LIBRARY HAS THE RIGHT TO BLOCK THE I.P. ADDRESS AT WHICH THE UNLAWFUL COPYING APPEARED TO HAVE OCCURRED. THANK YOU FOR RESPECTING THE RIGHTS OF COPYRIGHT OWNERS.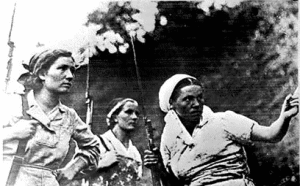 Kasama has posted some talks by philosopher-provocateur Slavoj Zizek that include in the BBC HardTalk interview both an insistence of communism's future promise and a harsh summation of 20th century communism as a disaster. Here is a response.
A Failure to Gauge the Situation
Critical Reflections on Slavoj Zizek's Hard Talk
By Radical-Eyes
The question needs to be asked: What on earth does Zizek hope to gain through his appearances on shows such as Hard Talk on BBC? What is the purpose of such interviews? For Hard Talk and the BBC? For Zizek himself? And what can we learn about Zizek's critical method and political orientation from scrutinizing the footage that emerges from such a foray into "Hard Talk"?
It's hard to imagine that such a performance could even increase his book sales, though it may up his name recognition. For better and for worse.
All in all this Zizek performance on HT was disappointing, both from the standpoint of performance, and from the standpoint of substance.
In terms of performance, Zizek often seemed somewhat caught off guard, stuck in the middle of a long tangential aside, unable to complete a full thought, unable even to answer the question he was being asked. It seems a bit as though he is expecting the interviewer to just give him the floor and let him propound in whatever direction he desires. He seems almost annoyed; as if he is accustomed to being granted all the space he needs to say whatever he wants to say in whatever times it takes to say it. He comes off as ill-prepared for this venture into somewhat "hostile terrain."
In terms of substance, Zizek—to be frank—spends an awful lot of time here, really a significant percentage of his total appearance, shitting on previous attempts at communism and revolution, and or facilitating the hosts doing so.
He goes beyond even what the interviewer is asking for in calling the Communism of the 20th century a "total failure" and assents to the notion that it was essentially a "catastrophe." He even goes so far as to say that in terms of "abstract suffering," "Stalinism" can be deemed worse than fascism or Nazism—due to the arbitrary and contingent nature of terrors, which, he says, could not be localized within a particular racial, political, or religious group as was the case with Nazi Germany, and so left no person unthreatened, as he puts it…
The only reason he gives here to justify calling himself a "communist" is that Communism was a significant historical response to a crisis of capitalism…or words to that effect.
He then compounds the insult and injury to communism by one-sidedly emphasizing that the problems within the socialist-communist project, that manifested themselves so clearly in "Stalinism" can be traced all the way back to the writings of Marx. This is all well and good to do in a conversation amongst Marxists; it is I think—and Zizek in his writings can be useful in this vein—important to resist the urge to "find the Fall" within Marxism, in a fetishistic, scape-goating, and undialectical manner (blaming Marx after 1844, or Engels, or Lenin, or, or even Stalin, for the lapse away from communist perfection). It is important to attend to the contradictions in every thinker, even and especially the "great ones," and to avoid projecting internal problems onto some excised "other."
That said, for his particular—presumably largely non-Marxist—audience on BBC, wouldn't the more proper emphasis have been to say, before collapsing into concession, to state clearly something like:
"Look, I am a Marxist; and I think that any serious attempt to understand capitalism, its historical emergence, its internal dynamics, its positive as well as its many negative features, needs to include a close study of the writings of Karl Marx, especially Capital, Volume One, as well as other thinkers in the Marxist tradition, including Lenin and so on; Marx is not adequate to understanding our contemporary moment in its totality, but he remains absolutely necessary."
If he actually wanted to go on the offensive, instead of playing defense, and that deep in his own territory, Zizek could then add,
"That so many so-called Economics departments in the West continue to systematically ignore Marx's work, even twenty years after the fall of the wall, and even in the face of such a monumental crisis of capitalism as the one through which we are presently living, is tribute to the fundamentally ideological and even apologetic function of these disciplines within today's capitalist societies."
Then, if ole' Slavoj was really feeling enthusiastic, he might have actually given at least some positive inkling of what it means to be a communist today, saying something like:
"In addition, though I do not think we find clear solutions or blueprints for how to today transcend capitalism and realize a socialist or capitalist order in Marx—and indeed Marx himself was famously reluctant to speak about such matters, saying that they were better left to those in the future who would have to make them in their own particular historical conditions—I do still, as a Marxist, find inspiration in Marx's formulation that communism would be characterized by a classless social situation in which "the free development of each was the condition of the free development of all" and where the motto would be 'from each according their ability, to each according to their need.' Something like this remains the goal, for me, even today, although how we get there, and what exactly these phrases mean in practice –or even in theory—remains very much an open question."
Frankly, it seems opportunist to me to not establish some of these key points before launching into non-contextualized admissions and concessions that "yes yes the horrors of Stalinism" can be traced all the way back to Marx himself.
And what of the ignoring of Maoist China here?
Surely the Chinese Revolution (as economist Amartya Sen has shown, by comparing life-expectancies in post-revolutionary China to non-revolutionary India) provides a great counter example of how social revolution could reduce the level of violence and suffering (due to hunger and starvation for starters) in society? He could have also reminded his audience that it was the Soviet Union—much more so than the much-lauded late-coming US-- that saved Europe from Nazi domination in World War II! (Why not, if he is interested in challenging the cultural "horror" over "big collective acts.")
But Zizek doesn't want to go here, perhaps because he himself is still too mired in bad anti-communist accounts of the horrors and death tolls of Communism, whether in China or the Soviet Union.
A previous Kasama posting critiqued Alain Badiou's HardTalk inteview , who fared a bit better, though still not well on this same show some months ago. And like in that earlier interview, it seems to me that a key problem for Zizek is that he is so caught up in his negative dialectic of critical opposition, that he is often unable to articulate a coherent—even if provisional and place-holding—notion of communism as a positive historical alternative, even at the level of a utopian horizon, let alone an actually existing political movement. (Of course, like Raymond Lotta in his recent interview, Zizek makes no mention of any political tendency that is trying to take up the challenge, whether in Nepal, or Bolivia.)
Here I may be lapsing back again to a critique of performance rather than substance, but Zizek's handling of the history of Afghanistan here is really particularly terrible.
He fails even to get to the essential point, which is known well to many of my first-year college students, even before they enter my classroom: namely that the US (and Saudi Arabia) in their anticommunist crusade to vanquish the Soviet Union and the specter of Socialism-Communism, organized and developed the very right wing "Islamo-fascist" forces that since 9/11 now it dubs its enemy.
From reading his books I know that Zizek knows this connection well, but here his broken response leaves it looking like it was the Soviet Union that was chiefly responsible for the disruption, when in reality, as Gary Leupp and others have often pointed out, former U.S. President Jimmy Carter's own advisor Zbigniew Brzezinski has stated quite clearly that it was the U.S. that—well before the Soviet invasion—intervened in Afghanistan, beginning to build up right-wing forces precisely in order to provoke the Soviet Union to invade the country…to give the USSR "its Vietnam." Stumbling and stuck on the history, Zizek then slips back to euphemisms about Afghanistan's political regression stemming from "world politics" rather the more focused cause of imperialist interference.
That such a fundamental historical point slips Zizek's mind or his lips under pressure suggests how much work he still has to do to get his act together, at least if he is going to continue trying to enter the lion's den like this. Truly here, style and substance converge; Zizek's rhetorical approach leaves him open to attacks, even undeserved ones.
I have found that almost always Zizek seems to speak as if he is among co-conspirators, among experts who are "up" on all the latest theoretical wrangling, as if he is among comrades, or at least friends—and friends who have had the time to read up on all the latest theoretical "breakthroughs." Often to hear and watch him is to be dropped in media res into his own private musing and mutterings.
Don't get me wrong: I often find these musings fascinating, provocative, and insightful. Yet, he is reluctant to synthesize and to sum up what is essential before moving back into the hyper-theoretical thicket. He (and we) need to be able to better gauge the situation when we venture into the "public" to make our case for communism. Especially if and when we are taking the struggle onto enemy terrain.
On a different note:
Why does it seems that other communist or revolutionary minded intellectuals are not able to gain and hold the stage the way that Zizek is?