Horatio Alger, Jr.
by Wikipedia
NOTICE: THIS WORK MAY BE PROTECTED BY COPYRIGHT
YOU ARE REQUIRED TO READ

THE COPYRIGHT NOTICE AT THIS LINK

BEFORE YOU READ THE FOLLOWING WORK, THAT IS AVAILABLE SOLELY FOR PRIVATE STUDY, SCHOLARSHIP OR RESEARCH PURSUANT TO 17 U.S.C. SECTION 107 AND 108. IN THE EVENT THAT THE LIBRARY DETERMINES THAT UNLAWFUL COPYING OF THIS WORK HAS OCCURRED, THE LIBRARY HAS THE RIGHT TO BLOCK THE I.P. ADDRESS AT WHICH THE UNLAWFUL COPYING APPEARED TO HAVE OCCURRED. THANK YOU FOR RESPECTING THE RIGHTS OF COPYRIGHT OWNERS.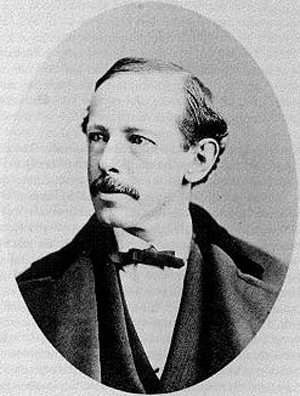 Horatio Alger, Jr.
Horatio Alger, Jr. (January 13, 1832 – July 18, 1899) was a 19th-century American author who wrote approximately 135 dime novels. Many of his works have been described as rags to riches stories, illustrating how down-and-out boys might be able to achieve the American dream of wealth and success through hard work, courage, determination, and concern for others. This widely-held view involves a significant simplification, as Alger's characters do not typically achieve extreme wealth; rather they attain middle-class security, stability, and a solid reputation — that is, their efforts are rewarded with a place in society, not domination of it. He is noted as a significant figure in the history of American cultural and social ideals, even though his novels are rarely read these days. As bestsellers in their own time, Alger's books rivaled those of Mark Twain in popularity.
Alger was born in Chelsea, now Revere, Massachusetts, on January 13, 1832, to a stern Unitarian minister who wanted his son to follow him into the religious world. He was tutored at home by his father until the age of ten, when he was admitted to the Gates Academy in Marlborough, Massachusetts. A year after graduating from Gates, he was admitted to Harvard at age 16. For the next four years, he studied under Henry Wadsworth Longfellow with the intention of one day becoming a poet. After graduating, he devoted himself to teaching and writing, with uneven success. Coming to the conclusion that he did not like teaching, he returned to Harvard in 1857 to pursue the ministry.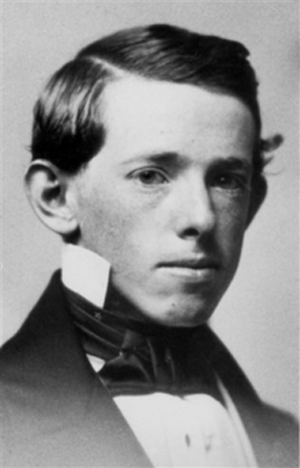 Horatio Alger, Jr., Harvard Class of 1852
After attending Harvard Divinity School from 1857 to 1860, he took a ten-month tour of Europe and produced works of a patriotic nature. In December 1864, Reverend Alger took a position as minister of the First Parish Unitarian Church of Brewster on Cape Cod. At the start of 1866 he abruptly resigned, left town, and retired to South Natick, where his father was then the pastor. Church records uncovered after Alger's death indicate that stories had begun to circulate concerning his conduct with two teenage boys in the parish. These were investigated and proved to be true.
In letters now housed at the Harvard Divinity School, Brewster church officials wrote to the hierarchy in Boston, complaining "that Horatio Alger, Jr. has been practicing on [the boys of the church] at different times deeds that are too revolting to relate." Later they are related: "gross immorality, and a most heinous crime, a crime of no less magnitude than the abominable and revolting crime of unnatural familiarity with boys. . . . which he neither denied or attempted to extenuate but received it with apparent calmness of an old offender—and hastily left town on the very next train for parts unknown." [1]
In response to complaints by the church, Alger Sr. wrote Charles Lowe, the American Unitarian Association (AUA) general secretary, stating that his son would resign from the ministry and not seek another church. All parties involved agreed to keep matters quiet – the parents of the boys reluctantly. So far as is known, Alger discussed this incident only once, in 1870, with psychologist William James. [2]
Later in life, Alger wrote a poem, "Friar Anselmo's Sin," [2] which seems to be somewhat autobiographical. It begins:
Friar Anselmo (God's grace may he win!)
Committed one sad day a deadly sin;
The poem goes on to recount the friar's rendering of aid to a wounded traveler and ends with Anselmo's redemption upon the appearance of an angel who exhorts Anselmo to dedicate himself to service:
Thy guilty stains shall be washed white again,
By noble service done thy fellow-men.
After the Brewster incident, Alger moved to New York City, which proved to be a turning point in his career. He was immediately drawn into the world of impoverished young bootblacks, newspaper boys, and peddlers. He spent much time with young men and often ate his meals and slept at the Newsboys' Lodging House. He also invited boys to his small apartment in a boarding house. Despite this familiarity with young men, it appears that he was never again accused of sexual molestation. Perhaps he reformed; perhaps he was simply never caught.
Alger's empathy with the young working men, coupled with the moral values he learned at home, formed the basis of the first novel in his Ragged Dick series (1867). The book was an immediate success, spurring a vast collection of sequels and similar novels, including Luck and Pluck (1869) and Tattered Tom (1871), all with the same theme: the rise from rags to riches. In fact, the theme became synonymous with Alger, whose formula for success was based on luck, pluck, and virtue.
Essentially, all of Alger's early novels are the same: a young boy struggles through hard work to escape poverty. However, it is not the hard work itself that rescues the boy from his fate, but rather a wealthy older gentleman, who admires the boy as a result of some extraordinary act of bravery or honesty that the boy has performed. For example, the boy might rescue a child from an overturned carriage or find and return the man's stolen watch. Often the older man takes the boy into his home as a ward or companion. (Given Alger's sexual history, this particular plot element may have Freudian overtones.)
Although a "Horatio Alger story" has come to signify someone who begins with few resources and ends with vast riches, Alger's characters do not usually become wealthy. His protagonists typically achieve comparatively low-level jobs in companies, often attaining personal stability but not wealth or prominent position.
Despite his remarkable literary output, Alger never became rich from his writing. According to legend, he gave most of his money to homeless boys and in some instances was actually conned out of his earnings by boys he tried to help. His books are no longer as popular as they once were, but the moral messages they relayed were an important factor in popularizing the American dream. At the time of his death, Alger was living with his sister Augusta in Natick, Massachusetts. She destroyed all his personal papers.
Since 1947, the Horatio Alger Association has bestowed an annual award on "outstanding individuals in our society who have succeeded in the face of adversity" and scholarships "to encourage young people to pursue their dreams with determination and perseverance". [3]
In 2006 the accusations of pederasty resurfaced at an annual fair held in Marlborough in honor of the writer. These led the mayor and other town leaders to announce intentions of changing the name of the fair so as to avoid seeming to celebrate the memory of a child abuser. [3]
_______________
Notes:
1. Richard Huber, The American Idea of Success (New York: McGraw-Hill, 1971), pp 45-46
2. UUA biography of Horatio Alger [1]
3. "Allegations of pederasty taint Horatio Alger fair" Colombia Daily Tribune, October 1, 2006
4. See "The Horatio Alger Hoax; or, Why Dissertations Like Mine Ought to Be Written," in Acephalous. Retrieved August 19, 2007.