Unemployed Workers Stage Craigslist Fire Sale
by Damiam Paletta
@damianpaletta
Damian.Paletta@wsj.com
Mar 3, 2014
NOTICE: THIS WORK MAY BE PROTECTED BY COPYRIGHT
YOU ARE REQUIRED TO READ

THE COPYRIGHT NOTICE AT THIS LINK

BEFORE YOU READ THE FOLLOWING WORK, THAT IS AVAILABLE SOLELY FOR PRIVATE STUDY, SCHOLARSHIP OR RESEARCH PURSUANT TO 17 U.S.C. SECTION 107 AND 108. IN THE EVENT THAT THE LIBRARY DETERMINES THAT UNLAWFUL COPYING OF THIS WORK HAS OCCURRED, THE LIBRARY HAS THE RIGHT TO BLOCK THE I.P. ADDRESS AT WHICH THE UNLAWFUL COPYING APPEARED TO HAVE OCCURRED. THANK YOU FOR RESPECTING THE RIGHTS OF COPYRIGHT OWNERS.
Craigslist.org has always represented something of a virtual yard sale, but for many unemployed Americans it's become something of a fire sale.
You name it, they are selling it. Someone in Springfield, Ore., is selling a men's watch for $100. "Unemployment is running out need money will sell for $100.00. Call before 8pm and after 8am please be respectful. We can meet anywhere in public."
And they are asking for it. Another worker in Kissimmee, Fla., whose post says lost benefits when Congress didn't extend jobless payments Dec. 28, is asking for dog and cat food. "My dogs & cats are not picky," the person wrote.
Washington is wrangling with whether to extend long-term unemployment benefits, which ran out in North Carolina in July and in the other 49 states in late December as discussed in Monday's Outlook column. But the financial pressures facing many Americans are much more complex than the Washington debate. The Wall Street Journal contacted a number of unemployed workers who are trying to sell things on Craigslist. Here are some of their stories.
The Rings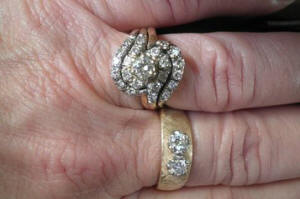 Rings for sale on Craigslist CRAIGSLIST
The diamonds were her great-grandmother's and in 1976, Cheryl Jones –- barely 20 –- had them set into rings for her wedding the next year.
She and her husband lived in Texas, and she worked as a midwelder for an auto-parts company. In 2011, her husband died of cancer, and eight months later she lost her job.
With virtually no savings to fall back on, she sold her house and most of her belongings and moved to Florida looking for work. With no luck there, she moved to North Carolina. She's been collecting unemployment benefits since August 2012, but they ran out at the end of December.
She still owes $6,800 on her car, and with no income, she decided to try to sell the only thing of value she says she has left. So in late January she posted "RARE!!! 3.69ctw Miners Cut Diamond Wedding Set Value $30,000–$6000." On the listing is a picture of her wearing both rings on her hand.
"$30,000" is what she says they are worth, but $6,000 is what she says she'll take. The listing says all the right things. "One of a kind" and "A RARE FIND TODAY."
But she didn't mince words. "I lost my Emergency Unemployment on Dec. 28, 2013 and I must sell my wedding set to survive!!!"
As it turns out, especially with jewelry sold online, it's a buyers market, if there's a market at all.
She said she's had just a few people interested in her husband's ring and nobody seems to want hers. Her husband's ring is worth around $10,000, she says, but people are only willing to pay around $300. Even that little amount, she says, was enough to get her to consider the sale.
"A lot of people don't have money right now and they are hanging onto what they have," she said.
The Camper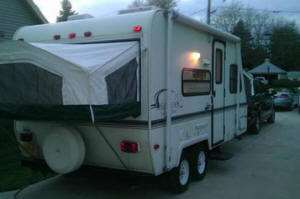 The camper listed on Craigslist CRAIGSLIST
Steiner Andersen managed information technology for a company in northwest Illinois, working close to 70 hours a week. His life changed, a few years ago, when his wife was diagnosed with bladder cancer. He worked by her side until she had the tumor removed "and then to our amazement she woke up and her organs went back to normal."
Mr. Andersen, an immigrant from Norway who became a citizen in 1983 while in the Marine Corps, lost his job shortly thereafter during a reorganization. There weren't a lot of IT jobs in his part of the state, and they lived off of the $430 a week he received in unemployment benefits.
He wanted to move to the South, where he thought there were more jobs, but he and his wife were trapped in their house. They bought it for $220,000 and carried a mortgage of $215,000. The house is probably only worth $130,000 or so, he said.
He bought his wife health insurance but -– to save money -– didn't buy any for himself. He sold his Corvette on eBay for $4,000 and bought a recreational vehicle in May 2013. It has a refrigerator, microwave, and a television, and it was meant to give him a place to stay during his wife's extended visits to the hospital at the Cancer Treatment Center of America in Zion, Ill.
"Unfortunately, my unemployment ended on 12/28….. and we still have to pay for her Cobra premiums plus for her continued cancer treatments…. so we must sell our RV as soon as possible to raise enough money to live on through June of 2014," he wrote on Craigslist.
Mr. Andersen said a few people have expressed interest but they've been unable to see the RV because of all the snow.
"It's buried and nobody can get out to see it," he said.
"I have depleted absolutely everything," he said. "Because I'm Norwegian, I'm a first-generation person here, so none of my family lives here. I have no family resources to draw on.
"
The Dishes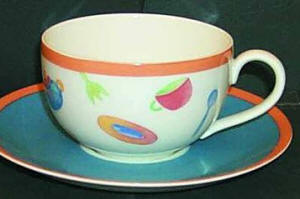 Part of the set listed on Craigslist CRAIGSLIST
For Maryanne Lockman, the tumble into financial ruin has been swift.
She earned $16 an hour managing a restaurant in Marietta, Ga., but lost her job in April and the unemployment benefits ran out six months later. She couldn't find another job, and -– panicking -– decided to walk away from her rental home before being evicted. That ruined her credit, she said, and has made it virtually impossible for her to find another job.
"A lot of jobs tell me I'm not worth training because they'd be downsizing my pay and they know I'm not going to stay," she said. "I'm like -– 'Look, I have no job.'"
She's filled out job applications to be a window washer and "cleaning lady," she said. "I've even applied to be a tree climber for people cutting down trees," she said.
She had enough money to cover her expenses for about three months, but after that, her financial situation worsened. She began unloading her life by selling things on the Internet. She says she sold a chandelier for $6,500, but didn't realize how the process worked and had to spend almost that much to ship it. She's selling rugs, her dining room table, bedroom furniture, her grandson's clothes. "You name it, I have it on Craigslist," she said.
On Feb. 9, she tried to sell her family's set of dishes for $1,100, "or best offer." "This was the first set of dishes I every [sic] had since my children were small I bought it in 97," she wrote. "I lost my home and my job and my health care so I really need the money."
She's thought about moving to California, where she has heard there are more jobs, but the cost of living is so high there that she thinks it would be a mistake. She was close to moving into a women's shelter in Atlanta, where she said they will help train her and help give her job skills "but then my sister told me to come live with her."
She estimates she's applied for 500 jobs in the last 10 months, and said she still might go to the women's shelter if she thinks it might help her eventually get some work.
"For the first time in my life, at 52, I'm actually getting food stamps," she said. "I've never in my life had to do that."