What makes bad reasoning?
by islamic.org.uk
6/24/16
NOTICE: THIS WORK MAY BE PROTECTED BY COPYRIGHT
YOU ARE REQUIRED TO READ

THE COPYRIGHT NOTICE AT THIS LINK

BEFORE YOU READ THE FOLLOWING WORK, THAT IS AVAILABLE SOLELY FOR PRIVATE STUDY, SCHOLARSHIP OR RESEARCH PURSUANT TO 17 U.S.C. SECTION 107 AND 108. IN THE EVENT THAT THE LIBRARY DETERMINES THAT UNLAWFUL COPYING OF THIS WORK HAS OCCURRED, THE LIBRARY HAS THE RIGHT TO BLOCK THE I.P. ADDRESS AT WHICH THE UNLAWFUL COPYING APPEARED TO HAVE OCCURRED. THANK YOU FOR RESPECTING THE RIGHTS OF COPYRIGHT OWNERS.
There are a number of ways that formal logic reasoning can go astray. These tend to have the same essential traits as the failings people have in their searches. These problems are usually to do with not thinking carefully or patiently enough.
An example of this is given here: No A are B. All B are C. What is the relation between A and C? Many people say that no A are C. However this is wrong. More careful thought reveals the possibility that we can only say that 'some C are not A'. The easiest way I know to understand these syllogisms is to think of sets as represented by shapes: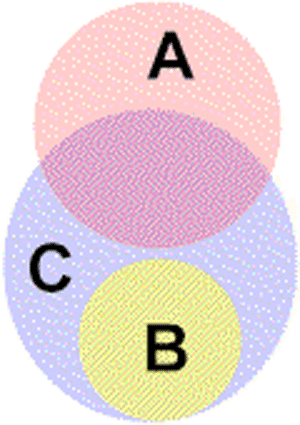 It is now clearer what is being said. This is fully analogous to insufficient search. The difference here is that in principle there is a clear limit to the search in formal logic where you can be clearly convinced that you have deduced accurately all that can be deduced from the statements given.
However, bad forms of apparently formal logical reasoning can often come from having a difficulty in separating previously held convictions from the process of reasoning.
An example of this is trying to reach the logical conclusion here:
Some ruthless men deserve a violent death. Since one of the most ruthless men was Heydrich, the Nazi hangman:
. Heydrich, the Nazi hangman deserved a violent death
. Heydrich, the Nazi hangman may have deserved a violent death
. Heydrich, the Nazi hangman did not deserve a violent death
. Heydrich, the Nazi hangman might not have deserved a violent death
. None of the given conclusions seems to follow logically.
People tend to answer this in accordance with their beliefs and not to hold to the strict logical interpretations. The real answer to the above problem is #5.But most people choose 1.
Aristotle who developed this form of abstract formal logic also identified common logical fallacies that are still used in much of the current political talk and other areas. They all flow from mixing into the logic preconceived ideas of reality to give the appearance of a sound argument when in fact it isn't an argument at all. I will highlight only a few to identify the sort of thing that happens.
Ad hominem is where the argument is directed 'at the person' for example saying that the Nazis supported eugenics therefore eugenics is bad. This argument is flawed if we are to consider it strictly in terms of logic. Terrible people sometimes have good ideas. The flaw however here is only in the choice of mode of expression. It is not a logical argument but is put in those terms. For example, I might note that the Nazis also developed highways in Germany for the first time and developed the economy well in the early years, but does this mean I can use this to assert that building highways is bad? Of course not. The key to understand the difference is that the former argument makes the assumption that eugenics is already a bad thing. These types of argument use such built-in assumptions and put them in a way that the argument is loaded as in the question: "Have you stopped beating your wife?"
The 'Appeal to force' builds in the assumption that 'might makes right'. I lose count of the number of times that foreign policy is justified on grounds which if the names were changed to some other people then the argument would be completely rejected. Consider the labelling of Sudan as a terrorist-supporting nation allowing the imposition of sanctions. Though no evidence has been brought forward that Sudan has ever supported terrorism the charge sticks because it is made by the big and mighty US. But what of the US itself? Is it not in the US that the IRA freely and openly collected almost all of the funds it used in buying its weapons for terrorist acts? Should not the Europeans have put sanctions on the US for what they did? This is more than simply a logical fallacy it is a completely immoral deception and falls squarely inside the area of what can be called bad reasoning. The underlying perceptions of reality, which allow people to get away with such transparently false arguments, are really a problem. In the case just cited the assumption being forced on the audience amounts to 'the US is always right'.
Another is the argument from ignorance. This is where a lack of evidence is used as proof of something. This forces the assumption that there has been an exhaustive search and there is no more evidence to find. This is a key example of the kind of arguments used sometimes by people trying to disprove evolution theory. But when the evidence is found their arguments fall apart. It is more accurate to consider what the actual search has yielded and to offer a qualified argument based on that.
Another is the 'appeal to multitude' e.g. " Most people smoke brand X. Therefore it is the best brand." Here the conclusion does not follow because most people might have bad taste. The assumption being forced here is that most people will always choose the best option. I remember being asked in school if I believed in God and if so why. I answered that I believed because so many others believed in God. It was the realisation of the fallacy in this argument that made me start to question my intellectual foundations more closely.
These types of arguments, as I mentioned earlier, depend upon accepting the statements (or forced assumptions) as unquestionably true and this is not usually the case. Usually, the premises of the way we reason are to varying degrees uncertain.
In what ways can probabilistic reasoning be bad?
Almost all the real reasoning we do is based on imperfect knowledge. It is rare that we are dealing with situations in which we can have only given statements accepted as true as is the case in formal logic. Indeed even when trying to reason in purely formal logic people often bring in their imperfect knowledge of reality. We reach conclusions from our reasoning in a number of ways. Sometimes we have anecdotal evidence, sometimes we hear about surveys, sometimes we listen to people we trust. All these routes are used in everyday life in how we make decisions about what we believe and in what we choose to do. They also figure strongly in science, although science has a more earnest debate and can often rely on experimental evidence that is beyond dispute.
We weigh up the evidence in front of us and see where the balance of evidence lies. Sometimes it is a marginal issue. Sometimes there is a clear winner. In this process however there are a number of ways that we can combine the various bits of evidence in mistaken ways.
One way that people make mistakes can be called the 'gamblers mistake' since many gamblers make it. It is to assume that the outcome of an event is dependent on previous events when it isn't. For example if the roulette wheel comes up black three times then the mistaken gambler thinks that there is a higher chance that it will come up red than black on the next spin (actually of course it remains a 50/50 chance). This invents a dependency and hence causal relationship between events where there is none. I suppose this might be termed a superstitious mentality. Other errors of this sort can be attributed to taking short cuts in working out the maths of combining probabilities. This can be seen another manifestation of insufficient search.
Another aspect of bad thinking people commonly make when weighing up the evidence is to put too much weight on evidence that confirms existing beliefs. Sometimes this is shown in the choice of tests made. Tests are made so as to provide evidence of existing beliefs where tests that might provide evidence of alternatives are not chosen. A good way of avoiding this mistake is to stay remote from the issue that is being considered. There may be good reasons why you don't want to consider the alternatives thoroughly and equally - change is difficult and has a cost. However, for the moral ideal of discovering what the truth is; what is going to be the best final result; what is the best solution for everyone, you need to ignore the changes that you must yourself make: The cost to you of changing your thinking and habits on a given matter is negligible by comparison to the total good for all by sticking to a pure detached search for truth.