Ludwig Klages
by Wikipedia
Accessed: 3/5/18
NOTICE: THIS WORK MAY BE PROTECTED BY COPYRIGHT
YOU ARE REQUIRED TO READ

THE COPYRIGHT NOTICE AT THIS LINK

BEFORE YOU READ THE FOLLOWING WORK, THAT IS AVAILABLE SOLELY FOR PRIVATE STUDY, SCHOLARSHIP OR RESEARCH PURSUANT TO 17 U.S.C. SECTION 107 AND 108. IN THE EVENT THAT THE LIBRARY DETERMINES THAT UNLAWFUL COPYING OF THIS WORK HAS OCCURRED, THE LIBRARY HAS THE RIGHT TO BLOCK THE I.P. ADDRESS AT WHICH THE UNLAWFUL COPYING APPEARED TO HAVE OCCURRED. THANK YOU FOR RESPECTING THE RIGHTS OF COPYRIGHT OWNERS.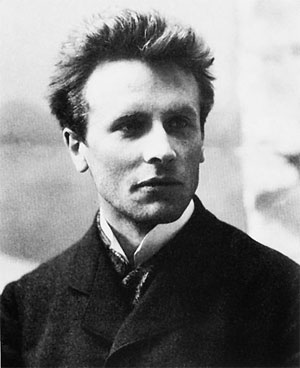 Ludwig Klages
Born 10 December 1872
Hanover, Germany
Died 29 July 1956
Kilchberg, Zurich
Era 20th-century philosophy
Region Western Philosophy
School Lebensphilosophie (philosophy of life)[1]
Main interests: Psychology
Notable ideas: Theory of graphology
Ludwig Klages (10 December 1872 – 29 July 1956) was a German philosopher, psychologist and a theoretician in the field of handwriting analysis. He was nominated for the Nobel Prize in Literature.[2]
Life
Klages was born in Hanover, Germany. In Munich he studied physics, philosophy and chemistry – however, after completing his doctorate in chemistry he resolved never to work as a chemist. He met the sculptor Hans Busse and with him and Georg Meyer he founded the Deutsche Graphologische Gesellschaft (German Graphology Association) in 1894.
In Munich Klages also encountered the writer Karl Wolfskehl and the mystic Alfred Schuler. He was a lover of Fanny zu Reventlow, the "Bohemian Countess" of Schwabing, and with Wolfskehl, Schuler and the writer Ludwig Derleth they formed a group known as the Munich Cosmic Circle, with which the poet Stefan George is sometimes associated. He wrote a book praising George's poetry in 1902. As a member of this group his philosophy contrasted the "degenerate" modern world with an ancient, and mystical, Germanic past, with a heroic role for the artist in forging a new future.[3][4] George distanced himself from Klages' mystical philosophy (which was shared by Schuler), but continued for a time to publish Klages' poems in his journal Blätter für die Kunst.[5] Wolfskehl acquainted Klages with the work of Johann Jakob Bachofen (1815–1887), a Swiss anthropologist and sociologist, and his research into matriarchal clans.[6]
In 1914 at the outbreak of war Klages moved to Switzerland and supported himself with his writing and income from lectures. He returned to Germany in the 1920s and in 1932 was awarded the Goethe medal for Art and Science. However by 1936 he was under attack from Nazi authorities for lack of support and on his 70th birthday in 1942 was denounced by many newspapers in Germany. After the war he was honoured by the new government, particularly on his 80th birthday in 1952.
Work
He created a complete theory of graphology and will be long associated with the concepts of form level, rhythm and bi-polar interpretation. Together with Friedrich Nietzsche and Henri Bergson he anticipated existential phenomenology. He also coined the term logocentrism in the 1920s.[7]
He was the author of 14 books and 60 articles (1910–1948). He was co-editor of the journals Berichte (1897–1898) and its successor Graphologische Monatshefte until 1908. His most important works are:
• Der Geist als Widersacher der Seele (1929)
• Die Grundlagen der Charakterkunde
As a philosopher, Klages took the Nietzschean premises of Lebensphilosophie "to their most extreme conclusions." He drew a distinction between life-affirming Seele (spirit) and life-destroying Geist (mind). Geist represented the forces of "modern, industrial, and intellectual rationalization", while Seele represented the possibility of overcoming "alienated intellectuality in favor of a new-found earthly rootedness."[8]
When Klages died, the German philosopher Jürgen Habermas urged that Klages' "realizations concerning anthropology and philosophy of language" should not be left "hidden behind the veil" of Klages' "anti-intellectualist metaphysics and apocalyptic philosophy of history". Habermas characterized these realizations as "not outdated" but ahead of the time.[9]
Klages is an important anti-semitic thinker.[10] He reportedly said, "To the Jew, everything human is a sham. One might even say that the Jewish face is nothing but a mask. The Jew is not a liar: he is the lie itself. From this vantage point, we can say that the Jew is not a man. … He lives the pseudo-life of a ghoul whose fortunes are linked to Yahweh-Moloch. He employs deception as the weapon with which he will exterminate mankind. The Jew is the very incarnation of the unearthly power of destruction."[11]
References
1. Lebovic, Nitzan (2013). The Philosophy of Life and Death: Ludwig Klages and the Rise of a Nazi Biopolitics. Palgrave Studies in Cultural and Intellectual History. AIAA. p. 9. ISBN 1137342056.
2. "Nomination Database".
http://www.nobelprize.org
. Retrieved 2017-04-19.
3. Noll, Richard. The Jung Cult: Origins of a Charismatic Movement. Touchstone. pp. 166–172. ISBN 0684834235.
4. Marchand, Suzanne L.; Lindenfeld, David F. (2004). Germany at the fin de siècle: culture, politics, and ideas. Louisiana State University Press. ISBN 0807129798.
5. Furness, Raymond (1978). The twentieth century, 1890–1945. Barnes & Noble. p. 98. ISBN 006492310X.
6. Eller, Cynthia (2000). The Myth of Matriarchal Prehistory: Why An Invented Past Will Not Give Women a Future. Beacon Press. ISBN 978-0-8070-6792-5.
7. Josephson-Storm, Jason (2017). The Myth of Disenchantment : Magic, Modernity, and the Birth of the Human Sciences. Chicago: University of Chicago Press. pp. 214, 221–222. ISBN 9780226403533. OCLC 958780609.
8. Aschheim, Steven E. (1992). The Nietzsche Legacy in Germany, 1890–1990. Uni. of California Press. pp. 80–81. ISBN 0520085558.
9. "Klages – Gewalten des Untergangs". Der Spiegel (in German) (37/1966). 5 September 1966. An article looking back ten years after his death.
10. Levy, Richard S. (2005). Antisemitism: A Historical Encyclopedia of Prejudice and Persecution, Volume 1. ABC-CLIO. p. 257. ISBN 1851094393.
11. Ludwig Klages, Rhythmen und Runen (Rhythms and Runes) (1944), as cited in "Ludwig Klages on Judaism, Christianity and Paganism (Excerpts and Aphorisms)".
Further reading
• Gunnar Alksnis, Ludwig Klages and His Attack on Rationalism. Kansas State University, 1970. Also published under the title Chthonic Gnosis. Ludwig Klages and his Quest for the Pandaemonic All, Theion Publishing, 2015.
• Reinhard Falter, Ludwig Klages. Lebensphilosophie als Zivilisationskritik, Munich: Telesma, 2003, ISBN 978-3-8330-0678-4.
• Raymond Furness, Ludwig Klages, in: Zarathustra's Children: A Study of a Lost Generation of German Writers, Rochester, NY: Camden House, 2000, ISBN 1-57113-057-8, pp. 99–124.
• Michael Grossheim, Ludwig Klages und die Phaenomenologie, Weinheim: Wiley-VCH Verlag GmbH, 1993.
• Jason Ā. Josephson-Storm, The Myth of Disenchantment: Magic, Modernity and the Birth of the Human Sciences, University of Chicago Press, 2017.
• Nitzan Lebovic, The Terror and Beauty of Lebensphilosophie: Ludwig Klages, Walter Benjamin, and Alfred Bauemler, South Central Review 23:1 (Spring 2006), pp. 23–39.
• James Lewin, Geist und Seele: Ludwig Klages' Philosophie, Berlin: Reuther & Reichard, 1931.
• Tobias Schneider, Ideological Trench Warfare. Ludwig Klages and National Socialism from 1933–1938. Vierteljahrshefte für Zeitgeschichte 2/2001.
• Tommaso Tuppini, Ludwig Klages. L'immagine e la questione della distanza, Milano: Franco Angeli, 2003.
• Chiara Gianni Ardic, La Fuga degli Dèi. Mito, matriarcato e immagine in Ludwig Klages, Milano: Jouvence, 2016.
External links
• The Science of Character
• The Biocentric Metaphysics of Ludwig Klages
• Cosmogonic Reflections by Ludwig Klages at the Internet Archive
• File of "On the Biocentric Metaphysics of Ludwig Klages" at the Internet Archive
• "Ludwig Klages on Judaism, Christianity and Paganism"
• "The Literary Criticism of Ludwig Klages and the Klages School" by Lydia Baer
• "Chthonic Gnosis. Ludwig Klages and his Quest for the Pandaemonic All" by Dr. Gunnar Alksnis