Part 1 of 2
Klemens von Metternich
by Wikipedia
Accessed: 6.2.18
NOTICE: THIS WORK MAY BE PROTECTED BY COPYRIGHT
YOU ARE REQUIRED TO READ

THE COPYRIGHT NOTICE AT THIS LINK

BEFORE YOU READ THE FOLLOWING WORK, THAT IS AVAILABLE SOLELY FOR PRIVATE STUDY, SCHOLARSHIP OR RESEARCH PURSUANT TO 17 U.S.C. SECTION 107 AND 108. IN THE EVENT THAT THE LIBRARY DETERMINES THAT UNLAWFUL COPYING OF THIS WORK HAS OCCURRED, THE LIBRARY HAS THE RIGHT TO BLOCK THE I.P. ADDRESS AT WHICH THE UNLAWFUL COPYING APPEARED TO HAVE OCCURRED. THANK YOU FOR RESPECTING THE RIGHTS OF COPYRIGHT OWNERS.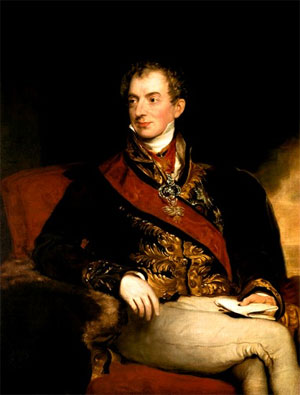 The Most Serene
The Prince of Metternich-Winneburg
KOGF
Prince Metternich by Lawrence.jpeg
Portrait of Prince Metternich (1815[nb 1]) by Sir Thomas Lawrence.
Prince of Metternich
1st State Chancellor of the Austrian Empire
In office
25 May 1821 – 13 March 1848
Monarch Francis I (1821–1835)
Ferdinand I (1835–1848)
Preceded by Wenzel Anton, Prince of Kaunitz-Rietberg (as State Chancellor of Austria in the Holy Roman Empire)
Succeeded by Count Franz Anton von Kolowrat-Liebsteinsky (as Minister-President)
2nd Foreign Minister of the Austrian Empire
In office
8 October 1809 – 13 March 1848
Monarch Francis I (1809–1835)
Ferdinand I (1835–1848)
Preceded by Count Warthausen
Succeeded by Count Charles-Louis de Ficquelmont
Personal details
Born 15 May 1773
Koblenz, Electorate of Trier
Died 11 June 1859 (aged 86)
Vienna, Austrian Empire
Nationality German Austrian
Spouse(s) Princess Eleonore von Kaunitz (m. 1795–1825)
Baroness Antoinette Leykam (m. 1827–1829)
Countess Melanie Zichy-Ferraris (m. 1831–1854)
Children See list
Parents Franz Georg Karl, Graf von Metternich-Winneburg
Gräfin Beatrix von Kageneck
Education University of Strasbourg, University of Mainz
Known for The Congress of Vienna, Minister of State, Conservatism, Concert of Europe
Klemens Wenzel Nepomuk Lothar, Prince von Metternich-Winneburg zu Beilstein (German: [ˈmɛtɐnɪç]; 15 May 1773 – 11 June 1859[1]) was an Austrian diplomat and statesman who was one of the most important of his era, serving as
the Austrian Empire's Foreign Minister from 1809 and Chancellor from 1821 until the liberal revolutions of 1848 forced his resignation.

One of his first assignments was to engineer a détente with France that included the marriage of Napoleon to the Austrian archduchess Marie Louise. Soon after, he engineered Austria's entry into the War of the Sixth Coalition on the Allied side, signed the Treaty of Fontainebleau that sent Napoleon into exile, and led the Austrian delegation at the Congress of Vienna that divided post-Napoleonic Europe amongst the major powers. For his service to the Austrian Empire he was given the title of Prince in October 1813. Under his guidance, the "Metternich system" of international congresses continued for another decade as Austria aligned itself with Russia and, to a lesser extent, Prussia.
This marked the high point of Austria's diplomatic importance, and thereafter Metternich slowly slipped into the periphery of international diplomacy. At home, Metternich held the post of Chancellor of State from 1821 until 1848, under both Francis I and his son Ferdinand I. After brief exile in London, Brighton, and Brussels that lasted until 1851, he returned to the Viennese court, this time to offer only advice to Ferdinand's successor, Franz Josef. Having outlived his generation of politicians, Metternich died at the age of 86 in 1859.
Born into the House of Metternich in 1773, the son of a diplomat, he was named after his godfather, Clement-Wenceslas, Archbishop of Trier. Metternich received a good education at the universities of Strasbourg and Mainz. He was of help during the coronation of Francis II in 1792 and that of his predecessor, Leopold II, in 1790. After a brief trip to England, Metternich was named as the Austrian ambassador to the Netherlands, a short-lived post, since the country was brought under French control the next year. He married his first wife, Eleonore von Kaunitz (a descendant of Karolina of Legnica-Brieg) in 1795, which aided his entry into Viennese society. Despite having numerous affairs, he was devastated by her death in 1825. His second marriage was to Baroness Antoinette Leykam in 1827 and following her death in 1829 he married Countess Melanie Zichy-Ferraris in 1831. She predeceased him by five years. Before taking office as Foreign Minister, Metternich held numerous smaller posts, including ambassadorial roles in the Kingdom of Saxony, the Kingdom of Prussia and Napoleonic France. One of Metternich's sons, Richard von Metternich, was also a successful diplomat; many of Metternich's twelve other acknowledged children predeceased him.
A traditional conservative, Metternich was keen to maintain the balance of power, in particular by resisting Russian territorial ambitions in Central Europe and lands belonging to the Ottoman Empire. He disliked liberalism and strove to prevent the breakup of the Austrian empire, for example, by crushing nationalist revolts in Austrian north Italy and the German states. At home, he pursued a similar policy, using censorship and a wide-ranging spy network to suppress unrest.
Metternich has been both praised and heavily criticized for the policies he pursued. His supporters point out that he presided over the "Age of Metternich", when international diplomacy helped prevent major wars in Europe. His qualities as a diplomat are commended, some noting that his achievements were considerable in light of the weakness of his negotiating position. His decision to oppose Russian expansionism is seen as a good one. His detractors describe him as a boor who stuck to ill-thought-out, conservative principles out of vanity and a sense of infallibility. They argue he could have done much to secure Austria's future; instead, his 1817 proposals for administrative reform were largely rejected, and his opposition to German nationalism is blamed for Germany's unification under Prussia and not Austria. Other historians have argued that he had far less power than this view suggests and that his policies were only exercised when they were in accord with the views of the Emperor.
Early life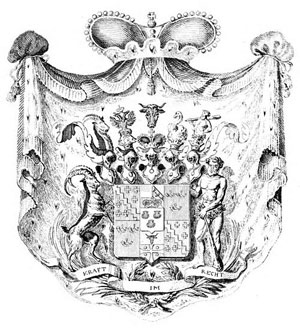 Metternich's coat of arms
Klemens Metternich was born into the House of Metternich on 15 May 1773 to Franz George Karl Count Metternich-Winneburg zu Beilstein, a diplomat who had passed from the service of the Archbishopric of Trier to that of the Imperial court, and his wife Countess Maria Beatrice Aloisia von Kageneck.[2] He was named in honour of Prince Clemens Wenceslaus of Saxony, the archbishop-elector of Trier and the past employer of his father.[3] He was the eldest son and had one older sister. At the time of his birth the family possessed a ruined keep at Beilstein, a castle at Winneberg, an estate west of Koblenz, and another in Königswart, Bohemia, won during the 17th century.[3] At this time Metternich's father, described as "a boring babbler and chronic liar" by a contemporary, was the Austrian ambassador to the courts of the three Rhenish electors (Trier, Cologne and Mainz).[3] Metternich's education was handled by his mother, heavily influenced by their proximity to France; for many years Metternich considered himself able to communicate better in French than German. As a child he went on official visits with his father and, under the direction of Protestant tutor John Frederick Simon, was tutored in academic subjects, swimming, and horsemanship.[4][5]
In the summer of 1788 Metternich began studying law at the University of Strasbourg, matriculating on 12 November. While a student he was for some time accommodated by Prince Maximilian of Zweibrücken, the future King of Bavaria.[4] At this time he was described by Simon as "happy, handsome and lovable", though contemporaries would later recount how he had been a liar and a braggart.[6] Metternich left Strasbourg in September 1790 to attend Leopold II's October coronation in Frankfurt, where he performed the largely honorific role of Ceremonial Marshall to the Catholic Bench of the College of the Counts of Westphalia. There, under the wing of his father, he met with the future Francis II and looked at ease among the attendant nobility.[6]
Between the end of 1790 and summer of 1792 Metternich studied law at the University of Mainz,[7] receiving a more conservative education than at Strasbourg, a city the return to which was now unsafe. In the summers he worked with his father, who had been appointed plenipotentiary to the Austrian Netherlands. In March 1792 Francis succeeded his father Leopold as Holy Roman Emperor and was crowned in July, affording Metternich a reprisal of his earlier role of Ceremonial Marshall. To this he added the honour of opening the accompanying ball alongside Louise of Mecklenburg. In the meantime France had declared war on Austria, beginning the War of the First Coalition (1792–7) and making Metternich's further study in Mainz impossible.[8] Now in the employment of his father,[7] he was sent on a special mission to the front. Here he led the interrogation of the French Minister of War the Marquis de Beurnonville and several accompanying National Convention commissioners. Metternich observed the siege and fall of Valenciennes, later looking back on these as substantial lessons about warfare. In early 1794 he was sent to England, ostensibly on official business helping Viscount Desandrouin, by the Treasurer-General of the Austrian Netherlands, to negotiate a loan.[9]
Marriage and the Congress of Rastatt
In England he met the King on several occasions and dined with a number of influential British politicians, including William Pitt, Charles James Fox and Edmund Burke.
[10] Metternich was nominated the new Minister Plenipotentiary to the Austrian Netherlands and left England in September 1794. Unfortunately, he found an exiled and powerless government in headlong retreat from the latest French advance.[9] In October a revitalised French army swept into Germany and annexed all of the Metternich estates except Königswart. Disappointed, and affected by strong criticism of his father's policies, he joined his parents in Vienna in November.[11] On 27 September 1795 he married Countess Eleonore von Kaunitz, a granddaughter of former Austrian chancellor Wenzel Kaunitz.[12] The marriage was arranged by Metternich's mother and introduced him to Viennese society. This was undoubtedly part of the motivation for Metternich, who demonstrated less affection for her than she for him.[nb 2] Two conditions were imposed by the father of the bride, Prince Kaunitz: first, the still youthful Eleonore was to continue to live at home; and second, Metternich was forbidden from serving as a diplomat as long as the Prince was still alive.[11] Their daughter Maria was born in January 1797.[13]
After Metternich's studies in Vienna, the Prince's death in September 1797 allowed Metternich to participate in the Congress of Rastatt.[14] Initially his father took him as a secretary while ensuring that, when proceedings officially started in December 1797, he was named the representative of the Catholic Bench of the College of the Counts of Westphalia.[12] A bored Metternich remained at Rastatt in this role until 1799 when the congress was finally wound down.[13] During this period Eleonore had chosen to live with Metternich at Rastatt and gave birth to sons Francis (February 1798) and, shortly after the end of the Congress, Klemens (June 1799). Much to Metternich's anguish Klemens died after only a few days, and Francis soon contracted a lung infection from which he would never recover.[14]
Ambassador

Dresden and Berlin
The Holy Roman Empire's defeat in the War of the Second Coalition shook up diplomatic circles, and the promising Metternich was now offered a choice between three ministerial positions: to the Imperial Diet at Regensburg; to the Kingdom of Denmark at Copenhagen; or to the Elector of Saxony at Dresden. He chose Dresden in late January 1801, and his appointment was officially announced in February. Metternich summered in Vienna, where he wrote his "Instructions", a memorandum showing much greater understanding of statesmanship than his earlier writing. He visited the Königswart estate in the autumn before taking up his new position on 4 November.[14] The subtleties of the memorandum were lost on the Saxon court, which was headed by the retiring Frederick Augustus, a man with little political initiative.[nb 3] Despite the boredom of the court, Metternich enjoyed the light-hearted frivolity of the city and took up a mistress, Katharina Bagration, who bore him a daughter, Klementine.[nb 4] In January 1803 Metternich and his wife had a child whom they named Viktor.[14] In Dresden Metternich also made a number of important contacts including Friedrich Gentz,[15] a publicist who would serve Metternich as both confidant and critic for the next thirty years. He also established links with important Polish and French political figures.[16]
" Count Metternich is young but by no means maladroit. We shall see how he shapes up in Berlin. "
— Colloredo to Thugut (Palmer 1972, p. 39).
The Imperial Recess of 1803 brought Metternich's family new estates in Ochsenhausen, the title of Prince, and a seat in the Imperial Diet. In the ensuing diplomatic reshuffle Metternich was appointed ambassador to the Kingdom of Prussia, being notified of this in February 1803 and taking his position in November of that year.[16] He arrived at a critical juncture in European diplomacy,[15] soon growing worried about the territorial ambitions of Napoleon Bonaparte, newly the leader of France. This fear was shared by the Russian court under Alexander I, and the Tsar kept Metternich informed of Russian policy. By autumn of 1804 Vienna decided on action entered into in August 1805 when the Austrian Empire (as the Holy Roman Empire was in the process of becoming[15]) began its involvement in the War of the Third Coalition. Metternich's now almost impossible task was to convince Prussia to join the coalition against Bonaparte. Their eventual agreement was not due to Metternich, however, and after the coalition's defeat at the Battle of Austerlitz, Prussia disregarded the agreement and signed a treaty with the French instead.[17]
Paris
In the ensuing reshuffle in Vienna Johann Philipp Stadion became the Austrian foreign minister, freeing Metternich to assume the post of Ambassador to the Russian Empire. He never made it to Russia, as need had arisen for a new Austrian at the French court. Metternich was approved for the post in June 1806.[nb 5] He enjoyed being in demand and was happy to be sent to France on a generous salary of 90,000 gulden a year.[18] After an arduous trip he took up residence in August 1806, being briefed by Baron von Vincent and Engelbert von Floret, whom he would retain as a close adviser for two decades. He met French foreign minister Charles Talleyrand on 5 August and Napoleon himself five days later at Saint-Cloud; soon, the War of the Fourth Coalition drew both Talleyrand and Napoleon eastwards.[19] Metternich's wife and children joined him in October, and he went into society, using his charm to win great eminence there. The presence of Eleonore did not prevent him from a series of affairs that certainly included Napoleon's sister Caroline Murat,[20] Laure Junot, and perhaps many besides.[19]
After the Treaties of Tilsit of July 1807 Metternich saw that Austria's position in Europe was much more vulnerable but believed the accord between Russia and France would not last. In the meantime he found the new French Foreign Minister, Jean-Baptiste Champagny unaccommodating and struggled to negotiate a satisfactory settlement over the future of several French forts on the River Inn. Over the following months the reach of Austrian policy, and Metternich's own reputation, increased.[21] Metternich pushed for a Russo-Austrian alliance, though Tsar Alexander was too preoccupied with the three other wars he was engaged in to commit. Over time, Metternich came to see an eventual war with France as inevitable.[21]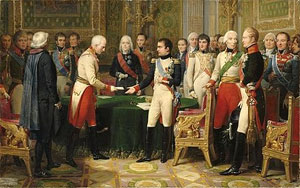 Napoleon receiving von Vincent at Erfurt, a congress Metternich was not allowed to attend
In a memorable event, Metternich argued with Napoleon at Napoleon's 39th birthday celebrations in August 1808 over the increasingly obvious preparations for war on both sides.[22] Soon after, Napoleon refused Metternich's attendance at the Congress of Erfurt; Metternich was later glad to hear from Talleyrand that Napoleon's attempts at the Congress to get Russia to invade Austria had proved unsuccessful.[23] In late 1808 Metternich was recalled to Vienna for five weeks of meetings about the possibility of Austria invading France while Napoleon was on campaign in Spain.[23] His memoranda reported that France was not united behind Napoleon, that Russia was unlikely to want to fight Austria, and that France had few reliable troops that could fight in central Europe
.[22] Back in Paris, Metternich was overtly apprehensive about his own safety. When Austria declared war on France, Metternich was indeed arrested in retaliation for the arrest of two French diplomats in Vienna, but the effects of this were minimal. He was allowed to leave France under escort for Austria in late May 1809. After Napoleon's capture of Vienna Metternich was conducted to the Austrian capital and exchange there for the French diplomats.[23]
Foreign Minister

Détente with France
Now back in Austria, Metternich witnessed first hand the Austrian army's defeat at the Battle of Wagram in 1809. Stadion tendered his resignation as Foreign Minister in the aftermath, and the Emperor immediately offered the post to Metternich. Metternich, worried that Napoleon would seize on this to demand harsher peace terms, instead agreed to become a minister of state (which he did on 8 July) and to lead negotiations with the French on the understanding that he would replace Stadion as Foreign Minister at a later date.[24] During peace talks at Altenburg, Metternich put forward pro-French proposals to save the Austrian monarchy. Napoleon, however, disliked his position on the future of Poland, and Metternich was gradually displaced from the proceedings by Prince Liechtenstein. He soon regained influence, however, on 8 October, as Foreign Minister (and additionally that of Minister of the Imperial Household).[24] In early 1810 Metternich's earlier affair with Junot became public but, because of Eleonore's understanding, the scandal was minimal.[25]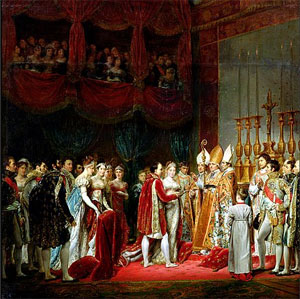 Metternich was influential in bringing about the marriage of Napoleon to Archduchess Marie Louise of Austria. Painting by Georges Rouget.
One of Metternich's first tasks was to push for the marriage of Napoleon to Archduchess Marie Louise rather than to the Tsar's youngest sister Anna Pavlovna. Metternich would later seek to distance himself from the marriage by claiming it was Napoleon's own idea, but this is improbable; in any case, he was happy to claim responsibility at the time.[25] By 7 February Napoleon had agreed and the pair were married by proxy on 11 March. Marie Louise left for France soon after and Metternich followed by a different route and unofficially. The trip was designed, Metternich explained, to transport his family (stranded in France by the outbreak of war) home and to report to the Austrian Emperor about Marie Louise's activities.[25]
Instead, Metternich stayed six months, entrusting his office in Vienna to his father. He set about using the marriage, and flattery, to renegotiate the terms set out at Schönbrunn. The concessions he won were trivial, however: a few trading rights, delay in the payment of the war indemnity, restitution of some estates belonging to Germans in the Austrian service, including the Metternich family's, and the lifting of a 150,000 man limit on the Austrian army. The last was particularly welcomed as a sign of increased Austrian independence, although Austria could no longer afford an army greater than the limit prescribed.[26]
As France's ally
When Metternich returned to Vienna in October 1810, he was no longer as popular. His influence was limited to foreign affairs, and his attempts to get a full Council of State reintroduced had failed.[25] Convinced that a much weakened Austria should avoid another invasion by France, he rejected the advances of Tsar Alexander and instead concluded an alliance with Napoleon on 14 March 1812. He also supported a period of moderate censorship, aimed at preventing provocation of the French.[27] Requiring that only 30,000 Austrian troops fight alongside the French,[28] the alliance treaty was more generous than the one Prussia had signed a month earlier; this allowed Metternich to give both Britain and Russia assurances that Austria remained committed to curbing Napoleonic ambitions. He accompanied his sovereign for a final meeting with Napoleon at Dresden in May 1812 before Napoleon embarked upon the French invasion of Russia.[27]
The Dresden meeting revealed that Austria's influence in Europe had reached its lowest point, and Metternich was now bent on re-establishing that influence by using what he considered strong ties with all sides in the war, proposing general peace talks headed by Austria. Over the next three months, he would slowly distance Austria from the French cause, while avoiding alliance with either Prussia or Russia,[29] and remaining open to any proposal that would secure a place for the combined Bonaparte-Habsburg dynasty.[29] This was driven by concern that if Napoleon were defeated, Russia and Prussia would stand to gain too much.[30] Napoleon was intransigent, however, and the fighting (now officially the War of the Sixth Coalition) continued. Austria's alliance with France ended in February 1813, and Austria then moved to a position of armed neutrality.[29]
As a neutral
Metternich was much less keen on turning against France than many of his contemporaries (though not the Emperor), and he favoured his own plans for a general settlement. In November 1813 he offered Napoleon the Frankfurt proposals, which would allow Napoleon to remain Emperor but would reduce France to its "natural frontiers" and undo its control of most of Italy, Germany, and the Netherlands. Napoleon, expecting to win the war, delayed too long and lost this opportunity; by December the Allies had withdrawn the offer. By early 1814, as they were closing in on Paris, Napoleon agreed to the Frankfurt proposals, too late, and he rejected the new, harsher terms then proposed.[31][32]
Nevertheless, the Allies were not faring well, and although a statement of general war aims that included many nods to Austria was secured from Russia, Britain remained distrustful and generally unwilling to give up the military initiative she had fought 20 years to establish. Despite this, Francis created the Austrian Foreign Minister Grand-Chancellor of the Order of Maria Theresa, a post which had been vacant since the time of Kaunitz.[33] Metternich increasingly worried that Napoleon's retreat would bring with it disorder that would harm the Habsburgs.[30][33] A peace had to be concluded soon, he believed. Since Britain could not be coerced, he sent proposals to France and Russia only. These were rejected, though after the battles of Lützen (2 May) and Bautzen (20–21 May), a French-initiated truce was called. Starting in April Metternich began to "slowly and reluctantly" prepare Austria for war with France; the armistice provided Austria time for fuller complete mobilisation.[33]
In June Metternich left Vienna to personally handle negotiations at Gitschin in Bohemia. When he arrived he benefitted from the hospitality of Princess Wilhelmine, Duchess of Sagan and began an affair with her that lasted several months. No other mistress ever achieved such influence over Metternich as Wilhelmine, and he would continue to write to her after their separation. Meanwhile, French Foreign Minister Hugues-Bernard Maret remained elusive, though Metternich did manage to discuss the state of affairs with the Tsar on 18–19 June at Opotschna.[34] In talks which would later be ratified as the Reichenbach Convention they agreed on general peace demands[nb 6] and set out a process by which Austria could enter the war on the Coalition side. Shortly afterwards Metternich was invited to join Napoleon at Dresden, where he could put the terms directly. Though no reliable record of their meeting on 26 June 1813 exists, it seems it was a stormy but effective meeting. Agreement was finally reached as Metternich was about to leave:[34] peace talks would start in Prague in July and run until 20 August.[35] In agreeing to this Metternich had ignored the Reichenbach Convention, and this angered Austria's Coalition allies.[34] The Conference of Prague would never properly meet, since Napoleon gave his representatives Armand Caulaincourt and the Count of Narbonne insufficient powers to negotiate.[35] At the informal discussions held in lieu of the conference, Caulaincourt implied that Napoleon would not negotiate until an allied army threatened France itself. This convinced Metternich, and, after an ultimatum Metternich issued to France went unheeded, Austria declared war on 12 August.[34]
As a coalition partner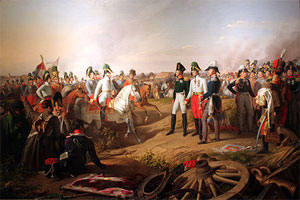 Prince of Schwarzenberg and three allied monarchs after the battle of Leipzig, 1813. Painting by Johann Peter Krafft.
Austria's allies saw the declaration as an admission that Austria's diplomatic ambitions had failed, but Metternich viewed it as one move in a much longer campaign.[36] For the rest of the war he strove to hold the Coalition together and, as such, to curb Russian momentum in Europe. To this end he won an early victory as an Austrian general, the Prince of Schwarzenberg, was confirmed supreme commander of the Coalition forces rather than Tsar Alexander I. He also succeeded in getting the three allied monarchs (Alexander, Francis and Prussia's Frederick William III) to follow him and their armies on campaign. With the Treaties of Teplitz, Metternich allowed Austria to remain uncommitted over the future of France, Italy, and Poland. He was still confined, however, by the British, who were subsidizing Prussia and Russia (in September Metternich requested subsidies for Austria as well).[36] Meanwhile, the Coalition forces took the offensive.[36] On 18 October 1813 Metternich witnessed the successful Battle of Leipzig and, two days later, he was rewarded for his "wise direction" with the rank of prince (German: Fürst).[7] Metternich was delighted when Frankfurt was retaken in early November and, in particular, by the deference the Tsar showed Francis at a ceremony organised there by Metternich. Diplomatically, with the war drawing to a close, he remained determined to prevent the creation of a strong, unified German state, even offering Napoleon generous terms in order to retain him as a counterweight. On 2 December 1813 Napoleon agreed to talk, though these talks were delayed by the need for the participation of a more senior British diplomat, (Viscount Castlereagh).[36]
Before talks could begin, Coalition armies crossed the Rhine on 22 December. Metternich retired from Frankfurt to Breisgau to celebrate Christmas with his wife's family before travelling to the new Coalition headquarters at Basel in January 1814. Quarrels with Tsar Alexander, particularly over the fate of France[nb 7] intensified in January, prompting Alexander to storm out. He therefore missed the arrival of Castlereagh in mid-January.[37] Metternich and Castlereagh formed a good working relationship and then met with Alexander at Langres. The Tsar remained unaccommodating however, demanding a push into the centre of France; fortunately, he was too preoccupied to object to Metternich's other ideas, like a final peace conference in Vienna. Metternich did not attend talks with the French at Chatillon, as he wanted to stay with Alexander. The talks stalled, and, after a brief advance, Coalition forces had to retreat after the Montmirail and Montereau. This relieved Metternich's fears that an overconfident Alexander might act unilaterally.[37]
" You have no idea what sufferings the people at headquarters impose upon us! I cannot stand it much longer and the Emperor Francis is already ill. [The other leaders] are all mad and belong in the lunatic asylum. "
— Metternich to Stadion (Palmer 1972, p. 116)
Metternich continued negotiations with the French envoy Caulaincourt through early to mid March 1814, when victory at the Laon put the Coalition back on the offensive. By this time Metternich was tiring of trying to hold the Coalition together, and even the British-engineered Treaty of Chaumont did not help.[37] In the absence of the Prussians and Russians the Coalition agreed to the restoration of the Bourbon dynasty.[37][38] Francis rejected a final plea from Napoleon that he abdicate in favour of his wife, and Paris fell on 30 March. Military manoeuvres had forced Metternich westward to Dijon on 24 March and now, after deliberate delay, he left for the French capital on 7 April.[37] On 10 April he found a city at peace and, much to his annoyance, largely in the control of Tsar Alexander. The Austrians disliked the terms of the Treaty of Fontainebleau that Russia had imposed on Napoleon in their absence, but Metternich was reluctant to oppose them and on 11 April signed the treaty. Thereafter he focused on safeguarding Austrian interests in the forthcoming peace; asserting Austria's influence in Germany over that of Prussia; and undoing Russian ascendancy. For these reasons he ensured that the Italian provinces of Lombardy and Venetia, lost to French client states in 1805, were duly re-annexed.[39]
On the division of formerly French-occupied Poland and Germany, Metternich was more confined by the interests of the Allies. After two failed proposals, advanced by the Prussians, the issue was postponed until after a peace treaty had been signed.[40] Elsewhere, Metternich, like many of his counterparts, was anxious to provide the renewed French monarchy with the resources to suppress new revolution. The generous Treaty of Paris was signed on 30 May.[38] Now free, Metternich accompanied Tsar Alexander to England; Wilhelmine, who had followed Metternich to Paris, also made the crossing.[40] A triumphant Metternich filled his four weeks with revelry, re-establishing his reputation and that of Austria; he was also awarded an honorary law degree from the University of Oxford. By contrast and to Metternich's pleasure, Alexander was ill-mannered and often insulting. Despite the opportunities, little diplomacy took place; instead, all that was firmly agreed was that proper discussions would take place at Vienna, with a date tentatively set for 15 August. When the Tsar tried to postpone it to October Metternich agreed but effected conditions that prevented Alexander from exercising any advantage due to his de facto control of Poland. Metternich was eventually reunited with his family in Austria in the middle of July 1814, having stopped for a week in France to soothe fears surrounding Napoleon's wife Marie Louise, now the Duchess of Parma. His return to Vienna was celebrated by an occasional cantata that included the line "History holds thee up to posterity as a model among great men".[40]
Congress of Vienna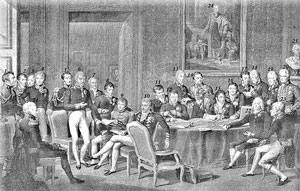 Metternich alongside Wellington, Talleyrand and other European diplomats at the Congress of Vienna, 1815
In the autumn of 1814 the heads of the five reigning dynasties and representatives from 216 noble families began gathering in Vienna. Before ministers from the "Big Four" (the Coalition allies of Britain, Austria, Prussia and Russia) arrived, Metternich stayed quietly in Baden bei Wien, two hours to the south. When he heard they had reached Vienna he journeyed to meet them and encouraged them to go with him back to Baden. They declined, and four meetings were held in the city itself.[41] In these, the representatives agreed on how the Congress would operate and, to Metternich's delight, named his own aide Friedrich Gentz secretary to the negotiations of the "Big Six" (the Big Four plus France and Spain). When Talleyrand and Spanish representative Don Pedro Labrador learned of these decisions, they were incensed that agreements were negotiated by the Big Four only. Sweden and Portugal were similarly angered by their exclusion from all but the full Congress, especially since Metternich was determined to give the latter as little power as possible. As a result, the Big Six became the Preliminary Committee of the Eight, whose first decision was that the congress itself be postponed to 1 November.[41] In fact, it would soon be postponed again, with only a minor commission beginning work in November.[42] In the meantime, Metternich organised a controversially vast array of entertainments for the delegates including himself.[41]
Leaving Castlereagh to negotiate on Tsar Alexander's behalf, Metternich briefly turned his attention to quelling anti-Habsburg feeling in Italy. Around the same time, he learnt that the Duchess of Sagan was courting the Tsar. Disappointed, and exhausted by social rounds, Metternich let his guard drop, angering Tsar Alexander during negotiations over Poland (then ruled by Napoleon as the Grand Duchy of Warsaw) by implying Austria could match Russia militarily. The pair would never meet in person again.[42] Despite the blunder, Francis refused to dismiss his foreign minister, and political crisis rocked Vienna throughout November, culminating in a declaration by Tsar Alexander that Russia would not compromise in its claim on Poland as a satellite kingdom. The Coalition rejected this utterly, and agreement seemed further off than ever.[42] During the stand-off, it seems that Alexander even went as far as to challenge Metternich to a duel.[43] Fortunately for Metternich, Tsar Alexander soon did a rapid volte face and agreed to the division of Poland. He also softened in regard to the Germanic Kingdom of Saxony, and for the first time allowed Talleyrand to participate in all Big Four (now Big Five) discussions.[42]
With the new consensus, the major issues concerning Poland and Germany were settled in the second week of February 1815.[44] Austria gained land in the partition of Poland and prevented the Prussian annexation of Saxony, but was forced to accept Russian dominance in Poland and increasing Prussian influence in Germany.[45] Metternich now focused on getting the various German states to cede historic rights to a new Federal Diet that could stand up to Prussia. He also assisted the Swiss Committee and worked on a myriad of smaller issues, like navigation rights on the Rhine. The beginning of Lent on 8 February brought him more time to devote to these congressional issues as well as private discussions about southern Italy, where Joachim Murat was said to be raising a Neapolitan army.[44] On 7 March Metternich was awakened with the news that Napoleon had escaped from his island prison of Elba[46] and within an hour had met with both the Tsar and the King of Prussia. Metternich wanted no rash change of course, and at first there was little impact on the Congress. Finally, on 13 March the Big Five declared Napoleon an outlaw and the Allies began preparations for renewed fighting. On 25 March they signed a treaty committing each to sending 150,000 men with little sign of their prior divisive stances. After the military commanders left, the Vienna Congress settled down to serious work, fixing the boundaries of an independent Netherlands, formalising proposals for a loose confederation of Swiss cantons, and ratifying earlier agreements over Poland. By late April only two major issues remained, the organisation of a new German federation and the problem of Italy.[44]
" The ministers and representatives of the German princes sent to the congress continue to sing the praises of Prince Metternich.... They admire the tact and circumspection with which he has handled the German committee. "
— From the report of an agent of the Austrian intelligence service (Palmer 1972, pp. 147–148).
The latter soon began to come to a head. Austria had solidified its control over Lombardy-Venice and extended its protection to provinces nominally under the control of Francis' daughter Marie Louise. On 18 April Metternich announced that Austria was formally at war with Murat's Naples. Austria won the Battle of Tolentino on 3 May and captured Naples less than three weeks later. Metternich then was able to delay a decision on the future of the country until after Vienna. Discussions about Germany would drag on until early June, when a joint Austrian-Prussian proposition was ratified. It left most constitutional issues to the new diet; its President would be the Emperor Francis himself.[47] Despite criticism from within Austria, Metternich was pleased with the outcome and the degree of control it granted Habsburgs, and, through them, himself.[47] Certainly, Metternich was able to use the diet to his own ends on numerous occasions.[48] The arrangement was similarly popular with most German representatives. A summation treaty was signed on 19 June (the Russians signed a week later[46]), bringing the Vienna Congress officially to an end. Metternich himself had left on 13 June for the front line, prepared for a lengthy war against Napoleon. Napoleon, however, was defeated decisively at the Battle of Waterloo on 18 June.[47]
Paris and Italy
Metternich was soon back with coalition allies in Paris, once more discussing peace terms. After 133 days of negotiations, longer than the turmoil itself, the second Treaty of Paris was concluded on 20 November. Metternich, of the opinion that France should not be dismembered, was happy with the result:[49] France lost only a little land along its eastern borders, seven hundred million French francs, and the artworks it had plundered. It also accepted an army of occupation numbering 150,000.[46] In the meantime a separate treaty, proposed by Alexander and redrafted by Metternich, had been signed on 26 September. This created a new Holy Alliance centered on Russia, Prussia and Austria; it was a document Metternich neither pushed for nor wanted, given its vaguely liberal sentiments.[50] Representatives from most of the European states eventually signed, with the exception of the Pope, the United Kingdom, and the Ottoman Empire. Shortly afterwards, a separate treaty reaffirmed the Quadruple Alliance and established through its sixth article the Congress System of regular diplomatic meetings. With Europe at peace, the Austrian flag now flew over 50% more land than when Metternich had become Foreign Minister.[49]
Metternich now returned to the question of Italy, making his first visit to the country in early December 1815. After visiting Venice, his family joined him in Milan on 18 December. For once it was Metternich playing the liberal, vainly urging Francis to give the region some autonomy. Metternich spent four months in Italy, endlessly busy and suffering chronic inflammation of the eyelids. He tried to control Austrian foreign policy from Milan and, when there was a serious disagreement between the Empire and the Kingdom of Bavaria, was heavily criticised for his absence. His enemies could not capitalise on this, however; Stadion was occupied by his work as finance minister and the Empress Maria Ludovika, a fierce critic of Metternich's policies, died in April.[51] The uncharacteristic gap between the views of Metternich and his emperor was eased only by active compromise of proposals. Metternich returned to Vienna on 28 May 1816 after almost a year's absence. Professionally, the rest of 1816 passed quietly for the tired Minister, who was concerned with fiscal policy and monitoring the spread of liberalism in Germany and nationalism in Italy. Personally, he was shaken in November by the death of Julie Zichy-Festetics. Two years later he wrote that his "life ended there," and his old frivolity took some time to return. The only consolation was July's news that Metternich was to receive new estates along the Rhine at Johannisberg, only 25 miles (40 km) from his birthplace at Koblenz.[51]
In June 1817 Metternich was required to escort the emperor's newly wed daughter Maria Leopoldina to a ship at Livorno. There was delay upon their arrival, and Metternich spent the time travelling around Italy again; he visited Venice, Padua, Ferrara, Pisa, Florence and Lucca. Though alarmed by developments (he noted that many of Francis' concessions were still not in practice), he was optimistic and made another plea for decentralisation on 29 August.[52] After this failed, Metternich decided to broaden his efforts into general administrative reform to avoid the appearance of favouring the Italians over the rest of the Empire. While working on this, he returned to Vienna on 12 September 1817 to be immediately caught up in the organisation of his daughter Maria's marriage to Count Joseph Esterházy just three days later. It proved too much, and Metternich was taken ill. After a delay for recovery, Metternich condensed his proposals for Italy into three documents he submitted to Francis, all dated 27 October 1817. The administration would remain undemocratic, but there would be a new Ministry of Justice and four new chancellors—each with local remits, including one for "Italy".[52] Importantly, the divisions would be regional, not national.[45] In the end, Francis accepted the revised proposals, albeit with several alterations and restrictions.[52][nb 8]
Aachen, Teplice, Karlsbad, Troppau and Laibach
Metternich's primary focus remained on preserving unity among the Great Powers of Europe and hence his own power as mediator. He was also concerned by liberal-minded Ioannis Kapodistrias' increasing influence over Tsar Alexander and the continual threat of Russia annexing large areas of the declining Ottoman Empire (the so-called Eastern Question).[53] As he had earlier envisaged, by April 1818 Britain had drawn up, and Metternich pushed through, proposals to have a Congress at Aachen, then a Prussian frontier town, six months later. Meanwhile, Metternich was advised to go to the spa town of Karlsbad to treat the rheumatic tension in his back.[53] It was a pleasant month-long trip, although it was there he received news of the death of his father at the age of 72.[54] He visited the family estate at Königswart and then Frankfurt in late August to encourage the member states of the German Confederation to agree on procedural issues. He could also now visit Koblenz for the first time in 25 years and his new estate at Johannisberg. Travelling with Emperor Francis, he was warmly greeted by the Catholic towns along the Rhine as he progressed towards Aachen.[53] He had arranged in advance for newspapers to cover the first peacetime congress of its kind. As discussions began, Metternich pushed for the withdrawal of allied troops from France and means for preserving the unity of the European powers. The former was agreed almost immediately; but on the latter agreement extended only to maintaining the Quadruple Alliance. Metternich rejected the Tsar's idealistic plans for (among other things) a single European army. His own recommendations to the Prussians for greater controls on freedom of speech was equally hard for other powers such as Britain to support openly.[53]
" Today the greatest evil—and therefore the most immediate—is the press. "
— Metternich to Gentz, June 1819 (Palmer 1972, p. 182).
Metternich travelled with Dorothea Lieven to Brussels soon after the congress broke up, and although he could not stay more than a few days, the pair exchanged letters for the next eight years. He arrived in Vienna on 11 December 1818 and was finally able to spend considerable time with his children.[53] He entertained the Tsar during the Christmas season and spent twelve weeks monitoring Italy and Germany before setting off with the Emperor on a third trip to Italy. The trip was cut short by the assassination of the conservative German dramatist August von Kotzebue. After a short delay, Metternich decided that if the German governments would not act against this perceived problem, Austria would have to compel them. He called an informal conference in Karlsbad[55] and sounded out Prussian support beforehand by meeting with Frederick William III of Prussia in Teplice in July.[55][56] Metternich carried the day, using a recent attempt on the life of the Chief Minister of Nassau, Carl Ibell to win agreement for the conservative program now known as the Convention of Teplitz. The Karlsbad conference opened on 6 August and ran for the rest of the month.[55] Metternich overcame any opposition to his proposed "group of anti-revolutionary measures, correct and preemptory", although they were condemned by outsiders.[55] Despite censure Metternich was very pleased with the result,[55] known as the "Karlsbad Decrees".[45][56]
At the conference in Vienna later in the year, Metternich found himself constrained by the Kings of Württemberg and Bavaria to abandon his plans to reform the German federation.[57] He now regretted having so quickly forced through its original constitution five years before. Nevertheless, he held ground on other issues and the Conference's Final Act was highly reactionary, much as Metternich had envisaged it. He remained in Vienna until the close in May 1820, finding the whole affair a bore. On 6 May he heard of the death of his daughter Klementine from tuberculosis. Journeying on to Prague, he heard that his eldest daughter Maria had also contracted the disease. He was at her bedside in Baden bei Wien when she died on 20 July.[58] This prompted Eleonore and the remaining children to leave for the cleaner air of France.[59] The rest of 1820 was filled with liberal revolts to which Metternich was expected to respond. Ultimately, the Austrian Foreign Minister was torn between following through on his conservative pledge (a policy favoured by the Russians) and keeping out of a country in which Austria had no interest (favoured by the British). He chose "sympathetic inactivity" on Spain[nb 9] but, much to his dismay and surprise, Guglielmo Pepe led a revolt in Naples in early July and forced King Ferdinand I to accept a new constitution.[58] Metternich reluctantly agreed to attend the Russian-initiated Congress of Troppau in October to discuss these events. He need not have worried: the Tsar gave way and accepted a compromise proposal of moderate interventionism.[58] Still worried by Kapodistrias' influence over the Tsar, he laid down his conservative principles in a long memorandum, including an attack on the free press and the initiative of the middle classes.[58]
The Congress disbanded in the third week of December, and the next step would be a congress at Laibach to discuss intervention with Ferdinand.[59] Metternich found himself able to dominate Laibach more than any other congress, overseeing Ferdinand's rejection of the liberal constitution he had agreed to only months before. Austrian armies left for Naples in February and entered the city in March. The Congress was adjourned but, forewarned or by luck, Metternich kept representatives of the powers close at hand until the revolt was put down.[60] As a result, when similar revolts broke out in Piedmont in the middle of March, Metternich had the Tsar at hand, who agreed to send 90,000 men to the frontier in a show of solidarity. Concerns grew in Vienna that Metternich's policy was too expensive. He responded that Naples and Piedmont would pay for stability; nonetheless, he, too, was clearly worried for the future of Italy. He was relieved when able to create a Court Chancellor and Chancellor of State on 25 May, a post left vacant since the death of Kaunitz in 1794. He was also pleased at the renewed (if fragile) closeness between Austria, Prussia and Russia;[60] however, it had come at the expense of the Anglo-Austrian entente.[61]
Chancellor

Hanover, Verona and Czernowitz
In 1821, while Metternich was still at Laibach with Tsar Alexander, the revolt of Alexander Ypsilantis threatened to bring the Ottoman Empire to the brink of collapse. Wanting a strong Ottoman Empire to counterbalance Russia,[62] Metternich opposed all forms of Greek nationalism.[63] Before Alexander returned to Russia, Metternich secured his agreement not to act unilaterally and would write to the Tsar again and again asking him not to intervene.[62] For extra support he met with Viscount Castlereagh (now also Marquis of Londonderry) and King George IV of the United Kingdom in Hanover in October. The warmness of Metternich's welcome was sweetened by his promise to settle in part Austria's financial debts to Britain.[64] The earlier Anglo-Austrian entente was thus restored,[61] and the pair agreed that they would support the Austrian position concerning the Balkans. Metternich went away happy, not least because he had met Dorothea Lieven once more.[62]
Over Christmas the Tsar wavered more than Metternich had expected and sent Dmitri Tatischev to Vienna in February 1822 for talks with Metternich. Metternich soon convinced the "conceited and ambitious" Russian to let him dictate events.[62] In return Austria promised to support Russia in enforcing its treaties with the Ottomans if the other alliance members would do likewise; Metternich was aware this was politically impossible for the British. Metternich's adversary at the Russian court, Kapodistrias, retired from service there; however, by the end of April there was a new threat: Russia now determined to intervene in Spain, action Metternich described as "utter nonsense".[62] He played for time, convincing his ally Castlereagh to come to Vienna for talks before a scheduled congress in Verona, although Castlereagh died by suicide on 12 August.[65] With Castlereagh dead and relations with the British weakening, Metternich had lost a useful ally.[66] The Congress of Verona was a fine social event but diplomatically less successful. Supposedly concerned with Italy, the Congress had to focus on Spain instead.[65] Austria urged non-intervention, but it the French carried the day with their proposal for a joint invasion force.[67] Prussia committed men,[67] and the Tsar pledged 150,000.[65] Metternich worried about the difficulties of transporting such numbers to Spain and about French ambitions, but still pledged (if only moral) support for the joint force.[65]
He lingered in Verona until 18 December, then spending some days in Venice with the Tsar and then by himself in Munich. He returned to Vienna in early January 1823 and remained until September; after Verona he travelled much less than before, partly because of his new post as Chancellor and partly because of his declining health. He was buoyed by the arrival of his family from Paris in May. He shone once more in Viennese society.[68] Politically, the year was one of disappointments. In March the French crossed the Pyrenees unilaterally, undoing the "moral solidarity" established at Verona. Likewise, Metternich thought the new Pope Leo XII too pro-French, and there was trouble between Austria and several German states over why they had not been included at Verona. Furthermore, Metternich, in discrediting the Russian diplomat Pozzo di Borgo, instead renewed the Tsar's former suspicion of him. Worse came in late September: while accompanying the Emperor to a meeting with Alexander at Czernowitz, an Austrian settlement now in the Ukraine, Metternich fell ill with a fever. He could not continue and had to make do with brief talks with the Russian Foreign Minister, Karl Nesselrode. At the Czernowitz talks, in Metternich's absence, an impatient Tsar asked for a congress in the then Russian capital Saint Petersburg to discuss the Eastern Question. Metternich, wary of letting the Russians dominate affairs, could only play for time.[68]
Fortunately for Metternich the Tsar's dual proposal for the St Petersburg meetings, a settlement of the Eastern Question favourable to Russia and limited autonomy for three Greek principalities, was a pairing unpalatable to the other European powers, and potential attendees like British Foreign Secretary George Canning slowly turned away, much to the annoyance of Alexander. Metternich believed for several months afterward that he had gained a unique level of influence over the Tsar.[68] Meanwhile, he renewed the conservative program he had outlined at Karlsbad five years before and sought to further increase Austrian influence over the German Federal Diet. He also informed the press they could no longer publicise the minutes of Diet meetings, only its rulings.[69] In January 1825 he began to worry about his wife Eleonore's health and he reached her sickbed in Paris shortly before her death on 19 March. Mourning sincerely for her, he also took the opportunity to dine with the Paris elite. Unfortunately, an aside he made about the Tsar there was reported back and did not enhance his reputation. He left Paris for the last time on 21 April and was joined by the Emperor in Milan after arriving on 7 May. He declined the Pope's invitation to become a cardinal of the church. There was also a short trip to Genoa. Early in July the court dispersed and Metternich visited his daughters Leontine (fourteen) and Hermine (nine) in the quiet town of Bad Ischl. Despite the seclusion he received constant reports, including those of ominous developments in the Ottoman Empire, where the Greek revolt was rapidly being crushed by Ibrahim Ali of Egypt. He also had to deal with fallout from St. Petersburg where the Tsar, although unable to convene a full congress, had talked with all the major ambassadors. By mid-May it was clear the allies could not decide on a course of action and, as such, the Holy Alliance was no longer a viable political entity.[70]