Part 1 of 2
Willy Brandt
by Wikipedia
Accessed: 6/3/18
NOTICE: THIS WORK MAY BE PROTECTED BY COPYRIGHT
YOU ARE REQUIRED TO READ

THE COPYRIGHT NOTICE AT THIS LINK

BEFORE YOU READ THE FOLLOWING WORK, THAT IS AVAILABLE SOLELY FOR PRIVATE STUDY, SCHOLARSHIP OR RESEARCH PURSUANT TO 17 U.S.C. SECTION 107 AND 108. IN THE EVENT THAT THE LIBRARY DETERMINES THAT UNLAWFUL COPYING OF THIS WORK HAS OCCURRED, THE LIBRARY HAS THE RIGHT TO BLOCK THE I.P. ADDRESS AT WHICH THE UNLAWFUL COPYING APPEARED TO HAVE OCCURRED. THANK YOU FOR RESPECTING THE RIGHTS OF COPYRIGHT OWNERS.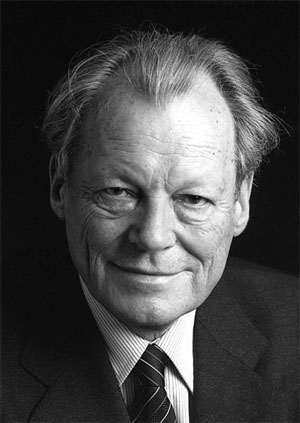 Willy Brandt
Willy Brandt in 1980
Chancellor of Germany
(West Germany)
In office
22 October 1969 – 7 May 1974
President Gustav Heinemann
Vice Chancellor Walter Scheel
Preceded by Kurt Georg Kiesinger
Succeeded by Helmut Schmidt
Leader of the Social Democratic Party
In office
16 February 1964 – 14 June 1987
National Secretary Hans-Jürgen Wischnewski
Holger Börner
Egon Bahr
Peter Glotz
Preceded by Erich Ollenhauer
Succeeded by Hans-Jochen Vogel
Vice Chancellor of Germany
(West Germany)
In office
1 December 1966 – 20 October 1969
Chancellor Kurt Georg Kiesinger
Preceded by Hans-Christoph Seebohm
Succeeded by Walter Scheel
Federal Minister for Foreign Affairs
In office
1 December 1966 – 20 October 1969
Chancellor Kurt Georg Kiesinger
Preceded by Gerhard Schröder
Succeeded by Walter Scheel
Governing Mayor of West Berlin
In office
3 October 1957 – 1 December 1966
Preceded by Otto Suhr
Succeeded by Heinrich Albertz
President of the Bundesrat
In office
1 November 1957 – 31 October 1958
Preceded by Kurt Sieveking
Succeeded by Wilhelm Kaisen
President of the Berlin House of Representatives
In office
11 January 1955 – 2 October 1957
Preceded by Otto Suhr
Succeeded by Kurt Landsberg (de)
Personal details
Born Herbert Ernst Karl Frahm
18 December 1913
Lübeck, German Empire
Died 8 October 1992 (aged 78)
Unkel, Germany
Cause of death Colon cancer
Resting place Zehlendorf, Berlin
Political party Social Democratic Party (1930–1931, 1948–1992)
Socialist Workers' Party (1931–1946)
Spouse(s) Carlotta Thorkildsen (1941–1948)
Rut Hansen (1948–1980)
Brigitte Seebacher (de) (1983–1992)
Children 4, including Matthias
Signature
Willy Brandt (German: [bʁant]; born Herbert Ernst Karl Frahm; 18 December 1913 – 8 October 1992) was a German statesman who was leader of the Social Democratic Party of Germany (SPD) from 1964 to 1987 and served as Chancellor of the Federal Republic of Germany (West Germany) from 1969 to 1974. He was awarded the Nobel Peace Prize in 1971 for his efforts to strengthen cooperation in western Europe through the EEC and to achieve reconciliation between West Germany and the countries of Eastern Europe.[1] He was the first Social Democrat chancellor[2] since 1930.

Fleeing to Norway and then Sweden during the Nazi regime and working as a left-wing journalist, he took the name Willy Brandt as a pseudonym to avoid detection by Nazi agents, and then formally adopted the name in 1948. Brandt was originally considered one of the leaders of the right wing of the SPD
, and earned initial fame as Governing Mayor of West Berlin. He served as Foreign Minister and as Vice Chancellor in Kurt Georg Kiesinger's cabinet, and became chancellor in 1969. As chancellor, he maintained West Germany's close alignment with the United States and focused on strengthening European integration in western Europe, while launching the new policy of Ostpolitik aimed at improving relations with Eastern Europe.
Brandt was controversial on both the right wing, for his Ostpolitik, and on the left wing, for his support of American policies, including the Vietnam War, and right-wing authoritarian regimes
. The Brandt Report became a recognised measure for describing the general North-South divide in world economics and politics between an affluent North and a poor South.
Brandt was also known for his fierce anti-communist policies
at the domestic level, culminating in the Radikalenerlass (Anti-Radical Decree) in 1972.
Brandt resigned as chancellor in 1974, after
Günter Guillaume, one of his closest aides, was exposed as an agent of the Stasi, the East German secret service.
Early life and the Second World War
Willy Brandt was born Herbert Ernst Carl Frahm in the Free City of Lübeck (German Empire) on 18 December 1913.[3] His mother was Martha Frahm (16 March 1894 – 3 August 1969) a single parent, who worked as a cashier for a department store. His father was an accountant from Hamburg named John Heinrich Möller (1887–1958)[4] whom Brandt never met. As his mother worked six days a week, he was mainly brought up by his mother's stepfather, Ludwig Frahm (1875–1935), and his second wife, Dora.
After passing his Abitur in 1932 at Johanneum zu Lübeck, he became an apprentice at the shipbroker and ship's agent F. H. Bertling. He joined the "Socialist Youth" in 1929 and the Social Democratic Party (SPD) in 1930. He left the SPD to join the more left wing Socialist Workers Party (SAP), which was allied to the POUM in Spain and the Independent Labour Party in Britain. In 1933, using his connections with the port and its ships, he left Germany for Norway to escape Nazi persecution. It was at this time that he adopted the pseudonym Willy Brandt to avoid detection by Nazi agents. In 1934, he took part in the founding of the International Bureau of Revolutionary Youth Organizations, and was elected to its Secretariat.
Brandt was in Germany from September to December 1936, disguised as a Norwegian student named Gunnar Gaasland
. The real Gunnar Gaasland was married to Gertrud Meyer from Lübeck in a marriage of convenience to protect her from deportation. Meyer had joined Brandt in Norway in July 1933.
In 1937, during the Civil War, Brandt worked in Spain as a journalist. In 1938, the German government revoked his citizenship, so he applied for Norwegian citizenship. In 1940, he was arrested in Norway by occupying German forces, but was not identified as he wore a Norwegian uniform. On his release, he escaped to neutral Sweden. In August 1940, he became a Norwegian citizen, receiving his passport from the Norwegian legation in Stockholm, where he lived until the end of the war.
Willy Brandt lectured in Sweden on 1 December 1940 at Bommersvik College about problems experienced by the social democrats in Nazi Germany and the occupied countries at the start of the Second World War. In exile in Norway and Sweden Brandt learned Norwegian and Swedish. Brandt spoke Norwegian fluently, and retained a close relationship with Norway.
In late 1946, Brandt returned to Berlin, working for the Norwegian government. In 1948, he joined the Social Democratic Party of Germany (SPD) and became a German citizen again, formally adopting the pseudonym Willy Brandt as his legal name
.
Politician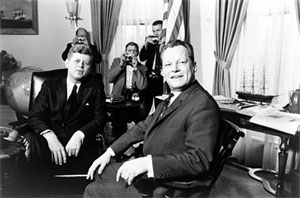 Brandt meeting John F. Kennedy in 1961
In 1950, Brandt, while a member of the federal parliament ("Bundestag") and the editor-in-chief of the "Berliner Stadtblatt," received a secret payment of about 170,000 Deutsche Mark from the US-Government.
[5] Whenever he was confronted with this, he always denied it.
From 3 October 1957 to 1966, Willy Brandt served as Governing Mayor of Berlin, during a period of increasing tension in East-West relations that led to the construction of the Berlin Wall. In Brandt's first year as mayor of Berlin, he also served as the president of the Bundesrat in Bonn.
Brandt was an outspoken critic of Soviet repression of the 1956 Hungarian Uprising and of Nikita Khrushchev's 1958 proposal that Berlin receive the status of a "free city"
. He was supported by the influential publisher Axel Springer. As mayor of West Berlin, Brandt accomplished much in the way of urban development. New hotels, office-blocks and flats were constructed, while both Schloss Charlottenburg and the Reichstag building were restored. Sections of the "Stadtring" Bundesautobahn 100 inner city motorway were opened, while a major housing programme was carried out, with roughly 20,000 new dwellings built each year during his time in office.[6]
At the start of 1961, U.S. President John F. Kennedy saw Brandt as the wave of the future in West Germany and was hoping he would replace Konrad Adenauer as chancellor following elections later that year.[7] Kennedy made this preference clear by inviting Brandt, the West German opposition leader, to an official meeting at the White House a month before meeting with Adenauer, the country's leader. The diplomatic snub strained relations between Kennedy and Adenauer further during an especially tense time for Berlin.[8] However, following the building of the Berlin Wall in August 1961, Brandt was disappointed and angry with Kennedy. Speaking in Berlin three days later, Brandt criticized Kennedy, asserting "Berlin expects more than words. It expects political action." He also wrote Kennedy a highly critical public letter in which he warned that the development was liable "to arouse doubts about the ability of the three [Allied] Powers to react and their determination" and he called the situation "a state of accomplished extortion".[9]
Brandt became the chairman of the SPD in 1964, a post that he retained until 1987, longer than any other party chairman since the founding of the SPD by August Bebel. Brandt was the SPD candidate for the chancellorship in 1961, but he lost to Konrad Adenauer's conservative Christian Democratic Union of Germany (CDU). In 1965, Brandt ran again, but lost to the popular Ludwig Erhard. Erhard's government was short-lived, however, and in 1966 a grand coalition between the SPD and CDU was formed, with Brandt serving as foreign minister and as the 5th Vice-Chancellor of Germany.
Chancellor
At the 1969 elections, again with Brandt as the leading candidate, the SPD became stronger, and after three weeks of negotiations, the SPD formed a coalition government with the smaller Free Democratic Party of Germany (FDP). Brandt was elected Chancellor of the Federal Republic of Germany.
Foreign policy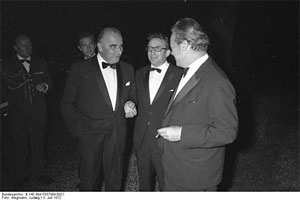 Willy Brandt with French president Georges Pompidou in Cologne, 3 July 1972.
As chancellor, Brandt developed his Neue Ostpolitik (New Eastern Policy).
Brandt was active in creating a degree of rapprochement with East Germany, and also in improving relations with the Soviet Union, Poland, Czechoslovakia, and other Eastern Bloc (communist) countries. A seminal moment came in December 1970 with the famous Warschauer Kniefall in which Brandt, apparently spontaneously, knelt down at the monument to victims of the Warsaw Ghetto Uprising.[10] The uprising occurred during the Nazi German military occupation of Poland, and the monument is to those killed by the German troops who suppressed the uprising and deported remaining ghetto residents to the concentration camps for extermination.

Time magazine in the U.S. named Brandt as its Man of the Year for 1970, stating, "Willy Brandt is in effect seeking to end World War II by bringing about a fresh relationship between East and West. He is trying to accept the real situation in Europe, which has lasted for 25 years, but he is also trying to bring about a new reality in his bold approach to the Soviet Union and the East Bloc."[11] President Richard Nixon also was pushing détente on behalf of the United States. The policies of Nixon and Henry Kissinger, after some initial suspicion, amounted to co-opting Brandt's Ostpolitik.[12]

In 1971, Brandt received the Nobel Peace Prize for his work in improving relations with East Germany, Poland, and the Soviet Union. Brandt negotiated a peace treaty with Poland, and agreements on the boundaries between the two countries, signifying the official and long-delayed end of World War II. Brandt negotiated parallel treaties and agreements with Czechoslovakia.
In West Germany, Brandt's Neue Ostpolitik was extremely controversial, dividing the populace into two camps. One camp embraced all of the conservative parties, and most notably those West German residents and their families who had been driven west ("die Heimatvertriebenen") by Stalinist ethnic cleansing from Historical Eastern Germany, especially the part that was given to Poland as a consequence of the end of the war; western Czechoslovakia (the Sudetenland); and the rest of Eastern Europe, such as in Romania. These groups of displaced Germans and their descendants loudly voiced their opposition to Brandt's policy, calling it "illegal" and "high treason".
A different camp supported and encouraged Brandt's Neue Ostpolitik as aiming at "Wandel durch Annäherung" ("change through rapprochement"), encouraging change through a policy of engagement with the (communist) Eastern Bloc, rather than trying to isolate those countries diplomatically and commercially. Brandt's supporters claim that the policy did help to break down the Eastern Bloc's "siege mentality", and also helped to increase its awareness of the contradictions in its brand of Socialism/Communism, which – together with other events – eventually led to the downfall of Eastern European Communism.
Domestic policies

Brandt's popularity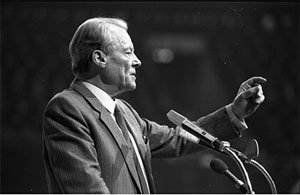 Willy Brandt talking at an SPD meeting in Dortmund, 1983
Brandt's predecessor as chancellor, Kurt Georg Kiesinger, had been a member of the Nazi party, and was a more old-fashioned conservative-liberal intellectual. Brandt, having fought the Nazis and having faced down communist Eastern Germany during several crises while he was the mayor of Berlin, became a controversial, but credible, figure in several different factions. As the Minister of Foreign Affairs in Kiesinger's grand coalition cabinet, Brandt helped to gain further international approval for Western Germany, and he laid the foundation stones for his future Neue Ostpolitik. There was a wide public-opinion gap between Kiesinger and Brandt in the West German polls.
Both men had come to their own terms with the new baby boomer lifestyles. Kiesinger considered them to be "a shameful crowd of long-haired drop-outs who needed a bath and someone to discipline them". On the other hand, Brandt needed a while to get into contact with, and to earn credibility among, the "Ausserparlamentarische Opposition" (APO) ("the extra-parliamentary opposition"). The students questioned West German society in general, seeking social, legal, and political reforms. Also, the unrest led to a renaissance of right-wing parties in some of the Bundeslands' (German states under the Bundesrepublik) Parliaments.
Brandt, however, represented a figure of change, and he followed a course of social, legal, and political reforms. In 1969, Brandt gained a small majority by forming a coalition with the FDP. In his first speech before the Bundestag as the chancellor, Brandt set forth his political course of reforms ending the speech with his famous words, "Wir wollen mehr Demokratie wagen" (literally:
"Let's dare more democracy", or more figuratively, "We want to take a chance on more Democracy")
. This speech made Brandt, as well as the Social Democratic Party, popular among most of the students and other young West German baby-boomers who dreamed of a country that would be more open and more colorful than the frugal and still somewhat-authoritarian Bundesrepublik that had been built after World War II. However, Brandt's Neue Ostpolitik lost him a large part of the German refugee voters from East Germany, who had been significantly pro-SPD in the postwar years.
Chancellor of domestic reform
Although Brandt is perhaps best known for his achievements in foreign policy, his government oversaw the implementation of a broad range of social reforms, and was known as a "Kanzler der inneren Reformen" ('Chancellor of domestic reform').[13] According to the historian David Childs, "Brandt was anxious that his government should be a reforming administration and a number of reforms were embarked upon".[14] Within a few years, the education budget rose from 16 billion to 50 billion DM, while one out of every three DM spent by the new government was devoted to welfare purposes. As noted by the journalist and historian Marion Dönhoff,
"People were seized by a completely new feeling about life. A mania for large scale reforms spread like wildfire, affecting schools, universities, the administration, family legislation. In the autumn of 1970 Jürgen Wischnewski of the SPD declared, 'Every week more than three plans for reform come up for decision in cabinet and in the Assembly.'"[15]
According to Helmut Schmidt, Willy Brandt's domestic reform programme had accomplished more than any previous programme for a comparable period.[16]
Levels of social expenditure were increased,[17] with more funds allocated towards housing, transportation, schools, and communication,[18] and substantial federal benefits were provided for farmers.[19] Various measures were introduced to extend health care coverage,[20] while federal aid to sports organisations was increased.[19] A number of liberal social reforms were instituted[21] whilst the welfare state was significantly expanded[22] (with total public spending on social programs nearly doubling between 1969 and 1975),[23] with health, housing, and social welfare legislation bringing about welcome improvements,[19] and by the end of the Brandt Chancellorship West Germany had one of the most advanced systems of welfare in the world.[13]

Substantial increases were made in social security benefits such as injury and sickness benefits,[13] pensions,[24] unemployment benefits,[13][25] housing allowances,[26] basic subsistence aid allowances,[27] and family allowances and living allowances.[28] In the government's first budget, sickness benefits were increased by 9.3%, pensions for war widows by 25%, pensions for the war wounded by 16%, and retirement pensions by 5%.[18] Numerically, pensions went up by 6.4% (1970), 5.5% (1971), 9.5% (1972), 11.4% (1973), and 11.2% (1974).
Adjusted for changes in the annual price index, pensions went up in real terms by 3.1% (1970), 0.3% (1971), 3.9% (1972), 4.4% (1973), and 4.2% (1974).[29] Between 1972 and 1974, the purchasing power of pensioners went up by 19%.[30] In 1970, war pensions were increased by 16%.[31] War victim's pensions went up by 5.5% in January 1971, and by 6.3% in January 1972. By 1972, war pensions for orphans and parents had gone up by around 40%, and for widows by around 50%. Between 1970 and 1972, the "Landabgaberente" (land transfer pension) went up by 55%.[32] Between 1969 and 1974, the average real standard rate of income support rose (in 1991 prices) from around 300 DM to around 400 DM.[33] Between 1970 and 1974, unemployment benefits rose from around 300 euros to around 400 euros per month, and unemployment assistance from just under 200 euros per month to just under 400 euros per month.[34] In 2001 prices, the average standard social assistance benefit level rose from around 200 euros per month in 1969 to over 250 euros per month in 1974.[35] During most of Brandt's years as chancellor, the majority of benefits increased as a percentage of average net earnings.[36]
In 1970, seagoing pilots became retrospectively insurable, and gained full social security as members of the Non-Manual Workers Insurance Institute. That same year, a special regulation came into force for District Master Chimney Sweeps, making them fully insurable under the Craftsman's Insurance Scheme.[31] An increase was made in tax-free allowances for children, which enabled 1,000,000 families to claim an allowance for the second child, compared to 300,000 families previously.[18] The Second Modification and Supplementation Law (1970) increased the allowance for the third child from DM 50 to DM 60, raised the income-limit for the second child allowance from DM 7,800 to DM 13,200; subsequently increased to DM 15,000 by the third modification law (December 1971), DM 16,800 by the fourth modification law (November 1973), and to DM 18,360 by the fifth modification law (December 1973).[26] A flexible retirement age after 62 years was introduced (1972) for invalids and handicapped persons,[37] and social assistance was extended to those who previously had to be helped by their relatives.[21] From 1971, special subventions were provided to enable young farmers to quit farming "and facilitate their entry into the non-agricultural pension system by means of back payments."[38]
The Third Modification Law (1974) extended individual entitlements to social assistance by means of higher-income limits compatible with receipt of benefits and lowered age limits for certain special benefits. Rehabilitation measures were also extended, child supplements were expressed as percentages of standard amounts and were thus indexed to their changes, and grandparents of recipients were exempted from potential liability to reimburse expenditure of social assistance carrier.[26] The Third Social Welfare Amendment Act (1974) brought considerable improvements for the handicapped, those in need of care, and older persons,[39] and a new fund of 100 million marks for disabled children was established.[18] Allowances for retraining and advanced training and for refugees from East Germany were also increased,[18] together with federal grants for sport.[18] In addition, increases were made in the pensions of 2.5 million war victims.[15] Following a sudden increase in the price of oil, a law was passed in December 1973 granting recipients of social assistance and housing allowances a single heating-oil allowance (a procedure repeated in the winter of 1979 during the Schmidt Administration).[40] Improvements and automatic adjustments of maintenance allowances for participants in vocational training measures were also carried out,[32] and increased allowances were provided for training and retraining, together with special allowances for refugees from East Germany.[41]
There was determined, by statutory regulation issued in February 1970, the category of persons most seriously disabled "to whom, with regard to maintenance aid, an increased demand (50% of the appropriate rate) is being conceded, and, within the scope of relief in special living conditions: a higher rate of nursing aid."[42] In 1971, the retirement age for miners was lowered to 50.[43] An April 1972 law providing for "promotion of social aid services" aimed to remedy, through various beneficial measures (particularly in the field of national insurance and working conditions), the staff-shortage suffered by social establishments in their medico-social, educational and other work. A bill to harmonize re-education benefit and another bill relating to severely handicapped persons became law in May and September 1972 respectively.[37] In 1972, winter payments for construction workers were introduced.[44][45][46]
To assist family planning and marriage and family guidance, the government allocated DM 2 232 000 in 1973 for the payment and for the basic and further training of staff. A special effort was also made in 1973 to organize the recreation of handicapped persons, with a holiday guide for the handicapped issued with the aid of the Federal Ministry of Family and Youth Affairs and Health in order to help them find suitable holiday accommodation for themselves and their families. From 1972 to 1973, the total amount of individual aids granted by Guarantee Fund for the integration of young immigrants increased from 17 million DM to 26 million DM.[47] Under a law passed in April 1974, the protection hitherto granted to the victims of war or industrial accidents for the purpose of their occupational and social reintegration was extended to all handicapped persons, whatever the cause of their handicap, provided that their capacity to work had been reduced by at least 50%.[48]
A law on explosives (Sprengstoffgesetz) was the subject of two application ordinances (on 17 November 1970 and 24 August 1971) and a general regulatory provision (19 May 1971), which covered respectively the application of the law to nationals of EC Member States, the duty of employers to notify in time the inspection authorities of detonation plans, the interpretation of the purpose and field of application of the law, authorizations for transport of explosives, and control and recognition of training courses on work with explosives.[49] Taking into account the enormous high peaks of air traffic noise and its concentration at a limited number of airports, the Law for Protection against Aircraft Noise of 1971 sought to balance two conflicting demands, the first being the legitimate demand by industry, business and the public for an efficient air-traffic-system, and secondly, the understandable and by no means less legitimate claims of the affected people for protection and compensation. The legislation regulated the establishment of so-called "Lärmschutzzonen" (protection areas against aircraft noise) for all 11 international airports and for those 34 military airports used for jet air craft, and the law also authorised the Federal Department of the Interior to decree protection areas for each of those mentioned airports with approval by the "Bundesrat," the representation of the German Federal States.[50]
In the field of health care, various measures were introduced to improve the quality and availability of health care provision. Free hospital care was introduced for 9 million recipients of social relief,[15] while a contributory medical service for 23 million panel patients was introduced.[15] Pensioners were exempted from paying a 2% health insurance contribution,[18] while improvements in health insurance provision were carried out,[13] as characterised by an expanded sickness insurance scheme, with the inclusion of preventative treatment.[26] The income limit for compulsory sickness insurance was indexed to changes in the wage level (1970)[26] and the right to medical cancer screening for 23.5 million people was introduced.[51] In January 1971, the reduction of sickness allowance in case of hospitalisation was discontinued.[49] That same year, compulsory health insurance was extended to the self-employed.[52] In 1970, the government included nonmedical psychotherapists and psychoanalysts in the national health insurance program.[53]
Pupils, students and children in kindergartens were incorporated into the accident insurance scheme,[26] which benefited 11 million children.[15] Free medical checkups were introduced that same year,[54] while the Farmers' Sickness Insurance Law (1972) introduced compulsory sickness insurance for independent farmers, family workers in agriculture, and pensioners under the farmers' pension scheme, medical benefits for all covered groups, and cash benefits for family workers under compulsory coverage for pension insurance.[26] Participation in employer's health insurance was extended to four million employees.[51] A Development Law of December 1970 made it possible for all employees voluntarily to become members of the statutory sickness insurance. The level of income for compulsory sickness insurance was indexed to 75% of the respective assessment level for pension insurance, while voluntarily insured employees were granted a claim to an allowance towards their sickness insurance from their employer. This law also introduced a new type of sickness insurance benefit, namely facilities for the early diagnosis of disease. Apart from the discretionary service of disease prevention which had existed since 1923, insured persons now had a right in certain circumstances to medical examinations aimed at the early diagnosis of disease. According to one study, this marked a change in the concept of sickness insurance: it now aimed at securing good health.[40]
The Hospital Financing Law (1972) secured the supply of hospitals and reduced the cost of hospital care, "defined the financing of hospital investment as a public responsibility, single states to issue plans for hospital development, and the federal government to bear the cost of hospital investment covered in the plans, rates for hospital care thus based on running costs alone, hospitals to ensure that public subsidies together with insurance fund payments for patients cover total costs".[26] The Benefit Improvement Law (1973) made entitlement to hospital care legally binding (entitlements already enjoyed in practice), abolished time limits for hospital care, introduced entitlement to household assistance under specific conditions, and also introduced entitlement to leave of absence from work and cash benefits in the event of a child's illness.[26] In 1971, to encourage the growth of registered family holiday centres, the Federal Government granted subsidies for the building and appointing of 28 of these centres at a total cost of 8 million DM.[49] Free preliminary investigations were introduced for 2.5 million children up until the age of 4 for the early detection and correction of developmental disorders, and health research was expanded. Federal grants were increased, especially for the Cancer Research Centre in Heidelberg, while a Federal Institute for Sport Science was set up, together with the Institute for Social Medicine and Epidemiology in Berlin. In addition, funding for new rehabilitation facilities was increased.[32]
The Pension Reform Law (1972) guaranteed all retirees a minimum pension regardless of their contributions[55] and institutionalized the norm that the standard pension (of average earners with forty years of contributions) should not fall below 50% of current gross earnings.[26] The 1972 pension reforms improved eligibility conditions and benefits for nearly every subgroup of the West German population.[56] The income replacement rate for employees who made full contributions was raised to 70% of average earnings. The reform also replaced 65 as the mandatory retirement age with a "retirement window" ranging between 63 and 65 for employees who had worked for at least thirty-five years. Employees who qualified as disabled and had worked for at least thirty-five years were extended a more generous retirement window, which ranged between the ages of 60 and 62. Women who had worked for at least fifteen years (ten of which had to be after the age of age 40) and the long-term unemployed were also granted the same retirement window as the disabled. In addition, there were no benefit reductions for employees who had decided to retire earlier than the age of 65.[57] The legislation also changed the way in which pensions were calculated for low-income earners who had been covered for twenty-five or more years. If the pension benefit fell below a specified level, then such workers were allowed to substitute a wage figure of 75% of the average wage during this period, thus creating something like a minimum wage benefit.[58] According to one study, the 1972 pension reform "enhanced" the reduction of poverty in old age.[59]
Voluntary retirement at 63 with no deductions in the level of benefits was introduced,[56] together with the index-linking of war victim's pensions to wage increases.[13] Guaranteed minimum pension benefits for all West Germans were introduced,[23] along with automatic pension increases for war widows (1970).[54] Fixed minimum rates for women in receipt of very low pensions were also introduced, together with equal treatment for war widows.[60] Improvements in pension provision were made for women and the self-employed,[61] a new minimum pension for workers with at least twenty-five years' insurance was introduced,[27] faster pension indexation was implemented, with the annual adjustment of pensions brought forward by six months,[62] and the Seventh Modification Law (1973) linked the indexation of farmers' pensions to the indexation of the general pension insurance scheme.[26]
A new pension for "severely handicapped" persons was introduced in 1972,[63] along with occupational injury annuities[64] and a special pension for long-standing insurant from the age of 63 and a pension due to "limited earning capacity" from the age of 62.[65] In addition, a special pension benefit was introduced for workers aged 60 and above after unemployment.[66] Under the Severely Handicapped Persons Act of April 1974, a seriously disabled person could retire early on an old age pension at the age of 62 years, provided that he "complied with the other provisions of the legislation on pension insurance."[48]
In education, the Brandt Administration sought to widen educational opportunities for all West Germans. The government presided over an increase in the number of teachers,[15] generous public stipends were introduced for students to cover their living costs,[21] and West German universities were converted from elite schools into mass institutions.[21] The school leaving age was raised to 16,[67] and spending on research and education was increased by nearly 300% between 1970 and 1974.[67] Working through a planning committee set up for the "joint task" of university development, the Federal Government started to make investment costs in 1971.[68] Fees for higher or further education were abolished,[13] while a considerable increase in the number of higher education institutions took place.[13] A much needed school and college construction program was carried out,[13] together with the introduction of postgraduate support for highly qualified graduates, providing them with the opportunity to earn their doctorates or undertake research studies.[69] A law on individual promotion of vocational training came into force in October 1971, which provided for financial grants for attendance at further general or technical teaching establishments from the second year of studies at higher technical schools, academies and higher education establishments, training centres of second degree, or certain courses of television teaching. Grants were also made in certain cases for attendance at training centres located outside the Federal Republic.[49]
The education budget was doubled from 3% to 6%, while an expansion of secondary education took place. The number of university students went up from 100,000 to 650,000, 30,000 more places were created in the schools, and an additional 1,000 million marks was allocated for new school buildings. In addition, the provision of scholarships was expanded, with the 1970 programme providing for, in the words of one observer, "5,000 new scholarships for graduates, and double that number were being awarded three years later."[41] Grants were introduced for pupils from lower income groups to stay on at school, together with grants for those going into any kind of higher or further education.[69][70] Increases were also made in educational allowances,[26] as well as spending on science.[28] In 1972, the government allocated 2.1 million DM in grants to promote marriage and family education.[37] Under the Approbationsordnung (medical education profession act) of 1970, the subject of psychosomatic medicine and psychotherapy at German universities became a compulsory subject for medical students,[71] and that same year education of clinical and biomedical engineers was introduced.[72] The Brandt Administration also introduced enabling legislation for the introduction of comprehensives, but left it to the Lander "to introduce them at their discretion." While the more left-wing Lander "rapidly began to do so," other Lander found "all sorts of pretexts for delaying the scheme." By the mid-Eighties, Berlin had 25 comprehensives while Bavaria only had 1, and in most Lander comprehensives were still viewed as "merely experimental."[73]
In the field of housing, various measures were carried out to benefit householders, such as in improving the rights of tenants and increasing rental assistance. According to the Rent Subsidies Act (Wohngeldgesetz) of 1970, "low-income tenants and owners of accommodations are supported with rents and burdens subsidies."[74] The determination of the income of families taken into consideration for housing allowances was simplified,[75] and increased levels of protection and support for low-income tenants and householders were introduced[13] which led to a drop in the number of eviction notices. By 1974, three times as much was paid out in rent subsidies as in 1969, and nearly one and a half million households received rental assistance.[39] Increases were made in public housing subsidies,[76] as characterised by a 36% increase in the social housing budget in 1970[18] and by the introduction of a programme for the construction of 200,000 public housing units (1971).[77] From 1970 to 1971, an 18.1% increase in building permits for social housing units was made.[78] Other reforms aimed at improving tenants' rights included protection against conversion of rental housing into condominiums, the prohibition of the misappropriation of living space, new regulation of the apartment broker system, and a fee scale for engineers and architects. In addition, the income limits for eligibility for social housing were raised and adapted in order of general income trends.[32]
A loose form of rent regulation was introduced under the name of "Vergleichmieten" ('comparable rents'),[79] together with the provision of "for family-friendly housing" freight or rent subsidies to owners of apartments or houses whose ceiling had been adapted to increased expenses or incomes (1970).[80] In addition, a law for the creation of property for workers was passed, under which a married worker would normally keep up to 95% of his pay, and graded tax remission for married wage-earners applied up to a wage of 48,000 marks, which indicated the economic prosperity of West Germany at that time.[18] The Town Planning Act (1971) encouraged the preservation of historical heritage and helped open up the way to the future of many German cities,[60] while the Urban Renewal Act (1971) helped the states to restore their inner cities and to develop new neighbourhoods.[81] In addition, gGuidelines of December 1972 on the usage of federal funds in assisting social housing construction laid down that a certain standard needed to be observed when building homes for severely handicapped persons.[82]
The Second Housing Allowance Law of December 1970 simplified the administration of housing allowances and extended entitlements, increased the income limit to 9,600 DM per year plus 2,400 DM for each family member, raised the general deduction on income to determine reckonable income from 15% to 20%, allowance rates listed in tables replacing complicated calculation procedure based on "bearable rent burdens."[26] The Housing Construction Modification Law (1971) increased the income-limit for access to low rent apartments under the social housing programme from 9,000 DM to 12,000 DM per annum plus 3,000 DM (instead of 2,400) for each family member. The law also introduced special subsidies to reduce the debt burden for builders not surpassing the regular income-limit by more than 40%. Under a 1973 law, the limits were increased to 1,000 DM plus 9,000 DM and 4,200 DM for additional family members.[26] The Rent Improvement Law (1971) strengthened the position of tenants. Under this legislation, notice was to be ruled illegal "where appropriate substitute accommodation not available; landlords obliged to specify reasons for notice,"[26] whilst the Eviction Protection Law (1971) established tenant protection against rent rises and notice. The notice was only lawful if in the "justified interest of the landlord." Under this law, higher rents were not recognised as "justified interest."[26] The Second Eviction Protection Law (1972) made the tenant protection introduced under the Eviction Protection Law of 1971 permanent. Under this new law, the notice was only lawful where the landlord proved justified personal interest in the apartment. In addition, rent increases were only lawful if not above normal comparable rents in the same area.[26]
Directives on the housing of foreign workers came into force in April 1971. These directives imposed certain requirements for space, hygiene, safety, and amenities in the accommodation offered by employers. That same year, the Federal Government granted a sum of 17 million DM to the Länder for the improvement and modernization of housing built before 21 June 1948.[49] In addition, according to a 1971 regulation of the Board of the Federal Labour Office, "construction of workers' hostels qualified for government financial support under certain conditions."[83] The "German Council for town development", which was set up by virtue of Article 89 of a law to foster urban building, was partly aimed at planning a favourable environment for families (such as the provision of playgrounds). In 1971, the Federal Labour Office made available DM 425 million in the form of loans to provide 157 293 beds in 2 494 hostels. A year later, the Federal Government (Bund), the Lander and the Federal Labour Office promoted the construction of dwellings for migrant workers. They set aside 10 million DM for this purpose, which allowed the financing of 1650 family dwellings that year.[37]
Development measures were begun in 1972 with federal financial aid granted to the Lander for improvement measures relating to towns and villages, and in the 1972 budget, DM 50 million was earmarked, i.e. a third of the total cost of some 300 schemes. A council for urban development was formed in May 1972 with the purpose of promoting future work and measures in the field of urban renovation.[37] In 1973, the government provided assistance of DM 28 million for the modernisation of old dwellings.[47] New rules were introduced regarding improvements in the law relating to rented property, and control of the rise in rents and protection against cancellation of leases also safeguarded the rights of migrant workers in the sphere of housing.[37] A law of July 1973 fixed the fundamental and minimum requirements regarding workers' dwellings, mainly concerning space, ventilation and lighting, protection against damp, heat and noise, power and heating facilities and sanitary installations.[47]
In regards to civil rights, the Brandt Administration introduced a broad range of socially liberal reforms aimed at making West Germany a more open society. Greater legal rights for women were introduced, as exemplified by the standardisation of pensions, divorce laws, regulations governing use of surnames, and the introduction of measures to bring more women into politics.[60] The voting age was lowered from 21 to 18,[84] the age of eligibility for political office was lowered to 21,[69] and the age of majority was lowered to 18 in March 1974.[69] The Third Law for the Liberalization of the Penal Code (1970) liberalised "the right to political demonstration",[16][69] while equal rights were granted to illegitimate children that same year.[27] A 1971 amendment to a federal civil service reform bill enabled fathers to apply for part-time civil service work.[85] In 1971, corporal punishment was banned in schools,[86] and that same year a new Highway Code was introduced.[87] In 1973, a measure was introduced that facilitated the adoption of young children by reducing the minimum age for adoptive parents from 35 to 25.[47]
A number of reforms were also carried out to the armed forces,[19] as characterised by a reduction in basic military training from 18 to 15 months, a reorganisation of education and training, and personnel and procurement procedures.[39] Education for the troops was improved,[88] a personnel reshuffle of top management in the Bundeswehr was carried out,[89] academic education was mandated for officers beyond their basic military training, and a new recruiting policy for Bundeswehr personnel was introduced with the intention of building an army that reflected West Germany's pluralistic society. Defense Minister Helmut Schmidt led the development of the first Joint Service Regulation ZDv 10/1 (Assistance for Innere Fuehrung, classified: restricted), which revitalized the concept of Innere Fuehrung while also affirming the value of the "citizen in uniform." According to one study, as a result of this reform, "a strong civil mindset displaced the formerly dominant military mindset," and forced the Bundeswehr's elder generation to accept a new type of soldier envisioned by Schmidt.[90] In addition, the Federal Cost of Moving Act increased the relocation allowance (with effect from 1 November 1973), with the basic allowances raised by DM 50 and DM 100 respectively, while extra allowances for families were raised to a uniform amount of 125 DM.[91]
In 1970, the Armed Forces Vocational Schools and the Vocational Advancement Organization extended their services for the first time to conscripts, "so far as military duty permitted."[92] New enlistment bonuses were authorized and previous bonus schemes were improved,[93] and new pay regulations were introduced that improved the financial situation of military personnel and civil servants.[94] In July 1973, the 3rd Amendment to the Civilian Service Act came into force; "a prerequisite for the creation of additional civilian service places for recognized conscientious objectors." The amendment provided that men recognized as conscientious objectors while performing military service should immediately be transferred to a civilian service assignment.[95] The maximum amount for servicemen enlisting for at least 12 years was increased from DM 6,000 to DM 9,000,[96] and from October 1971 onwards, long-term personnel were paid grants towards the cost 'of attending educational institutes of the "second educational route" or participating in state-recognized general education courses provided by private correspondence schools and the "television college."'[97] In 1972, two Bundeswehr universities were established;[98][99] a reform which, according to one historian, "fought against the closed nature of the military and guaranteed that officers would be better able to successfully interact with the civilian world."[100] From April 1973, the general maintenance payments under the Law amending the Maintenance Security Act and the Workplace Protection Act were increased, while increases were also made in the special allowance (Christmas bonus) for conscripts, together with the dismissal allowance. The expense allowance for troops on duty-related absence from place of employment was improved, together with travel subsidies and provisions for military service damaged soldiers and their families.[101] In addition, the position of non-commissioned officers was improved.[102]