Ezra Stiles
by Wikipedia
Accessed: 7/26/18
NOTICE: THIS WORK MAY BE PROTECTED BY COPYRIGHT
YOU ARE REQUIRED TO READ

THE COPYRIGHT NOTICE AT THIS LINK

BEFORE YOU READ THE FOLLOWING WORK, THAT IS AVAILABLE SOLELY FOR PRIVATE STUDY, SCHOLARSHIP OR RESEARCH PURSUANT TO 17 U.S.C. SECTION 107 AND 108. IN THE EVENT THAT THE LIBRARY DETERMINES THAT UNLAWFUL COPYING OF THIS WORK HAS OCCURRED, THE LIBRARY HAS THE RIGHT TO BLOCK THE I.P. ADDRESS AT WHICH THE UNLAWFUL COPYING APPEARED TO HAVE OCCURRED. THANK YOU FOR RESPECTING THE RIGHTS OF COPYRIGHT OWNERS.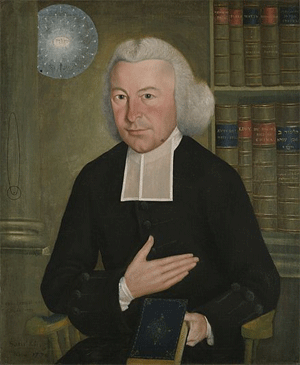 Rev. Ezra Stiles, 1770–1771, by Samuel King
7th President of Yale University
In office
1778–1795
Preceded by Naphtali Daggett
as pro tempore
Succeeded by Timothy Dwight IV
Personal details
Born December 10, 1727
North Haven, Connecticut
Died May 12, 1795 (aged 67)
New Haven, Connecticut
Children Betsey Stiles; Ruth (Stiles) Gannett; Emilia (Stiles) Leavitt; Polly (Stiles) Holmes; Isaac Stiles
Signature
Ezra Stiles (December 10, 1727[1] – May 12, 1795) was an American academic and educator,
a Congregationalist minister, theologian and author. He was seventh president of Yale College (1778–1795), and one of the founders of Brown University.
[2][3]
Early life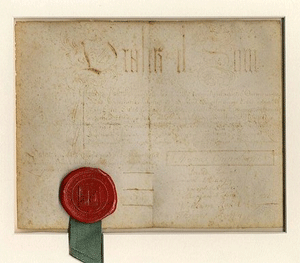 Yale College diploma, Ezra Stiles, Class of 1746
Born the son of the Rev. Isaac Stiles in North Haven, Connecticut, and Kezia Taylor (1702–1727), the daughter of poet Edward Taylor.
Ezra Stiles graduated from Yale in 1746. He studied theology and was ordained in 1749, tutoring at Yale from that year until 1755
. At one point he nearly became an Anglican: the Rev. Dr. Samuel Johnson in a letter to Archbishop Seeker of Canterbury on April 10, 1762, confided that Stiles "was once on the point of conforming to the Church, but was dissuaded by his friends, and is become much of a Latitudinarian."[4] Styles resigned from the ministry in 1753 to study law and practice at New Haven, but returned to the cloth as a Congregationalist minister two years later. Historians Helen A. Lane and Marion B. Walkden report that he was the first minister of the Dighton Community Church in Massachusetts. They state:
Ezra Stiles, first settled minister of the church, was later made president of Yale College.

Driven out by the British in March of 1776, he arrived in Dighton with his family and several of his former Newport congregation. Among them was William Ellery, singer (sic) of the Declaration of Independence.

Ezra as minister of the half finished church at Lower Four Corners was paid about three hundred dollars, house, and wood.

While minister of the Dighton Church, Ezra Stiles received on July 13th a copy of the Declaration of Independence to be read to the congregation. It was brought to him by Mr. Channing, father of the famous preachers. Among Rev. Stiles' many friends were Benjamin Franklin, Robert J. Payne, General Stark, John Adams, President Langdon of Harvard, and many leaders of the Revolutionary War period.

[5]
In 1784, Stiles was elected an honorary member of the Society of the Cincinnati of Connecticut, one of the first so honored, for his ardent support of the Patriot cause.
Newport life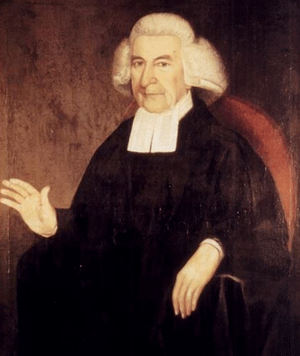 Ezra Stiles by Reuben Moulthrop
Trinity Church, the Anglican Church in Newport, Rhode Island, asked him to become its minister, but he turned the offer down. Instead, in 1755, he became pastor of the Second Congregational Church, also in Newport, where he also served as Librarian of the Redwood Library and Athenaeum.
He kept an informative diary of his life and distinguished acquaintances in Newport, including his association with Aaron Lopez.
Newport's Ezra Stiles House is on the National Historic Register.
But as the trickle of Sephardic arrivals continued -- along with a much smaller trickle of Jews from central Europe, who joined the Sephardic congregations when they got here -- Jews were scattering to cities other than New York, establishing little settlements in Philadelphia, Charleston, Savannah, and New Orleans to the south, and in New England to the north, following the pattern of expansion of the American colonies along the eastern seaboard. A particularly important Sephardic community had been established early in the eighteenth century in Newport, where sons and grandsons of the Twenty-Three, along with their later-arriving cousins, had settled and were taking part in Newport's booming trade. By 1750, Newport had outdistanced New York as a commercial seaport, and Newport's Sephardim were getting even richer than New York's. There were strong ties between Jewish Newport and Jewish New York. The famous Touro Synagogue in Newport was built as -- and continues to be -- a branch of New York's Shearith Israel, and is owned by the New York congregation (it pays rent of a dollar a year). But in terms of eighteenth-century politics, Newport and New York were somewhat unlike. Newport, after all, was a New England city. There was more pro-Tory feeling about. Writing to his young Newport cousin, Aaron Lopez, Daniel Gomez frequently chided him for failing to support the Revolutionary cause. But young Aaron, though he respected his New York relative, had different ideas. On his arrival in America he had sworn in his naturalization oath to "be faithful and bear true allegiance to His Majesty George the Third." And Aaron had business reasons for remaining on good terms with the British. He had extensive dealings with them in Newport's flourishing slave trade....

Slavery, and their part in it, has understandably become a sore point with the Sephardim, who tend to play down their ancestors' role, or to insist that Jewish merchants who took part in the slave trade did so "only on a very limited scale." Looking at it in historical perspective, however, and bearing in mind the attitudes that prevailed at the time -- and remembering man's limitless capacity to overlook his own folly -- it is possible to view slavery as it was viewed in the eighteenth century, as just another business. No one questioned the morality of the slave trade. Whether it was right or wrong was something not even considered. It was not in any way a Jewish preoccupation. All the "best people" were involved in it, and a great many of New England's oldest, finest, and most redoubtable fortunes are solidly based on human cargo. (One should not point to the Jews and overlook the Christians.)

In New England, slavery was not only tacitly approved. It was actually touted as an institution of great benefit to the black man, in that it brought him out of the heathen jungle into the civilized land of Christian godliness. A certain elder of the church in Newport would, according to one historian, go to church the Sunday following the arrival of a slaver from the Coast and "thank God that another cargo of benighted beings had been brought to a land where they could have the benefit of a Gospel dispensation." In a volume called Reminiscences of Newport, an idyllic picture of slavery is painted, and the attitudes prevalent in Aaron Lopez' day are perfectly defined. "If we look at the relation of master and slave at that time," the author writes, "we must own that the attachment between them was stronger, and the interest manifested in the welfare of each other far greater than anything in our days between employer and employee." He adds, "Few were the complaints of the servitude exacted." True, there were some who regarded slavery with distaste or even horror, but these were regarded as harmless eccentrics. Ministers such as Ezra Stiles and Samuel Hopkins ranted against slavery from their New England pulpits, but to little avail. Every man of substance owned slaves. The Episcopal Church itself owned a plantation in Barbados, and from time to time had to purchase fresh slaves to keep it in operation. And slavery had become such an immensely profitable business that those men engaged in it had no difficulty whatever in turning deaf ears to their scattered critics.

Newport's first human cargo from Africa arrived as early as 1696, and soon afterward began that interesting triangular trade route which the slavers followed for the next hundred years. A ship would set sail from Newport to the west coast of Africa loaded with hogsheads of New England rum. In Africa, the rum would be traded for slaves, who would then be carried to the West Indies, where the third major transaction would take place -- slaves traded for sugar, which was then brought back to Newport, where no less than twenty-two stills waited to turn the sugar into rum, which would then make its way back to Africa to be exchanged for more slaves.

The rum, in part, stayed in the African coastal colonies, where it was simply another form of currency, and of course a small portion of it went into the interior of Africa, where tribal chieftains accepted it in payment for their people. But most of the rum eventually went to Europe -- to England, France, Holland, Portugal, and Denmark -- for all these countries were then engaged in what amounted to an international business. And these were the countries, too, that needed slaves to provide labor in their expanding colonies.

There were opportunities for sizable profits at each corner of the triangular slave trade, and from a great variety of other goods that were bought, sold, and traded along the way. But slaves produced the tidiest yield -- between £1,500 and £2,000 profit per shipload being about average, at a time when, to get an idea of comparative prices, a hundred-gallon cask of Madeira wine sold for something like £6. At the height of the slave trade when Aaron Lopez was active, as many as 184 vessels were involved from the state of Rhode Island alone. In the United States, only South Carolina exceeded this figure. This meant that Newport saw the arrival or departure of a slave ship every single day of the year.

Of course it was easier for the men who owned the slaving fleets to justify their curious occupation. Most owners never set foot aboard their ships. They had never seen a slave ship being unloaded or watched the sick and filthy men and women -- and children, too -- emerge with their black skins gone gray from hunger and confinement below the decks. The same was true of the rest of commercial and social Newport. Slavery was invisible. Slaves were nearly always disposed of in West Indian or southern ports. As Jeremy Belknap, an old Newporter, once recalled: "Very few cargoes ever came to this port. . . . I remember one, between thirty and forty years ago, which consisted almost wholly of children . . . sometimes the Rhode Island vessels, after having sold their prime slaves in the West Indies, brought the remnants of their cargoes hither for sale." Mr. Belknap then wistfully added: "Since this commerce has declined, the town of Newport has gone to decay."

Out of sight was out of mind and, meanwhile, an altogether different sort of character was required for the man who captained a slaving ship, who anchored off the African coast and engaged in the actual barter of human bodies in exchange for hogsheads of rum.

Of a different caliber, too, was the "governor" who operated the coastal "castle" where slaves were herded and corraled until sold. At the height of the eighteenth-century slave trade, as many as forty of these stations were strung along the so-called Slave Coast, the low-lying delta country that stretches for 700 miles between the mouth of the Volta River and Mount Cameroon. Here, those blacks "deemed to make the best slaves" were brought for 350 years. Of the forty castles, fourteen were English, three were French, fifteen were Dutch, four were Portuguese, and four were Danish. But from the figures of a single year of trade -- 38,000 slaves sold by the British, 20,000 by the French, 4,000 by the Dutch, 10,000 by the Portuguese, and 2,000 by the Danes -- it is quite clear that more than half the trade was in British hands. [ i]

Slaves were driven on foot to these castles from their villages in the interior. For this most dreadful stage of their long journey, during which the greatest loss of life occurred, their herdsmen were almost always their own people. The most demoralized positions in the entire slave trade fell to these men. As for the native chieftain who sold off members of his tribe for barrels of rum, he was almost as remote from the death and torture of the business as the powdered and bewigged ladies and gentlemen back in Newport, chatting over teacups, the leaders of business and society who were enjoying the gratifying monetary fruits of the operation at the other end. White or black, slavery was the creation of the nabobs.

On the African coast, price negotiations were in the hands of the slaver captain and the resident governor of the castle. It was all very businesslike, and there were fluctuations in the market just as there were in every other commodity. Sometimes it took months for a satisfactory deal to be completed, but once it was, the slaves were loaded aboard with great dispatch. A captain who "lost" his slaves for any reason was, understandably, not assured a precisely warm welcome back in Newport, and so some care was taken for the slaves' well-being, but no more care than was economically feasible. Slave quarters were in spaces between the decks, three to three and a half feet high. Men were stretched out on their backs, in spaces eighteen inches wide per man, their ankles secured by chains. Women and children lay in a separate compartment, equally crowded but unchained. The journey across the Atlantic took anywhere from six to ten weeks, depending on the weather. Sometimes, if the captain was a lenient one, the prisoners were allowed above decks for short periods to get exercise and a breath of fresh air. Often, during these moments, prisoners tried to fling themselves overboard into the sea. Uncooperative prisoners were punished in such bizarre ways as being tied to ships' anchor chains and dragged in the wake.

There were equally bizarre dangers to be encountered by those employed at various points of the slaving triangle. One of Aaron Lopez' Da Costa cousins, who helped her husband with his end of the business in Kingston, Jamaica, and who happened to be pregnant at the time, one night "went to draw rum to adulterate for the Sunday sale of slaves" [ii] by candlelight. A spark from her candle dropped into the high-proof rum, and the rum, along with the unfortunate woman, went up in flames. Mrs. Da Costa very nearly did for Kingston what Mrs. O'Leary's cow later did for Chicago, for nearby were "rum, brandy and gin shops by the score" which contained thousands of inflammable gallons. Luckily, the "eingine" arrived quickly and the fire was extinguished, though too late to save the lady.

In this, Newport's leading, highly respected, even fashionable industry, young Aaron Lopez -- enterprising, handsome, with dark hair, high cheekbones, and large, dark, commanding eyes; small and wiry -- was an early success. From the pennies saved while working with his cousin Jacob Rivera, he had been able, within two years, to become a partner in the purchase of the ship Ann, described in her bill of sale as "A double deck new brigantine about 113 tons burthen . . . completely finished for the African trade . . . to be sheathed with inch pine boards or 1/2 inch cedar ... the awning, a second boat, caboose, colors, small arms, chains and hand cuffs [these items are underscored in the bill of sale] and every other small utensil to be excluded and provided by the Captain." Not even the implements of imprisonment were dealt in by the owner. [iii]

At 113 tons, the Ann was probably about seventy feet in length, a small ship for such long voyages, but few slave ships were larger. Her cost to Aaron Lopez was quoted at "£690 Sterling," not even half the profit that could be made from a single load of slaves. On November 27, 1772, nine months after she had been ordered, the Ann lay ready to sail in Newport harbor, her decks loaded with such items as Madeira wine, brown sugar, molasses, vinegar, thirty sheep, thirty-nine turkeys, twenty-eight geese, twenty-one ducks. But the largest item, which caused the Ann to ride low in the water, was "98 hogsheads and 14 tierces New England Rum," approximately 11,000 gallons, weighing over forty tons. Lopez made a brief inspection of his new ship -- probably the last he ever saw of her -- and turned her over to his captain, a sturdy Yankee named William Einglish, with the following orders:

Sir:

Our brig the Ann, of which you are at present the master, being loaded and ready for the Seas, Our orders to you are, That you Embrace the first fair wind and make the best of your way to the Coast of Africa; and as we have no opinion of the windward Coast trade, we think it advisable, that as soon as you procure the necessary rice that you proceed without delay to Anamoboe Road; when please God you arrive there safe Convert your cargo into good Slaves; on the best terms you can; you are not insensible that lying any considerable time on the Coast is not only attended with a very heavy expense, but also great risk of Slaves you may have on board. We therefore would recommend to you dispatch, even if you are obliged to give a few gallons more or less on each slave....

Obviously, a great deal depended on the reliability of the captain, and there is no way of telling how many of these men were able successfully to cheat their owners. But Einglish seems to have been an honest man. His orders went on to explain that a certain David Mill, governor of one of the coast castles, still owed Lopez' cousin Jacob Rivera "twenty-seven men and thirteen women slaves" from an earlier shipment which had arrived short that number. These, Lopez asserted, Mill would "immediately deliver" to Captain Einglish, and he was sure of this "from Mr. Mill's universal character." In order that these forty not be confused with the rest of the shipment, Lopez instructed the captain to "put some distinguishing mark" on those, "that we may distinguish them from those of the cargo."

The bookkeeping was then explained. Two-thirds of the regular cargo were to be bought on Lopez' account, and the remaining third were to be charged to Jacob Rivera. The forty owed slaves were to be credited to each man equally. All slaves, the orders advised, were to be sold in the slave market of Savannah La Mar, Jamaica, and the Ann was to return to Newport "clean of them."

AARON LOPEZ' SHIPS made yearly visits to Africa in this fashion and, from his modest beginning with the Ann, his fleet grew to the point where, at the height of his career, just before the first guns of the American Revolution, he owned, or partly owned, more than thirty vessels in what was called the "African Trade," or, more euphemistically, the "West Indian Trade."

As his fortune grew, so did the size of his family. He seems to have been cut out to be a patriarch on the grandest scale...

Aaron had not joined in the nonimportation agreement, according to which a number of New England merchants had pledged to import no further goods from Britain. He could not afford to. A good standing with the British was important for business reasons. At heart, he was probably not an outright Tory. He was not as Tory as, for instance, his neighbor and fellow clubman Isaac Hart, and several other Newport Jews -- a state of affairs that had begun to split Newport's Jewish club down the center. Lopez found himself in a difficult situation when the British attacked and seized Newport in 1777 -- moving 8,000 troops onto the island, destroying 480 houses, burning ships in the harbor, devastating fields and orchards, and in general sacking and looting the city. At this point, Aaron deemed it wise to move his large family elsewhere, to secure them, as he put it in a letter to a friend, "from sudden Allarums and the Cruel Ravages of an enraged Enemy." He chose the considerably safer inland town of Leicester, Massachusetts. All the Lopezes -- including his father-in-law, Mr. Rivera -- moved there in the autumn of that year.

Here, he wrote, "I pitched my tent, erecting a proportionable one to the extent of my numerous family on the summit of a high healthy hill, where we have experienced the civilities and hospitality of a kind Neighborhood." It was indeed a proportionable tent that Aaron Lopez pitched -- a huge, square mansion of brick with white pilasters at the comers and tall arched windows that addressed the surrounding landscape. The Lopez mansion still stands as part of Leicester Academy. In his grand house, decorated by his young and pretty wife, Aaron Lopez became a great host, and was noted for the size and opulence of his dinner parties, receptions, and balls. He became a Jewish Maecenas, a vast patron of the arts and education, a collector of paintings, and he was still under fifty, still in his prime....

Learning of his death, Ezra Stiles, who was by now president of Yale, extolled him as

that amiable, benevolent, most hospitable & very respectable Gentleman Mr. Aaron Lopez ... a merchant of the first eminence; for Honor & Extent of Commerce probably surpassed by no Merchant in America. He did business with the greatest ease and clearness -- always carried about a Sweetness of Behavior, a calm Urbanity, an agreeable & unaffected Politeness of manners. Without a single Enemy & the most universally beloved by an extensive Acquaintance of any man I ever knew. His beneficence to his Family Connexions, to his Nation, and to all the World is almost without a parallel. He was my intimate Friend & Acquaintance!

The fact that much of Aaron Lopez' business was the business of slavery appears to have made little difference to the noted educator and antislavery preacher. Stiles, apparently, was against slavery in the abstract, while quite aware that a number of his intimate friends and acquaintances made their money in it. He did, however, find it quite difficult to reconcile the long list of glowing qualities he attributed to Mr. Lopez with the fact that Aaron Lopez was a Jew. His eulogy continues: "Oh! How often have I wished that sincere, pious, and candid mind could have perceived the evidence of Xtianity, perceived the Truth as it is in Jesus Christ, known that JESUS was the MESSIAH predicted by Moses and the Prophets !" He then goes on to pray that those in charge of heaven will perhaps overlook Aaron Lopez' Jewishness and admit him anyway, despite his "delusions," into "Paradise on the Xtian System, finding Grace with the all benevolent and adorable Emanuel who with his expiring breath & in his deepest agonies, prayed for those who knew not what they did."

_______________

Notes:

i. Slavery was brought to the colonies by the English. England did get around to abolishing slavery somewhat before the United States did, in 1807. Denmark was the first nation to abolish slavery, in 1792. The northern American states, meanwhile, starting with Vermont in 1777 and ending with New Jersey in 1804, all had adopted state abolition laws before Great Britain did.

ii. Undoubtedly to thin it with water.

iii. There was an ancient Talmudic principle involved here. For centuries the rabbinate decreed that when a Jew was involved in the human slave trade, he could not go below certain standards of humanity and decency. The Jew could deal in slaves as a business -- as everyone else did -- but he could not be involved in their punishment or torture. In the tenth century, for instance, there was a great vogue for blond eunuch slaves. They were used in harems and for homosexual purposes. The Jews of the Orient and Middle East were disturbed by this trade, and went to their rabbis for guidance. They were advised that it was permissible for them to buy and sell eunuchs, but that they were under no circumstances to be involved with the performance of castrations. The rabbis told them, "Let the goy do that."

-- The Grandees: America's Sephardic Elite, by Stephen Birmingham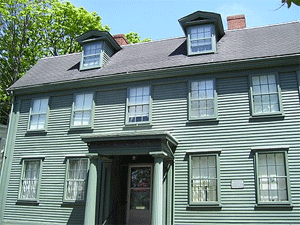 Ezra Stiles House in Newport, Rhode Island
From time to time, Stiles invested with the merchants and sea captains of his congregation; in 1756, he sent a hogshead of rum along on a voyage to Africa and was repaid with a 10-year-old male slave, whom he renamed "Newport". Around the same time, he wrote a joint letter with fellow Newport minister Samuel Hopkins condemning "the great inhumanity and cruelty" of slavery in the United States.[6]
Foundation of Brown University
In 1764, Stiles helped establish the College in the English Colony of Rhode Island and Providence Plantations (the original name for Brown University) by contributing to the drafting of its charter
and by serving with 35 others—including Stephen Hopkins, William Ellery, Samuel Ward, the Reverend John Gano, the Reverend Isaac Backus, the Reverend Samuel Stillman, and the Reverend James Manning—as a founding fellow or trustee.[7] In drafting the charter,
Stiles combined broad-minded public statements defining Rhode Island College as a "liberal and catholic institution" in which "shall never be admitted a religious test" with private partisanship: his draft charter packed the board of trustees and the fellows of the college with his fellow Congregationalists, but the Rhode Island Assembly caught on to his plan, and changed his numbers to increase the number of Baptists, Episcopalians, and Quakers, reflecting the more ecumenical character of the state.[8]
Biblical scholarship
Stiles struck up a close friendship with Rabbi Haim Isaac Carigal during the latter's six-month residence in Newport in 1773. Stiles' records note 28 meetings to discuss a wide variety of topics from Kabbalah to the politics of the Holy Land. Stiles improved his rudimentary knowledge of Hebrew, to the point where he and Carigal corresponded by mail in the language.

Stiles' knowledge of Hebrew also enabled him to translate large portions of the Hebrew Old Testament into English. Stiles believed, as did many Christian scholars of the time, that facility with the text in its original language was advantageous for proper interpretation.
American Revolution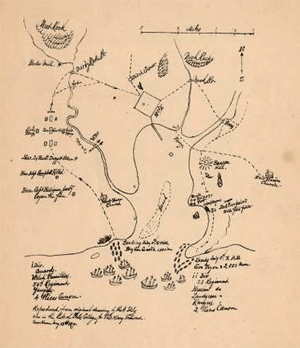 Ezra Stiles's map of the British forces invading New Haven, Connecticut, July 1779
Before Regular troops of the colonial army arrived in Newport in late 1776, Stiles left. He became Pastor of the Congregational Church at Portsmouth, New Hampshire, in 1777.
As a pastor Stiles, defended the monarchy as the best form of government in his sermon, entitled The United States elevated to Glory and Honor, to the General Assembly of the State of Connecticut in 1783. He stated that: "A monarchy conducted with infinite wisdom and infinite benevolence is the most perfect of all possible governments."
Yale presidency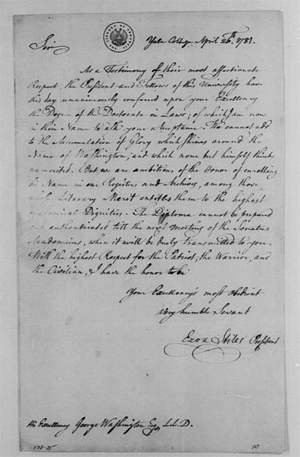 Letter from Stiles to George Washington announcing the awarding of an Honorary degree to Washington by President and Fellows of Yale College, 1781
In 1778, he was appointed president of Yale, a post he held until his death. Stiles freed Newport on June 9, 1778, as he prepared to move to New Haven; he would in 1782 hire his former slave for $20 a year and the indenturing of Newport's two-year-old son until age 24.[9]
As president of Yale, Stiles became its first professor of Semitics, and required all students to study Hebrew (as Harvard students already did); his first commencement address in September 1781 (no ceremonies having been held during the American Revolutionary War) was delivered in Hebrew, Aramaic, and Arabic.
By 1790, however, he was forced to face failure in instilling an interest in the language in the student body, writing
From my first accession to the Presidency ... I have obliged all the Freshmen to study Hebrew. This has proved very disagreeable to a Number of the Students. This year I have determined to instruct only those who offer themselves voluntarily.
The valedictorians of 1785 and 1792, however, did deliver their speeches in Hebrew.

Stiles was an amateur scientist who corresponded with Thomas Jefferson and Benjamin Franklin about scientific discoveries. Using equipment donated to the college by Franklin, Stiles conducted the electrical experiments in New England, continuing a practice first begun by his predecessor, President [Thomas Clap]. He charged a glass tube with static electricity and used it to "excite the wonder and admiration of an audience".[10] He shocked 52 people at once, fired spirits of wine and rum, and caused counterfeit spiders to move about as if they were alive. These were all experiments that had been performed before, and "Stiles seems to have had little genius for pushing back the frontiers of knowledge" and his observations "disclosed nothing new".[11] He was more a learner and teacher than an experimenter. Nevertheless, he was elected a Fellow of the American Academy of Arts and Sciences in 1781.[12].
His book The United States elevated to Glory and Honor was printed in 1783.[13]
Legacy at Yale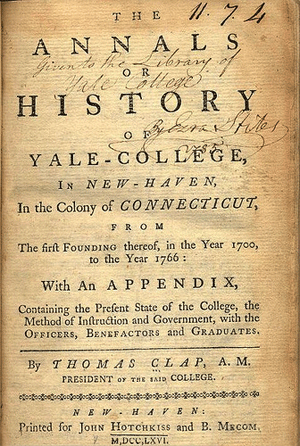 Frontispiece, The Annals or History of Yale College in New Haven, in the Colony of Connecticut, by Yale President Thomas Clap, 1766. Volume carries notation: "Given to the Library of Yale College by Ezra Stiles 1785."
Yale's legacy from this interest of Stiles' includes a portrait of Carigal by artist Samuel King.
The idea that the Hebrew words "Urim" and "Thummim" (אורים ותמים) on the Yale seal are there because of Ezra Stiles is a false myth.
Indeed, the Hebrew on the Yale seal appears on Stiles' own master's degree diploma from Yale in 1749, decades before he became president of Yale College.[14]
In 1961, Yale named a new residential college in his honor: Ezra Stiles College, noted for its Eero Saarinen design, particularly the building's lack of right angles between walls. The college's mascot is the moose, inspired by the installation in the dining hall of a stuffed moose head in honor of former college master and Yale president A. Bartlett Giamatti. Adjacent to Ezra Stiles College is its near architectural twin, Morse College, named for Samuel F.B. Morse.
Personal life
Stiles married twice
(Elizabeth Hubbard and Mary Checkley Cranston) and had eight children. Stiles' son Ezra Stiles, Esq., was educated first at Yale College, then at Harvard College, where he studied law, graduating in 1778. Ezra Stiles, Jr., subsequently settled in Vermont, and served to establish the boundaries between Vermont and New Hampshire. He died prematurely at Chowan County, North Carolina, on August 22, 1784, and his two daughters by his wife Sylvia (Avery) Stiles of Vermont (and formerly of Norwich, Connecticut) had their uncle Jonathan Leavitt appointed their guardian.[15]
His daughter Emilia married Judge and State Senator Jonathan Leavitt of Greenfield, Massachusetts. His daughter Mary married, in 1790, Abiel Holmes, a Congregational clergyman and historian and a 1783 graduate of Yale College. By the second marriage to Sarah Wendell, Abiel was the father of Oliver Wendell Holmes, Sr.
References
1. Holmes, Abiel (1798). The Life of Ezra Stiles ... President of Yale College, p. 9.
2. Welch, Lewis et al. (1899). Yale, Her Campus, Class-rooms, and Athletics, p. 445.
3. Edmund S Morgan, The Gentle Puritan: A Life of Ezra Stiles, 1727–1795 (New York: W. W. Norton & Company, 1962), 205.
4. Johnson, Samuel, Samuel Johnson, President of King's College; His Career and Writings, edited by Herbert and Carol Schneider, New York: Columbia University Press, 1929, Volume 1, p. 321
5.
http://dightoncommunitychurch.com/churchhistory.html
6. Dugdale, Antony; J. J. Fueser; J. Celso de Castro Alves (2001). "Ezra Stiles College". Yale, Slavery, & Abolition. The Amistad Committee. Retrieved December 12, 2012.
7. "Brown University Charter" (PDF). Archived from the original (PDF) on February 2, 2012.
8. Hoeveler, David J., Creating the American Mind: Intellect and Politics in the Colonial Colleges, Rowman & Littlefield, 2007, p. 191
9. Saillant, John, Black Puritan, Black Republican: The Life and Thought of Lemuel Haynes, 1753–1833, Oxford University Press, 2002, p. 131
10. Morgan, Edmund, The Gentle Puritan: A Life of Ezra Stiles, 1727–1795, University of North Carolina Press, 2014, p. 91
11. Ibid
12. "Book of Members, 1780–2010: Chapter S" (PDF). American Academy of Arts and Sciences. Retrieved July 28, 2014.
13. "The United States Elevated to Glory and Honor".
14. Oren, Dan A. (2001) Joining the Club: A History of Jews and Yale, Revised edition, p. 347.
15. The Stiles Family in America, Genealogies of the Connecticut Family, Henry Reed Stiles, Doan & Pilson, Jersey City, 1895
Further reading
• Dexter, Franklin Bowditch. (1901). The Literary Diary of Ezra Stiles (Vol. I, January 1, 1769 – March 13, 1776). New York: Charles Scribner's Sons.
• __________. (1901). The Literary Diary of Ezra Stiles Vol. II, March 14, 1776 – December 31, 1781. New York: Charles Scribner's Sons. OCLC 2198912
• __________. (1901). The Literary Diary of Ezra Stiles (Vol. III, January 1, 1782 – May 6, 1795). New York: Charles Scribner's Sons.
• Holmes, Abiel. (1798). The Life of Ezra Stiles D.D. LL.D. ... President of Yale College. Boston: Thomas & Andrews. OCLC 11506585
• Kelley, Brooks Mather. (1999). Yale: A History. New Haven: Yale University Press. ISBN 978-0-300-07843-5; OCLC 810552
• Morgan, Edmund Sears. (1983). The Gentle Puritan: A Life of Ezra Stiles, 1727–1795. The gentle puritan: a life of Ezra Stiles, 1727–1795. Raleigh: University of North Carolina Press. ISBN 978-0-8078-1231-0
• Welch, Lewis Sheldon and Walter Camp. (1899). Yale, Her Campus, Class-rooms, and Athletics. Boston: L. C. Page and Co. OCLC 2191518
External links
• Brown University's John Hay Library
• Brown University Charter