Eichmann Tells His Own Damning Story
by the Editors of LIFE, Vol. 49, No. 22
November 28, 1960, p. 19
NOTICE: THIS WORK MAY BE PROTECTED BY COPYRIGHT
YOU ARE REQUIRED TO READ

THE COPYRIGHT NOTICE AT THIS LINK

BEFORE YOU READ THE FOLLOWING WORK, THAT IS AVAILABLE SOLELY FOR PRIVATE STUDY, SCHOLARSHIP OR RESEARCH PURSUANT TO 17 U.S.C. SECTION 107 AND 108. IN THE EVENT THAT THE LIBRARY DETERMINES THAT UNLAWFUL COPYING OF THIS WORK HAS OCCURRED, THE LIBRARY HAS THE RIGHT TO BLOCK THE I.P. ADDRESS AT WHICH THE UNLAWFUL COPYING APPEARED TO HAVE OCCURRED. THANK YOU FOR RESPECTING THE RIGHTS OF COPYRIGHT OWNERS.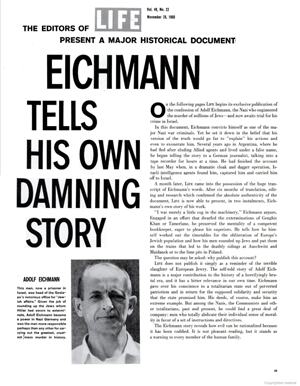 THE EDITORS OF LIFE PRESENT A MAJOR HISTORICAL DOCUMENT

EICHMANN TELLS HIS OWN DAMNING STORY
On the following pages LIFE begins its exclusive publication of the confession of Adolf Eichmann, the Nazi who engineered the murder of millions of Jews -- and now awaits trial for his crime in Israel.
In this document, Eichmann convicts himself as one of the major Nazi war criminals. Yet he set it down in the belief that his version of the truth would go far to "explain" his actions and even to exonerate him. Several years ago in Argentina, where he had fled after eluding Allied agents and lived under a false name, he began telling his story to a German journalist, talking into a tape recorder for hours at a time.
"Eichmann Confessions" published in Life, November 28 and December 5, 1960: as dictated by him to Danish Nazi officer William Sassen, the summary of which appeared in Life magazine.

-- Perfidy, by Ben Hecht
He had finished the account by last May when, in a dramatic cloak and dagger operation, Israeli intelligence agents found him, captured him and carried him off to Israel.
A month later, LIFE came into possession of the huge transcript of Eichmann's words.
After six months of translation, editing
and research which confirmed the absolute authenticity of the document, LIFE is now able to present, in two installments, Eichmann's own story of his work.
"I was merely a little cog in the machinery," Eichmann argues. Engaged in an effort that dwarfed the exterminations of Genghis Khan or Tamerlane, he preserved the mentality of a competent bookkeeper, eager to please his superiors. He tells how he himself worked out the timetable for the obliteration of Europe's Jewish population and how his men rounded up Jews and put them on the trains that led to deathly sidings at Auschwitz and Maidanek or to the lime pits in Poland.
The question may be asked: why publish this account?
LIFE does not publish it simply as a reminder of the terrible slaughter of European Jewry. The self-told story of Adolf Eichmann is a major contribution to the history of a horrifyingly brutal era, and it has a bitter relevance in our time.
Eichmann gave over his conscience to a totalitarian state out of perverted patriotism and in return for the supposed solidarity and security that the state promised him.
His deeds, of course, make him an extreme example. But among the Nazis, the Communists
and other totalitarians, past and present
, he could find a great deal of company:
men who totally abdicate their individual sense or morality in favor of a set of instructions and directives
.
The Eichmann story reveals
how evil can be rationalized because it has been codified
. It is not pleasant reading, but it stands as a warning to every member of the human family.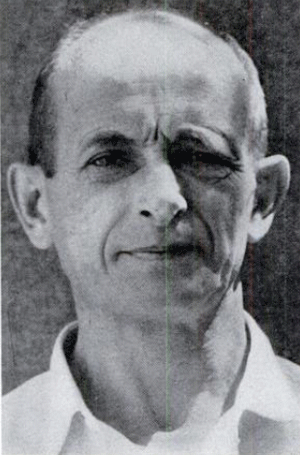 ADOLF EICHMANN: This man, now a prisoner in Israel, was head of the Gestapo's notorious office for "Jewish affairs." Given the job of rounding up the Jews whom Hitler had sworn to exterminate, Adolf Eichmann became a power in Nazi Germany and was the man more responsible perhaps than any other for carrying out the greatest, cruelest mass murder in history.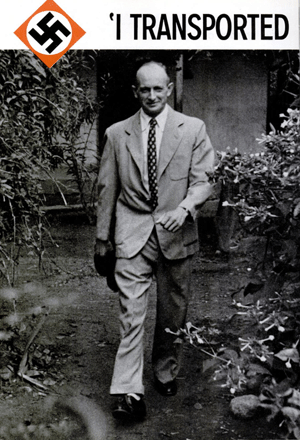 'I TRANSPORTED THEM ... TO THE BUTCHER'

EICHMANN'S STORY PART I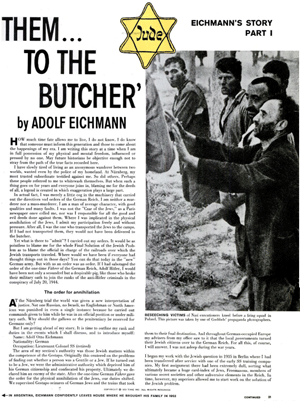 By Adolf Eichmann
How much time fate allows me to live, I do not know. I do know that someone must inform this generation and those to come about the happenings of my era. I am writing this story at a time when I am in full possession of my physical and mental freedom, influenced or pressed by no one. May future historians be objective enough not to stray from the path of the true facts recorded here.
I have slowly tired of living as an anonymous wanderer between two worlds, wanted even by the police of my homeland. At Nürnberg, my most trusted subordinate testified against me. So did others. Perhaps these people referred to me to whitewash themselves. But when such a thing goes on for years and everyone joins in, blaming me for the deeds of all, a legend is created in which exaggeration plays a large part.
In actual fact, I was merely a little cog in the machinery that carried out the directives and orders of the German Reich. I am neither a murderer nor a mass-murderer. I am a man of average character, with good qualities and many faults. I was not "Czar of the Jews," as a Paris newspaper once called me, nor was I responsible for all the good and evil deeds done against them. Where I was implicated in the physical annihilation of the Jews, I admit my participation freely and without pressure. After all, I was the one who transported the Jews to the camps. If I had not transported them, they would not have been delivered to the butcher.
Yet what is there to "admit"? I carried out my orders. It would be as pointless to blame [me] for the whole Final Solution of the Jewish Problem as to blame the official in charge of the railroads over which the Jewish transports traveled.
Where would we have been if everyone had thought things out in those days? You can do that today in the "new" German army. But with us an order was an order.
If I had sabotaged the order of the one-time Fuhrer of the German Reich, Adolf Hitler, I would have been not only a scoundrel but a despicable pig, like those who broke their military oath to join the ranks of the anti-Hitler criminals in the conspiracy of July 20, 1944.
The Order for Annihilation
At the Nurnberg trial the world was given a new interpretation of justice. Not one Russian, no Israeli, no Englishman or North American was punished in even a single instance because he carried out commands given to him while he was in an official position or under military oath. Why should the gallows or the penitentiary be reserved for Germans only?
But I am getting ahead of my story. It is time to outline my rank and duties in the events which I shall discuss, and to introduce myself:
Name: Adolf Otto Eichmann
Nationality: German
Occupation: Lieutenant Colonel SS (retired)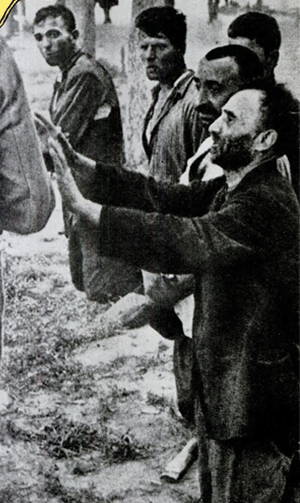 BESEECHING VICTIMS of Nazi executioners kneel before a firing squad in Poland.

This picture was taken by one of Goebbels' propaganda photographers.
The area of my section's authority was those Jewish matters within the competence of the Gestapo. Originally this centered on the problems of finding out whether a person was a Gentile or a Jew. If he turned out to be a Jew, we were the administrative authority which deprived him of his German citizenship and confiscated his property. Ultimately we declared him an enemy of the state.
After the one-time German Fuhrer gave the order for the physical annihilation of the Jews, our duties shifted. We supervised Gestapo seizures of German Jews and the trains that took them to their final destination. And
throughout German-occupied Europe my advisers from my office saw to it that the local governments turned their Jewish citizens over to the German Reich
. For all this, of course, I will answer. I was not asleep during the war years.
I began my work with the Jewish question in 1935 in Berlin where I had been transferred after service with one of the early SS training companies. My first assignment there had been extremely dull, sorting what ultimately became a huge card-index of Jews, Freemasons, members of various secret societies and other subversive elements in the Reich. In time, however,
my superiors allowed me to start work on the solution of the Jewish problem.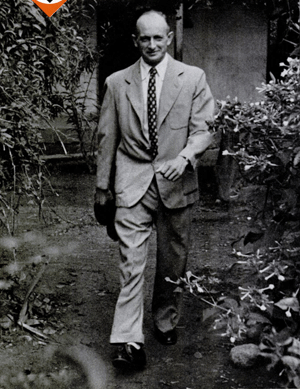 In Argentina, Eichmann confidently leaves house where he brought his family in 1952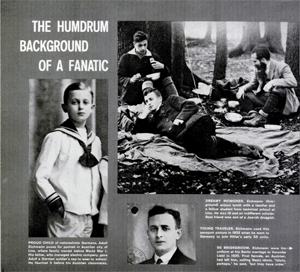 THE HUMDRUM BACKGROUND OF A FANATIC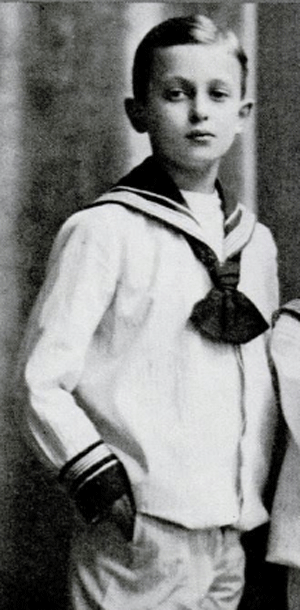 PROUD CHILD of nationalistic Germans, Adolf Eichmann poses for portrait in Austrian city of Linz, where family moved before World War I.

His father, who managed electric company

, gave Adolf a German soldier's cap to wear to school. He flaunted it before his Austrian classmates.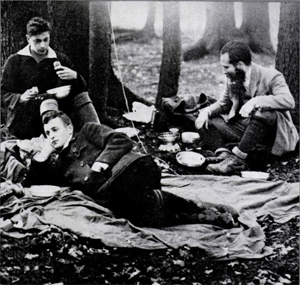 DREAMY PICNICKER, Eichmann (foreground) enjoys lunch with a teacher and a fellow student from technical school at Linz. He was 18 and an indifferent scholar.

Best friend was son of a Jewish druggist.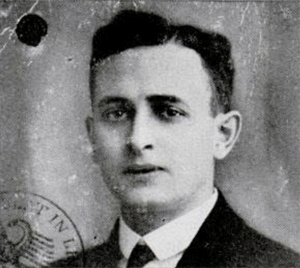 YOUNG TRAVELER, Eichmann used this passport picture in 1933 when he went to Germany to join Hitler's early SS units.
I must confess that I did not greet this assignment with the apathy of an ox being led to his stall. On the contrary, I was fascinated with it.
My chief, General Reinhard Heydrich, encouraged me to study and acquaint myself even with its theological aspects
. In the end I learned to speak Hebrew, although badly.
Some of my early work was with
the Nurnberg Laws, in force since 1935
. Under the formula adopted at that time for "Final Solution of the Jewish Question," the laws
were intended to drive Jews out of all phases of German life
. My experience in this field was often of a confidential and rather embarrassing nature -– as when I established that the Fuhrer's diet cook, who was at one time his mistress, was 1/32nd Jewish. My immediate superior, Lieutenant General Heinrich Muller, quickly classified my report as Top Secret.
In 1937, after I had been struggling with Hebrew for two and a half years,
I had the chance to take a trip to Palestine
. We were most interested in the
Palestine emigration
, and I wanted to find out at what point a new Jewish state in Palestine might be set up. Unfortunately Palestine was then in turmoil, and the British turned down my application for an extended stay. I did see enough to be very impressed by
the way the Jewish colonists were building up their land
.
I admired their desperate will to live, the more so since I was myself an idealist.

In the years that followed I often said to Jews with whom I had dealings that, had I been a Jew, I would have been a fanatical Zionist. I could not imagine being anything else. In fact, I would have been the most ardent Zionist imaginable.
A Yellow Star on Their Clothing
In those days before the outbreak of the war, the former government of the Reich hoped to solve the Jewish problem by forced emigration. This was easier said than done, since one had to reckon here the difficulty of
emigration as a mass project. The Jewish organizations with the widest experience in this had already been closed down as unacceptable to the government
. There was also a tendency among many Jews to wait it out on the theory that the Hitler regime would be of short duration.
Of the 500,000 avowed Jews who were in Germany in 1933, plus a number who were considered Jews under the Nurnberg Laws, not more than 130,000 managed to leave before 1938.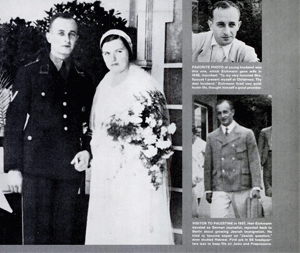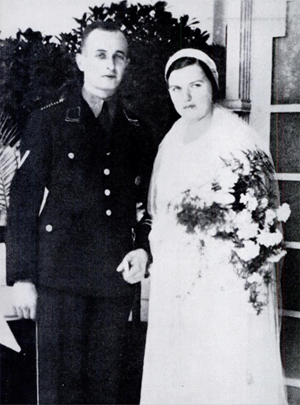 SS BRIDEGROOM, Eichmann wore his uniform at his Berlin marriage to Veronika Liebl in 1935. First fiancee, an Austrian, had left him, calling Nazis idiots. "Idiots, perhaps," he said, "but they have order."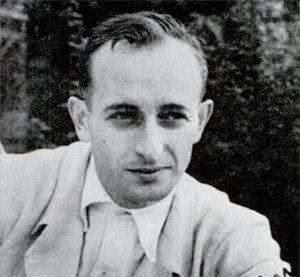 FAVORITE PHOTO of young husband was this one, which Eichmann gave wife in 1936, inscribed: "

To my very honored Mrs. Spouse

I present myself at Christmas. Thy dear husband." Eichmann lived very quiet home life, thought himself a good provider.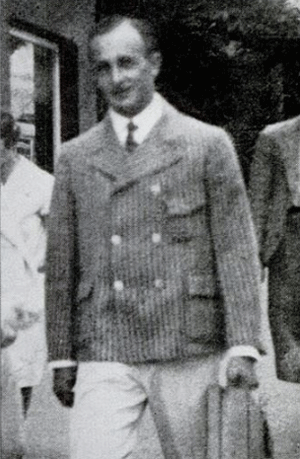 VISITOR TO PALESTINE.

In 1937, Herr Eichmann traveled as German journalist, reported back to Berlin about growing Jewish immigration

. He tried to become expert on "Jewish question," even studied Hebrew. First job in SS headquarters was to keep file on Jews and Freemasons.
It may have been the Propaganda Ministry that first thought up the idea of forcing all Jews to wear a yellow star on their clothing
. I remember that when
Julius Streicher
heard about it he whinnied with delight. His newspaper, Der Sturmer, devoted an entire issue to this matter. I naturally took part in the administrative details, since as the department head for Jewish affairs in the Gestapo my countersignature was required. In fact,
I recall the day when I received bolts and bolts of yellow cloth to distribute. I issued the cloth to my Jewish functionaries and they trotted off with them.

We did not devise the yellow star to put pressure on the Jews themselves. On the contrary, its purpose was to control the natural tendency of our German people to come to the aid of someone in trouble. The marking was intended to hinder any such assistance to Jews who were being harassed. We wanted Germans to feel embarrassed, to feel afraid of having any contact with Jews.
So our administration was quite happy to distribute these bolts of yellow cloth and to regulate the time limit by which the stars would have to be worn.
There was a Jewish lawyer in Vienna who said to me, "Sir, I wear this star with pride." This man impressed me. He was an idealist. So I let him emigrate soon afterward.
It was in 1938, at the reunion of Austria with the German Reich, that General Heydrich gave me the order, in my capacity as a specialist in Jewish affairs, to set the Jewish emigration in motion from Vienna.
I found Jewish life in Austria completely disorganized. Most Jewish organizations had already been closed down by the police and their leaders put under arrest. To speed up emigration I called in local Jewish leaders and established a central office for Jewish emigration. It was located in the Rothschild Palace in the Prinz Eugen Strasse.
The Palais Rothschild (at Prinz-Eugen-Straße 26) is a former palatial residence in Vienna, Austria. It was one of five Palais Rothschild in the city that were owned by members of the Rothschild banking family of Austria.

It was the second Palais Rothschild commissioned by Baron Albert von Rothschild, on the same street as his larger Palais Albert Rothschild at Prinz-Eugen-Straße 20-22 (demolished in 1954).

It was designed and built in 1894 by the theatre architects Ferdinand Fellner and Hermann Helmer. The building is four storeys high and was designed in a neoclassical style.

Like all Jewish property at the time, it was thoroughly plundered by the Nazis during their occupation of Austria. However, the building survived without structural damage and today serves as the Brazilian embassy in Vienna.

-- Palais Rothschild (Prinz-Eugen-Straße), by Wikipedia
As with the other, similar central offices, the Vienna office permitted emigrating Jews to take household goods with them. For the custody and administration of Jewish property, so-called administrative and accounting centers were later created, which worked with tidy accuracy and correctness. Reichsfuhrer Heinrich Himmler, who surprisingly enough often busied himself with the smallest details of the Jewish problem, personally set up the strict administrative standards which were observed in this field. In Vienna alone we were able to prepare as many as 1,000 Jews daily for emigration.
The Jewish SS Sergeant
One of the most useful of the Jewish officials in those days was a Dr. Storfer, a senior civil servant who had been a major in the Austrian army in World War I. I had a weakness for this Dr. Storfer. He never took a pfennig from his racial comrades and he had a very nice, proper way of negotiating. Unfortunately, years later Sorfer made a stupid blunder. He tried to escape. My second in command had never liked him and he had him shot at Auschwitz.
In general we respected Jewish combat veterans of World War I. We even had some Jewish SS men who had taken part in the early struggles of the Nazis – about 50 of them in Germany and Austria. I remember giving my personal attention to a Jewish SS sergeant, a good man, who wanted to leave for Switzerland. I had instructed the border control to let him pass, but when he reached the Swiss border he apparently thought something had gone wrong. He tried to cross illegally through the woods and he was shot. He was a 100% Jew, a man of the most honorable outlook.
Throughout all this period I saw the Jewish problem as a question to be solved politically. So did Himmler and the entire Gestapo. It was not a matter of emotion. My SS comrades and I rejected the crude devices of burning temples, robbing Jewish stores and maltreating Jews on the streets. We wanted no violence. One of my former officers was expelled from the SS for beating up four or five Jews in the cellar of our offices. Barring such exceptions, each of us, as an individual, had no wish to harm the individual Jews personally.
For the sake of the truth I cannot refrain from mentioning a small incident in which I myself violated this code of correctness. One day I called in Dr. Lowenherz, whom I appointed director of the Jewish community in Vienna. He answered by questions with evasions and, I believe, untruth. Owing to a temporary lack of self-control, I hit him in the face. I mentioned this affair to Dr. Lowenherz later in the presence of some of my subordinates and expressed my regrets to him over the matter.
As late as 1940, after we beat the French, we were devising plans for further mass emigration of the Jews to Madagascar. I had my legal experts draft a complete law covering the resettlement of Jews there on territory which was to be declared Jewish. They would live there without restraint, except, of course, that they would be under the protectorate of the German Reich. Unfortunately, by the time the obstacles created by bureaucracy for this plan had been overcome, the scales of victory were balanced in such a way that Madagascar was out of our grasp.

FUGITIVE'S LONG EXILE IN THE ARGENTINE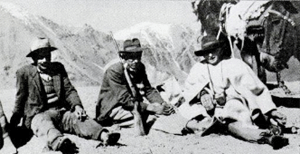 SURVEYOR in the province of Tucuman in 1952, Eichmann (right), alias Ricardo Klement, relaxes with crew. In Argentina for 10 years, he never learned Spanish well.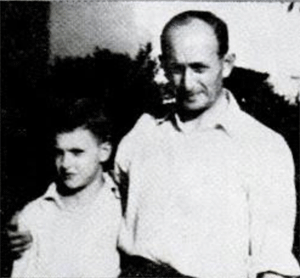 FARM MANAGER in Siete Palmas, Eichmann stands with third son Dieter at angora farm he ran in 1953. Owners of farm were Jewish family from Hungary.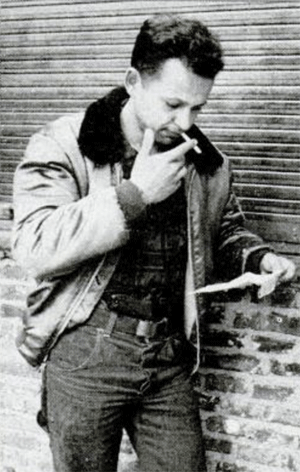 ELDEST SON Klaus on the terrace of Eichmann home outside Buenos Aires reads clipping telling how father was abducted from Argentina last May. Married to an Argentine girl, he wears a pistol at belt in constant fear of assault by Israelis.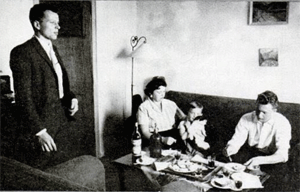 FAMILY PARTY, with kidnaped Eichmann absent, is given Frau Eichman on Argentine Mother's Day with sons Klaus, 24, Dieter, 18 (right) and Ricardo, 5, who is called Haasl (Little Rabbit). Other son, Horst, 20, is a merchant seaman.
The Final Solution: Liquidation
The continuance of the war finally changed out attitude on emigration entirely. In 1941 the Führer himself ordered the physical annihilation of the Jewish enemy. What made him take this step I do not know. But for one thing the war in Russia was not going along in the Blitz fashion the High Command had planned. The ruinous struggle on two fronts had begun. And already Dr. Chaim Weizmann, the world Zionist leader, had declared war on Germany in the name of Jewry. It was inevitable that the answer of the Führer would not be long in coming.
Soon after the order General Heydrich called me to his office in the Prinz Albrecht Strasse. He told me about Reichsführer Himmler's order that all emigration of Jews was to be prohibited - with no more exceptions. He assured me that neither I nor my men would have anything to do with the physical liquidation. We would act only as policemen; that is, we would round up the Jews for the others.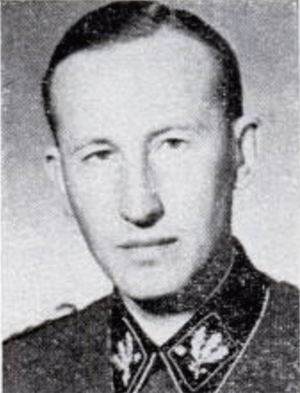 HEYRICH, "The Hangman," Eichmann SS boss and Himmler aide, was killed by Czechs in 1942
By this time the formula "Final Solution for the Jewish Question" had taken on a new meaning: liquidation. In this new sense we discussed it at a special conference on Jan. 10, 1942 in the Wannsee section of Berlin. It was I who had to bustle over to Heydrich with the portfolio of invitations on which he scribbled his "Heydrich", stroke for stroke. So we sent out the whole thing. A few people declined to participate, on grounds principally of other duties.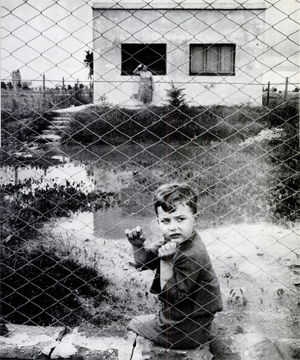 FENCE THAT FEAR BUILT guards Haasi Eichmann and his home from the world. In background his mother stands against bare house which Eichmanns built themselves on badly drained flatlands near Buenos Aires. Frau Eichmann believes that house is constantly watched. Her older sons help support her.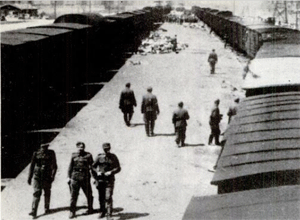 END OF THE LINE for Jews Eichmann sent in from countries Hitler conquered was here at the Birkenau extermination camp, largest in Auschwitz. SS camp guards are inspecting trains just unloaded, with piles of victims' belongings still on platform (rear center). In the background are crematoriums.
After the conference, as I recall, Heydrich, Müller and your humble servant sat cozily around the fireplace. I noticed for the first time that Heydrich was smoking. Not only that, but he had a cognac. Normally he touched nothing alcoholic. The only other time I had seen him drinking was at an office party years before. We all had drinks then. We sang songs. After a while we got up on the chairs and drank a toast, then on the table and then round and round - on the chairs and on the table again. Heydrich taught it to us. It was an old North German custom.
But we sat around peacefully after our Wannsee Conference, not just talking shop but giving ourselves a rest after so many taxing hours.
It is not true that Reichsführer Himmler set down in writing anything ordering the annihilation of the Jews. Do you think he sat down to write, "My dear Eichmann, the Führer has ordered the physical annihilation of the Jews"? The truth is that Himmler never put a line in writing on this subject. I know that he always gave his instructions orally to Lieut. General Oswald Pohl, in charge of the economic administration which ran the concentration camps. I never received any order of this sort.
I would like to stress again, however, that my department never gave a single annihilation order. We were responsible only for deportations. In every European country under our jurisdiction it was the job of the Jewish Adviser (the representative of my office) to work through local officials until he had attained our goal: a roundup of the Jews and their delivery to the transports. I had Captain Richter sitting in Bucharest, Captain Wisliceny in Pressburg [Bratislava], Dannecker in Paris, etc. All these Jewish Advisers enjoyed the greatest respect, for each of them was really the long arm of Himmler himself. Although I myself had a relatively low rank, I was the only department head in the Gestapo with my own representatives in foreign countries. If one of my specialists got in trouble with a local commander, I would then have my bureau chief, General Müller, give the necessary orders. Müller was more feared than Reichsführer Himmler.
I carefully set up my timetables for the transports with the Ministry of Transportation, and the trains were soon rolling. But through the years we met many difficulties. In France the French police helped only hesitantly. After its initial enthusiasm for the project, the Laval government itself became more and more cautious. Italy and Belgium were by and large failures. And in Holland the battle for the Jews was especially hard and bitter. The Dutch, for one thing, did not make the distinction between Dutchmen and Jews with Dutch citizenship. A person was either Dutch, they said, or he wasn't. Denmark posed the greatest difficulties of all. The King intervened for the Jews there, and most of them escaped.
Yet we managed after a struggle to get the deportations going. Trainloads of Jews were soon leaving from France and Holland. It was not for nothing that I made so many trips to Paris and The Hague. My interest here was only in the number of transport trains I had to provide. Whether they were bank directors or mental cases, the people who were loaded on these trains meant nothing to me. It was really none of my business.
In general, I found that there were fewer problems with local authorities the farther east you went - with the exception of the assimilated Jews in Hungary. The Romanian operations went off without friction. Captain Richter in Bucharest was a good man. Eager to strike against these parasites, the Romanians astonishingly enough liquidated thousands and thousands of their own Jews. Slovakian officials offered their Jews to us like someone throwing away sour beer. Tiso, the Catholic priest who ran the government there, was an anti-Semite.
Tiso's attitude contrasted with mine. I am no anti-Semite. I was just politically opposed to Jews because they were stealing the breath of life from us.
The chambers at Maidenek
It was in the latter part of 1941 that I saw the first preparations for annihilating the Jews. General Heydrich ordered me to visit Maidanek, a Polish village near Lublin.
A German police captain showed me how they had managed to build airtight chambers disguised as ordinary Polish farmers' huts, seal them hermetically, then inject the exhaust gas from a Russian U-boat motor. I remember it all very exactly because I never thought that anything like that would be possible, technically speaking.
Not long afterward Heydrich had me carry an order to Major General Odilo Globocnik, SS commander of the Lublin district. I cannot remember whether Heydrich gave me the actual message or whether I had to draw it up. It ordered Globocnik to start liquidating a quarter million Polish Jews.
Later that year I watched my first execution. It was at Minsk, then recently come under German occupation. I was sent by my immediate superior, General Müller. Müller never stirred from behind his desk at Gestapo headquarters but he knew everything that went on in Europe. He liked to send me around on his behalf. I was in effect a traveling salesman for the Gestapo, just as I had once been a traveling salesman for an oil company in Austria.
Müller had heard that Jews were being shot near Minsk, and he wanted a report. I went there and showed my orders to the local SS commander. "That's a fine coincidence, " he said. "Tomorrow 5,000 of them are getting theirs."
When I rode out the next morning, they had already started, so I could see only the finish. Although I was wearing a leather coat which reached almost to my ankles, it was very cold. I watched the last group of Jews undress, down to their shirts. They walked the last 100 or 200 yards -- they were not driven -- then they jumped into the pit. It was impressive to see them all jumping into the pit without offering any resistance whatsoever. Then the men of the squad banged away into the pit with their rifles and machine pistols.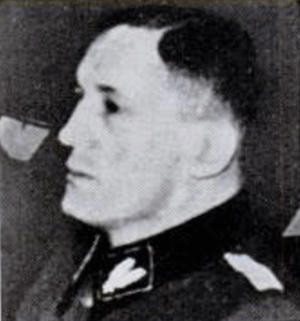 GESTAPO CHIEF Muller was Eichmann's superior. Brutal but very clever, he disappeared in 1945.
Why did the scene linger so long in my memory? Perhaps because I had children myself. And there were children in the pit. I saw a women hold a child of a year or two into the air, pleading. At that moment all I wanted to say was, "Don't shoot, hand over the child...." Then the child was hit.
I was so close that later I found bits of brains spattered on my long leather coat. My driver helped me remove them. Then we returned to Berlin.
The Gestapo chauffeurs did not like to drive me, principally because I rarely spoke more than 20 words during a 12-hour trip, as for instance the long haul from Berlin to Paris. On this trip back from Minsk I spoke hardly a word. I was thinking. Not that I had become contemptuous of National Socialism after watching this previously unimaginable event. I was reflecting on the meaning of life in general.
Having seen what I had in Minsk, I said this when I reported back to Müller: "The solution, Gruppenführer, was supposed to have been a political one. But now that the Führer has ordered a physical solution, obviously a physical solution it must be. But we cannot go on conducting executions as they were done in Minsk and, I believe, other places. Of necessity our men will be educated to become sadists. We cannot solve the Jewish problem by putting a bullet through the brain of a defenseless women who is holding her child up to us."
Müller did not answer. He just looked at me in a fatherly, benevolent fashion. I never could figure him out.
Later in that same winter Müller sent me to watch Jews being gassed in the Litzmannstadt [Lodz] area of central Poland. I must stress that the gassing was not done on his orders, but Müller did want to know about it. He was a very thorough government official.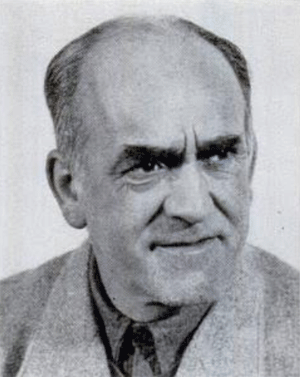 AUSCHWITZ ORGANIZER, Oswald Pohl, here seen at Nurnberg in 1945, was SS general in charge of all camps, was executed in 1951.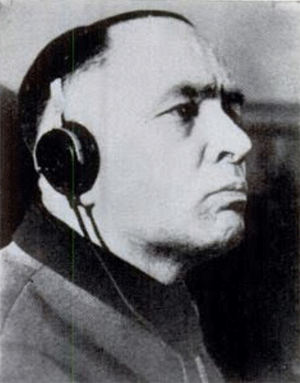 AUSCHWITZ COMMANDANT, Rudolf Hoess, here pictured at Warsaw trial, was Eichmann friend. He was executed by the Poles in 1947.
Arriving at Litzmannstadt, I drove out to the designated place where a thousand Jews were about to board buses. The buses were normal, high-windowed affairs with all their windows closed. During the trip, I was told, the carbon monoxide from the exhaust pipe was conducted into the interior of the buses. It was intended to kill the passengers immediately.
A doctor who was there suggested that I look at the people inside one bus through a peephole in the driver's seat. I refused. I couldn't look. This was the first time that I had seen and heard such a thing and my knees were buckling under me. I had been told that the whole process took only three minutes, but the buses rode along for about a quarter of an hour.
We reached our destination and hell opened up for me for the first time. The bus in which I was riding turned and backed up before a pit about two meters deep. The doors opened. Some Poles who stood there jumped into the buses and threw the corpses into the pit. I was badly shaken by what I then saw. Another Pole with a pair of pliers in his hand jumped into the pit. He went through the corpses, opening their mouths. Whenever he saw a gold tooth, he pulled it out and dumped it into a small bag he was carrying.
When I reported back to Müller in Berlin, he chided me for not having timed the procedure with a stop watch. I said to him, "This sort of thing can't go on. Things shouldn't be done this way." I admitted I had not been able to look through the peephole. This time, too, Müller behaved like a sphinx. He forgave me, so to speak, for not having looked. Perhaps "forgive" sounds like an odd expression here.
The executions at Litzmannstadt and Minsk were a deep shock to me. Certainly I too had been aiming at a solution of the Jewish problem, but not like this. Of course, at that time I had not yet seen burned Germans, Germans shrunken like mummies in death. I had yet to see the heavy, imploring eyes of the old couple in a Berlin air raid shelter who lay crushed beneath a beam, begging me to shoot them. I couldn't bear to shoot them, but I told my sergeant to do so, if he could. If I had known then the horrors that would later happen to Germans, it would have been easier for me to watch the Jewish executions. At heart I am a very sensitive man. I simply can't look at any suffering without trembling myself.
The Gas Chambers at Auschwitz
I never had anything directly to do with the gas chambers, which evolved from early measures like those at Litzmannstadt. But I did visit Auschwitz repeatedly. It had an unpleasant smell. Even today I do not know how the gassing was carried out. I never watched the entire process. Even a man like Hoess, the commandant at Auschwitz, described the matter to me in a rather rose-colored way.
I knew Hoess well. He did his duty at Auschwitz, as any other man would have done it. It was Hoess who once told me that Reichsfuhrer Himmler, taking a personal look at the entire liquidation action, had declared that this was a bloody fight which our coming generations would need to fight no more. I valued Hoess as an excellent comrade and a very proper fellow. He was a good family man, and he held the Iron Cross from the first World War.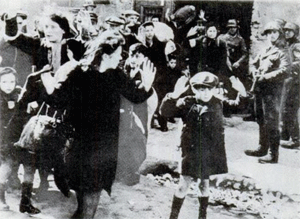 GRIM ROUNDUP of young Jews takes place in Warsaw after conquest of Poland. Germans sent some to ghettos, but the killings had already begun.
Since the war I have read that two and a half million Jews were physically liquidated under Hoess's command. I find this figure incredible. The capacity of the camp argues against it. Many of the Jews confined there were put on work details and survived. After the war the Auschwitzers sprouted like mushrooms out of the forest floor after a rain. Hundreds of thousands of them are today in the best of health.
Along with the liquidation camps we continued to maintain the ghetto system. I would not say I originated the ghetto system. That would be to claim too great a distinction. The father of the ghetto system was the orthodox Jew, who wanted to remain by himself. In 1939, when we marched into Poland, we had found a system of ghettos already in existence, begun and maintained by the Jews. We merely regulated those, sealed them off with walls and barbed wire and included even more Jews than were already dwelling in them.
The assimilated Jew was of course very unhappy about being moved to a ghetto. But the Orthodox were pleased with the arrangement, as were the Zionists. The latter found ghettos a wonderful device for accustoming Jews to community living. Dr. Epstein from Berlin once said to me that Jewry was grateful for the chance I gave it to learn community life at the ghetto I founded at Theresienstadt, 40 miles from Prague. He said it made an excellent school for the future in Israel. The assimilated Jews found ghetto life degrading, and non-Jews may have seen an unpleasant element of force in it. But basically most Jews feel well and happy in their ghetto life, which cultivates their peculiar sense of unity.
The first, Jacob Edelstein, was a Zionist from Prague who cherished youth. After two years of Nazi hell in which everything, absolutely everything, was forbidden to the Jews, he welcomed the birth of Theresienstadt with blind optimism, hoping that the difficult life that awaited them there would prepare them for their future settlement in Palestine.

-- The Last of the Unjust, directed by Claude Lanzmann
Revolt of Warsaw Jews
The uprising of the Warsaw Ghetto in 1943, however, taught us a bitter lesson about putting excessive numbers of people into these enclosures. Not long after this uprising I received in my office a photo album with an accompanying memo from Reichsfuhrer Himmler. The album showed the phases of that battle, whose severity surprised even the German units fighting in it. I still recall today how we in the SS and the Wehrmacht suffered disproportionately high casualties putting down this revolt. I could not believe, seeing the pictures, that men in a ghetto could fight like that.
During this great blood-letting in Warsaw the order went out to the German occupation authorities to comb the country relentlessly. This was done so thoroughly that after a while there was no more Jewish question in Poland at all.
Elsewhere, even inside the Reich itself, the Warsaw Ghetto uprising had its effect in stringent measures against those Jews still engaged in forced factory labor. It was not in vain that Himmler put his entire weight behind this severity. Previously the directors of the big German factories, even Goring himself, the administrator of the Four Year Plan, had intervened on behalf of sparing Jews for the labor force. Now we in the Gestapo said simply, "Very well, you take the responsibility that things do not come to an uprising like the Warsaw Ghetto." When we said that, the urge to intervene left them.
The Warsaw Ghetto uprising had an equally strong effect with authorities in the other occupied countries. Every national leadership was anxious to remove factors of unrest. My advisers now had a perfect entrée in the countries where they were assigned. We could and did use the Warsaw example like a traveling salesman who sells an article all the more easily by showing a special advertising attraction.
With Hungary we were particularly concerned. The Hungarian Jews had lived through the war relatively untouched by severe restrictions. Now Himmler made it clear that he wanted Hungary combed with a tremendous thoroughness before the Jews there could really wake up to our plans and organize partisan resistance. For this reason, he chose me to lead the march into Hungary in person.
Before dawn on March 19, 1944, I was leading an SS convoy from the Mauthausen concentration camp toward Budapest, on these orders from Reichsfuhrer Himmler to clear the Jews out of Hungary. My men were equipped with a combat gear in case the Hungarians resisted. We had several air-raid warnings along the way. Suddenly my advance guard halted. The column came to a stop. Tipped off probably by one of my assistants, the unit commanders gathered around my personal truck and drank a toast to me with the rum they were issued for the march. It was my 38th birthday, my seventh as an SS officer.
On a Sunday morning in brilliant sunshine we crossed the border into Hungary. Instead of rifle fire or rebellious shouts we were greeted with cheers by the villagers and treated to white bread and wine. We put away our small arms then, because it was obvious there would be no resistance. That afternoon we rolled into Budapest and I immediately set up a small office in a corner of my bedroom in one of the great hotels.
I worked almost all that night putting out decrees calling the Jewish political officials to the first conferences the following day. I had already given orders to collect these Jewish officials in advance. Because I planned to work with them, I wanted to insure that they would not be harmed by any right-wing hysteria.
In Hungary my basic orders were to ship all Jews out of the country in as short a time as possible. Now, after years of working behind a desk, I had come out into the raw reality of the field. As Muller put it, they had sent me, the "master" himself, to make sure the Jews did not revolt as they had in the Warsaw Ghetto. I use the word "master" in quotation marks because people used it to describe me. I did not use it first.
Since they had sent the "master", however, I wanted to act like a master. I resolved to show how well a job could be done when the commander stands 100% behind it. By shipping the Jews off in a lightning operation, I wanted to set an example for future campaigns elsewhere.
The Shipments to Auschwitz
All told, we succeeded in processing about half a million Jews in Hungary. I once knew the exact number that we shipped to Auschwitz, but today I can only estimate that it was around 350,000 in a period of about four months. But, contrary to legend, the majority of the deportees were not gassed at all but put to work in munitions plants. That is why there are thousands of Jews happily alive today who are included in the statistical totals of the "liquidated." Besides those we sent to Auschwitz, there were thousands and thousands who fled, some secretly, some with our connivance. It was child's play for a Jew to reach relative safety in Romania if he could muster the few pengö to pay for a railroad ticket or an auto ride to the border. There were also 200,000 Jews left in a huge ghetto when the Russians arrived, and thousands more waiting to emigrate illegally to Palestine or simply hiding out from the Hungarian Gendarmerie.
It is clear from statistics, then, that our operation was not a battle fought with knives, pistols, carbines or poison gas. We used spiritual methods to reach our goal. Let us keep this distinction clear, because physical liquidation is a vulgar, coarse action.
Soon after we arrived in Budapest I met a Dr. Lászlo Endre, then a Budapest country official, who was eager to free Hungary of the Jewish "plague," as he put it. One evening he arranged a little supper for me and my assistant, Captain Deiter Wisliceny. Tow or three other Hungarian officials were present and an orderly in livery who stood at Dr. Endre's side. On this evening the fate of the Jews in Hungary was sealed.
As I got to know Dr. Endre, I noticed his energy and his ardent desire to serve his Hungarian fatherland. He made it clear that in his present position he was unable to do positive work toward solving the Jewish question. So I suggested to Major General Winkelmann, the ranking SS officer in Hungary, that Dr. Endre be transferred to the Ministry of the Interior. The transfer took several weeks, which I spent conferring with various Jewish officials and learning about Jewish life in Hungary. Then one day Dr. Endre became second secretary in the Ministry of the Interior, and a certain Lászlo Baky became first secretary.
Over the years I had learned through practice which hooks to use to catch which fish, and I was now able to make the operation easy for myself. It was clear to me that I, as a German, could not demand the Jews from the Hungarians. We had had too much trouble with that in Denmark. So I left the entire matter to the Hungarian authorities. Dr. Endre, who became one of the best friends I have had in my life, put out the necessary regulations, and Bakay and his Hungarian Gendarmerie carried them out. Once these two secretaries gave their orders, the Minister of the Interior had to sign them. And so it was no miracle that the first transport trains were soon rolling toward Auschwitz.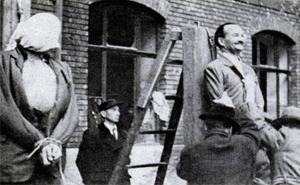 EICHMANN'S HUNGARIAN COLLABORATOR, Laszlo Endre, grins at 1946 execution at Budapest. Colleague, Laszlo Baky (left), had just been hanged.
The Hungarian police caught the Jews, brought them together and loaded them on the trains under the direct command of Lieut. Colonel Lászlo Ferenczy of the Gendarmerie, who came from an old, landed family. If I may digress for a moment, I remember that he invited me once to his country estate, where we had a little Hungarian snack of slices of bacon and onion stuck on sticks and roasted over a fire. We ate them with wine from the lieutenant colonel's vineyards. I since have read that he was hanged after 1945.
I never watched the Jews being loaded onto the trains. It was a minor matter for which I had no time. Since the job was the responsibility of the Gendarmerie, it would have constituted an interference with the internal affairs of Hungary if I had even observed the loadings. After all, the Hungarian government was still a sovereign power, although it had reached certain agreements with the Reich.
Himmler's instructions were for me to comb the Jews out of eastern Hungary first. The two secretaries gave the appropriate orders to the Hungarian police. I was also instructed to send almost all transports to the railroad station at Auschwitz, and I ordered Captain Novak to draw up a timetable and arrange for the necessary trains from the Reich's transportation ministry. To each train I assigned a squad of Orpos - uniformed German police - from the several hundred assigned to me.
My men had as one of their basic orders that all necessary harshness was to be avoided. This fundamental principle was also accepted by the Hungarian officials. In practice they may not have adhered to it 100%. But that did not and could not interest me, because it was not my responsibility.
Inhumanity Among the Hungarians
There were, however, individual cases where my men were shocked by the inhumanity of the Hungarian police. Wisliceny reported to me that the Gendarmes were driving the Jews into the cars like cattle to a slaughterhouse, not everywhere but in some districts. Several times I reminded the Hungarian government in writing – nothing was done orally in my office – that we did not want to punish individual Jews. We wanted to work toward a political solution.
Nevertheless, even our own units were guilty of roughness here and there. I once saw a soldier beat a frail old Jew over the head with a rubber club. I spoke to the soldier, reported him to his commander and demanded he be punished and demoted. Himmler would not stand for that kind of thing. That is sadism.
I would like to add here that when millions of Germans were deported by the Allies after the war from Eastern Europe to Germany, the operation was not carried out the way we did it, with Prussian exactness about provisions and transportation. Although we had the greatest difficulty in obtaining trains, the Jews were always shipped in covered, not open, cars, and always by the quickest possible routes.
In Hungary it sometimes happened that there were too few slop buckets on the trains, too little drinking water or no drinking water at all, or that the provisions were bad or stolen during the loading. The Gendarmes sometimes overloaded the cars to empty the debarkation camp as quickly as possible. You can imagine how it was when the Hungarians peremptorily ordered, "Everybody in, in, in. The border comes in 240 kilometers, and then Germany. Let the Germans finish things up."
Matters were different on Reich territory where we had full powers. The lieutenant of the guard, for example, could hold the train up until fresh water was provided and the slop buckets emptied and cleaned out, if only to avoid epidemics. After all, we were supposed to bring the material to the concentration camp ready to start work, not sickly and exhausted.
In spite of all our efforts Commandant Hoess at Auschwitz often complained about the condition of the Jews who arrived from Hungary. This proves that Auschwitz was not primarily a death camp. If Hoess simply sent the Jews into the oven, it would not have made any difference to him. He would not have complained to General Pohl, his chief, when a few corpses were lying around in the cars because people had given them too little to eat or drink. And Pohl would certainly not have asked to see me, making the complaints known to me in rather blunt terms. I replied of course that I was not really responsible because the Hungarian government had arranged the details of the loading.
As the transport trains rolled into Auschwitz, sometimes bringing as many as 10,000 units a day, the camp staff had to work day and night. I was on close, comradely terms with Hoess and he told me he could not understand why I showed absolutely no consideration for him and his staff. But how could I? I was just as limited a specialist in my own sector as he was in his. Yet I liked to visit him. He lived with his wife and children in a five-room house on the camp grounds. It was a homey place, clean and simple and furnished in SS-style natural wood.
The Charred Mountain of Corpses
I remember clearly the first time he guided me around the camp. He showed me everything, and at the end he took me to a grave where the corpses of the gassed Jews lay piled on a strong iron grill. Hoess's men poured some inflammable liquid over them and set them on fire. The flesh stewed like stew meat. The sight made such an impression on me that today, after a dozen years, I can still see that mountain of corpses in front of me.
Hoess may have seen the disgust in my face, but I spoke to him sternly: "When I see your corpses, I think of those charred German bodies in the air-raid shelters in Berlin."
Once the deportations to Auschwitz were running smoothly, I turned to concentrate on negotiations with the Jewish political and community officials in Budapest. In this I was carrying out the second basic objective of Reichsfuhrer Himmler: to arrange if possible for a million Jews to go free in exchange for 10,000 winterized trucks, with trailers, for use against the Russians on the Eastern Front.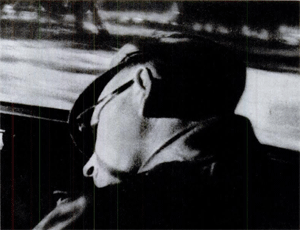 On the road back to Berlin, after witnessing brutal executions at Minsk, Eichmann naps in his car
DEATH BARGAIN AND ESCAPE
In Part II, appearing next week, Eichmann tells the first full story of the Nazis' cold-blooded proposal to exchange living people for military equipment. After weird negotiations failed with the Hungarian Jews, Eichmann ordered their death march. Later, after the German defeat, he made his escape from U.S. war crimes investigators. Finally, 15 years later, he states his attitude toward the Jews he persecuted.